Disclaimer: We visited Monterey County prior to coronavirus pandemic, some experiences may have since changed. This post was brought to you by See Monterey in partnership with Carmel Craft and Allegro Pizzeria. As always, our thoughts and experiences are our own.
Interested in the Carmel brewery scene or looking for amazing breweries in Monterey County? Carmel Craft is among one of the best in the Monterey area, with their wonderful beer and food from Allegro Pizzeria, you'll never need another reason to visit Monterey County. Carmel Craft Brewing Company may seem like a new player in the up and coming craft beer scene in Monterey County, but if you've ever had a Mad Otter Ale, then you have been drinking their beer for almost a decade now. 
HEALTH ADVISORY: Note that while Monterey County is now open to visitors, they are now asking visitors to travel responsibly. Face coverings are required throughout the state. The county is also pushing social distancing (staying at least 6 feet away from others), staying home if you feel sick, and leaving no trace behind. For more information, please see website.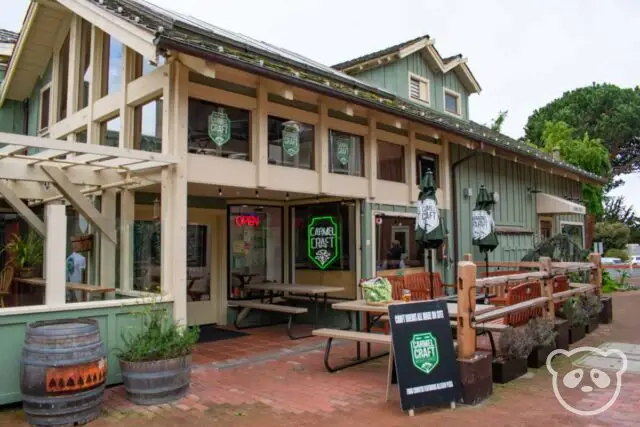 History of Carmel Craft Brewing Company — The Tale of Two Monterey Peninsula Breweries, Monterey Bay Brewing Company and Carmel Valley Brewing Company
Carmel Craft began as a merger between Monterey Bay Brewing Company and Carmel Valley Brewing Company. After they combined, they rebranded themselves as Carmel Craft Brewing Company to coincide with their relocation to Carmel, CA.
Over a decade ago, Mark Fitch and Scott Coming attended a beer festival and noticed the lack of representation from Monterey Peninsula. This sparked the idea of joining forces to create a brewery with strong ties to the Monterey Peninsula and names that represented the region. This became Monterey Bay Brewing Company.
After connecting with Central Coast Brewing Company founder, George Peterson, who allowed the brewers to use their brewery in San Luis Obispo, Mark and Scott were able to experiment and perfect their craft. The mentorship with Central Coast Brewing helped them develop their famous Mad Otter Ale which they began distributing locally in grocery stores and restaurants on the Monterey Peninsula. 
Carmel Valley Brewing Company also began as a smaller mom and pop brewery with Dean Hatfield as the head brewer and bottler while his wife, Karolyn Stone, handled beer sales and distribution. 
Though Dean had always dabbled in home brewing throughout his life, it wasn't until he retired and moved to Northern California that he finally had time to brew again. He noticed that there weren't too many local breweries in Monterey Peninsula and decided to keep himself busy in retirement by brewing beer. 
Dean and Karolyn perfected a zero waste process to brew their beer. They converted the barn on their property into a microbrewery using water from a well on their property and filtering it with a self-installed filtration system. A small closet became a cooler powered by a low-carbon engine and they ran their fermenters on very low energy with their waste water running into an orchard also located on their property. 
In September 2018, Monterey Bay Brewing Company moved to their current location at The Barnyard in Carmel and named themselves Carmel Craft Brewing Company to coincide with their move to Carmel. Towards the end of 2018, they acquired Carmel Valley Brewing Company. 
Today, Carmel Craft serves the best of both worlds from their flagship Mad Otter Pale Ale and Hairy Porter to their Carmel Valley Blonde and Carmel Classic Amber Ale, all of which are featured regularly. 
Carmel Craft's Brewery
When you walk into Carmel Craft, you get a sense of home. The space is bright and cozy with a friendly vibe. Mark and his employees are chatty with their regulars, Carmel Craft is the perfect place to hang out with friends and grab a pint. 
Mark gave us a tour of their brewery and we were super impressed! They operate on a small, one-barrel system and it is amazing what they are able to do with their square footage! At any given time they may have up to 12 beers on tap, all of which are brewed on site. 
Carmel Craft beers aren't brewed in your typical fermenter that you typically see in bigger brewing operations, their operations are more akin to a fancier home brew setup. This means that all of their beers are small batch brews allowing for more flexible variety. Instead of a huge batch of 4 beers, they usually have 12 beers that rotate frequently. 
The Beers of Carmel Craft
When we visited, we tried all of their 11 beers on tap. We can (almost) guarantee that whenever you get a chance to visit, there may only be 1 or 2 that overlap with what we tasted as Carmel Craft is constantly tinkering with new recipes. We were impressed by both their innovation as well as their dedication to their craft (pun intended).  
Mad Otter Pale Ale
We started off our tasters with their flagship, the Mad Otter Pale Ale. This pale ale is one of the easiest drinking pale ales you will have ever sampled. The Mad Otter starts with a hoppy flavor and finishes with citrus. The flavor is very well balanced with enough bitterness to tell you it's a pale ale but not so much that it will completely cleanse your palate. 
Carmel Valley Wheat
The Carmel Valley Wheat was originally a Carmel Valley Brewery beer and it is truly a testament to the skill of their brewers. It is one solid beer. This was one of the best wheat beers we've ever had with great wheat flavor, but surprisingly refreshing and light.
Carmel Classic (Amber Ale)
Another Carmel Valley beer they had on tap was the Carmel Classic, an American amber ale. Amber ales are not usually on Jimmy's favorite beers list, but he loved this one. The flavor profile was more distinct as it is brewed with 3 different types of hops and malt and is, as advertised, a uniquely balanced beer. 
Carmel Valley Blonde
The Carmel Valley Blonde packs a good amount of flavor yet is also light. You can easily enjoy a few without feeling really full. It is a very tasty session blonde perfect for a summer afternoon with light hops flavor and subtle grassy and citrus notes. 
Fun Fact:

Most of the beers with "Carmel" in the name were originally from Carmel Valley Brewing Company. This includes the Carmel Valley Wheat, Carmel Classic, and Carmel Valley Blonde. 
Nutty Otter (Brown Ale)
We could tell that Carmel Craft holds pride in its location in the Monterey Peninsula as they love naming their brews after animals in the Monterey Bay. Nutty Otter was our next taster. This nutty brown ale is a balanced malt with caramel and chocolate flavors. 
Hairy Porter
Hairy Porter is a yeast fermented beer using 2 different yeasts, a Belgian yeast and a stout yeast. The roasted coffee notes blend together really well with the distinct Belgian yeast taste that you normally only get in a Belgian brew. 
Do Ya Thang (Hazy IPA)
If you're looking for a hazy IPA, Do Ya Thang is a great one. This fruity IPA has great balance and body with a nice bitter flavor like a double IPA but low ABV percentage so you can still "do ya thang" after a few of these.
Fun Fact: Hazy IPAs are "hazy" because they are typically brewed with a small percentage of high protein grains such as oats, spelt, and wheat. This creates a soft, smooth body that can be hazy. (Punch)
Panzón (Stout)
In collaboration with their brewer's family owned bakery, they created Panzón, a stout made with a Mexican sweet bread roll called concha. Panzón is a strong stout with notes of cinnamon bringing back memories of eating those delicious Mexican rolls. The bread flavor pairs well with the roasted, complex body in this beer.
PRO TIP:
Looking for a place to host a party? Carmel Craft does private events at their brewery at $25 per person with a 25 person minimum. It's particularly great for bachelor parties since you'll get to bring home a mini keg! they have already hosted a few and sometimes even serve that beer afterwards.
Love Potion #42 (Wheat)
For sour fans, Love Potion #42 is their wheat beer served with a bit of berry flavor. Raspberries and cherries add a fruity, tart flavor and the beautiful red color to this beer. Carmel Craft is constantly tinkering with this one so be sure to keep an eye out for future iterations if this brew looks up your alley. When we had it, it was a special for Valentine's Day. 
Spice Melange (Sour)
Spice Melange is their true sour beer. While Jimmy isn't the biggest fan of sours, this one was  a good one. The microbrew is infused with mango, pineapple, and passionfruit bringing a unique tropical flair to this beer. It tasted like a fruit punch with a little bit of acid in it.
Pity Me (Barley Wine) 
Pity Me, a barley wine so good you'll want to savour every moment of it. This reminded Jimmy of a triple IPA due to the bitterness however it is balanced out with the sweetness of the barley wine. This was one of the smoothest, easiest to down barley wines he's ever had. You can definitely taste the high ABV in this but it is so delicious and smooth, you won't even mind it. 
Ollie's Day Off (Imperial Stout)
Note: We tried this one on a separate trip to Carmel Craft in August 2020.

If you love a thick stout you can chew, Ollie's Day Off is exactly what you've been looking for. This stout kicks you in the teeth with it's 9.6% ABV but the chocolate and coffee notes with hints of coconut make you keep coming back for more. Ollie's Day Off is a great beer to sip, make sure you find the time to sit back, relax, and enjoy the evening with this rich stout.
Fun Fact: The term "imperial" was used in the 1800s to describe stouts that were brewed in England but shipped to the imperial court of Russia. Today, it is used to indicate top-of-the-line beers with higher alcohol content. (The Kitchn)
Food from Allegro Pizzeria
Allegro Pizzeria plays a unique part in the success of Carmel Craft. When Carmel Craft moved into the Barnyard, they strategically partnered with Allegro Pizza to help them provide their customers with food. Mark told us that they wanted to focus on the beer and leave food to the professionals. 
Carmel Craft carved out a nice window in their brewpub for customers to order food straight from Allegro. Mark wanted to collaborate with existing restaurants in The Barnyard instead of competing with them. And it's impossible to talk about food in Carmel without mentioning Allegro Pizzeria. This place has been a mainstay since it opened in 1988 and is a popular, local favorite.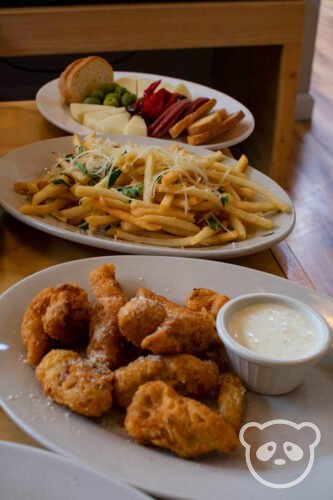 Allegro treated us to a feast to pair with all of Carmel Craft's amazing beer. We started with their fried artichoke hearts with garlic aioli. These artichoke hearts were so good we are forever hooked on them! This is definitely a must when you head over to Allegro.
Their bomb charcuterie plate featured crostinis with pieces of cheese, salami, olives, and red pepper. A meat and cheese platter is always great to have with some beer. 
Allegro's garlic parmesan fries were tasty pieces of cheesy potato goodness. They were a delicious display of one of the ultimate beer sides.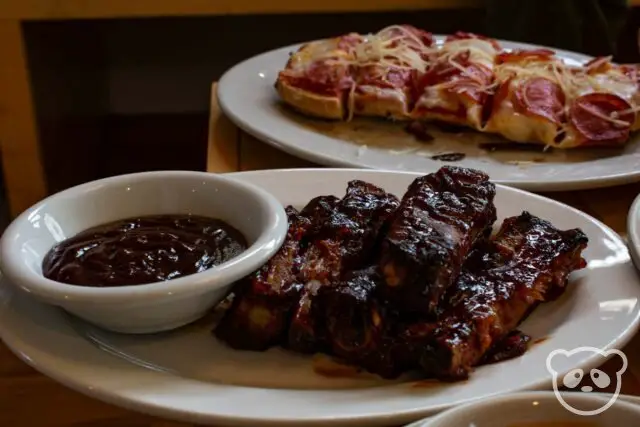 You can't go to Allegro Pizzeria and not get something resembling a pizza, it is in their name after all! We tried their pepperoni pizza garlic bread, a mini pizza to go along with our feast. This was a glimpse of how good their pizzas are, and if we had room in our stomachs we would have had a pizza but this was a great taster.
Another great dish we had was their meatball sandwich. Jimmy can never say "no" to a meatball sandwich. It's a great alternative to a pizza if you're craving Italian but not feeling a pie.
Getting into the meat of the dishes, we also tried their BBQ ribs. When you go to a pizza place, you don't usually think about getting BBQ items like ribs but they make you think twice about that. These ribs were very tasty and definitely worth a try if you need a high protein dish to supplement your pizza and beer.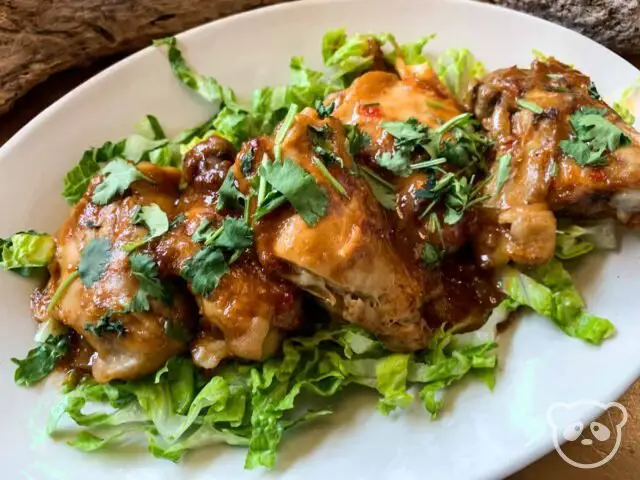 Last but not least, the star of the show in our opinion were the Thai Chicken Thighs. Allegro never really liked the concept of wings because wings don't tend to fill you up. Instead of giving you wings, they give you a whole chicken thigh. These Thai-inspired chicken thighs were really tasty and juicy and a definite must if you are coming in for a bite. 
Would We Go Back? 
We loved all of Allegro Pizzeria's food and their mission to fill our stomachs while pairing well with all of Carmel Craft's amazing brews. In fact, we have already been back to Carmel Craft since our original trip to Monterey County. We stopped by to grab some Mad Otter and Ollie's Day Off, a seasonal brew, on our way back to San Francisco after hiking in Monterey. 
PRO TIP:
Typically during pre-COVID times, Carmel Craft has live music 3 nights a week and also a weekly trivia night.
Monterey is usually a destination for people who want to enjoy a great glass of wine while enjoying the weather and the sea life. Thanks to the passion to bring great local craft beer from Carmel Craft Brewing Company, the Monterey peninsula is now a destination for beer drinkers as well. Next time you're in the area, definitely schedule some time to visit Carmel Craft and Allegro Pizza, you won't regret it!
PRO TIP: If you love pinball machines, they have a great set to play on!
How to Get to Carmel Craft & Allegro Pizzeria
Carmel isn't located too far from Monterey making Carmel Craft and Allegro Pizzeria the perfect spot to grab a quick lunch or afternoon snack when you're visiting Monterey.
From San Francisco, Carmel Craft and Allegro Pizzeria are located approximately 122 miles south via Highway 101. You can also take the Pacific Coast Highway (PCH or State Route 1) south via Santa Cruz however coastal roads can take longer than expected due to lower speed limits, windier roads, and traffic.
From Monterey, take the Pacific Coast Highway (CA-1) south for 5 miles and you'll reach Carmel Craft and Allegro Pizzeria in about 15 to 20 minutes. 
Carmel Craft Address & Hours
Located in The Barnyard Shopping Village at Big Sur Barn
3777 The Barnyard, Carmel
Website
Hours
Monday & Thursday: 3pm – 9pm
Friday: 2pm – 9pm
Saturday & Sunday: 12pm – 9pm
Closed Tuesday & Wednesday
Due to current health restrictions, Carmel Craft is offering outdoor seating. You can also order Carmel Craft's beer online for pick up or local delivery here.
Allegro's Pizzeria Address & Hours
Located in The Barnyard Shopping Village at Big Sur Barn
3770 The Barnyard, Carmel
Website
Hours
The shop is currently closed due to the pandemic, however takeout (and deliveries within Carmel-by-the-Sea) orders can be placed online.
Location Map
Make Carmel Craft and Allegro Pizza a stop on your trip to Monterey. We'd definitely make it a pit stop on any trip to and from the Monterey Peninsula. We gotta pick up some Mad Otter ales and Thai Chicken Thighs.