This post may contain affiliate links. If you click one of these links, we may receive a commission. We're grateful for your continued love of this site!
We'd been wanting to visit the Old City of Dubrovnik (Stari Grad Dubrovnik) for years and the desire to see the city in the flesh only grew with the popularity of Game of Thrones. This month's A Weekend Away post is on Dubrovnik. Our 3 day itinerary will take you through the Old City of Dubrovnik and beyond!
"Those who are looking for paradise on Earth should come and see Dubrovnik."
– George Bernard Shaw
Dubrovnik is, indeed, a little piece of paradise off of the Adriatic coast. The red-orange tiled roofs and the bright blue waters are so magical, it's as if the city came out of a fairytale book. The Mediterranean architecture hidden within the narrow stone alleyways are part of the city's charm.
Fun Fact: Since season 2 of the hit HBO show, Game of Thrones, Dubrovnik has been the setting for King's Landing.

Methods of Transportation to Dubrovnik
The city is easily accessible via air, water, and land routes. During peak season, there are direct flights to Dubrovnik from cities all over the world. By water, it is sometimes a cruise ship stop, otherwise ferries shuttle visitors from Split, another major tourist destination along the Dalmatian coast.
Getting to Dubrovnik by land is interesting as it is necessary to leave the country and drive 12mi (10km) through Bosnia & Herzegovina from Split. As such, it is important to make sure you have all of your travel documents in order, so yes, even though you're only traveling within Croatia, you WILL still need your passport in order to go to Dubrovnik.
Fun Fact:

In the 17th century, the Republic of Dubrovnik was forced to sell the 12mi (10km) patch of land, along with another parcel, to the Ottoman Empire to raise money in order to continue fighting the advancing Venetians.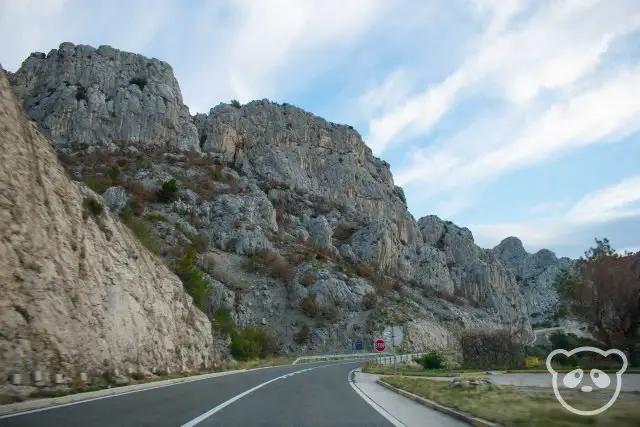 Unfortunately, trains do not travel down to Dubrovnik. But if you don't want to rent a car, buses can be a great option. Note that there are sometimes potential border crossing issues from traveling via bus; we've read reports online about instances were some travelers were stuck at the border crossing for a few hours because one person on the bus did not have their paperwork.
We were on a tight schedule and didn't want to chance it, so we planned our Croatia trip around renting a car and driving throughout the country. We'll discuss more in the How to Travel from Split to Dubrovnik section within Day 1 of this guide.
Dubrovnik was one of our many stops while road tripping throughout Croatia so we decided to take the easy route and drove a rental car down from Split. As a result, this itinerary does include some travel time between cities because we wanted to keep it true to our experiences.
Please note that these prices listed throughout this itinerary are not absolute and may change depending on the season.
This is our guide to 3 days in and around Dubrovnik aka King's Landing!
Where to Stay in Dubrovnik, Croatia
In general, our favorite places to stay in Croatia were local bed & breakfasts aka guest houses. These are usually operated by local families, a lot of them are actually in line with the whole Airbnb idea where they open up a room in their home to you. (But don't worry they are licensed with the government so nothing to worry about, they are legal and legitimate!) However because Dubrovnik is more touristy, many of the bed & breakfasts are actual businesses.
When we visited Dubrovnik, we stayed at Guest House Maria Bilicic! We got to meet Maria at check in and she was super nice. She even took us on a tour of the building when we arrived, and we even got to see the amazing view of the Adriatic Sea and Old City of Dubrovnik from her apartment rental even though we had only rented out the double room with private bath.
Guest House Maria Bilicic is located in a great area, walking distance from the Old City of Dubrovnik and across the street is a local supermarket. The guest house also has an outdoor garden and cooking area, in fact, Maria told us her garden has won awards! She also has a cute dog and neighborhood cats that wander the property.
Maria also offers free parking though it is further away from the guesthouse. She will shuttle you to and from via motorbike so it's not a huge deal to drop off your luggage when checking in and picking it back up at check out. The place is simple and no frills but a great budget friendly option for Dubrovnik while road tripping in Croatia. Book your stay at Maria's guesthouse now!
If you're looking for guesthouses within the Old City of Dubrovnik, these are some of our favorites:
DAY 1

How to Travel from Split to Dubrovnik
On our first day, but technically, not the first full day in Dubrovnik, we woke up early around 6AM to drive down the coast from Split. The drive is approximately 230km (~143mi) takes about 3-3.25 hours total to get to Dubrovnik.
Keep in mind that this road can get windy as it's a coastal road and you must drive around some hills and seaside cliffs. Note that this 3 hour timeframe does not account for the time it takes to cross the border, as this varies widely. We've heard that the border does get backed up during the summer so make sure you account for that if you're traveling during peak season.
From Split, we took 1 to E65 to 8 to get to the border crossing to Bosnia & Herzegovina. Then, we drove the 10km necessary to get through the town of Neum and then crossed the border again, driving down 8 the entire way to get to Dubrovnik.
For us, traveling on the last days of shoulder season in late October, there was no wait and were one of a few cars going through at the time. After getting to the other side of the Croatian-Dalmatian coast, we were on our way to our first stop.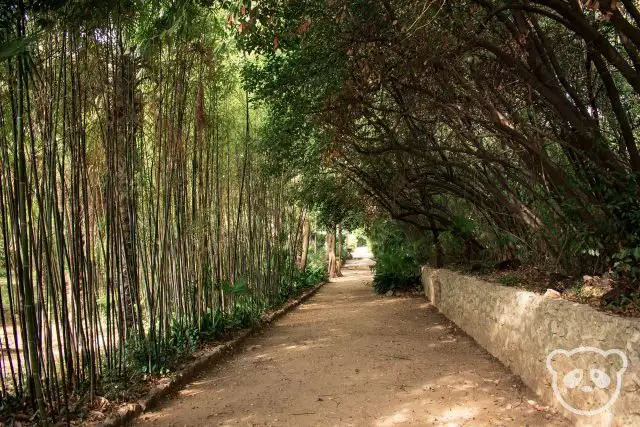 Trsteno Arboretum
After seeing the Trsteno Arboretum in Game of Thrones, we knew we had to see it in real life and made it our first stop on our way south to Dubrovnik. This spot is great to see on a road trip since it's located just outside of Dubrovnik, in Trsteno. 
Fun Fact:

The arboretum was erected by a local noble family, the Gozze's, in the late 15th century, however the exact date is unknown.
We went in the fall, but it was still quite warm during the day so we didn't get to see any changing leaves so it was quite green. We think that the garden might be more beautiful in the spring when there are more flowers blooming.
Still, there were interesting things to see inside the arboretum, including a Roman aqueduct built in 1492 to irrigate the garden, as well as an ancient stone olive press. It was really cool to see how Croats used to make olive oil from crushing olives with large stone wheels.
Admission is 50HRK (~$8.27US) for adults and hours vary by the season. 
Afterwards, we continued down the coast and over to Dubrovnik proper. Our first order of business was to take the cable car by the Ploče Gate (Vrata Od Ploča) side of the town up to the top of Srđ Hill.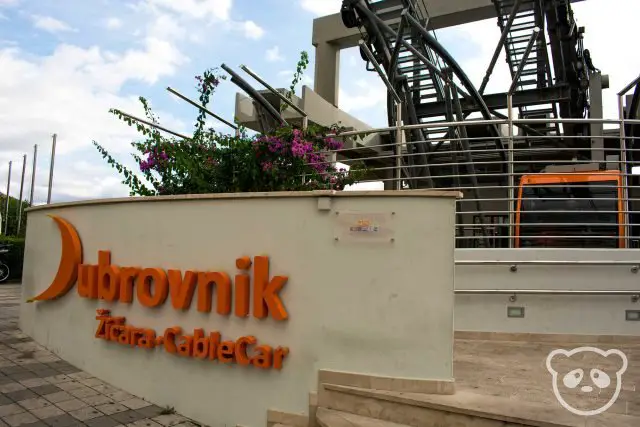 Given that this was a short ride up a hill, it was also one of the more pricey sights we saw, but SO worth it. The view from the top of Srđ Hill is AMAZING. You get a bird's eye view of the Old City of Dubrovnik as well as a great view of Lokrum Island.
Fun Fact:

The cable car was built in 1969 and was once the ONLY cable car in the Adriatic. On a clear day, you can see up to 60km (37mi) worth of panoramic views from the top of Srđ Hill.
It is possible to hike up or down the hill via a path of switchbacks, so if that's your cup of tea you can definitely hike one way and take the cable car the other. A one way ticket will cost you 85HRK (~$14.07US) for adults and the round trip ticket is 140HRK (~$23.17US).
The cable car doesn't run on a set schedule, it leaves the station whenever the car is full. Hours vary depending on seasonality to be sure to check their timetable before you go. The last departure from the lower station (by Ploče Gate) is 30 minutes before closing.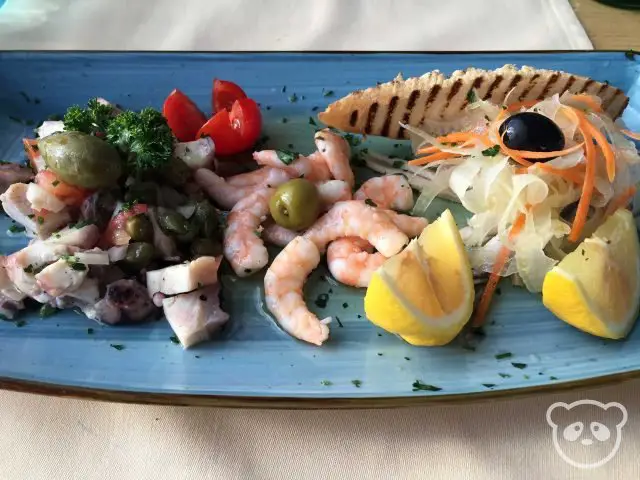 For a late lunch, we enjoyed the Panorama Restaurant (see menu), located within the same building as the upper station. They serve a tasty selection of American-style eats as well as Croatian delights, but best of all you can dine while observing that amazing view of the Old City. Note that due to the views, this spot is also a bit pricier than most, but their food is absolutely delicious.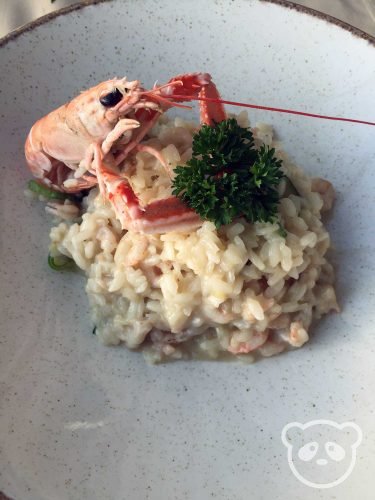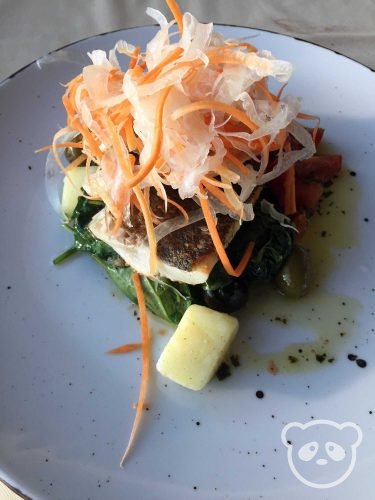 We were starving so we enjoyed their Dalmatian Trilogy (an appetizer of grilled octopus, marinated shrimps, and marinated anchovies), the sea bass fillet (branzino with spinach, potatoes, cherry tomatoes, and olives), and a risotto with shrimps and zucchini.
We'd woken up early to start the drive that morning so we also got a latte and an espresso. For dessert, we tried their cake of the day which was an apple cake and it was super yummy.
After our super late lunch, the sun was already setting, so we set off to explore the Old City.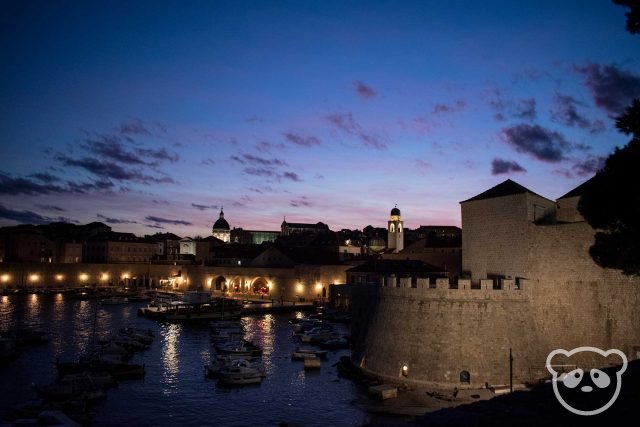 Old City of Dubrovnik by Night
From the lower cable car station, we entered the old city via the Ploče Gate, past the Dominican Monastery (Dominikanski Samostan) and proceeded to walk around the city. The majority of the touristy sights were closed at this point, but it was nice to walk around when there were less people.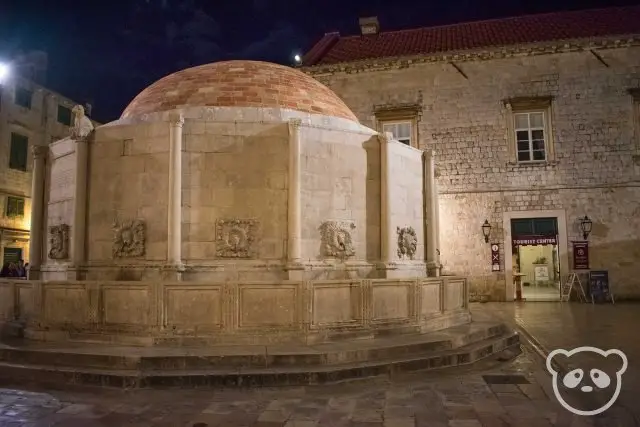 Stradun is THE main street in the old town and is known for its touristic sights as well as wide walkways. It's probably also the largest street we saw within the city walls. Stradun stretches across the entire city starting from the Pile Gate (Vrata Od Pila), by Onofrio's Fountain (Velika Onofrijeva Fontana) to the end of town by Sponza Palace.
Fun Fact:

The water from Large Onofrio's Fountain (Velika Onofrijeva Fontana) is potable. We had some and it tasted great!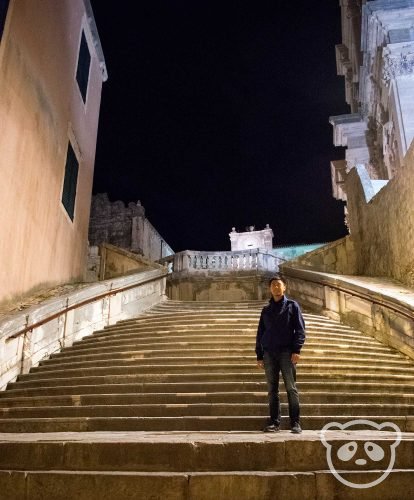 We walked down the famous Stradun street, past Rector's Palace (Knežev Dvor) and towards the Dubrovnik Cathedral and over to the steps, by the St. Ignatius Church (Crkva Sveti Ignacija), made famous by Game of Thrones with the single word, "Shame!"
We also explored the marina area, walking past the Old Port and around Fort St. John (Tvrđava Sveti Ivana). We did a lot of hiking up and down the stairs throughout the Old City traversing the town more than once from Ploče Gate to Pile Gate.
PRO TIP: Definitely pack comfy shoes, the streets of Old City Dubrovnik are like a real-world stairmaster! Even thinking about those steps makes my knees buckle!
We got a bit tired from walking around and decided to have dinner at one of the spots our Airbnb host, who also happened to own a legitimate bed and breakfast for the past 20 years, had recommended.
Since Croatia is a melting pot of various cuisines due to its location in the Balkans, we wanted to try some of the local food and Taj Mahal (see menu) is known specifically for it's Bosnian cuisine. And as such we wanted to make sure we got their "Genghis Khan" platter and their burek.
We had the burek as our appetizer and the platter as our entree. They were delicious and I still dream about their burek and cevapi.
The Genghis Khan platter consisted of grilled minced meat, turkey skewers, pljeskavice (traditional beef burger), suđukice/sudžukice (veal sausage), rumpsteak, and chicken. Note that this was A LOT of food, definitely more than we expected so if you're planning to order this, come hungry!
I also have a major love of blueberries so I ordered a blueberry juice as well.
After dinner, we went back to the Airbnb so we could rest up for the following day.
DAY 2

We started our morning by exploring the city walls; this was by far THE coolest part of our trip to Dubrovnik. If you decide not to do anything else here, you should at least see the city walls. You won't regret this!
Fun Fact:

The fortified walls around the city of Dubrovnik range from 2-3m (6.6-9.8ft) thick by the water to 4-6m (~13.1-19.7ft) in thickness closer to land. The maximum height of the walls reaches 25m (~82ft) and runs up to 1,940m (~1.18mi).
We loved seeing all the gorgeous orange-red tiled roofs against the bright blue Adriatic Sea. It was also interesting to get such a view of the city from above, as the inner avenues and streets with the Old City are small and tend to be darker and more drab. It gives the city a completely different vibe.
Admission costs 150HRK (~$24.83US) for adults, not the cheapest, but it also includes admission to Fort Lawrence (Fort Lovrjenac). Please note that the hours can vary depending on the season so remember to check online ahead of time.
We did notice that the the City Walls and Fort Lawrence had the same opening hours when we went, but your experience may differ since the signs can be easily changed. 
We recommend allowing 1.5-2hrs to see and enjoy the city walls, they are so beautiful you will probably end up taking more photos than you'd think!
After walking the walls, we were starving!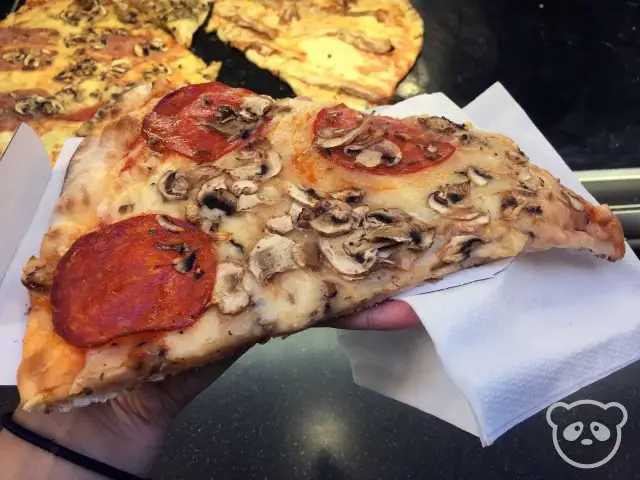 For some quick eats, we grabbed some pizza slices from Tutto Bene (see menu for Old Town location). We got a slice of hot salami with mushroom and a slice of cheese with proscuitto. Great spot if you're looking to grab and go.
Afterwards, we were off to explore more of the old town.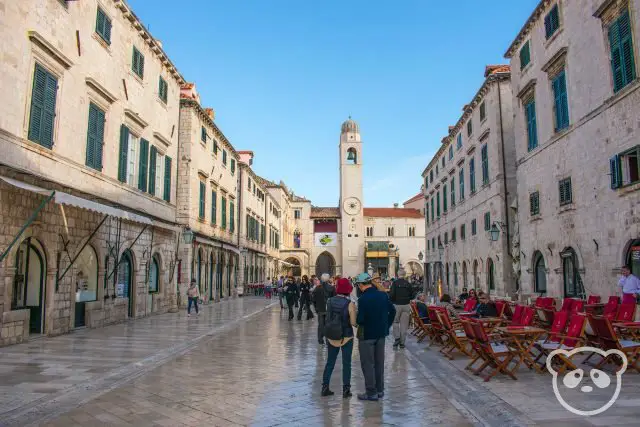 Old City of Dubrovnik by Day
Tutto Bene is located right by the Church of the Holy Annunciation (Crkva Sveti Blagovijesti), so we peeked in. For such a small church it was surprisingly beautiful and ornate.
We walked over to the Franciscan Monastery (Franjevački Samostan). The most interesting place to note within this complex is Franciscan Pharmacy (Franjevački Ljekarna).
Fun Fact:

The Franciscan Pharmacy is the world's oldest, continuously-operating pharmacy. It has been active since 1317.  
Note that the pharmacy does have a no photos policy and there is a sign by the entrance. The pharmacy was cute and interesting to see, would recommend if you have the time.
Fun Fact: The Old City of Dubrovnik is also known as the "Pearl of the Adriatic" due to its light limestone city walls and was designated as a UNESCO World Heritage Site in 1979.
We also revisited some of the spots we saw the night before: Rector's Palace, Luža Square, Stradun, Pile Gate, Ploče Gate, as well as the "Shame Steps." We also visited the Dominican Monastery (Dominikanski Samostan) and the St. Ignatius Church (Crkva Sveti Ignacija).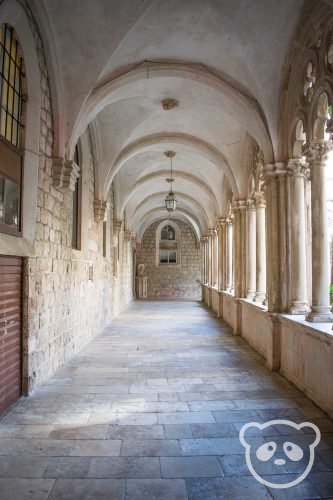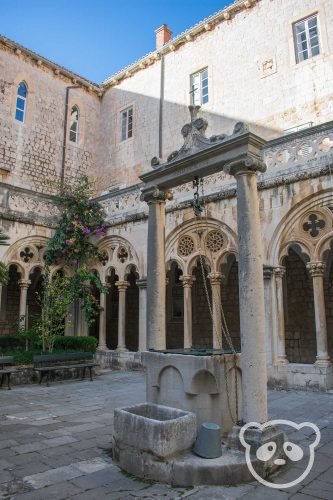 The Dominican Monastery had a small chapel as well as a museum showcasing religious art and memorabilia. While the museum itself wasn't really our thing, the architecture of the building itself was beautiful and interesting to see. The courtyard also had a cool looking well, see photo above right. 
Admission to the Dominican Monastery complex was 30HRK (~$4.95US) per person.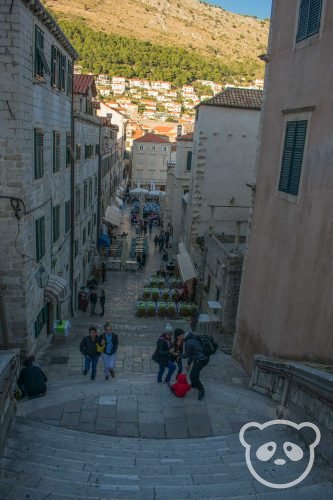 If you're interested in a photo of the "Shame Steps," better known as Gundulic Square. I highly recommend visiting super early in the morning or at night. We were only able to get photos without many people at night, in the afternoon it was super busy.
While we were walking around the old town during the day, we noticed that there was definitely more hustle and bustle during the day. At night, there are sometimes street performances but the small avenues and streets are much, much quieter.
We also attempted to go to Fort St. Lawrence (Fort Lovrijenac), but they were on off-season hours so they were closed by the time we made it there. Instead, we spent some time at Gradac Park, a bit further out from the city. This park provides you with some of the best views of Dubrovnik.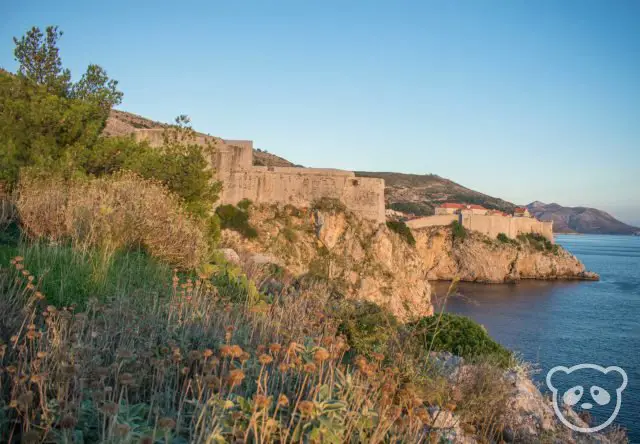 From Gradac Park, you're able to see the entire Old City as well as Fort St. Lawrence. The views are amazing, especially during golden hour.
Then we made our way back down to the West Harbor, located at the foot of Fort St. Lawrence. This was also a Game of Thrones filming location, so we saw a couple of GoT tours pass by during our time there.
For dinner, we dined at the Gradska Kavana Arsenal Restaurant (see menu). This was partially because many restaurants were already closed for the season, the other reason was because Panorama Restaurant had given us a coupon to dine at their sister restaurants at a reduced price. With fewer options available, who were we to say "no" to a discount?
PRO TIP: Many restaurants also have reduced hours or are closed in the off-season, so this is definitely something to think about if you're interested in visiting Dubrovnik during shoulder season.
The restaurant is located in Luža Square so it is in the heart of the historic center. This restaurant is definitely a finer dining establishment, the ambience is romantic and quiet and the food was delicious. Unfortunately, the restaurant was super dark and I was unable to get good photos of the food, but trust me, it was tasty!
Fun Fact:

Gradska Kavana Arsenal Restaurant was named after the building it is located within. The building was once called the Arsenal, ships were built inside this building for the port beginning as early as the 13th century. Ships known as galijuni and karake were built within the Arsenal, these ships were the pride of the Dubrovnik fleet.
We ordered the Adriatic octopus salad and the truffle and button mushroom linguini to start. Our entrees included the "fish of the day" filet (Ahi tuna with a side of lentils), and the fish stew consisting of a variety of fish in a tomato spicy sauce with creamy polenta. For dessert, we finished with the Dubrovnik style rozata (Croatian custard pudding). The food was amazing, I still think about that creamy polenta as it was probably the best polenta I've ever had in my life.
DAY 3

Fort St. Lawrence (Fort Lovrijenac)
We started off our day early to make our way to Fort St. Lawrence (Fort Lovrijenac). We wanted to make sure we had enough time to explore the fort and still make it to our other sites as well as continue on our road trip.
During the off-season, the fort opened at 8am, we got there around 9am and began to explore! This was, yet another, Game of Thrones filming location, but it also provides one of the best views of the old town and Lokrum Island.
There were once 10 cannons on defense at the fort. One of my favorite parts of the fort was that they have cannons and cannon balls left out as props in specific areas of the fort to show how medieval Croatians would have defended the city.
Fun Fact:

Once upon a time, the largest of the 10 cannons, named The Lizard (Gušter) defended the fort. Though it never fired a single shot, the Venetian ships would sail away in retreat whenever it was rolled out. Unfortunately, The Lizard was lost in the waters beneath Fort St. Lawrence when they were trying to move it to Vienna during Austrian occupation by the Hapsburgs.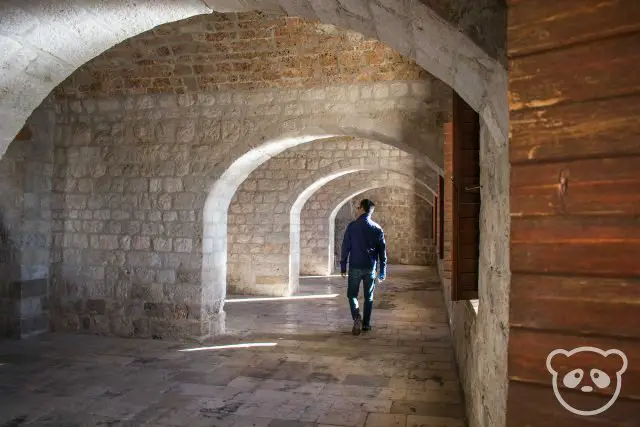 Admission costs 150HRK (~$24.83US) for adults and also includes same-day admission to the City Walls of Dubrovnik. We noticed that the the City Walls and Fort Lawrence had the same opening hours when we went. 
Important Note: We've heard that the admission ticket for the City Walls of Dubrovnik and Fort St. Lawrence for the same-day ONLY; however, we weren't able to make it before closing. But we didn't have to buy a new ticket the following day. Maybe the ticket guy was being nice or maybe we just got lucky, just know that your experience may differ and what we did may or may not work for you so plan accordingly! 🙂 
Afterwards, we made our way back to our Airbnb to check out, pick up our car, to drive 21km (~13mi) south to Cavtat.
Cavtat Old Town
Cavtat was our last stop in the Dubrovnik area before heading back north to the main part of Croatia. We wanted to get a glimpse of this sleepy seaside town known for its beautiful promenade and quaint homes and churches.
PRO TIP: There isn't much legal parking within Cavtat. I'd recommend parking within the main parking lot by the harbor. Parking isn't too cheap but I'd rather pay a couple bucks than get a ticket. Rates run about 10HRK (~$1.66) per hour.
We explored St. Nicholas Church (Crkva Sveti Nikola), a small Catholic church located off of the waterfront. It was typical of a neighborhood Southern European church, cute and without too much adornment.
Walking along the Cavtat Seaside Promenade was relaxing and gave us a bit of respite after seeing the hustle of Dubrovnik the day before.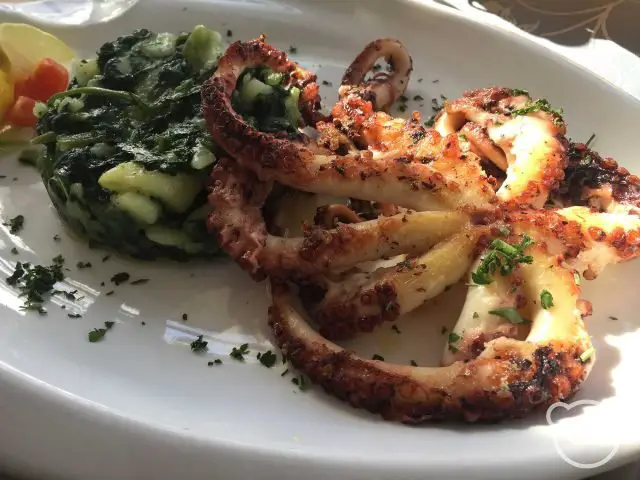 Restaurant Dolium
Again shoulder season did not work to our advantage as many of the restaurants were closed for the season, including the places we'd looked up in advance. As a result, we ended up settling on Restaurant Dolium.
We ordered the squid ink risotto, seafood pasta, and grilled octopus with a side of blitva (swiss chard and potatoes). The octopus was SO yummy and I've totally Googled recipes to make blitva since we've been back because it was SO GOOD.
After lunch, we made a pit stop at a lookout point for a great view of Dubrovnik, then we continued on our way to Šibenik for the next leg of our road trip.
If We Had More Time
There is a ton to do in Dubrovnik, especially during the summer season. As such there were things we weren't able to do because we had arrived in the off-season or simply didn't have enough time.
Lokrum Island (Otok Lokrum)
We would definitely go back to explore Lokrum Island. It's only a 20 minute ferry ride away from Dubrovnik, but during the off-season the ferries stop running so we were unable to visit it.
We would have loved to visit the Benedictine Monastery of St. Mary (Benediktinski Samostan) located on the island. Aside from that, the island is also home to peacocks and rabbits. For Game of Thrones fans, they have a throne for a photo op at the tourist center on the island.
During the off-season, it may be possible to visit the island if there are enough people wanting to go. There is a small ticket sales desk at the Old Port (within the old town). Round trip ticket including admission to the island is 120HRK (~$19.86).
List of the Sights
Note: Instead of providing a general list of places to visit within the Old City of Dubrovnik, we are listing all spots individually along with their respective addresses. Majority of the sights listed within this guide are located within the old town, such as Pile Gate, Stradun, Large Onofrio's Fountain, Ploče Gate, Rector's Palace, Sponza Palace, Luža Square, Dubrovnik Cathedral, St. Ignatius Church, Old Port, Fort St. John, Taj Mahal Restaurant, City Walls of Dubrovnik, Tutto Bene Pizzeria & Fast Food, Church of the Holy Annunciation, Franciscan Monastery, Dominican Monastery, and Gradska Kavana Arsenal Restaurant. 
Since the coordinates have decimal points, depending upon your GPS you will need to enter either north/west information or the negative sign.
DAY 1
Split → Dubrovnik via Neum, Bosnia & Herzegovina
Trsteno Arboretum
GPS Coordinates: 42.7125483 N, 017.9777467 E
Dubrovnik Cable Car (Lower Station)
Ulica kralja Petra Krešimira IV
Panorama Restaurant
Located at the Upper Cable Car Station
Srđ Ulica 3
Pile Gate (Vrata Od Pila)
Located at the end of Ulica Vrata od Pila
Stradun
Main street stretching from Pile Gate to 

Luža Square at Luža Ulica

Large Onofrio's Fountain (

Velika Onofrijeva Fontana

)
Stradun at Poljana Paska Miličevića
Ploče Gate (Vrata Od Ploča)
Located at the beginning of Ulica Vrata od 

Ploča

Rector's Palace (Knežev Dvor)
Ulica Pred Dvorom 3
Sponza Palace
Stradun 2
Luža Square
Plaza located the end of Stradun, at 

Luža Ulica

Dubrovnik Cathedral (Katedrala Uznesenja Marijina)
Located at the end of Ulica Pred Dvorom
Ulica kneza Damjana Jude 1
St. Ignatius Church (Crkva Sveti Ignacija)
The "Shame Steps" are also located at the foot of the church.
Poljana Ruđera Boškovića 6
Old Port
Boat dock at the end of the marina between Fort Revelin & Fort St. John
GPS Coordinates: 42.6408523 N, 018.1117642 E
Fort St. John (Tvrđava Sveti Ivana)
GPS Coordinates: 42.6401573 N, 018.1124502 E
Taj Mahal Restaurant
Ulica Nikole Gučetića 2
DAY 2
City Walls of Dubrovnik
Entrances at Pile Gate, Ploča Gate/Revelin Fort, & Fort St. John
Tutto Bene Pizzeria & Fast Food
Ulica od Puča 7
Church of the Holy Annunciation (Crkva Sveti Blagovijesti)
Ulica od Puča 8
Franciscan Monastery Complex (

Franjevački Samostan

)
Also includes Franciscan Pharmacy (Franjevački Ljekarna)
Stradun 2
Dominican Monastery (

Dominikanski Samostan

)
Ulica Svetog Dominika 4
West Harbor
Located between Fort Bokar (Tvrđava Bokar) & Fort St. Lawrence (Fort Lovrijenac)
GPS Coordinates: 42.6412466 N, 018.1050976 E
Gradska Kavana Arsenal Restaurant
Ulica Pred Dvorom 1
DAY 3
Fort St. Lawrence (Fort Lovrijenac)
Ulica od Tabakarije 29
Cavtat Old Town
Parking Lot GPS Coordinates: 42.5817371 N, 018.2186905 E
St. Nicholas Church (Crkva Sveti Nikola)
Obala Ante Starčevića 18
Cavtat Seaside Promenade
Dr. Ante Starčevića
Restaurant Dolium
Dr. Ante Starčevića 15
Lookout Point
GPS Coordinates: 42.6423814 N, 018.1224069 E
Dubrovnik → Šibenik
Map of the Sights
This map includes a list of all of the Sights to See, Restaurants as well as the routes by day (i.e. Day 1, Day 2, and Day 3) within specified layers.
By default, only the Sights to See and Restaurants are shown but you can select to view the daily routes. Use the slide out panel to select layers to toggle them on and off using the checkboxes.
Dubrovnik is one of the best places to spend a few days, especially in the off-season. During peak season there is much more to do and you could easily spend another day or two there relaxing at the beach. We can't wait to visit this beautiful "Pearl of the Adriatic" again!
Loved this 3 days in Dubrovnik itinerary? Pin it for later!