This post may contain affiliate links. If you click one of these links, we may receive a commission. We're grateful for your continued love of this site!
This A Weekend Away post introduces you all to our 3 day long weekend itinerary to New York City! Since I often go to NYC to visit family, I've gotten chance to explore many parts of the city and I'm sharing it within this guide of sights to see and places to eat all in only 3 days. We've also included some of the best places to stay in New York City!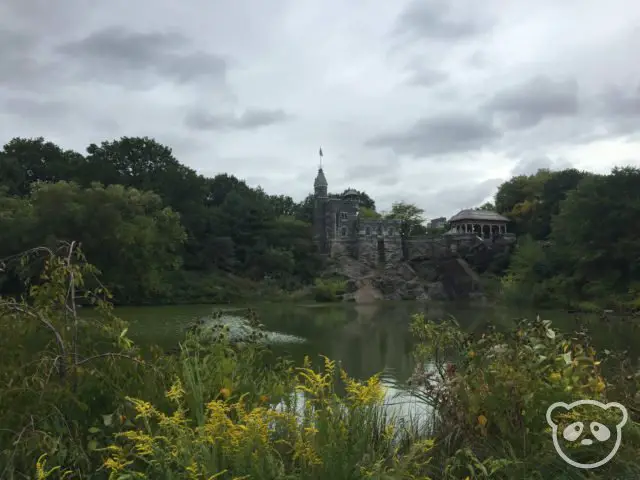 First things first, I LOVE NEW YORK. I was born there and sometimes I wish I was raised there. Not that being a California girl is a bad thing, it's just very different from being a New Yorker.
"Whoever is born in New York is ill-equipped to deal with any other city: all other cities seem, at best, a mistake, and, at worst, a fraud. No other city is so spitefully incoherent."
– James Baldwin
I've always loved big cities, but New York is the one place that makes me feel bright-eyed and alive! The fast pace of the city drives my impatient soul and the diverse food makes my tummy happy.
I've travelled to New York City in nearly every way possible, solo, with friends, with a boyfriend, and with family. I've been there for a weekend, a few days, and up to a week. In all honesty, because I go there fairly often, I rarely travel to NYC with a set-in-stone itinerary such as this one because I tend to go wherever I feel like on a given day, but I've put together a comprehensive itinerary for a weekend in New York City. I've also included a bonus day for those of you with long weekend goals in mind. 😉
PRO TIP: I usually prefer to take a red-eye flight to JFK so I can wake up in the city and maximize my time spent on vacation, this works out for me since California is 3hrs behind. Also this helps with jetlag as I can power through the day and sleep at night. Plus there are many choices for red-eye flights from the West Coast via various airlines.
This is our 3 day weekend itinerary for your first trip to New York City!
Where to Stay in New York City
Best Budget-Friendly Places to Stay for Solo Travelers, BFFs, and Couples
For the solo traveler, Pod 39 or Pod 51 is one of the most modern and cute places to stay in New York City! Their rooms are cozy enough for 1 or 2 people. If it's for a 2 person trip, just make sure you really love your roommate because you WILL be in tight quarters. Personally I prefer the rooms with a private bathroom however you can also opt for a shared bath.
I've stayed at the Pod 39 during one of my solo trips to New York City, but both Pod hotels are part of the larger Pod hotel chain so they're pretty comparable.  Even though the single rooms are on the smaller side, they still provide a desk, bed, luggage area, and a flat screen TV with cable. They also offer free wifi, a safe, toiletries, and even a hairdryer! (I know my female readers here are LOVIN' this!)
For those of you with travel buddies, Pod 39 has bunk bed rooms with private baths as well as double bed rooms so its a perfect and affordable place for couples to stay too. Pod 39 is located within a more residential area so it's quiet at night but still close to the subway stations. Be sure to check out their rooftop bar for amazing views of the city! Click here to book a room at the Pod 39 now!
Pod 51 offers more hostel-esque options. They have rooms with shared or private bathrooms. But they also have twin bunk beds or double bed rooms a lower prices. Like Pod 39, Pod 51 has similar amenties offering a modern place to stay with free wifi, cable TV, and iPhone docking stations. They also offer a beautiful rooftop garden! Book a night at Pod 51!
If location and price are your primary concerns, check out Pod Times Square. Like Pod 51, they also have bunk bed rooms but they've all got private bathrooms! If you're picky about your bathrooms like I am, Pod Times Square is definitely for you!
Because they're part of the Pod hotel chain, they've got similar amenities like free wifi, flat screen cable TV, a safe, and a hairdryer. My favorite thing about Pod Times Square is the location, you know what they say "LOCATION, LOCATION, LOCATION!" And this spot has GOT IT. It's literally blocks from Times Square so you can walk back at the end of the day after seeing the bright city lights. Click here for availability at Pod Times Square!
I loved the Pod hotels so I would definitely stay there again, with or without Jimmy! 
Best Mid-Range Places to Stay in Manhattan
Aside from the Pod hotel chain, I also love a few other more mid-range spots. Now, these are definitely larger hotel chains however they are still great places to stay.
One of my favorite areas to stay in is Chelsea. It is fairly quiet at night since it's more of a fashion warehouse type of district but it's still fairly close to the popular spots. The main plus of Chelsea is that it's close to Penn Station so it makes taking the Long Island Rail Road (LIRR) in from JFK airport super easy. See more tips on getting into Manhattan from the airport.
DoubleTree by Hilton Chelsea is one of my go-to mid-range lodging options. The location is unbelievable because you're close to public transit, shopping, and sights like the Empire State Building and Rockefeller Center. One time I even got upgraded to a room with a view of the Empire State Building, it was so cool to be able to see it light up at night! The rooms have great toiletries, hairdryer, coffee machine, and a TV. There are gym facilities too so it's perfect for work trips. One of my favorite things about staying at a DoubleTree are the free cookies at check in, as usual that perk is there! Click to stay at the DoubleTree by Hilton Chelsea in New York City!
Courtyard by Marriott Chelsea is also another great place to stay in New York City. Aside from Penn Station, you're super close to the Herald Square subway station too, it's very convenient for taking public transportation around the city. The amenities are great, with a gym, flat screen cable TV, complimentary toiletries, hairdryer, and even a refrigerator! It is also walking distance from the flagship Macy's location so it's perfect for shopping AND great for seeing the Empire State Building and Rockefeller Center. Book the Courtyard by Marriott Chelsea now!
Even though, it's not in Chelsea, Courtyard by Marriott Times Square West still has an amazing location in Midtown Manhattan. It's a block away from Bryant Park so it's super close to the famous main branch of the New York Public Library as well as Times Square and the Theater District. They have gym facilities so you can stay fit while on vacation or business trip. The rooms have free wifi, a desk, coffee machine, and great toiletries. The service is great here, one of the bellhops was kind enough to help me flag a taxi during NYC rush hour so they definitely go above and beyond! Book your stay at the Courtyard by Marriott Times Square West today!
DAY 1 IN NEW YORK CITY
I get in around 8am and make my way out of JFK and into midtown Manhattan (Penn Station) via the Long Island Rail Road (LIRR). Check out How to Survive Public Transit in NYC for more information. Generally speaking, I prefer to stay in Chelsea so I can be close to Penn Station/Madison Square Garden. This minimizes my time spent traveling between the airport and my lodgings which is very important if you're only in New York for a weekend! I drop off my stuff and then proceed to explore the city!
But first, breakfast! I will legit starve myself after my flight and wait 'til I can get into the city for some cheaper, better food than at the airport. Just kidding, kind of, I always bring a sandwich and granola bars for my flight so I'm not really starving.
Brooklyn Bagel & Coffee Company has delicious bagels! While their coffee ain't all that and a bag of chips, their bagels are BOMB. I love their lox schmear, which is THE quintessential bagel you must get in New York, thanks to the city's Jewish roots. Also, ALWAYS get your bagel toasted, it makes it 48112842178473 times better! They also have a huge cream selection, I swear it looked like there was at least 30 in there. I was tempted to get their blueberry because I love blueberries but I also love lox, so I got the latter.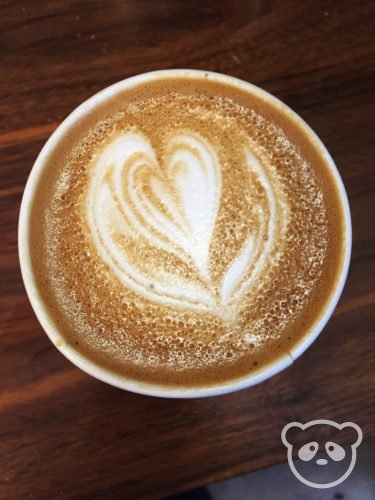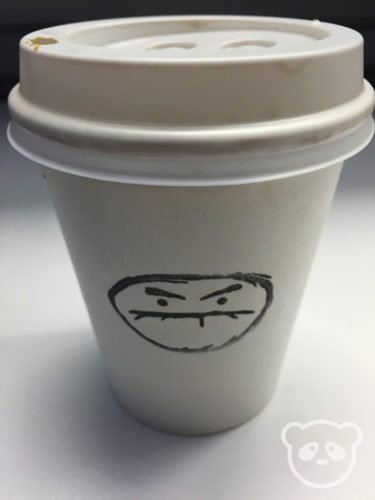 For coffee, I'd suggest Cafe Grumpy, they actually filmed Girls here. That aside, the coffee is actually good and you can get your coffee to-go in cute "grumpy" faced cups (see above)!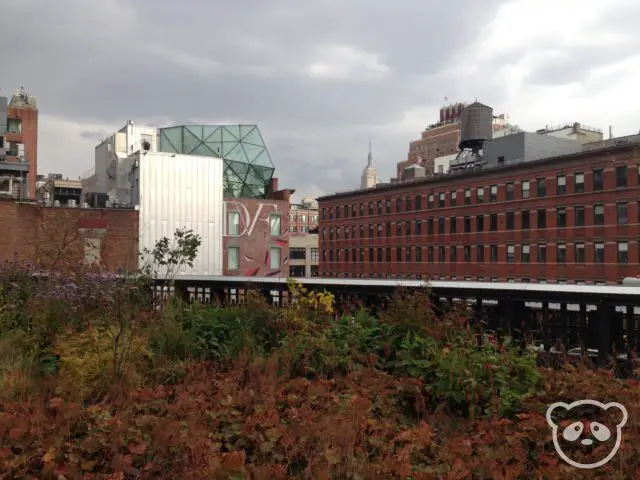 High Line Park
Eating on-the-go is the "New Yorker" thing to do, but there will be some benches at the High Line if your delicious bagel can make it down to the start of the park!
Fun Fact:

High Line Park is an elevated park built on an abandoned railway. At one point, the railway was used to transfer cargo, such as milk, meat, and produce without disturbing the streets.
High Line Park is approximately 1.5 miles long and is one of the coolest parks since you're walking amongst trees and plants but you're still simultaneously making your way through the city. It runs from Gansevoort Street (at the edge of Greenwich Village) up to 34th Street (Chelsea) with multiple exit and entry points along the way, note that not all entry points are wheelchair accessible, see list of access points.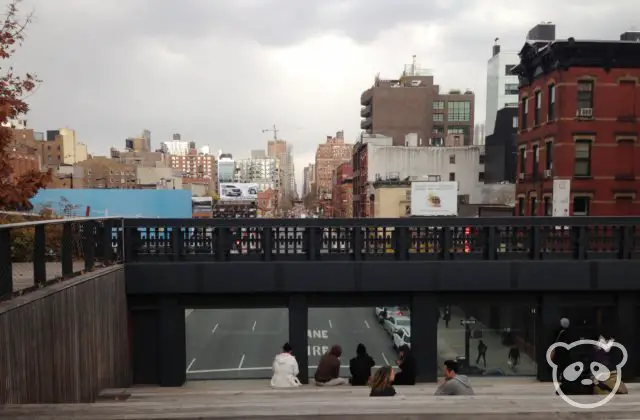 You can see the Empire State Building from along the High Line! The "Urban Theater" provides great views over 10th Ave. Another thing I find cool is along the park walkway you'll be able to see a few elevated automated parking structures. Even though I've been to High Line several times, I've never actually seen the cars being parked but it'd definitely be amazing to see if you're able to catch that!
Whenever you're done with High Line, you can grab a quick bite to eat somewhere, I usually hit up one of the stalls inside Chelsea Market, then take the B or C line (towards uptown) over to Upper West Side, 81st/Museum of Natural History.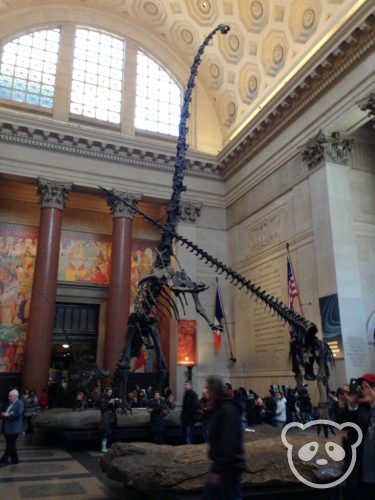 Wow, where do I start with this one. I love this museum a lot so it's making me a little speechless, however I will try my best! 🙂
I've got mad love for this museum partially because I've been going to this museum since I was in my diapers riding on my dad's shoulders to the museum. We'd also go back and see the exhibits whenever I'd come out to NYC to visit my cousins throughout the years. Besides the nostalgia, it's one of my favorites because it has so many cool exhibits!
This is kind of confusing, but also important to note, the main entrance is on the second floor so definitely keep that in mind when you visit. Download the map here.
My top 3 permanent exhibits are the fossils, the "stuffed animal" room, and the "ocean" room.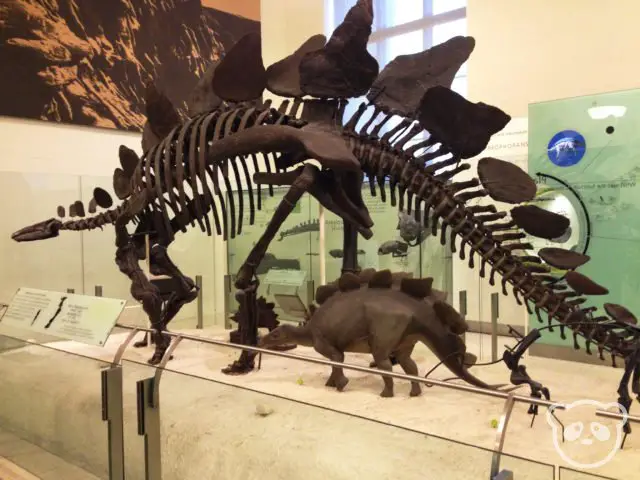 Once you walk through the doors and into the lobby you're already greeted by 2 of the largest dinosaurs ever! But in general, the fossil collection here is amazing! There are so many of them, I would say that The Museum of Natural History and the Field Museum in Chicago probably have the best collections of fossils in the U.S. There is a lot to see in the museum so I would say if the fossils are your top priority, I'd see them first! Make your way to the 4th floor up to the dinosaurs! Here, you will see a T-rex, triceratops, ankylosaurus, pterosaur, stegosaurus, and plesiosaur.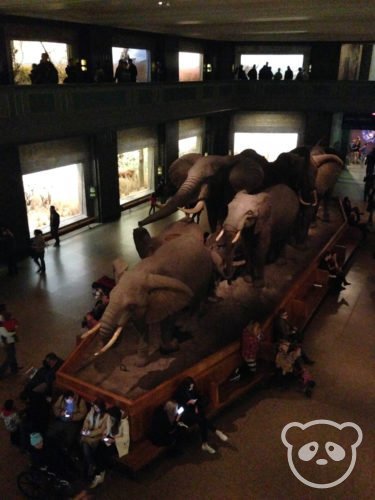 My second favorite would be what I call the "stuffed animal" rooms. I call it the "stuffed animal" rooms because they are made up of taxidermy animals that were once part of hunting expeditions. Some of these animals shown within the "stuffed animal" dioramas are also now extinct.
The room with the African mammals is located on the same floor as the main entrance; you could easily visit this room right when you walk into the museum. The African mammal diorama room is particularly amazing because it is 2 stories (on the 2nd and 3rd floors) with a group of African elephants on the lower floor.
Directly below this room, is the room with North American mammals. There are also rooms for Asian mammals, birds, and reptiles and amphibians; however the only the mammal rooms are diorama rooms.  
Fun Fact:

The mammal diorama rooms were made famous by the movie, "

Night at the Museum"

.
Lastly, the Hall of Ocean Life is one of my favorites, mainly because of the giant blue whale hanging from the ceiling.
In the past, the blue whale lived on the ceiling in the dinosaur fossil room. Even though I feel like the blue whale fits better with the exhibits in the ocean, I still miss seeing the giant whale amongst the fossils. It was an interesting juxtaposition seeing something so large that's still alive today with such massive but extinct creatures.
While the ocean dioramas are nothing compared to the seeing the animals for real at the Monterey Bay Aquarium in California. It's slightly morbid but it's the reason I joke about this museum being a museum of dead animals. Lol. Still, this is one of my favorite rooms in the museum.
Fun Fact:

The blue whale is one of the most iconic exhibits in the museum and is 94 feet long.
I will give an honorable mention for the planetarium because the walk through creation of the universe is really cool and educational. There are also some cool meteorite specimens in this room.
AMNH is a non-profit museum and it's pay what you wish so it is very budget friendly. Back in the day, they had a collection box by the door that you could toss your money in for the "pay as you wish" option, those days are long gone. Note: the "pay as you wish" is only available at the ticket counter, online tickets for general admission are $23.
The museum closes at 5:45pm, just in time for dinner! I suggest Shake Shack! Being a California girl, as much as I love In-N-Out, Shake Shack also holds a special place in my stomach. I love their burgers and custard! For a fast food type of place, their burgers are juicy and flavorful.
See a Broadway Show
New York has some of the best theater productions in the world and with an entire street (Broadway) and more (off-Broadway) dedicated to said shows, why not see one?
There are a few ways to get cheap tickets if that's what you're after, but there's no way to guarantee you'll get cheap tickets for a specific show, i.e. Hamilton or The Lion King.
In the past, the only method of getting discounts was to get to the TKTS booth before they opened and wait. Nowadays with technology, TKTS has an app so you can check that out and see what's on sale.
Alternatively, you could still wait at the ticket booths. There is a location at Times Square but I used to go to the one at South Street Seaport in downtown since it's less busy. BroadwayBox is also a great site to use if you'd prefer to purchase online.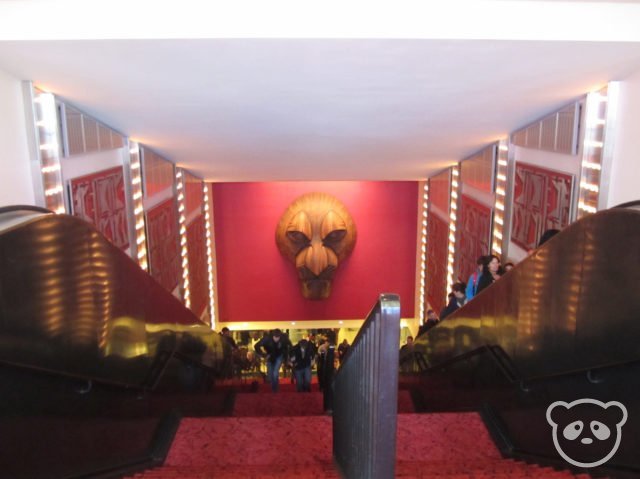 If you're able to get tickets, I highly recommend seeing The Lion King, that theater was specifically built and customized for the show so it's MUCH better seeing it in New York than on the road. I also loved Book of Mormon, Avenue Q (I got tickets for this at TKTS), and Billy Elliot.
After watching the Broadway show of your choice. If you're hungry and want a bite, I'd recommend Totto Ramen.
Their broth is chicken-based, but it's the thickest chicken broth I've ever had. The ramen itself is delicious, but get pork as your protein rather than the chicken. I find the chicken breast to be too dry for my liking.
The waits here used to be insanely long, I once waited 2.5hrs for a bowl of their ramen, however they have since opened another location a couple of blocks from the original, the waits have been alleviated. This place is CASH ONLY so remember those dolla dolla bills!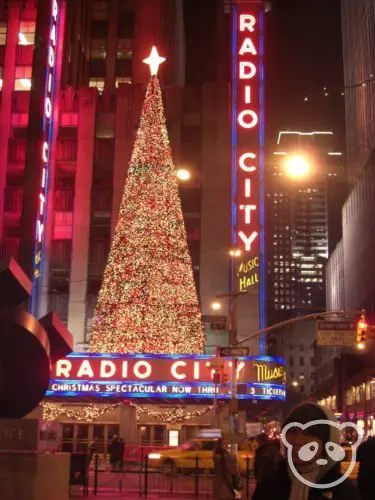 Times Square, Radio City Music Hall, & Rockefeller Center
If you're still down for some action in the city that never sleeps I'd suggest a walk around Times Square, Radio City Music Hall, and Rockefeller Center. Later at night is a more "quiet" time to visit Times Square if there ever can be one so it's definitely a lot less chaotic than it usual. Plus, it's also nice to see Radio City Music Hall and Rockefeller Center lit up at night.
PRO TIP: If you visit NYC at the end of November and December, you'll be in for a treat! The famous Christmas tree at Rockefeller Center will be up!
Personally, having visited NYC many times, we're not huge fans of Times Square. But it's also one of those places you go to see the bright lights and crowds, you see it once and you never need to go back again!
DAY 2 IN NEW YORK CITY
For breakfast/brunch, Sarabeth's has a lot of tasty options. I love ordering their benedicts, they have several choices and they're all excellent. 
If you're after a lighter breakfast, I'd recommend Little Collins, they have some of the best coffee in the city that you can get with a side of pastry.
Central Park
Since you're already in the Midtown or Upper East Side, you can stroll on into Central Park. This is my favorite park to walk around in the city because it's just so beautiful!
Fun Fact:

Central Park was designed by famed landscape architect Frederick Law Olmstead and his partner, architect, Calvert Vaux. Olmstead put public parks on the map through his public space designs that served to unite people of all socioeconomic backgrounds in an area they can all enjoy.
Some of my favorite spots in the park include The Pond, The Lake, Bethesda Fountain, Bethesda Terrace, and Belvedere Castle. The Sheep Meadow looking south towards Midtown offers amazing views of the cityscape behind the trees.
I also love going to The Pond by Gapstow Bridge and walking on The Mall towards Bethesda Terrace in the fall for the best views of autumn foliage.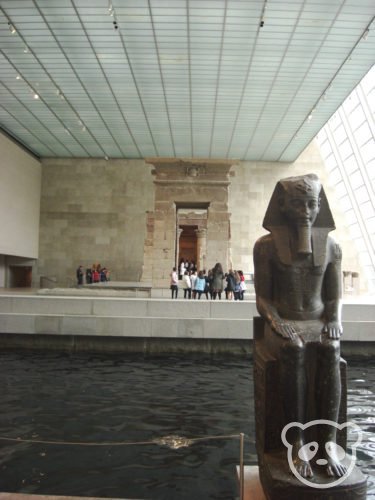 The Met, also known as The Metropolitan Museum of Art, is located in Central Park and it makes for a great visit to follow up the park with. Like, AMNH, The Met has "pay as you wish" pricing at the ticket counter, but online it's $25. As of March 2018, The Met now charges $25 in admissions which covers The Met, The Met Breuer, and The Met Cloisters. Only residents of NY, NY, and CT can get "pay as you wish" pricing upon showing their proof of residency. To learn more, see their admissions guidelines. 
The best things to see in this museum are the ancient Egyptian artifacts as well as classical antiquities. There are also European paintings and various artworks from the Middle East, Asia, Oceania, and Africa.
The Great Hall of the museum is worth noting as the architecture is very beautiful. I will say that if you've been to the British Museum and the Louvre, The Met pales in comparison; however, it is one of the best museums in the U.S. for the variety and the types of pieces it has in its permanent collections.
If you're not interested in The Met, I recommend going to The Museum of Modern Art (MoMA) that is nearby as well. Tickets are $25 for adults, but it is FREE on Friday evenings between 4-9pm so plan accordingly if you're on a budget. 😉 It has a great collection of works, including Monet, Picasso, and Van Gogh. Van Gogh's Starry Night is located at this museum!
Next stop: Halal Guys for some major sustenance! You can find the Halal Guys food truck on W 53rd St. and 6th Ave. They are best known for their combo meat (½ chicken, ½ gyro meat) rice plates which also includes lettuce, pita slices, white sauce, and hot sauce. Their hot sauce is spicier than you'd think, a little goes a long way!
PRO TIP: The rice plates are rather large so if you're not too hungry, 1 order should be enough for 2 people.
If you couldn't already tell from my Best Bird's Eye Views in London post, I love seeing a city from above. I'd highly recommend going to either the Top of the Rock or the Empire State Building.
From Top of the Rock, you get views from the 70th floor (at the highest) of 30 Rock. There are 3 main areas for tourists, the first deck has a gift shop, the second deck has a "Breezeway," and the third deck, at the 70th floor, has an open-air, outdoor, roof deck.
Pros of Top of the Rock
The roof deck on the 70th floor does not have a glass enclosure so it's perfect for photos.

You can get great views of the Empire State Building and the Chrysler Building from here.

It's a lot cheaper than the Empire State Building and an adult timed-ticket is $34 per person.

It tends to be less busy than the Empire State Building.
Note that the last elevator goes up at 11:15pm and be prepared for airport type security, as weapons of any type, food and beverages are not permitted.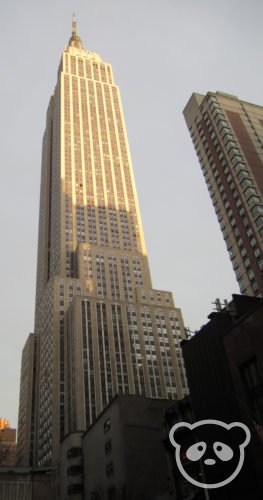 The Empire State Building is one of the most iconic buildings in New York City. It also lights up in different colors for various events and celebrations. For example, in October, it glows pink for breast cancer awareness.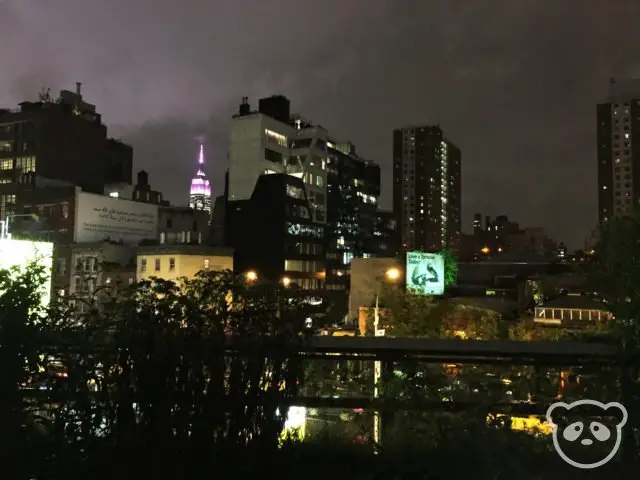 It also happens to be one of the most expensive buildings in the world through which a bird's eye view can be seen. There's a reason they don't really explicitly mention the price on their website until you're trying to purchase tickets 😉
A ticket to the main deck (86th floor) is $34 for adults and for both the main deck (86th floor) and observation deck (102th floor), it is $54.
The 86th floor is open-air and surrounded by a fence on the deck, similar to that of the Eiffel Tower in Paris. This deck was also shown in Gossip Girl, it's where Blair was waiting for Chuck to show up!  
The 102th floor is enclosed within glass windows, also similar to the top floor of the Eiffel Tower. This means that, unfortunately, you might get some glare in your photos. Sadface.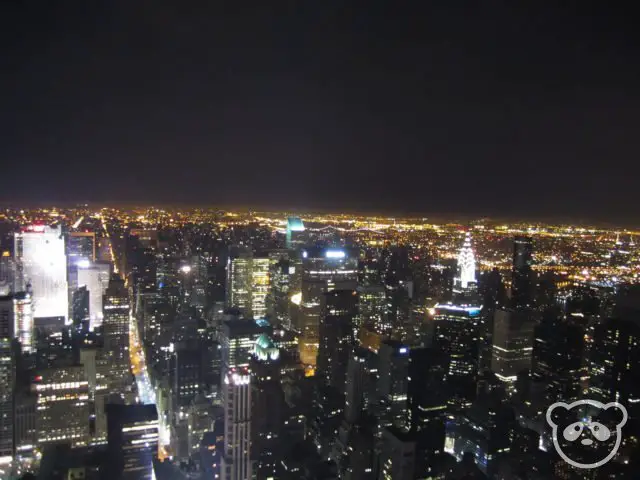 Pros of the Empire State Building
It's open late, the last elevator goes up at 1:15am and it closes at 2am.

The observation decks are located on the 86th and 102th floors providing you with some of the highest views of Midtown Manhattan.

The Art Deco style interiors are pretty cool!
DAY 3 IN NEW YORK CITY
I recommend starting early this day as it's pretty packed!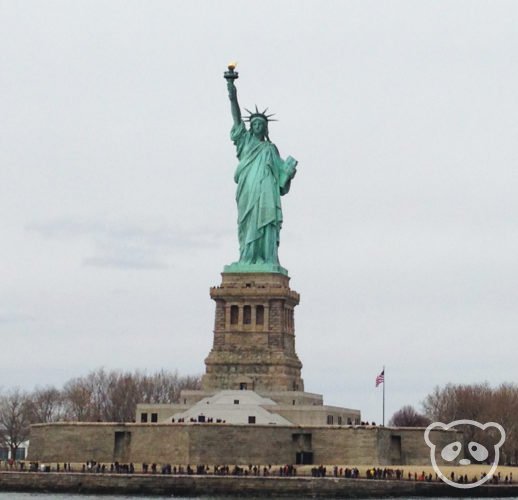 Statue of Liberty
First off, grab a quick breakfast somewhere, then head over to the Statue of Liberty! So in order to visit the Statue of Liberty, there are 3 different types of tickets to see parts of the island and the actual statue.
Grounds Only Ticket:

This allows you to visit the outside park area of Liberty Island. These tickets are typically available even when the other tickets are sold out. This ticket is $18.50 for adults.

Pedestal Ticket:

With this ticket, you get to go up the stone pedestal underneath the statue. There is also a museum about the building of the Statue of Liberty that you can also check out here. These tickets require reservations in advance. The timed ticket is $18.50 for adults.

Crown Ticket:

This ticket allows you to walk up to the crown. Do note that there are 162 narrow steps from the pedestal to the top of the crown. This ticket also includes access to the pedestal and the museum. Also because these are limited tickets, there is a maximum of 4 tickets per household and the credit card holder must be present at ticket pick up. Tickets are $21.50.
An audio guide in multiple languages is included within the ticket price, as well as the ferry and admission to Ellis Island for all tickets.  
Fun Fact:

The Statue of Liberty was a gift from the people of France to the people of the U.S. and was built by Gustave Eiffel (yes, the Eiffel Tower guy).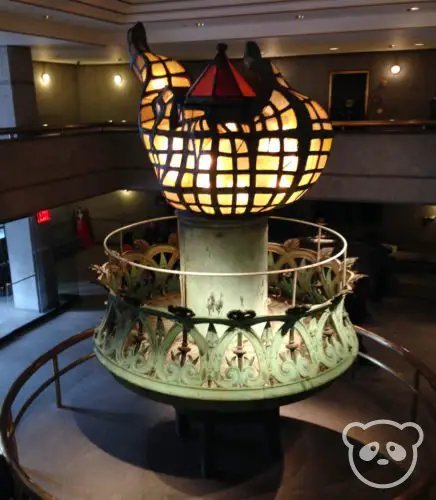 I had to settle for the pedestal tickets since the crown tickets were sold out. The museum inside the pedestal was pretty cool because it talks about the thought process behind the creation of the statue, how it was built, and what it means to people in the past compared to today. The pedestal also showcases some original pieces of the statue that were replaced during restoration, for example, the face of the statue and the torch. 
Ellis Island
One of the best parts of the Statue of Liberty tickets is that you get to visit Ellis Island. After having been to Angel Island, it was an eye-opening experience getting to visit Ellis Island, where the idea of containing and quarantining immigrants began.
Unfortunately Hurricane Sandy damaged a lot of the buildings on the island and because of that I wasn't able to see everything since they were still trying to scrounge up money for repairs.
Fun Fact:

Over 100 million Americans, about 33-40% of the U.S. population, can trace their ancestry to immigrants who arrived at Ellis Island.
Growing up, I'd watched documentaries depicting the island and the processes immigrants were subject to in order to make it into the country. I remembered watching them see the Statue of Liberty as their boat sailed in, intensifying their dreams of freedom in America as they FINALLY made it, only to be sent to the Ellis Island Immigration Station.
Walking through the Immigration Station was an experience in gaining perspective as one of the 1 million immigrants per year processed by the Immigration Station at the turn of the century.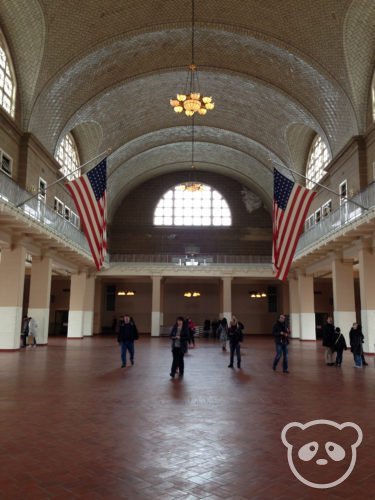 Note that with the Statue Cruises ferry ticket, you can opt to take the ferry to New Jersey back to your starting point In New York. I'd recommend going back to Battery Park, New York because why would you do that only to have to figure out a way back to the city? 😉
Just remember not to get off at the wrong stop because you won't be allowed back on once you get off in either New York or New Jersey. See ferry schedule here.
Statue of Liberty and Ellis Island took us about 4 hours to see.
You'll definitely be hungry by now, I was after a ½ day trip out to the Statue of Liberty and Ellis Island! Peter Luger is one of the most renowned places in New York for a steak. Their steaks and burgers are super good! Legend has it that it's owned by the mafia and that's why you can only pay with cash or their own credit card. Lol, for the record, I'm not sure if that's true.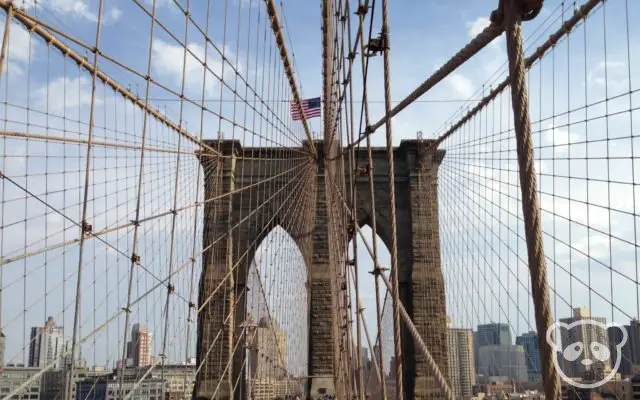 Brooklyn Bridge
After your delicious steak, walk some of it off on the Brooklyn Bridge! This is one of my favorite walks in the city and one of the most scenic. It's approximately a 1.3 mile walk and you see sweeping views of the Manhattan skyline as well as of the Statue of Liberty from this vantage point. The Brooklyn Bridge, itself, also makes for amazing photos from various angles so that doesn't hurt either!
Fun Fact:

The Brooklyn Bridge took 14 years to build and its towers are made of limestone, granite, and Rosendale cement.
Brooklyn Bridge Park
Since you're starting from Brooklyn, you might want to go to Brooklyn Bridge Park beforehand. It's a great walk along the water and from there you can also see the Manhattan skyline along with the Brooklyn Bridge.
The park is super scenic and well worth the visit. If you're interested in going there, it's to the left to the bridge and look for the Promenade. Otherwise if you want to go to DUMBO, head to the right of the bridge and you'll also be closer to the trains.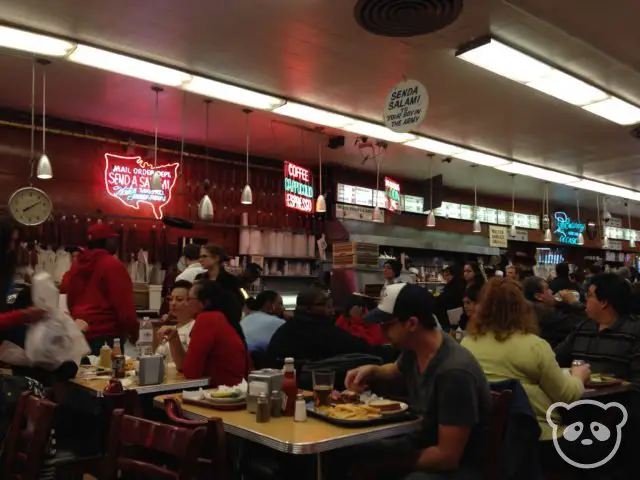 Finally for one of the most famous restaurants in the city, Katz's Deli. This restaurant was featured in the movie, When Harry Met Sally, they also have a sign commemorating the table where Harry met Sally. My favorite and only thing I get here is the pastrami sandwich. It is amazing! THE best pastrami I've ever had!
However their ordering system is a bit unique, so I'll go ahead and explain that. When you walk in, a bouncer will hand you a ticket. DO NOT LOSE THIS TICKET. It will cost you $50 (not an arm or a leg, but way more than the cost of a sandwich), if you lose this ticket. Yes, there is a lost ticket fee,even if you lose the ticket inside the restaurant.

Important Note: Every person gets a ticket, even if you don't order anything, you will still get a ticket and will still be required to relinquish it upon exiting.
Go through the turnstile. Head to the counter on the right, a guy will ask you what you want. Order your pastrami sandwich. As he's making your sandwich, he'll cut off pieces of pastrami for you to munch on. Tip the guy in the basket, that's why he's cutting pieces off for ya, duh. Hand him your ticket, he'll write some numbers on it so you can pay. He'll hand you your sandwich with your ticket.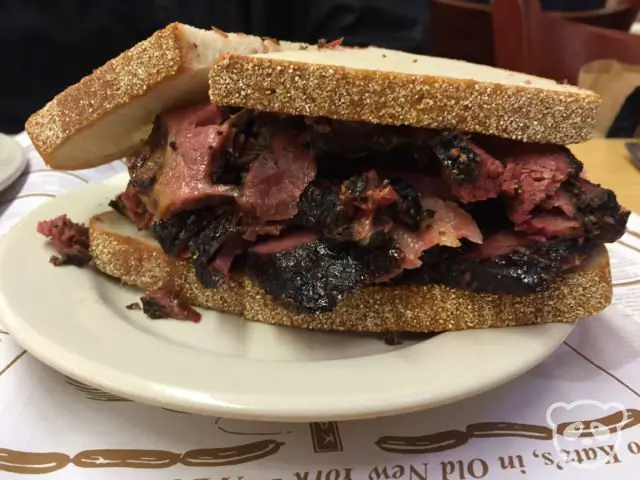 You can proceed to find a seat. There's an area that's open seating and another area with table service.
Table service is the other option if you don't want to order at the counter. You just walk straight in to the left towards the back. There will be some empty tables and a server walking around in the area. Note that these are tables have signs that designate that they're for "table service." A server will come and take your order, your server will write a number on your ticket after you order. If you have more than 1 person in your party, your server will just write it on one ticket. As usual, you will need to tip in the table service area. On busy days, usually the only the table service area will have tables available. 
When you're done with your meal, hand your ticket to the guy by the door. He's the cashier. He needs your ticket to calculate your bill and that's why you can't lose it. Now, you can leave.
It's a very unique experience eating here, but I mostly do it because their pastrami is THAT good. The rye bread is nothing special, but damn that pastrami is cured to perfection!
List of the Sights
Note: Unless otherwise stated, all addresses below are located within Manhattan.
DAY 1 IN NEW YORK CITY
Arrive in Manhattan 
Brooklyn Bagel & Coffee Company
286 8th Ave.
Cafe Grumpy
224 W 20th St. 
High Line Park
Gansevoort Street (at the edge of Greenwich Village) up to 34th Street (Chelsea)

Chelsea Market
75 9th Ave.
American Museum of Natural History (AMNH)
Central Park West (main entrance) between W 77th St. & W 81st St.
Shake Shack
366 Columbus Ave.
See a Broadway show
Totto Ramen
366 W 52nd St.
Times Square
Broadway/7th Ave. between W 46th St. & W 47th St.
Radio City Music Hall
1260 6th Ave.
Rockefeller Center
45 Rockefeller Plaza
DAY 2 IN NEW YORK CITY
Sarabeth's
1295 Madison Ave.
Little Collins
667 Lexington Ave.
Central Park
Area bounded by Central Park S, Central Park W, W 110 St., & 5th Ave.
The Metropolitan Museum of Art (The Met)
1000 5th Ave. 
Museum of Modern Art (MoMA)
11 W 53rd St. 
Halal Guys
Food truck located at W 53rd St. & 6th Ave. 
Empire State Building
350 5th Ave. 
Top of the Rock
30 Rockefeller Center
DAY 3 IN NEW YORK CITY
Statue of Liberty
Statue of Liberty itself is on Liberty Island; however NY ferry pier is at Battery Park (both locations are included on the map for reference)
Ellis Island

Peter Luger
178 Broadway, Brooklyn
Brooklyn Bridge Park
Old Fulton St./Furman St. entrance is closest to the bridge
Walk across the Brooklyn Bridge
Katz's Delicatessen
205 E Houston St.
Map of the Sights
This map includes a list of all of the Sights to See, Restaurants as well as the routes by day (i.e. Day 1, Day 2, and Day 3) within specified layers.
By default, only the Sights to See and Restaurants are shown but you can select to view the daily routes. Use the slide out panel to select layers to toggle them on and off using the checkboxes.
Hope you enjoyed all of these suggestions from a psuedo-New Yorker! There is tons to do in NYC and this is just the beginning of it. I'd love any feedback you may have regarding this series, let me know what you would like to see more or less of! 
For a shorter stay, check out 48 hours in New York City.
Loved our New York City in 3 days guide for first timers? Pin it for later!