This post may contain affiliate links. If you click one of these links, we may receive a commission. We're grateful for your continued love of this site!
If I had a choice, I'd only ever go to Harley Goat Farm in Pescadero, CA during kidding season! But goats can't exactly give birth all the time, that'd be animal abuse which I'm not a fan of. With that said, it is possible to visit Harley Goat Farm outside of the spring months for farm tours and to visit The Farm Shop for some scrumptious (and fresh) goat cheese.
The main reason why you should go to Harley Goat Farm during kidding season is for the KIDS! For those of you who don't know, kids are baby goats. Now you know why you have to go there during kidding season? 😉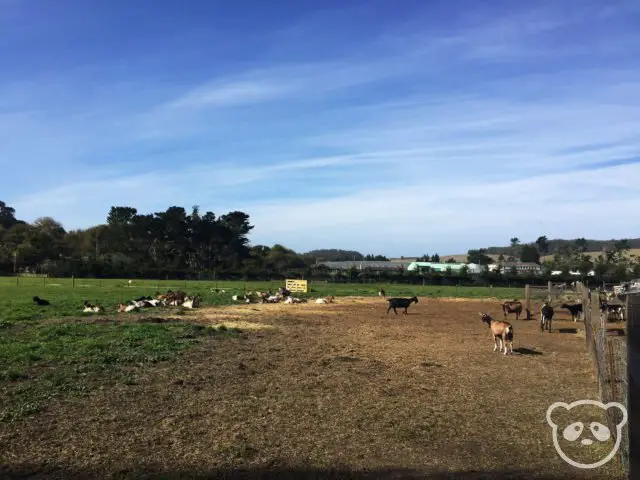 The goats are bred every year in the fall at Harley Goat Farm and the bundles of joy typically start arriving in the spring. As a result, kidding season is usually between mid-February to late May. Keep in mind, this timeframe is only an approximate. You can't rush nature, just because you book a tour in February or May does not mean you're guaranteed to see the baby goats (kids).
We've been eyeing this experience for awhile since we live in the San Francisco Bay Area and only about 1 hour away. And we finally had the opportunity to visit Harley Goat Farm during kidding season!
Harley Goat Farms is a quick car ride from San Francisco, check out our 3 day itinerary for San Francisco. 
Harley Farm Baby Goat Farm Tour
The tour guides are usually people who also work at the farm so they know the animals as well as their way around the farm. There is no set script for the tours and they are run differently each time. Animals can be unpredictable so it depends on the day and what is going on at the farm.
When we went on the tour, Connie, our tour guide, met with us in the garden, started with some brief introductions, double checked with our names, and told us about the history of the farm to give us a bit of background. Then we were on our way to meet the kids! But first, we washed our hands outside of the barn before going in to see the goats.
PRO TIP:
Keep your eyes open and VERY peeled when you're walking around in the barn or you might step on some fresh goat doo-doo and/or mud.
Fun Fact:

Harley Goat Farms began with 6 pet goats and it has now grown to house over 200 alpine goats.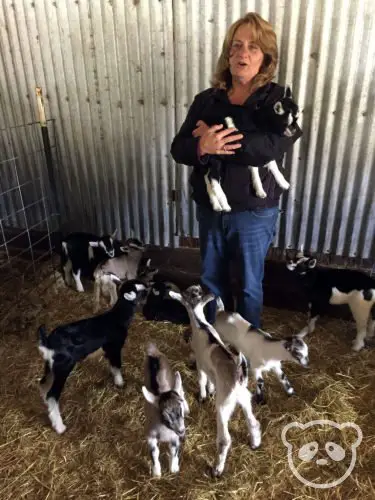 Connie took us into the barn, where the momma goats were, but there was also a small pen where all of the baby goats were kept. Connie went into the pen to teach us how to hold the babies and then proceeded to hand 1 goat to a person in each group. For example, if you show up in a group of 4, all 4 of you will share baby goat cuddles with that 1 goat. In our case, since it was just Jimmy and I, we had 1 kid to ourselves. SCORE!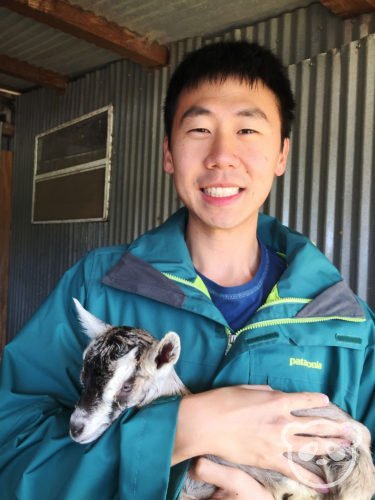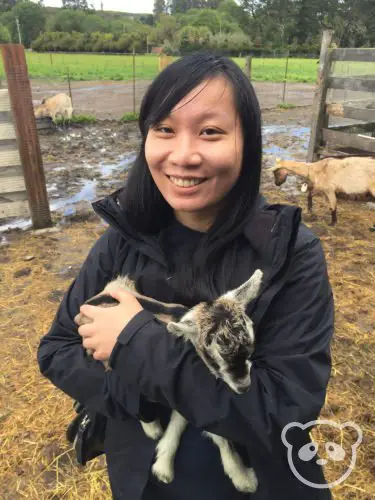 The baby goat we held was about a week old. Our goat was super cute and in all honesty, I was in crazy smiles the entire time because I was so excited to be holding a baby goat!
After about 15 minutes of baby goat snuggles, the kids were removed from our grubby hands and we went onwards with the tour.
Fun Fact: Because Harley Goat Farm is located close to the ocean, the sea salt settles on the grasses eaten by the goats, creating a distinct flavor in their cheese. (Side note, this is also similar to Pag cheese found in Croatia!)
We learned that the goat's milk derived from breeding baby goats is mainly used for cheesemaking and other goat's milk products. However the baby goats are still very well fed. Harley Goat Farm usually keeps female baby goats to breed and provide goat's milk. On the other hand, the males are usually sold, but they are not used for food purposes. The female goats can still provide milk throughout the year, but they have their largest supply after having a kid.
Connie introduced us to some of the other animals on the farm, such as the donkey and the llama. Harley Goat Farm also has a resident cat, a dog, and some chickens which we didn't get to see.
Fun Fact:

The llamas on Harley Farm property are "guard llamas" who protect the goats from wildlife by chasing coyotes, bobcats, and mountain lions away.
Previously there were two llamas however after one of them died of old age, Harley Goat Farm decided to look into other options to care for and protect their precious goats (babies and all). They settled upon getting Anatolian shepherd puppies, a rugged breed bred for protecting livestock. These days you'll get to see the shepherd puppies hanging out with the goats.
Afterwards Connie took us through milking parlor and introduced us to their machinery. She showed us how the milk gets sent to the dairy through the overhead pipes, where it gets processed and pasteurized.
Then Connie took us to the large picture window at the dairy. Due to sanitary reasons we couldn't enter the dairy, but she told us how the whey is separated from the cheese to create different types of cheese.
Fun Fact:

The fromage cheese sold at the Harley Goat Farms Farm Shop contains more whey than the rounds and logs and as a result, is softer and more spreadable.
We ended the tour in the garden with various samples of cheese sold in the store.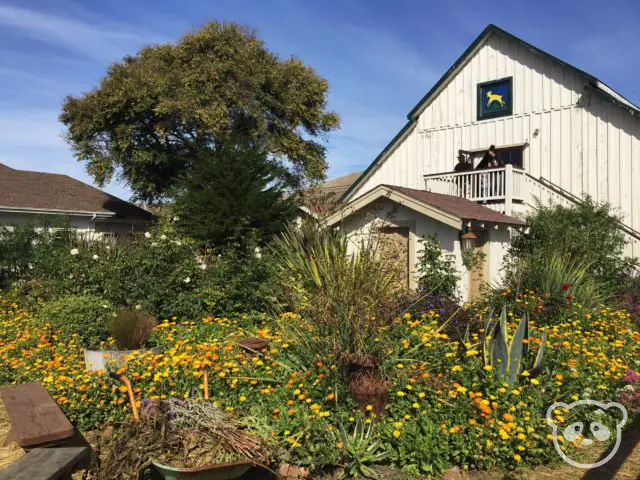 Don't forget to check out the dining room upstairs in the barn (in the same building as the shop). Harley Goat Farm also has luncheons and dinners are served here on the long table made from a single piece of wood. It's a super quaint spot and I'd love to have a meal here someday! Click here for more information about their farm-to-table meals.
Note that the dining room is sometimes closed for events, so you might not always get to see it.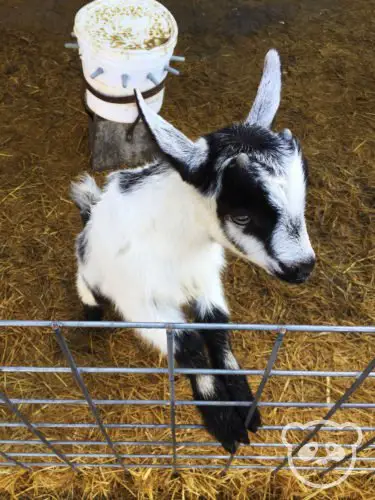 General Information for Touring Harley Farms 
You MUST do the farm tour in order to hold the kids, no if's and's or but's. That's just how it works because they need to provide you with a guide, can't exactly have randoms just coming up and grabbing the goats!
The Harley Farms tours last about 90 minutes and they will take you around the farm and introduce you to the different types of animals on the farm. They will also take you through the milking station and you'll be able to get a look into the dairy, where they make the cheese.
Harley Farms Baby Goat Tours: Availability & Cost
Depending on the day of the week, there are 1-2 tour times available so they get booked pretty quickly, especially during kidding season. Check out the Harley Goat Farm schedule for the latest availability.
The tour dates and times typically aren't available until late-January or early February. Stay tuned, we'll be updating tour dates to see the baby goats as they become available! As of today, tour times are not available. If the times aren't available yet, I'd recommend continually looking at the website for updates.
Tour dates/times were already available when I booked on January 21. There were earlier tour dates available at the time of our booking, but early April worked best with our schedule.
The baby goat tours cost $55 per person, so they aren't exactly the cheapest, but they do treat their goats like they're part of the family so we strongly believe it is worth the price. Plus, how often do you get to hold baby goats? Also, the price includes a cheese tasting with bread at the end of the tour.
Tours are also non-refundable so make sure you can actually attend. I have heard that they can be transferred to a friend, but you would need to contact them in order to figure out those logistics.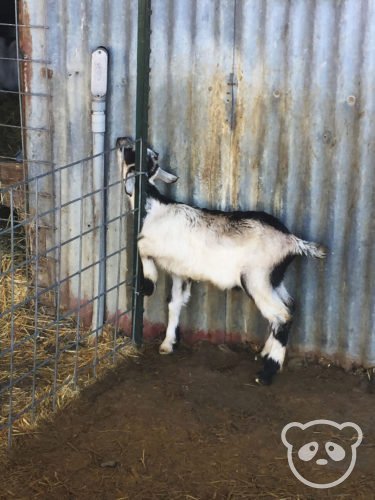 The tours outside of kidding season are "normal" farm tours so you will still get to see the farm with a guide but there might not be baby goats.
If you're not interested in the tour or seeing the Harley Goat Farm on a guided tour, you can also head out to Pescadero for The Farm Shop.
Helpful Tips for Visiting Harley Goat Farm
How should you prepare for the farm tour at Harley Goat Farm?
There are a few things you should know…
Get there early.
Ideally, 5-10 minutes before your tour time so that you can check-in at The Farm Shop. You'll just need the name used to book the reservation.
It is a farm.


Mud is everywhere. Don't bring anything you don't want to get dirty. There is a good chance the goats will rub their horns and mouths all over you. They also like to chew on things that hang, like zipper pulls. Keep your eyes peeled you don't want to step in goat doo-doo, you've been warned.

Dress like you're on a farm.


Not "farm wear" specifically, but wear closed toed shoes, and dress warmly. Flip flops and sandals are not permitted. Also, the tours will happen rain or shine. I recommend wearing windbreaker-type or water-resistant clothing so that you can easily clean it before going into the car. Since it was a bit chilly and it'd rained the night before, I wore a snow jacket and snow boots. The major plus was that I could hose them off afterwards.

They don't have baby goats throughout the year.
You can only see the baby goats (kids) in the spring. That's also known as kidding season. Like most animals, goats tend to have their babies in the spring, so your best bet for getting to see baby goats is visiting the farm in the spring months, ideally between late February and early May. Please note that even if you visit in February or May, getting to see baby goats isn't guaranteed, Mother Nature just doesn't work that way!
All About Harley Farm
History Behind Harley Farms
Dee Harley purchased the property on which Harley Goat Farm sits today. It was once a dairy farm originally built in 1910 that she restored. In 2011, she was able to purchase additional land to expand the farm, including neighboring fields, a historic barn, a hidden orchard, and an overgrown garden, all of which they are continually working to renovate.
The Farm Shop
They sell tons of goat milk products (and more) made in-house on the farm. Best of all, they have goat cheese samples here! So even if you don't sign up for a tour, you can definitely try some cheese. And trust me, one taste and you'll end up bringing a round (or two) home with you!
We love purchasing their freshly made goat cheese; they come in so many different flavors from lavender to garden chive, and cranberry walnut to plain. While it isn't cheap, they're usually around $15-20 per round, it is THE best goat cheese we've ever had. Some of their cheeses have even won awards!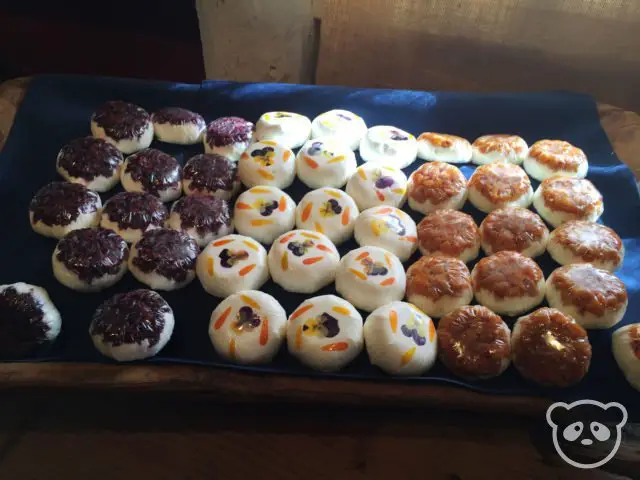 Fun Fact:

The Monet cheese, with edible flowers grown in the garden, won a Gold Medal at the World Cheese Show.
Love edible flowers? Visit a lavender farm in California for a beautiful farm to table experience! 
Aside from goat cheese, you can also purchase pepper jellies, goat milk truffles, goat milk cheesecakes, and goat milk bath products, such as lotions and soaps.
Last time we visited on a goat cheese purchasing excursion, my mom made sure I brought her back a bar of goat milk soap! We also tried their goat milk cheesecake which was amazing and their goat milk lotion made my skin feel SO baby soft. 
Farm-fresh eggs are also available from The Farm Shop via the hens on the property.
How to Get to Harley Goat Farm
Pescadero is located a stone's throw away from the San Francisco Bay Area. It's a great spot for a day trip even for Bay Area locals, like ourselves!
Harley Goat Farm is approximately 48 miles from the heart of San Francisco. The farm is easily reachable by taking the Pacific Coast Highway (PCH or State Route 1) south towards Santa Cruz. From Santa Cruz (south), you can take the PCH north towards Half Moon Bay for about 36 miles. Coastal roads can take longer than expected due to lower speed limits, windier roads, and traffic, including additional travel time is highly recommended.
Address
205 North St.
Pescadero, CA 94060
Website
Hours
Open daily 11am-4pm
The Farm Shop is open daily 11am-4pm and online. 
Cost
$55 per person for the standard farm tour
$55 per person for baby goat tour
$95 per person for sustainability tour
$105 per person for goat cheese and wine tour
Tickets for all tours are available online.
The Best Time to Visit Harley Farms
You can visit the farm and book a tour any time they are open, but kidding season typically happens between late February and early May. Be sure to book the tour in advance because they do sell out!
We wanted to be sure we would see the baby goats so we actually booked our tour in late April. For the best time to visit, it would probably be in the middle of kidding season, between March and April because most of the mama goats will be having babies by then. Even if you visit in May though, you should be able to see some of the babies, though many of them will be bigger (but still babies) by then.
If you decide to visit the farm without a tour your activities will be limited as you won't get as in-depth of an experience, but I'd also encourage you to support a local business and try out their fresh goat cheese and goat's milk bath products. They are all amazing!
This is one of our favorite spots on the Northern California coast. We can't wait until we go back to Harley Goat Farm to visit the goats and sample some delicious goat cheese!
Loved this post about Harley Farm in Pescadero, California? Pin it for later!