This post may contain affiliate links. If you click one of these links, we may receive a commission. We're grateful for your continued love of this site!
Barcelona is one of my favorite places in the world. Aside from amazing Catalonian food, it's also home to the work of, in my opinion, one of the best architects of all time.
At the turn of the century, between 1890-1910, all of Europe was undergoing a change in style. These rhythmic, organic lines echoed across all areas of life, from architecture, to decorative arts and graphic design to painting, ceramics, and metal work. In France, this movement was known as Art Nouveau and in Spanish Catalonia, it was called Modernism.   
Antoni Gaudí is best known for his Modernism style of architecture. He took Art Nouveau to a whole new level, adding bright colors, curvy walls, looming shapes to create bold, organic buildings for which he is still known for today. In many ways he was ahead of his time and misunderstood by his peers and those he respected, similar to Hector Guimard and his Art Nouveau work in Paris. Pablo Picasso and Salvador Dali, in particular, famously despised Gaudí's work.
Fun Fact:

While handing Gaudí his degree, the director of the Escola Tecnica Superior d'Arquitectura de Barcelona (School of Technical Architecture in Barcelona) said, "We have given this academic title either to a fool or a genius. Time will show."
He had a major love for nature, religion, and architecture and held extreme passion for his work. This explains the organic lines and flow of his designs as well as his dedication to his most famous work, La Sagrada Familia.
Fun Fact:

He was so passionate about La Sagrada Familia that he moved his studio into the crypt so that he could work on the cathedral every waking moment.
Naturally (see what I did there? Lol), when I was visiting Madrid, I jumped at the chance to go to Barcelona for a weekend. I HAD to see Gaudí's works in real life!
Given that I was only able to spend a 3 days in Barcelona, I had to maximize my time and only could visit 4 of his buildings.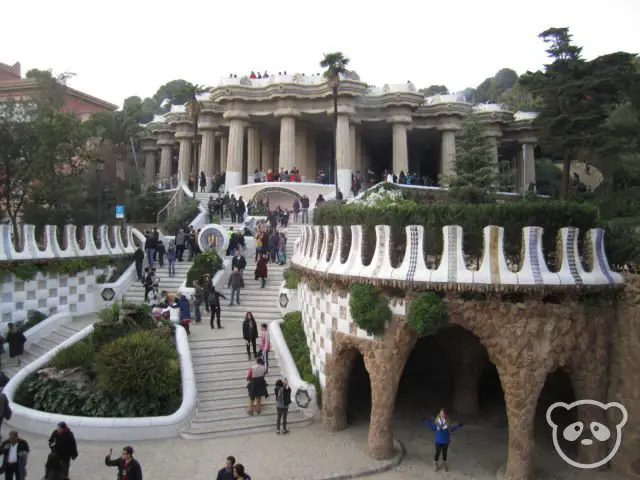 This was one of the most beautiful parks I've ever seen and by far, the most architecturally designed.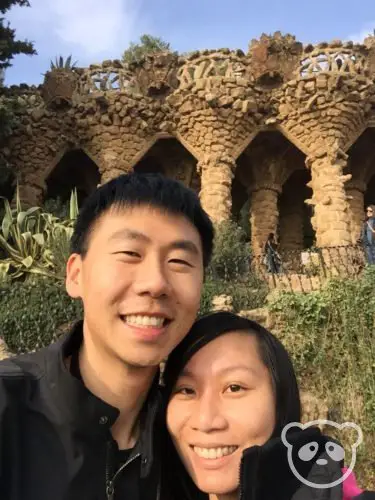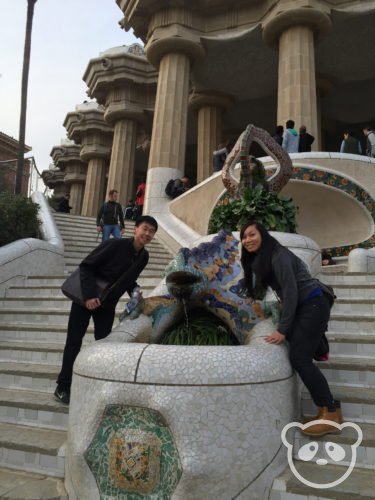 The park was originally envisioned as a luxury housing development by Count Eusebi Güell, who commissioned Gaudí to work on several projects in addition to this development. However due to poor sales, the development was never fully built out and the Güell family gave the city the property after Count Güell's death.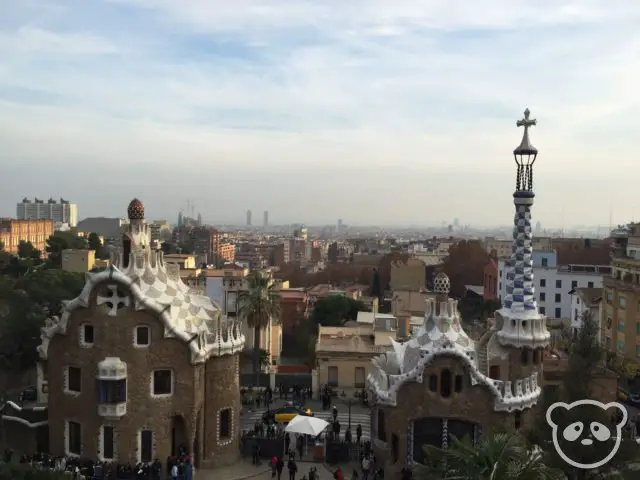 Fun Fact:

 Antoni Gaudí built in lumbar support and a water drainage system into the famous serpentine mosaic tiled bench, making it comfortable for visitors while preventing them from getting their seats wet. If this isn't genius, I don't know what is! They were so comfortable to sit on!
The development was meant to be an escape for the rich to avoid the smoky polluted areas of the city below. But Gaudí always wanted the park space to be open and available for all, and that's how it was originally. However because we can't have nice things, people have destroyed many of the mosaic tiles of the famous serpentine bench within the Monumental Zone.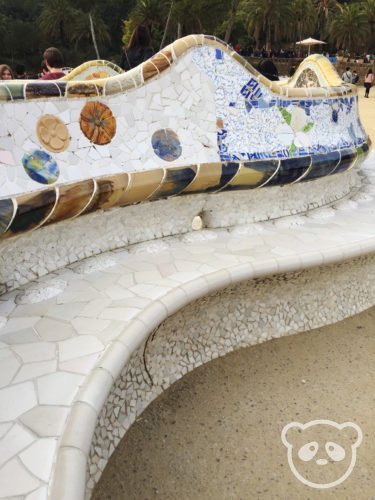 Today, the missing areas have been filled in with white tile as a testament to the destruction and a fee is charged to get to the bench area (Monumental Zone). The rest of the park remains FREE to all.
Website
Entrances: Carrer de Larrard (main entrance); Carretera del Carmel, 23; Passatge de Sant Josep de la Muntanya via an escalator
Park itself is FREE, prices are for access to Monumental Zone: Adults – €7 (online), €14 (online for guided tour)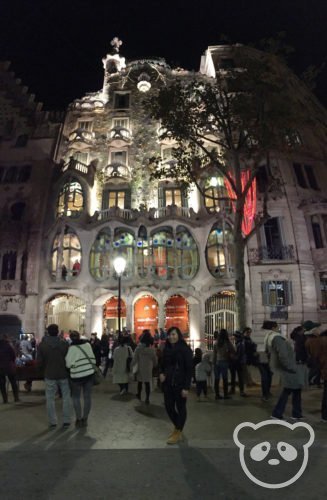 This residence is known specifically for it's dragon-backed roof tiling and skeletal balconies, as a result, it is also locally called casa dels ossos or "House of Bones."
Gaudí renovated this house for Josep Batlló and his family. Aware of Gaudí's eclectic and risky designs, Batlló had requested a unique house unlike any other.
Fun Fact:

Unlike many of his other buildings, this home was renovated as opposed to rebuilt. Originally Batlló had wanted to tear down the original home on the property but Antoni Gaudí told him he could just renovate it. Gaudí ended up altering many aspects of the home, including removing all straight lines, expanding the light well, and adding more floors.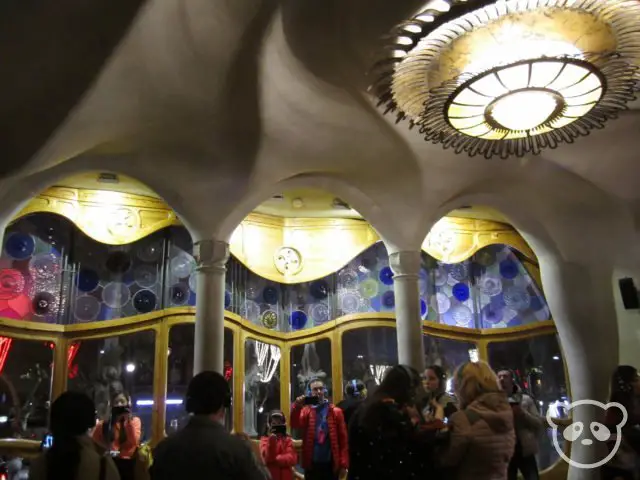 Antoni Gaudí delivered a home with wavy walls, rounded wrought-iron balcony railings, and marine styled decorations. The family primarily resided on the main floor, with tenants living on the other floors. Gaudí kept that in mind and a created private access to the main floor and communal stairs for the rest of the building. The entire building consisted of ground floor, a main floor with a courtyard, four additional floors, a loft and a roof terrace.
Casa Batlló became a UNESCO heritage site in 2005.
Website
Address: Passeig de Gràcia, 43, Barcelona 08007
Prices: Adults – €23.5 (online) and up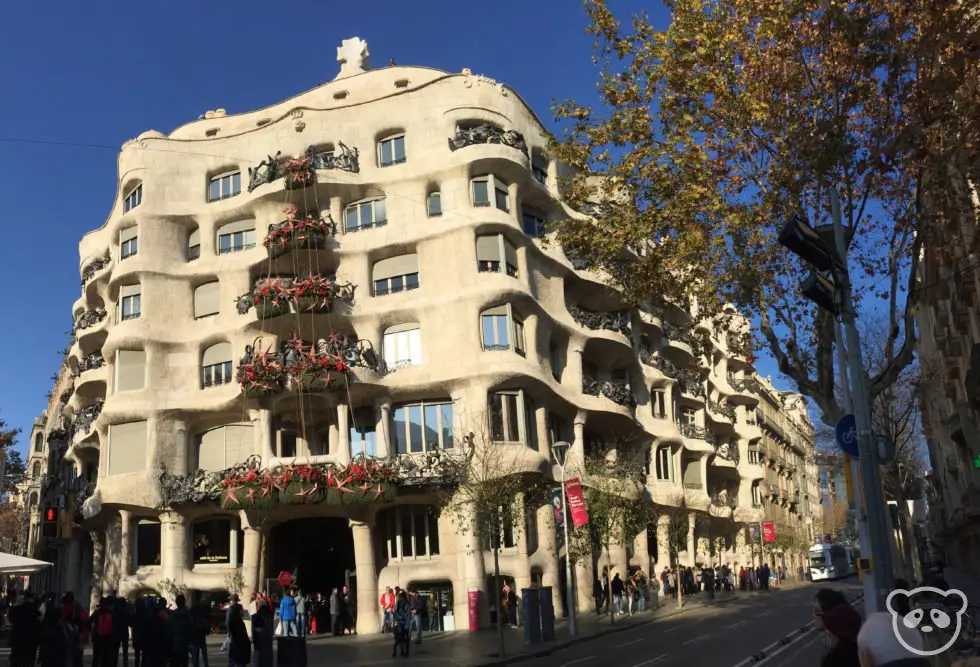 This other-wordly building is famous for its outer space-like roof and curved walls. It is also the last private residence built by Antoni Gaudí and was built between 1906 and 1910. Roser Segimon and her husband Pere Milà commissioned this building and it was designated a UNESCO world heritage site in 1984.
It was designed to be an apartment building that encouraged residents to socialize with one another; he created elevators on every other floor so that people living on different floors would meet each other. He also designed the wide open space on the roof for the residents to enjoy together.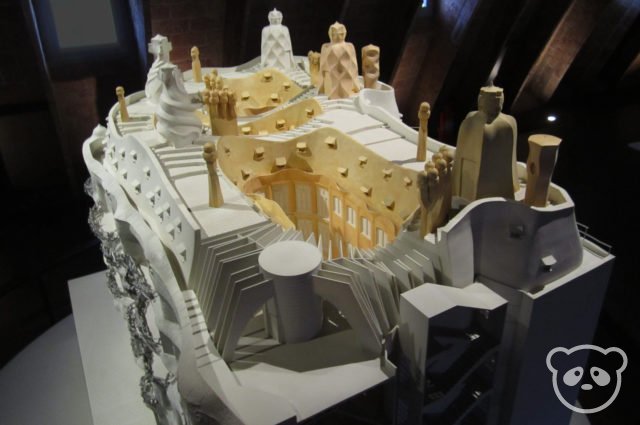 Fun Fact:

When the building was originally built, the roof did not have the iron fences that you see today. This meant that people could easily fall off the roof and into the courtyard, so the fencing was later added on for the safety of visitors.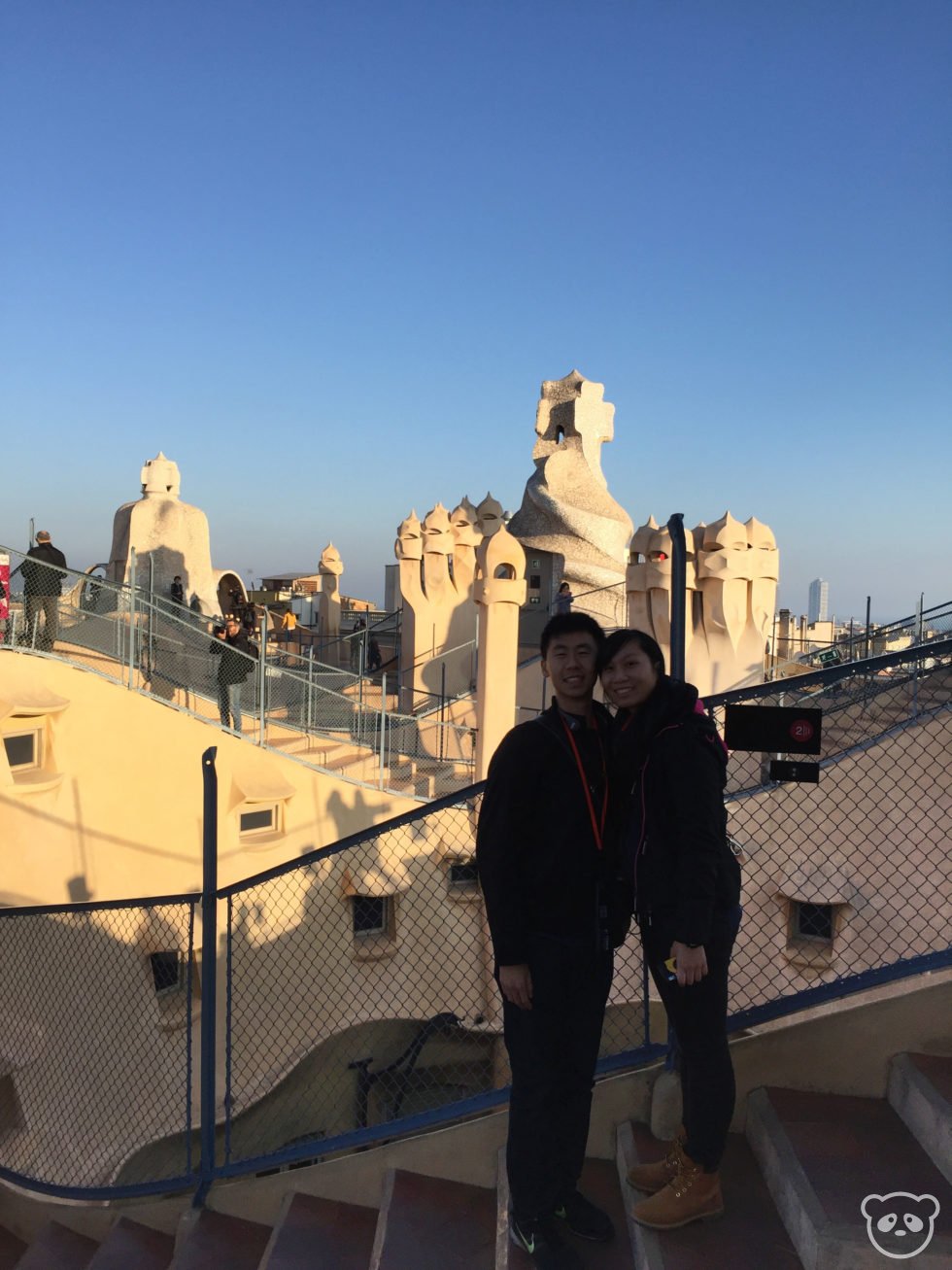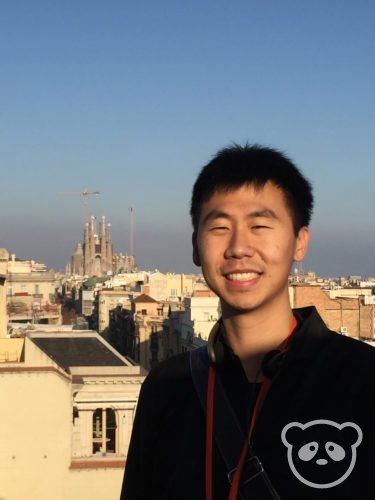 Although the roof is a simple neutral creamy tone, Gaudí stretched his creative muscles with his designs on the famous roof. He used curved and geometric shaped structures characterized by his work to mask skylights, stairways, and chimney vents. In some of those pieces, he also incorporated crosses as symbols of God. The roof itself is a sight to be seen and I probably spent about an hour just on that roof alone!
PRO TIP: You can see another one of Gaudí's buildings from this roof – La Sagrada Familia!
The structure, itself, was ahead of its time in a few ways. The stone facade was self-supporting and free of load-bearing walls, this allowed residents to modify their units as they pleased, adding and removing walls, without affecting the stability of the building.
Like Frank Lloyd Wright, Antoni Gaudí would sometimes also create furniture to go with the building, mainly for the commissioners of his buildings.
Fun Fact:

Over the course of the building process, Gaudí's interiors and furniture designs became a point of contention with Milà's wife, Segimon, and many of the pieces on the main floor were removed after Gaudí's death.
It must have been an amazing place to live as the design is so unique and inspiring. Today, there are still a few tenants residing within the walls of Casa Milà, learn more about them here.  
Website
Address: Passeig de Gràcia, 92, Barcelona 08008
Prices: Adults – €22 (includes audio guide) and up
It's difficult for me to pick a favorite work of Gaudí; however if I had to choose, it would be La Sagrada Familia. When you walk out of the Sagrada Familia metro stop, you are already greeted by La Sagrada Familia, it already looks amazing from the outside. But once you walk in, you see that the interior is mind-blowing with tons of detail and rainbow spears of light shooting through the building via colorful stained glass windows.
Fun Fact:

La Sagrada Familia has taken longer to build than the Great Pyramids of Giza in Egypt, the pyramids only took 20 years.
La Sagrada Familia has been in continuously under construction since its groundbreaking in 1882. The building is already amazing and it hasn't even been finished! Yes, this building has been under construction for over 135 years; however the current goal is to complete it by 2026, the 100th anniversary of Gaudí's death. Even though it isn't a finished piece, it is still very mind-blowing.
Fun Fact:

 Antoni Gaudí knew he was not going to live to see the finished La Sagrada Familia; and as a result, he wanted the portions he could finish to serve as the example for which the rest of the church would be built.
Tragically in 1926, Antoni Gaudí dies at 73 years of age, after getting run over by a tram in front of La Sagrada Familia. Gaudí created a model of the finished product for future architects and artisans to work with in the future that was unfortunately destroyed during the Spanish Civil War in 1936. Currently, people are still working to piece the models together to figure out Gaudí's original design; as the construction is ongoing, a mixture of the restored models and previous plans are used.
"It is not a disappointment that I will not be able to finish the temple. I will grow old, but others will come after me. What must be always preserved is the spirit of the work; its life will depend on the generations that transmit this spirit and bring it to life."
– Antoni Gaudí
Today, it is possible to view pieces of the models in the museum located in the crypt of the basilica. The entrance to the museum is across from the school Gaudí built on-site.
Curious about the construction history of La Sagrada Familia? Check out this podcast by 99% Invisible.
The level of detail on the exteriors of the basilica are magnificent. The Nativity facade was the only facade to be built by Antoni Gaudí's direct influence and was completed in 1935. Gaudí intended this side to be most accessible to all and includes sculptures symbolizing the birth of Christ.
The Passion facade is more simple, resembling clean bones and represents the suffering of Jesus during his crucifixion and the sins of man. The final facade, the Glory facade, began construction in 2002 and will embody the road of Jesus to God, from death, to the road to judgment, and finally, to glory.  
Fun Fact:

To design the texture on the Nativity facade and the spires, Gaudí created a model and dripped melting wax upside down.
There will be a total of 18 spires on the church when it is complete. The Twelve Apostles are represented by the spires, the Virgin Mary, four Evangelists, and the tallest of them all, symbolizes Jesus Christ. When the final spire is finished, La Sagrada Familia will be the tallest church in the world.
Fun Fact:

Gaudí intentionally designed La Sagrada Familia to be only 1 meter shorter than nearby mountain, Montjuïc, because he believed that a man-made creation should not supercede God's work.
The interior is full of Antoni Gaudí's natural inspirations, or what he would call God's creations; he incorporated curved lines, since God didn't create straight lines in nature. The columns are reminiscent of trees, providing structural support through branching. Antoni Gaudí's intent with the bright, naturally-lit interior was to provide believers with a sense of enlightenment and to encourage introspection.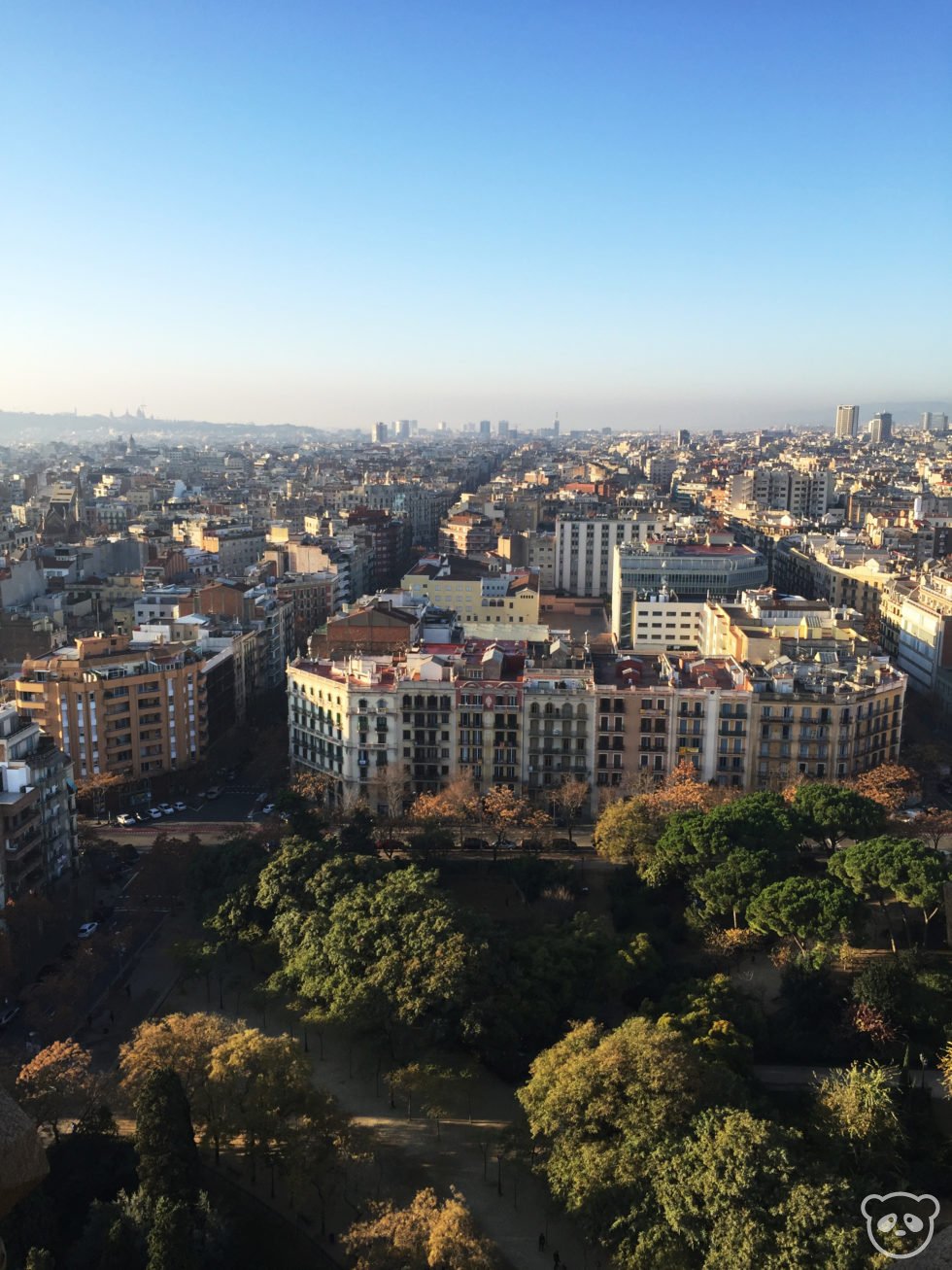 One of the coolest things about visiting La Sagrada Familia, aside from learning about Gaudí's architecture, is that you can visit 2 of the towers: the Passion and the Nativity towers. Each tower is named for the facade on the respective side of the church. You do have to buy separate tickets for this in advance, since they might be sold out on site. We purchased tickets for the Passion tower since it provides better views of Barcelona and the ocean. From the Nativity tower, you get a view of Montjuïc and another part of the city.
Website
Address: Carrer Mallorca, 401, Barcelona 08013
Prices: Adults – €15 for general admission ticket, €22 ticket includes audio guide, €24 ticket includes guided tour OR audio guide & ticket to Gaudí Home Museum, €29 ticket includes audio guide & admission to either ONE of the Passion or Nativity towers
To see all these spots and more, check out our Barcelona sample itinerary.
Map of the Sights
I would love to see all of Antoni Gaudí's beautiful architectural buildings some day. I will update this post with more sights as I am able to see them. 🙂
Loved this guide to the best of Gaudí's architectural work? Pin it for later!