This post may contain affiliate links. If you click one of these links, we may receive a commission. We're grateful for your continued love of this site!
Have you ever wondered what it would be like to walk around colorful fields of tulips? There is no better place to experience a tulip festival than in the Skagit Valley! Skagit Valley is a beautiful place to see tulip displays, tulip fields, and best of all, it's located near Seattle. This comprehensive guide will tell you everything you need to know about the Skagit Valley Tulip Festival – from how to get there, when to go, where to eat, and more! 
Fun Fact: Though "Skagit" of Skagit Valley is spelled with a "G," it is actually pronounced "Ska-jit."
This guide is full of insider's tips on visiting the festival! How did I get these insider tips, you ask? Well, fortunately for me, I had a coworker who was from Mount Vernon, WA and grew up seeing the tulips and working the fields post-bloom. She was responsible for pulling up the bulbs at the end of the season. 
But because of her, I learned a lot of pro tips for visiting the Skagit Valley Tulip Festival. In this post, I am sharing all of them with you, so you'll be prepared with as many useful tips for visiting the Skagit Valley Tulip Festival as possible! 
Visiting the Portland, OR area instead? Check out the Wooden Shoe Tulip Festival in Woodburn, Oregon. 
How to Visit Skagit Valley Tulip Festival in 2023
The festival is hosted by some of the top tulip growers in the valley, Roozengarde and Tulip Town, and takes place annually in the month of April, and sometimes, if you're lucky, even into May. Last year (in 2022), the Skagit Valley Tulip Festival extended to May 1! 
Garden Rosalyn will be continuing as part of the Skagit Valley Tulip Festival for 2023, new for 2023 is Tulip Valley Farms. They will have unique experiences such as U-pick and night bloom. 
Fun Fact: More tulip, iris, and daffodil bulbs are produced in Skagit County than in any other area in the United States. 
In 2023, the Skagit Valley Tulip Festival is running from April 1 – 30 at both Tulip Town, Garden Rosalyn, and Tulip Valley Farms. The dates for Roozengarde are still being confirmed however in 2022, it was between March 25 and May 1. With that said, the blooms are dependent upon Mother Nature so they may be blooming at anytime during the month of April. For 2023, the tulip festival may even begin earlier than April if the blooms occur sooner. 
The Best Time to Visit the Skagit Valley Tulip Festival in 2023
Like we mentioned previously, the Skagit Valley Tulip Festival takes place between March 25 – May 1, 2022 at Roozengarde and April 1-30, 2022 at Tulip Town and Garden Rosalyn, so the best time to visit would definitely be within the month of April. 
We visited during the last week of April in 2019 and the tulips were still looking gorgeous, but according to my coworker, the best time to visit is in mid-April since the tulips will be at their peak. Keep in mind though that these estimates are rough and are highly dependent upon the weather. 
If you visit earlier in the month, in early April, you might even be able to catch the daffodils in bloom. They usually bloom a bit earlier than tulips; unfortunately for us, we didn't get a chance to see those. 
PRO TIP: If you get a chance to visit on a weekday, do it! The traffic isn't as bad and there are less crowds, plus admission to the display gardens is cheaper.
Visiting on the weekend is still doable, but you'll want to get there as early as possible to avoid crowds and traffic! We arrived close to 10am and many of the tulip fields were empty.  
Fun Fact: If you leave the tulips blooming past their peak for too long, it ruins the bulbs. That's why you might see cut stems in the fields if you're visiting later in the season. 
If you visit too late in the season, the tulips usually are past their peak bloom and will be wilting soon. See for yourself what happens if you visit tulip farms too late in the season, like I did, read about our visit to the Wooden Shoe Tulip Farm in May. 
Depending on the weather, tulips typically bloom in the month of April though sometimes they can start as early as March and end as late as May.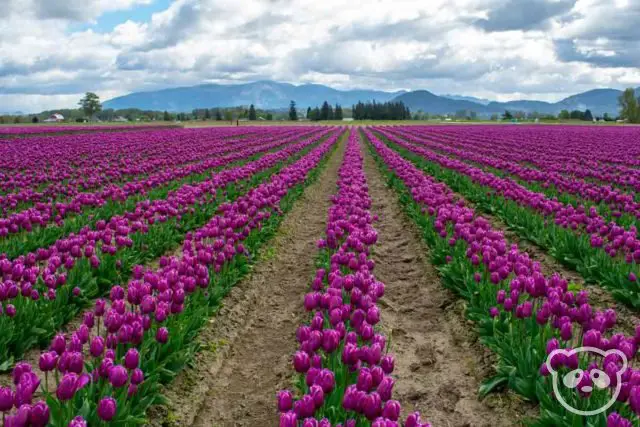 How to Get to Skagit Valley Tulip Festival 
When we visited, we took an early morning flight and flew into the Seattle-Tacoma International Airport (SEA) from San Francisco, rented a car, and drove straight up to the Skagit Valley. 
Driving along Interstate 5 North from the Seattle airport is approximately 75 miles and takes about 1 hour and 30 minutes. From Seattle, it is a bit closer, about 60 miles and only 1 hour drive away. 
From Vancouver, the tulip festival is south on Interstate 5 once you cross the border and should take about 1 hour and 45 minutes, not including crossing the border (because honestly, who really knows how long that'll take), for a total of 135km. 
On our drive back into the city, we hit traffic and it took us 2 hours to get home. You've officially been warned about that weekend traffic! 😉 
PRO TIP: If traffic is bad, avoid it when driving into the Skagit Valley Tulip Festival, by taking exit 221 off of I-5 North in Conway, at Highway 534. Then head west onto Fir Island Road and up Best Road to the tulips.
What types of flowers can be seen at the Skagit Valley Tulip Festival? Where can I see all of these flowers in the Skagit Valley? 
Tulips, of course! Why else would you be visiting the tulip festival. Roozengarde and Tulip Town own most of the tulip fields in the Mount Vernon, WA area. Both companies have their own displays outside of the fields themselves. 
Roozengarde consists of display gardens which are more similar to Keukenhof in The Netherlands. They place a lot of time and effort into designing their floral displays. Here, you'll see organized, neatly planted and manicured gardens. You'll see a variety of types of tulips, planted around trees in different patterns and windmills as decorations. However they also have the traditional rows of tulip fields as well towards the back of the property. 
Garden Rosalyn is also similar to Roozengarde in that it has display gardens that are manicured to various designs including the University of Washington colors and logo.
Tulip Valley Farms will have various experiences such as "Tulip Trails" with views of the North Cascades and Olympics, Night Bloom — a light show and night experience with spring color, U-pick bouquets, tea time in the tulips, a guided painting class, and even professional mini photo sessions.
PRO TIP: Tickets for
Roozengarde
are available in person at the gate, however save yourself some time standing in line by purchasing the tickets
online
in advance
.
Fun Fact: The crops get rotated annually. Because of this, the tulip fields will be different every year. 
Tulip Town is slightly different with more wide open tulip fields in varying colors. They also offer tractor van rides and we also saw children flying kites on the grassy area. They also have a great indoor display showing the history of tulip farming in The Netherlands by the entrance. 
PRO TIP: Both Roozengarde and Tulip Town only offer porta-potties on their property. If you're looking for actual bathrooms, you'll need to head into town.
Fun Fact: There are many varieties of tulips that are planted each year. Some variations bloom earlier or later than others, depending on when you visit you may be seeing different flowers. 
Contrary to popular belief, it isn't just about the tulips, you can also see daffodils in some of the fields! But in order to do so, you'll need to visit earlier in the season in March. There is also the La Conner Daffodil Festival that occurs throughout the month of March.   
The Washington Bulb Company grows many of the daffodil fields in the area. 
One of the best things about the Skagit Valley Tulip Festival is they have an interactive map on their site with various fields by different farmers. The map typically tells you which fields are close to bloom, in bloom, or past bloom. The in bloom fields are usually shown in color with the pre and post bloom fields in gray, super intuitive, right?!
Check out the Skagit Valley live bloom map below! The flower symbols represent both daffodils and tulips.
PRO TIP: The map includes tulip and daffodil fields, you'll easily find both types of flowers around when they are in bloom!
Do's & Don'ts of Visiting the Skagit Valley Tulip Festival in 2023
Do visit as many of the tulip farms as possible! Each farm is owned by the individual grower and as such experiences may differ.
Do enjoy the blooms and the festival! They are a sight to behold! 
Don't walk into the fields, you could be damaging the bulbs!


There are signs throughout the fields that specifically state not to walk between the tulips. That Instagram shot isn't worth it, you could be ruining their crop! 

Do not use the fields as bathrooms, people live in the area.


You could be introducing germs and bacteria into their groundwater. I mean, would you want to be drinking poop water?… Didn't think so, be considerate. 

Don't pick the tulips or any of the flowers.
Do park in designated areas.


Signs will be placed showing where to park. Locals also have no parking signs to discourage visitors from parking on their property.

Do not bring a drone, they are not permitted. 
Fun Fact: Skagit Valley is home to bald eagles, if you're lucky, you might even spot one! 
Useful Tips for Visiting the Skagit Valley Tulip Festival in 2023
Dress in layers.


It might rain and it can be pretty windy, or sunny. It might even hail. All of those happened while we were visiting the tulip festival, it's just better to be prepared. 

Start your day early.


Roozengarde and Tulip Town get pretty packed, avoid the crowds by arriving early, before 10am is best. Better yet, try to visit on a weekday!

Make it a fun day in the Mount Vernon area!
Do a day trip from Seattle or Vancouver, it's definitely close enough!

Explore the tulip fields, Mount Vernon, and La Conner.  

If you can afford it, there are helicopter tours available.


These tours take you on a flight above the tulip fields, we saw a few of them flying around while we were in the fields. Personally, we didn't think it was necessary since it was super pretty to be in the fields and see the tulips up close. 

The tulip fields are open 24/7.
But Roozengarde Display Garden, Tulip Town, Garden Rosalyn, and Tulip Valley Farms have specific hours and require paid admission. 
Visiting the fields may be weather dependent as heavy rain may close the fields. 
When parking at the official lots, follow the directions of the flaggers. Some locals do offer parking on their own property, however display garden admission is not included. 
If you enjoy shopping, both display gardens have souvenir shops selling all types of tulip memorabilia and even bulbs and fresh cut tulips! 
General Information for Visiting Skagit Valley Tulip Festival in 2023
Skagit Valley Tulip Festival 2023 Time & Date
2023 dates to be announced however in 2022, it was held March 25, 2022 through May 1, 2022 for Roozengarde
April 1-30, 2023 for Tulip Town, Garden Rosalyn, and Tulip Valley Farms.
Address, Hours, & Admission
Roozengarde Display Garden
15867 Beaver Marsh Rd, Mt Vernon, WA 98273
Open daily from 8am to 7pm
Admission: $15 per person (price includes taxes and fees); children 2 and under are free
Parking is free in the Roozengaarde/Washington Bulb Company tulip fields with the purchase of admission, just show your ticket stub.
Cost of admission includes access to Roozengarde's 5 acre display garden, 25 acre tulip field, 20 acre daffodil field, gift shop, and fresh cut tulip market.
Fun Fact: Historically, the best time to visit Roozengarde's display garden and tulip fields has been between April 7 and April 25. 
Tulip Town Display Garden and Fields
15002 Bradshaw Rd, Mt Vernon, WA 98273
Monday – Thursday: 10am – 6pm
Friday – Sunday: 9am – 7pm
All tickets include parking, admission to the garden and fields, and a trolley ride.
General Admission for Tulip Town: $15 (service fees not included) per person; children 6-11 $7 per person; children 5 and under are free. General admission ticket sales must be purchased for specific time slots. 
Anytime tickets are also available for people who would like more freedom to visit the fields whenever the fields are open. These tickets are $25 for anyone aged 6 and up, children 5 and under are free.
Anytime Plus tickets are basically the same as Anytime tickets except they include a fresh picked bouquet of tulips for your enjoyment! The tickets are $35 for anyone aged 6 and up, children 5 and under are free.
PRO TIP: If you're serious about visiting Tulip Town, try to plan your visit in advance as tickets can be more expensive at the door.
Experience Passes for Tulip Town are also available. These cost $50 (+ service fees) per person and include the following:
Admission
Trolley Ride
Access to the 2023 Tulip Bloom field, tulip gardens, indoor tulip display and barn experience
Escorted access directly into the field with a pick your own bouquet mini workshop from their tulip experts.
In order to ensure freshness, tulip bouquets are typically picked early in the day, and the experience passes are only available between 8am and 11:30am daily.
Photography Passes for Tulip Town are available with options for a single day and a season pass. These can also purchased online in advance.
Day Pass: $100 (+ service fees) per person. This includes one day of exclusive access to the tulip field and gardens from 6am until 7pm on the same day. Photographers may also bring up to 5 participants for a photo shoot at an additional fee.
Season Pass: $375 (+ season pass) per person. This is basically the day pass for the entire season. You will be given a badge and lanyard for unlimited entry during photography pass times and regular business hours.
Garden Rosalyn
16648 Jungquist Rd, Mount Vernon, WA 98273
Open daily from 7am – 8pm

Admission: $17 per person; children 2 and under are free. Tickets are now available online in 2023.
Tulip Valley Farms
Tickets are available for the experience at various price points. If you'd want the most comprehensive yet affordable experience, the Bloom Bundle consisting of general admission to Tulip Valley Farms, Tulip Valley Gardens (with 10 U-pick stems) and NightBloom might be the best option for you. This ticket is available for $44.99 (+fees) online.
They have two event locations:
Tulip Valley Farms

15245 Bradshaw Rd

This is where 12 acres of tulips will be located in a park-like setting. Here you'll also get the chance to experience Night Bloom!

Note that Night Bloom tickets are only available Thursday, Friday, and Saturday between 8pm and 10pm.

General Admission on weekends: $15 (+fees) per person are available online.

Tulip Family Gardens 
State Hwy 20 & Pulver Road
On Pulver Road south of State Hwy 20General Admission on weekends: $12 (+fees) per person are available online.For a fee, you'll get a chance to enjoy Tea Time in the Tulips on Tuesdays through Sundays, Glow Up Boutique Fridays and Saturdays (except April 1), Mini Photo Sessions also on Fridays and Saturdays (except April 1), U-pick (9am to 12pm), and a guided painting class (April 15 and April 22 at 10am and 3pm).
PRO TIP: If you have a Fido or a pooch at home, feel free to bring them to Tulip Valley Farms! You can purchase a pooch pass online so that your pup can join you at the farm and frolick amongst the tulips too for only $5 (and fees).
Other Things to Do in Skagit Valley During the Skagit Valley Tulip Festival
Visiting nearby towns is one of the best things to do when you're already in the area. La Conner is a cute coastal town and Mount Vernon is always great. Plus they're amazing places to grab a meal or snack while you're in the valley for the tulip festival. 
Mount Vernon
The city itself is quaint and is also home to the Tulip Festival Street Fair during the festival. The fair takes place in the historic downtown and you can check out the various vendors, food, and live entertainment. 
The Tulip Festival Street Fair takes place on April 21-23 in 2023. 
Fun Fact: The Tulip Festival Street Fair began with a few tables on sidewalks and now stretches almost half a mile. 
Depending what weekend you're visiting, the city also hosts the Skagit Chili & Chowder Cook-off, where for a small fee, you can sample a few soups and help choose the winner.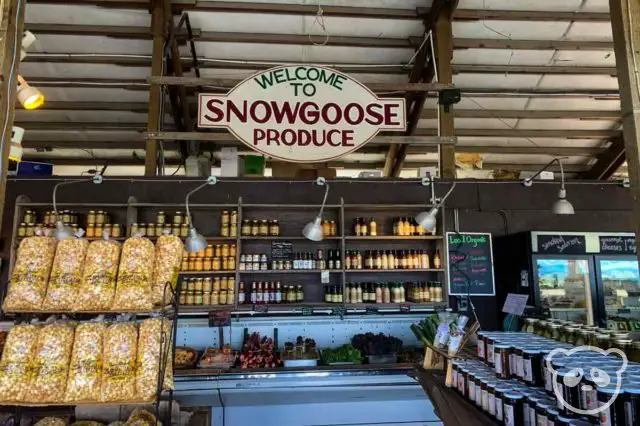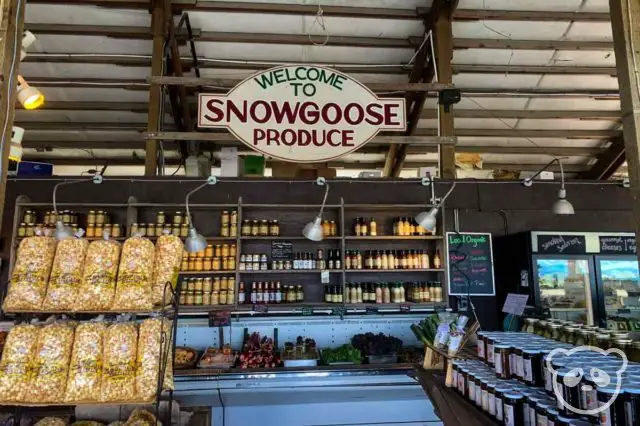 Snow Goose Produce 
Snow Goose Produce was one of our favorite stops on the way home and came highly recommended by my old coworker. Not only is it a great stop if you're taking the backroads into the tulip festival, but it also has amazing products to sell!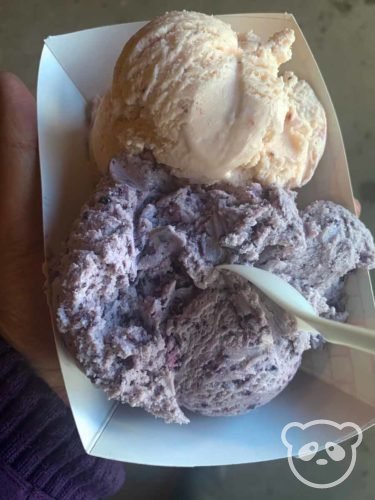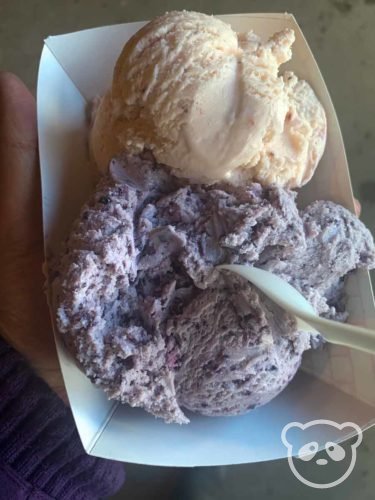 My coworker recommended that we get ice cream there, and that we did! The scoops are insanely huge and they have tons of flavors, both of your typical variety as well as local ones. We got their Bow Hill Blueberry and Skagit Strawberry, both local ice creams from nearby Lopez Island. They also offer a hand dipped ice cream if you're so inclined!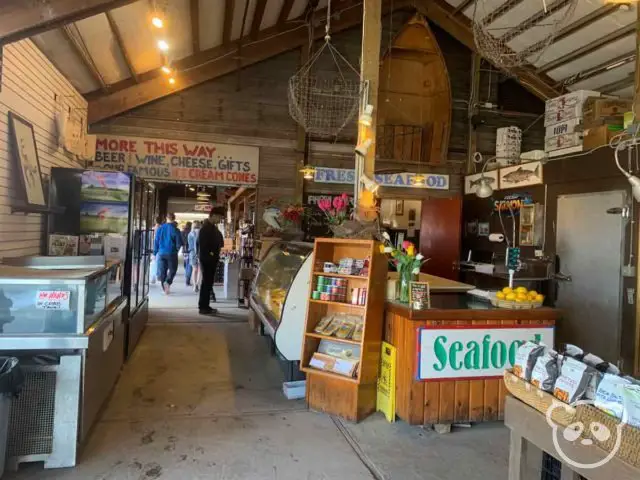 Snow Goose Produce is actually a produce market so you can also stock up on your fruits and vegetables if you live in the area. They also have a butcher area with seafood and meats and even a little nursery. 
Local wines and beers are available as well and Jimmy was able to grab a nice bottle for a friend who lives in Seattle.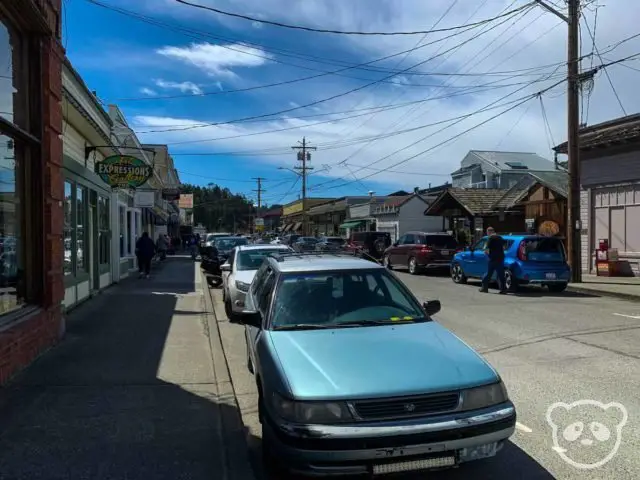 La Conner
La Conner is another cute coastal town located approximately 15 minutes and 9 miles from Mount Vernon. It is also just a bit to the southwest from the Skagit Valley Tulip Festival making it a great place to stop for lunch in the middle of your tulip-filled day.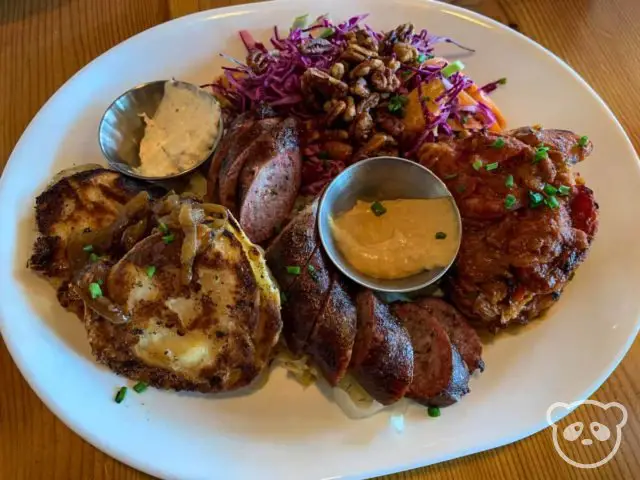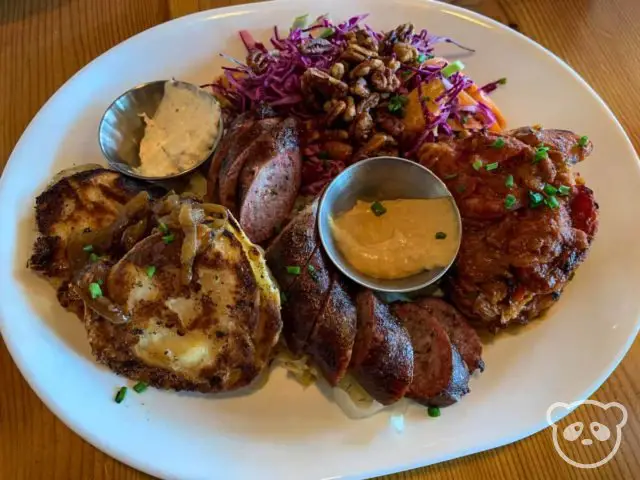 Anelia's Kitchen & Stage
That is exactly what we did! The town has a few tasty-looking restaurants but we decided on Anelia's Kitchen & Stage. They have a variety of good eats, but we were mainly after their pierogis! 
Fun Fact: Pierogis are Polish dumplings that can be boiled, steamed, or pan-fried with different fillings. The most popular is the traditional potato and cheese filling and eaten with sour cream. 
Naturally because we love the more traditional style of pierogi as well, we got their "Polish Platter." This consisted of two potato and cheese pierogis with caramelized onions and horseradish sour cream, a housemade polish sausage with sauerkraut and spicy mustard, halupki (Polish pork, beef, and rice cabbage rolls stewed in a tomato-sauerkraut broth) and a side of red cabbage salad topped with candied pecans.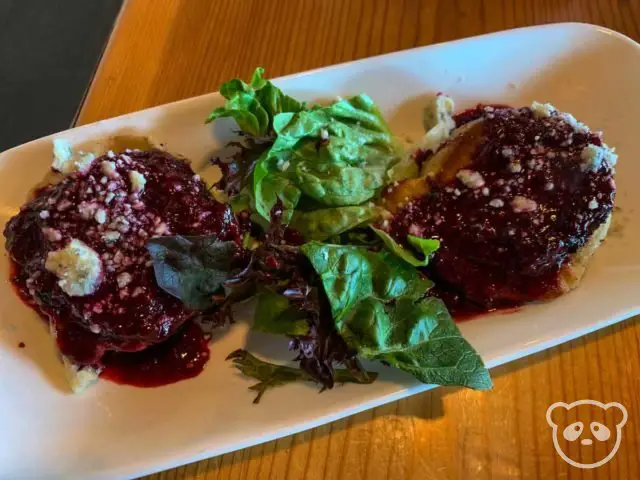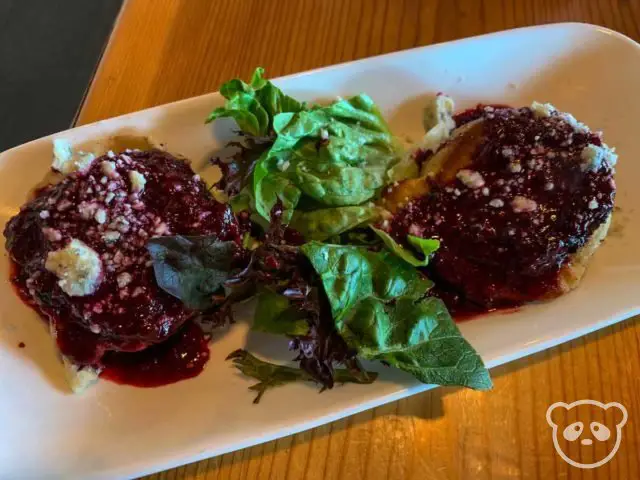 We also ordered their "Sasquatch Pierogi." These were housemade dumplings stuffed with elk, mushrooms, bacon, and blue cheese topped with blackberry sauce served with a side of greens and sour cream. It caught our eye because we loved how they took local ingredients and made them "Polish." 
Polish food can be a bit on the heavier side, this was plenty of food for the both of us! 
PRO TIP: Parking in town fills up quickly, we circled a couple of times and weren't able to find anything. But there's a parking lot located off of Moore Street, behind the La Conner Town Hall, that charges $4 for all day parking.
Pelindaba Lavender
After lunch, while walking around town, we stumbled upon Pelindaba Lavender. This shop sells products made from their certified organic lavender farm on nearby San Juan Island.
They have tons of bath and body products, but also some food as well. We were surprised by that because a lot of people are not interested in culinary lavender since it can seem soapy, but we love it! 
We got ourselves a few things including their delicious lavender chocolate chip cookies and their lavender vanilla ice cream sandwich! They actually don't specify what type of cookie you're getting with your ice cream sandwich, we were surprised with a double chocolate chip cookie. Fortunately for us, it was delicious and not overly sweet. 
PRO TIP: If you visit the area in July through August, you can check out the Pelindaba Farm on San Juan Island. They even host the San Juan Island Lavender Festival annually on the 3rd weekend of July.
Museum of Northwest Art
If you have time, stop by the Museum of Northwest Art, a free museum with rotating exhibits that feature artists from throughout the Pacific Northwest. You'll get a chance to see a variety of works from sculptures to paintings, sketches, and more! 
Where to Stay When Visiting Skagit Valley Tulip Festival
There aren't too many places to stay in Mount Vernon where the Skagit Valley Tulip Festival is held since majority of it is local homes and farms, however the towns nearby are pretty cute and picturesque, especially La Conner.
Tulip Inn Mount Vernon in Mount Vernon is just east of the Skagit Valley Tulip Festival making it the perfect place to stay while seeing the tulips! Located in the Pacific Northwest countryside, the rooms are equipped with a coffee maker, TV with HBO channels, and balcony. Some rooms even include a kitchenette! Free parking is widely available and continental breakfast is included along with free WiFi.
Reserve your room at Tulip Inn Mount Vernon today.
La Conner Channel Lodge is located in downtown on the main street close to restaurants but since it is on the channel, it has amazing access to the waterfront and the beach. In fact, it is the only boutique hotel in La Conner with located directly on the picturesque channel.
All of their cozy rooms feature private balconies, flat screen TV, cable, free WiFi, a dining area, and refrigerator. Other amenities include free parking, outdoor fireplace, and outdoor terrace. Some rooms even have a jacuzzi or a sofa bed and the hotel is pet-friendly, so you can definitely bring your dog.
Book your stay at La Conner Channel Lodge now!
La Conner Country Inn is another great lodging option located in the middle of downtown and super close to the beach. Their comfortable rooms include luxurious linens, a gas fireplace, free WiFi, flat screen TV, and a coffee machine. Additional amenities such as parking and breakfast are also included.
Check availability at La Conner Country Inn.
Map of the Sights
This map includes a list of all of the sights included in this guide to seeing tulips in Skagit Valley.
Hope you enjoyed this guide for everything you need to know about visiting the Skagit Valley Tulip Festival! Seeing the tulip fields is a magical and colorful experience we loved and are excited for you to see it for yourselves. 
Want to visit Skagit Valley and see the tulips? Pin this for later!