This post may contain affiliate links. If you click one of these links, we may receive a commission. We're grateful for your continued love of this site!
One day in Yosemite is the perfect amount of time to see the most popular things to do in Yosemite National Park. Best of all, you can easily take a day trip to Yosemite from San Francisco even if you only have 1 day to spend. We'll tell you everything you need to know about visiting Yosemite, including what to see at Yosemite National Park, the best time to visit, and how to get there. 
Fun Fact:

Yosemite was the 3rd national park however it was the park that began it all. In 1864, 26 years before it became a national park, President Abraham Lincoln signed the Yosemite Land Grant protecting the Mariposa Grove and Yosemite Valley. John Muir campaigned to turn Yosemite into a national park. (

U.S. Department of the Interior

)
Yosemite National Park is one of the most popular national parks in California, not just amongst visitors but also with Californians. The park is home to over 500 different types of species and is well known for its gorgeous granite rock faces and climbing. 
Even though I've lived in California most of my life, I didn't get to visit until recently and now I'm wondering what took me so long! We can't wait until we get to visit Yosemite National Park again! 
When to Visit Yosemite National Park 
Late spring or early fall are the best times to visit Yosemite National Park. The weather can be warm during the day if it's sunny and the Yosemite Valley is green. 
In the winter, many of the roads are closed due to snow causing much of the park to be inaccessible aside from the Yosemite Valley. Depending upon the weather, this is also the case during early to mid-spring. Yes, there can still be snow sometimes in the spring! 
During the summer, the park is filled with crowds. Yosemite National Park is a popular destination for family trips during the summer months. 
PRO TIP: The Yosemite Valley, one of the most popular places to visit in the national park is usually open throughout the year, even in the winter.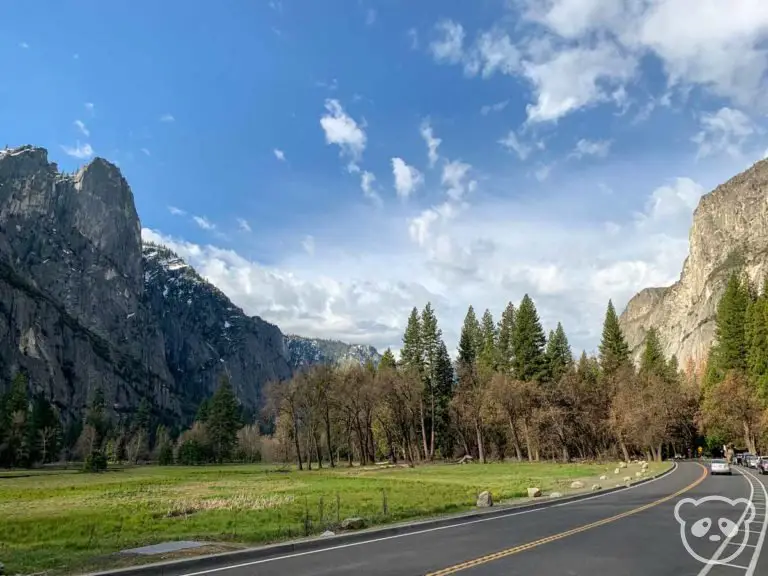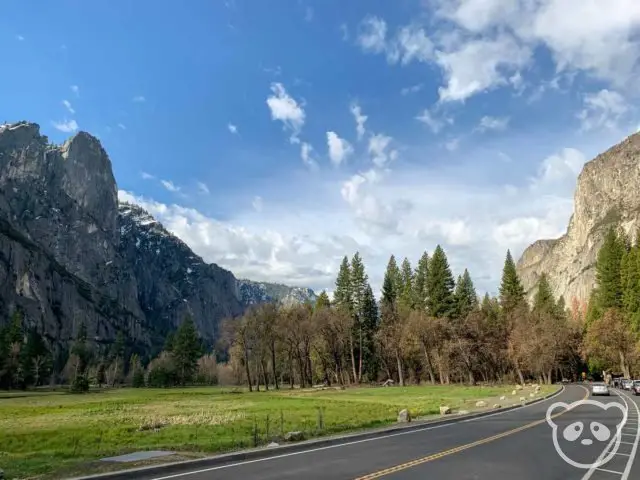 How Much Does it Cost to Visit Yosemite National Park? 
For us, admission to the park was "free," however we had previously purchased the America the Beautiful National Parks Pass. The parks pass costs $80 annually, but it's totally worth it if you can make it to at least 3-4 parks per year. It also includes national monuments, public lands, and more. See full list of places that take the pass. 
General admission to Yosemite National Park is $35 per vehicle. 
PRO TIP: There are typically a few "free entrance days" for national parks every year. Here's the
list for 2020
.
How to get to Yosemite National Park from San Francisco 
Driving is the easiest way to get to Yosemite National Park, the drive takes approximately 3 hours and 45 minutes one way and is 191 miles long. 
From San Francisco, it is super easy to get to Yosemite National Park. Take I-80 east towards Oakland, then I-580 east towards Tracy/Stockton. Just before Tracy, you'll continue to I-205E towards Stockton to I-5N. Then take CA-120E all the way to the Yosemite Valley. 
The above route is only available during the summer months when most of the roads are open. If you're visiting when the other roads, such as CA-120 are closed, you'll need to take the CA-140E instead to Yosemite. This will make your trip a little longer, clocking in at approximately 208 miles and taking around the same time. 
PRO TIP: We recommend leaving early in the morning around 4 or 5 am and you will be able to get there in time for an early morning hike before the crowds.
If you don't own a car or are unable to rent one, there are always day tours offered from San Francisco that you can consider taking. 
How to Get Around Yosemite National Park 
Just because you've driven to Yosemite National Park doesn't mean you have to spend all day driving yourself! The park has its own shuttle system where you can park your car and then explore the park by foot or via the bus. 
There are a few different shuttle systems throughout the park, but for this day trip you'll only need to be concerned with the Yosemite Valley Shuttle System. 
The Yosemite Valley Shuttle System is free with your park admission and provides access around various areas of the Yosemite Valley. When we visited in mid-April, the Yosemite Valley shuttle was the only available shuttle option. 
The Yosemite Valley shuttle primarily provides service to the eastern Yosemite Valley and includes stops at or near all of the major vistas, stores, and overnight accommodations. It remains in operation throughout the year from 7am to 10pm. 
The El Capitan shuttle is also part of the Yosemite Valley Shuttle System and stops at El Capitan, Four Mile trailhead, and the Valley Visitor Center. Depending on when you visit, this shuttle might not be in operation, as it wasn't for us. However it is available from mid-June through early October between the hours of 9am and 5pm. 
For more details, check out this map of the Yosemite Valley Shuttle System.
The Yosemite Valley-Tuolumne Meadows Hikers' Bus is another way of seeing the valley and more. But it is also a great means of transportation to get to more of the trailheads along Tioga Road. This bus is a more official "tour" so you would need to purchase a ticket, you can learn more about it on the Travel Yosemite site. It is also seasonal and may not be available during your visit. 
We parked at the parking lot by the Village Store because it was in the middle of the shuttle route and close to the Yosemite Village Visitors Center making it super convenient for getting around the park. 
Things to Do in Yosemite in One Day
Yosemite National Park is huge, but don't let that keep you from attempting to see as much as you can in one day! In fact, especially for residents in the San Francisco Bay Area, taking a day trip to the national park might be the most economical way to see Yosemite. 
Tunnel View
Tunnel View is one of the most beautiful vistas in all of Yosemite Valley. With a great glimpse of El Capitan, Half Dome, and Bridalveil Falls, it's also one of our favorite views because it is so photogenic! 
Fun Fact: The renowned photographer Ansel Adams made this view famous with his photo of the Yosemite Valley taken in 1934. The photo is part of the San Francisco Museum of Modern Art collection though it isn't currently on view. (

SFMOMA

) 
The vista is located just outside of Wawona Tunnel on CA-41/Wawona Road. We visited on the way into Yosemite Valley because it was more convenient and then also stopped by on our way out of the park. 
PRO TIP: Tunnel View can be pretty crowded because it is such a popular spot. We recommend visiting in the morning, there are definitely less crowds compared to in the afternoon when we were about to leave.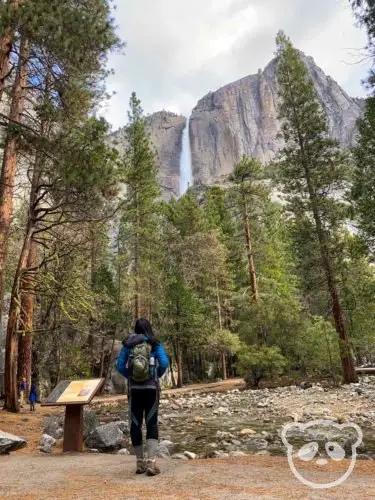 Yosemite Falls 
If you visit Yosemite National Park, but don't make it to its namesake waterfall, Yosemite Falls, did you even go to Yosemite? 
There are three trails for Yosemite Falls — Lower Yosemite Falls trail, Columbia Rock/Upper Yosemite Falls trail, and top of Yosemite Falls. 
We were trying to do as much as we could in a day so we decided to take the easiest and shortest trail to see Yosemite Falls, the Lower Yosemite Falls trail. The best part about this trail is that there's barely any elevation gain! 
PRO TIP: For Lower Yosemite Falls trail, take the Yosemite Valley shuttle to stop #6, and the El Capitan shuttle to #E1 or #E2 and walking approximately 0.75mi each way.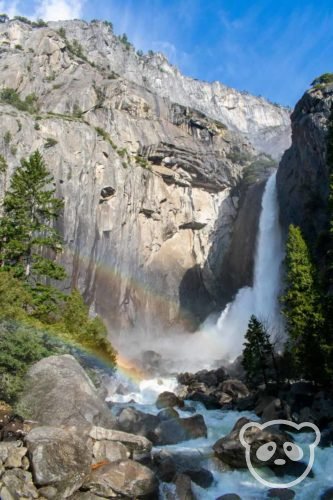 The other popular, but lengthier trails for Yosemite Falls are the Columbia Rock trail and the trail to the top of Yosemite Falls. The Columbia Rock trail takes you to the upper portion of Yosemite Falls and is approximately 2 miles round trip. This trail is a little tougher as the elevation gain is 1,000 feet. 
The top of Yosemite Falls trail is the longest of the three trails and will take the better part of your day should you decide to hike this one. The trail is 7.2 miles round trip with an elevation gain of 2,700 feet. The trail
PRO TIP: The trailheads for Columbia Rock/Upper Yosemite Falls and the Top of Yosemite Falls located at Camp 4 area near shuttle stop #7 and El Capitan Shuttle stop #E2.
Mirror Lake
The Mirror Lake area is best known for its beautiful reflection-filled views of the Yosemite Valley. The trail goes around by the base of Half Dome so don't expect to see amazing views of Half Dome from here, since you're literally at the base of it.
During the spring, you'll get a chance to see the lake in its full force with mirror-like reflections of the granite formations due to fresh snowmelt. In the summer, the area is popular with families using the lake as a swimming hole. By August much of the water has dissipated and the lake is no longer existent. 
PRO TIP: The best time to visit Mirror Lake is in mid to late spring after the snow has melted but while the lake is still visible. 
Mirror Lake has 2 main trails, an in and out trail to the lake and back and a loop trail. The in and out trail is approximately 2 miles while the loop around Mirror Lake is 5 miles. The elevation gain is only 100 feet. The shorter in and out trail only takes 1 hour, but expect the loop trail to take 2 to 3 hours. 
PRO TIP: The trailhead for Mirror Lake is located at shuttle stop #17.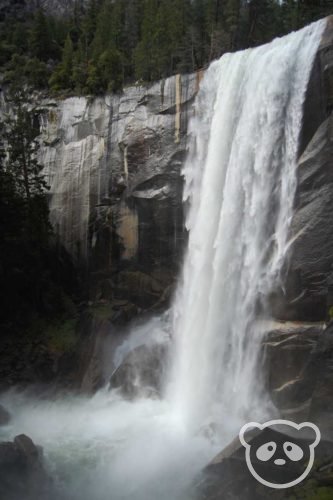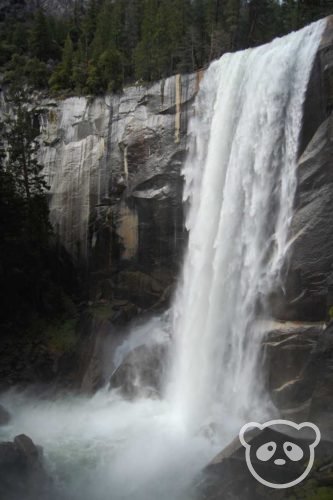 Vernal Falls
Vernal Falls is part of the Mist Trail, one of the most popular and famous hikes in Yosemite. On this trail, you'll see two popular waterfalls including Vernal Falls and Nevada Falls. 
Fun Fact:

The Mist Trail leads to some of the most beautiful spots in Yosemite, including Vernal Falls, Emerald Pool, Nevada Falls, Liberty Cap, and finally, the base of Half Dome. 
For a one day trip to Yosemite, we recommend only seeing Vernal Falls so that you have time to see other cool things in the park! The Mist Trail to Vernal Falls is approximately 3 miles round trip with the elevation gain at 400 feet to the footbridge and base of Vernal Falls; and it is 1,000 feet to the top of the falls. 
If you have more time, or are spending a few days in Yosemite National Park, try taking the Mist Trail up to Nevada Falls. The hike to Nevada Falls is approximately 7 miles round trip with an elevation gain of 2,000 feet to the top of Nevada Falls. 
PRO TIP: The Mist Trail trailhead is located at shuttle bus stop #16.
Between April and June, sometimes even July, the waterfalls are gushing and the runoff is at its peak. When we visited in April, the trail was definitely located in the "splash zone."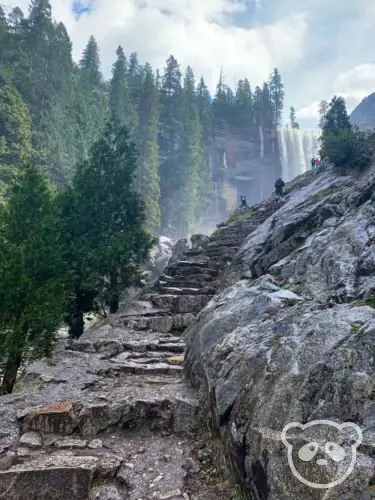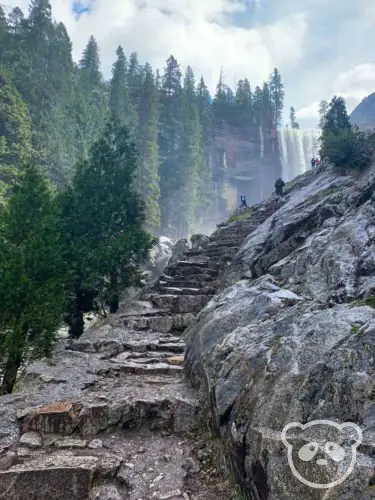 PRO TIP: The Mist Trail lives up to its name and is definitely "misty." We recommend wearing proper hiking footwear as the granite steps can get slippery with the waterfall runoff and rain or waterproof gear during peak waterfall flow.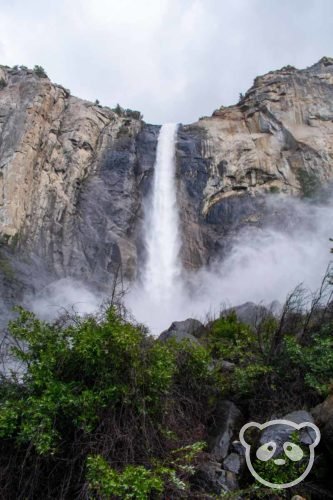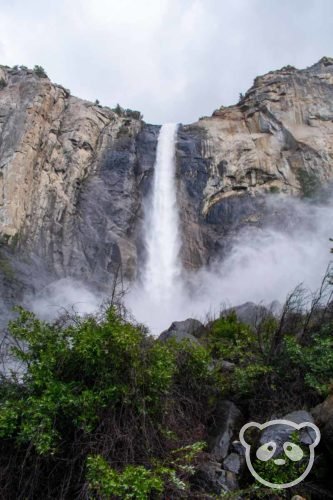 Bridalveil Falls
Bridalveil Falls is another popular waterfall in Yosemite National Park, and funnily enough, it's usually the one that welcomes you into the Yosemite Valley. As we mentioned before, you can see this waterfall from the Tunnel View lookout. 
Fun Fact:

The water of Bridalveil Falls flows 620 feet down to its base inside Yosemite Valley. 
This waterfall is a short hike away from the parking lot and is an amazing sight to see. From the Bridalveil Falls parking lot, the waterfall is a 0.5 mile round trip hike with a small 80 feet elevation gain. 
PRO TIP: The trail to Bridalveil Falls is paved, but it isn't recommended for wheelchairs due to its grade.
Bridalveil Falls can be seen year-round, however it's at its strongest flow in the spring. Rainwear or waterproof gear is definitely recommended for this quick hike! 
PRO TIP: You might want to see Bridalveil Falls on your way out of the park. The shuttle bus system doesn't stop here and you may have difficulty finding parking again in the valley if you leave.
Short, quick hikes are best for maximizing the sights to see in a one day trip to Yosemite National Park.
If you want to do exactly as we did, we'd recommend taking as many of the short hikes in Yosemite National Park as much as possible because this will help you with timing and allow you to see all of the sites we talked about in this post. We even had a chance to see Tunnel View both in the morning and in the late afternoon before officially leaving the park. 
Where to Stay in or Near Yosemite National Park
Want to stay the night before or after your visit to Yosemite National Park and make it easier on yourself? We totally get it! We did too, when we went to Yosemite National Park.
Even though you can easily drive from San Francisco to Yosemite National Park and do it in a day, we just wanted to have a good night's sleep the night before and to break up the drive a bit. We ended up glamping at The Rock Monkey Ranch in Chinese Camp.
The tent cabin was super cozy and the blankets were warm. We also enjoyed breakfast there in the morning, our hosts cooked up some farm fresh eggs with pork for us. They made sure to ask us if we were vegetarian before they made that for us too, we appreciated the level of consideration for their guests.
Book your stay at The Rock Monkey Ranch now! 
If you'd rather stay inside Yosemite National Park, there are plenty of options there as well, from higher end to budget, you'll definitely find something for you.
Couples looking for a romantic getaway will love Tenaya Lodge. Tenaya Lodge has a variety of lodging options including "Explorer Cabins" and the more traditional "Lodge Room." It's the perfect place to relax and enjoy for a weekend of relaxation. Amenities also include 2 swimming pools and a full service spa. The rooms are equipped with free wifi, cable TV, in-room refrigerator, coffee maker, and single room AC.
The cabins are especially great for families since they are spacious, with more rooms, and even have their own kitchens.
Check availability for Tenaya Lodge.
Nestled in the granite mountains by Yosemite West is Yosemite View Lodge in El Portal, CA. This lodge has 4 pools and a hot tub, perfect for a soak after a day of hiking. The rooms are simple with cable TV, kitchenette, spa tub, and a coffee machine. Some of the rooms even offer an option of a mountain view or a view of the Merced River.
Other amenities include a 24-hour reception, game room, on-site restaurant and even their own convenience store. Yosemite View Lodge is also pet friendly so you can definitely bring Fido on your trip.
Book a room at Yosemite View Lodge now!
For another budget friendly option, check out Best Western Plus Yosemite Gateway Inn. This cozy lodge style Best Western has amazing amenities including indoor and outdoor pool, gym, on-site restaurant, and business center. There is also located near the Sierra Meadows Ranch Golf Course and Bass Lake so it's great for exploring more than just Yosemite National Park.
The rooms include free wifi, cable TV with HBO, coffee machine, microwave, in-room refrigerator, and best of all, a delicious breakfast is included in the cost of the room.
Stay at Best Western Plus Yosemite Gateway Inn on your trip to Yosemite.
Map of the Sights