Important Note: Due to COVID-19 virus, the Wooden Shoe Tulip Festival and activities have been cancelled for 2020. However the farm stand remains open between 10am and 4pm for tulip and wine purchases,
see their site for more information
.
Wooden Shoe Tulip Festival is the best way to see tulip fields in the Portland, Oregon area. The festival is held annually at Wooden Shoe Tulip Farm, in Woodburn, OR, on a 40 acre farm full of tulips. The Wooden Shoe Farm is an amazing place to see tulip fields during the spring and is well worth the visit (or the day trip from Portland)!
Since we missed out on going to the Netherlands the previous spring, I did my due diligence to make sure I didn't lose out on the Wooden Shoe Tulip Festival! (We chose to go to Paris instead of Amsterdam, could ya blame us?) But because of this, I was literally dying to see some tulips! I mean, how could you not, especially when you had learned (afterwards) while visiting Amsterdam that tulip bulbs were the reason behind the economic crash during the Dutch Golden Age.
Fun Fact: Tulips were originally from central Asia but didn't find popularity until they reached the Netherlands.
I made sure to visit Wooden Shoe Tulip Festival on my next trip to Portland! You'll find out in this post how it's an amazing stop if you're traveling to Portland on a weekend (or for a few days), it's especially great for a half-day or day trip from Portland.
PRO TIP: If you're trying to turn Wooden Shoe Tulip Festival into a full day trip, stop by at the Woodburn Premium Outlets for some discount shopping!
Love seeing beautiful fields of flowers? Check out the Pageo Lavender Farm in California. 
Everything You Need to Know About the Wooden Shoe Tulip Festival 2020
Note: We will keep this blog post updated as we learn more!
The Wooden Shoe Tulip Farm is a gorgeous tulip farm in Woodburn, Oregon, less than 1 hours drive away from Portland, Oregon. It's the perfect place for a family outing, a date, or even a hangout with friends!
The Story Behind the Wooden Shoe Tulip Farm
The farm began as a family farm in the 1950s, but they only started using the farm for tulips in 1974. After accumulating neighboring parcels of farmland numbering over 15 acres, the Wooden Shoe Bulb Company officially came to fruition.
In 1985, they opened their fields to the public for the first time on Easter weekend. This was the beginning of the Wooden Shoe Tulip Festival. And in 2001, the farm changed their name to reflect their new beginnings as the Wooden Shoe Tulip Farm. Today, the farm spans over 40 acres with tulip fields, vineyards, and more!
PRO TIP: The tulip fields are typically open for at least a month, between late March through early May.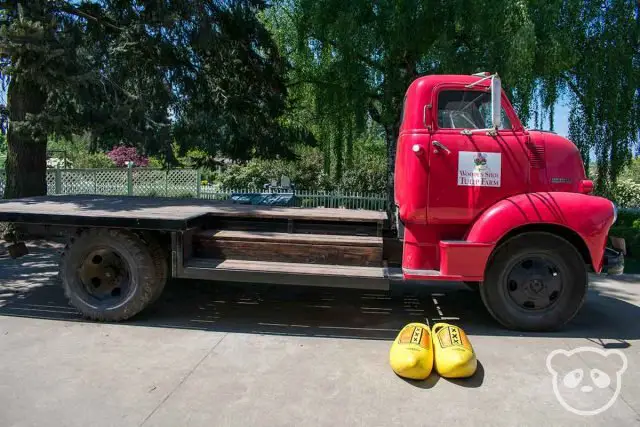 Learn About Tulip Farming
Tulips are planted in October within raised rows, this prevents the tulips from drowning during wet weather. The Wooden Shoe Tulip Farm uses machines imported from the Netherlands to plant the bulbs in neat rows, the machinery can plant bulbs in 2 rows at a time.
Another machine is used to dig up the bulbs, this is done on an annual basis and helps to keep the plants on a five year rotation. Crop rotation is important to ensure that the tulips remain healthy and disease-free. This also helps with potential pests and to control weed & erosion.
Fun Fact: Tulips only bloom for 3 to 7 days in the spring.
The flowers are picked by hand beginning in late March, this helps prevent the spread of disease and keeps the blooms healthy. To maintain the freshness of the flowers, they are washed in the barn and immediately wrapped with cellophane for upright and cold storage in water.
PRO TIP: They sell beautiful tulip bouquets at the Wooden Shoe Tulip Farm for $5, each bouquet consisting of 10 stems!
After the tulip festival ends, the remaining flower heads are removed and the dead stems are harvested in June.
Looking for other tulip festivals? Check out Everything You Need to Know About the Skagit Valley Tulip Festival in Mount Vernon, WA. 
Things to Do at Wooden Shoe Tulip Festival
What else would you do at a tulip festival aside from explore and meander through the flower fields for beautiful photo ops?
Well, in the case of the Wooden Shoe Tulip Festival, there are other activities offered during this special event.
Wooden Shoe Tulip Festival Activities & Dining
There are tons of things to do at the Wooden Shoe Tulip Festival, included in the general admission costs are the beautiful views of tulip fields, tram and/or hay wagon ride, children's play area, and photo cut-out boards.
I saw visitors riding on the tram between the main tulip field and main building, it's a great way to provide more accessibility to guests who may not be able to walk as far. Personally I wouldn't have taken it since I enjoyed walking through the fields. But it would also be a great way to transport your kids back towards the end of the day.
Even on the weekdays there are quite a few dining options, the Mt. Angel Sausage Company is there serving food from a stall, as well as Loco Ono BBQ and Alotta Wood Fired Pizza. I personally didn't eat at the festival so I can't confirm if it's good or not. But I'd say it's definitely worth a try since there aren't too many other options in the area.
Fun Fact: Tulip petals are edible and can be used in place of onions in many types of recipes.
For the kids, there are so many things to do there that will keep your child entertained, from the kids play area to the activities, demonstrations and more.
On the weekends, there are even more kid-friendly activities at the Wooden Shoe Tulip Farm! These include:
Wooden Shoe Making Demonstrations


Located at the Wooden Shoe Maker tent, you can watch a demo on creating wooden shoes!

Crafter Market Place


Do some shopping and explore some of these stalls!

Balloon Artist


Located near the kids play area, they invite someone to create balloon figures for kids!

Meet Tulip the Cow


Wooden Shoe Tulip Farm's Tulip the Cow mascot wanders around the tulip fields offering hugs and photo ops to everyone.
Enjoy visiting farms with animals? Cuddle baby goats at Harley Goat Farms!
They also offer additional activities at a cost, these include:
Cow Train:

$3 per person




This ride lasts 6 minutes and can be a bumpy ride around the tulip field. Note that this is weather dependent and sometimes can also be a bit muddy.

Field Train:

$5 per person




This train is slower, taking you on a cushioned ride lasting between 10 and 15 minutes through the tulip fields. This ride is also weather dependent.  

Kids Games & Activities:

$3-7 per person dependent upon activity




These can include bounce houses, bungee jumper, pony rides, rock climbing wall, and even a zip line! Note that the ponies can only carry a maximum of 80lbs.
Sometimes on the weekends when the weather cooperates, hot air balloonists also show up, whisking visitors away on hot air balloon rides! These rides typically occur in early in the morning and are available at an additional fee. For more information, check out the festival's Facebook or website for latest updates on the offerings.
PRO TIP: If you get the sunrise admission ticket, you'll sometimes see the hot air balloons in flight. They make for a wonderful backdrop in your photos.
Is seeing a hot air balloon festival on your bucket list? Check out this post on a hot air balloon festival in northern California! 
Gift Shop
Peruse the gift shop for some cute tulip-themed souvenirs, from tulip pens to tulip calendars, coasters, floral decorations, and more! You'll be able to find something here for your tulip-loving friend!
Be sure to also take home a bouquet of freshly cut tulips or even tulip bulbs if you've got green thumbs!
Wooden Shoe Vineyards
If you love wine, you can also head over to the Wooden Shoe Vineyards Tasting Room for some of their homegrown wines or local beer and cider. On weekends they also offer Wine Wagon Farm Tours, you can ask about them in the Tasting Room. Obviously these are only available for adults aged 21 and up.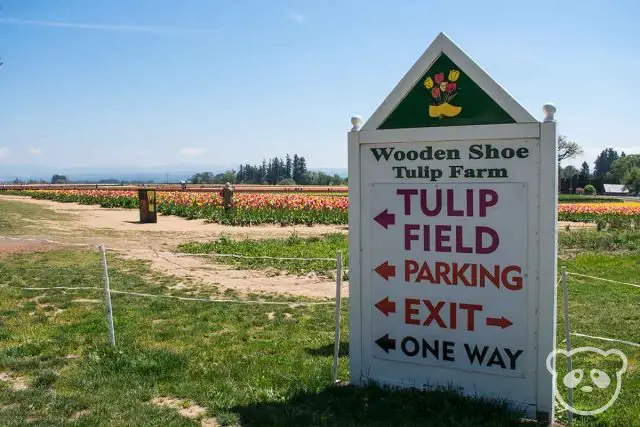 Wooden Shoe Tulip Festival 2020 General Information
Due to the weather of the Pacific Northwest, the tulip festival usually occurs annually between late March and early May. In 2020, the Wooden Shoe Tulip Festival dates are set for March 20 to May 2. Due to concerns with the COVID-19 virus, the Wooden Shoe Tulip Festival has been cancelled for 2020, see site for more information. 
Keep in mind that dates can change depending on the weather and how the bulbs are doing, last year (2018) the festival was even extended an additional week! See Field Report for updated schedule.  
As the dates change, this post will be continually updated to reflect them. Sometimes the festival will be extended depending on how the tulips are doing!
Fun Fact: There are over 150 species of tulips with over 3,000 unique varieties. They can also be found in almost any color.
2020 Wooden Shoe Tulip Festival Dates
Friday, March 20 to Saturday, May 2 Due to the need for social distancing relating to COVID-19, the Wooden Shoe Tulip Festival has been cancelled for 2020, see site for more information. 
Admission
We will update this as we learn more. Tickets can be purchased on Eventbrite and there are different types. Please note that Eventbrite may charge an additional service fee.
Cost of admission also includes parking, no need to pay separately here!
The best thing about all of these tulip festival ticket options is that you can pick what works best for you!  
Individual Ticket:

$5 per person for adults (age 13+)




Includes admission for a single day during the hours of 9am-6pm Monday through Thursdays & 8am-7pm Friday through Sunday.

Family Car Pass:

$20 per car




Perfect for groups of 4 or more with adults (age 13+).




Includes admission for a single day during the hours of 9am-6pm Monday through Thursdays & 8am-7pm Friday through Sunday.

Sunrise Individual Ticket:

$15 per person




Early admission is perfect for photographers, visit the tulip fields 1 hour before sunrise!




Includes admission for a single day during prime early morning time.

Season Pass:

$40 total




This pass includes unlimited admission throughout the duration of the festival and allows admission for up to 6 people in a single car. It also includes early entrance, beginning one hour before sunrise and late exit until one hour after sunset.
PRO TIP: If you have 2 or more people in your party wanting to get a sunrise ticket, it might be more worth it to get the season pass, you'll save at least $5 and you'll get sunrise access (and more).
For other farm field experiences, check out our post on Swanton Berry Farm u-pick near San Francisco, CA. 
Helpful Tips for Visiting the Wooden Shoe Tulip Festival
Tulip fields can be so beautiful during the spring, but what are some things you should know prior to visiting?
Here are some tips for visiting the Wooden Shoe Farm:
Be prepared for rain!


Though my photos look beautiful with sunny weather, that is not always the case. The weather in the Pacific Northwest can be unpredictable, meaning it can be rainy most of the time. Definitely bring an umbrella or rain jacket if you're planning on visiting the Wooden Shoe Tulip Farm as you will be exposed to the elements in the tulip fields.

The fields can be muddy and uneven.


Wear shoes that you don't mind getting dirty, especially if it's been raining the fields can be a bit muddy. Also closed toed shoes are probably safer for your feet while in the fields though I did see people wearing flip flops. For this reason, the tulip fields may be difficult for wheelchair accessibility.

You can bring Fido!


As long as it's on a leash, well behaved dogs are welcome in the fields. I definitely saw a few puppies and dogs amongst the tulips, they were super cute.

Visit the Wooden Shoe Tulip Festival on a weekend!


If you can, definitely try to visit the tulip festival during the weekend. There are more activities offered that are great for children as well as more food options. There are also special activities for adults involving wine! See

activities schedule

for more information.

Don't forget to buy some fresh cut tulips!


Beginning mid-March, fresh cut tulips are available at the Gift Shop. The tulips are picked when the buds are still closed so that they can remain beautiful and bloom for a few days after you bring them home! The cut flowers can survive without water for up to 8 hours and can take between 1 to 3 days to bloom.

Bring your camera!


Aside from taking photos of and within the amazing tulip fields, there are plenty of photo opportunities and photo spots. There's a platform where you can see the tulip fields from above as well as cutouts where you can stick your head in and take a photo. They're perfect for some cute shots of your kids!

Purchase your tickets in advance if you're visiting on the weekend.


Weekends can be busy and we recommend buying your tickets in advance so you're not holding up the entrance.
The Best Time to Visit the Wooden Shoe Tulip Festival 2020
Typically, the Wooden Shoe Tulip Festival in Woodburn, OR runs through the month of April however depending on weather the actual dates may change. For example, in 2018, the tulip blooms remained at the end of the month so the Wooden Shoe Tulip festival was extended into the first week of May.
Usually during the first week, the blooms are still mostly closed, but they will be visible. The best time to visit the Wooden Shoe Tulip Festival is during the middle of the month if weather permits, the blooms aren't too closed nor are they too open and you'll be in for a beautiful treat!
Towards the end of the tulip festival, many of the fields have already wilted and many of tulips will be very wide open. Still, the tulips will be beautifully colorful and it's still worth a visit!
How to Get to Wooden Shoe Tulip Farm in Woodburn, OR
Address
Wooden Shoe Tulip Farm & Vineyard
33814 S. Meridian Rd
Woodburn, OR 97071
Website
Driving Directions to Wooden Shoe Tulip Farm
Wooden Shoe Tulip Festival is one of the easiest spots to visit on a day trip from PDX. Located near Portland (Oregon), the tulip festival can be easily accessed by car.
Drive to Woodburn via I-5 South and take Exit 282A. From there, head south on Hubbard Cutoff Rd which turns into 99E towards Woodburn for 10 miles. At the first traffic light in Woodburn, turn left onto Hwy 211-E towards Molalla. Then continue for 3.6 miles, turn right on S. Meridian Road. Take this road for 2 miles, look for signs saying "Wooden Shoe Tulip Farm" and the farm will be on your left.
Want to explore beautiful tulip fields near Portland, Oregon? Pin this for later!