This post may contain affiliate links. If you click one of these links, we may receive a commission. We're grateful for your continued love of this site!
Iceland has a plethora of unique must see scenic spots to offer and remains one of the most unique and beautiful places I've ever visited. But really, Iceland is where you see all these different forms of ice and earth in various states as natural attractions. All of these beautiful and natural sights can be seen along Iceland's main Ring Road.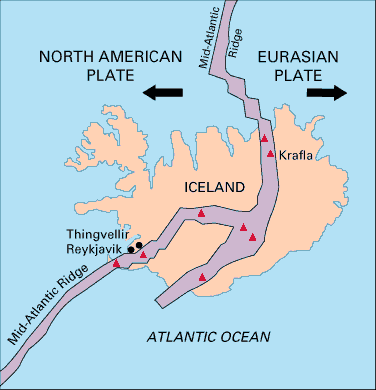 Iceland is known as "The Land of Fire and Ice" mainly due to the fact that it is very geothermically active due to its location above a hotspot amongst tectonic plates (hence fire) and proximity to the North Pole (ice). The hotspot is the primary reason for its existence as the large island was created by a series of underwater volcanic eruptions, similar to the Hawaiian islands. And these geological interactions between the Earth and water is the cause for the beautiful landscapes, states of water, and types of rock.
Fun Fact: 11% of Iceland is covered with permanent ice cap. (National Geographic)
We visited many of these sites of earth and ice during our trip to Iceland and we were absolutely amazed by how unique, seemingly every day, states of water and different types of rock could possibly look.
We'll take you on a walkthrough of the geographical features we saw and how they relate to "ice-land!" These are our top 13 unique natural landscapes to see in Iceland! 
Ice (Water)
As you know, there are three main states of water: ice, liquid (water), and gas (or steam). Iceland's definitely got all three.
1. Glaciers
Since a good amount of the island is covered in permanent ice cap, I guess it makes sense that there'd be a bunch of glaciers, right? Iceland is famous for having glaciers spread out over the island.
We visited Vatnajökull, the largest of all of the glaciers in Iceland. It also happens to be the glacier where the largest amount of tourism and movie filming occurs; Batman, The Martian, and Game of Thrones were all filmed here. The famous glacier lagoon (Jökulsárlón), glacier hiking, and the Black Diamond Beach are all located within this general area.
We were lucky enough to book a tour to hike up it's outlet glacier, Svínafellsjökull, it's name means "pig mountain glacier." But that's a story for another time so I'll do a write up of that experience in the future 🙂 However, I will say that I have never seen such a large field of ice in my life, it was insane!
But it's still necessary to mention… ALWAYS book a tour to hike a glacier, otherwise you might die, seriously, like fall into a crack and die.
Learn the Language:

"Jökull" in Icelandic means "glacier."
2. Waterfalls
Waterfalls abound in Iceland in a way that is unimaginable! Coming from California, where we were in a years-long drought up until this past winter season (2016-2017), I had no idea that it was possible for water to just drip from a random mountainside by the freeway.
The source of Icelandic waterfalls tend to originate from glacier melt and frequent precipitation (rain and snow). Due to snow melt, the waterfalls also tend to be more powerful during the summer.
This is just a snapshot of one of the amazingly beautiful waterfalls you can see in Iceland, there are many many more. For more on waterfalls, see Chasing Waterfalls in Iceland.
3. Glacier Lagoon
Jökulsárlón is the glacier lagoon you've seen all over your Instagram and is one of the best representations of the in-between of ice and water. The floating icebergs on this lake make it a sight to behold! The water flows from the Breiðamerkurjökull outlet glacier out to the ocean, mixing saltwater with freshwater along the way.
Fun Fact: This lagoon was a set on the movie, 007: Die Another Day. In the movie, James Bond drove a car over the frozen lagoon. They actually had to build a barrier to prevent the saltwater from getting in so that the lagoon could be frozen solid.
Despite its beauty, I learned that this lagoon did not exist 80 years ago and is now the deepest lake in Iceland. It was created from glacier melt due to global warming. After seeing this lagoon, it made things very real for me… the guides mentioned that global warming hits Iceland hard throughout our tour but it definitely hits the nail in the head once you see it for yourself.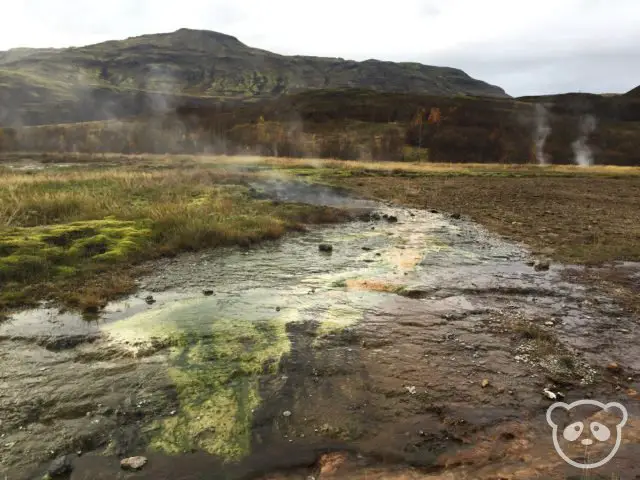 4. Geothermal Areas
There are 2 main geothermal areas frequented by visitors to Iceland: Haukadalur and Hverir geothermal fields. Both of these geothermal areas are similar in that they have steam vents and mud pools. However the main difference with Haukadalur is that it is famous for its geysers.
By definition, a geyser is a hot spring where water intermittently boils and sends a tall column of water and steam into the air. (Dictionary.com)
Geysir is actually THE geyser for which all geysers are named. Doesn't that make Iceland seem so much more insane? Unfortunately Geysir no longer erupts on a regular basis as people were using it as trash disposal. It does erupt occasionally but for the most part it looks like a pool of mud.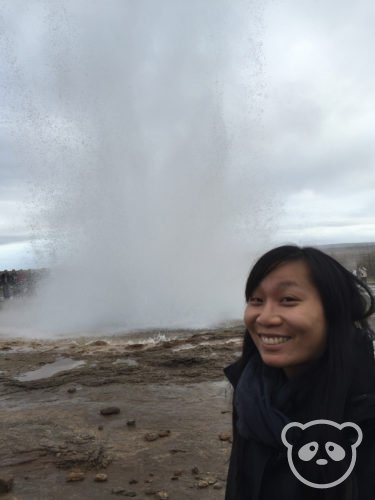 Nearby Strokkur is the geyser you want to see when you visit, it's only across the way from Geysir but erupts about every 6-10 minutes and can erupt to heights of up to 40m, though 10-20m is the norm.
Hverir is the field with every other type of geothermal activity; there are mudspots here that bubble, steam vents that blow at intervals, as well as other steam vents that have a continuous flow of steam.
Note: If you don't enjoy the smell of sulfur (I'm not sure anyone does TBH), but if you REALLY hate it, like it makes you sick, then you've officially been warned. It's a lot stronger there than at Haukadalur.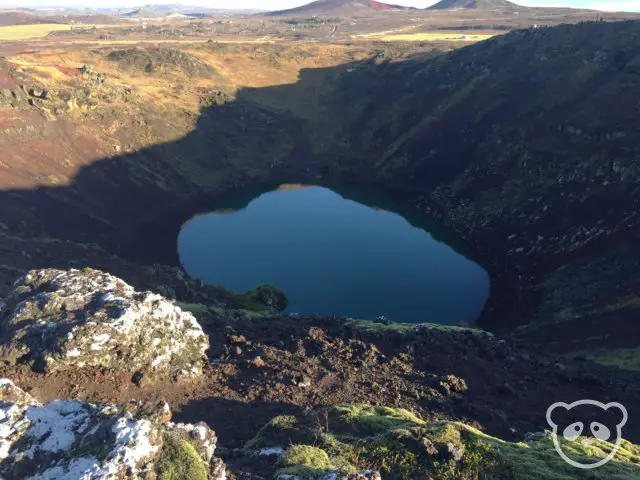 5. Crater Lakes
Aside from the glacier lagoon, there are also lakes often created from precipitation and glacier melt collecting within volcanic craters. The crater lakes in Iceland are Kerið, Viti, and Askja.
We visited Kerið on our road trip around the Golden Circle, it was an interesting crater with colorful vegetation in the area. It's also privately owned property for which the owner charges an entrance fee of 400 ISK (~$3.67 US) per person.
6. Lakes
The lakes in Iceland formed as a result of volcanic activity, but that doesn't mean all of them are crater lakes.
Lake Myvatn is one of the more famous lakes in Northern Iceland due to the Diamond Circle scenic road trip route. It was formed over lava fields and as a result has very unique lava formations within the lake as well as on the lake's shore. It is also one of the most beautiful lakes I've ever seen. 
Land (Rocks)
Iceland is also famous for its different types of geological features aka rocks, sand, and dirt.

7. Volcanoes
Due to the intense geothermal activity on the island, there are more than a few volcanoes in Iceland. The most famous Icelandic volcano is, Eyjafjallajökull, which exploded in 2010 causing massive delays and flight cancellations in Europe.
One of the few volcanoes that you can actually visit in Iceland is Hverfjall, an extinct volcano that you can hike up and around the crater. It is also located along the Diamond Circle route, so it's a great stop on the way to other sights.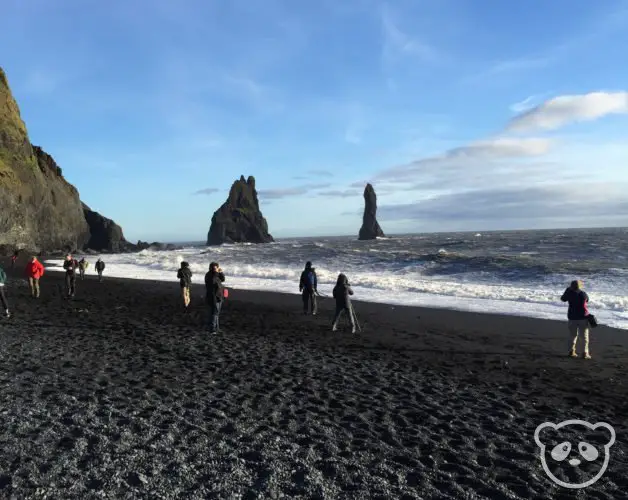 8. Black Sand Beach (Reynisfjara Beach)
The "sand" on this beach is black because it is made of tiny pebbles of lava. The beach was created as lava flowed into the ocean and cooled. Other geological formations can be seen from this beach, including the sea stacks of Reynisfjara ("The Sea Trolls"), the Dyrholaey ("The Arch Cliff"), and the basalt columns.
The Reynisfjara sea stacks were formed through exposure to the elements, primarily wind and wave erosion. They continually pound the stone until it becomes one large stack of rock.
The Dyrholaey was formed during an underwater eruption and as an important bird nesting site it is closed during several weeks in May and June.
The basalt columns on this beach were formed when lava cools into stick-like forms, in a process called columnar jointing.
Fun Fact: Scenes from season 7 of Game of Thrones were filmed on this beach.
Interested in seeing more Game of Thrones filming locales? Check out this review of a Game of Thrones Travel Tour.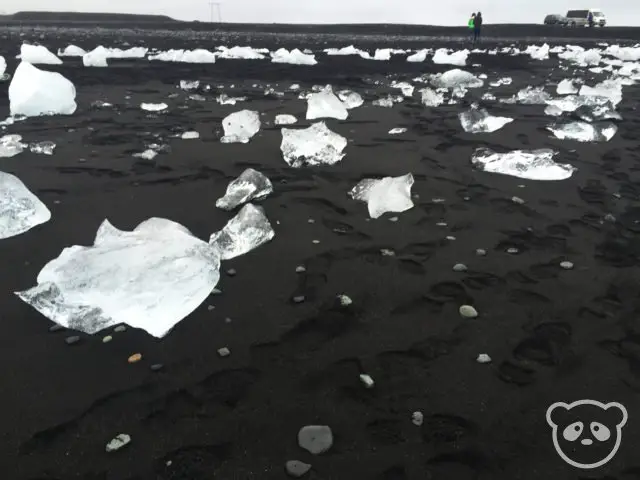 9. Glacier Beach 
This beach, the Black Diamond Beach, is your combo of earth (sand), ice (glacier "diamonds"), and water. The sand here is BLACK and with the crystal clear white chunks of ice of melting glaciers, it definitely looks like a beach full of diamonds!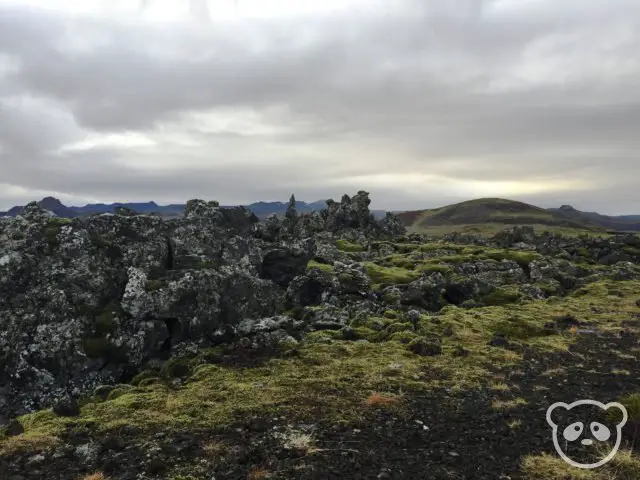 10. Lava Fields
There are many types of lava fields in Iceland, some look more like hardened lava flows, others have moss growing on it, and still more have creepy-looking geological features.
Berserkjahraun on the Snaefellsnes peninsula is the type that has moss growing on its rock formations. It makes for a unique and cool landscape in your photos, adding some soft texture to the rough lava rocks.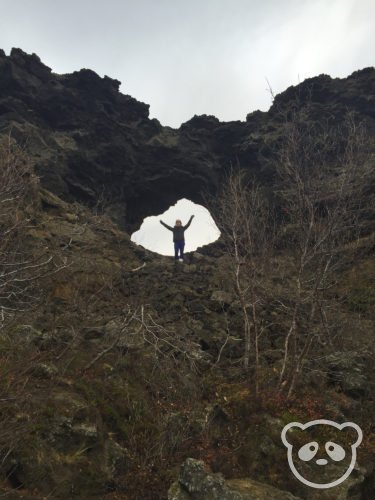 Dimmuborgir area in northern Iceland is a great example of the creepy, rough looking lava rocks. These structures are similar to those hiding under the moss covered lava fields, except the ones at Dimmuborgir are MUCH larger structures. You can even take photos while standing in the rock windows!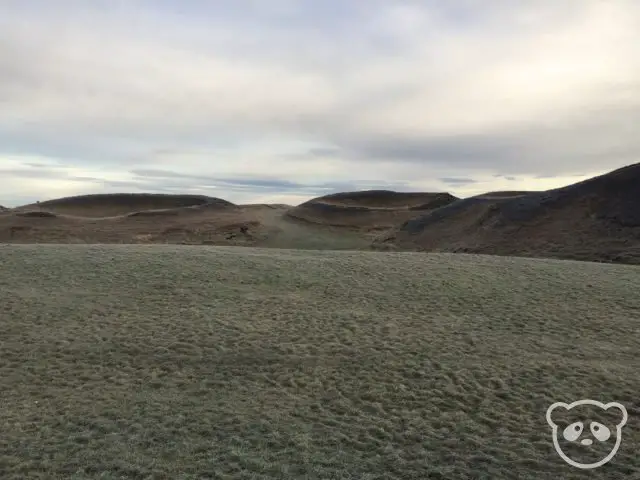 11. Pseudocraters
The name says it all right? Pseudocraters, meaning fake craters… is that what they are? Well, kind of… they look like volcanic craters, but no lava has actually erupted from them. They are formed when hot lava crosses over a wet surface, like a lake or a pond, causing steam explosions which break through the lava's surface, creating geological formations that resemble craters.
Learn the Language:

"Kirk" in Icelandic means "church."
12. Mountains
Iceland is full of mountains, insanely beautiful and picturesque mountains. And large rocks and dirt make up mountains right? ;p There are the mountains in the Highlands and all over the place that are super beautiful. 
We drove about 4hrs out of our way to visit was Kirkjufell. In Icelandic, it's called "church mountain" and was also featured in the latest season 7 of Game of Thrones as the "arrowhead mountain."
Honorable Mention
13. Aurora Borealis
We all know that the Aurora Borealis isn't really unique to Iceland, since it can often be seen in Alaska, Canada, Greenland, and other areas of Scandinavia (Finland, Norway, Sweden, and Denmark), hence the honorable mention. However due to the climate, it is one of the best locations to view it, even if Tromso is considered to be located in the optimal viewing latitude and longitudinal area.
I've done a ton of research on this prior to visiting Iceland. Iceland is in an great location for viewing the aurora due to its cool climate with many clear winter nights. The aurora forecast is the website through which you can track clear winter nights perfect for getting a view of the aurora. Aside from providing an expected timeframe for the aurora, it also includes information about cloud cover throughout the entire country.
The aurora can have different colors, usually green, purple, and red. The colors appear when charged particles from the sun interact with different atmospheric gases, such as oxygen and nitrogen. A green hue is emitted when the sun's particle react with oxygen in the air. Red appears when nitrogen reacts with the particles and purple if it is ionized nitrogen. Green is the most common, then purple, and red is seen least often. 
It's sad to say that I don't have photographic evidence (I know… pix or it didn't happen, right?) 🙁 of my views of the aurora, since the best aurora we saw was in the middle of Akureyri, Iceland in October 2016. The pic you see above is a stock photo, BUT it looks EXACTLY like what we saw. 
We were enjoying our dinner (at Strikid, one of THE best Nordic restaurants EVER) when all of a sudden we looked out the window and saw vibrant curtains of green and purple dancing in the sky. It was pretty amazing!
But we don't have photos due to the glare of the window and us wanting to just take the time to enjoy the experience. During that trip, we were also able to see the aurora a couple more times, but unfortunately none of them were as beautiful as that first time since we only saw small bands of green cross the sky.
We're spoiled now, sorry, not sorry. Our Icelandic guides joked that we've become like them and are no longer amazed at the tiny bands of green. 
Check out some tips for experiencing the northern lights.
In all honesty, when I went to Iceland I really had no idea what I was getting myself into. Specifically in terms of understanding all of the natural and geothermal sights I was visiting and I hope this post helps you all in figuring out all of the unique places to see!
Loved seeing these beautiful and unique must see Icelandic landscapes? Pin it for later!