This post may contain affiliate links. If you click one of these links, we may receive a commission. We're grateful for your continued love of this site!
There's nothing quite like taking a quick 3 day trip to Portland! Oregon, not Maine. We've done the dirty work for you and have narrowed down the sights to visit and hiking spots in this 3 day long weekend guide for a Portland, OR trip. We are major foodies so we've also included the best places to eat! 
A few years ago, one of my close friends moved to Portland since her husband was going to school up there so I was able to go up and visit during long weekends. Over the course of those trips, we've narrowed down the best spots to visit for a perfect 3 day weekend in Portland.
Portland in particular is a cheap enough place to live that you can still develop your passion – painting, writing, music. People seem less status-conscious. Even wealthy people buy second-hand clothes and look a little bit homeless.
– Chuck Palahniuk
Even though Portland seems more like a hippie, granola-loving type of town, it is so much more. There is literally something for everyone, from amazing coffee spots to microbreweries and outlet shopping to hiking trails, all are easily reachable within a 1-2 hour drive.
Fun Fact:

Portland is also a city of bridges, with 12 bridges, only two of which cross the Columbia River.
Here is our perfect 3 day Portland, Oregon itinerary with amazing places to visit and the best eats in the city!
Where to Stay in Portland, Oregon
Crowne Plaza Hotel Portland-Downtown Convention Center is a great place to stay in Portland! Their rooms are cozy with comfortable beds. Location-wise it is located a short bus ride away from downtown and the Pearl District. All of the rooms include free wifi, microwave, Keurig machine, and a mini-fridge. The mini-fridge definitely came in handy when we ordered too much and had leftovers! They also have a free airport shuttle that can take you to and from the Portland International Airport. We would definitely stay at Crowne Plaza Hotel Portland again!
Another nearby place to stay is Courtyard by Marriott Portland Downtown/Convention Center, the rooms are modern and they offer a free downtown shuttle! They also have a gym, free wifi, and they have a pool. Their staff is also super friendly and helpful. Click here to book Courtyard by Marriott Portland Downtown/Convention Center now!
Only in the Pacific Northwest – Uniquely Portland, OR Hotels
For quirky places to stay that are distinctly Portland, check out any of the McMenamins hotels, each of which has a unique theme. McMenamins is a family run chain of hotels, theaters, pubs, and more and are originally from the Portland area.
Check out McMenamins Crystal Hotel, located right in the middle of the Pearl District, it's as convenient as it gets! The rooms at the Crystal Hotel are inspired by performances and songs from the Crystal Ballroom next door.
McMenamins Kennedy School is one of my favorites, it's a repurposed and once abandoned elementary school with tons of things to do. It isn't JUST a hotel! There's an in-house brewery, bar, gift shop, restaurants, pool, and even a movie theater. Per its original purpose, the rooms and decor invoke a sense of nostalgia and makes you feel like you're still in school. McMenamins Kennedy School is a perfect place to stay during those rainy Pacific Northwest winters, you'll definitely be entertained there!
Aside from being a music venue, McMenamins White Eagle Saloon is also a hotel. Located a bit north of the Eliot area, it's a little bit further from the action, but it's still in a convenient area, somewhat close to downtown. Like the other hotels, it has its own bar and restaurants, but it's best known for its beautiful outdoor fire pits so it's a perfect place to stay during the summer. Book McMenamins White Eagle Saloon now! 
Day 1 in Portland, OR – See Downtown Portland & Explore the Pearl District 
Blue Star Donuts is one of my favorite spots in Portland, we always come here for breakfast at least once during our trips to PDX. Jimmy loves eating their buttermilk old-fashioned donut, I hate old-fashioned donuts but theirs is one of the best I've had. I'd much rather have their blueberry bourbon basil, passionfruit cocoa nib, or maple bacon. Trust me, ALL of these are great. They're the perfect mixture of fruity acidity with the sweet glaze so they're neither too sweet nor too tart.
My other favorite donuts from there would include the original glazed, peach pink peppercorn, and the blueberry cake donut. I've also been known to show up at Blue Star Donuts multiple times over the course of my 3 day trip in Portland, haha. Yes, that is how much I love their donuts.
Love donuts as much as we do? Check out Portland's finest donuts on the Underground Donut Tour.
PRO TIP: There is also now a Blue Star Donuts location at the Portland International Airport (PDX) so I tend to stop by there either on the way in or out to get my fill of donuts. The line also tends to be shorter at the airport location.
I started coming to Blue Star the week they opened and since then they've blown up in popularity. Argh, the days when there were no lines there! Now the lines go out the door, so make sure you get there early as they close up shop when they run out.
So yes, you can skip Voo-Doo Doughnuts. I found their donuts to be overly gimmicky (voo-doo doll shaped jelly donuts), taste bud burningly sweet, and with insanely long lines. I wouldn't recommend it, but I've included their website for you anyways just in case.
If the line at Blue Star is long and you're not traveling solo, I would use your traveling companions wisely. Divide and conquer!
I'd recommend one of you stand in line at Blue Star, while the others head over to Stumptown Coffee Roasters. Their coffee is amazeballs! While their lattes are great, the real star of the show is their cold brew on tap. You NEED to get that, nowhere else does it quite like they do. It's super smooth and doesn't have an acidic finish (which I hate).
Fun Fact:

Stumptown Coffee is now owned by Peet's Coffee as of October 2015.
After you've scarfed down your coffee and donuts, hit up Cacao for a chocolate experience to die for!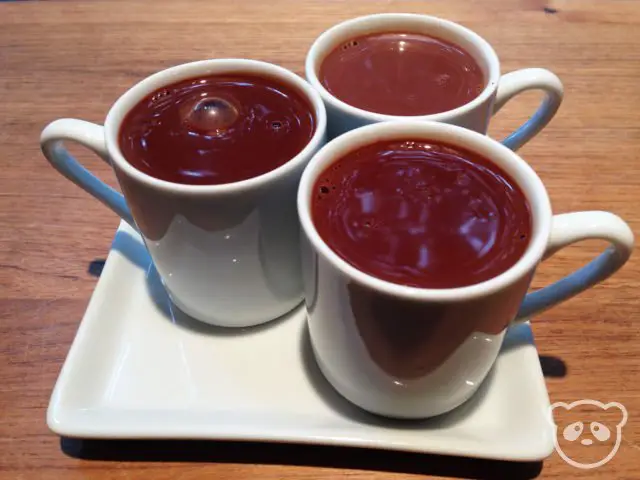 Drink chocolate at Cacao
Unfortunately, Cacao is now closed. For another drinking chocolate experience outside of Downtown, check out Woodblock Chocolate.
I'm not huge on chocolate, but I LOVE their drinking chocolate. My favorite thing to order there is their chocolate flight because you get to try 3 different drinking chocolates! You get 3 shot glasses full of deliciously rich, hot chocolate in seasonal flavors, we've tried their dark chocolate, milk chocolate, and Mexican chocolate.
Note that this is not hot cocoa type of hot chocolate, this is more akin to the warm liquid chocolate which is what the Spanish dip churros into.
They sell homemade chocolates as well as chocolate bars sourced throughout the world. Plus, they also have really cool flavors like fig chocolate and chili chocolate if you're into that.
For more chocolate tasting experiences, check out this Chocolate Decadence Walking Tour.
Next, take some time to digest by exploring the Pearl District and downtown area. You can see the sculptures on the streets or shop in the stores. There is no sales tax in Oregon so feel free to shop away!
Fun Fact: Matt Groening of "The Simpsons" grew up in the Portland area, many of the Simpsons characters were inspired by the streets of Portland. (Oregon Live)
Within a few blocks of walking, you'll stumble upon one of my favorite bookstores in the world, Powell's City of Books. Since the advent of smartphones and tablets, books have gone down the wayside with Kindles and e-books; however, Powell's is one of the coolest places to shop for books.
Fun Fact:

Powell's City of Books is 68,000 square feet chock full of books and is the largest bookstore in the nation with over 1 million volumes. They also have a Rare Book Room where you can go in and take a peek at some of the rarest books in the world.
Aside from books, Powell's also has cool knick knacks and unique cards made by local artists for sale so you'll be able to find great (and affordable) souvenirs for your friends and family.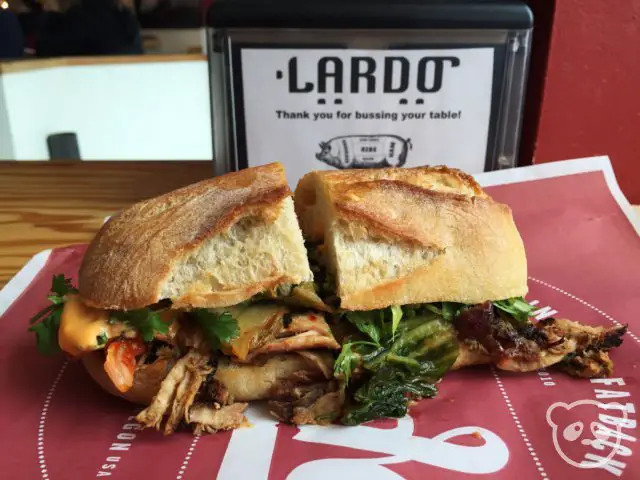 After you've walked off some of those donuts, stop by Lardo for lunch. Their sandwiches are a little on the heavier side, as it is named "lardo" after all, but they are super delicious! They typically have daily specials listed on their chalkboard. We got a chance to try a few things but their burger and Lardo fries were pretty amazing.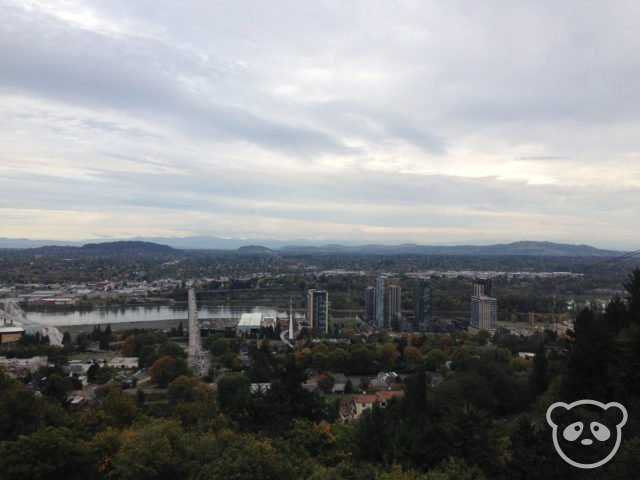 If you're afraid of heights, try not to lose your lunch at the Portland Aerial Tram. This is one of the best ways to get a bird's eye view of Portland and its many bridges.
Fun Fact:

The tram is used as a method of public transportation by employees and students at Oregon Health & Science University (OHSU), located at the top of Marquam Hill at the upper tram station.
The ride is short and only takes 4 minutes, with trams leaving as they get filled approximately every 6 minutes. As of February 2018, round trip fare costs $4.70. Also keep in mind that the tram is closed on Sundays and may not be open on certain holidays, see updated schedule and fares.
Explore the smallest park in the world, Mill Ends Park
After you make your way down from Marquam Hill, check out the cute little tree at Mill Ends Park. I like to call it the "Charlie Brown Christmas Tree" because it's so quirky and tiny.
Fun Fact:

According to the Guinness Book of World Records, it is the smallest park in the world.
Throughout the year, especially on holidays, the tree and park get decorated in various styles.
Across the street, you can take a walk along the Waterfront Park Trail at Tom McCall Waterfront Park. This park offers a great stroll along the Willamette River and you can get a closer look at the Hawthorne and Morrison Bridges.  
For some dinner and microbrews, Jimmy would recommend Deschutes Brewery for great food and amazing beer. He wanted to try a few of the beers on tap so he got a flight. I was mainly in it for the food and so we got the elk burger and some other things.
To end the night, we'd recommend heading over to the closest Salt & Straw to get some delicious ice cream! 
Get an ice cream flight at Salt & Straw
Ice cream is one of my favorite things in the world, so naturally we split a flight! Plus it's a better deal because you get 4 flavors for less than the cost of 2 cups with 2 different flavors.
I love their seasonal flavors a lot and they're always changing them up so they might not be there every time. But some of the classics that I love are pear & blue cheese and Arbequina olive oil. They first opened up in Portland and now have locations across the West Coast with different local flavors specific to each area.
Day 2 in Portland, OR – Visit Multnomah Falls & Columbia River Gorge
Breakfast of champions starts at Waffle Window where you can begin your day with a sweet or savory waffle. They make delicious Portland-style liege waffles with a variety of toppings.
Some of my favorites include the nutella & fresh banana waffle, pearl sugar waffle, and the farm fusion waffle, and the ham & cheese waffle.
Climb Multnomah Falls and get a view of the Columbia River Gorge
And the main event of the day, driving up to Multnomah Falls. The drive takes between 30 minutes and 1 hour depending on whether you're taking the most direct route or the scenic roads. We opted to take the direct route since we were low on time, but you do pass by a few more waterfalls on the longer route.
If you're not in the mood to drive out there, try a half-day tour to Multnomah Falls and Columbia River Gorge.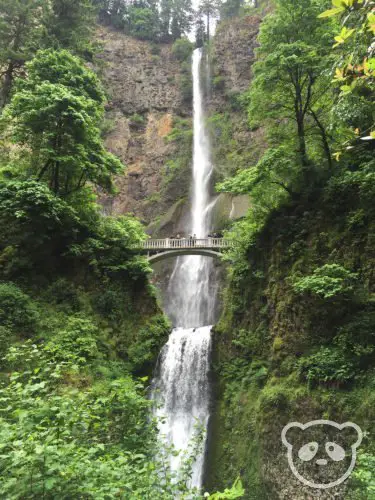 Fun Fact:

Multnomah Falls is a 611-foot tall waterfall and runs throughout the year. The falls are fed by rainwater, an underground spring, and snow melt.
A 0.25mi (0.4km) hike will take you up to Benson Bridge, where you can view the top tier's 542-foot drop as well as the second tier's 69-foot height. It is also possible to hike to the top of the waterfall and get an amazing view of the Columbia River Gorge.
Note that due to the wildfires in Oregon in late-2017, access to the falls may be limited. As of May 2018, it seems like the viewing area for the falls is open to the public however you are unable to hike closer to the falls. This also prevents visitors from seeing the falls from the bridge in the photo above.  As of November 2018, the viewing area to Multnomah Falls has reopened, as well as the trail up to Benson Bridge. We were able to visit Multnomah Falls in January 2020 and even hike up to the top of the falls and beyond to Dutchman Falls. However many of the surrounding trails may still be closed due to damage. Check the Travel Portland website for more detail.
See the beautiful Cathedral Park
Take the long way back into the city by heading over to Cathedral Park. Here, you'll be treated with peace and serenity while also admiring the architectural feat that is the St. John's Bridge.
Fun Fact:

The St. John's Bridge was built in 1931. At the time of its completion, the bridge had the first sets of aviation clearance lights and was the longest suspension bridge west of Detroit, Michigan.
Take a stroll in the park, then head over and grab a quick beer at McMenamins Kennedy School, a brewery and pub located within a building that was once a school.
Like we mentioned previously McMenamins Kennedy School is a cool lodging option, but aside from the hotel, it also has a theater, and a few restaurants while maintaining the elementary school theme. If you're craving a snack and can't wait until dinner time, their tater tots are delicious! 
McMenamins is a local hotel chain in the Pacific Northwest offering a unique lodging experience, they typically reuse old buildings and reimagine them into a cool, "new" spot. Kennedy School was actually a historic elementary school that was rebirthed into a hotel, dining, brewing, and theater complex.
Keeping with the school theme, they have a bar called "Detention" and the school auditorium is now the movie theater. They also have a heated soaking pool that is open to the public for a day pass or if you're staying there you get unlimited access.
Book a stay at McMenamins Kennedy School!
Get an early dinner at Toro Bravo, one of the best Spanish restaurants in the area. We weren't able to get reservations, as they only take them on Sunday-Thursday for parties of 7-14, so we had to wait for them to open at 5pm. Their tapas selection is delectable and we'd recommend getting their Chef's Tasting Menu at $50 per person.
Compared to what you'd get in the Bay Area, it's a steal and we left with our bellies insanely full! The nice thing about it is that it typically includes a dessert, so you won't have to worry about getting that elsewhere.
Nike Factory Store
Walk off some of the tapas at the Nike Factory Store a block away, we've scored some amazing finds here, and best of all, it was tax free! We found the prices to be a lot lower than those of the outlets in California.  
Day 3 in Portland, OR
Jimmy is a biscuits-and-gravy type of guy, so naturally Pine State Biscuits was the perfect breakfast for us on the last day.
Their biscuits are some of the best we ever had and their pancakes are delicious too!
They are specifically known for their delicious biscuit sandwiches and lines can be long, so keep that in mind! 
Though quite manicured, the Portland Japanese Garden is one of the most beautiful spots in the city. Admission and hours differ depending upon the season, be sure to check the website for their updated information. Sometimes they will host special exhibits related to Japanese gardening, when we visited there was a bonsai exhibit showcasing various award winning bonsai plants ranging from pines to maples.
Aside from plants, there is also a tiny waterfall as well as a teahouse and a sand & stone garden, all within a 5.5 acre space.
If you visit Portland in the late-spring and early-summer, be sure to visit the International Rose Test Garden, where you can see more roses than you ever imagined in one place! The roses are some of the most beautiful we've seen and in a large variety of colors and species. It's definitely worth a visit while they're in bloom, especially since it is FREE to visit.
Fun Fact:

Portland has been known as "the city of roses" since the late 1800s to early 1900s; it has held the Portland Rose Festival since 1905. 
If you love flowers, be sure to check out our post on the Wooden Shoe Tulip Festival! It's only a quick 1 hour drive from Portland. 
Unfortunately the Alder Street Food Cart Pod is now closed. For some quick eats and uniquely Portland brews, check out Rogue Hall, home of Rogue beer.
For lunch, I'd recommend heading out to one of the many food truck sites throughout the city to get some takeout. The largest of these is the Alder Street Food Cart Pod. There are tons of different cuisines to choose from and you can find something to try here no matter how picky you are.
If you've heard of Rogue beers or even if you've browsed the beer aisle at the grocery store, you've probably noticed their bright, eye-catching cans with comic style art all over them. They're especially known for their local support of various business via partnerships such as Voodoo Doughnuts with their Voodoo Doughnut Bacon Maple Ale and Moonstruck Chocolates with their Oregon Craft Brewers Truffle Collection.
At this specific Rogue location you'll find a large selection of Rogue beers totaling 45 different beers. You'll get a choice of their core offerings as well as their limited release, seasonal menu, and experimental brews, 19 of these are on tap for your enjoyment!
Rogue typically has a core menu as well as a seasonal menu for their beers. From the core selection, Jimmy is a fan of the Dead Guy Ale for its malted and roasted flavor.
Our favorite quick bite from there is their tots with the Rogue sauce. You can choose between 3 different sauces including whiskey BBQ and housemade smokey ranch but the Rogue sauce is our favorite by far. For a fuller meal, their burgers are also known to be pretty good!
This location also has an amazing outdoor area with comfy Adirondack style patio chairs, fire pit, and corn hole games.
Spend your afternoon at the Oregon Museum of Science & Industry, an interactive science museum that is fun for all ages. Check out the special exhibits or see the planetarium show and tour the submarine, there is so much to do here! Coming from California, their $14.50 adult general admission isn't horrible so it's a great way to spend the day in Portland, especially when it's rainy out.
For your last dinner in Portland, I would highly recommend Le Pigeon. As one of the best restaurants in the city, reservations can be difficult to get, but they are available on OpenTable so that makes it a little easier.
The restaurant is small and intimate with a large communal table and a 10-seat bar area. The bar area is for walk-ins and the table is for reservations.
Their menu is smaller with many unique dishes you can order a la carte or opt to do their 5 or 7-course tasting menu. Note that the tasting menu requires the participation of your entire party. Their menu is seasonal and usually changes often.  
This was one of our favorite meals EVER in PDX, it's a tough choice between Le Pigeon and Toro Bravo to be honest. The food here is delicious and I would love to go back someday. I also liked how their menu typically includes a pigeon dish, they gotta live up to their name after all!
List of the Sights for 3 Days in Portland, Oregon
Note: Unless otherwise stated, all addresses are located in Portland, OR.

DAY 1 IN PORTLAND, OR
Blue Star Donuts
1237 SW Washington St
Stumptown Coffee Roasters
1026 SW Stark St
Cacao (Closed)
414 SW 13th Ave
Powell's City of Books
1005 W Burnside St
Lardo
1205 SW Washington St
Portland Aerial Tram
South Waterfront Lower Tram Terminal – Located off of SW Moody Ave
Mill Ends Park
SW Naito Parkway & Taylor Street (at the center median)
Tom McCall Waterfront Park
Waterfront along Pacific Hwy W
Deschutes Brewery
210 NW 11th Ave
Salt & Straw
838 NW 23rd Ave
DAY 2 IN PORTLAND, OR – Multnomah Falls & Columbia River Gorge
Waffle Window
3610 SE Hawthorne Blvd
Multnomah Falls & Columbia River Gorge
(Address refers to the Multnomah Falls Lodge located by the entrance to the trail to the falls)
53000 Historic Columbia River Hwy
Corbett, OR
Cathedral Park
N Pittsburg Ave & N Crawford St
St. John's Bridge
McMenamins Kennedy School
5736 NE 33rd Ave
Toro Bravo
120 NE Russell St
Nike Factory Store
2650 NE Martin Luther King Jr Blvd
DAY 3 IN PORTLAND, OR 
Pine State Biscuits
125 NE Schuyler St
Portland Japanese Garden
611 SW Kingston Ave
International Rose Test Garden
400 SW Kingston Ave
Alder Street Food Cart Pod
Block of SW 10th Ave, SW Washington St, SW 9th Ave, & SW Alder St
Rogue Eastside Pub & Pilot Brewery 
928 SE 9th Ave
Oregon Museum of Science & Industry
1945 SE Water Ave
Le Pigeon
738 E Burnside St
Map of the Sights for 3 Days in Portland, OR
This map includes a list of all of the Sights to See, Restaurants as well as the routes by day (i.e. Day 1, Day 2, and Day 3) within specified layers.
By default, only the Sights to See and Restaurants are shown but you can select to view the daily routes. Use the slide out panel to select layers to toggle them on and off using the checkboxes.
Writing this post totally made me reminisce and want to go back to the Pacific Northwest, both to eat and hike for another weekend trip to Portland. Take me back!
Loved our 3 day long weekend guide to Portland, OR? Pin it for later!