This post may contain affiliate links. If you click one of these links, we may receive a commission. We're grateful for your continued love of this site!
Disclaimer: This post was brought to you by Experience Grand Rapids who provided us with admission to Grand Rapids Public Museum and Frederik Meijer Gardens & Sculpture Park. As always, our thoughts and experiences are our own.
Grand Rapids, in Michigan, is one of the most underrated places to visit in the United States. As the second largest city in Michigan and home to a thriving furniture industry, it is now more known for its plethora of craft breweries and art culture. We got to explore both of these over the course of 2 days in Grand Rapids.  
Fun Fact: In 2014, Grand Rapids was named the #1 U.S. Travel Destination by

Lonely Planet

.
In case you didn't know, Jimmy's hometown is actually Grand Rapids. We were visiting his family and friends and figured we'd use this wonderful opportunity to explore Grand Rapids.
The city has changed A LOT since he was growing up and as an avid beer drinker he was super excited to try out some of the newer breweries that had popped up since he'd last visited. We had 2 days to explore Grand Rapids so we've put together a 2 day weekend itinerary in partnership with Experience Grand Rapids as part of our A Weekend Away series.
Explore the local brews, art, and culture with our guide to 2 days in Grand Rapids, Michigan.
Where to Stay in Grand Rapids, Michigan
Since Grand Rapids is located in the Midwest, it can be a fairly budget friendly destination and it's a perfect stop for when you're taking a road trip around Michigan or the Midwest.
On our most recent trip back to Grand Rapids in 2019, we stayed at Amway Grand Plaza Hotel, one of the most famous and renowned hotels in the area. Growing up Jimmy had always heard great things about "The Amway Grand," as it's locally known, and we finally got a chance to stay there.
The historic Amway Grand Plaza Hotel has got a lot of old school charm with large lounge areas and spacious hotel rooms. Since it is an older hotel, the larger rooms are also perfect for families needing the extra space.
It has an amazing location, right in the middle of Downtown Grand Rapids by Rosa Parks Circle and the Grand River. Our room was relaxing for couples, with a comfortable bed, cable flat screen TV, and air conditioning. The best part about the hotel is all of its amenities. The hotel has a fitness center, indoor pool, Wolfgang Puck restaurants on-site, and even a Starbucks.
Book your stay at the Amway Grand Plaza Hotel now!
For a more modern spot, check out CityFlatsHotel Grand Rapids. Some of their rooms have a city loft vibe with exposed brick walls, contemporary decor, and fun pops of color. CityFlatsHotel Grand Rapids is also an eco-friendly hotel lodging option, featuring bamboo linens, low-flow faucets, energy efficient lights, and recycled glass and marble countertops.
The rooms are well-equipped with a bed, flatscreen cable TV, iPod dock, and free wifi. As far as amenities go, there is a fitness center, on-site restaurant, parking, and a bar.
Check availability at CityFlatsHotel Grand Rapids.
Homewood Suites by Hilton Grand Rapids Downtown is a great family-friendly option in downtown Grand Rapids. This hotel just opened up in the summer of 2019 and has spacious rooms with kitchenettes and great amenities such as a fitness center, indoor pool, restaurant, and bar.
The rooms at Homewood Suites are spacious with a kitchenette, dining area, comfortable bed, flat screen TV with satellite channels, air conditioning, desk, and free wifi. Included with the cost of the room is an American breakfast buffet.
Reserve your room at Homewood Suites by Hilton Grand Rapids Downtown.
DAY 1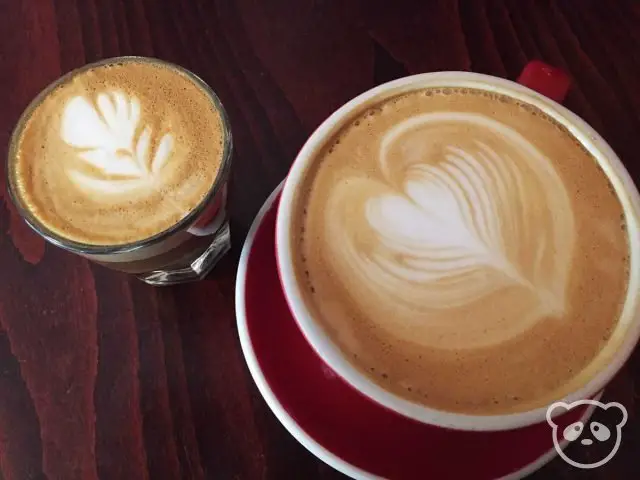 The Sparrows
For our morning coffee, we started off with a beautiful Lady Lazarus and a cortado at The Sparrows. The Lady Lazarus was basically a latte with honey and their housemade lavender syrup. It was delicious, if you love lavender, I'd highly recommend it!
It looks like a great spot to work and they have tons of newspapers and magazines laying around for you to read and enjoy.
Their espresso in general was flavorful and fragrant, plus they have quite a few speciality coffees and lattes so we would love to come back and try out more!
Related Post: 5 Amazingly Good Coffee Shops in Grand Rapids, MI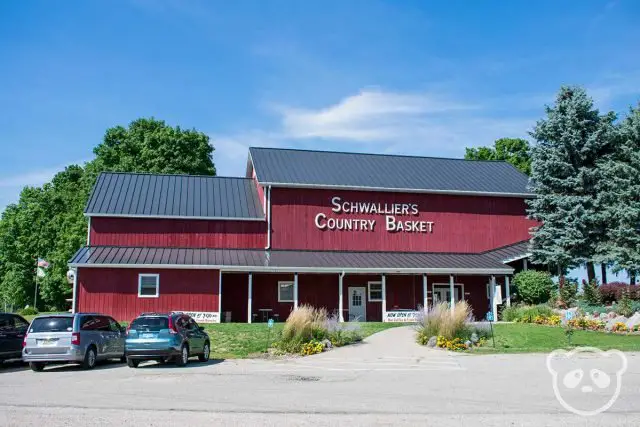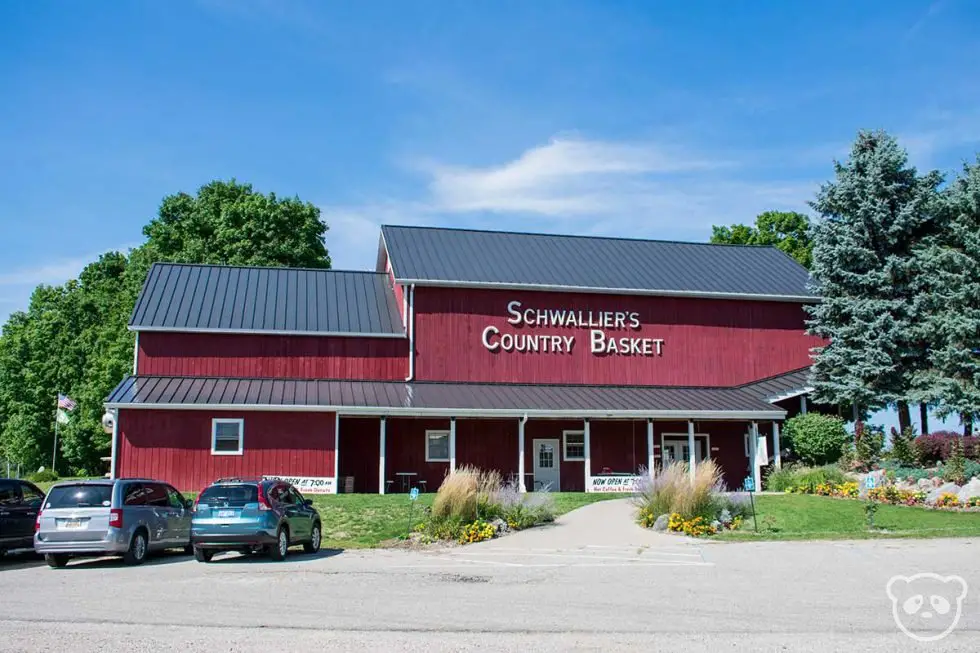 Schwallier's Country Basket
Since we visited Grand Rapids in early September, we decided to get into autumn festivities and go apple picking! Schwallier's Country Basket in Sparta, MI was the closest option to Grand Rapids.  
They grow a wide variety of apples for u-pick, such as the more common Gala and Red Delicious, but also rarer varieties such as Jonagold and Cortland. Be sure to check their website for seasonal availability. We were there in early September and we could only pick from the Gingergolds and Zestars.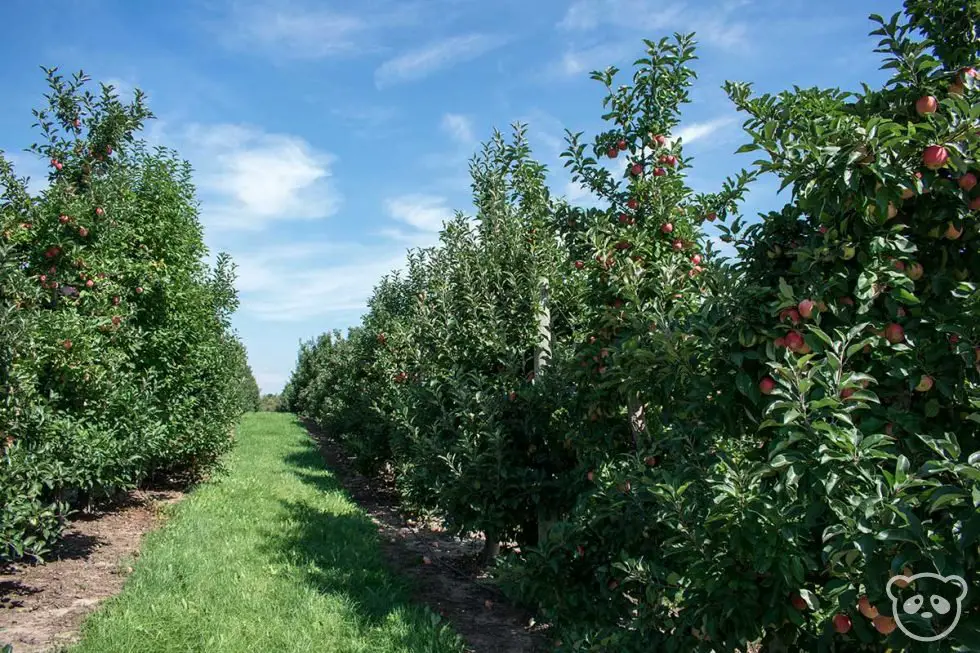 U-pick is priced by the peck and you can opt to purchase a bag for ¼, ½, or 1 peck. We didn't want to go to crazy with the apple picking since we were traveling so we only picked ¼ of a peck. This ended up being 6 rather large apples for approximately $5-6 so it was pretty worth it.
Important Note: If certain varieties aren't ready for picking yet, they'll cordon them off. Please respect the family-owned farm and return to pick those apples at a later date.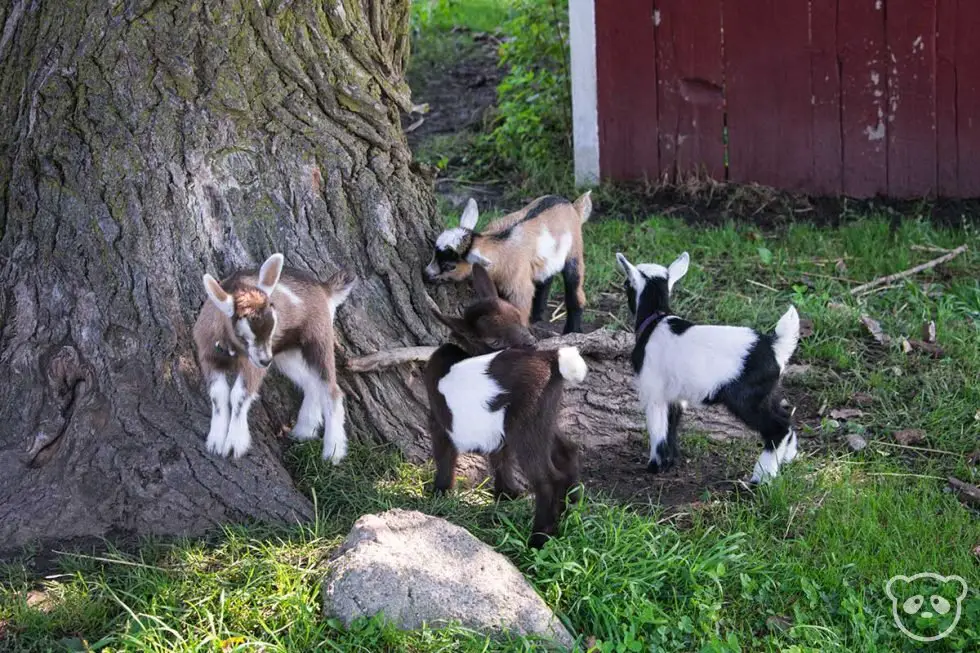 Aside from the apple orchards, the farm also has animals, such as rabbits and goats. We also found a few kittens running around. If you've read some of our other posts, about Harley Goat Farm in Pescadero, CA, you know I love baby goats!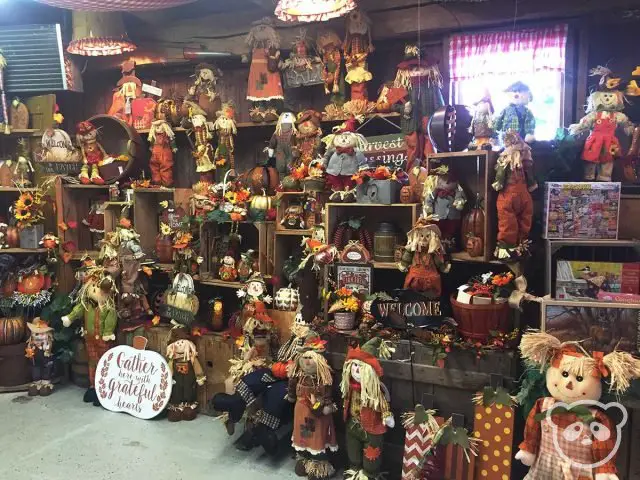 They also have a store, where you can purchase produce and goods made on the farm. We were totally eyeing the apple butter, jams, and honey. But unfortunately since we were traveling, we had to settle for things that we could actually eat there. We got some pumpkin-shaped apple cider sippy cups and apple glazed donuts for our second breakfast of the day. The fresh apple cider was delicious and the donuts were yummy.
PRO TIP: They also have u-pick for raspberries and pumpkins, so if you're not a fan of apples, there are other things you can pick.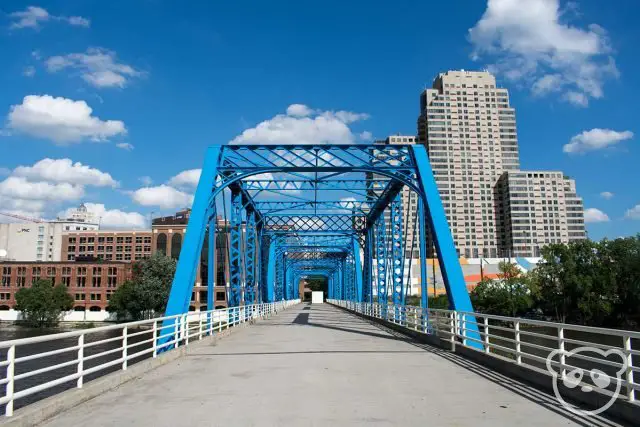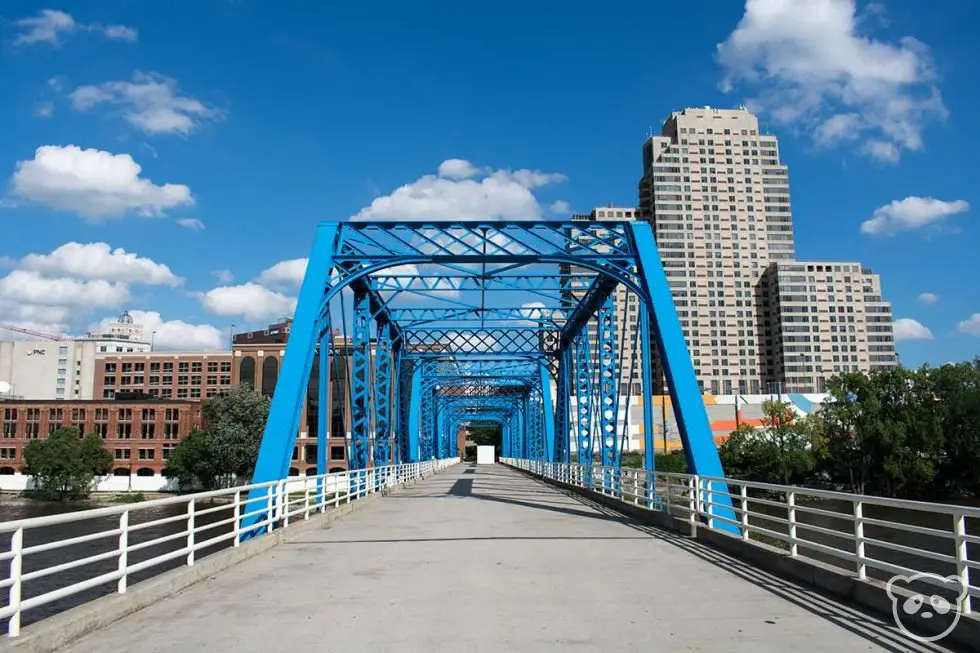 Explore Downtown & The Medical Mile
If you're not visiting in the autumn months, exploring Downtown and The Medical Mile area is a great way to get to know Grand Rapids. The downtown area is full of cutesy buildings, a few museums, parks, and even a Madcap Coffee location. It's also a great area to just walk around and get to know the city.
The Medical Mile area gets its name from the large number of hospitals and medical research facilities and schools. The roughly 1 mile corridor spans between the Grand River to the west, Interstate 196 to the north, College Ave NE to the east, and Lyon St SE to the south. The area includes institutions such as Van Andel Institute, Spectrum Health Butterworth Hospital, Helen DeVos Children's Hospital, and many more.  
Art buffs can check out the Grand Rapids Art Museum and the La Grande Vitesse sculpture at Calder Plaza. During Art Prize, artists usually display their works at Calder Plaza as well.
Near Grand Rapids Art Museum and closer to Downtown is also Rosa Parks Circle, in the heart of downtown. This plaza was designed by award-winning Maya Lin, who was also responsible for creating the Vietnam Veterans Memorial in Washington D.C. Rosa Parks Circle is bustling year-round, with concerts and festivals held during the summer months and an ice-skating rink in the cooler months.
For families there is also the Grand Rapids Children's Museum, with hands-on interactive exhibits for kids to explore and learn. Sometimes they even have workshops on robot building!
If you're feeling peckish, Hopcat and Stella's Lounge are in the Downtown area and are great places to dine.
Hopcat
Hopcat is one of the most well-known spots in Grand Rapids. It actually originally started here but has since expanded to locations in Ann Arbor, Minneapolis, Detroit, Louisville, Chicago, and many more. Even though they don't brew their own beers, they are dedicated to providing customers with the best beer possible.
The pub specializes in offering a wide variety of beers from regional to global. It has 49 taps, a firkin of monthly tappings, and a 250-bottle list.
Fun Fact: A "firkin" is a ¼ barrel (10.8 gallon) sized cask. They also come in other sizes like the Pin (5.4 gallons) and Kilderkin (21.6 gallons). Cask conditioned beer from a firkin typically has a softer mouthfeel and gentler carbonation. It is also usually served at around 55 degrees or room temperature. (

Craft Beer Joe)
Though they had many of Jimmy's favorite Belgian beers, he wanted to try some of the more local brews. He got the Defloured NEIPA from Witch's Hat Brewing Company in South Lyon, Michigan. He felt that it was a very nicely flavored "hazy" (unfiltered) IPA. It had really good flavor and not super bitter. It felt like it was more of a palate cleanser, exactly how a Midwest IPA should be.
Aside from amazing brews, they are also known for their "crack fries," now known as "cosmik fries." Why are they called "crack fries?" Because they are THAT addicting! Note that the cosmik fries used to be called "crack fries" however in 2019, Hopcat has changed the name of their addictive fries due to negative connotations associated with drugs. 
Fun Fact: In 2017, Food Network named Hopcat's Cosmik Fries as one of the Top 10 French Fries in America. (

Food Network

)
Cosmik fries come in "naked" (original), loaded, sloppy, and in "Vladimir Poutine." To put it simply, the "naked" version consists of fries battered in light beer and sprinkled with black pepper seasoning. They're also served with a warm cheese dipping sauce. 
Loaded cosmik fries come topped with cherry smoked bacon, red onion, pickled jalapeño, and they're smothered in warm cheese sauce. You can also opt to add chili on top! Sloppy cosmik fries are covered in their cheese sauce and topped with scallions.
The Vladimir Poutine cosmik fries is the most insane of them all. These cosmik fries are topped with potato & cheese pierogi, Wisconsin cheddar cheese curds, stout caramelized onions, and hickory smoked bacon, all smothered in a spicy sausage gravy.
Fun Fact: In 2019, Hopcat changed the name of their "crack fries" to "cosmik fries." (Hopcat)
Jimmy had had the naked cosmik fries in the past and since we were craving something more of the Polish sort we tried the Vladimir Poutine. The fries were super good, albeit more heavy than we'd expected, but SO GOOD. If you're craving a Polish twist, this would be the one to get! Otherwise the normal cosmik fries are amazing and I'd definitely want to try those next time.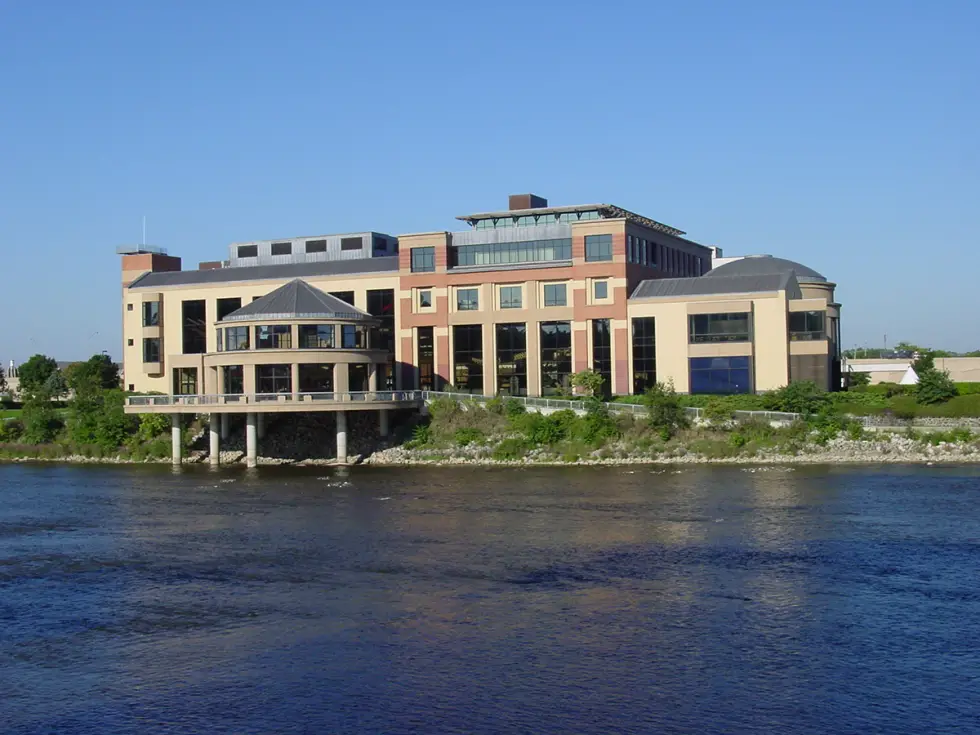 Grand Rapids Public Museum
The Grand Rapids Public Museum is great for families, but also good for people who just want to learn more about Grand Rapids area, including the nearby Lake Michigan. The exhibits go through the history of the city, but they also touch on the science and industry of the area.
In particular, we appreciated the Anishinabek: The People of This Place exhibit on the Native Americans of the area, we felt that it was important that they recognized they had settled on the land first. They also told stories using Native voices, discussing the perils of Natives when they were taken away from their families and forced into correctional schools that forcibly whitewashed their identities.
We also loved the cutesy Old Streets of Grand Rapids area of the museum. It showed how Grand Rapids would have looked in the 1890s in ¾ scale. The storefronts and interiors even include real products that were once sold in stores like these.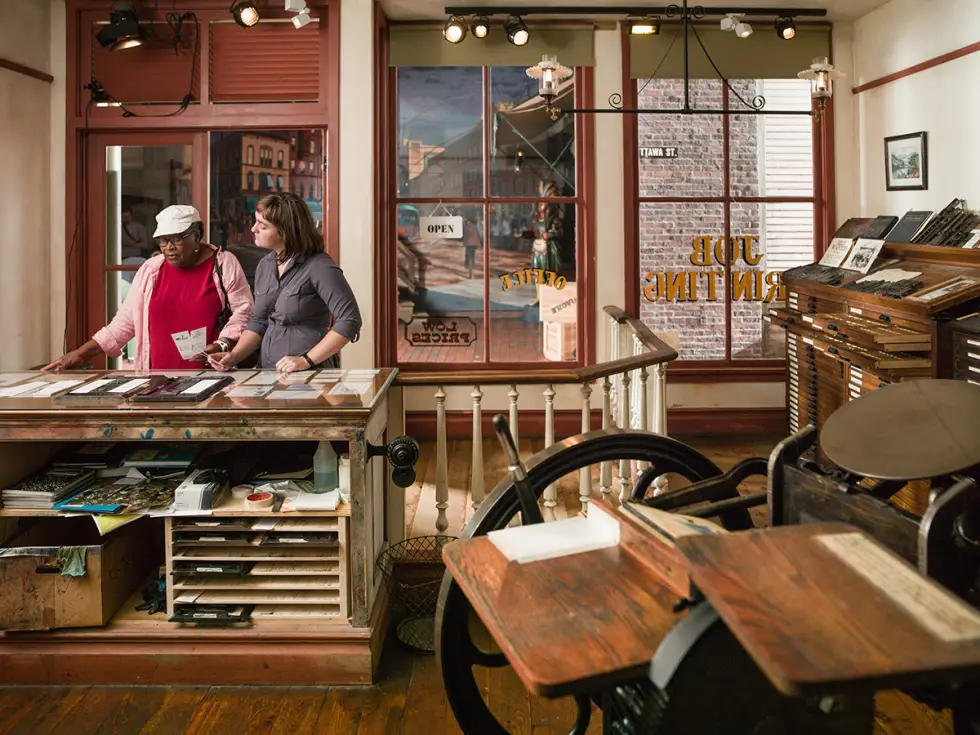 In the Van Dort print shop, a volunteer sets up an antique printing press with letters. If you get on his good side, he might even make you a souvenir bookmark!
We also loved learning more about the history of the furniture industry in Grand Rapids in one of the exhibits upstairs. There are mock workshops as well as real-life examples of furniture that was created in the Grand Rapids area.
Fun Fact: The lumber used to make furniture was taken from the Upper Peninsula and floated down the Grand River, to Grand Rapids for production.
Newcomers: The People of This Place was a great exhibit about the 45+ ethnic groups that have immigrated to West Michigan over the years. They tell stories of different cultures and how they've brought their traditions to the state, making it a more diverse and vibrant community. It was super interesting to see and learn about all of this since I never would have thought Michigan, specifically West Michigan, was so diverse.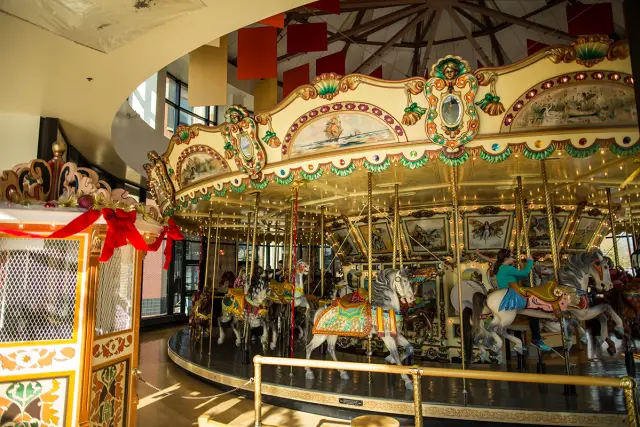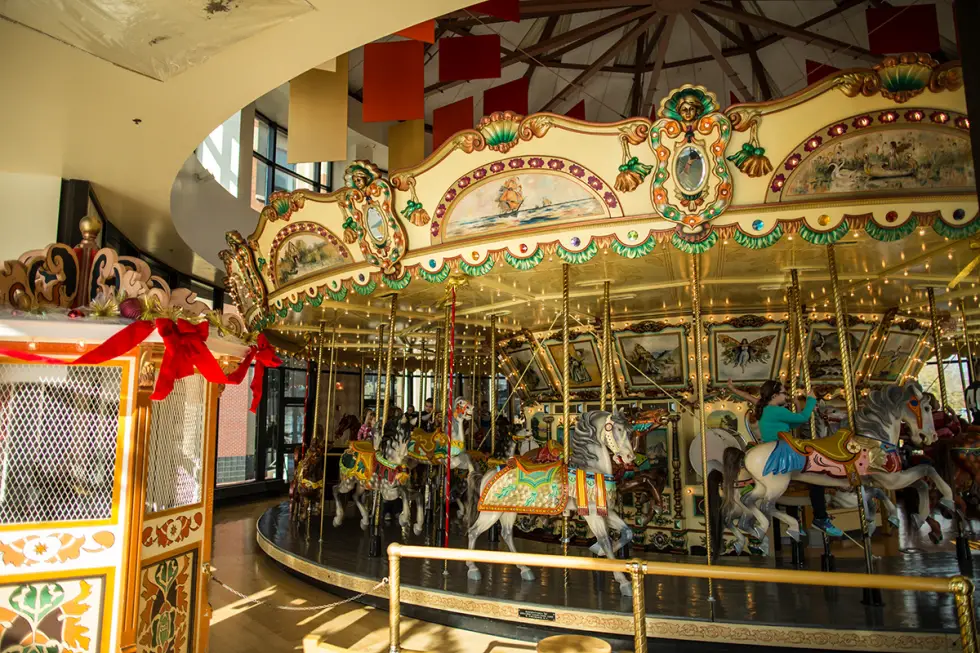 Some exhibits are definitely more fun for children, like riding the 1928 Spillman Carousel, learning about Finny the Whale, and interacting with the displays near the Planetarium. Most of the exhibits are more reading intensive so that is definitely something to consider when bringing younger kids. Children who can read will be able to get more out of the experience.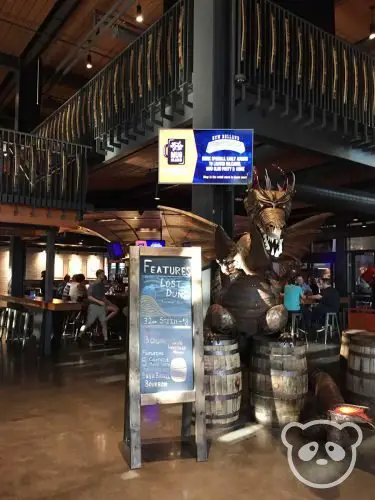 New Holland Brewing Company
Though New Holland Brewing Company is technically from Holland, MI and not Grand Rapids, they do make their brews in this Grand Rapids location. Keep in mind that they like to mix things up and this spot has a different vibe and menu from their other location in Holland.
Fun Fact: For the beer aficionados, New Holland Brewing Company serves different beers depending on location. Some beers, like Dragon's Milk, are only available at the Grand Rapids location and others only in Holland.
Since we met up with some of Jimmy's friends here we were able to try out more of the eats and some of the brews (mainly Jimmy and friends) too. We tried out their pepperoni pinwheels, pretzels & beer cheese, and the namesake Knick burger.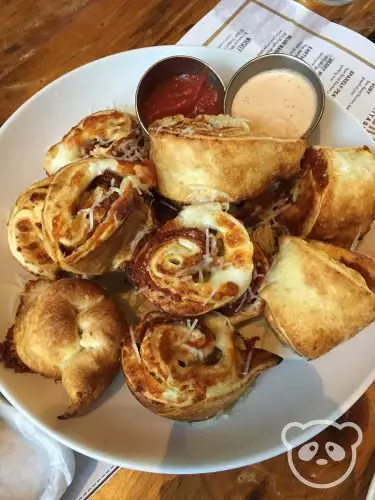 The pepperoni pinwheels are one of their more popular appetizers and are similar to sandwich pinwheels but pizza instead. They also came with a chipotle ranch and tomato sauces for dipping. I found them quite delicious plain as well.
I would skip the pretzels & beer cheese, here is why. We found the pretzels to be mediocre and the beer cheese resembled your average nacho cheese. Get it at Founders Brewery instead!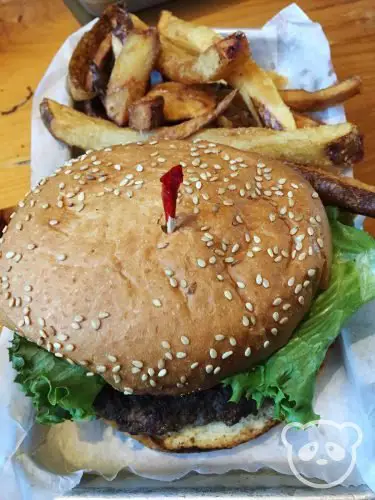 The Knick burger consisted of organic, grass-fed, freshly (daily) Angus ground beef and fresh cut Michigan potato fries. The fries were amazing, I actually enjoyed dipping them in the pepperoni pinwheels chipotle ranch sauce. The burger was more cooked than I would've preferred, in our opinions, we felt that the quality of the burger wasn't able to show because it was cooked well done.
Their beers, however, were great and Jimmy enjoyed the Dragon's Milk (original version) as well as one of their seasonal brews. Since they're known for the Dragon's Milk, they usually also have a flavored version of it as one of their seasonal offerings as well. He loved the normal version of it though. You can definitely taste the oak barrel used in aging the beer and it had a great roasted flavor to it.
PRO TIP: Their happy hour is Monday through Friday between 4pm and 6pm. If you're seeking discounted eats and drinks, plan accordingly!
DAY 2
Rowster New American Coffee
Start off your day right with a cup of joe from Rowster New American Coffee. This spot right off of Wealthy Street is in the heart of the Heritage Hill neighborhood. Their freshly brewed lattes and cortados are amazing! Their coffee is fragrant and rich in flavor. We also split a delicious almond croissant.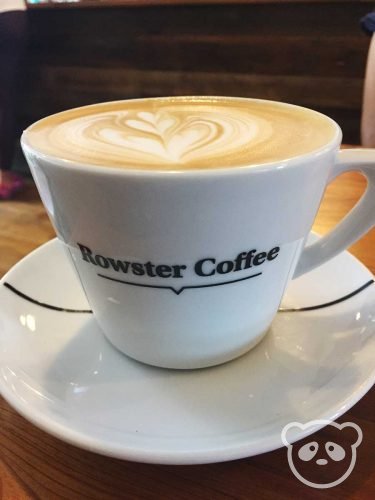 Their decor is definitely trendy with light and natural colors, I would totally want to set up my laptop and work here! Great coffee, yummy pastries, and wifi, what more could ya ask for?!
PRO TIP: If you need to get freshly ground coffee, I'd get it here. They stamp the bags with the date they roast them so you know it's fresh!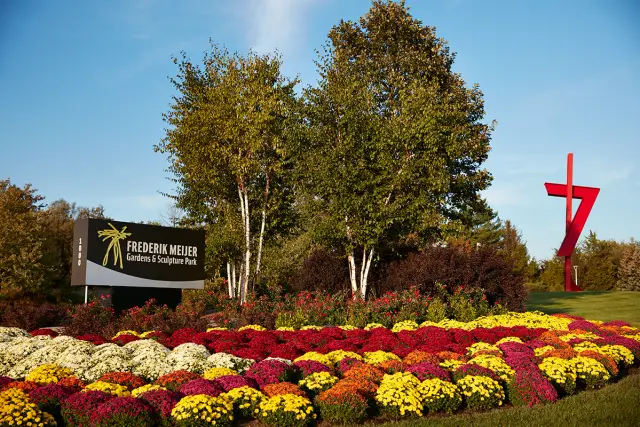 Frederik Meijer Gardens & Sculpture Park
While Frederik Meijer Gardens & Sculpture Park are located in Grand Rapids Township, a 15 minute drive from the city of Grand Rapids, they are beautiful and definitely worth the short drive to get out there. The beautiful gardens contain sculptures by famed artists such as Auguste Rodin, Ai Weiwei, Joan Miro, and many more.
Fun Fact: Frederik Meijer Gardens & Sculpture Park, known locally as "Frederik Meijer Gardens," is a 158 acre botanical garden and outdoor sculpture park and is Michigan's second largest tourist attraction.
We were amazed at how large the entire park was! They even have trams that take you around the park, these are available by purchasing an additional ticket. We wanted to enjoy the scenery so we opted to walk around, but make sure to be prepared for the heat because we weren't.  
PRO TIP: Don't forget a hat, sunscreen, and a water bottle, if you visit during a hot, summer day! There isn't much cover out there and it can get quite warm.
Our favorite parts were the Richard and Helen DeVos Japanese Garden and the Sculpture Park.
The Japanese garden was super pretty! And we've been to a few Japanese gardens, including one in Portland as well as the Hakone Gardens in Saratoga, CA. We loved how huge these gardens were! They are truly representative of what a Japanese garden should be — tranquil, simple, and beautiful.
Fun Fact: The Richard and Helen DeVos Japanese Garden was designed by Hoichi Kurisu. He is known for his beautiful garden designs outside of Japan, including the

Portland Japanese Garden

.
We enjoyed walking around the gardens, taking in the beauty of the lagoon along with the waterfalls, Buddha sculptures, Japanese-style pavilions, and zen rock garden. They even have a Japanese teahouse where they to tea tastings on specific days.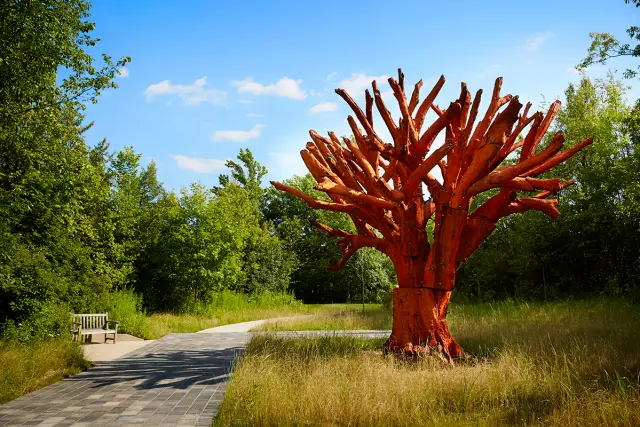 The Sculpture Park was also another favorite because of its beautiful artwork throughout its section of the gardens. Here is where you will find work by renowned artists such as Auguste Rodin, Joan Miro, and Ai Weiwei. There were so many beautiful pieces here it's definitely worth checking out!
We also loved some sculptures by lesser known sculptors, such as Nina Akamu's "The American Horse" and Deborah Butterfield's "Cabin Creek." Both equine style pieces fit amazingly well in the flat plains of the Midwest. We're glad they found their homes in this park!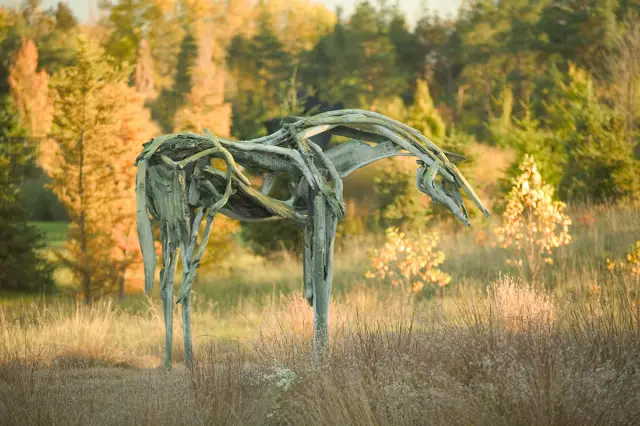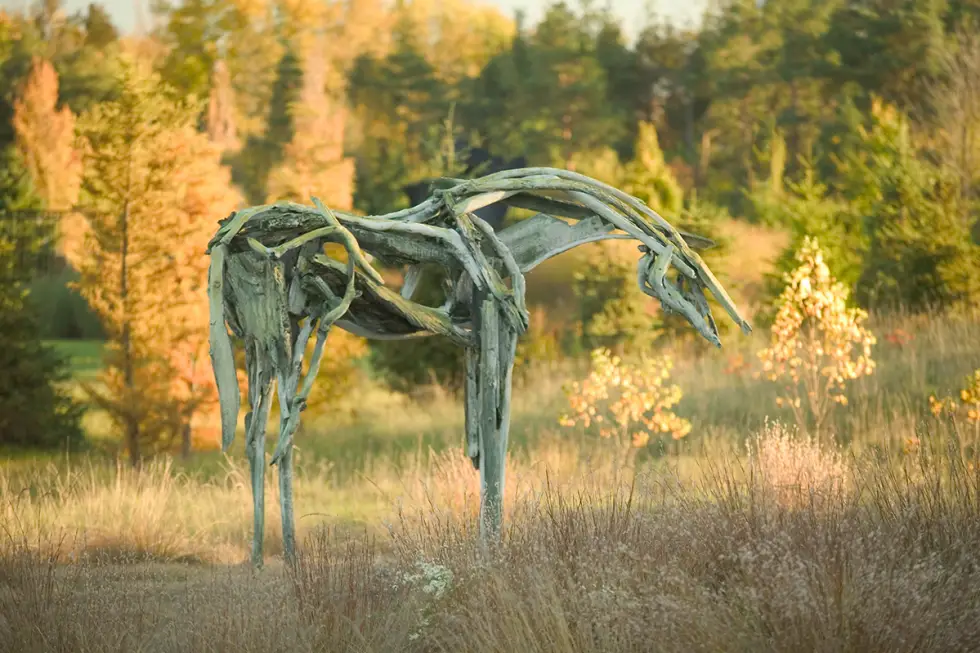 PRO TIP: While in the Sculpture Park, it's best to stay on path. This part of the gardens is paved but less developed and had fewer people exploring. We saw a garden snake out there, it's best to stick to the paved walkways where you can see potential dangers.
Families with children should definitely check out the Lena Meijer Children's Garden. There are interactive exhibits and sculptures where children can climb and explore. We even found a panda sculpture there! Your children can explore the log cabin with vintage toys, climb the four interconnected tree houses, and get lost in the Butterfly Maze. They will definitely have fun in this garden!
After exploring the park, you'll be wanting some grub!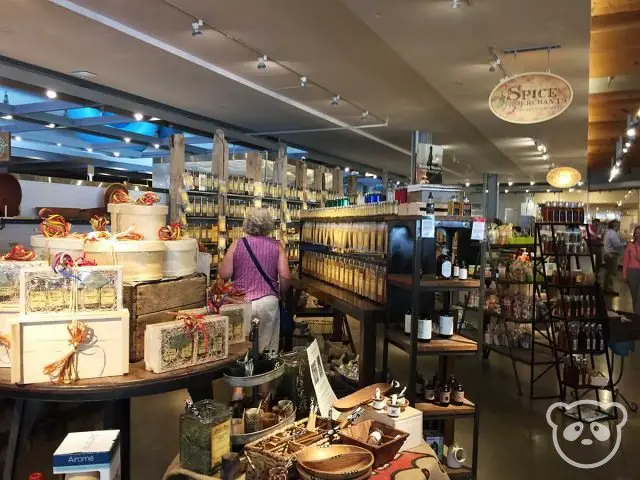 Downtown Market
We've been to many a local market throughout our travels and this was definitely one of our favorites! We loved all the variety of food served in Downtown Market, from Slow's BBQ (which is actually from Detroit), Asian food, Mexican cuisine, and even a juice bar!
We had our eyes on the prize and since we'd already had Slow's BBQ in Detroit it was one spot we didn't need to try again so soon in Grand Rapids (though we highly recommend it too!). Our top picks this time around were Fish Lads, Carver's, Love's Ice Cream, and Madcap Coffee.
Fun Fact: 95% of the fish from Fish Lad's is wild and 95% of the fish is fresh and never frozen.
Fish Lads looked like an amazing fishmonger that also served delicious eats. Since most of their fish was local, we decided to grab fish and chips with their local whitefish. It was freshly fried, made to order, and was one of the (few) best fish and chips we've ever had outside of the U.K! They also have a raw bar with tons of oysters to choose from.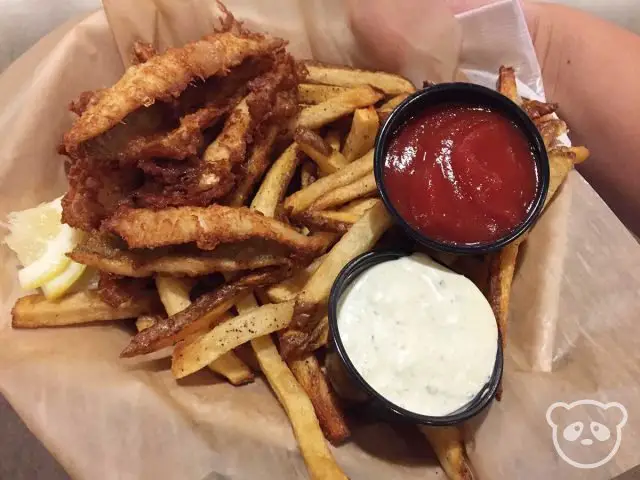 PRO TIP: If you're at the market on a Friday, they do AYCE (all you can eat) fish & chips between 5pm and 8pm.
Similar to Fish Lads, Carvers, located at the stall next door, is a butcher but they also serve food. They have a wide variety to choose from, including Kobe beef hot dogs, steak sandwiches, burgers, soups, and salads. They'll settle any meat craving!
Though we'd wanted to try the Kobe beef hot dogs, what really caught our eyes were Kobe steak tacos! They were surprisingly good, though we'd expected a tad more marbling and beef fat from the Kobe.
PRO TIP: If you hit up Carvers on a weekday, they have daily lunch specials. The Kobe steak tacos are only $8 on Tuesdays for dine in and takeout! Lines will be longer though, you've been warned!
For dessert, we had the yummy Love's Ice Cream and Chocolate! Their grass-fed ice cream and vegan gelato was super creamy and they had very unique (and local) flavors. They also change up their flavors so you'll get to try something new every time, the current flavors of the day are listed on their website.
I ordered their lavender blueberry (vegan option) and the seasonal Michigan orchard (peach and blackberry swirl) in a waffle bowl. Their medium is technically "1.5 scoops" so I was asked which one I wanted more of, I picked to have more of the Michigan orchard. The ice cream was amazing! They were flavorful but not super overpowering and I really loved how the fruity flavors came through.
Fun Fact: Michiganders know the upper peninsula of Michigan as the "glove" because it's shaped like the right hand of a glove, while the lower peninsula of Michigan is known as the "mitten." It's shape on the map resembles a left mitten. Grand Rapids is located to the lower left on the mitten.
They also had a "mitten pop" which I really wanted to get too so it was such a struggle deciding on what to get. But we'll probably have to try it next time.
Jimmy, unlike me, isn't a huge fan of fruity flavors so he opted for the Madcap [Third Coast Coffee] (vegan) and the seasonal Field & Fire Almond Croissant. The super cool thing about the almond croissant flavor is that it was actually made from almond croissants from Field & Fire, another stall inside Downtown Market. There were even bits of croissant in there!
SO GOOD. I cannot wait until the next time we go back so we can try more flavors!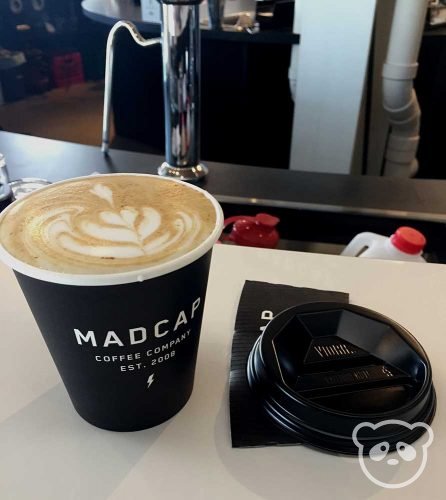 Our next stop was Madcap Coffee, because, really, could you ever have too much coffee? Since we'd already had our morning coffees, we decided to split a Cafe Miel. It sounded super interesting, it included espresso, milk, honey, and cinnamon. Delicious and unique!
Madcap at Downtown Market also has a beautiful coffee bar area where you can chill out with a newspaper, it's definitely a great place to get your caffeine fix and meet up with a friend or relax.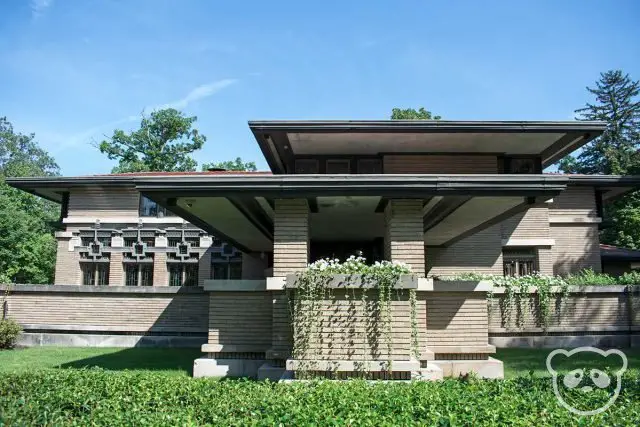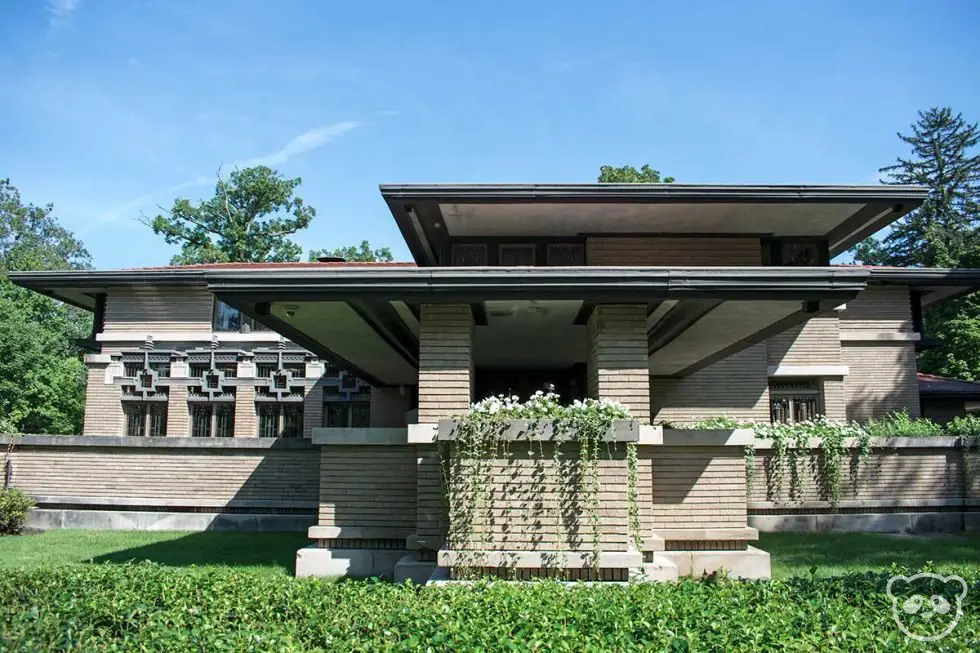 Meyer May House
We had been dying to see the Meyer May House for two reasons — the first being that Steelcase's renovations of this house were said to be amazing, and two, it's FREE to see! You can't get any better than that!
Fun Fact: Steelcase, an international office furniture company based in Grand Rapids, worked with Frank Lloyd Wright to manufacture the furniture for the Johnson Wax Company. They later purchased and renovated the Meyer May House as a way to preserve Wright's work as well as give back to the community.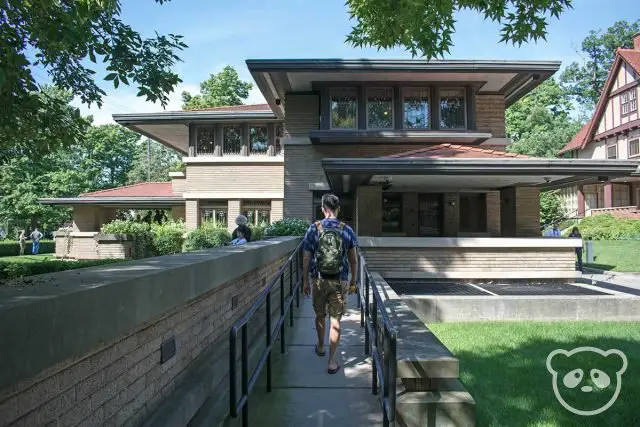 We were not disappointed! The Meyer May House is an amazing work of Wright's Prairie School era. Also located in the Heritage Hill neighborhood, the Meyer May House was built between 1908 and 1909. It was commissioned by Meyer S. May, a local clothier and president of May's clothing store in Grand Rapids.  
To put it simply, we would describe Meyer May House as a miniature version of Frank Lloyd Wright's Robie House in Hyde Park, Chicago. With that said, the attention to detail with the renovation process of the Meyer May House is unbeatable.
Like many other of Frank Lloyd Wright's Prairie School designs, the home had characteristic cantilever roofs, stained glass windows, brick exteriors, and urn shaped planters. If you're in the Grand Rapids area, we'd HIGHLY recommend visiting this house. Aside from it being free, the guided tour is amazing, and it's in a super cute area.
PRO TIP: Be sure to check their
site
for the latest opening times. Currently, the Meyer May House is only open Tuesdays & Thursdays from 10am-1pm and Sundays from 1-4pm.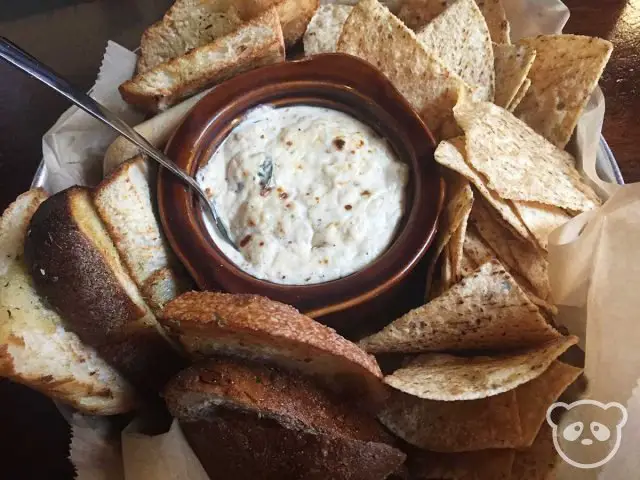 Founders Brewing Company
For dinner, we went to Jimmy's favorite brewery, Founders Brewing Company! He LOVES their beer. He'd been there previously but back then it was much smaller, with only a small window for their sandwich orders and the bar was also half its current size.
Their sandwiches are amazing! The sandwiches are made fresh to order so sometimes you have to wait, but the wait is well worth it. Even though the sandwiches there are good, what you really have to order (aside from beer), is their beer cheese dip.
The beer cheese dip is SO GOOD. The cheese is super flavorful and they give you a hefty portion of baked crostini and tortilla chips to take care of those beer munchies you're gonna get. If you don't get any other eats, you HAVE to get the beer cheese dip, it is THAT good.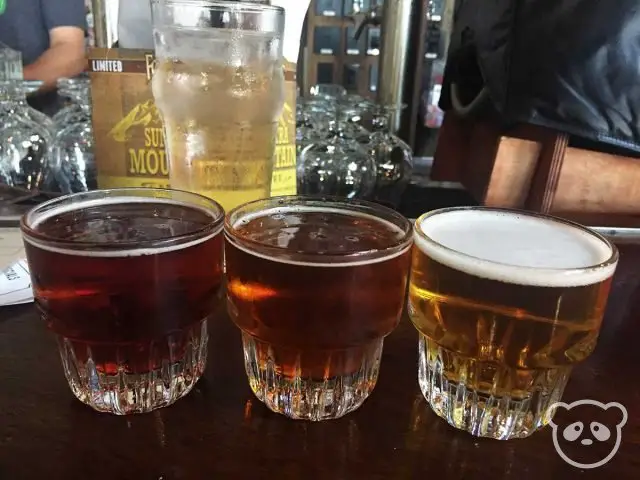 Jimmy ordered a beer flight at Founders, he chose the Centennial IPA (his favorite), Kryptonita Session IPA, and Honey Badger Braggot.
The Centennial IPA is their flagship IPA and is brewed with Centennial hops. To his surprise, the Centennial IPA wasn't as good as he remembered in the past. He thought it could be an off day, since it tasted a bit watered down. He'd probably get it again in the future just to make sure.
He ordered the Kryptonita Session IPA because he wanted a lighter one to balance everything out. It was flavorful and light, exactly like a session IPA should be. It is brewed with oatmeal and CaraMunich malt and dry hopped with Cascade, Simcoe, and Chinook hops for a fruity, citrus aroma with a clean, crisp finish.
The Honey Badger Braggot is a taproom exclusive and is made with Pure Michigan Honey and blueberries. It is slightly sweet and tart, but also dry. This was Jimmy's least favorite since he's not a huge fan of fruity flavored beer, but I loved it! I felt that the flavor and sweetness of the blueberries and honey really came through.
On busy, but nice summer days, they even have a large patio area they'll open up and you can sit outside with a cold brew and enjoy your day.
If You Have More Time…
Stella's Lounge – They're known for their delicious burgers. In fact, Stella's was named "Best Burger in America" by GQ magazine in 2012. Locals LOVE this place so you know it'll be good.  
Art Prize – This was once an annual art festival, however beginning in 2018, it will only be occurring biannually. Through the city, there are discounts on museum admission as well as special exhibits and events. There are also art exhibits placed throughout the city, including at the Ah-Nab-Awen Park located to the west of the Grand River. This event typically happens in mid-September through mid-October. In 2018, it is currently running between September 19 through October 7.  
Grand Rapids Art Museum – The art museum has a wide variety of works ranging from 19th and 20th century European & American art to works from the Renaissance period and even modern art.
Cruise along the Grand River – A steamboat cruise, Grand Lady Riverboat, leaves from nearby Jenison, MI (roughly 20 minutes away from Downtown Grand Rapids) and takes you on a ride up and down the Grand River. The season begins in May and ends in the beginning of November.
Explore the West Side of the Grand River – You can also walk across The Blue Bridge or Pearl Street Bridge and over the Grand River. Here you'll find the aforementioned Grand Rapids Public Museum, the Gerald R. Ford Presidential Library & Museum, and the Ah-Nab-Awen Park & Riverwalk.
Gerald R. Ford Presidential Library & Museum – The museum is dedicated to the Grand Rapids local and the only president of the United States who was not voted in as a president or vice president. There are many cool exhibits, including a recreation of his Oval Office as well as another one celebrating the 1976 Bicentennial. He and his wife, Betty Ford, had their funerals and are also buried here.
Ah-Nab-Awen Park & Riverwalk – The Ah-Nab-Awen Park is a beautiful park, located along the Grand River, with great views of the buildings in downtown Grand Rapids. It's a great place to relax and go for a picnic! You can also walk along the riverwalk to explore more of riverbank. During Art Prize, there are also exhibits spread throughout the park.
List of the Sights
Note: Unless otherwise stated, all locations listed are in Grand Rapids, MI.
DAY 1
The Sparrows Coffee, Tea, & Newsstand
1035 Wealthy St SE

Schwallier's Country Basket
1185 9 Mile Rd NW, Sparta, MI

Downtown
Area bound by the Grand River, Wealthy St, Lafayette Ave, & Lyon St
The Medical Mile
Area between Grand River, Lyon St, College Ave NE, & Interstate 196
Hopcat
25 Ionia Ave SW

Grand Rapids Public Museum
272 Pearl St NW

New Holland Brewing Company
417 Bridge St NW

DAY 2
If You Have More Time…
Map of the Sights
This map includes a list of all of the Sights to See, Restaurants as well as the routes by day (i.e. Day 1, Day 2, and Day 3) within specified layers.
By default, only the Sights to See and Restaurants are shown but you can select to view the daily routes. Use the slide out panel to select layers to toggle them on and off using the checkboxes.
Hope these recommendations will help you enjoy Jimmy's hometown as much as we did. Honestly I was surprised by the amount there was to do in Grand Rapids and I definitely feel the need to explore more in his city.
Loved this weekend guide to Grand Rapids, Michigan? Pin it for later!
Disclaimer: This post was brought to you in part by Experience Grand Rapids. We were provided complimentary admission tickets for the creation of this post. As always, all of our thoughts and experiences are our own. Some photos were provided courtesy of Grand Rapids Public Museum and Frederik Meijer Gardens & Sculpture Park.