This post may contain affiliate links. If you click one of these links, we may receive a commission. We're grateful for your continued love of this site!
This A Weekend Away 3 day itinerary post is our local's guide to exploring San Francisco! Our guide to San Francisco is strictly local and we will not be taking you to the touristy spots that the city is known for. If you're looking for Fisherman's Wharf, Pier 39, Lombard Street… all of those overcrowded spots, this is NOT the itinerary for you! 
One major thing to remember when traveling to San Francisco is that our lovely city of San Francisco is rarely ever sunny. The quirky city is best known for its foggy weather and us locals even have a nickname for the fog, his name is Karl. You want to be prepared for the weather and not be freezing in the fog and wind. You have been warned. 🙂 
Fun Fact:

The average percentage of cloudy and/or foggy days in the year is approximately 60%, or 213 days.
Even though the city is only 49 square miles, another interesting thing is that there are usually microclimates or pockets of differing weather throughout the city. It can be sunny in one area, you drive down a couple of blocks and it'll change into a different world, completely overcast and foggy.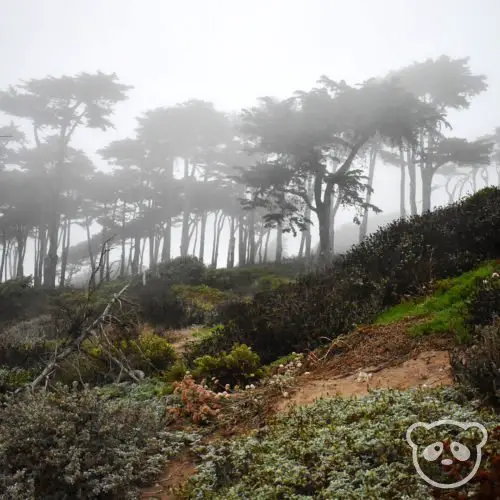 Rule of thumb: ALWAYS bring a jacket or a sweater when you're out in San Francisco. It might not look cold, but it usually gets chilly throughout the day.
"San Francisco has only one drawback, 'tis hard to leave."
– Rudyard Kipling
Initially I thought this post would be super easy because I grew up in the Bay Area and spent innumerable weekends in San Francisco with my friends. Nope! It actually made it more difficult to narrow down all the things a visitor should see in a few days.
Nevertheless, I was still able to compile a list of best things to do with a weekend in San Francisco from a local's perspective. So, again, SPOILER ALERT, you might want to stop here if you're wanting to see Pier 39/Fisherman's Wharf. Shocker! It's not on the list. Sorry, not sorry. We don't usually go there because it's packed with tourists and super crowded. Plus, there is better food to be had in the city, as you will soon see below.
Here's our local's guide to a 3 day long weekend in San Francisco!
DAY 1 – Day Trip to Islands in the San Francisco Bay
Note: If you're aiming to head to Angel Island, your day might need to start earlier since there some scenic hikes around the island that may require additional time.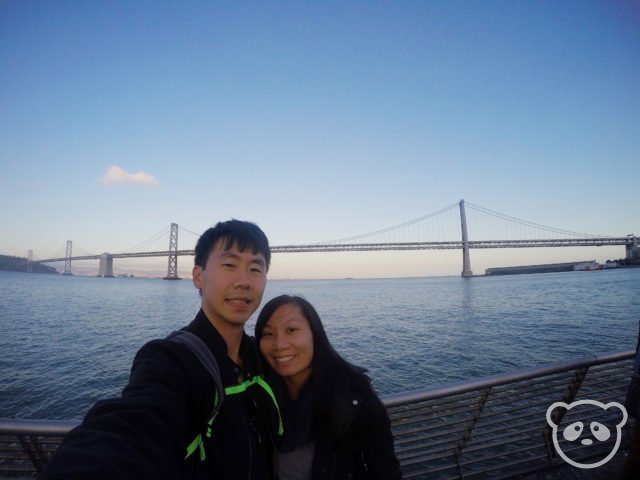 Embarcadero
First stop, Embarcadero. Hit up the historic Ferry Building for some great eats! If you're there on a Tuesday, Thursday, or Saturday, well, you're in luck because there will be a farmer's market. More choices for eats! For breakfast, Blue Bottle is great for some pour-over coffee. Acme Bread Company will provide you with bread as your carb-filled sustenance. The bread is freshly baked and insanely good.
Make your way along the Embarcadero to your ferry pier to Angel Island OR Alcatraz. Whichever you decide, it's a choose your own adventure kind of day. I wouldn't recommend doing a combo ticket for Angel Island AND Alcatraz because it's a lot of ground to cover since Angel Island is much larger.
Angel Island takes the better part of the day if you're trying to maximize your time. If you see and do the main things, it will take about 4-5 hours of your time.
The Angel Island Ferry leaves from the Ferry Building and Pier 41. I usually prefer to leave from the Ferry Building since I can grab some eats and it's easier to get to via public transit. The trip, from San Francisco to Angel Island, is a quick 12min boat ride. See ferry schedule for more information. Note: The Ferry Building ferry also stops at Pier 41 prior to Angel Island.
The quickest way to see much of the island is to take the Angel Island tram. The 1hr tram ride plays an audio tour on their sound system while you're going around the island. They make one main stop, at Battery Ledyard, during the ride for pictures. From there you'll be able to get a view of the Golden Gate Bridge and San Francisco. During high season (April-September), the tram runs more often than during low season, so make sure to check online for the available times.
PRO TIP: Sometimes they run Groupon deals for the tram, it's definitely worth checking out, you'll save a good amount. I usually like to take the tram ride first thing after I get off the ferry and then hike and explore the island afterwards.
My favorite hike on the island is the Sunset Trail, it's 4.8mi so it's not the shortest hike, but on a sunny day it gives ya one of the best views in the Bay Area. Since Angel Island is in the middle of the bay, it gives you 360 unobstructed views of the Bay Area. You can see Sather Tower at U.C. Berkeley, Golden Gate Bridge, downtown San Francisco, and Sausalito easily. It's an even better view than the one you see at the tram stop, promise. 🙂 If you have the time and energy to do the hike, it is definitely worth it! The hike is uphill and there are some switchbacks involved, but nothing overly difficult.
Fun Fact:

Between 1910-1940, the Angel Island Immigration Station processed approximately 1 million Asian immigrants entering the U.S., leading to Angel Island's nickname of "The Ellis Island of the West."
For more on Ellis Island, see my other post 3 Days in New York City.
After the hike I head over to the Immigration Station. My favorite thing about this place, aside from learning about Asian American history, is the Chinese poetry carved on the walls. Following the Chinese Exclusion Act of 1882, Chinese immigrants had a much more difficult time getting into the country. In fact, some stayed in the barracks for years, carving poems on the walls to pass their time.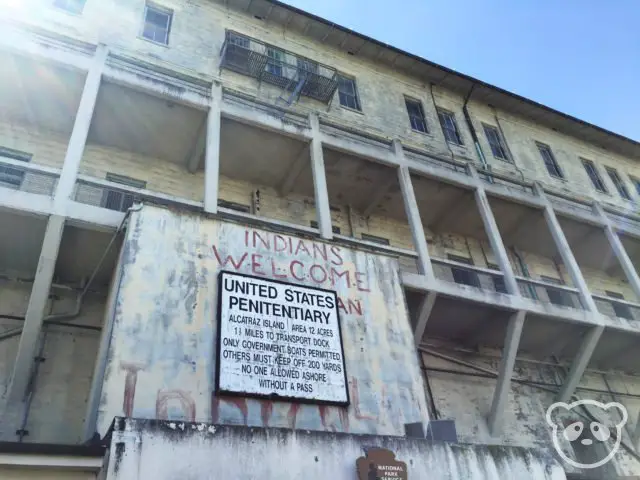 Alcatraz Island
Alcatraz, on the other hand, doesn't take as much time. It is much smaller than Angel Island and can be easily seen in 2-3hrs. Even though Alcatraz has an interesting history, it started as a military garrison, then became a military prison, and finally the federal penitentiary we all know today.
Ferries to Alcatraz leave from Pier 33, tickets can be purchased online or at the pier. See ferry schedule for more information.
Fun Fact:

During its 29 years as a federal prison, Alcatraz held some of the most notorious criminals in American History. The most famous of which was Al Capone.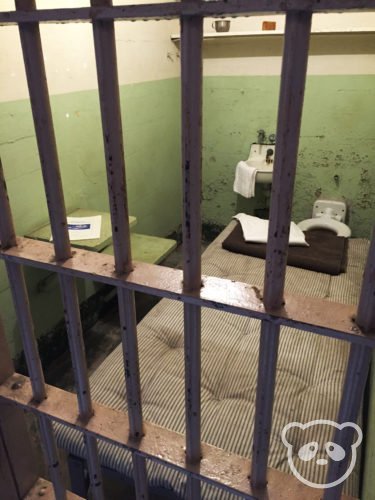 If you're visiting Alcatraz during the day, I'd suggest getting the day tour ticket, which includes the round trip ferry ticket and an audio tour for the prison cells.
You can easily get to Alcatraz by taking their own ferry service, Alcatraz Cruises. They have a variety of tickets from day tours with audio guides to guided tours at night. Personally, I can't visit at night, it's a little too creepy for me, but it might be a good option if you're short on time and want to do both Angel Island and Alcatraz in a weekend. You'd easily be able to separate that out into 2 separate days.
Personally I didn't think the food on Angel Island looked great and I can't remember if Alcatraz has food and drink sales since it's a small island, but I tend to carry around granola bars and wait 'til I get back to the city for lunch.
One of my favorite places in the city is Tony's Pizza Napoletana, but given the fact that this itinerary is very packed, I'd recommend their casual grab-and-go place next door – Tony's Coal Fired Pizza and Slice House! Their pizza tastes great, especially their neapolitan style pies. Tony's has a wood burning stove that fires up to 900F AND they source their ingredients from Italy. Their pizza margherita is the best I've had outside of Naples.
Next, head to the Cable Car Museum, located within the historic Washington/Mason street cable car barn and powerhouse, to learn about a special piece of San Francisco's history. This museum is FREE and provides an interesting look at how cable cars work. There is also a ton of historical memorabilia, including antique cable cars from the 1870s.
Fun Fact:

Cable cars were created in 1869 by Andrew Smith Hallidie after he witnessed an accident. Five horses were pulling a streetcar over wet cobblestones, the horses slipped and fell backwards leading to their deaths.
Downtown San Francisco
Downtown San Francisco is the next stop, you can take a walk through the Union Square shopping area or take a stroll through the skyscrapers in the Financial District (FiDi). Union Square is the home to the Hearts of San Francisco art installations. Each year hearts are painted by various artists and are auctioned off to benefit San Francisco General Hospital Foundation.
Fun Fact:

The installations began in 2004 and were inspired by the Tony Bennett song,

I Left My Heart in San Francisco

.
Financial District is known for one of the most famous skylines in the country, some of these famous skyscrapers include the Transamerica Pyramid, 555 California Street, 101 California Street, and 345 California Street.
Finally for dinner, Hog Island Oyster Company is my top pick. The waits can get long, but I promise you the clam chowder here is tastier than Boudin. Aside from their clam chowder, another must-have are their fresh Kumamoto oysters, they are super sweet and delicious!
DAY 2 – Explore Golden Gate Park & Nearby Neighborhoods
PRO TIP
: Driving is highly recommended for day 2 since the coastal areas may be a little more difficult to get to. Another option if you don't want to rent a car is Uber/Lyft.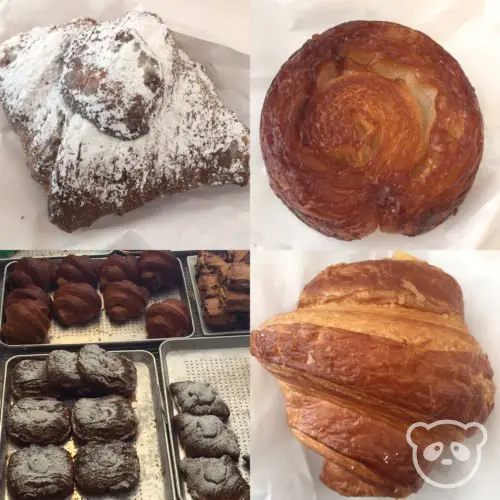 The breakfast of champions starts with Arsicault Bakery. Though their coffee is pretty meh, their kouign amman and croissants are to die for! Everything is made fresh; if you're able to find a seat in their tiny shop, you'll get to see trays of breads and pastries continually coming out.
Fun Fact:

Arsicault Bakery was named The Nation's Best New Bakery in 2016. (

Bon Appetit

)
Golden Gate Park
After having some delicious pastries, walk it off with a stroll around Golden Gate Park. You can also visit the De Young Museum and/or Academy of Sciences, both are located within the park.
De Young Museum has a good mix of modern and traditional art, there are pieces by contemporary artists as well as more classical painters. The museums also has a permanent collection of art from various countries, from Asia and Africa to Central America and Oceania. Sometimes the museum runs special exhibitions by more famous artists, such as Picasso and Keith Haring. On occasion there are also temporary exhibits by fashion designers like Oscar de la Renta and Yves Saint Laurent. Note that the special exhibits will cost extra on top of the cost of general admission.
California Academy of Sciences is a biological science based museum, while it is no American Museum of Natural History (see A Weekend Away: New York City for more information), it has many cool exhibits. The museum has its own aquarium, as well as planetarium, rainforest, and taxidermy dioramas (or what I like to call "stuffed animals").
PRO TIP: If you want to get into the planetarium or the rainforest, I'd recommend getting the tickets from the information desk right when you walk in as they tend to run out.
With the remodel in 2008, the Living Roof was added to include a green, environmentally-friendly design promoting sustainability while adorning the roof with native California flowers and grasses.
Fun Fact:

In the 1990s, the Steinhart Aquarium exhibit included a tank of Pacific white-sided dolphins. (

SFGate

)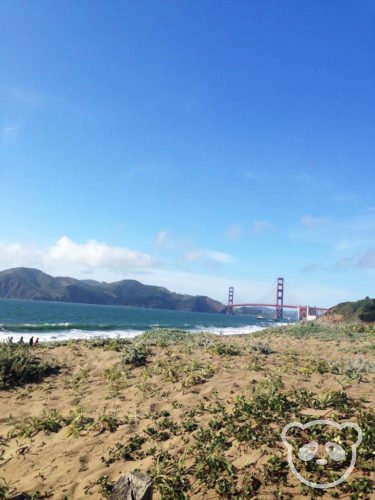 Baker Beach
Unlike Southern California, San Francisco isn't particularly known for their beaches, but this is the most picturesque beach in San Francisco. It's so beautiful on a clear day that couple enjoy taking engagement and wedding photos here.
Walking along the beach, it gets prettier as you get close to the Golden Gate Bridge; however it is important to note that end of the beach is also the clothing optional side. So you might need to "hide yo' kids, hide yo' wife."
From Baker Beach, you can walk along Sea Cliff Avenue and El Camino del Mar to Lands End Trail for 1.6mi to Lands End. Aside from the view of the Golden Gate Bridge on a clear day, is the rock labyrinth is one of the coolest parts of this area.
Fun Fact:

The Lands End Labyrinth was created by Eduardo Aguilera in 2004 and was meant to be a circuitous path to peace, love, and enlightenment.
San Tung Restaurant
Dinner is at one of the best and most famous northern Chinese restaurants in the city – San Tung Restaurant. They don't have an official website, but Doordash has a menu preview. Highlights here are definitely the dry fried chicken wings and dried sauteed string beans.
Twin Peaks
After dinner, if it isn't too foggy, I'd recommend heading up to Twin Peaks. From there you can get the best view of the entire city, but mainly the Market Street thoroughfare. The views are magical at night and best of all, they are FREE.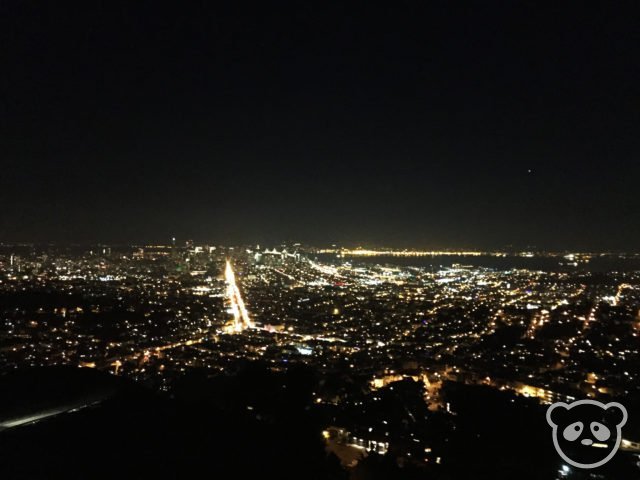 If you're itching for some dessert, I'd recommend Marco Polo Italian Ice Cream. They have the best gelato in Asian-inspired flavors, ranging from black sesame to taro and soursop to durian. There is something there for everyone, my favorites are the Longjing green tea, lychee, and mangosteen.
DAY 3 – Day Trip to Muir Woods
I would definitely recommend a car for this day 3 itinerary since I'll be taking you outside of the city!
For late breakfast/early lunch, I'd recommend trying out California's very own In-N-Out Burger. I'm rather simple when it comes to burgers so I just prefer their normal hamburger. Bear, on the other hand, enjoys their double-double, so named for the 2 slices of cheese and 2 beef patties. Their fries are also made fresh from potatoes so they're less crispy than you'd expect. 
PRO TIP: I recommend heading to the one up in Sausalito, since the only In-N-Out Burger location in the city is located in the Fisherman's Wharf area. It's about 5-10min out of the way to Muir Woods, but it's less of a hassle with parking and traffic.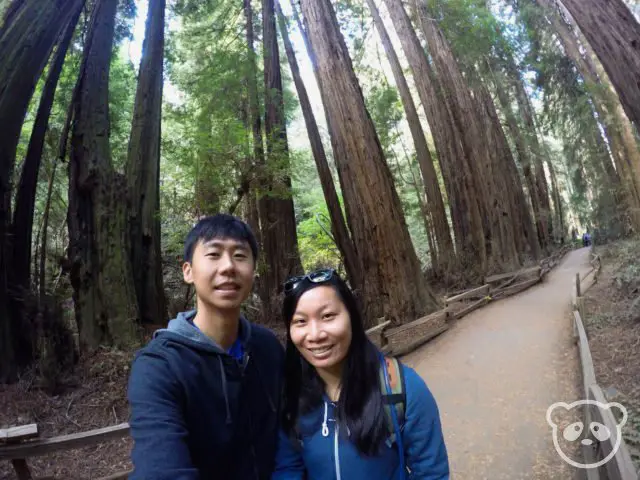 Getting to Muir Woods from San Francisco can be a bit of a windy drive, however if you go during the summer/peak times they will have a shuttle that will take you there from Sausalito Ferry Pier & Marin City Hub (shuttle 66F) or Pohono Street Park and Ride (shuttle 66).
PRO TIP: We prefer to take the Pohono Street Park and Ride shuttle because there is tons of free parking in that lot.The Sausalito Ferry Pier and Marin City Hub stops do NOT have parking.
Beginning May 15, 2018, Muir Woods National Monument will begin a reservations process on shuttle service and parking passes in order to cut down on the visitor numbers and to manage them more easily. All reservations (for either the shuttle or parking) can be made up to 90 days in advance.
See schedule and shuttle lines for more information. The shuttles cost $3 per person for the round trip ticket. If you get the shuttle pass, you will NOT have to pay for a parking pass. You will be permitted to park your car at the designated shuttle service parking area for FREE. Purchase shuttle tickets online here. 
Important Note: Pohono Street Park and Ride is the only shuttle line where you have a 30 minute departure window on your ticket. For the Sausalito Ferry Pier and Marin City Hub shuttles, you will need to arrive by the time on the ticket, or they might leave without you!
If you choose to park at Muir Woods, it will cost you $8 per car. Electric vehicle parking is $11 and an ADA spot is $8. You will also need to reserve this online in advance, parking passes will NOT be sold on location.
PRO TIP: Make sure you download or print your shuttle or parking pass beforehand. There is no wi-fi or cell service at the park so if you don't prep this you might not make it back on the shuttle OR you might not be able to park! 😉
For more information about the shuttles and parking passes, see the reservation site.
Muir Woods National Monument costs $10 per person to get in, but in return for the ticket price you get very well-maintained paths and bathrooms! The most amazing thing to see in Muir Woods are all of the old-growth redwoods.
Fun Fact:

The average age of the coastal redwoods at Muir Woods is between 600-800 years old. The oldest redwood is 1200 years old and they can live up to 2200 years. (

National Park Service

)
My favorite trail route is the Main Trail (from the Visitor's Center) to the Ben Johnson Trail and returning back to the Visitor's Center via the Dipsea Trail. It's only approximately 4mi so it's easily doable within a few hours and you get to see a lot of beautiful redwoods. See map for more information. Most of the trail is shaded by the redwoods but there is an elevation gain so it might take longer than you expect.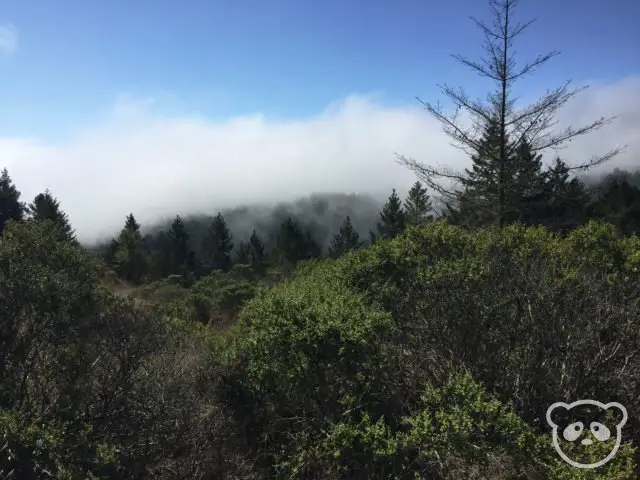 If you're desiring a more intense hike, you can also hike to Stinson Beach from Muir Woods.
For those of you who will not be driving in the San Francisco, no worries! You can always get a guided tour to explore the redwoods of Muir Woods and Sausalito. Check them out below:
Afterwards, head back over the Golden Gate Bridge where dinner is served at Sotto Mare. Sotto Mare is a San Francisco tradition known for their famous crab cioppino. It is by the far the best cioppino that has ever grazed my taste buds. They cook the crab in their cioppino and it strengthens the crab flavor. They are also known for their sand dabs; but unfortunately, I haven't had the opportunity to try them since they ran out when I went.
If You Have More Time
List of the Sights
Note: Unless otherwise stated, all addresses below are located within San Francisco. For some natural sights, GPS coordinates have been included instead. As always, "west" may be replaced by a negative sign (-) depending upon your GPS.
DAY 1
Embarcadero
Ferry Building
1 Ferry Building
Blue Bottle Coffee
1 Ferry Building
Acme Bread Company
1 Ferry Building
Angel Island
Ferry Pier Locations: Ferry Building and Pier 41
Alcatraz Island
Ferry Pier: Pier 33
Tony's Pizza Napoletana
1570 Stockton St.
Tony's Coal Fired Pizza and Slice House
1556 Stockton St.
Cable Car Museum
1201 Mason St.
Union Square
Public plaza between Powell, Geary, Stockton, & Post Streets
Financial District
Hog Island Oyster Company
1 Ferry Building
DAY 2
Arsicault Bakery
397 Arguello Blvd.
Golden Gate Park
De Young Museum
50 Hagiwara Tea Garden Dr.
California Academy of Sciences
55 Music Concourse Dr.
Baker Beach
37.7935724 N, 122.4836380 W
Lands End Labyrinth
37.788025 N, 122.505843 W
San Tung Restaurant
1031 Irving St.
Twin Peaks
501 Twin Peaks Blvd.
Marco Polo Italian Ice Cream
1447 Taraval St.
DAY 3
In-N-Out Burger
798 Redwood Hwy., Mill Valley
Muir Woods National Monument
Visitor's Center: 1 Muir Woods Rd., Mill Valley
Sotto Mare
552 Green St.
Map of the Sights
This map includes a list of all of the Sights to See, Restaurants as well as the routes by day (i.e. Day 1, Day 2, and Day 3) within specified layers.
By default, only the Sights to See and Restaurants are shown but you can select to view the daily routes. Use the slide out panel to select layers to toggle them on and off using the checkboxes.
Hope you enjoyed our guide to a weekend getaway in San Francisco from a local! There is so much to do in San Francisco, this is just the tip of the iceberg, and as always this is just a guide, obviously you are free to add and remove to your itinerary as you please. 🙂
For another local's perspective on things to do, check out this San Francisco bucket list.
Loved our local's guide to the best things to do in San Francisco, California? Pin it for later!