This post may contain affiliate links. If you click one of these links, we may receive a commission. We're grateful for your continued love of this site!
Disclaimer: This post was brought to you by See Monterey, who hosted us on this trip and covered some of our expenses including the admission to Jack's Peak Park, 6 meals, and two nights' accommodation in Seaside, CA. As always, our thoughts and experiences are our own.
Looking to spend a weekend in Monterey, California? This 3 days in Monterey itinerary has got you covered with the best places to stay, eat, and see in Monterey County, plus we've even included things to do in Salinas. 
The beautiful coastal city of Monterey is only located approximately 120 miles from San Francisco making it a quick 2 hour drive away from the hustle and bustle of the city. 
If you're visiting from the San Francisco Bay Area, you may have already visited Monterey multiple times. But Monterey County has so much to offer, we're here to share some of the best off the beaten path places to visit in Monterey so you can see something new on your next trip to the Monterey Peninsula. 
Fun Fact:

During Spanish and Mexican rule, the city of Monterey was the capital of California. 
Monterey County is located just south of Santa Cruz County and includes the cities of Monterey, Salinas, and Carmel-by-the-Sea. This Monterey trip itinerary focuses on all the aforementioned cities as well as Carmel, Pacific Grove, Seaside, and Moss Landing. They are all wonderful places to visit on a road trip to Monterey especially if you're driving from the San Francisco Bay Area. 
This is our 3 day long weekend guide to Monterey County, including Monterey, Salinas, Pacific Grove, Carmel-by-the-Sea, and beyond. 
Where to Stay in the Monterey County
One of the best things about Monterey is that there are a ton of different places to stay ranging from budget to luxurious, and from family-friendly to ideal for couples. There are many to choose from depending on your preferences and their proximity to popular sights. On our last trip to Monterey, we stayed at Embassy Suites by Hilton Monterey Bay Seaside.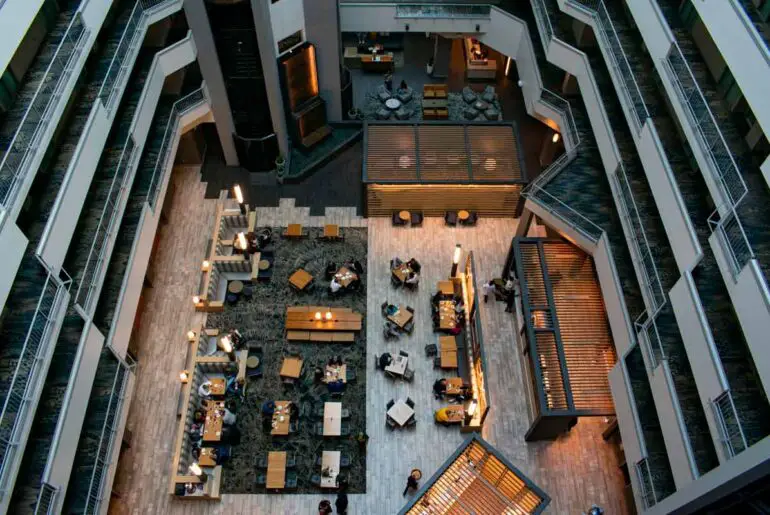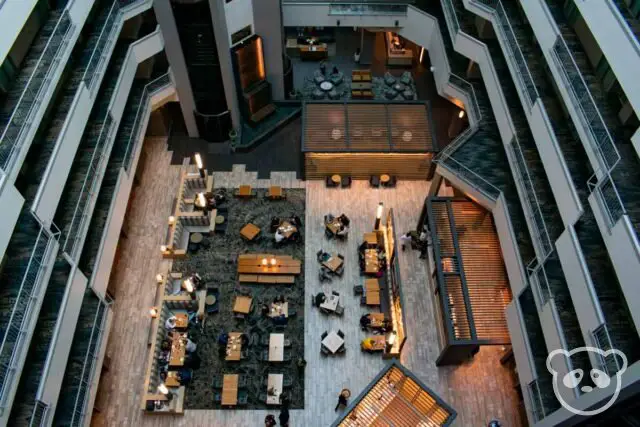 Embassy Suites by Hilton Monterey Bay Seaside is an amazing place to stay in the Monterey area, especially for families. This hotel has got everything you need, from a made-to-order breakfast included with your stay to a swimming pool, plentiful paid parking, and of course, a comfortable room. 
At Embassy Suites by Hilton Monterey Bay Seaside, we stayed in the King Room with a View. We loved it, the room was super clean and spacious. It actually reminded us of a suite since it had a king bedroom as well as sofa bed in the living room, making it great for a couples' getaway, but even better for families.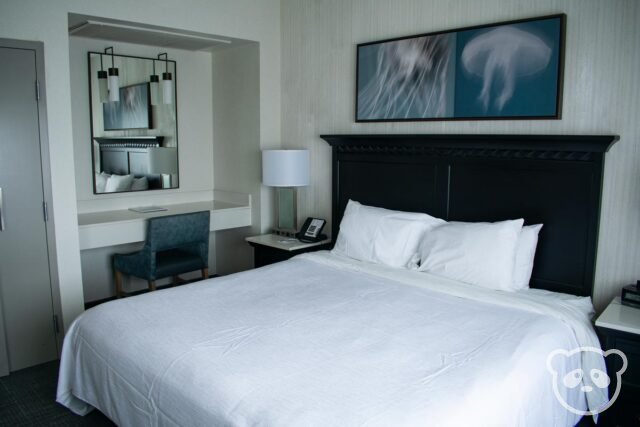 Our room also had a small kitchenette area with a small coffee maker, sink, mini fridge, microwave, and even a dining area. Aside from the sofa bed, the living room also had a couple of chairs and a large flat screen TV. It was a great place to relax after spending our day out and about exploring Monterey. 
Since our room was located on one of the higher floors, it came with a balcony overlooking the lagoon of a nearby park, Roberts Lake Park, as well as the Monterey Bay. It's the perfect spot to watch the sunset on a warm summer night or to catch some fresh ocean air in the mornings. The king bedroom also had its own large flat screen TV, a comfy bed, closet, and a desk with a chair. 
The hotel has some amazing facilities, aside from the swimming pool, there is also a lounge area in the lobby, on-site restaurants, conference rooms, and a business center. During our stay they also had a complimentary cocktail reception between 5pm and 7pm daily with drinks and snacks. 
Aside from all of the above, the location of Embassy Suites by Hilton Monterey Bay Seaside is great. Since the hotel is located in between Seaside and Monterey, it is approximately a 10 minute drive to Cannery Row and Old Fisherman's Wharf. 
To keep things clean, they are now focusing on Hilton CleanStay, a program to increase their already rigorous cleaning standards so that their customers can have peace of mind when they are staying at any of the Hilton properties. See website for more information.
Check availability at Embassy Suites by Hilton Monterey Bay Seaside.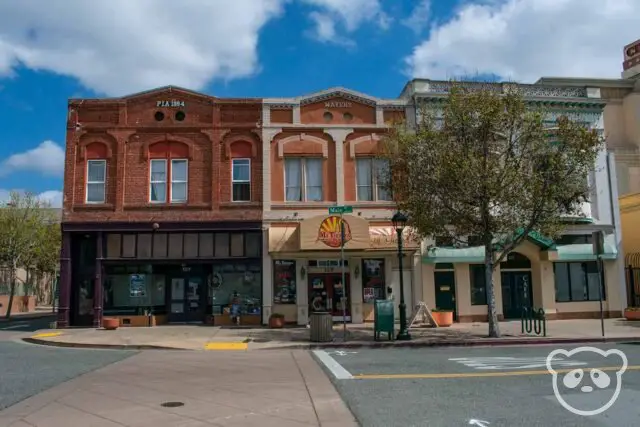 Day 1: One Day in Salinas, California
We spent our first day exploring Salinas, California! Being from the San Francisco area, we've definitely heard of the city of Salinas but we had only driven through on the way to Los Angeles. We'd never actually spent time in Salinas until this trip to Monterey. And we were absolutely amazed at how much we loved Salinas! 
Fun Fact:

Salinas Valley, California is also known as the "Salad Bowl of the World" due to its designation as the #1 agricultural region in the United States. The large agricultural industry in Salinas is particularly famous for its fruits and vegetables, vineyards, and flowers. 
Due to its unique location approximately 8 miles from the coast, Salinas has a climate more reminiscent of the Central California coast than the Central Valley. It has a mild Mediterranean climate with the ocean air and fog of the Monterey Bay drifting into Salinas bringing cool, moderate temperatures to the valley. 
This means that the morning fog usually burns off by mid day to sunny, blue skies! And this was exactly what we experienced!
Downtown / Oldtown Salinas
We started our day in historic Downtown Salinas, also known as Oldtown Salinas. The main thoroughfare in downtown is literally "Main Street," South Main Street to be exact. Here, you'll find most of the "action" in Salinas, the streets are lined with restaurants, mom-and-pop stores, and even a movie theater. 
The Beerded Bean
Our first stop in Downtown Salinas was The Beerded Bean for some morning coffee. A coffee shop by day turns into a bar with live music at night. This local spot is super unique and we loved how the place serves "the best of both brews." 
Unfortunately since we were there in the morning, we decided to skip on the beer, but we'll definitely be back for that in the future. They serve local microbrews from Monterey County and beyond including Alvarado Street Brewing Company, Firestone Walker Brewing Company, Discretion Brewing, and Barrelhouse Brewing Company. Their brews sounded pretty interesting but we were primarily there for the coffee. 
Their small batch roasted coffee is excellent! We got a latte and a white mocha with whip to get some caffeine in our veins and our day started. However if you're looking for an afternoon pick me up or even a late night coffee, The Beerded Bean is perfect since it is open later most nights of the week.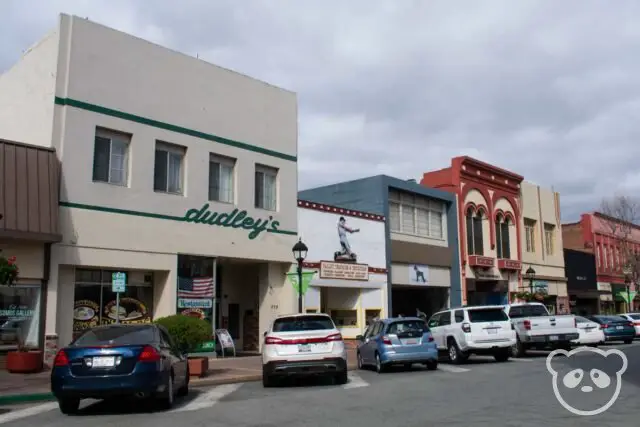 Shopping in Downtown Salinas
Salinas has a cute downtown with a variety of local shops. For books, both new and used, as well as sheet music, vinyl records, and VHS movies, be sure to check out Downtown Book & Sound. They are a traditional brick and mortar store that has expanded to online sales so that you can still support them once you've returned home. 
PRO TIP: Don't worry if you forget your reading glasses, Downtown Book & Sound has some around for you to borrow to check out those Steinbeck classics sold in store.
For unique souvenirs and locally sourced gifts, check out Gifts on the Go. The store is full of a variety of gifts including baby clothes, candles, local wine, coffee table books, and more. Definitely keep this local shop in mind and support them when you're looking for local olive wood items or wine from Monterey County.  
Steinbeck House Restaurant
COVID UPDATE: Steinbeck House Restaurant has been offering their sandwich menu for takeout as of June 10, check out their
website
for the latest information.
Located inside John's Steinbeck's childhood home, a restored Queen Anne style Victorian building, is the Steinbeck House Restaurant. The home was built in 1897 and the Steinbeck family purchased it in 1900, raising their family there. Today, the ground floor of the home is now the restaurant, the upper floor is used as office space, and the cellar is The Best Cellar Gift Shop. 
Fun Fact:

This house was also John Steinbeck's birthplace in 1902. He was born in the front room of the Steinbeck House Restaurant. Today, that room is used as an office for the staff and you can pass by it on your way to the restroom.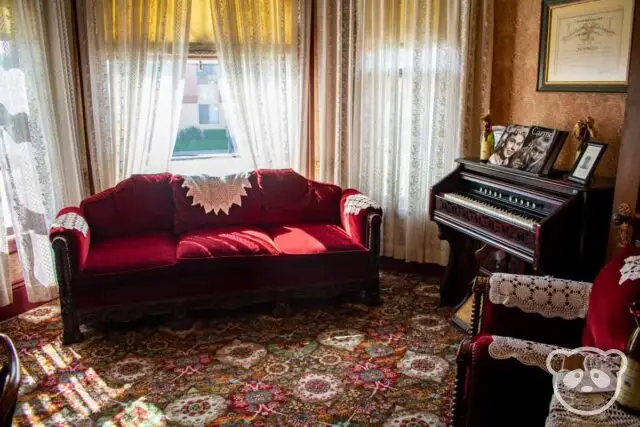 Throughout the house you'll get a chance to see photos of the Steinbeck family, including John and his three sisters who were also born in the front room of the house. It was super cool to be able to see the historic house, its Steinbeck memorabilia, and walk through the same walls John Steinbeck once walked. 
The Steinbeck House Restaurant typically has a rotating menu however you can always expect to see a sandwich option. They offer ½ sandwich or wrap with ½ soup or the option of a full sandwich or wrap.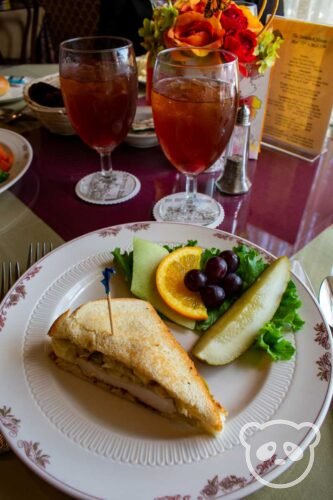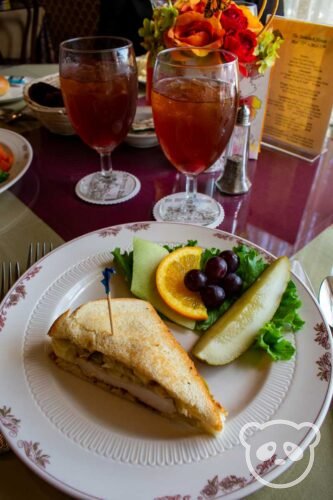 When we visited they still had their full menu. I got their ½ sandwich ½ soup option with the chicken apple brie sandwich and minestrone soup. Jimmy settled for one of their specials, a ham and leek quiche with sides of steamed vegetables and rice pilaf. For drinks, we each ordered the Steinbeck iced tea, basically the Steinbeck House Restaurant's version of an Arnold Palmer, a mix of pink lemonade and raspberry iced tea.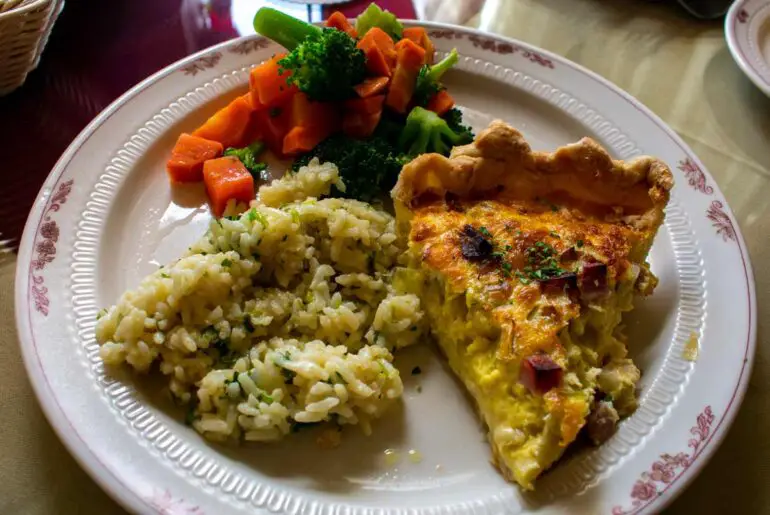 The food was simple American fare but absolutely delicious. The restaurant is owned and operated by the Valley Guild, a non-profit organization started by eight women who loved gourmet cooking and had a dream to showcase Salinas Valley produce to others. The Valley Guild also owns, maintains and preserves the Steinbeck House for Steinbeck lovers everywhere. 
PRO TIP: During specific days throughout the year, the Steinbeck House Restaurant offers afternoon tea reservations for $30 per person. See
website
for more information.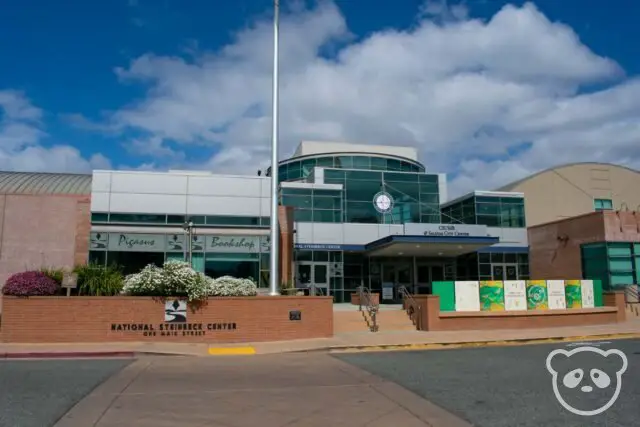 National Steinbeck Center
HEALTH ADVISORY: National Steinbeck Center remains closed. See website for more details.
National Steinbeck Center is located just two blocks away from the Steinbeck House Museum and is believed to be the largest museum dedicated to a single American author. The 37,000 square foot building is home to an archive with over 40,000 historical documents, family documents, manuscripts, letters, and more pertaining to John Steinbeck and the history of Salinas. 
Fun Fact:

Pulitzer prize winner John Steinbeck lived on the Monterey Peninsula for much of his life and based many of his books on Salinas, Monterey, and parts of the San Joaquin Valley. Today, this area is sometimes called "Steinbeck Country." 
The museum has many educational and interactive exhibits showing Steinbeck's work and how they pertain to the Salinas Valley as well as other parts of the world Steinbeck lived and gained his literary inspiration. 
Fun Fact:

The

National Steinbeck Center Archives

is home to written manuscripts and books but also some of Steinbeck's personal effects such as his lighter, pipe, glasses and wallet. 
One of the coolest things about hanging out in the Archives is that you could still smell the tobacco in his pipe and see the chew marks on his glasses. We loved learning from the archivist, Lisa, about Steinbeck's life in the Salinas Valley as well as a war reporter during World War II.  
The National Steinbeck Center is a definite must-see for fans of Steinbeck and of course Northern California residents, it provides an interesting glimpse into life in the Salinas Valley during Steinbeck's lifetime as well as his literary influences. 
The museum can easily take 2 hours or more to get through if you're interested in seeing and reading everything and watching the video about Steinbeck's life, however for a casual look, 1 hour can be enough.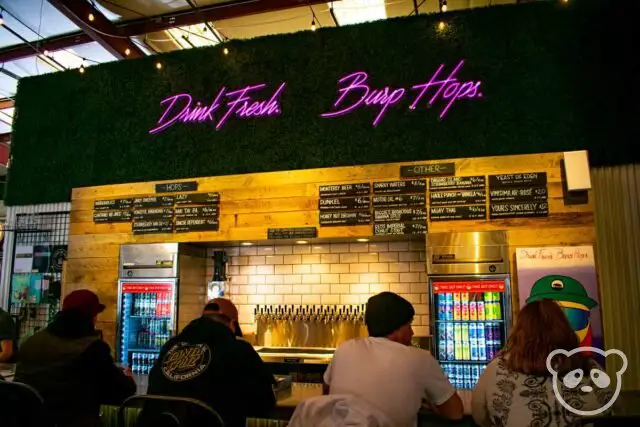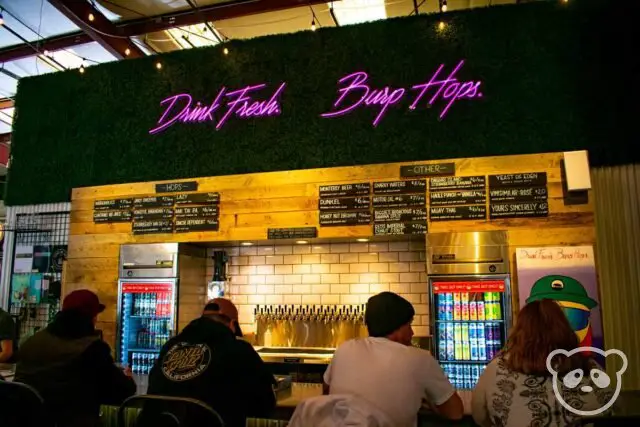 Alvarado Street Brewery's Salinas Brewery & Tasting Room
HEALTH ADVISORY: The Salinas taproom is closed as of publication but they are offering contact free drive thru pickup Monday through Friday from Noon-5PM. See website for more details.
When you taste your first brew at Alvarado Street Brewery you may have assumed that they have been around for over 20 years as their craft seems to have been meticulously perfected over decades. You're in for a huge surprise when you find out they have only been around since 2014! 
They have two locations where you can enjoy their craft brews. The original brewery is located just off of Alvarado Street in Monterey where you can sit down and enjoy their delicious eats and beer. The second location is located in Salinas where their main production brewery is, here you can enjoy their brews in their taproom as well as a great Mexican food truck outside if you're hungry.
Fun Fact:

The Salinas tasting room was not originally meant to be a tasting room, but due to high demand of their tasty brews, they opened up to the delight of the locals.
We got a chance to visit the Salinas tasting room, the vibe here is amazing. It feels like THE place to go in Salinas after work with your coworkers and friends to enjoy some great beer and company. 
First on tap, Jimmy tried the Motor Oil #6, a thick and rich imperial stout that's 11% ABV. This truly is a thick stout, one that you can figuratively chew! It has great roasted taste along with notes of cacao, vanilla, and peanut butter. It is described as a peanut butter cup on steroids, a perfect description. And the more you drink, the more you'll forget that this beer is pretty strong. It is THAT good. It looks like they tinker with the taste of this beer every winter so look forward to a new motor oil next winter!
Jimmy also tried the Red's Imperial Donut Stout, another strong imperial stout at a whopping 12% ABV. He could not pass up an opportunity to try a stout that is paying homage to a local donut shop, Red's Donut Shop in Monterey and Seaside, and this definitely did not disappoint. The smell and the sweet taste of this beer reminds you of a donut and complements the roasted flavor of the stout. If you're looking for a stout that isn't as thick as Motor Oil but just as tasty and powerful, this is your brew.
For his last beer, Jimmy tried Biggie's Bodacious Banana Split, an imperial milk stout coming in at 10% ABV. Needless to say they are no strangers to strong stouts. The banana smell and taste is strong in this beer. He describes it as the amazing taste of drinking a milk stout mixed with a banana split, this is what you will experience with this beer.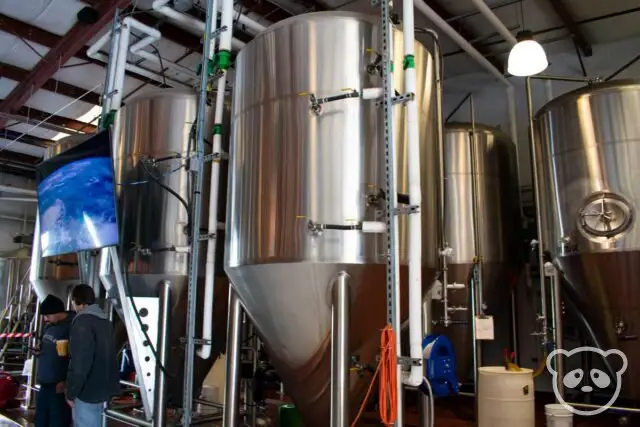 We couldn't leave without taking a four pack of the Juicy Sweeper home, an India pale ale (IPA), for a change of scenery from their imperial stouts. This IPA is a modified version of their original IPA, Minesweeper, where it brings out more tropical and stone fruit notes that balances very well with the bitterness of the hops. It's a refreshing IPA to enjoy during the hot summers when you want more than just a lemonade to quench your thirst.
The beer menu changes often so visit Alvarado Street Brewery often to try them all, it's not as if you needed another excuse! We would definitely come back and try more of their seasonal brews. 
Fun Fact

: The unique designs on their beer cans are created by their in-house designer and are heavily influenced by the owners' love of the 1980s.
If you get the beer munchies while you're enjoying your beer, there's a great food truck outside named Guadalupana serving Mexican food and other snacks that pair perfectly with beer. We got the "Grave Digger" dog, a bacon wrapped chorizo with mustard and tomato. It was a little bit spicy for us but perfect to wash down with a beer.
Want to explore the brewery scene in Monterey? Check out the best breweries and bars in Monterey County.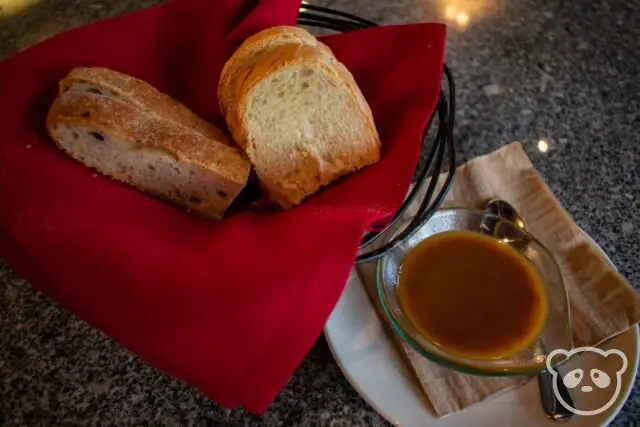 Gusto Handcrafted Pasta and Pizza
Who knew we would find such delicious Italian food in Seaside? We never would've guessed this quaint, local spot like Gusto Handcrafted Pasta and Pizza, would have such legit Italian. We felt like we were transported back to Italy! 
Their menu looked amazing, and we wanted to try so many things it was a tough decision. We so wanted to try their seasonal items, but we decided to get some of the on the menu classics so we could share what we thought with you all!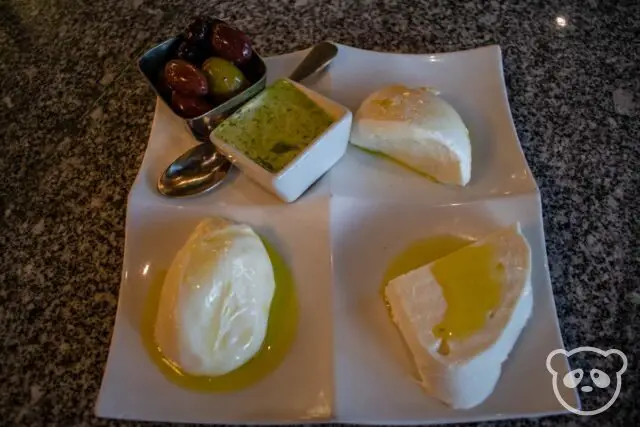 To start, we got the Mozzarella Board with housemade Gusto mozzarella, imported buffalo and burrata cheeses, basil pesto, olives, flaked sea salt, cracked black pepper, and extra virgin olive oil.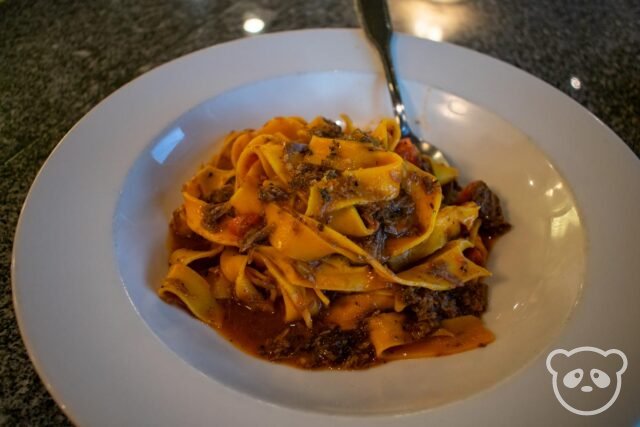 For our entrees we decided to try both their pizza and their pasta, after all, we couldn't say "no" to housemade pasta! We decided to go with their specials of the day and got the Saffron Pappardelle (slow roasted osso buco veal shank with a gremolata of lemon, garlic, oranges, and sage) and Prosciutto Funghi pizza (San Marzano tomatoes, mozzarella, mushrooms, and Italian ham Rovagnati).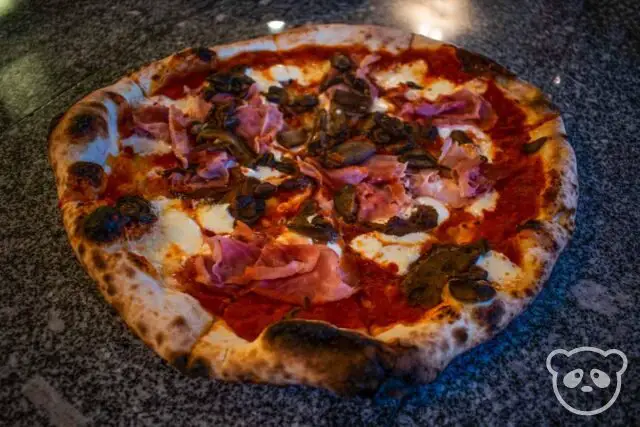 The pasta had an amazing texture and went well with the veal. We also loved the thin, yet chewy crust of the pizza and the San Marzano tomato sauce elevated the dish even more. We can't wait to go back and try more of their pasta and pizza dishes. 
The dessert menu had so many delicious sounding options, we had so much difficulty figuring out what we wanted to eat for dessert, especially since we had passed by the glass dessert case on our way to our table. Our meal finished with the Tartufo for dessert.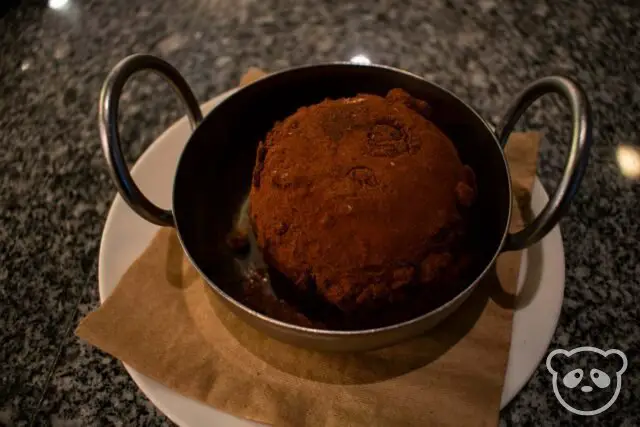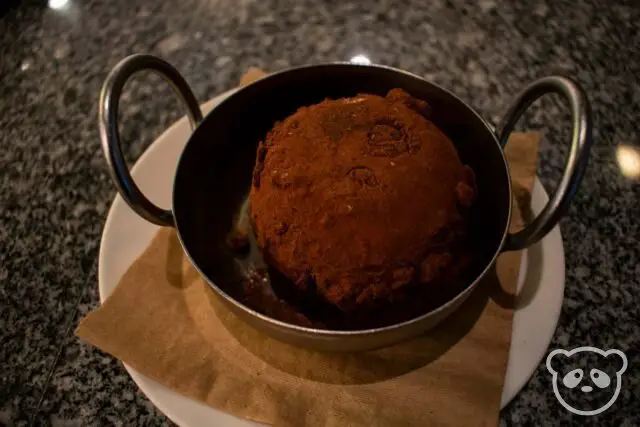 Their Tartufo is a Zabaglione cream center surrounded by chocolate gelato and caramelized hazelnuts, then coated by cocoa powder. We decided to get this one since it's not super popular outside of Italy and can be difficult to find at most Italian restaurants. It was SO good and worth it! We're not huge chocolate fiends but we would definitely get this again. 
Day 2: Explore Cannery Row & Old Fisherman's Wharf in Monterey, California 
Counterpoint Coffee Shop
Coffee, of course, is the best start to every morning. But what's even better is a hip coffee joint that also plays amazing music. Located in Seaside, Counterpoint Coffee Shop is exactly that and more, it's also a recording studio! 
Their espresso is solid and they have a decent variety of pastries for a simple coffee shop. We decided to keep things simple and enjoyed a latte and a flat white. They are well known for their espresso tonic if bubbly coffee is your thing.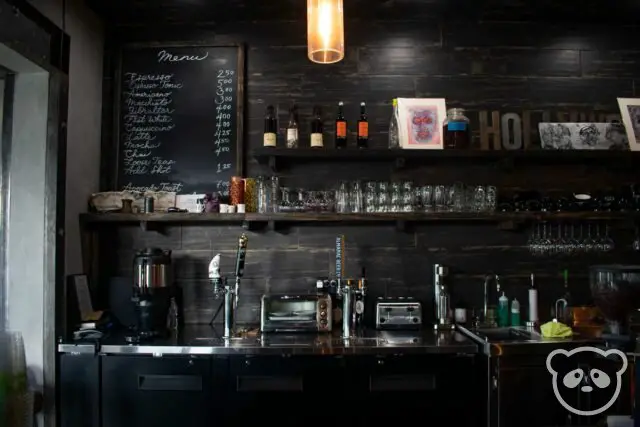 If you're in the mood for something better, they also have a good selection of beer on tap or by the bottle, and even wine if that's what you're in the mood for. We were mainly there for coffee so we passed on that! 
It also seems like a cool place to get your work done or relax for a bit with one of the books on their shelves. The vibe is definitely relaxing especially with the music, but it's also a hangout spot. They have a variety of games for customers, including chess and other board games. 
Cannery Row
Cannery Row is one of the most popular places to visit in Monterey, this is in part due to Monterey Bay Aquarium at the end of the street as well as the many restaurants, hotels, and shopping located along the street itself. Every time we visit Monterey we absolutely have to take a stroll along Cannery Row!
Fun Fact:

The street Cannery Row was originally named Ocean View Avenue however the City of Monterey changed its name in January 1958 in honor of John Steinbeck and his novel that described Monterey's colorful past and cannery culture. 
One of the best things about Cannery Row is the shopping, there are tons of souvenir shops along this street offering samples of local specialities, including olive oil, sauces, and salts. You'll also get a chance to shop for local wines and souvenirs, you'll definitely find something that strikes your fancy. 
Fun Fact:

Many of the restaurants and shops along Cannery Row were once cannery buildings. The majority of these canneries failed when the Monterey Bay fishing industry collapsed in the mid-1950s. 
Our favorite shop on Cannery Row is Sea Otter Shirts, located in the building between Monterey Bay Aquarium and Pacific Biological Laboratories. Sea Otter Shirts has some of the best souvenirs in Monterey, one can say they're otter this world and you otter get them! Okay I'll stop now, haha. But seriously, I purchased my Hairy Otter crewneck sweatshirt here and I had to pick up another for my friend on my most recent visit to Sea Otter Shirts. They literally have any otter souvenir or memorabilia ever, it's definitely worth a stop on your next trip to Monterey.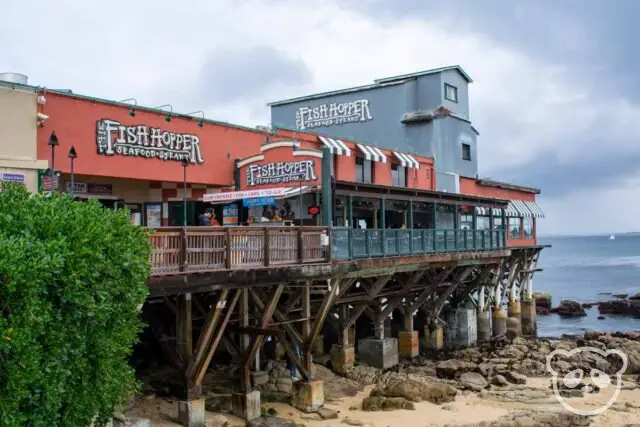 If you're looking for some lunch, we typically go to Fish Hopper, it's a bit on the touristy side since it is located on Cannery Row however it's got great seafood. We love their crispy fried Monterey calamari, Dungeness crab louie salad, and clam chowder. The views at Fish Hopper are great too, they have an outdoor seating area where you can take in the beautiful sights of the Monterey Bay. 
Monterey Bay Coastal Recreational Trail 
The Monterey Bay Coastal Recreational Trail is one of our favorite trails in the area, primarily because it's super accessible if you're already in the Cannery Row and Old Fisherman's Wharf area. In total, the trail runs 18 miles from Castroville in the north to Pacific Grove in the south, bypassing Old Fisherman's Wharf, Cannery Row, and Monterey Bay Aquarium. 
Typically we usually walk from Old Fisherman's Wharf in Monterey to Lovers Point Park in Pacific Grove, 2.2 miles in one direction, however if we aren't feeling like a long stroll we will sometimes cut it short and walk from Cannery Row, Monterey to Lovers Point Park which is a little shorter, only a 1.5 mile walk.  
PRO TIP: If you're walking the trail, please stay to the right as the trail is open to bikers as well as pedestrians. Some sections do have a designated bike lane however not all of it does.
Spring is definitely the best time to take this coastal trail as you'll be able to see the ice plant flowers in bloom. Typically you'll be able to see the flowers best from the trail between Lovers Point and Asilomar State Beach between the early April through May. 
PRO TIP: To see the ice plant flowers, visit Monterey on a sunny day as the flowers usually close when cold. They also open during the midday and close in the evenings.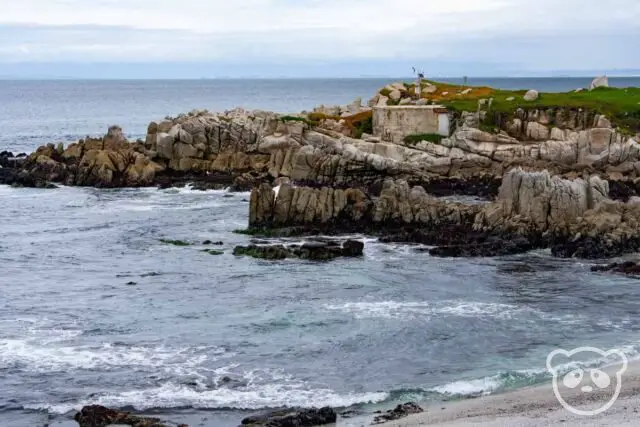 Along the trail, you might also find the Harbor Seals of Pacific Grove. Located just behind the Hopkins Marine Station, you may catch a glimpse of some seals. When we were walking the trail, we were lucky enough to see one laying on a rock. A couple were also fighting in the water. 
Fun Fact:

In California, harbor seals usually give birth between February and April. They weigh between 20 and 24 pounds at birth and live to 25 to 30 years.   
The Monterey Bay Coastal Recreational Trail is definitely one of our favorite trails in Monterey, we love taking in the scenic views and seeing the fauna and flora on our walks.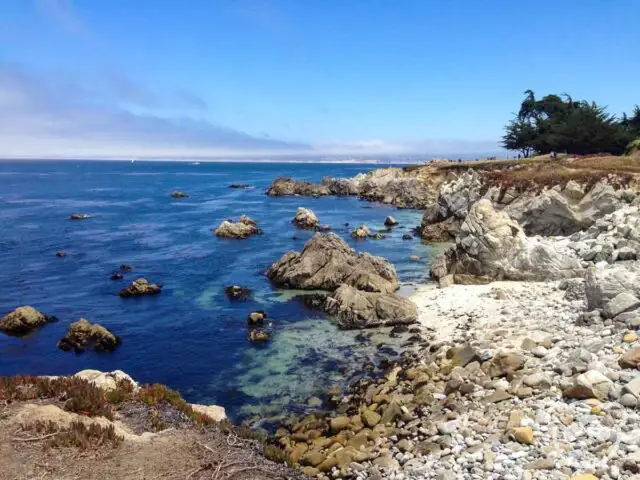 Lovers Point Beach & Park 
Lovers Point Beach & Park is another gorgeous sight located along the coastal trail. It's a great place for a picnic, a stroll, and of course, water-related activities. During warmer weather, I've definitely seen people swimming at the beach, surfing, and fishing. 
I've also seen the park set up for a wedding that was about to occur as I was passing by while walking the coastal trail. 
PRO TIP: The rocky area at Lovers Point Park is a perfect photo taking spot, turn your camera east towards Monterey and you'll get an amazing view of the coastline.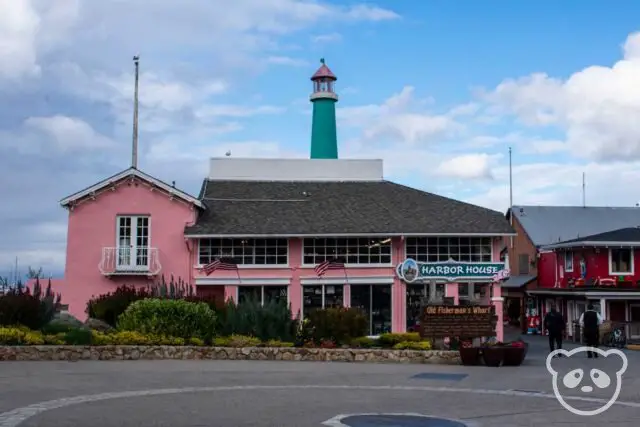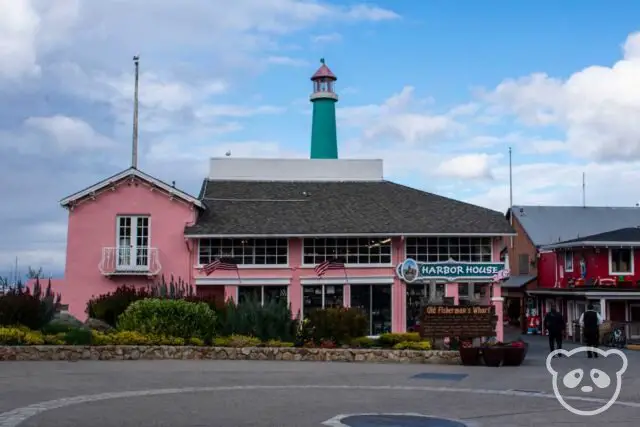 Old Fisherman's Wharf
The Old Fisherman's Wharf is a historic wharf in Monterey that was once used as a wholesale fish market until the 1960s. It became a tourist destination after World War II when sardine population in Monterey collapsed.
PRO TIP: The City of Monterey operates a FREE trolley from Old Fisherman's Wharf to Cannery Row and the Monterey Bay Aquarium. See
schedule
for more information. Note that this may or may not be currently running due to COVID-19 restrictions.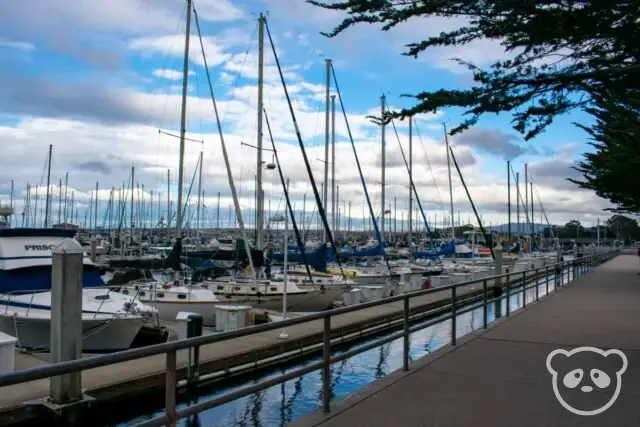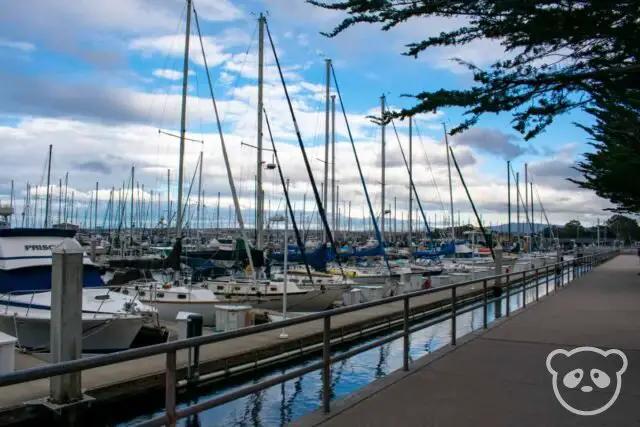 This area is similar to Cannery Row, you'll find restaurants and souvenir shops, but you'll also find whale watching and people fishing. One of our favorite whale watching companies is Princess Monterey Whale Watching, we took our tour with them a few years ago and they were great. We took a 10am tour which was perfect since we didn't have to wake up super early and we still got to see a couple of whales. 
HEALTH ADVISORY: Currently all whale watching tours require face masks and will not be operating at full capacity to adhere to social distancing restrictions. 
PRO TIP: If you're going on a whale watching tour be sure to dress in layers as it can get chilly and bring some Dramamine. Sometimes the waves are pretty rocky and you might get seasick.
Don't forget to check out the very end of the pier at Fisherman's Wharf, hidden on the roof of The Big Fish Grill is a deck where you can get a great view of the Monterey Bay from the very base of it. 
Custom House Museum
HEALTH ADVISORY: Custom House Museum remains closed. See website for more details.
Located across the street from Old Fisherman's Wharf is the Custom House Museum, the first designated landmark in the state of California. It was where California was declared part of the United States in July 1846 when an American flag was raised on its property by US Commodore John Drake Sloat.
Fun Fact:

The Spanish Colonial style building was originally built in 1827 by the Mexican government when California was still a part of Mexico as Alta California. It is recognized as the oldest government building in California. 
The Mexican government built the Custom House in order to collect tax and duties at the Monterey Bay port back when Monterey was the capital of Mexican Alta California. 
PRO TIP: Tours are available from the California of State Parks and Recreation and you'll learn about all of the historic sites in Monterey. See
website
for more information.
Admission to the museum is FREE and you'll get a chance to see the museum in its 1840s glamour.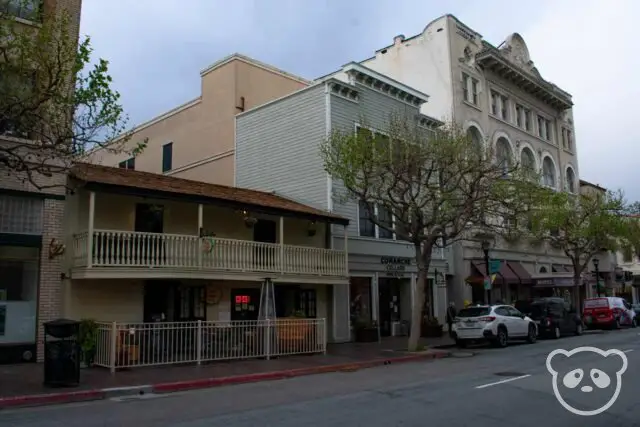 Downtown Monterey & Alvarado Street
Alvarado Street is the main street in Downtown Monterey. It's where everything is happening with multiple restaurants and is close to nearby historical buildings and sights. 
The best part about Alvarado Street is that there is a pedestrian only area between Custom House Plaza and the waterfront. But if you go further in towards town, you'll begin to see more and more cars since that part is open to cars. 
Fun Fact: The city of Monterey celebrated its 250th anniversary on June 3, 2020.
PRO TIP: Alvarado Street is also home to the
Old Monterey Marketplace & Farmers Market
, it is held every Tuesday rain or shine between the hours of 4pm to 8pm October through April and 4pm to 8pm in May through September. Currently, the farmers market is suspended due to COVID-19, we will update as more information is available.
For a great snack, check out Crepes of Brittany, their crepes are absolutely amazing! They used to be located in Old Fisherman's Wharf but have since relocated to Alvarado Street. Their crepes are delicious and remind us of being back in France. They make traditional savory Brittany style buckwheat crepes as well as sweet crepes. Their menu also offers other casual French fare including French onion soup and sandwiches.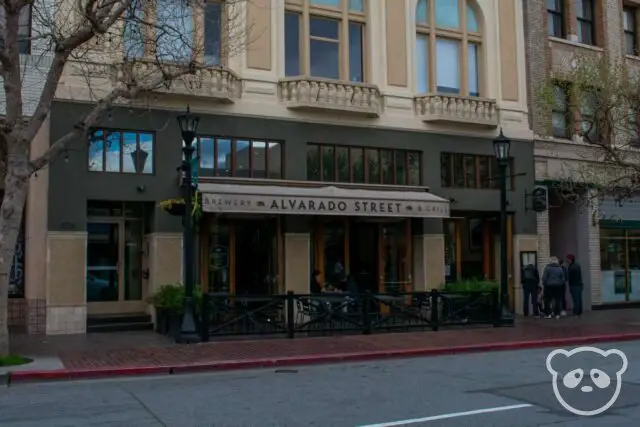 As you already know, we loved Alvarado Street Brewery's tasting room in Salinas, but they also have a separate location in downtown Monterey on Alvarado Street. Alvarado Brewery & Grill is their original location and is housed in a historic Old Monterey building. Their unique beers are also available here and they even offer gastropub eats, including burgers, wings, and pizza, for when the beer munchies hit. 
HEALTH ADVISORY: The Alvarado Brewery and Grill in Monterey is open for full service only with no open seating or bar service in their beer garden. You are able to dine-in or get takeout. If you dine-in, you must wear a mask when walking through the facility or going to the restroom. See website for more details.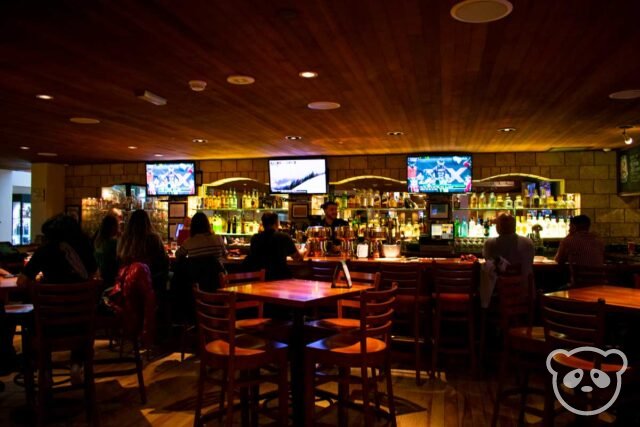 Peter B's Brewpub
HEALTH ADVISORY: Unfortunately, Peter B's brewpub is temporarily closed for now. See website for more details.
Located behind the Portola Hotel & Spa, Peter B's Brewpub is definitely a longtime staple in Monterey and a convenient place to eat if you're staying in downtown Monterey. When you think of craft beer in Monterey, Peter B's Brewpub is without question one of the first places anyone who lives on the Monterey peninsula will mention. It is also one of our favorite bars in Monterey! 
Fun Fact:

Peter B's has been serving up great food and excellent brews since 1996 and are a local favorite.
When you step inside the brewpub, you get the sports bar kind of feel with a homeiness to it, making it also feel family-friendly. 
To start, Jimmy definitely needed to get a flight since he could not decide which beer to get, each flight gets you 5 very generous (and different) 4 ounce pours. 
First up is the Belly Up Blonde Ale. This is an easy drinking, light, clean, crisp blonde ale that's reminiscent of a lager with more flavor. Definitely a good choice if you wanted something lighter but with some good flavor to it.
Next Jimmy tried the Kalita Krisher, a nitro espresso milk stout. This is in collaboration with Acme Coffee Roasters in which they added 2 lbs of beans per barrel! You can definitely taste the coffee in this one along with some nice chocolate and caramel notes. They also added some milk sugar into this beer and nitrogenated it instead of carbonating so that it truly tastes like a silky, smooth latte.
In the middle was something more hoppy, the Sequester Nectar, a Hazy DDH (double dry hopped) IPA. This was an interesting IPA with notes of guava and honeydew, but also honey, nectar, bread-like finish, exactly as they describe. It was not my favorite IPA but it's definitely worth trying if you like these flavors in your beer.
Up next is another IPA, Legend of Laguna IPA. This is a DDH west coast IPA and definitely more hoppy than the Sequester Nectar but less than you'd expect from a west coast IPA and has a more tropical taste to it, making it a bit refreshing.
Last, Jimmy tried the Soul Sacrifice, a Mexican hot chocolate inspired imperial red that has been aging in bourbon barrels for 10 months. Even though I was prepared after reading the description that they added 6 pounds of guajillo peppers to the fermentation, I was still punched in the face with the spiciness. It's impressive how much this will remind you of a Mexican hot chocolate. 
PRO TIP: Happy hour is everyday between 4pm and 6:30pm with late nights Sunday through Thursday from 9:30pm to 10:30pm.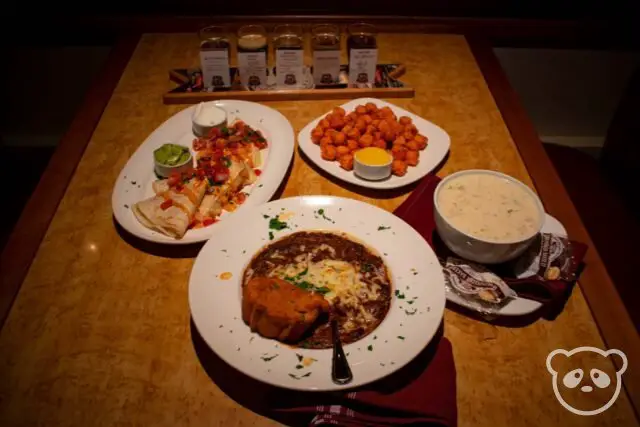 For food, there is really nothing on the menu you can go wrong with, especially if you make it in time for happy hour!
From the happy hour menu we got the Guajillo Chili Chicken Quesadillas, Sweet Potato Tater Tots, Peter B's Ranchero Chili, and added a cup of Portola Signature Clam Chowder for good measure. 
The quesadillas are very flavorful with a bit of spice from the chilies but not too much to burn your tongue. And the tater tots, I mean you can't go wrong with getting tots right? What sets it apart is the amazing curry aioli that comes with it.
The chili is definitely one of the best chilies we have had in our life. It's very rich in flavor with the Anaheim chilies, beef, bacon, and is a perfect pair with the cornbread that comes with it. Our stomachs are rumbling just thinking about that chili again.
The clam chowder is definitely one of the best we have had in the area. You can't go to Monterey and not get clam chowder. This isn't one of those tourist trap chowders, this is the real deal. 
Whether you are a beer drinker or a foodie, Peter B's is a must stop for anyone going to Monterey.
Revival Ice Cream
Wanting something sweet after the perfect dinner in Monterey? Look no further than Revival Ice Cream. After having dinner at Peter B's, we were looking for something light for dessert and ice cream was perfect! We did wait for about 20 minutes or so to order, but that just goes to prove how popular this place is. 
I ordered a split scoop of the Bee's Knees and the Bouquet. Bee's Knees is an award-winning ice cream with burnt honey, bee wax, bee pollen, and honeycomb candy. If you love honey with a more milky base, this was amazing. The Bouquet is dairy-free with a coconut milk base with mint, basil, and cilantro flavors. 
Jimmy opted for their Verve Coffee ice cream made with local coffee from Verve Coffee Roasters. It was delicious with an amazing coffee flavor. 
Fun Fact:

The founder of Revival Ice Cream is a mom, licensed pharmacist, a chemist, who believes in high quality ingredients and civic responsibility. This means that Revival Ice Cream is always made from natural, fresh ingredients, handcrafted in small batches, free of any chemicals, GMOs, soy, antibiotics, and artificial additives.
We appreciated how transparent they were with their ingredients and we're always down to support a woman-owned local business. 
Day 3: See Carmel, Carmel-by-the-Sea, & Moss Landing
Other Brother Beer Co. & Ad Astra Bread Co. 
HEALTH ADVISORY: Other Brother Beer Co. is open for pickup and local deliveries. See website for more information. Ad Astra Bread Co. is also open for pickup, local deliveries, and walk-ins. See website for more information.
While we typically don't start our days with a beer (or two), this was definitely an exception rather than the norm. Other Brother Beer Co, located in Seaside, is one of the newest additions to the Monterey Peninsula craft beer scene. Their beers have been circulating for a few years but their taproom finally opened in late 2019. The space is shared with Ad Astra Bread Co, baking their wonderful bread, pizzas, and other delicious baked goodness while you are enjoying your beer from Other Brother. Both using yeast under the same roof just in slightly different ways, a match made in heaven!
We showed up for Ad Astra's Sunday brunch and Jimmy couldn't help but indulge in some breakfast beer.
The first beer on the list to try is Builders' Oatmeal Stout. As advertised, this is a truly silky smooth, full bodied stout with excellent roasted coffee and chocolate notes that reminds you of drinking a mocha. The more you drink, the more you realize how incredibly light it feels for a stout and a 7.1% ABV beer.
The next beer Jimmy tried was the Heermann's Lager, which is actually a Pilsner so it's an interesting name choice. Easily one of Jimmy's favorite Pilsners he has ever had. Refreshingly crisp with a slight bitterness, this is a great pair to the delicious brunch Ad Astra was serving.
Speaking of brunch, we had to indulge as the smell was too good to pass up. We tried their sausage biscuit and roast beef on sourdough. Jimmy is a sucker for biscuits and he loved this one, especially with the juicy sweet sausage to compliment it. The chimichurri sauce on the roast beef was so good, we still dream about it. 
Beer and bread, what's not to love about this place?
Jack's Peak Park
Next, we headed over to Jack's Peak Park for a hike. Jack's Peak is known for its 8.5 miles of trails, tall Monterey pine trees, and beautiful views of Monterey and Carmel.
We decided to work up an appetite for lunch by taking the Jack's Peak Trail. This quick 0.3 miles took us around to see the most scenic vistas of the park. We got to see Old Fisherman's Wharf and Carmel Highlands from the top of Jack's Peak!
Fun Fact:

Actor and director Clint Eastwood was the mayor of Carmel between 1986 and 1988. 
Along the way we also passed by gorgeous Monterey pines and even a rocky wall full of marine fossils. Since it had rained the day before it was a bit difficult for us to find any, but the signs say that there are some! Maybe our eyes just aren't eagle enough, haha.  
For more hikes, check out 10 best hikes in Monterey, California.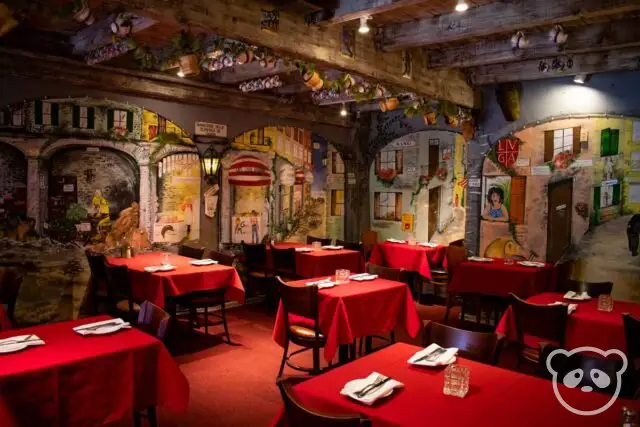 Lugano Swiss Bistro
For lunch, we pigged out on some amazing Swiss fondue at Lugano Swiss Bistro. The decor in this restaurant made us feel like we were at a Swiss chalet! The wood paneled interiors reminded us of the Swiss Alps and gave the place a super homey vibe. We definitely felt like the ambience was perfect for a delicious fondue meal. 
PRO TIP: On Thursday nights they typically offer live German music.
Everything sounded so good, we literally wanted to try everything! And try everything we did! 
We ordered the four course fondue sampler which included a salad course, a cheese fondue, a combination chicken and beef fondue with vegetables and dipping sauces, Swiss Rosti potatoes, and a chocolate dessert fondue. 
The salad was a baby romaine salad with house dressing. 
The cheese fondue was a cheese mixture of Gruyere, Emmenthaler and Appenzeller cheeses served with dipping Bread, vegetables, and apples. 
The chicken and beef fondue was served in a chicken stock and was absolutely delicious. We loved it, especially the dipping sauces which included horseradish, peanut, sesame hoisin, barbeque, and calypso sauce. 
We also loved our side of Swiss Rosti potatoes, it was our first time eating this and it was so good. It reminded us a little bit of hashbrowns but a much better and healthier version. It was a nice starch to go with our meal. 
The chocolate dessert fondue was so delicious, we tried our best to fit in as much as we could even with our stuffed bellies. That is how yummy it was! It was the perfect ending to our amazing fondue meal. 
PRO TIP: Lugano Swiss Bistro has an outdoor patio seating, they definitely welcome yoru furry puppy friends and even have a menu just for dogs! See
website
for their doggie menu.
We can't wait until our next visit to Lugano Swiss Bistro!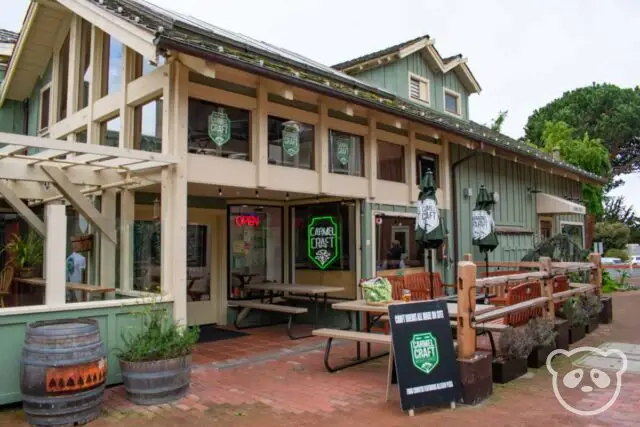 Carmel Craft & Allegro Pizzeria 
HEALTH ADVISORY: Carmel Craft is open for dine-in with revised hours. See website for more details.
Carmel Craft is an up and coming brewery hidden away in The Barnyard and it was like finding a diamond in the rough. We got a chance to chat with the owner, Mark Fitch and after 10 minutes of being at the brewery, it felt like Mark was a long time friend inviting us into his house to enjoy his beer. To locals living on the Monterey Peninsula, they have had the pleasure of having his flagship pale ale, Mad Otter Ale, for almost a decade. In 2018, then known as Monterey Bay Brewing Co, merged with Carmel Valley Brewing Company and re-branded themselves as Carmel Craft Brewery to coincide with their relocation to Carmel. 
In 2018, they opened their taproom at the Barnyard in Carmel next to Allegro Pizza, a mainstay in the Barnyard. With food in mind, they literally cut a hole in the wall so that customers could easily order food from Allegro Pizza along with their beer from Carmel Craft. 
When you look at the beer menu, you really cannot believe that this place brews everything on site. They usually offer 10 or more different beers on tap and everything is made in a space that barely resembles a small studio apartment. It's definitely not about size for them, it's how they utilize their space!
Their flagship beer, Mad Otter, is a fantastic beer. It's described as an easy drinking pale ale and it's exactly that. Incredibly well-balanced with a very smooth finish, it's no wonder why everyone in the area loves this beer.
We also definitely had to try the Hairy Porter for obvious naming reasons. It is actually a 2 yeast fermentation, with great roasted coffee notes and light yet refreshing for a porter. Not something you say everyday, a refreshing porter.
The Carmel Valley Wheat, a staple from the merger with Carmel Valley, is one of the cleanest tasting wheat beers that we have ever tasted. The slight lemony taste pairs well with the wheat and is something that you'd want to enjoy on a hot day.
Their partnership with Allegro Pizza allows them to focus on their craft with their "grub window." They let the experts at Allegro Pizza handle the food while Carmel Craft handles the beer.
The fried artichoke hearts alone is enough reason for us to come back. These were so good that even after our lunch and copious amounts of Carmel Craft beer, we were almost licking the plate clean after finishing the last piece. 
The Thai thighs are also a must from Allegro. As Mark described them, you need to eat a bunch of chicken wings to get full, but a few Thai thighs is a full meal in itself! 
Want to learn more about their brews and food? Check out our full review of Carmel Craft and Allegro Pizza. Carmel Craft Brewing Company and Allegro Pizza are a cannot miss when visiting the Monterey Peninsula.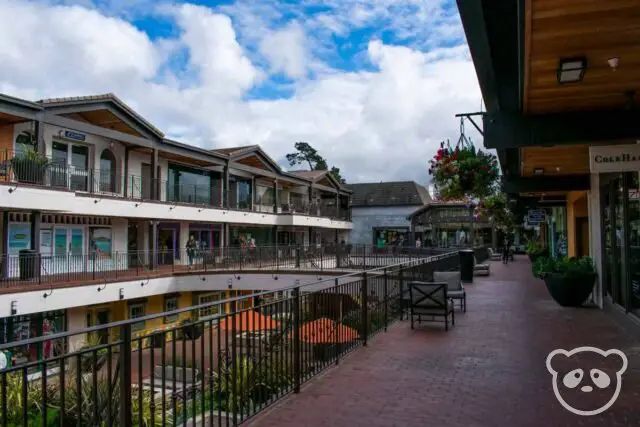 Carmel-by-the-Sea
After our delicious lunch and happy hour, we walked off our food by exploring Carmel-by-the-Sea, the "cutesy downtown" type of area near Carmel. Carmel-by-the-Sea, is a super quaint beachside city with a vibrant arts scene and famous residents including its one-time mayor, Clint Eastwood. 
Fun Fact:

Contrary to popular belief, Carmel and Carmel-by-the-Sea are not interchangeable. In fact, Carmel-by-the-Sea only refers to the small  one square mile village located between the Carmel Bay and Carmel. 
Explore the shopping and restaurants in Carmel-by-the-Sea. One of our favorites is Carmel Plaza, aside from its great shopping, it's also a beautiful outdoor mall to take a stroll through or relax in. There are chairs and benches throughout the mall so you definitely feel welcome to relax and take a break.  
Located in Carmel Plaza is also Alvarado Street Brewery & Bistro, another brewery associated with the Alvarado Street Brewing Company. This is their experimental brewery and focuses on beers made with wild and naturally occurring yeasts. They combine their brewers' yeast with natural yeasts to give the beer a more champagne-like finish. This is their research and development facility where they serve new, experimental recipes to customers in their five barrel brewery on-site. If you're tired of the same old taste of beer, this place will keep your taste buds on your toes.
Moss Landing
On our way back to the San Francisco Bay Area, we stopped at the little known, off the beaten town of Moss Landing. Located at the mouth of Elkhorn Slough and the shore of the Monterey Bay, Moss Landing has a quaint fishing town vibe with lots of biodiversity.
Fun Fact:

Elkhorn Slough is one of the largest wetlands in the state and is one of the top 10 birding spots in the United States. (

Audubon

)
Moss Landing State Beach is a state park that is perfect for horseback riding, surfing, and picnicking. Swimming is not recommended as there are strong rip currents, but it is a great place to see some of the Central Coast's best sand dunes and see wildlife. 
PRO TIP: You can sometimes spot the brown pelican or even California sea otters from the beach!
If you're feeling hungry on the drive home, stop by The Haute Enchilada Cafe, Gallery, and Social Club or Phil's Fish Market & Eatery. 
Since we're major foodies, we stopped by both! We dined at The Haute Enchilada and tried their fried artichoke hearts with chipotle aioli, octopus cadiz, and huitlacoche enchiladas. 
Artichokes are a major agricultural product of Monterey county so we had to try some deep fried artichokes. They were so good! We never had them before and we loved it! 
Octopus cadiz was a braised octopus tossed with roasted fingerling potatoes, Spanish olives, fresh cilantro, and sea salt, lightly dressed with an extra virgin olive oil and served on a bed of romaine lettuce. We loved how the octopus was cooked, it was so tender and had amazing flavor.
When at The Haute Enchilada, you must get enchiladas right? We ordered the huitlacoche (black corn truffle) enchiladas with crab and they consisted of huitlacoche and squash blossom enchiladas topped with buttery citrus cilantro cream sauce garnished with cotija cheese and served with sides of black beans and spanish rice. 
I also ordered cucumber agua fresca which sounded amazing and refreshing! 
The Haute Enchilada has a great indoor and outdoor space. Their outdoor area looked like it turns into a bar during the warmer, busier months and there's even an art gallery space. It was super cool to see art from local artists in there as well as print photographs being sold of local spots. 
PRO TIP: If you're wanting to bring Fido, they also have a doggie menu. See
website
for more information.
HEALTH ADVISORY: The Haute Enchilada Cafe, Gallery, and Social Club is currently closed due to COVID-19. See website for latest information.
In the mood for more seafood? Be sure to stop by Phil's Fish Market & Eatery! Since we had The Haute Enchilada already we only stopped here to grab a takeout bucket of their famous cioppino so we cannot comment on their dine-in experience. 
The cioppino bucket included a delicious tomato based seafood soup with clams, mussels, white fish, Dungeness crab, prawns, and scallops. 
PRO TIP: Lines at Phil's can be long so make sure you arrive early and before you get hangry!
HEALTH ADVISORY: In-house dining, of take out packaged food, is allowed on the outdoor patio and in the socially distanced covered patio. Take-out bar service is also available everyday from 11am to 7pm. See website for latest information.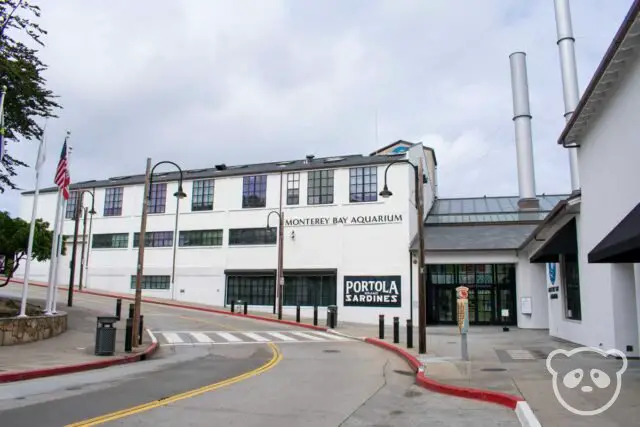 If You Have More Time in the Monterey Area
Monterey Bay Aquarium – The Monterey Bay Aquarium is one of the most famous sights in Monterey. The nonprofit aquarium displays their species in various exhibits including the Kelp Forest, Open Sea, coral reefs, and coastal wetlands. HEALTH ADVISORY: The Aquarium is currently still closed. 
17-Mile Scenic Drive – This is one of the best scenic drives in the Monterey area, and like its name suggests it takes you on a 17-mile drive from Pacific Grove to Carmel-by-the-Sea. The drive has many scenic stopping points including Pebble Beach, the famous Lone Cypress, Restless Sea, and Del Monte Forest. Admission to the two-laned road is $10.50 per car.  
Point Pinos Lighthouse – Located in Pacific Grove, this lighthouse is the oldest continually operating lighthouse in California and has been in operation since 1855. It continues to guide mariners to safety today and also serves as a museum where you can tour the inside, see the Fresnel lens, and check out a piece of history on the Monterey Bay coast. 
Fort Ord Dunes State Park – Once a military training area and now a state park, Fort Ord is famous for its 4 miles of beautiful sand dunes along the Monterey Bay coastline. Be aware that public access is limited to paths and trails as it is a nesting area for sensitive species. 
Carmel Mission Basilica Museum – Also known as Mission San Carlos Borromeo del Río Carmelo, the mission was originally built in 1797 and is the most authentically restored Roman Catholic mission church in California. It is also the only Spanish mission in California with its original bell and bell tower. It will be celebrating its 250th anniversary next year in 2021. Entry to the museum costs $10 for adults, $5 for children (ages 7-17), and FREE for children 6 and under. 
Point Lobos State Reserve – Located just south of Carmel-by-the-Sea and north of Big Sur, Point Lobos has one of the richest marine habitats in California. It is also one of two places in California where you can find the native Monterey cypress. There is also a historic whaling station here that is now a museum housed within an old whalers cabin. Point Lobos has some of the best hikes in the Monterey area. 
Pfeiffer Big Sur State Park – The park is centered around the Big Sur River and known for its redwood groves and Pfeiffer Falls. Note that the park does not include Pfeiffer Falls and there is no ocean access from the park. 
Bixby Creek Bridge – This bridge is located along Highway 1 or the Pacific Coast Highway and is one of the most photographed bridges in California. Its unique reinforced concrete open-spandrel arch bridge makes it a particularly beautiful viewpoint when coupled with the Pacific coast in the background. 
List of the Best Sights in Monterey County
Day 1: One Day in Salinas
Downtown / Oldtown Salinas


Area between and surrounding Central Avenue, Melody Lane, San Luis Street, and Monterey Street with the main thoroughfare being S Main Street

The Beerded Bean


210 S Main St, Salinas

Downtown Book & Sound


213 S Main St, Salinas

Steinbeck House Restaurant


132 Central Ave, Salinas

National Steinbeck Center


1 Main St, Salinas

Alvarado Street Brewery – Salinas Brewery & Tasting Room


1315 Dayton St, Suite E, Salinas

Gusto Handcrafted Pasta and Pizza


1901 Fremont Blvd, Seaside
Day 2: Explore Cannery Row & Fisherman's Wharf in Monterey 
Counterpoint Coffee


565 Broadway Ave, Seaside

Fish Hopper


1st Floor of Monterey Canning Company




700 Cannery Row, Monterey

Monterey Bay Coastal Recreation Trail


Runs 1 mile from Monterey Bay Aquarium, Monterey to Lovers Point, Pacific Grove

Harbor Seals of Pacific Grove


By the Hopkins Marine Station along the Monterey Bay Coastal Recreation Trail

Lovers Point Beach & Park


Ocean View Blvd & 17th St, Pacific Grove

Old Fisherman's Wharf


1 Old Fisherman's Wharf, Monterey

Custom House Museum


1 Custom House Plaza, Monterey

Crepes of Brittany


211 Alvarado St, Monterey

Downtown Monterey


Alvarado Street is the main street

Alvarado Street Brewery & Grill


426 Alvarado St, Monterey

Peter B's Brewpub
Located inside Portola Hotel


2 Portola Plaza, Monterey

Revival Ice Cream


463 Alvarado St, Monterey
Day 3: Carmel, Carmel-by-the-Sea, & Moss Landing
Map of the Sights in Monterey County, CA
This map includes a list of all of the Sights to See, Restaurants as well as the routes by day (i.e. Day 1, Day 2, and Day 3) within specified layers.
By default, only the Sights to See and Restaurants are shown but you can select to view the daily routes. Use the slide out panel to select layers to toggle them on and off using the checkboxes.
Loved this 3 day itinerary for Monterey, Salinas, Pacific Grove, Carmel-by-the-Sea, and Moss Landing? Pin this for later!