Important Note: The Fall 2020 Tempe Festival of the Arts has been cancelled due to the current health advisory. The Spring 2021 dates are planned for March 26-28, 2020. For more information, see Tempe Festival of the Arts. 
Around the valley, Tempe, Arizona, is well known for their bi-annual Tempe Festival of the Arts. This art festival occurs twice during the year, typically in the spring and fall months. We've compiled this list of things to do with everything you need to know. 
Fun Fact:

Tempe Festival of the Arts is one of the Top 100 Classic & Contemporary Craft Shows in the nation by Sunshine Artist magazine. It has also received the prestigious Pinnacle Award from the International Festival and Events Association. 
Tempe Festival of the Arts is one of the best art and wine festivals we've ever been to, with stalls to shop at, live music performances, food vendors, and of course, you can't forget the drinks! If you plan your trip to Tempe right, the Tempe Festival of the Arts is a perfect addition to your weekend in Tempe itinerary.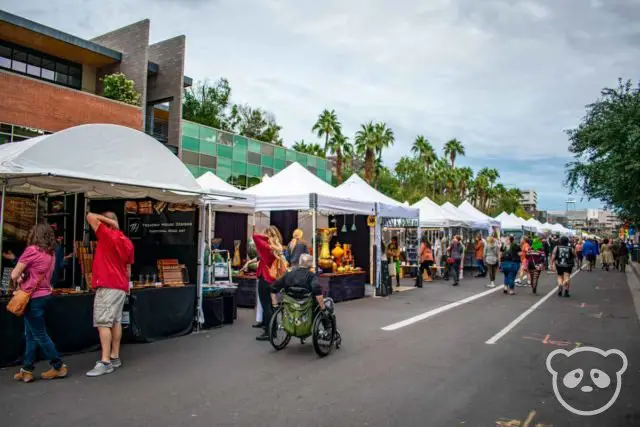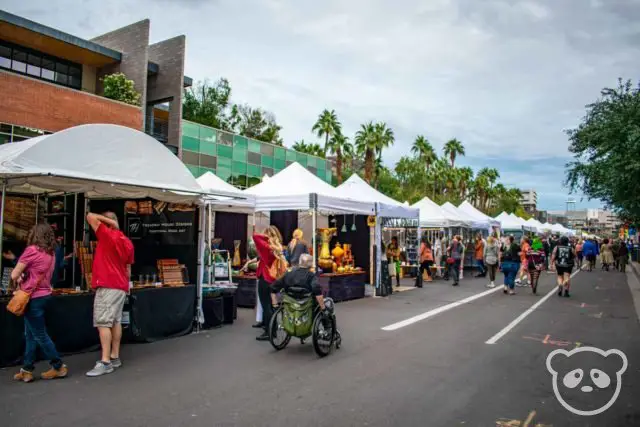 We've included a list of top things to do at Tempe Festival of the Arts. 
Go Shopping at the Craft Stalls
One of our favorite things about art fairs and festivals are the different types of crafts and works artisans are selling at their stalls. At Tempe Festival of the Arts, we found paintings, photography, ceramics, jewelry, kitchenwares, clothes, and more! There were so many unique stalls we loved checking all of them out. 
Since we were visiting for a quick weekend, we didn't have much room in our luggage but we did end up bringing home a cute terracotta brown sugar keeper. We're excited to use it and keep our brown sugar moist and fluffy!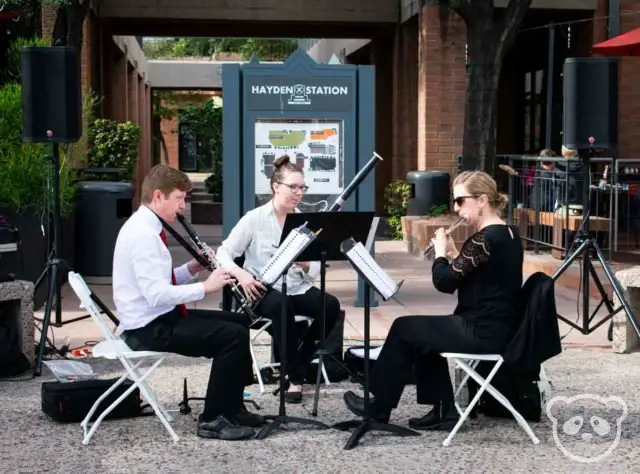 Enjoy the Live Music & Performances at Tempe Festival of the Arts
If you love music, then the live music and performances will be your jam at Tempe Festival of the Arts! Throughout the street you'll be treated to live instrumentalists, singers, and other various performances. 
There are 2 main stages — Centerpoint Stage and Hayden Street Stage, with various performances throughout the day. Check out the schedule for more details on the music and performances. 
Also keep your eyes peeled for other live performances throughout Tempe Festival of the Arts, you might see taiko drummers, bluegrass camp, and more.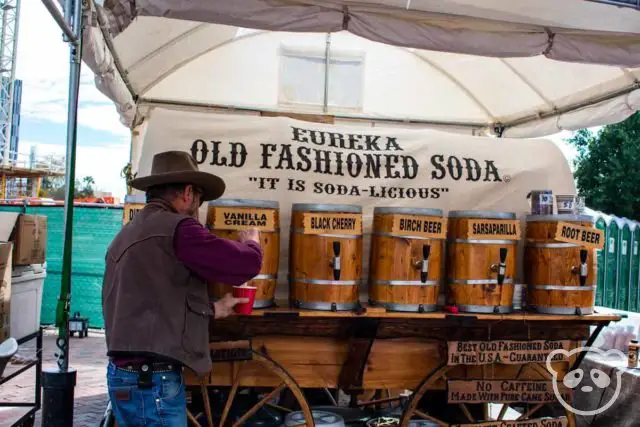 Eat & Drink at Tempe Festival of the Arts! 
No festival is complete without food! There is a plethora of food options throughout Tempe Festival of the Arts which are separated into 3 main areas: Food Court, Maple Street Food Trucks, and 6th Street East Food Trucks. Various snack vendors are also scattered throughout downtown Tempe during the festival. 
We didn't get a chance to check out the 6th Street East Food Trucks, but we loved the selection of options at the Food Court and Maple Street Food Trucks. There was so much food to choose from — Chinese, Indian, Middle Eastern, crepes, barbecue, and more! You can also opt to try more traditional festival fare like corn dogs, lemonade, pretzels, and cotton candy.
Eureka Old Fashioned Soda was one of our favorites since we got a chance to try birch beer. We'd never had it before and they were kind enough to tell us about their offerings and what the options were. We settled on getting a birch beer, once they said it tasted similar to sarsaparilla or root beer, we were down!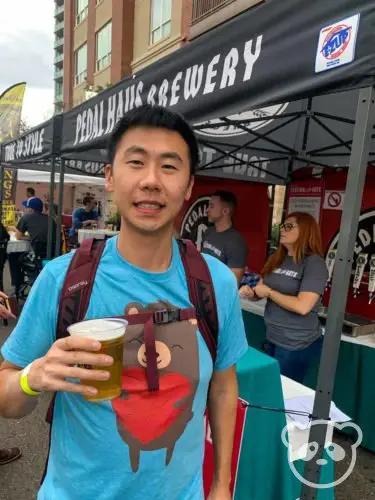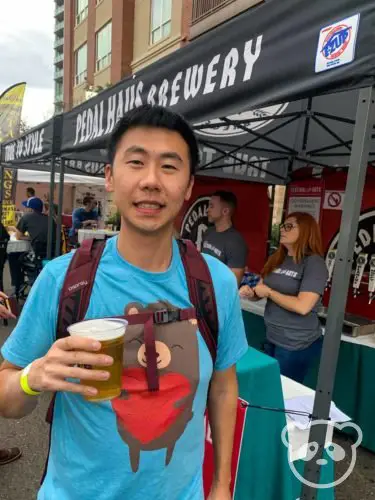 Taste Wine, Beer, and/or Spirits with Tasting Tickets
Tempe Festival of the Arts has a great list of participating drink companies. The Beer & Wine Zone is limited to a few streets including Maple Avenue and parts of 4th Street, 5th Street, and 7th Street. 
When we went, we hung out around the Pedal Haus Brewery at the Centerpoint/Maple Beer & Wine Gardens. Jimmy got a chance to try out their Cashmere Pale Ale. 
PRO TIP: If you want Pedal Haus beer, they are not included in the tasting ticket and you'll have to purchase it separately.
Wine and spirits were included in the tickets fortunately, and Jimmy got to try his fill of a variety of wines and spirits, some of these were Adventurous Stills, Burning Tree Cellars, CaskWerks Distilling Company, Del Rio Springs Vineyard, and Desert Diamond Distillery. 
Jimmy got to try the Fossil Creek, Peralta Bourbon, and Lost Dutchman whiskies from Adventurous Stills and they were great. He's still wishing we got a chance to check out their distillery tour while we were there. 
While Jimmy isn't typically a wine guy, he did get some wine samples as well since he was in the market to gift wine. He tried a few from Burning Tree Cellars and Del Rio Springs Vineyard and settled on getting a bottle of The Bear (2017). The Bear is perfect for you if you like fruitier wines. 
Fun Fact:

The Bear wine bottle has a label with a California grizzly bear and the Arizona state flag on it because it was originally made with grapes are sourced from California and Southern Arizona.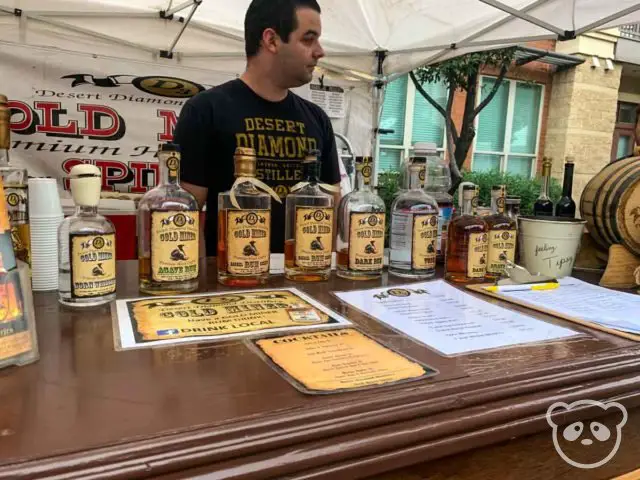 Desert Diamond Distillery was one of Jimmy's favorites. He loved trying their uniquely popcorn-flavored (and clear) Gold Miner Corn Whiskey. Plus, it was super smooth. He also tried their agave rum and he loved it. Even though Jimmy wasn't thinking about getting a bottle of whiskey, he ended up getting the corn whiskey because it was so good! 
Related Post: Get your drink on at Tempe's Best Breweries! 
Check out the Kid's Block
Tempe Festival of the Arts will also keep your children entertained. Kid's Block is open on Saturday and Sunday only and is located off of Maple Avenue between 5th and 6th streets. 
There are activities ranging from bounce houses, face painting, henna artists, and craft activities. 
Available all days during Tempe Festival of the Arts is the Young Artist Exhibition, where a variety of students from K-12 submit their artwork for display for a chance to win a cash prize. Some of these works are even for sale! You'll find them indicated with signs next to it.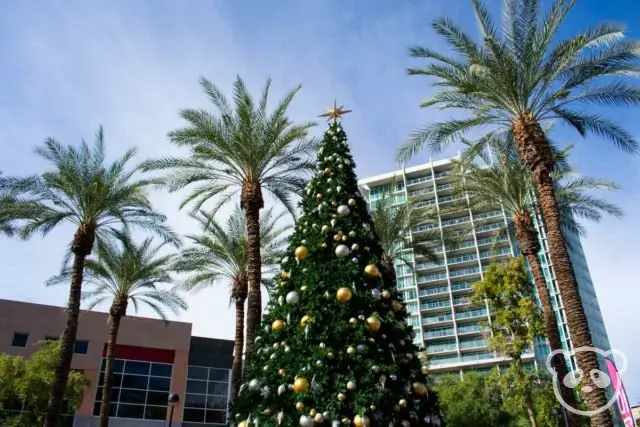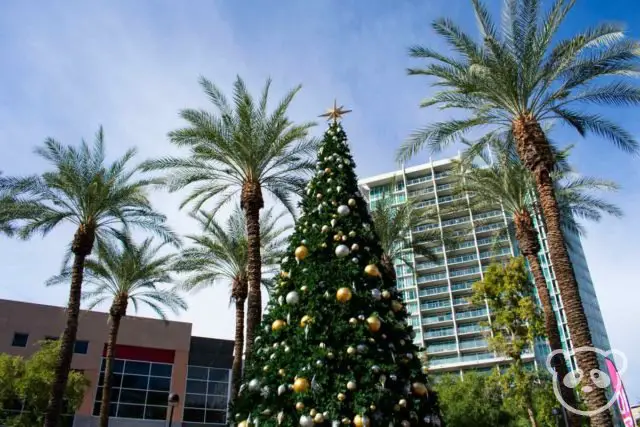 View the Beautiful Christmas Decorations at the Fall Festival of the Arts! 
If you're going to the fall event, check out the gorgeous Christmas decorations, there is even a lighted Christmas tree located right by Centerpoint Stage. 
Tempe Festival of the Arts General Information
Tempe Festival of the Arts 2020 Dates
Spring – March 27-29, 10am-5:30pm daily
The Spring Tempe Festival of the Arts has been cancelled due to the COVID-19 outbreak. For more information, see statement from City of Tempe. 
Fall – December 4-6, 10am-5:30pm daily
Admission to Tempe Festival of the Arts
FREE, but wine & spirits tastings require tickets that can be purchased here.
PRO TIP: When you arrive at the festival, they will check your ID when giving you the drink tokens and wristbands to ensure that you are of legal drinking age.
Tempe Festival of the Arts Location & How to Get to Get There
Tempe Festival of the Arts is typically held in downtown Tempe between 3rd Street, Ash Avenue, University Avenue, and Forest Avenue.  
Its location makes it super convenient to get to and you can easily find a method of public transportation to get there. 
For the light rail, take it towards downtown Tempe and get off the train at the Mill Ave & 3rd Street Station. 
If you wish to take the bus, take 30-University Dr towards downtown Tempe, this route goes along University Dr. and get off of the bus at the University Dr & Mill Ave stop. 
And as always, you can Lyft ($5 off ride for new users) and Uber ($5 off a ride for new users) which makes things super easy though it can sometimes be difficult to find a driver (or for the driver to find you) during the festival because some of the streets will be closed. We experienced this firsthand, so we'd recommend taking public transit!
We loved going to Tempe Festival of the Arts, there are SO many things to do, you'll be guaranteed to have a fun time.