Disclaimer: This post was brought to you by Tempe Tourism, who hosted us on this trip and covered all of our expenses including meals & transportation in Tempe and wine & spirits sampling tickets at the Tempe Festival of Arts. As always, our thoughts and experiences are our own.
After visiting Arizona for the first time we were looking for any excuse to come back and one of the best things to do in Tempe is to try the bars, breweries, and distilleries in Tempe! With a reputation for being one of the most fun college towns in the United States, there is no shortage of places to grab a drink in Tempe. There are a ton of places to try and we've narrowed the list down to the best brew spots to visit for a quick trip to Tempe.
Here's our comprehensive guide to the best bars, breweries, and distilleries Tempe, Arizona has to offer. 
Rula Bula Irish Pub & Restaurant
Rula Bula Irish Pub is the definition of equal opportunity vice provider. Whether you're a beer drinker, whiskey connoisseur, wine taster, or even a cigar enthusiast, you're in the right place. 
Fun Fact:

The owners came up with the name, "Rula Bula," by phoneticizing an old Irish-Gaelic expression translating to uproar and commotion.
As an Irish pub, they have a whole menu page dedicated to whiskey, which was music to my ears (or would it be eyes?)! Their beer selection is also plentiful ranging from local to Irish varieties to microbrews belonging to areas all over the world.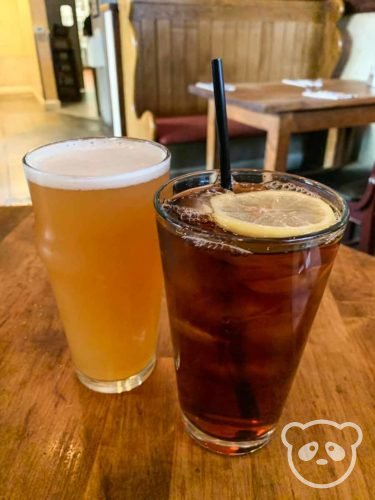 While at Rula Bula, I had a local beer from The Shop Beer Co named the Church Music IPA. The beer reminded me of a nice, well-balanced IPA from the Midwest. It tasted a little citrusy and had the perfect amount of bitterness.
Fun Fact:

Rula Bula offers happy hour once a day and has a special late night menu. 
For a budget-friendly way to get some grub with your beer or whiskey, their happy hour is perfect. We arrived for a late lunch which ended up coinciding with their early happy hour! 
We were able to get their potato skins, Guinness BBQ wings, and a corned beef Irish slider, all of which were excellent! 
On Tuesdays, they also offer an open mic night for local musicians to fill your ears with music while you fill your belly with a pint and a bite. This spot is great for students to hang out, have a pub crawl, or even a casual dinner out with friends in the heart of downtown Tempe. 
PRO TIP: Rula Bula offers happy hour daily between 3pm and 6pm. They also have a special late menu daily from 9pm until closing.
Pedal Haus Brewery
The layout of the Pedal Haus Brewery is great! They have a covered outdoor bar area and plenty of seating inside as well. The brewery is also pet-friendly so feel free to bring your dog!
Pedal Haus is one of the go to spot among students and locals for a brew and to watch the game. Their big screen TVs are a definite plus for the latter. 
If you can't get a ticket to see Arizona State or any of the other Phoenix area major sports such as The Cardinals, Coyotes, Diamondbacks, and Suns, we recommend coming to Pedal Haus. This is THE spot to see them in downtown Tempe!
Fun Fact:

Their Biere Blanche won gold at the 2018 Great American Beer Festival.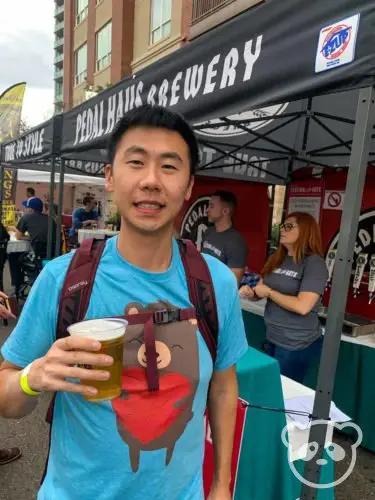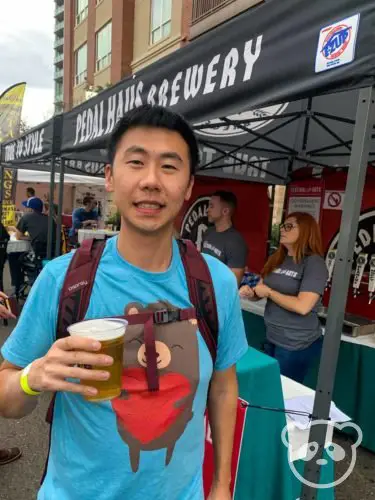 All of their beers are brewed by Pedal Haus themselves and they also have seasonal and pilot brews so you can try out something new almost every time you visit. I was ecstatic to have gotten a chance to try out a few of their beers. 
The Cashmere Pale Ale reminded me of a very crisp, standard pale ale with a bit of tropical fruity flavor that makes it very refreshing.
Pedal Haus' Day-Drinker Lager was exactly as the name described. The lager was light and so smooth you may as well drink this instead of water.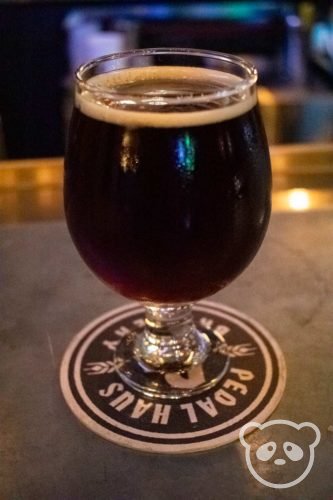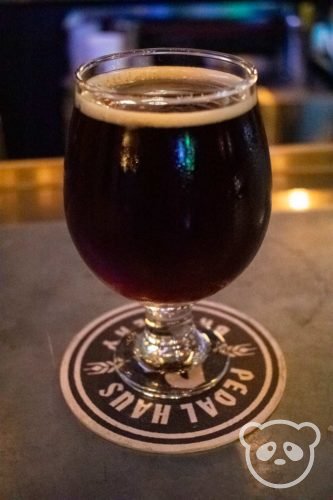 Their Bourbon Barrel-Aged Quad had a high alcohol content that smacks you in the face at first drink. The alcohol by volume (ABV) is as advertised but you can definitely taste the unique sweetness you get from aging in a bourbon barrel. Not my favorite but it's worth a try especially if you enjoy bourbon. There's nothing quite like that bourbon flavor!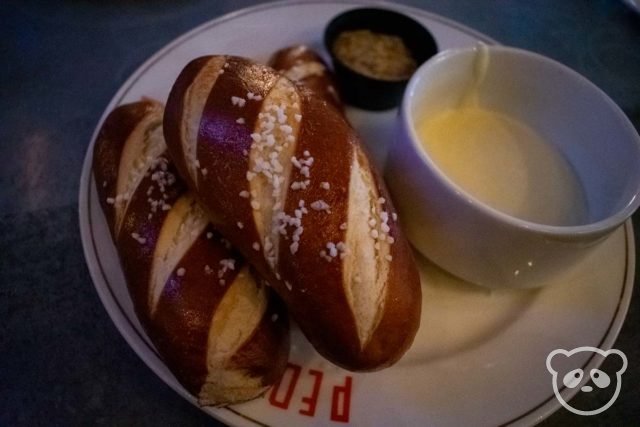 The menu is better than your typical bar so if beer isn't your jam, the food will keep you coming back. We tried their Sun-Deviled eggs, smoked chicken wings with Carolina-style BBQ sauce, and the Bavarian pretzel with beer cheese. 
Don't sleep on the Sun-Deviled eggs, these eggs were bomb! The bacon added a nice crunch to these eggs and the "deviled" parts were silky smooth.
We loved their chicken wings. They had an amazing smoky flavor with a tasty BBQ sauce. The pretzel with beer cheese reminded us of the Midwest and warmed our bellies with carbs.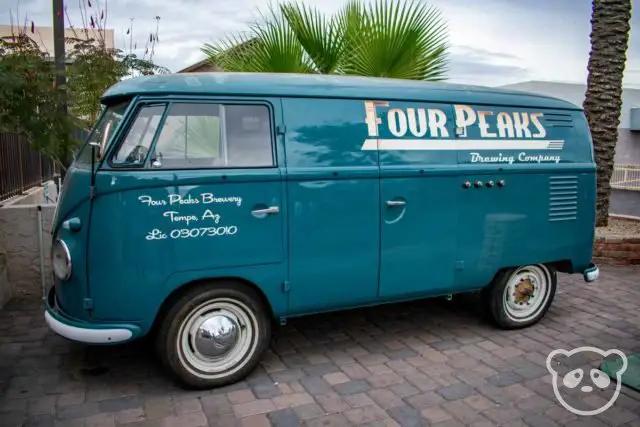 Four Peaks Brewing Company
Four Peaks Brewing Company is one of the best and bigger breweries in Tempe and they did not disappoint. 
The Four Peaks Brewing Company is located in what used to be a creamery back in 1892. However the history of the brewery is more recent. The Four Peaks Brewery began in 1995 when they started funding their brewery by selling grundy tanks. 
These tanks are typically used for a variety of purposes including storage, conditioning, fermentation, and serving. At the time, It was falling out of style in the United Kingdom but it was becoming more popular in the United States due to the craft beer movement gaining traction. 
Fun Fact:

If you have seen a grundy tank in the United States, chances are they are one of the originals purchased and resold by Four Peaks. 
The rest is now history. In 2015, Four Peaks was purchased by Anheuser-Busch and began expanding their distribution worldwide.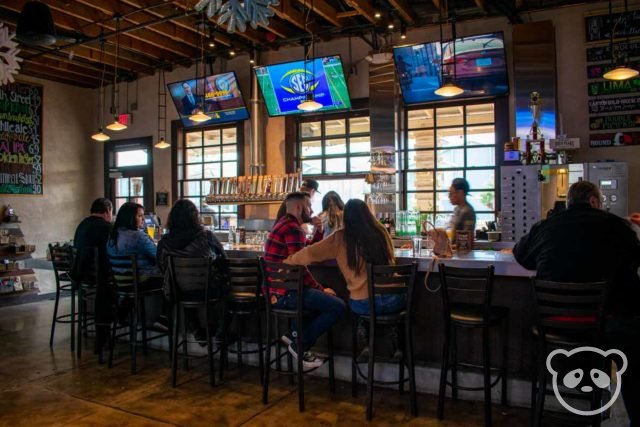 Four Peaks Brewing Company offers FREE tours of their brewery and tickets can be reserved online here. 
We were able to go on a tour of the Four Peaks facility and it was amazing! This isn't your average brewery tour where they just show you their huge fermentation and wort tanks and how they brew their beer. They did that and then some. Our guide also told us a lot about the character of the building as well. 
PRO TIP: One of the questions you should ask them when you're on the tour is whether the building is haunted. And "Have you seen a ghost in this area of the building?"
There is no shortage of ghost stories from the staff, they love entertaining visitors with their spooky tales. In fact, our guide even "collects" them. During the Halloween season, they even offer a special paid version of the brewery tour. 
Fun Fact:

Four Peaks' beer is made with water composition similar to where the beer originate from. For example, a Belgian ale is made with water that has the same composition of minerals as they would find in Belgium. 
This is definitely the most unique thing I've heard any brewery do and it shows in their beer. It shows the amount of effort and devotion they have in making a great brew. 
Four Peaks also has a beautiful display of barrels holding aging beer. To me, the room smelled like heaven. It isn't every day that you get to see a room full of beers aging in barrels rather than whiskey.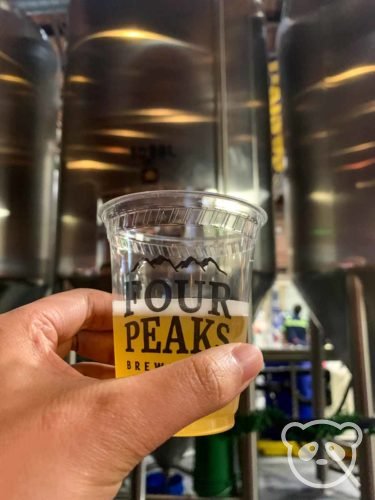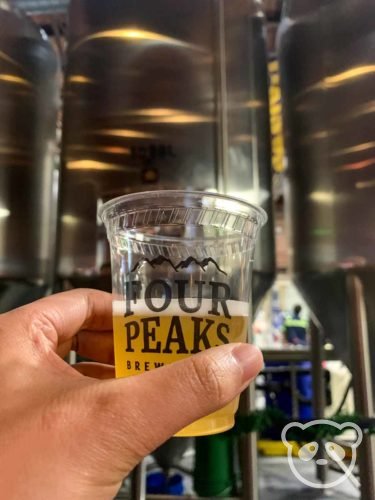 The brews we were able to sample during the brewery tour were their flagship brew, Kilt-Lifter and their white ale. I'm not usually a fan of amber ales but that is the precise reason that this is their flagship. It has a good malty taste with a little bit of sweetness and a great intro to what you are in store for when drinking their beers, quality. While the white ale was nothing special, it reminded me of the quality of an Allagash white, which is always a solid choice.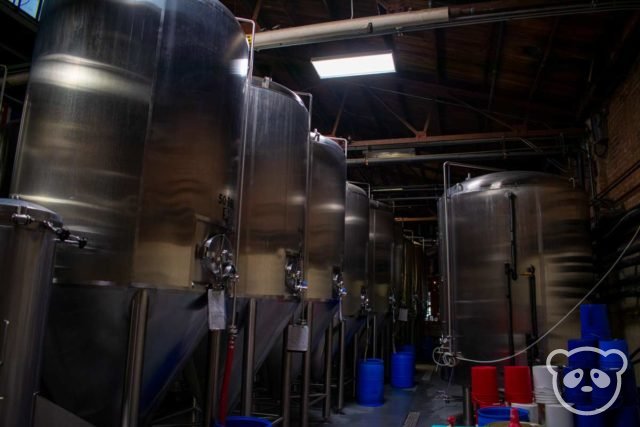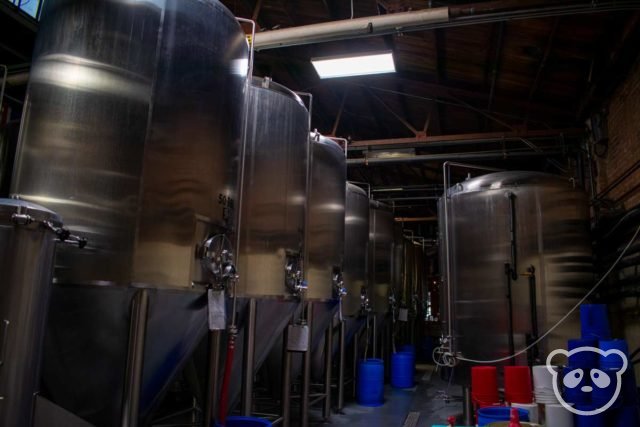 We also enjoyed lunch at the brewery where I tried the golden lager and Sirius Black.
The golden lager had some good malty taste but also the lightness of a lager which makes you think why would you ever drink a Budweiser if you ever went for a light beer. 
The Sirius Black is definitely my favorite beer out of the 4 I tried. It is a special release stout aged in bourbon barrels, giving it a great bourbon flavor to compliment the coffee notes. All of it comes together and you'd barely think twice about the high ABV. In case you were curious, it was 9.5%.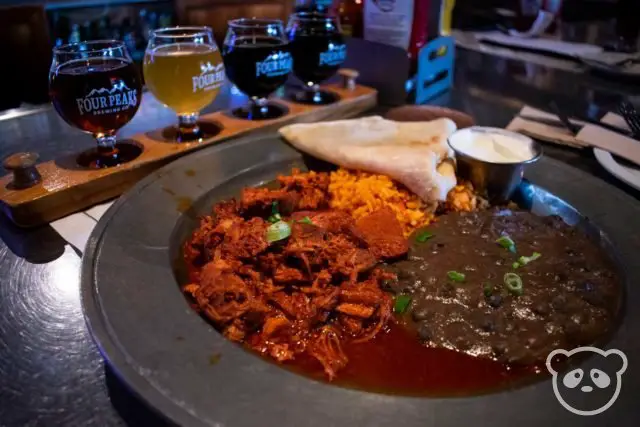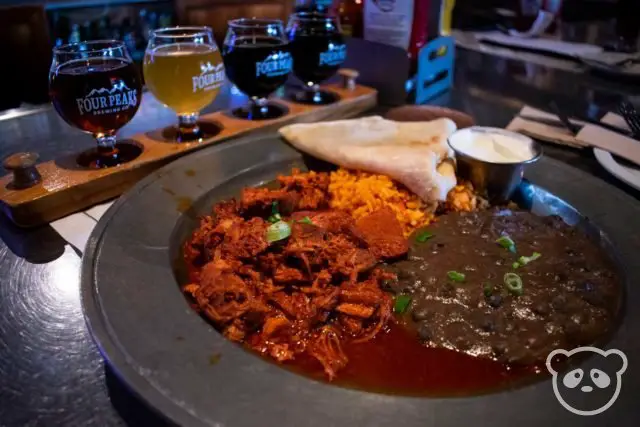 The food here really impressed us. It is obvious they hold their food in high esteem, exactly like their beer. We got the Southwest chop salad and the carne adovada to get our Southwestern food fix. 
The salad was fantastic as the tortilla strips gave the dish a nice crunch and much needed veggies for the day. The adovada was cooked perfectly and when in Arizona you have to get your daily dose of red chiles. 
Four Peaks is definitely worth the visit for lunch, dinner, drinks, anytime really if you're looking to have a beer or three. 
Honorable Mentions – Additional Breweries & Distilleries
We were only in Tempe for 3 days so we only had time to go to the above places. But if you happen to have more time in Tempe or just want to drink your way through Tempe, here are some more spots we would have checked out at their respective locations.
Adventurous Stills
I was able to try their 3 different whiskeys from Adventurous Stills at the Tempe Festival of the Arts. 
Fossil Creek, Peralta Bourbon, and Lost Dutchman were great! The whiskey samples made me wish we had time to visit the distillery on our trip. It's crazy to think they have only been in business since 2015! The whiskeys were THAT good. 
Fun Fact: Adventurous Stills was established in September of 2015 and they craft premium spirits by hand, from grain to bottle, in their facility near University & the 101.
PRO TIP: They offer tours for $14 on Fridays and Saturdays on the hour every hour they are open.
Arizona Distilling Company
These guys are serious business, just check out all of the awards they have won on the Arizona Distilling Company website. I love my whiskey so I'd love to try the Desert Durum whiskey and the Copper City bourbon. They also offer a plentiful menu of cocktails and flights if you want a taster of everything. 
Fun Fact: Their Desert Durum Wheat Whiskey has won multiple awards. In 2014, it won the Silver Medal at the Great American Distillers Festival, and the Bronze Medal at San Francisco Worlds Spirit Competition. And in 2015, it won the Silver Medal at the San Francisco World Spirits Competition.
PRO TIP: Arizona Distilling Company also offers tours on Saturdays on their website for $10.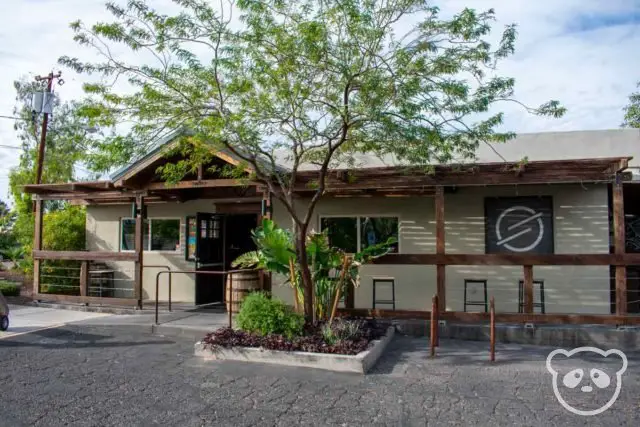 The Shop Beer Co.
Definitely off the beaten path, The Shop Beer Co. has a variety of interesting brews located in a historic house. The brewery can be found in the former house of former mayor of Tempe and United States representative Harry Mitchell. 
They take pride in the history of the house and really bring out the community vibe. There is no better way to enjoy a beer than with friends or new friends!
Fun Fact: The Shop Beer Company's building was built in 1952 as a residence to Harry Mitchell, former Mayor of Tempe and U.S Representative. His son, Mark Mitchell, is the current Mayor of Tempe.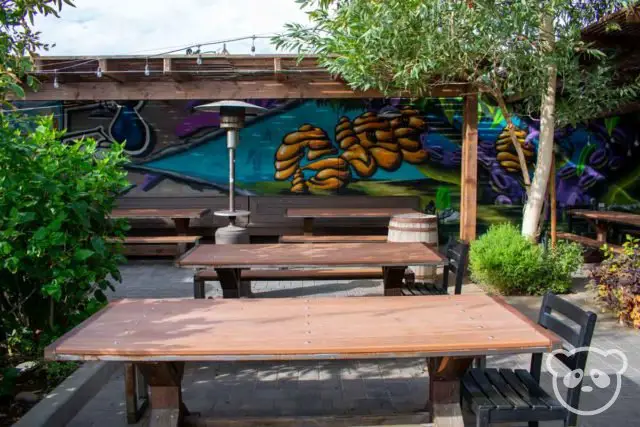 I had their church music IPA which they do very well balancing the flavor of the hops and citrus so you're not getting your palate cleansed with bitterness.
Fate Brewing Company
Want something new every time you visit? Fate Brewing Company has made 300+ beers since they opened in 2012 and aren't stopping anytime soon. 
Fun Fact: Their Candy Bar Milk Stout won a silver medal at the Great American Beer Festival in 2013. Stop by in the fall for a taste, it's only available for a limited time annually.
They make a bunch of beers in small batches so their beer list is constantly rotating to keep you on your toes. Their flagship brews such as Fateful IPA, Buena Vista blonde ale, and Fatality sound delicious. I am definitely curious to know what they have next time we come back to Tempe! 
Fate Brewing Company has two locations in Scottsdale and all of their locations offer delicious food to go with their beer.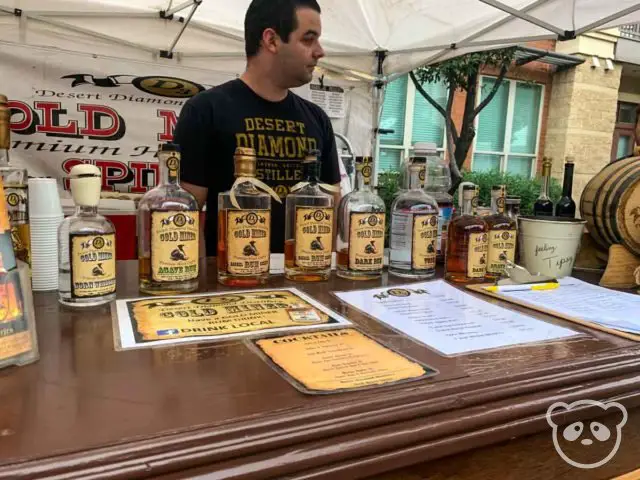 Desert Diamond Distilling Company
At Tempe Festival of the Arts, I got to sample spirits from Desert Diamond Distilling Company, such as corn whiskey and agave rum. 
Fun Fact: Desert Diamond Distilling Company is Arizona's oldest distillery.
Their Gold Miner Corn Whiskey is white in color. This is because it has not had much time to age since they started experimenting with making a corn whiskey in January of 2019. The corn whiskey has a little bit of a popcorn flavor to it and goes down smooth. I can't wait to see how it tastes after some aging!
Desert Diamond's Gold Miner Agave Rum was smooth and unique. The rum has agave in it, which is what is used to make tequila, but not as harsh. I expected it to be a little stiff like tequila but it really wasn't the case. On their website, it is rated the favorite among their non-drinkers, wine drinkers, and beer drinkers.
Though Desert Diamond Distilling Company is located in Kingman, AZ which is approximately 205 miles and over 3 hours drive from Tempe, I decided to include it within Honorable Mention because I got to try it in Tempe at the Tempe Festival of the Arts. 
PRO TIP: They offer tours at their Kingman distillery!
List of the Best Bars, Breweries, & Distilleries in Tempe, AZ
Note: Unless otherwise stated, all of the sights below are located within Tempe, Arizona. 
Bars & Breweries
Distilleries
Map of Tempe's Best Bars, Breweries, and Distilleries
This map includes a list of all of the Bars, Breweries, and Distilleries.
Note that since Desert Diamond Distilling Company is located over 3 hours away from Tempe in Kingman, AZ it is not shown by default. Use the button at the upper left of the map to reveal the sidebar and scroll down the list to find the location to Desert Diamond Distilling Company.
I enjoyed drinking my way through Tempe, the microbrews and distilleries there were surprisingly great. Hope this list helps you on your travels in Tempe, AZ. 
Save our list of best places to drink in Tempe, Arizona, pin it for later!