This post may contain affiliate links. If you click one of these links, we may receive a commission. We're grateful for your continued love of this site!
Disclaimer: This post was brought to you by Tempe Tourism, who hosted us on this trip and covered all of our expenses including the pedal boat excursion, tickets to Latin History for Morons at ASU Gammage, meals & transportation in Tempe, three nights' accommodation in Tempe, and round-trip airfare from San Francisco. As always, our thoughts and experiences are our own.
When you think of Tempe, Arizona, you might think of Arizona State University with its Sun Devil Stadium and Palm Walk. But the city is more than just a college town, there are lots of fun things to do in Tempe, delicious places to eat, and unique public art everywhere. We spent 3 days in Tempe and loved every moment of it! 
Fun Fact: Though Tempe looks like it is pronounced "tem-pe," locals call the city, "tem-pee," more emphasis on the last syllable. 
The city of Tempe gets its name by "Lord" Phillip Darrell Duppa, an Englishman who settled in the Phoenix area in the late 1800s. He thought that the area now known as Tempe resembled the Vale of Tempe in Greece, a valley located at the base of Mount Olympus. 
Fun Fact: The self-proclaimed "Lord," Phillip Darrell Duppa also named Phoenix, a city rebirthed from the ancient Hohokam canal systems built in 700-1400AD.
There are so many cool things to do in Tempe, from exploring the outdoors, to trying local brews, seeing broadway shows, and more!
This is our guide to fun things to do in Tempe in 3 days!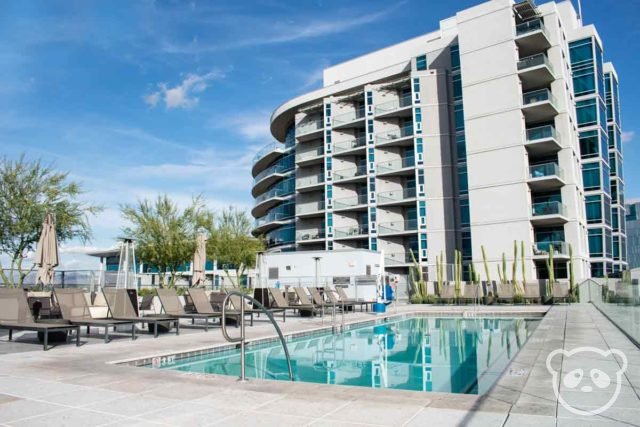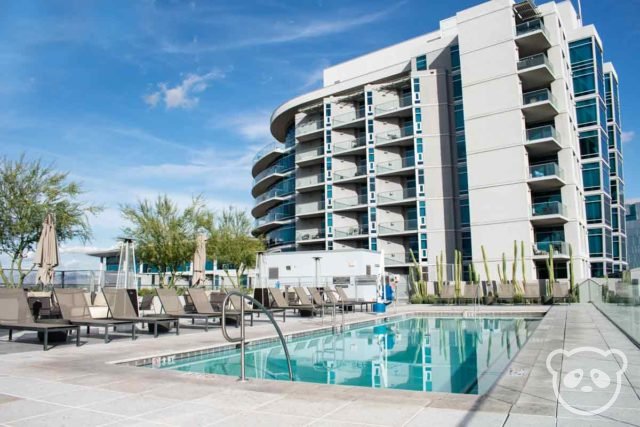 Where to Stay in Tempe, Arizona
Finding a place to rest your head (and of course, shower) during your trip is always important! We got the chance to stay at the AC Hotel by Marriott Phoenix Tempe/Downtown. 
You know what they say when people say, "Location, location, location!" Well AC Hotel by Marriott Phoenix Tempe/Downtown was not only located within walking distance to downtown, but it was also right behind Hayden Butte (aka "A" Mountain). It was also right in front of Tempe Town Lake so you can easily fit a morning stroll or run into your trip schedule. 
If you're not huge on walking, at the base of Hayden Butte (aka "A" Mountain) across E Rio Salado Parkway, is a bike rental station. You can easily get around without walking!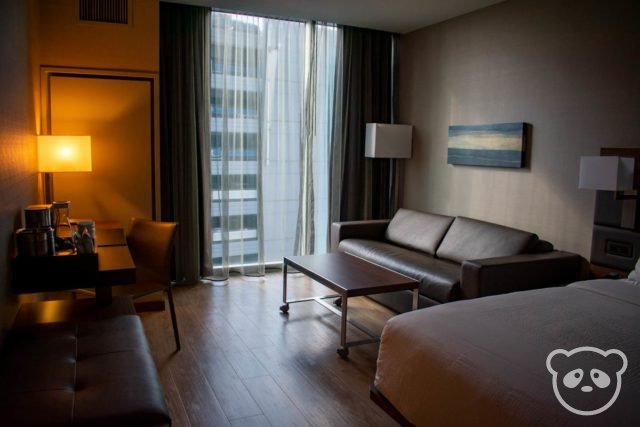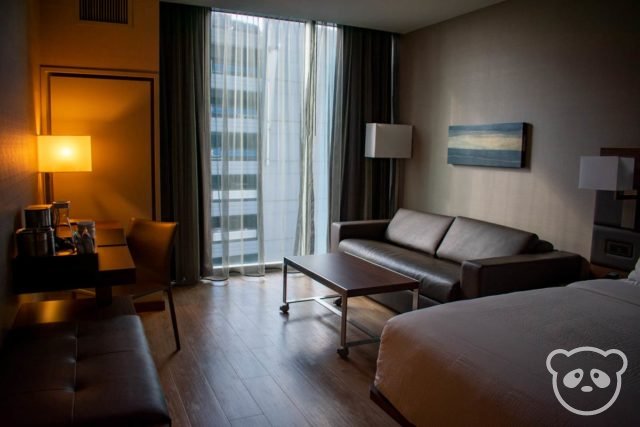 Aside from this, the hotel is beautifully modern with gorgeously decor throughout and comfortable rooms. We stayed in a king room with a sofa bed and we were very impressed by the spacious room! 
The room also had a mini-fridge with 2 bottles of complimentary water, coffee maker, iron & ironing board, hair dryer, and smart TV. 
One of the coolest things about the TV was that you could input your own Netflix or Hulu account and it would delete your account information upon check out, makes putting in your username and password hassle-free! But of course, if you'd rather watch old-fashioned cable, that was available too! 
The hotel also had free wifi that we didn't use (thank you unlimited data plan). 
Their toiletries are Korres, a Greek brand, made of natural ingredients. Their bar soap and body butter were very moisturizing, perfect for Tempe's dry climate and we loved the scent of their bath products. 
We'd 100% stay there again on our next trip to Tempe!
Check availability for AC Hotel by Marriott Phoenix Tempe/Downtown. 
PRO TIP: For a better night's sleep, don't forget to grab a satchel of lavender in the lobby before you head to bed! They usually place a cart for you to create one by the elevators.
How to Get Around Tempe, Arizona
Being a college town, Tempe is super walkable and easy to get around. It was definitely nice to not need a car! Aside from walking, you can also rent bikes or scooters. And of course, for farther out spots, there is always the light rail and rideshare services like Uber and Lyft (Get $5 off your first ride when using our links). 
Since we stayed at AC Hotel by Marriott Phoenix Tempe/Downtown, we were able to walk to the majority of the sights we visited including downtown and Tempe Town Lake. 
But when we needed to travel 2-3 miles away to the "Spice Trail," the light rail was our best friend! 
Fun Fact: The Valley Metro provides the Phoenix metropolitan area with the local bus and light rail system. The light rail takes passengers through Phoenix, Tempe, and Mesa.
Being from the San Francisco Bay Area, we're familiar with taking public transportation. And the light rail was super easy and convenient to take! 
From the Mill Avenue & 3rd Street station in downtown Tempe, simply purchase a ticket from the kiosks and you can get to most places in the Phoenix metro area. 
PRO TIP: A one way trip on the light rail or local bus costs $2 each way, if you need a round trip fare, just get a day pass for $4. It's more worth the money.
Even though there's no one manning the ticket kiosks and gates or turnstiles to get past in order to board the light rail, don't even try to get on without a ticket. There are officers checking the trains, you don't really want to be that fare evading person!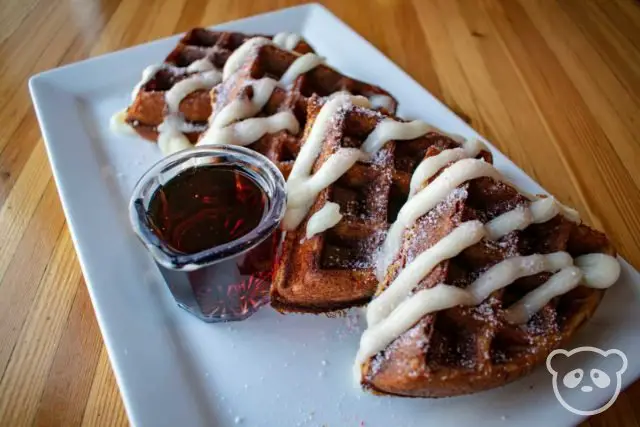 DAY 1 – Downtown Tempe & Tempe Town Lake
Daily Jam
For breakfast, check out Daily Jam, located just off of Downtown Tempe's famous Mill Avenue. They have delicious breakfast options, including pancakes and waffles as well as popular savory dishes such as omelettes, benedicts, breakfast sandwiches, and more. 
We had heard amazing things about their red velvet waffle, but opted for the seasonal gingerbread waffle instead. We couldn't say "no" when we found out it was only available for a limited time! 
Fun Fact: Before their rebrand, Daily Jam, was known as Ncounter. In 2018, Ncounter was voted the best waffles in Arizona by

Food Network

.
The gingerbread waffle was delicious, it was like eating a gingerbread cookie but in a waffle form. The sugary icing and peppermint candy cane shavings on top were a great touch! These waffles were perfect for December. 
We hear they change up their seasonal waffle depending on the month, pumpkin spice lovers might love their pumpkin spice waffles in November. 😉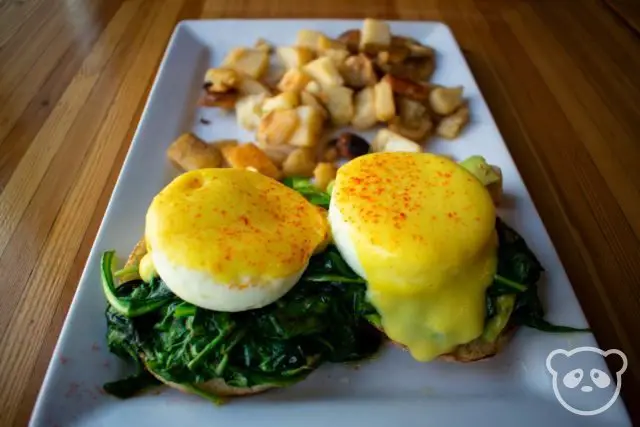 Jimmy got the Farmer's Market benedict with 2 poached eggs, spinach, tomato, and avocado on English muffins covered in hollandaise sauce with a side of potatoes. 
We usually like ordering benedicts when we get brunch because we're too lazy to poach our own eggs at home so we prefer others doing it for us. The benedict was delicious and we loved all the vegetables in it, we definitely felt healthier after eating it, but in a good way! 
The potatoes were okay; personally, we felt that they could've used more time in the pan. If you're like us and prefer more burnt bits, we'd recommend trying to ask for them extra crispy. 
And of course, we also ordered a frappe and a latte. Can't start our morning right without our cups of joe.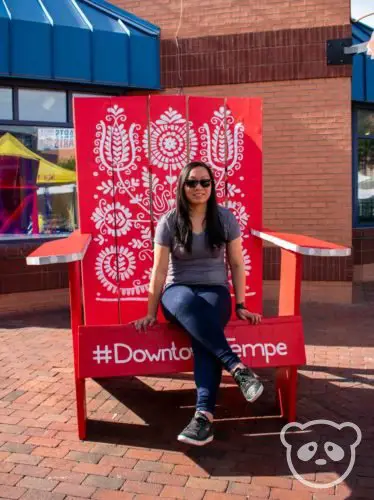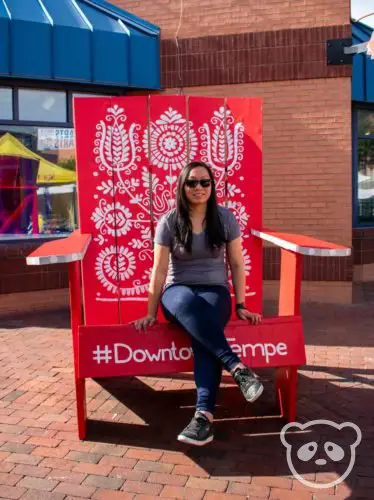 Walk Around Downtown Tempe
Downtown Tempe has a great vibe with a variety of local businesses and restaurants. The area is super walkable and is home to some of Tempe's most famous restaurants including brunch spots such as Daily Jam and Morning Squeeze, and breweries like Pedal Haus Brewery and local coffee shops like Cartel Coffee Lab. 
If you accidentally left anything at home, downtown is the place to get it! There is a CVS for toiletries and things. For last minute cash, Chase Bank is located on Mill Avenue and just off of Mill is a Wells Fargo Bank. 
PRO TIP: Like any college town, by night, Mill Avenue is the place to be! With many
bars and clubs
located along the street, the city's nightlife happens here.
Downtown Tempe is also home to the Tempe Festival of the Arts which occurs twice a year, typically in March or April and again in December. The festival takes over several city blocks, including a large portion of Mill Avenue with free admission in celebration of the arts. 
Rula Bula Irish Pub
Lunch is served at Rula Bula Irish Pub! This pub offers indoor and outdoor seating, it's a great spot for some Irish fare. 
Since we were still full from breakfast, we wanted the Irish experience but with lighter dining options. And Rula Bula definitely delivered! 
Fun Fact: In 2019, Rula Bula was nominated the best Irish pub by

Phoenix New Times

. 
We ordered the Irish Potato Skins to start. They consisted of potato jackets topped with rashers (Irish bacon), cheddar cheese, scallions, and sour cream. We're a huge fan of potatoes so we loved these!   
PRO TIP: If you're like us and wanted a late lunch, the happy hour menu is a great way to save some coin and still eat deliciously! They offer the happy hour menu from 3-6pm and again after 9pm.
We also tried the Corned Beef Slider and while I'm not a huge fan of corned beef. Jimmy thought it was yummy and one of the better corned beef sandwiches he's had! 
Their Guinness BBQ wings, made with their housemade Guinness BBQ sauce, was to die for! They were so good, we totally wanted more, even though our stomachs didn't allow for it. 
Jimmy, of course, tried some local beer, he got the Church Music IPA from The Shop Beer Co. He liked that it was an unfiltered IPA that was lighter and not overly bitter.  
Hike up "A" Mountain
After our yummy lunch, we decided to do some physical activity and hike up "A" Mountain. This hike is super short, though deceivingly steep, and is only approximately 1 mile up and back. 
Fun Fact: Technically, "A" Mountain's official name is Hayden Butte, for Charles Trumbull Hayden, the founder of Tempe, and owner of the Hayden Flour Mill. However it is better known as "A" Mountain due to the giant "A" of reinforced steel and concrete signifying Arizona State University.
The trail offers amazing views of Tempe and is a great place to watch planes. The hike takes you past the abandoned historic Hayden Flour Mill and straight up the paved path to a lookout. 
PRO TIP: See if you can spot the Hohokam petroglyphs! Our eyes weren't sharp enough and we totally missed them, fail on our part!
Fun Fact: The city of Tempe is along the flight path of many planes flying into Phoenix-Sky Harbor International Airport (PHX), don't be surprised if you hear planes throughout the city. 
Once you get past the lookout, the consists of gravel and rocky parts mixed in with sets of stairs. In general, the hike is relatively easy, though it can be a more challenging climb for some. We completed it in running shoes and didn't feel like hiking boots were necessary. 
The views from the top of "A" Mountain are pretty amazing, you can see the city of Tempe, Phoenix-Sky Harbor International Airport, Papago Park, Camelback Mountain in Scottsdale, and Four Peaks.
Explore Tempe Beach Park by Tempe Town Lake 
Next, check out Tempe Beach Park, off of Tempe Town Lake. The Tempe Beach Park is located right in the middle of Tempe and is super close to downtown. It's a great place for a stroll, run, or even a boat ride on Tempe Town Lake!
Fun Fact: Tempe Town Lake was created by damming both sides of the Salt River. 
We decided to continue "exercising" by taking a pedal boat out onto the water. 
Boat Rentals of America offers a variety of options for exploring Tempe Town Lake by water, from kayaks to stand up paddleboards, pedal boats and electric boats, they'll have something for you.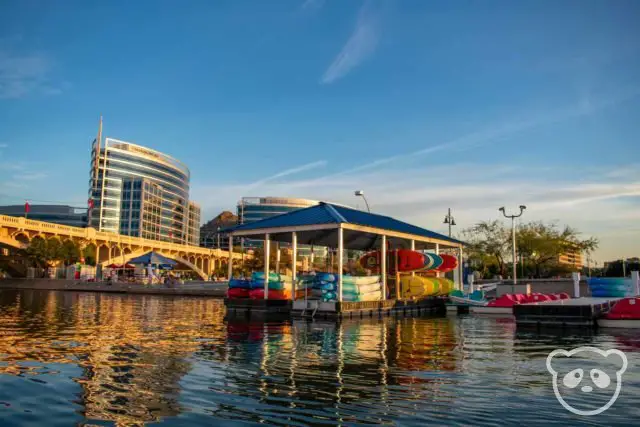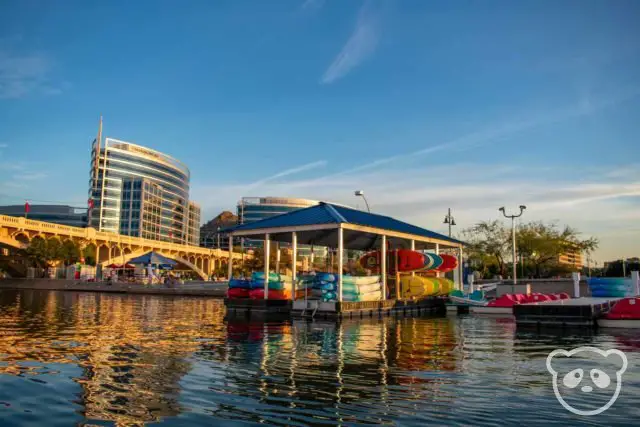 It was our first time taking a pedal boat on such a large body of water, and let me tell you, it was definitely a work out! We're glad we chose to do it for only an hour, we're not sure we would've lasted much longer than that. 
PRO TIP: "A" Mountain and Tempe Town Lake are great places to see the sunset!
The workers at Boat Rentals of America were thorough with their rules and told us where we were allowed to take the boat out to and how far (15 feet) we were to stay from lakeside walkways and bridges.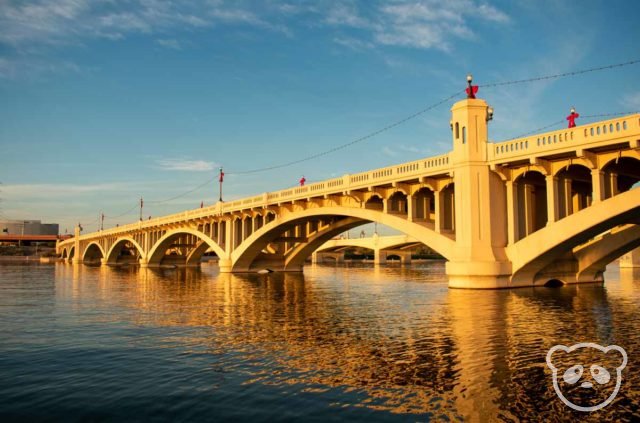 It was super cool to be able to see the city begin to light up as we were on the water. And even though it was a bit cloudy, we got to see the colors of the sun setting into dusk.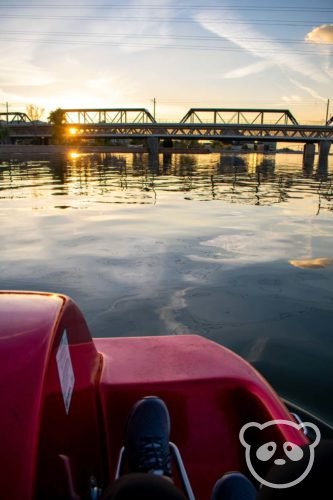 Aside from physical activity, Tempe Town Lake is also a great place to check out Tempe's public art. All along the lake, you'll be able to see various works of art.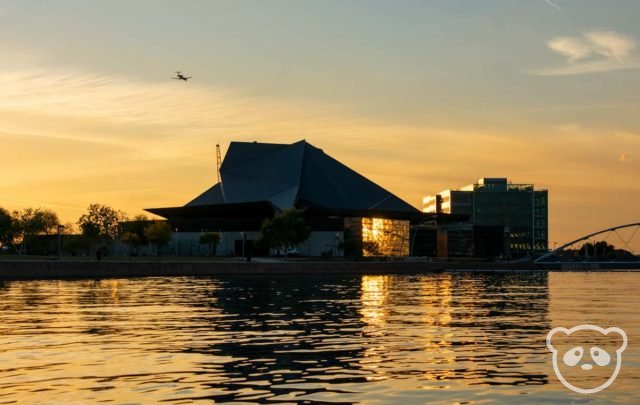 The Tempe Center for the Arts is also located off of the lake so you'll get a chance to see that on your tour of Tempe Town Lake as well. Just next to Tempe Center for the Arts is the Tempe Town Lake Pedestrian Bridge, you can walk across to get to the Tempe Town Lake North Bank Path. 
Ghost Ranch
There's nothing like eating Southwestern food in the Southwest! And damn, was the food at Ghost Ranch delicious. 
Ghost Ranch has an amazing menu full of a wide range of things to eat, we totally had a little bit of trouble deciding what we wanted to get! 
For drinks, Jimmy got the "prickly pear frose 'rita" which was a frozen margarita made with Blanco tequila, rose, prickly pear, and lime. Jimmy loved this drink even though it was pink, it's just a color any way! Jimmy told me that I got the virgin version of his drink, a prickly pear sparkler, with prickly pear, mint, and lemonade. It was so good! 
In the end, we got their chips, salsa, & guacamole and their elote special to start. The salsas they gave us consisted of both red and green salsas.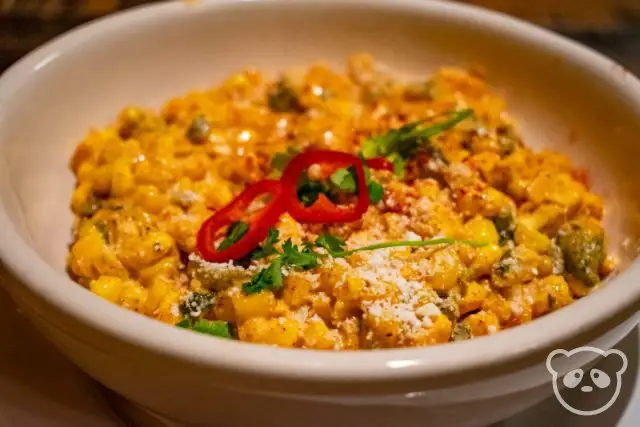 The elote was made with fresh corn, green chile, chimayo aioli, cotjia cheese, cilantro, and Ghost Ranch seasoning. If you like a bit of kick in your elote, get this! 
For my entree, I got their Aztec cake since it sounded intriguing… I had to know what it was! To put it simply, the Aztec cake can be described as a Southwestern take on Italian lasagna. It is made up of layered tortillas pulled chicken, roasted green chiles, sweet corn, and cheese. The Aztec cake was delicious and super rich, it is a bit on the heavier side so be prepared for that!
Since we wanted to try a bit of everything, Jimmy got their sampler platter. This dish consisted of grilled skirt steak, a pork enchilada, a chicken enchilada, and a cheese-filled chile relleno. We wanted to get this mainly because Ghost Ranch is well known for their enchiladas and chile relleno so with this one entree, we got to try it all! It was super delicious though we'd definitely try a few other things on the menu if we get a chance to go back. It all looked so good! 
For once, we didn't have room for dessert because we devoured everything! 
DAY 2 – Tempe's Art Scene & Eat Your Way Around Tempe's "Spice Trail" 
Matt's Big Breakfast
We started out the day with breakfast at Matt's Big Breakfast. This breakfast and brunch spot offers "better ingredients," sourced locally and organic when possible, but otherwise humanely raised including grain-fed pork and cage-free eggs.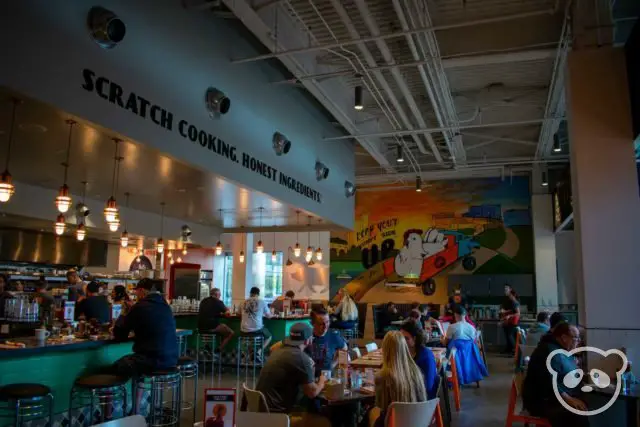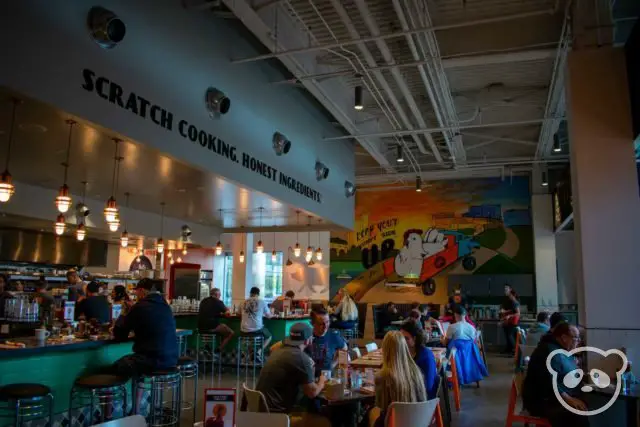 Many of their menu items had amusing names, such as "The Hog & Chick," one of their most popular entrees which included two eggs, either thick-cut bacon or country sausage and served with toast and a choice of potatoes. 
I was definitely trying to jump on the locally sourced ingredients train so I ordered the "Grains, Greens, & Beans." This was a big bowl of farro with sautéed local organic baby spinach, heirloom Anasazi beans topped with two cage-free poached eggs, crushed herbs and pink Himalayan sea salt. I also opted to pay extra and add mushrooms to it. 
Fun Fact: The Anasazi Native Americans were a tribe who once lived in cliffside dwellings in Utah, Arizona, Colorado, and New Mexico.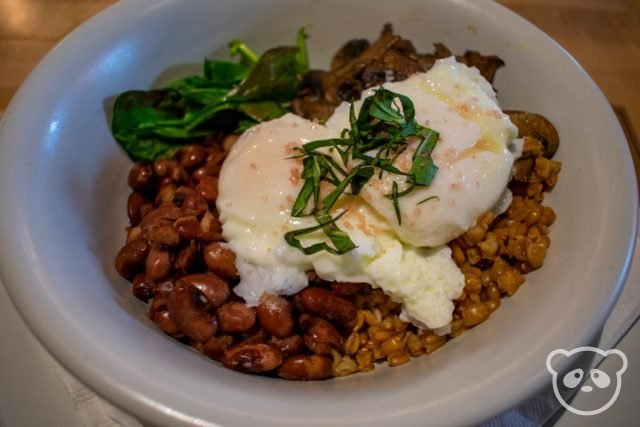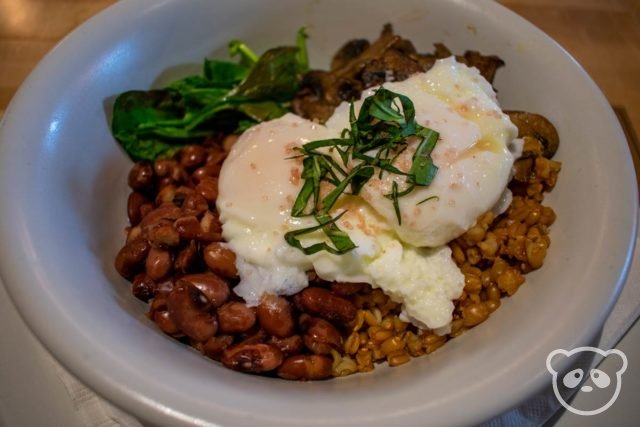 Jimmy got their special "Saturday Scramble," which consisted of three cage-free eggs, Schriener's Chicken Enchilada sausage, roasted jalapenos, and pepperjack cheese with a choice of potatoes and toast. He also opted to get their hash browns and they were a HUGE serving!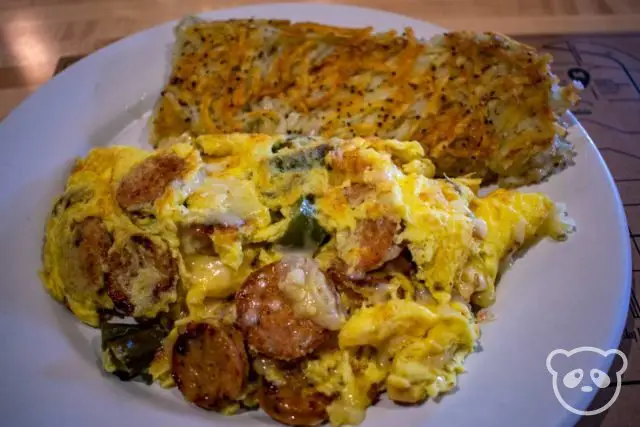 The scramble was so good!! The sausage was very unique and delicious. We loved the crispiness of the hashbrowns and even the toast was amazing. 
"Matt" was not joking when he said his breakfast was big, we were absolutely stuffed by the end of this meal! 
Tempe Center for the Arts (TCA)
Tempe Center for the Arts is a large space devoted to the arts, including two theaters for performing arts as well as an art gallery. The architecture here is also beautiful and modern, we were glad we got a chance to explore the space! We loved walking around inside and taking in the leading lines and neon lights. 
PRO TIP: Be sure to check out the view of Tempe Town Lake from the 3rd floor outdoor rooftop area! You can even see Papago Park and Camelback Mountain from here.
A variety of events take place here throughout the year including the Tempe Symphony Orchestra, Tempe Comedy Series, Free Movie events, and more. They also have a happy hour event on Fridays and Saturdays called EDGE Happy Hour. This event is FREE and has live music performances, film screenings, storytelling, poetry, drink specials, and small bites. 
Fun Fact: The Tempe Center for the Arts was designed by

Barton Myers Associates

of Los Angeles and Architekton of Tempe and has a negative edge pool.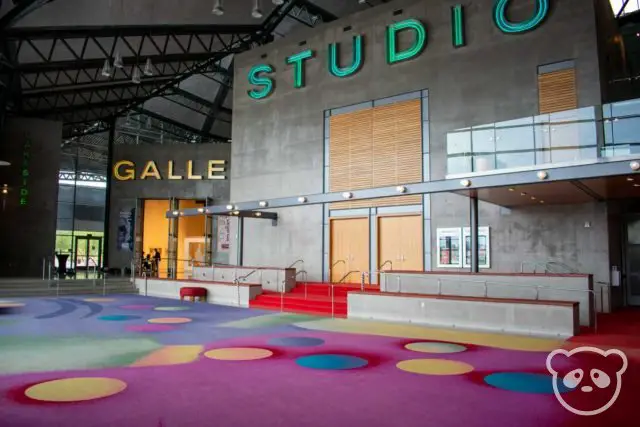 The Gallery at TCA offers a variety of rotating exhibits featuring local, regional, and international artists. When we visited, they were showing the "Myths, Maps & Legends Exhibition" and we got a chance to explore and learn about how myths, maps, and legends played a role in the artists' work. 
PRO TIP: The docents who work there are very knowledgeable about the artists and their work. They are friendly and are able to answer any questions you may have.
Eat Your Way Along Tempe's "Spice Trail"
For lunch, we got Haji Baba. Jimmy has a coworker who happens to be Palestinian and from Tempe and he highly recommended that we try Haji Baba. We were not disappointed! The food there was some of the best Middle Eastern food we've had. We'd be lying if we said that we didn't completely pig out while we were there. 
We decided to go family-style with this meal and shared a side of baba ghanooj, a side of kibbi, side of kebab koobideh, and a lamb tongue sandwich. 
In case you're unfamiliar with Middle Eastern cuisine, baba ghanooj is a dip made from roasted eggplant, lemon juice, sesame seed paste, and garlic, topped with tomatoes, pickles, and olive oil. It is also served with warm pita bread. 
Kibbi is made from a mixture of bulgar wheat and ground beef and in this case, pine nuts, and a special blend of spices, baked to form a cake, similar to a meatloaf. 
I also got their rosewater lemonade and Jimmy tried their Arabic coffee. 
Since we love Middle Eastern food, we pretty much knew what to expect of the baba ghanooj and kibbi. They were both delicious and we liked how the kibbi was a bit different from other places we've had in the past. The kebab koobideh was as we'd expected, exactly as yummy as we'd thought it would be!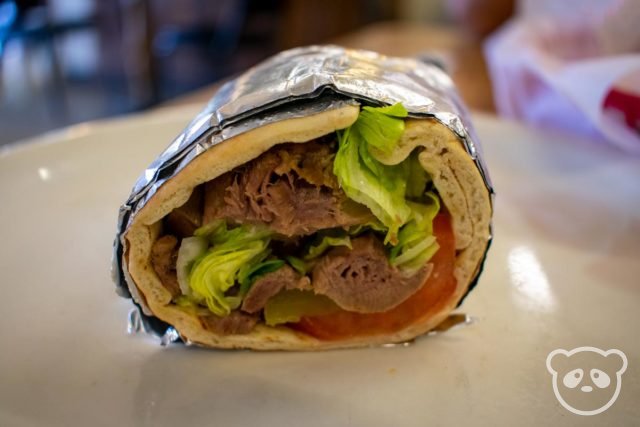 We got the lamb tongue sandwich because it was unique and we'd never had anything like it before at any other Middle Eastern restaurant. We were pleasantly surprised! I'd describe it as similar to eating lengua (beef tongue) taco, but in a pita bread as a sandwich and slightly gamey, since it is lamb after all. It was so good, it had amazing flavor from the spices, 100% would get it again. 
We also got a pistachio baklava to share for dessert. It was yummy (we love pistachios!) and not overly sweet. They had a few options of baklava, including "queen" (we're not sure what that means to be honest), pecan, almond, walnut, and cashew. 
The rosewater lemonade tasted like rosewater added to Minute Maid Lemonade, which elevated the drink a bit. Jimmy loved the Arabic coffee as it was prepared the traditional way, in a special Arabic coffee pot. 
PRO TIP: If you're in the market for Middle Eastern goods, Haji Baba is also a market so stock up!
Fun Fact: Apache Boulevard, where

Haji Baba

is located, is also known as Tempe's "Spice Trail" and consists of various ethnic restaurants all within 1.5 miles of each other. Other delicious restaurants along the "Spice Trail" include

Curry Corner

(Pakistani),

Chou's Kitchen

(Chinese),

Khai Hoan Restaurant

(Vietnamese), and

The Dhaba

(Indian). We wished we could've tried them all!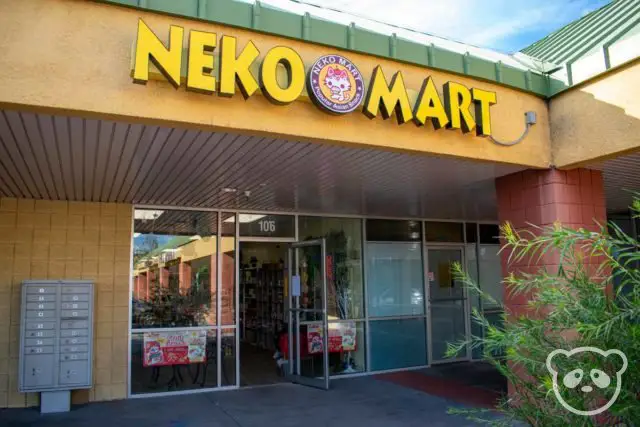 After lunch, we took a walk and checked out Neko Mart. Get your snacking on at this small, hole-in-the-wall Asian market! They had a variety of Asian snacks from Lay's from China to Nong Shim ramen from Korea, Japanese candies, and more. We got a few bags of uniquely flavored chips to bring back home. 
PRO TIP: They offer samples by the register so you can try select items before you buy!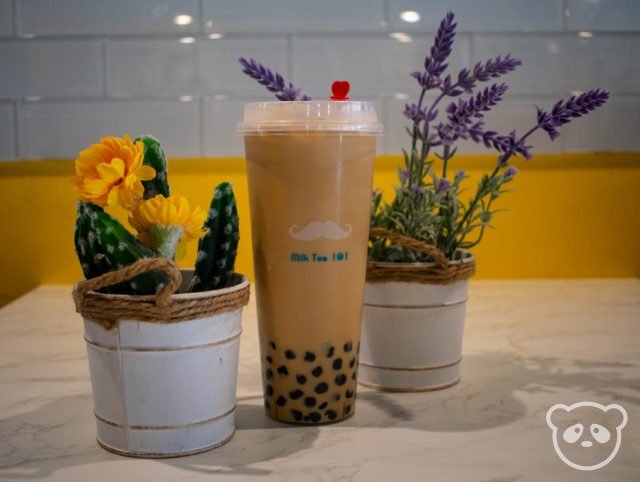 We walked off a bit of our food and went to Mango Rabbit, also on the "Spice Trail," for dessert! We heard Mango Rabbit had some of the best boba in town and Instagram-worthy bubble waffles so naturally, we had to try some. 
They had so many things on the menu that all looked super good, not gonna lie, it was such a tough decision! But since we were still pretty full from gorging ourselves on Haji Baba, we settled on grabbing a bubble waffle and 2 boba drinks. 
Mango Rabbit has so many bubble waffle options, it can be a bit overwhelming. But they do have a bunch of preset options which is nice because they've already put something tasty together for you! Or you can also opt to create your own custom waffle. 
We decided to go with the Holy Matcha bubble waffle preset which included a matcha bubble waffle with mochi inside the bubbles! (That was what drew us to this waffle in the first place.) 
The toppings included matcha ice cream, more mochi, yogurt pretzels, and a condensed milk drizzle. We loved how the mochi was incorporated into the waffle and would totally get this again! 
As far as boba goes, we ordered the premium organic milk tea and jasmine green tea at 50% sweet with honey boba. 
One thing we didn't realize prior to ordering was that they use non-dairy creamer for their milk tea, which is great if you're lactose intolerant or have a dairy allergy but it wasn't what we were expecting. We definitely preferred their jasmine green tea more. The jasmine green tea had amazing tea flavor and the honey boba was delicious, we would recommend ordering this! 
Check out Tempe's Public Art & Murals
Tempe is full of public art and murals and we had so much fun hunting for them! It is amazing to see how much variety of art a city can have. Not only are there colorful walls everywhere but you'll also see installations, sculptures, and even painted electrical boxes and magazine racks. Keep your eyes peeled and you'll find art!  
Fun Fact: Tempe's "Spice Trail," along Apache Boulevard, is home to a few works of public art. 
The light rail station at Apache Boulevard & Dorsey Lane surprisingly has quite a few pieces from mosaiced ceramic sculptures on the station walls to the giant sculptured hands rising from the ground.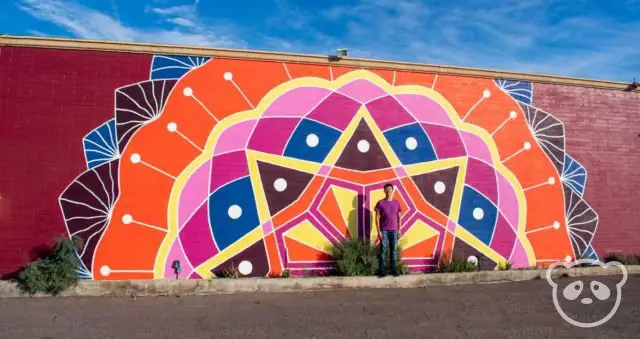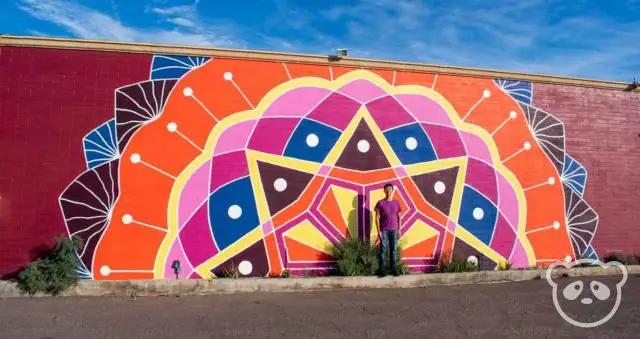 The Dhaba, one of Tempe's premier Indian restaurants, is also home to mandalas painted on their entrance floor as well as the restaurant's exterior wall.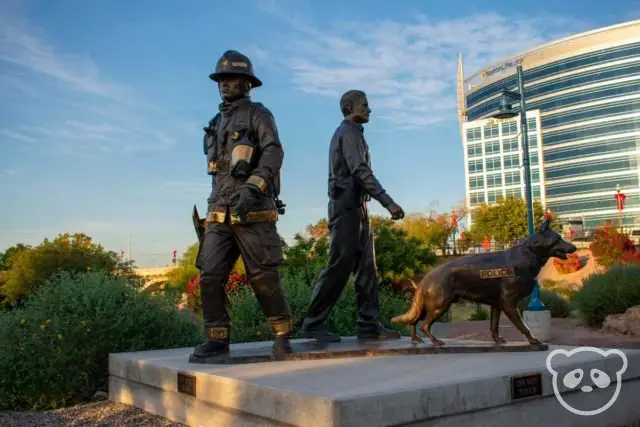 Tempe Town Lake also has its fair share of public art including "Theater of the Wind," "Public Safety Memorial," and more! There are so many pieces of work around that the city created a walking tour guide around Tempe Town Lake.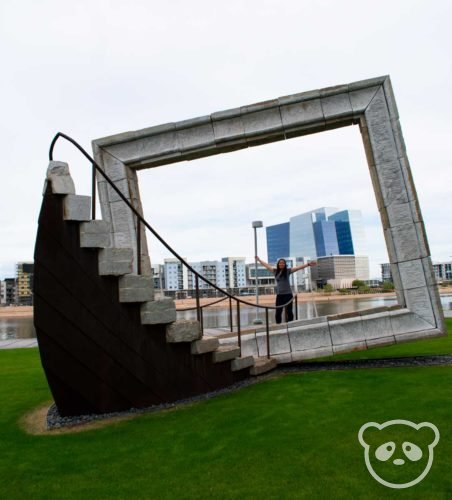 Fun Fact: "Theater of the Wind" (2017) by Ilan Averbuch was a piece commissioned by State Farm Insurance. The city of Tempe has a law requiring companies to provide public art whenever they build a new development, this makes Tempe a more beautiful city! 
The Tempe Town Lake Bridge is also a piece of art, in and of itself. In 2008, Buster Simpson installed and programmed lights to appear, changing colors and patterns as the train passes.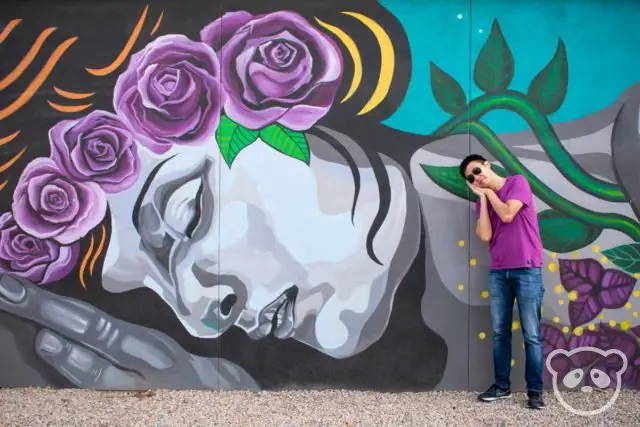 There are also other murals scattered throughout the city such as "Don't Wake the Dreamer" by Lauren Lee, "Girl in a Dream III" by Clyde Thompson, and of course, the Insta-famous "Get Together Tempe" by Morgan Delaney. 
We've included many of the murals we visited in the map at the end of the post, Map of the Sights. However for those of you that just want the public art and murals map, we've embedded it below so you can easily access it!
Public Art & Murals in Tempe, Arizona Map
For a full list of Tempe's public art, the city has actually created a website with information about each of the works. 
Pedal Haus Brewery
Since we ate a literal ton for lunch, we just wanted a quick dinner before heading to ASU Gammage for our evening show. 
Pedal Haus Brewery was a great option since Jimmy loves his beer and they have great food! He got a chance to try some of their brews and we got dinner, it was a win-win.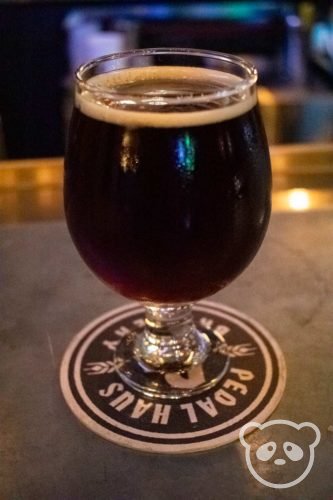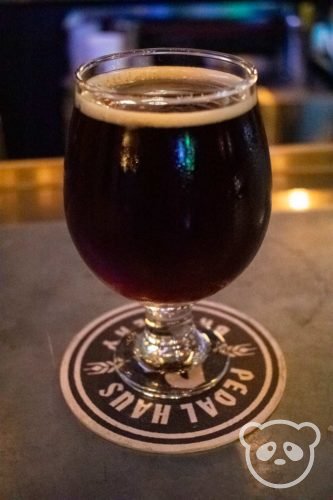 We ordered their Sun-Deviled eggs (how could we skip this one, we're in ASU-land after all), Bavarian pretzels with Haus beer cheese, and the smoked chicken wings with Carolina style BBQ sauce. 
Their Sun-Deviled eggs were deviled eggs with fresh Fresno peppers and jalapeno bacon, topped with a dusting of paprika. We loved the kick the eggs had, it was a pleasant change from the typical deviled egg.
The Bavarian pretzels with Haus beer cheese was so good! We LOVED the Bavarian pretzels, they were basically like mini pretzel rolls, and they were so delicious with the beer cheese and mustard. 
The smoked chicken wings with Carolina-style BBQ sauce were also yummy. 
At the Tempe Festival of the Arts, he also got a chance to try their Day Drinker Light Lager and Cashmere Pale Ale, by the time we actually went to the brewery, he was well acquainted with their beers! Since Jimmy is a huge fan of Belgian beers, he ordered their Bourbon And French Barrel Aged Belgian Quad which he loved. 
See a Show at ASU Gammage
Officially known as the Grady Gammage Memorial Auditorium, ASU Gammage is a multipurpose performing arts center on the Arizona State University (ASU) main campus. 
Even though the venue is on campus, it doesn't mean that you have to be a student to go there and see a show. In fact, tickets for upcoming shows are easily purchased online and there are a variety of shows ranging from broadway musicals and comedy shows to symphony performances, and more. 
Fun Fact: ASU Gammage was designed for amazing acoustics. As one of architect Frank Lloyd Wright's last public commissions before his death, he created it so that a performer could speak in their normal volume from the stage and still be heard throughout the building.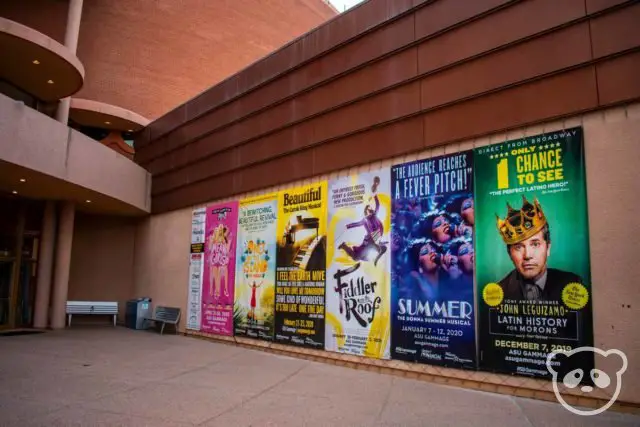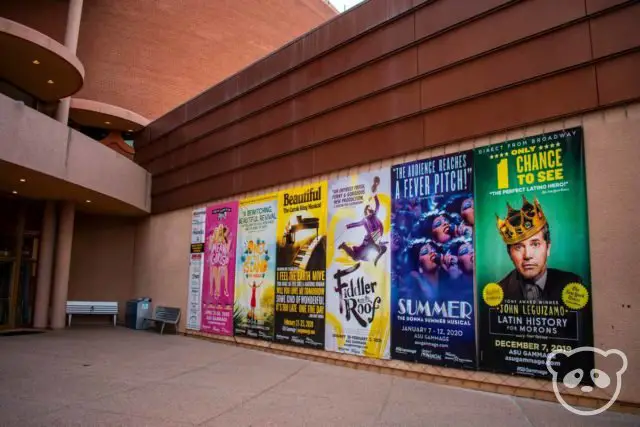 When we visited Tempe, John Leguizamo was on his "Latin History for Morons" tour and we got a chance to see his show! We learned so much about Latin American history, we'd highly recommend seeing it if you get a chance, even more amazing was his ability to do a solo one man show straight for 2 hours without an intermission. 
Watching a show is not just a nice way to spend an evening in Tempe, but it would be a great activity for those rare rainy days!
PRO TIP: If you're picking up tickets at will call, be sure to enter through the south entrance.
DAY 3 – Explore ASU Campus, Tour a Brewery, See Desert Botanical Garden by Night
The Kitchen at AC Hotel
Just before checking out, The Kitchen at AC Hotel is the perfect place to get breakfast on your last day in Tempe. The restaurant is located on the first floor of the AC Hotel by Marriott Phoenix Tempe/Downtown and is a European style breakfast buffet. 
Their spread includes cheese & charcuterie (it wouldn't be "European" without it, right?), freshly baked pastries, yogurt, toast, fruits, and made-to-order egg dishes. When we were there the special made-to-order egg dishes were the breakfast cazuela and the open-faced toast. 
The breakfast cazuela was a traditional Spanish cazuela with La Quercia prosciutto, crushed tomatoes, manchego cheese, and a cage-free egg, finished with garlic aioli. Their open-faced toast consisted of grilled toast with scrambled eggs, roasted garlic aioli, La Quercia prosciutto, manchego cheese, and arugula. 
For drinks, you have an espresso drinks made by their Nespresso machine, coffee, orange juice, milk, and cold brew coffee.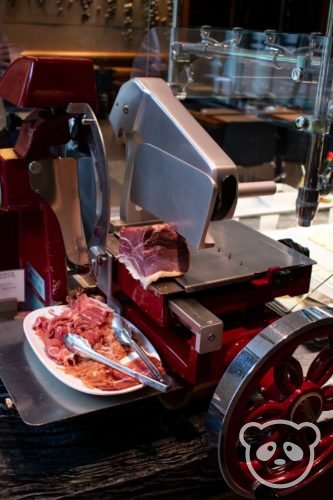 The breakfast was super delicious, especially the self-serve prosciutto. It was so cool to be able to cut it fresh for my plate! We also loved their made-to-order breakfast cazuela, they were unique and not something we'd typically be able to order anywhere in the United States. 
If you're looking for a lighter breakfast or just don't want to rush to get out the door on your last day in Tempe and you're staying at AC Hotel by Marriott Phoenix Tempe/Downtown, The Kitchen at AC Hotel is a convenient and delicious place to get breakfast. 
Explore Arizona State University (ASU) Main Campus
Now you may have already technically gone onto the Arizona State University (ASU) campus if you've already seen a show at the ASU Gammage, but the campus is beautiful and since it's a public university, it also has an open campus.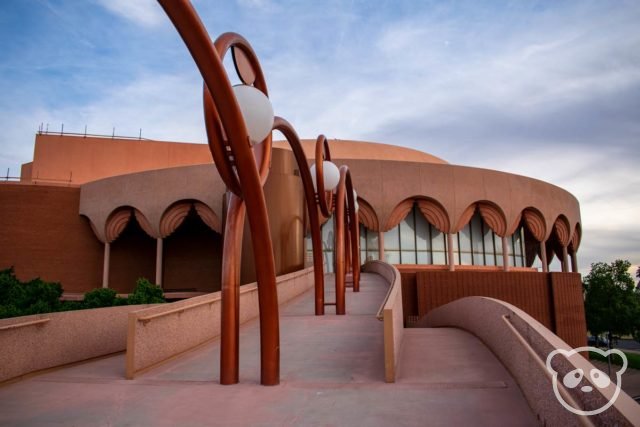 ASU Gammage
Like we've mentioned before, ASU Gammage (aka Gammage Auditorium) was designed by Frank Lloyd Wright and the building's blueprints were conceptualized by Wright and the construction finishing after his death in 1964. 
Fun Fact: ASU Gammage was built over an athletic field, when visiting the ASU campus, Wright found the site saying, "I believe this is the site. The structure should be circular in design and yes, with outstretched arms, saying 'Welcome to ASU!'". He, then, spent the last two years of his life working on the designs. (

ASU Gammage

)
We definitely felt welcomed to the building with the large ramps leading up to the building entrances in the north and the south. It was super cool to see the ramps with orbs up close! We were lucky and glad we got to see the building both during the day and at night. 
PRO TIP: If you visit at ASU Gammage at night, you'll get to see the orbs lit up! And by day, you'll see the beautiful Arizona orange exterior color.
Contrary to popular belief, ASU Gammage is not completely round, but is more of an oblong, or oval shape. 
Fun Fact: The building measures 300 feet (91m) long, 250 feet (76 m) wide by 80 feet (24 m) high. Fifty concrete columns support the round roof with its pattern of interlocking circles. 
Nevertheless, we felt that our visit was on the shorter side. We could not get enough! We wished we could've visited on a Monday so that we could see more of the building and hear more about the history and construction. 
PRO TIP: ASU Gammage offers free tours on Mondays. We didn't get to go on it, but we've heard that if there aren't any shows happening, you might get a chance to walk onto stage and test out the acoustics!
ASU Music Building
While you're walking on your way from ASU Gammage to the ASU Art Museum, pass by ASU's Music Building. This building is home to ASU's School of Music and was built by Wesley Peters, Frank Lloyd Wright's son-in-law and protégé as a happy companion and neighbor to ASU Gammage. 
Fun Fact: Known affectionately as the "birthday cake building," the Music Building was built in 1970 and has a total of 8 floors of which 3 are underground. (

ASU

) 
As the school's music building, it houses concert halls, music studios, music education and therapy labs, a costume shop, piano repair shops, 200+ studios and practice rooms, several multimedia classrooms and the ASU Libraries' Music Library.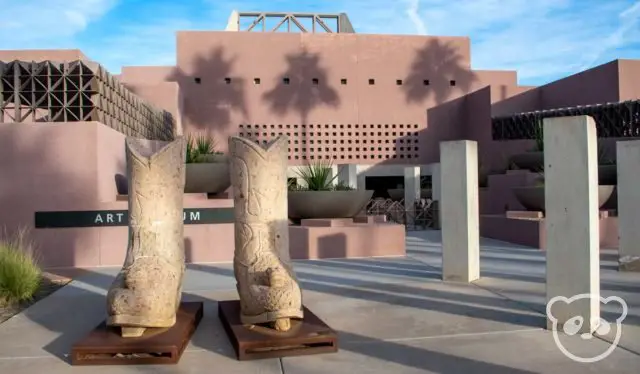 ASU Art Museum
The ASU Art Museum at Nelson Fine Arts Center is a FREE art museum located on campus, making it a perfect place to visit while you're exploring the school grounds. 
The museum's collection includes a variety of contemporary works featuring American art, but especially Latin American art, with works by Diego Rivera, Carlos Merida, and Rufino Tamayo. 
When we visited there were quite a few temporary exhibits on view including "Begin at the End," "Pulso: Tania Candiani (Part I)," and "Juntos Together: Iván Argote." 
Fun Fact: ASU Art Museum at Nelson Fine Arts Center was designed by Albuquerque-based architect

Antione Predock

and includes 5 galleries spread over three floors. (

ASU Art Museum

)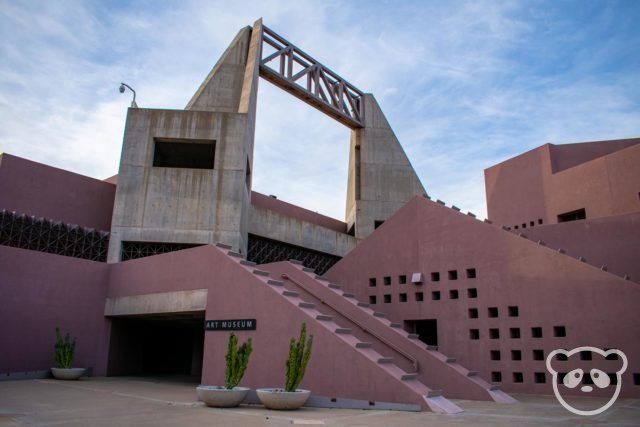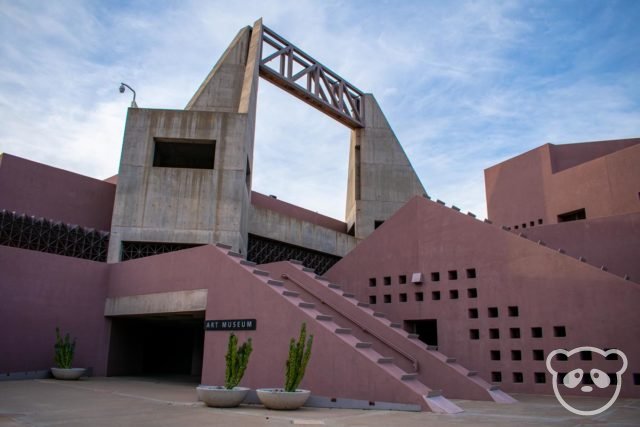 Aside from the art, the museum's building itself is super cool. It feels like you're entering an Aztec pyramid or something like that! Wandering around the rooms, exhibits, and outdoor decks give you the vibe that you're walking through a maze of hallways and entrances discovering what lies behind the door at every section of the building. 
Palm Walk
One of the most beautiful areas of campus runs north to south from E University Drive to the Sun Devil Fitness Complex. The palm-tree lined walkway is approximately 0.4 miles long and takes you past many of the campus buildings, including the George M. Bateman Physical Science Center, Engineering Center, W.P. Carey School of Business.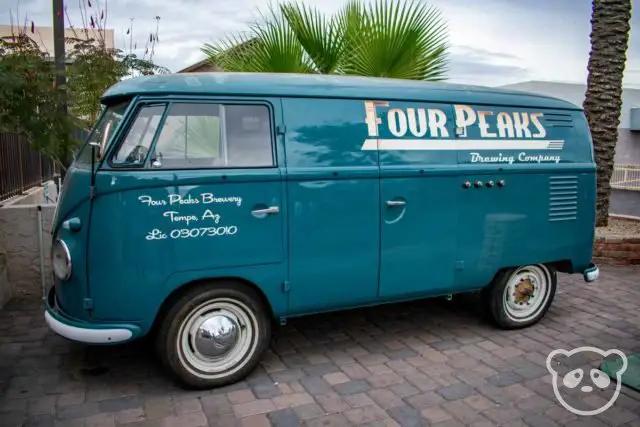 Four Peaks Brewing Company
For lunch, enjoy some beer and grub at Four Peaks Brewing Company. Their food was super good and Jimmy loved their brews. 
Fun Fact: Four Peaks Brewing Company is named for the 4 mountain peaks you can see in the Tempe area, in fact, you can even see them from the brewery! 
I ordered the Southwest chop salad which consisted of mixed greens, avocado, corn, quinoa & black beans, roasted red pepper, pico de gallo, tortilla strips, and queso fresco, topped with citrus-cilantro dressing. I also opted to get my salad with grilled chicken and it was great, the chicken breast wasn't overly dry.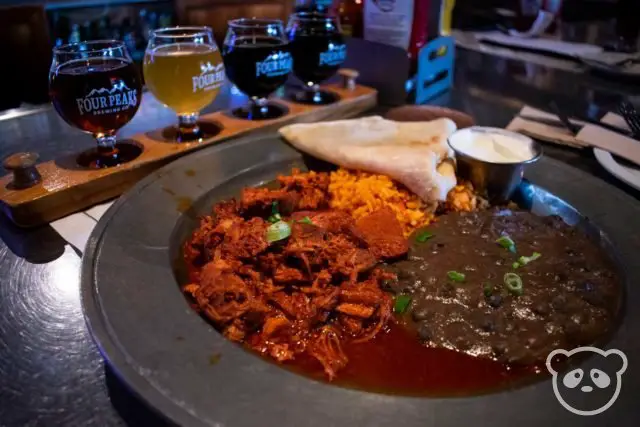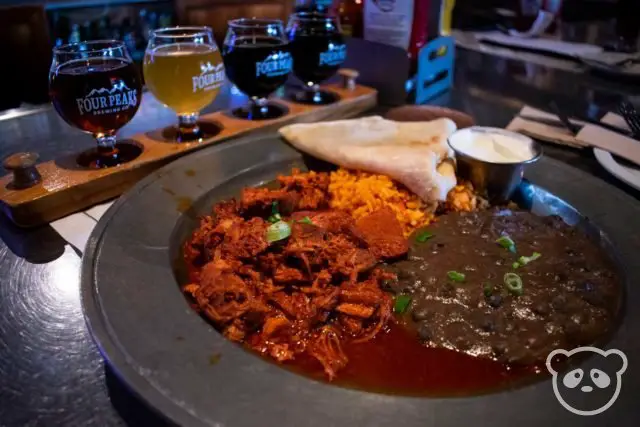 Jimmy was craving some adovada so he got the Carne Adovada which was pecan smoked red chile pork with rice, beans, and tortillas. The pork was moist and the sauce was delicious. 
He also ordered a beer flight with the Kilt Lifter, White Ale, Sirius Black, and the Churro Stout. The Churro Stout was seasonal and actually tasted like a churro! The cinnamon flavor was definitely on point with that one. 
PRO TIP: If you decide to eat there before you take the tour, skip the Kilt Lifter and White Ale in your flight because they'll give you those two as samples on the tour. We totally wished we'd known this before we went!
One of the coolest things about Four Peaks Brewing Company is they offer FREE tours of the brewery. Every Saturday, tours are offered three times a day by an experienced Four Peaks guide. Our tour guide was Cooper and we learned so much about the brewery! 
Fun Fact: The Four Peaks brewery is housed inside a 100-year-old former creamery and ice factory. Due to its history, it also has some spooky residents. The creamery is haunted and they even offer Haunted tours around Halloween. 
Throughout the tour, you learn cool tidbits about brewing, in general, as well as how Four Peaks does its brewing. You won't regret doing this tour! Learn more about the tour and other amazing brews in Tempe in our Best Bars, Breweries, and Distilleries in Tempe post. 
PRO TIP: If you're interested in taking a tour, be sure to get your tickets in advance on
Eventbrite
as they do sell out.
Desert Botanical Garden by Night 
If you read our 3 days in Phoenix itinerary, you might think, did we visit Desert Botanical Garden again? Why yes, we did! One of the coolest things about the Desert Botanical Garden is that there is something new going on there all the time.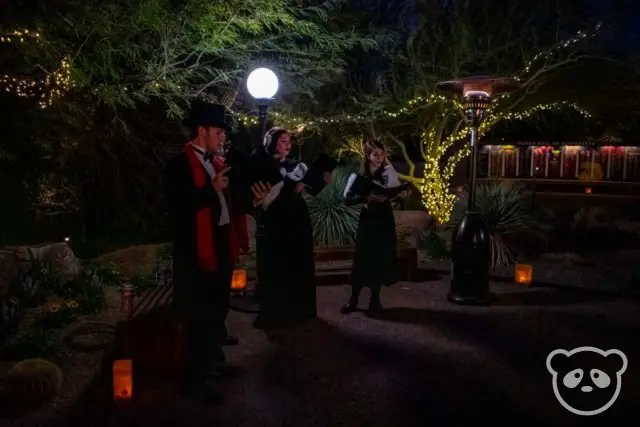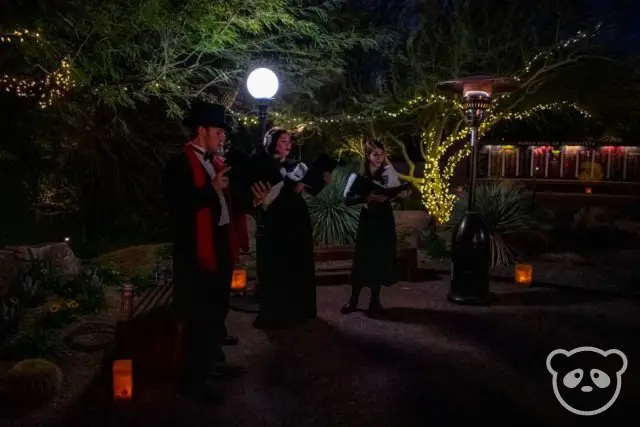 This time we visited for their holiday event, Las Noches de las Luminarias. For Luminarias, you have to visit at night, as it runs between 5:30pm to 9:30pm on select December nights (usually weekend nights). Luminarias turns the garden experience truly magical with lots of twinkling lights and live entertainment, there are even Christmas carolers greeting you at the entrance! 
Aside from Luminarias, Desert Botanical Garden was also featuring Cracking Art's work, "Wild Rising" throughout the garden. This exhibit runs until May 10, 2020 and consists of plastic animal sculptures made from recycled plastic found in the ocean. 
The animals portrayed in the exhibit are the same animals that are affected by climate change and plastic in their living environments. Some of these animals include meerkats, snails, gray wolves, and more.  
PRO TIP: If you're looking for the elephant sculpture, it's a bit hidden. Follow the "Elephant in the Room" signs and you'll find it in the lobby area of the Webster Auditorium.
We loved visiting the Desert Botanical Garden at night, it definitely gives off a different, more romantic vibe. We'd definitely recommend this for a date night! 😉 
Culinary Dropout
We had dinner at Culinary Dropout, one of the hottest restaurants in downtown Tempe. The food is not only good, but they are super accommodating to allergies, so if you've got food restrictions definitely come here. 
Aside from the food, they are also a great hangout spot with games in the 21+ area with ping pong tables, cornhole, and foosball. They also have a separate bar area that you can rent out for private events. When we were there, a company holiday party was going on inside.
To start, we ordered the sea salt soft pretzels & provolone fondue to share. The provolone fondue was delicious with the pretzels. The pretzels were so large they were like mini pretzel buns! 
I ordered the pesto shrimp orecchiette with roasted mushroom, broccolini, heirloom tomato, basil, parmesan, and pine nuts. The pesto sauce was amazing and the shrimp was cooked to perfection. I also gotta love a pesto that actually has pine nut since a lot of restaurants don't use pine nuts for it anymore. Their pasta is also housemade so it was fresh and extra good. 
Jimmy got the Korean style ribeye cap which has limited availability. It was also served with veggies such as zucchini slices, matsutake mushrooms, and bean sprouts. The dish was surprisingly good, but the sauce did have some sriracha in it which isn't super Korean. As long as you're not expecting traditional Korean food, you'll be in good hands with this dish! 
For drinks, I got a virgin margarita and Jimmy ordered the graham cracker molasses porter from Throne Brewing Company. It was creamy and tasted like molasses!
If You Have More Time
Tracy Dempsey Originals – Tracy Dempsey offers amazing pastries, sweets, and confectionaries. They are a small mom and pop style shop that prides itself in its unique Southwestern flair and use of fresh, seasonal ingredients. Depending on the time of year you visit, try their prickly pear pate de fruit or their cranberry, pepitas, and chile brittle.
Tempe Marketplace – This shopping center has over 100 different shops and restaurants is also home to pop-up art installations, and outdoor dining. Be sure to also check out the murals and amazing eats here!
KOLI Equestrian Center – Located in nearby Chandler, AZ on the Gila River Indian Community Reservation, this horseback riding facility is perfect for people of all ages. From beginning riders to more expert riders, they offer a variety of lessons and even private rides that are adaptable to your needs. They even have lessons that get you close to wild horses!
Other Great Places to Visit in Arizona
Phoenix, Arizona – As Tempe's next-door neighbor across the Salt River, Phoenix is also the capital city of Arizona with tons to see and do. Check out our 3 days in Phoenix itinerary for all of the best things to do, including Camelback Mountain, Taliesin West, and all of the amazing Southwestern food.
Page, Arizona – Home to the Insta-famous Antelope Canyon and Horseshoe Bend, Page is easily visited in a day trip from Tempe. Our 1 day in Page, Arizona itinerary has great tips for visiting all the amazing sights in a day.
List of the Sights
Note: Unless otherwise stated, all of the sights below are located within Tempe, Arizona. 
DAY 1 – Downtown Tempe & Tempe Town Lake
Daily Jam
310 S Mill Ave #A101
Rula Bula Irish Pub & Restaurant
401 S Mill Ave
A Mountain


Trailhead is located towards the back of the Mission Palms parking lot on S Mill Ave by the light rail tracks

Hayden Flour Mill


119 S Mill Ave

Tempe Beach Park


Between N Mill Ave, E Rio Salado Pkwy, & Tempe Town Lake

Boat Rentals of America
72 W Rio Salado Pkwy
Ghost Ranch
1006 E Warner Rd #102-103
DAY 2 – Tempe's Art Scene & Eat Your Way Around Tempe's "Spice Trail"
DAY 3 – Explore ASU Campus, Tour a Brewery, & See Desert Botanical Garden by Night
Map of the Sights
This map includes a list of all of the Sights to See, Restaurants as well as the routes by day (i.e. Day 1, Day 2, and Day 3) within specified layers.
By default, only the Sights to See and Restaurants are shown but you can select to view the daily routes. Use the slide out panel to select layers to toggle them on and off using the checkboxes.
We loved visiting Tempe, there were so many cool things to do and artsy things to see there. We can't wait until the next time we go back!
Interested in visiting Tempe, AZ? Pin this post for later!