As Grand Rapids has gotten more up and coming, many coffee shops have begun popping up in the city and lucky for us on our trips to Michigan because we haven't had to drink as many cups of joe from national chains like Starbucks and midwestern chains, such as Biggby Coffee. Because of this we've also gotten a chance to explore the coffee scene in Grand Rapids and these are a few of our favorite tried and tested coffee shops in Grand Rapids, Michigan. 
Top 5 Coffee Shops in Grand Rapids, Michigan
Madcap Coffee
Madcap Coffee is one of our favorite cafes to get coffee in Grand Rapids. They make a quality cup of coffee because they taste every single batch of coffee they roast. 
I enjoy lattes and I love their latte art so I typically order their cafe latte. Jimmy loves the strength of their cortado so that's his jam. Their pour overs look amazing and they even have a pour over coffee flight so we might just have to try that on our next trip to Grand Rapids! 
We've also tried their pastries before and they definitely have good scones and muffins. 
They have locations throughout the Grand Rapids area, including downtown at Monroe Center and at Downtown Market. They've even expanded to Detroit so you can get your Madcap on there too! 
PRO TIP: The Downtown location is more of a casual coffee spot with bar seating surrounding the stall. For a more traditionally cafe style seating with tables and chairs, we'd recommend the Monroe Center location.
Related Post: Explore Grand Rapids, Michigan in 2 Days! 
The Sparrows Coffee & Tea Newsstand
The Sparrows is a super quaint coffee spot located in an older building that looks like it could be a friend's house. And this is the type of vibe you get from the baristas too! They are super friendly it feels like you're hanging out in a friend's living room, except someone (not your friend) is serving you gourmet coffee and tea drinks!
Now for the drinks at The Sparrow! They are very unique and delicious! They typically have seasonal drinks however their "normal" menu is already more special than most. 
The normal drink menu includes options such as the Lady Lazarus, a coffee latte with lavender and honey syrup. The Behemoth is two shots of espresso with condensed milk. Law of Cardamom is their coffee latte with cardamom syrup and honey. Major Major features a latte with condensed milk and caramel. 
For tea drinkers, there's always the Anne with an "E," a matcha latte with honey. Dirty Harry is their earl gray latte with soy milk and honey. 
If you're more interested in the less unique drinks, they do have your typical lattes, cortados, cappuccinos, and chai lattes. 
We love their Lady Lazarus, Law of Cardamom, and cortado. They make a strong coffee with beautiful latte art. 
Rowster New American Coffee
Rowster New American Coffee not only has amazing coffee, but it's interiors are also super Instagrammable! Rowster is a uniquely Grand Rapids establishment and got its name from rowing down the river the city is known for. 
There are a couple of Rowster locations throughout Grand Rapids, but the Wealthy Street location is the original.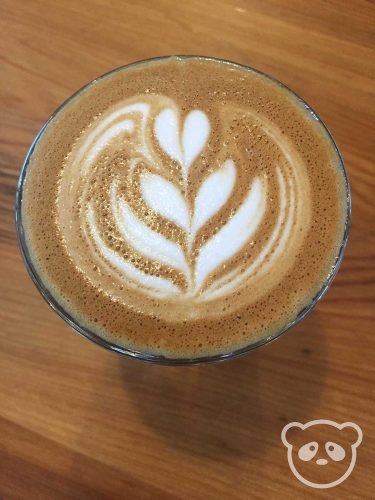 Rowster prides itself in serving small batch coffee roasted locally at their roastery on Stevens Street where they offer tours of the roastery and you can even learn about the roasting process. 
They serve a variety of coffee drinks from pour overs to espresso and even coffees on tap. For Instagram, we prefer their lattes, but their cortados and pour overs are also great. Their espresso drinks are rich in flavor and well worth the trip out of downtown!
For the adventurous, they also have a seasonal menu to try, though we'll admit we haven't gotten a chance to ourselves. 
Ferris Coffee
This one is more of an honorable mention because we haven't gotten a chance to try it yet but we've heard amazing things. Last time we tried to go to the downtown location, we discovered they were closed on Sundays.  
The cool thing about Ferris Coffee is they also serve alcohol! They advertise the Founders All Day IPA for $2 everyday and on Saturdays they have $6 mimosas from open until 2pm. They also have a happy hour menu offering discounts on beer, wine, cheese, and charcuterie. 
We were super excited to try their latte and cortado, and maybe some of that alcoholic drink menu, but that will have to wait until next time. 
Tea Trade Cafe
Tea Trade Cafe is yet another honorable mention, though for different reasons than Ferris Coffee. Tea Trade Cafe isn't technically located within the city of Grand Rapids, it is in nearby Wyoming, MI. 
So why exactly do we love this place? Well, we love their mission.
And that is the short answer. 
But really, Tea Trade Cafe is great because it is a non-profit coffee shop operated by Women At Risk (WAR). Women At Risk International is a non-profit organization that rescues vulnerable women who are at risk or survivors of human trafficking. 
Fun Fact: Every 20 cups of coffee sold at Tea Trade Cafe provide for one day in a safe house. 
The cafe provides on the job barista training to many of the people who work there so that they can gain learn skills and work towards gaining the confidence to seek other jobs and independence. 
Important Note: To protect their vulnerable and at risk employees, the cafe does not allow photos and cameras.
We tried their lattes and we were happy to support such a great cause!
PRO TIP: They also have a gift shop next door, so there are more ways than one to support Women At Risk!
Hope you've enjoyed this guide to coffee shops in Grand Rapids, Michigan! We're always excited to try new coffee places and will be adding to this list on our future trips back to Jimmy's hometown.