Want to see volcanoes in real life? There is literally no better place to see volcanoes and their aftermath than Hawai'i Volcanoes National Park. Spend a day at Hawaii Volcanoes National Park on the Big Island of Hawai'i and get a unique look into the beauty and destruction of Hawaii's Kīlauea. 
Over the years, the varying sites available for sightseeing within Hawai'i Volcanoes National Park has changed depending on the volcanic activity and destruction. 
For example, prior to the 2018 eruption of Halemaʻumaʻu, a pit crater within Kīlauea, you could easily see lava from its lava lake. Today, the lava lake has since drained and you can no longer see active lava. 
Since the eruption, Hawai'i Volcanoes National Park has gone through a lot of recovery efforts and many sights have reopened, while other remain closed or indefinitely closed. Please see their site for the latest information. 
Best Sights to See in One Day in Hawai'i Volcanoes National Park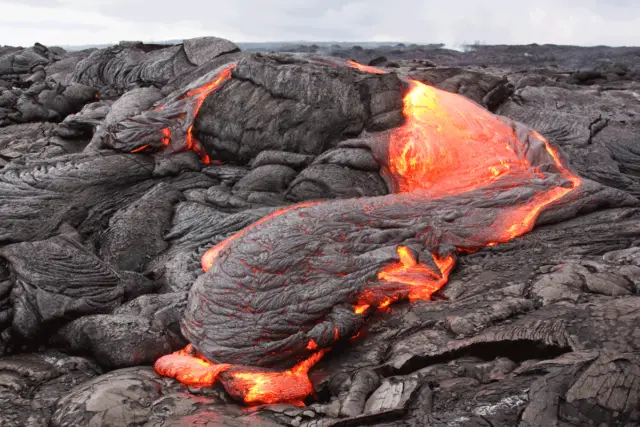 Active Lava Flow
Status: Unavailable
Like we mentioned earlier, during the eruption of 2018, there is no longer any active lava available for viewing since the lava lake drained. However in the past, you used to be able to see a glow from the lava within the crater. 
At some points in time, it was also possible to view lava flows from a boat offshore or even from the end or a hike away from Chain of Craters Road.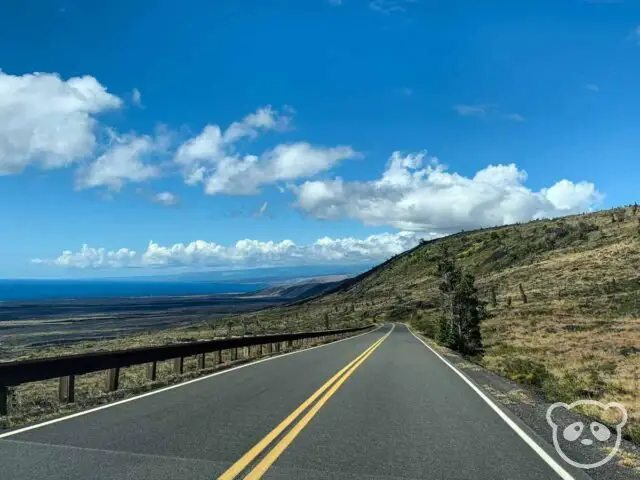 Chain of Craters Road Scenic Drive
Status: Open 
Chain of Craters is one of the most famous scenic drives in Hawai'i Volcanoes National Park. The 19-mile drive offers unique views of the park as well as a trip through history as you coast by all the various eruptions of the past. The start of the drive begins off of Crater Rim Drive passing by lava fields and craters before reaching the bright blue Pacific Ocean at the end of the island. 
Some of the lava fields you will pass by on the Chain of Craters Road are from 1969, 1971, and 1972 eruptions. 
PRO TIP: Stop at some of the lookouts for views of expansive lava fields and some of the many volcanic craters.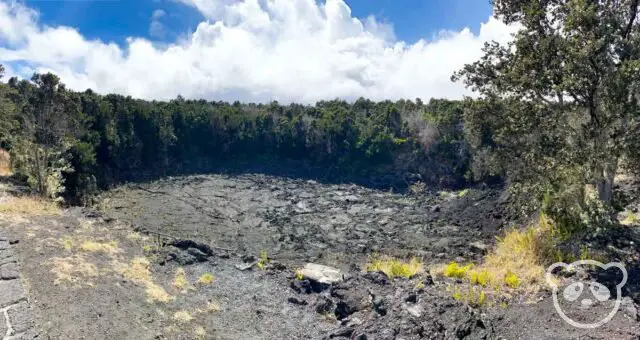 Chain of Craters Road gets its name from the many craters you will pass by along the road. Some of these craters include Luamanu Crater, Puhimau Crater, Mau Loa o Mauna Ulu, and Kealakomo. 
Some of the stops towards the end of the drive include Pu'u Loa Petroglyphs and Hōlei Sea Arch. There are also quite a few trailheads that start from this drive including Devastation Trail,  Hilini Pali Road, Nāpau Trail, Keauhou Trail, Nāulu Trail, and the Puna Coast Trail.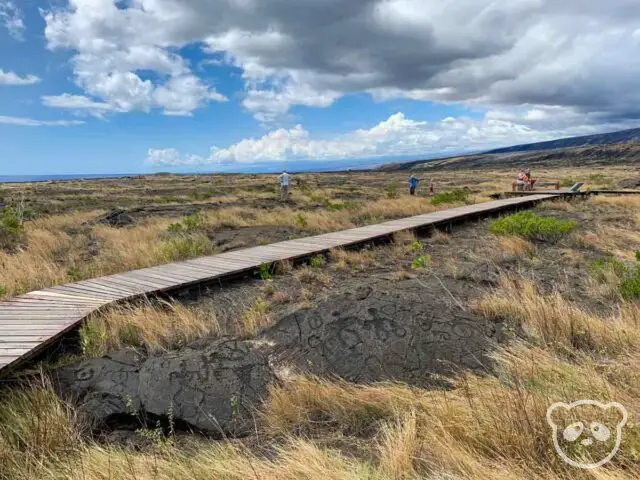 Pu'u Loa Petroglyphs
Status: Open 
This 0.7 mile one way hike becomes 1.4 miles total each way from the parking area to the petroglyphs and back. When it's warm and sunny this hike can seem like it takes forever as you explore the rocky lava fields in search of the petroglyphs. However when you find the Pu'u Loa Petroglyphs, it will all be worth it. 
At the end of the trail, you will find a wooden boardwalk trail where you can walk in between various petroglyph carvings and see them from above. You'll find rock carvings by ancient native Hawaiians in concentric circles, dots, and even images of people. 
PRO TIP: Hiking on lava fields in the open sun can be extremely hot and exhausting, remember to bring sunscreen and lots of water.
Hōlei Sea Arch
Status: Unavailable, closed. See Big Island Video News for more information. 
When we visited this trail was still open, however it has been closed due to cracks in the rock making the area unstable and the arch prone to falling into the ocean at any time.
This short trail is located at the southern part of Hawai'i Volcanoes National Park, at the very end of Chain of Craters Road and takes you to the edge of the Pacific Ocean where you can see the Hōlei Sea Arch from the viewing area. The sea arch is a natural rock formation that sits 90 feet above the Pacific Ocean and was created by marine erosion. 
Crater Rim Trail
Status: Most parts of the trail have been reopened post-2018 eruption, however some portions still remain closed. See nps.gov for more details. 
Prior to the 2018 eruption, the Crater Rim Trail spanned the entire circumference of the Kīlauea crater, however currently only half of the trail is open due to the damage resulting from the eruption and subsequent earthquakes. 
You can hike the Crater Rim Trail from the Visitors' Center to the Kīlauea Military Camp.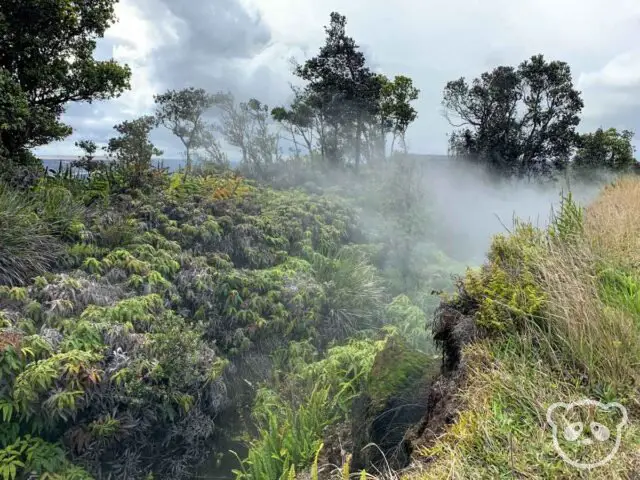 Steam Vents
Status: Open
Steam vents are usually a sign of geothermal and volcanic activity. Along Crater Rim Drive, you'll see a short trail leading around the steam vents and to a lookout point of Kīlauea. Here, you'll get a sense of the hot air and steam that gets pumped out from the volcanoes and even smell some of the sulfur gases that get released. 
From the steam vents, there is also a lookout point where you can get a great look into the crater and see the immense size of the crater. You can also get a sense of the destruction from the 2018 eruption and see where the crater collapsed. 
If You Have More Time
Kīlauea Iki Trail
Status: Reopen, for latest status please see nps.gov. 
One of the coolest things about this trail is getting to hike into a crater, who could say "no" to that experience?! You'll get the unique opportunity to walk from the lush rainforest into the solidified lava lake floor. 
Fun Fact:

Kīlauea Iki last erupted in 1959 into a height of 1,900 feet in the air. The vent is still visible and is located just below the Pu'u Pua'i cinder cone. 
The hike is considered moderate to challenging with steep elevation gains of 400 feet and can be between 4 miles to 7.7 miles depending on which trails you take. There are a few trailheads to this hike, you can opt to start from Kīlauea Iki Overlook, Devastation Trailhead, or Pu'u Pua'i. 
From Kīlauea Iki Overlook, the trail is a 4 mile loop and can take between 2 to 3 hours. From Devastation Trailhead, it is 6.7 miles round trip, expect this to take between 4 and 5 hours. This trail will also allow you to explore Byron Ledge, Kīlauea Iki loop, and Nāhuku Lava Tube. From Pu'u Pua'i, the trail is 7.7 miles round trip. 
Thurston Lava Tube (Nāhuku)
Status: Closed, due to current health conditions
Important Note: The lava tube is an "enter at your own risk" attraction with multiple possible hazards including rockfall, low ceilings, standing water, tripping hazards, and low or no light (the tube is lit between 8:00am and 8:00pm daily)."
This lava tube is one of the few publicly open lava tubes on the Big Island of Hawai'i and offers a look into the unique structures created by molten lava. 
Fun Fact:

When the lava tube was discovered in 1913, the roof of the tube was covered with lava drippings. However they soon disappeared due to visitors who became souvenir collectors. Please do not touch the walls or delicate tree root systems hanging down to preserve this resource. (

National Park Service

)
The hike is a quick 20-minute walk through the rainforest and into the lava tube. 
Sulfur Banks (Ha'akulamanu)
Status: Open
If you've been to Yellowstone National Park in Wyoming or Iceland's Hverir Geothermal Area, you might know what to expect from the sulfur banks of Hawai'i Volcanoes National Park. Along this 1.2 mile wooden boardwalk trail, you'll get to see geothermal pools with varying shades of red, yellows, and greens due to all of the sulfur and bacteria that thrive in these extreme environments. 
Important Note: You will definitely also smell sulfur gases which can make some people dizzy and lightheaded. If that happens to you, you should definitely make your way out of the area and get some fresh oxygen.
Kīlauea Overlook
Status: Now reopened
For the best view of the Kīlauea crater, you'll want to stop by this viewpoint. Prior to the 2018 eruption, you used to be able to see the glow from the lava within the crater night and day, however that is currently not possible since the lava drained.
How to Get to Hawai'i Volcanoes National Park 
Hawai'i Volcanoes National Park is located in the southwestern portion of the Big Island of Hawai'i near the town of Volcano along Hawaii Belt Road or Route 11. This thoroughfare is the main method of getting from Kona to Hilo and is one of the main roads that circle the island. 
From Kona, take Route 11 or Hawaii Belt Road east towards Hilo for 94 miles. This drive will take approximately 2 hours and 15 minutes. 
From Hilo, take Route 11 or Hawaii Belt Road west towards Kailua-Kona for 29 miles. The drive takes approximately 45 minutes to reach the Visitors Center. 
List of the Sights
Lava Flow
Chain of Craters Road Scenic Drive
Pu'u Loa Petroglyphs

Hōlei Sea Arch

Crater Rim Trail

Steam Vents
Map of the Sights