This post may contain affiliate links. If you click one of these links, we may receive a commission. We're grateful for your continued love of this site!
Kona, located on the western side of the Island of Hawaii (also known as the "Big Island"), is one of the most beautiful areas on the island. Three days is the perfect amount of time to take a quick but relaxing trip to the district of Kona. This guide will tell you about all the pretty places to see and where to get amazing local eats.
In Hawaiian, the word, "kona" means leeward or dry side of the island as opposed to "ko'olau" meaning windward or west side of the island.
Technically, Kona is a district, separated into North Kona and South Kona with the town of Kailua-Kona located in between the two. This guide will take you around the entirety of the Kona district, including some areas further north and south.
Ever since we've heard of Kona coffee, we'd been wanting to visit the Big Island of Hawaii. And it wasn't until we began doing all of our research that we realized there was so much more to the Big Island than Kona coffee and volcanoes. There are also so many native Hawaiian historical and sacred sights to see, as well as beautiful hikes and beaches! Not to mention the amazing eats both of the more traditional and modern Hawaiian variety.
Also please keep in mind that many of these historical sights are also sacred (kapu) to native Hawaiians, do not climb over the structures or otherwise vandalize their sacred grounds. 
This is our guide to spending 3 days in Kona, Hawaii, located on the western side of the Big Island!
Where to Stay in the Kailua-Kona Area
As we usually do, we stayed in a room with private bath slash in-law unit of an Airbnb. Due to the issues with Airbnb raising housing prices in Hawaii, we try to select places where the hosts actually live there. This time, we stayed in a room where the host's kids used to live.
But our friends stayed at the Holiday Inn Express & Suites Kailua Kona. The hotel offers great amenities such as free WiFi, a gym, parking, and an outdoor pool. The rooms are well-equipped with a microwave, coffee machine, toiletries, air conditioning, and a flat screen TV. The location is super convenient since you'll be steps away from some of the great recommendations we have on this itinerary! Book your stay with Holiday Inn Express & Suites Kailua Kona today!
Another great hotel is the Courtyard by Marriott King Kamehameha Kona Beach Hotel. This hotel also has an amazing location since it's right off of the main streets of Palani Road and Ali'i Drive. It is super close to many of the great places we've recommended within this itinerary, plus it has great restaurants on-site. In fact, our favorite shaved ice place, Ululani Shave Ice is located there! They also have a shopping mall within the hotel and the Island Breeze Luau occurs nightly on-site.
Courtyard by Marriott King Kamehameha Kona Beach Hotel offers a private beach area, outdoor pool, and parking. The rooms at the hotel have a balcony, refrigerator, coffee machine, air conditioner, and an in-room safe. You'll also have the option to choose whether you want an ocean view. Stay at Courtyard Marriott King Kamehameha Kona Beach Hotel on your trip!
DAY 1 – Explore the Kailua-Kona Area
First order of business always is to get some breakfast!
Kona Coffee & Tea
Since you're in Kona, how could you NOT get some of that amazing Kona coffee? Kona Coffee & Tea has got a great selection of coffee, including various espresso drinks with beautiful latte art!
Fun Fact: The 100% Kona coffee served at Kona Coffee & Tea is super fresh. Their farm, mill, and roastery are all located within a 10 mile radius of their cafe.
They also have unique pastries, like mango bread, and acai bowls that are a perfect way to start off your day!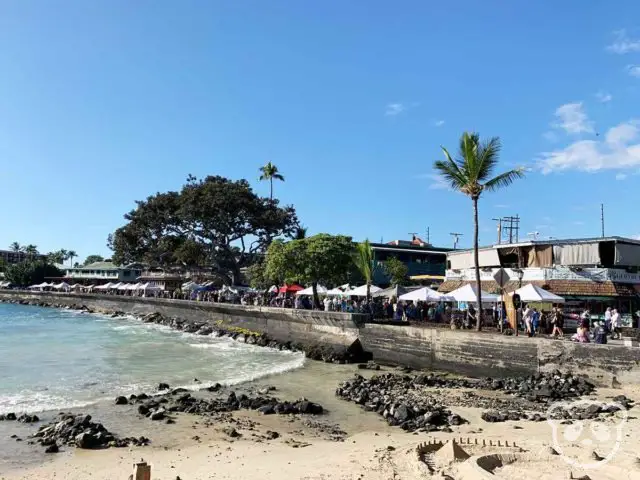 Explore Kailua-Kona's main street, Ali'i Drive
Ali'i Drive is the main thoroughfare in Kailua-Kona, basically any and every thing that's happening in town is most likely happening on this street.
The street takes you along the coast and will give you beautiful ocean views along with access to the beach, restaurants, local shops, and even the farmer's market.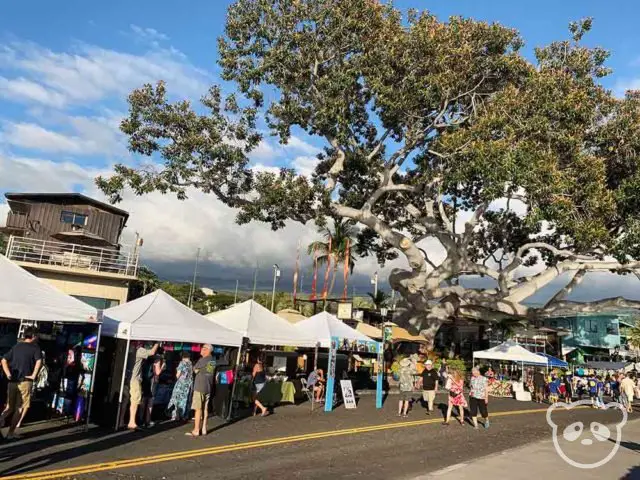 Kona Farmers' Market
The Kona Farmers' Market happens every Wednesday through Sunday from 4pm to 7pm. Here you'll find local arts and crafts, fresh food, flowers, Kona coffee, and more. The stalls are placed along Ali'i Drive and there are so many stalls to explore!
One of our favorite stalls was Hawaiian Village Sea Salt, they sold a variety of salts and dried herbs. They provide samples of the salts and allow you to try some before purchasing. They're also great for providing recommendations, we were specifically looking for a salt to make Kalua pork with, and they told us their Kiawe (mesquite) smoked salt was best for it. It tasted super good so we took their recommendation and brought it home with us.
Hulihe'e Palace
The Hulihe'e Palace was once the summer home for Hawaiian royalty and is also located smack dab in the middle of Ali'i Drive. The palace was home to more Hawaiian royalty than any other residence in Hawaii.
Fun Fact: The palace was built in 1838 from coral, lava rock, and native wood by John Adams Kuakini, the High Chief of the Island of Hawaii during the Kingdom of Hawaii.
During the time in which the palace was built, Hawaiian royalty was attempting to take to Western ways, including taking on Western names as well as in buildings and home furnishings.
The palace is open every day of the week and you can get entry with a small fee which helps to support the preservation of the property. It is closed on most holidays though, so check their schedule for updates.
PRO TIP: Free guided tours are offered with the cost of admission daily at 10am and 1pm.
Da Poke Shack
When in Hawaii, always gotta get poke! Amiright?! In all seriousness, you're on an island, it's gonna be some of the freshest seafood ever.
Da Poke Shack is the BEST place to get poke in Kona. The fish is so fresh you can taste it and they've got tons of options. Most of their pokes are ahi tuna or octopus (tako) so if you're not a fan of those you're out of luck. However Da Poke Shack has some of the best ahi tuna poke we've ever had so even if you don't love ahi tuna, you should really give it a try.
They have the option of getting a "poke bowl" (1 scoop of brown or white rice, 2 choices of poke, and 1 side of choice) OR a "poke plate" (2 scoops brown or white rice, 4 choices of poke, and 2 sides of choice).
We felt that the "poke plate" was basically 2 "poke bowls" so we ended up splitting one of those, plus that way we got to try more pokes!
They have super fun names for their different pokes! We got the Wet Hawaiian (kukui nut ahi tuna poke), Dynamite (avocado aioli tuna poke), Shack Special (sweet honey miso ahi tuna poke), and the Spicy Garlic Sesame (ahi tuna poke).
For our sides we got the Crab & Broccoli Salad and the Spicy Clams.
PRO TIP: Get there early, the lines get long and there isn't too much parking. Also once they run out they're closed!
Kaloko-Honokohau National Historical Park
Kaloko-Honokohau National Historical Park, also known as the Honokohau Settlement, is known for a few things — a couple of historic native Hawaiian fishponds, heiau ruins, petroglyphs, and a halau.
Fun Fact: The Aiʻopio Fishtrap is a 1.7 acre pond with a stone wall acting as an artificial enclosure surrounding the naturally curved shoreline of a bay. Within this wall, small openings would allow young fish to enter from the sea, but as they grew larger they were easily caught with nets.
Honokohau Beach is located within Honokohau Bay and is home to a halau right on the beach. It's the perfect respite on a hot, sunny day. At the end of the beach towards the southern end of the bay are heiau ruins, be sure to keep off since it is sacred territory, but it's so cool that it still exist in the area.
PRO TIP: This is a fun spot to check out the tidepools during low tide, you'll also get a chance to spot sea turtles (honu).
The Kaloko Honokohau petroglyphs are located along the Ala Mauka-Makai trail within the park. The petroglyphs are carved into lava rock in the lava fields between the coast and the Kaloko-Honokohau Visitors Center. A boardwalk path will take you around the various petroglyphs giving you more of an elevated view of them. They also have laminated guides that tell you more about the petroglyphs and what the figures are. In that sense, this petroglyph site was more "educational" since the others we went to did not have as much specific information.
Note that these petroglyphs have been unfortunately weathered and vandalized over time, please be mindful of native Hawaiian culture and do not add to the damage of the historical artifacts.
If you have time this is also a great place to explore a native Hawaiian fishpond, also known as the Aimakapa Fishpond, the Kaloko Fishpond, and the Ala Kahakai National Historical Trail which was once the trail of Hawaiian kings.
Pu'uhonua o Honaunau National Historical Park
Also known as "Place of Refuge," Pu'uhonua o Honaunau National Historical Park was one our favorite spots on the island of Hawaii. This picturesque and ceremonial spot is home to native Hawaiian artifacts as well as replicas of certain native Hawaiian historical buildings, including a heiau (Hawaiian temple), the ruins of the chief's house, and a boat shelter.
Fun Fact: Pu'uhonua, Hawaiian for "a place of refuge," was the place ancient Hawaiians would go to escape pursuers if they had broken sacred laws (kapu). The Pu'uhonua also protected defeated warriors and civilians during times of war.
The Hawaiian temple of Hale o Keawe was originally built in approximately 1650 AD as a burial site for the ruling monarch, basically King Kamehameha I's great grandfather. Today, the replica  exists on-site.
Fun Fact: The Hale once held the bones of 23 alii, or Hawaiian chiefs.
The Chief's House ruins are delineated by the Great Wall and its super cool to walk around within the ruins and see where chiefs and their families used to live. The ruins consist of what was believed to be at least four areas, including a men's house (mua), family house (hale noa), cooking shelter (hale kahumu), and women's eating house (ahale 'aina).
Pu'uhonua o Honaunau Park is also home to a Hālau Wa'a (thatched canoe shelter) as well as various artifacts throughout the Royal Grounds, including the prince's favorite spot, Hawaiian games, and wooden sculptures.
Ululani Shave Ice
Ululani Shave Ice is our favorite shave ice spot ever! We love their syrups since they are made from fresh fruit and are all natural. Their fruit ones are particularly good, our favorites include the calamansi (Filipino lime), lilikoi (passionfruit), guava, mango, and pineapple. We also love their coffee and matcha green tea syrups too.
You typically pick a size of your shave ice along with 3 syrup flavors. And if you want toppings or ice cream to go along with it you can add that too!
The best part about Ululani Shave Ice is that they have amazing preset shave ice to choose from too, so if you can't make up your mind, they'll have some amazing recommendations for you.
Fun Fact: Ululani Shave Ice is originally from Maui and sources their ice cream from Roselani's gourmet and premium ice cream which is also from Maui.
I got my usual — lilikoi (passionfruit), guava, and calamansi (Filipino lime) with vanilla macadamia nut ice cream in the middle. It's so delicious, I highly recommend getting it with the mac nut ice cream, they put a scoop in the middle and it makes the center of your shave ice more creamy.
Jimmy's experimented a bit with Ululani Shave Ice to figure out what flavors he preferred. His favorite is their "Rising Sun" preset menu with lychee, green tea, and almond syrups. He also got it with vanilla macadamia nut ice cream and mochi on top. It was super yummy! This would be the preset to get if you're not a huge fan of the fruity flavors. All of the flavors worked very well together since none of them were too overpowering.
It's also important to note that Jimmy doesn't usually like shave ice because it's just ice with sugary syrups, but he loves Ululani so that definitely means something!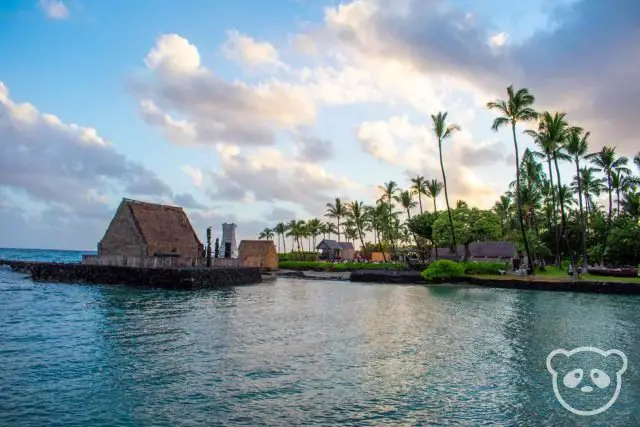 Kamakahonu National Historic Landmark
This landmark resides within the grounds of the King Kamehameha Hotel or what is now known as Courtyard by Marriott King Kamehameha's Kona Beach Hotel.
Fun Fact: This residential area was once a large compound, including on its grounds, the personal heiau of Kamehameha I, multiple thatched homes housing chiefs and women, an enclosing wall, Kamehameha I's personal retreat, work sheds, storehouses, and other buildings.
Much of the original structure was destroyed over the years however Kamakahonu National Historical Landmark now consists of several reconstructed buildings and structures and is best known as the residence of King Kamehameha I.
Fun Fact: Kamehameha I, also known as Kamehameha the Great, was a famous figure of Hawaiian history because he united the Hawaiian islands as the Kingdom of Hawaii.
Unfortunately it can be difficult to get a closer view of the structures as you can't go inside. You're only able to see the reconstructed heiau from outside.
But if you have tickets for the luau at the Courtyard by Marriott King Kamehameha's Kona Beach Hotel (also known as the Island Breeze Luau), you'll get to walk right by the landmark. The Kamakahonu National Historic Landmark is located right next to their performance platforms and imu.
Since we didn't have tickets, we admired the Kamehameha I's from Kamakahonu Beach and the Kailua Pier instead.
Kailua Pier
Kailua Pier is a great place for a stroll and (obviously a great place to see Kamakahonu National Historic Landmark. From here you can fish, or spot sea turtles and sunfish swimming around.
It's a great spot to chill out and relax by the water, or for the adventurous, various water-related excursions leave from this pier!
You can try submarine trips, sportfishing, parasailing or diving and snorkeling adventures. There are also kayak, surfboard, and paddleboard rentals available here as well.
We mainly just wanted to take a walk along the water, and see the sunset only to realize that the sunset view from here disappeared behind the Island Breeze Luau. So this is NOT the place to go to check out the sunset, haha.  
Kanaka Kava
For dinner, Kanaka Kava is a delicious spot! It's a casual outdoor restaurant that takes advantage of warm Hawaiian weather.
Fun Fact: Kanaka Kava was once featured on Season 28 of the hit Food Network show, "Diners, Drive Ins, and Dives."
Technically, the restaurant is more like a stall with some bar-style seating, but it's got great food. They're best known for their namesake item, kava, or 'awa in Hawaiian.
Fun Fact: Kava is a traditionally Polynesian drink brewed from the roots of the kava plant. It is usually consumed for its sedating and calming effects.
If there are specific things on the menu that you're interested in, be sure to get there early as they do run out! We wanted to try their poke, but unfortunately by the time we got there, they were gone.
We weren't super hungry so we split a Lau Lau Plate. We chose the chicken lau lau and got the Kalua pork and squid luau as our sides. The lau lau was super good, the chicken was very moist and the taro leaves were delish! The chicken added a lot of flavor to the taro leaves.
The squid luau was also amazing, the thin pieces of squid with taro leaves was so yummy. We'd definitely get that again. We found the Kalua pork to be okay, we thought it was a bit on the drier side and we've definitely had better Kalua pork.
DAY 2 – See Ancient Hawaiian Petroglyphs!
Even though we took you through a petroglyph spot the day before, that was just a sample, day 2 of our Kona itinerary is primarily dedicated to petroglyphs. We'll take you to the best places on the Big Island to see Hawaiian petroglyphs!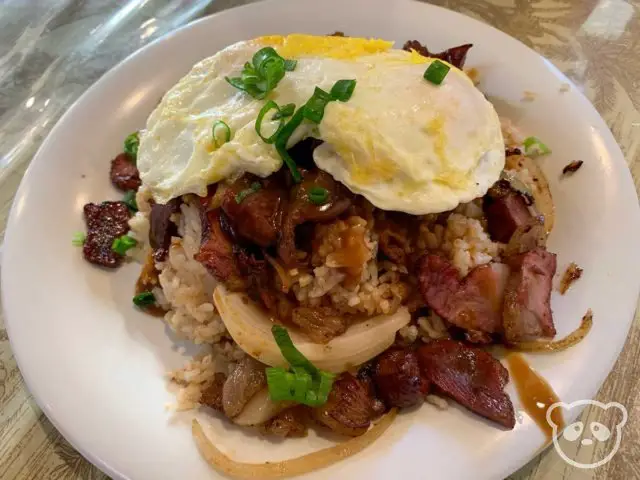 808 Grindz Cafe
Begin your day early with a Hawaiian breakfast from 808 Grindz Cafe. 808 Grindz Cafe is one of the best places in the Kailua-Kona area to get breakfast and it shows.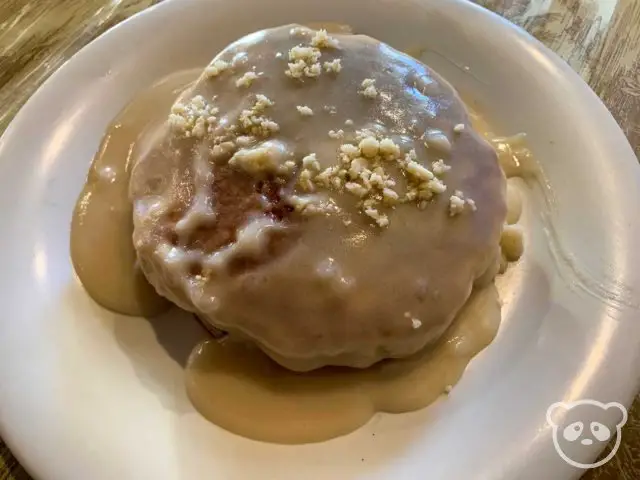 We split a short stack of the macadamia nut pancakes with macadamia nut vanilla sauce and smoked pork loco moco with garlic rice. Note that this loco moco was a special and may or may not be available during your visit.
Fun Fact: Though macadamia nuts are a Hawaiian staple, they are actually native to Australia.
It was a delicious start to our day and we'd definitely go back if we were craving a sweet and savory breakfast!
PRO TIP: Get to 808 Grindz early if you're planning to eat there. They get super packed and you might have to wait!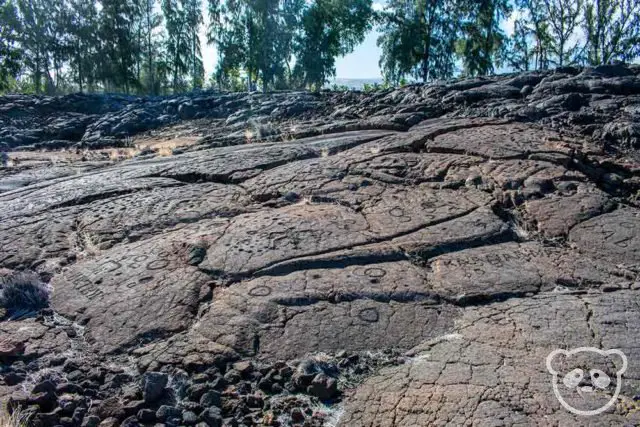 Waikoloa Petroglyph Field
Important Note: This trail is exposed to the sun, there is no cover. Keep in mind that you're walking on lava rock and as such the sun can get intense and feel much longer than it actually is. Don't forget your hats, sunscreen, and lots of water!
Hidden behind a shopping plaza next to a golf course is the Waikoloa Petroglyph Field. This wide expanse of lava consists of 7 distinct petroglyph clusters with wind shelters throughout the field.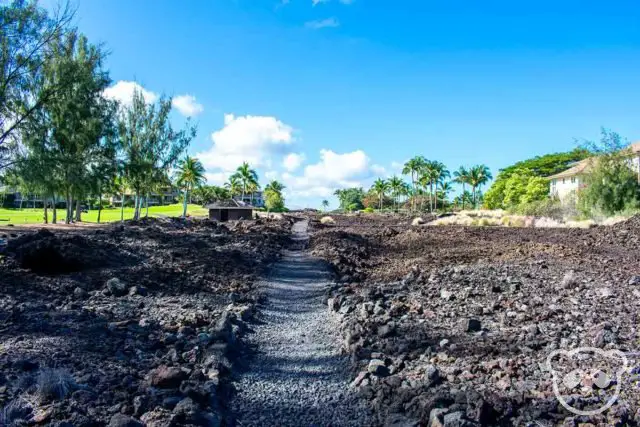 From the beginning of the trail, you'll walk along the Mamalahoa Trail (King's Trail) for 0.3 miles (0.48km) to reach the end of the Waikoloa Petroglyph Field. Starting from the parking lot of the Kings' Shops plaza, it'll be about 0.4 miles (0.64km) total.
Fun Fact: The Mamalahoa Trail used to be a long trail built for traveling on horseback. It once ran 32 miles (51.5km) between Puako and Kona.
It can be difficult to find the trail in certain areas, and we definitely got lost within the field. Definitely plan more time than you'll actually think you'll take here because chances are you will accidentally get off trail.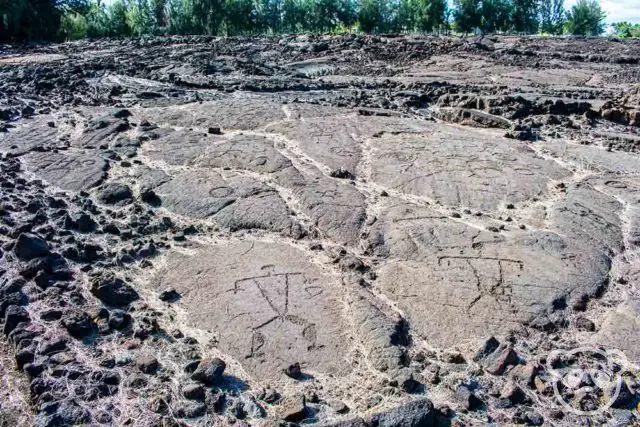 Note that these petroglyphs have been unfortunately weathered and vandalized over time, please be mindful of native Hawaiian culture and do not add to the damage of the historical artifacts.
Fun Fact: Many of the petroglyphs in Hawaii were made by ancient Hawaiians with a sharp stone used as a chisel or rubbing a blunt stone on the lava rock.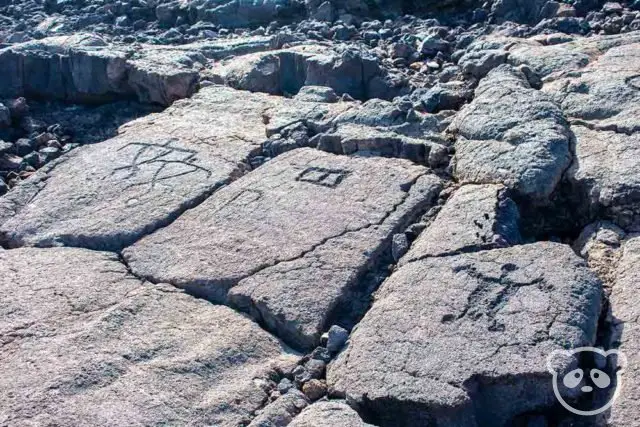 There are many cool petroglyphs here, including human figures, sea turtles, circular shapes, concentric circles, and more. There are also some carvings that resemble an alphabet of some sort that may be more modern etchings.
Don't forget to see the wind breaks and rock shelters, they provided ancient Hawaiians with protection from while waiting to cross old Hawaiian borders back in the day when Kona and Kohala were under the control of different chiefs.
PRO TIP: The terrain on this hike is not easy, there are a lot of lava rocks and the path is not paved. While we saw people wearing flip flops on this hike, they usually didn't make it all the way in to see every single petroglyph area. Close toed shoes are highly recommended and hiking boots are preferred.
Puako Petroglyph Archaeological Park
Important note again, remember to bring hat, sunscreen, and lots of water if you're attempting to hike this trail. Hiking over lava beds can get very hot and there isn't much cover after the beginning of the trail.
First things first, the Puako Petroglyph Archaeological Park was surprisingly difficult to find. But it's worth it once you do because you'll get to see an entire lava rock slab just chock full of petroglyphs.
Fun Fact: The Puako Petroglyph Archaeological Park is located within the Mauna Lani resort area, just drive in on Mauna Lani Drive and follow the signs to the Puako Petroglyphs.
The cool thing about this park is that there are two areas where you can see some petroglyphs. One is a short walk from the entrance to the trail and is definitely for those who don't want to make the long trek to the actual petroglyph area.
Take the Malama Trail for 456 feet (139 meters) to get to the first set of petroglyphs. This portion of the trail is paved and well marked.
These petroglyphs are very clear and beautifully preserved though they're clearly not in their original location. I would definitely recommend this as an option for seeing petroglyphs if you're in a wheelchair or not able to walk too much. It's the easiest way to get a glimpse of them on the Big Island, plus the pathway is paved!
For more petroglyphs continue through a forested area to an open area full of lava rock for a total of 0.75 miles (1.21km) to reach the lava rock slabs full of petroglyphs. There is even a raised platform at the end of the trail and a boardwalk where you can walk around the petroglyphs.
PRO TIP: We hear that the best time to visit Puako Petroglyphs is early in the morning or just before dusk since it isn't as hot and supposedly you get a better view of them during those times of day as well.
With that said, we visited closer to noon and we were still able to see them, so in our opinions, just do what's best for your schedule.
Puako Petroglyphs Archaeological Park was pretty amazing, there are so many petroglyphs here it's crazy. Many of the petroglyphs are human figures in various poses, including some that were shooting arrows.  
Da Fish House
Da Fish House is known for some of the freshest fish in the area! Not only is it a poke shop, but it's also a fish market. This means that you can grab food here for now or later.
We were mainly here for the poke since our Airbnb didn't include the use of a kitchen (so we weren't planning to get any fish for cooking). The poke here was amazing though so we'd definitely recommending getting at least that.
It's located off of the main highway in the Kohala area, Highway 270. It was the perfect spot for us to stop for lunch after our hikes.
We split the Fish Bento and the 2 option Poke Bowl. The fish bento consists of the fried fish of the day, 1 choice of poke, 1 choice of a side, and white or brown rice. The 2 option Poke Bowl came with 2 choices of poke, 1 choice of side, and white or brown rice.
For the Fish Bento, the fish of the day was mahi mahi so we got that along with the shoyu (soy sauce) ahi tuna poke and the taegu (spicy cuttlefish). The mahi mahi was delicious, they also made it in a panini press so it was more of a "pan fried" than actually deep frying and it was so good! We also loved the shoyu poke, it was super fresh and the taegu was very yummy.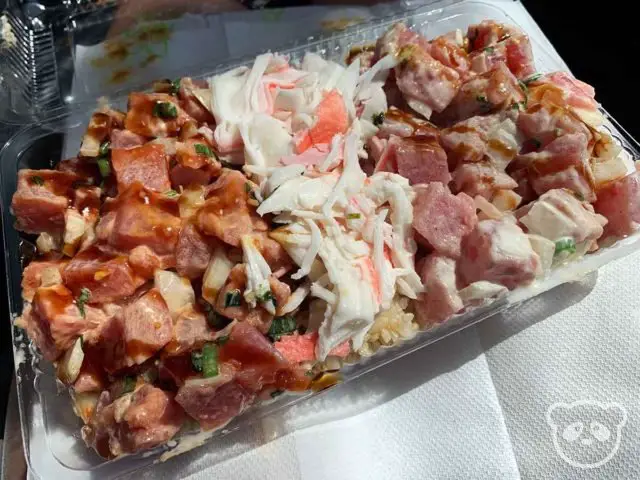 In our Poke Bowl, we chose the Sunrise and wasabi ahi tuna pokes. The Sunrise poke had a creamy mayo sriracha, onions, tomato, and unagi sauce. It was an interesting mix and we found it to be very good! The wasabi ahi tuna poke had an almond topping and it had a good amount of wasabi flavor. It was yummy! Jimmy doesn't usually like wasabi, but he loved it!
Most of their pokes are ahi tuna, but they also had a kimchee shrimp and kimchee tako (octopus), but when in Hawaii we usually prefer to get the ahi tuna pokes since the tuna is fresher than elsewhere.
They also have various Hawaiian Sun drinks and soft drinks in their fridge so if you're in need of a refreshment, grab one from there!
Unfortunately this spot doesn't have much seating since it's more of a grab and go kind of place, so we ended up eating in the car. They do have a single picnic table outside of the store though, if you're lucky you might be able to grab that one.
If you're staying at a lodging option that offers a kitchen, definitely check out their fresh fish! They have so many local options from monchong (sea bass) to opah (moonfish), ono (wahoo) and mahi (dorado). They're all super fresh so I would wanna try them if I got a chance.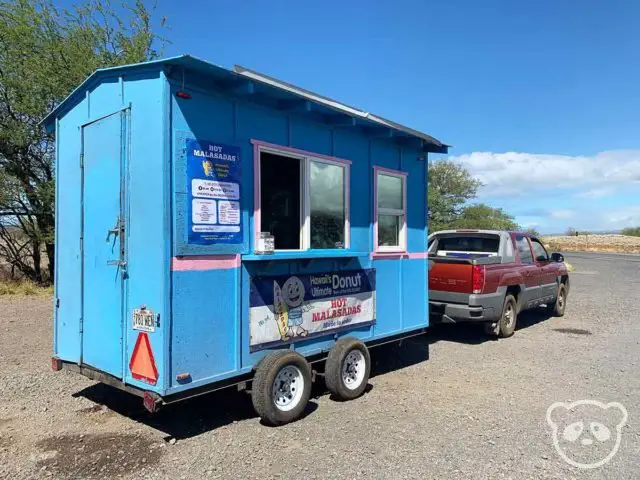 Manuela Malasada Company
Not only does Manuela Malasadas have the BEST malasadas in Waimea, they have the best malasadas on the Big Island, period! Skip Tex Drive-In and go here instead, seriously! We tried both and we were not impressed with Tex at all.
Manuela's has several options you can choose from, first you pick a quantity, then exterior sugar coating, and then the filling. Their exterior sugar coating options include plain (white sugar), cinnamon, li-hing (sweet & sour plum flavored sugar), powdered, and no sugar. The filling options are lilikoi (passion fruit), mango, haupia (coconut), guava, chocolate, peanut butter, Bavarian creme, strawberry, and peanut butter & chocolate.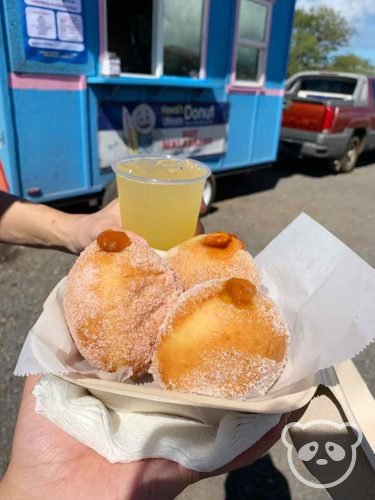 The cool thing is you can mix and match so we ordered 3 but with different options. We got a li-hing guava, cinnamon lilikoi, and mango plain sugar. They were SO good.
The fruity fillings tasted natural and the malasadas weren't overly doughy. It was the perfect balance between filling and donut, and this is coming from a girl who does not typically eat jelly donuts! THAT is how good they are!
Manuela Malasadas can be found in 2 different areas of Waimea. The one we went to is off of the Queen Ka'ahumanu Highway (Highway 19) but there is another location in Waimea proper in the KTA Supermarket Waimea Center. See TLDR Itinerary or the Map of the Sights sections for the addresses and information. 
Pu'ukohola Heiau National Historic Site
Pu'ukohola Heiau National Historic Site was one of the most important sites in Hawaiian history and was the last major Ancient Hawaiian temple built.
Fun Fact: The Pu'ukohola Heiau was built in 1791 under the advise of a kahuna (priest) who suggested building a luakini heiau (sacrificial temple) to gain favor with the god of war, Ku.
The temple was built entirely by hand without any mortar on top of an older temple using red stone brought from Pololu Valley. When it was completed it, Kamehameha I summoned his cousin Keōua Kuahuʻula to the temple where he was captured and killed. Using his cousin as the sacrifice, the heiau was officially dedicated.
Fun Fact: When the Pu'ukohola Heiau was completed, it measured 224 feet (68.28 meters) by 100 feet (30.48 meters).
Though the site is scared and protected so you can't get too close, it was really cool to see the temple. This area also offers amazing views of the Pacific Ocean, you can see until the horizon line because there's nothing other than the expanse of the Pacific in the distance.
Fun Fact: It is believed that building this heiau allowed Kamehameha I to unite all of the Hawaiian islands. In 1794, he won Maui, in 1795, Oahu at the Battle of Nu'uanu and Kaua'i in 1810.
PRO TIP: If you're visiting the Big Island between the months of November through May. Be sure to bring binoculars to Pu'ukohola Heiau! The visitors' center is a great place to spot the whales, especially during the months of January through March when its peak season.
Kiholo Bay
Important Note: This trail is exposed to the sun, there is no cover. Keep in mind that you're walking on dark sand and as such the sun can get intense. Don't forget your hats, sunscreen, and lots of water!
We're sharing some secrets here, this was one of our favorite hikes on the Big Island of Hawaii. Not that the other sites weren't pretty, but we loved the solitude and serenity of Kiholo Bay. This is partially due to the trek that it takes to get out here! But we'll walk you through that.
The hike is not easy, it is approximately 2.8 miles (4.51 km) in and back through rocky sand. For this reason, we recommend wearing hiking boots to protect your feet and ankles! We can't even begin to count the number of times we nearly twisted our ankles in the "sand."
The rocks also somehow make their way into your shoes, even we ended up with a few pebbles in our high-topped hiking boots, so we couldn't imagine hiking in gym shoes or worse yet, flip flops.
Along the way, you'll pass by some rich people's houses, including that of the creator of the pacemaker as well as a Bali themed house owned by the cofounder of Paul Mitchell hair products.
We visited just before sunset and we loved how it wasn't super crowded and we were practically the only ones there at the beach.
PRO TIP: If you visit near dusk, there might be honu (sea turtles) hanging out at Kiholo Bay!
Umeke's Fish Market Bar & Grill
For dinner, gorge on some grub at Umeke's Fish Market Bar & Grill. We were pretty hungry after our adventures of the day so we may have gotten a bit ambitious. Also the wait took us a bit to get seated which we understood but it didn't help our hunger!
We got the Makai Platter to share between the two of us and wow was it much more than we'd bargained for (not a bad thing though!). The Makai Platter consisted of ahu tuna katsu, sashimi duo, grilled Kauai shrimp, and 3 choices of poke. For our pokes, we got Da Avo, Hawaiian, and the poke of the day, which was the wasabi poke.
Da Avo consisted of local avocado chunks, onion, Hawaiian salt, and green onion tossed in the house avocado aioli. The Hawaiian consisted of a dry rub of inamona, onion, limu kohu (seaweed), green onion, Hawaiian salt, and red pepper flakes.
For vegetarians or vegans they also have a poke option for you! The Aina poke consists of avocado, purple sweet potato (ube), broccoli, onion, green onion, sesame oil, and ginger.
Because we were so hungry, we also ordered the Pulehu Beef which was grilled grass-fed beef finished with Hawaiian salt and green onion. It was cooked perfectly and was so delicious (or "ono" as locals say).
For dessert, we finished off with the ube flan cake, homemade ube cake with a layer of flan and coconut ube cream. It was so good, the perfect way to end our meal!
PRO TIP: Even though they have indoor AND outdoor seating, Umeke's gets super busy at night. Reservations are not accepted for parties under 6 people so get there early!
DAY 3 – Captain Cook & Beyond
Start off your day with a bomb acai bowl!
Basik Cafe
The acai bowls at Basik Cafe are SO good, we're kind of glad they also have a location in San Francisco now!
Seriously though, they're located just off of a busy stretch of Ali'i Drive, in a prime location in Kailua-Kona. Their offerings are simple, acai bowls and smoothies, all made with super fresh fruit. They have a variety of healthy ingredients in their items aside from fruit, including cashew milk, hemp milk, bee pollen, and cacao nibs.
Fun Fact: Even though acai bowls have become synonymous with Hawaii, they're actually originally from Brazil.
If a healthy breakfast is what you're after, this is a great stop! We got the Kilauea acai bowl which is basically a blend of mango juice and acai topped with granola, strawberries, goji berries, bee pollen, and honey. It also typically includes papaya, but since neither Jimmy or I actually like papaya, we told them to leave that off.
They were nice though to give us additional strawberries instead as to make up for the "no papaya" which we greatly appreciated.
PRO TIP: If you're sharing a acai bowl, we'd recommend getting a large. We got the normal size, but the large is basically a bucket. It's great for sharing!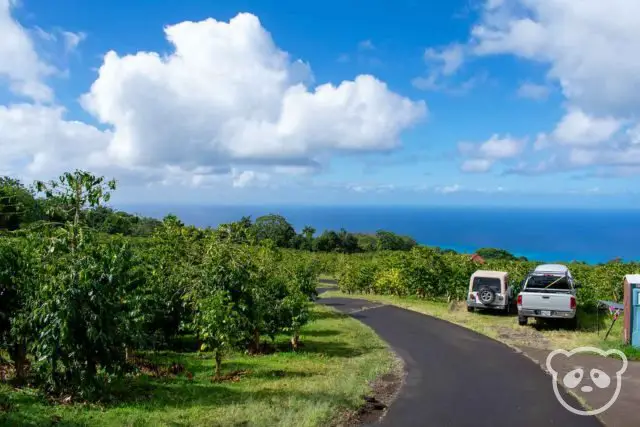 Heavenly Hawaiian Kona Coffee Farm
For the record, Jimmy and I both love coffee. If you've been following along on our adventures I'm sure you've been able to tell with our breakfast recommendations that constantly feature coffee options.
However, we're gonna HIGHLY RECOMMEND that you visit this farm even if you don't love coffee. Simply because THERE IS NOTHING IN THIS WORLD QUITE LIKE KONA COFFEE.
Seriously, we've had friends tell us they didn't want to come to this farm (because they didn't like coffee), come here on our recommendation. Then tell us they were so glad they visited because they loved it so much!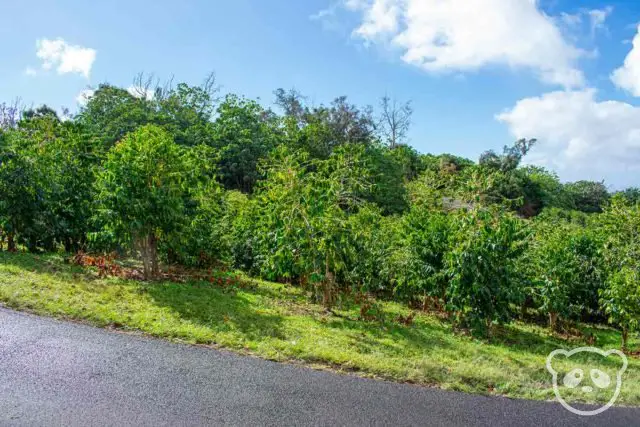 Fun Fact: Typically during the months of February and March is "Kona snow" season where white coffee flowers line the coffee plants on the island. It is called "Kona snow" because it looks like snow piled up on the plants. The flowers have a light scent reminiscent of Jasmine.
One of our favorite things about Heavenly Hawaiian Kona Coffee Farm is that they offer farm tours and coffee tastings for FREE! Could you beat that? Not only that, but their coffee is some of the best we've ever had.
"Kona Bold" has a ton of rich, bold coffee flavor. The fire roasted coffee was amazingly smoky,  with a super unique flavor to it. Their "Kona Silk" is OH SO SILKY. (Our friend's said it went down like butter… yes, those friends who didn't initially wanna go.)
They're open 9am to 4pm Mondays through Saturdays. Their first farm tours of the day begin at 9:15am and you can sign up on their website. They also offer a brewing workshop and you can even stay at the farm while you're visiting Kona!
But if you're really not feelin' the coffee, you can also try out their candy. They have delicious dark chocolate covered peaberry coffee beans as well as yummy Kona coffee brittles and orange dreamsicle covered macadamia nuts too.
We loved it so much we sometimes get the candies shipped to us in California!
Note: Even though the tours and tastings are technically "free," it is nice to buy something from them since they are locally owned and operated. Plus you learn SO much from the tour, it's definitely a great experience.
We'll be writing a full review of our experience soon so keep your eyes peeled for it!
South Kona Fruit Stand
SO MUCH FRUIT HERE! Enough said? Let me elaborate… The South Kona Fruit Stand has so much fruit, so many different types of varieties along with different ways to eat them all!
When we visited, we were looking for breadfruit ("ulu" in Hawaiian), but unfortunately we'd just missed the season. Instead, we settled for some other unique tropical fruits including abiu, snake fruit (salak), yellow dragon fruit (pitaya), soursop, eggfruit (canistel), kumquat, ugli fruit (Jamaican tangelo), starfruit, pink Eureka lemons, Meyer lemons, apple bananas, rambutan, and more! They even had giant avocados!
They also offer a selection of fresh smoothies, Kona coffee, pastries, and sandwiches. We stopped here to kill a bit of time (and get our grub on) before getting lunch so we only got some snacks.
We tried their Kona coffee (honestly not as good as Heavenly Hawaiian, for good reason), the #4 smoothie (pineapple, lilikoi, coconut milk, and apple juice), a slice of carrot cake, and a lilikoi (passionfruit) custard.
We loved the carrot cake because it was also made with pineapples and macadamia nuts, they brought a bit of "island flavor" to their carrot cake and it was more unique.
If you're a fan of dried fruits, such as mangoes, papaya, pineapple, and coconut, definitely stop here! They make it themselves to sell and they are SO much better than the prepackaged stuff!
PRO TIP: Try to get there early, they sometimes run out of the pastries if you get there late.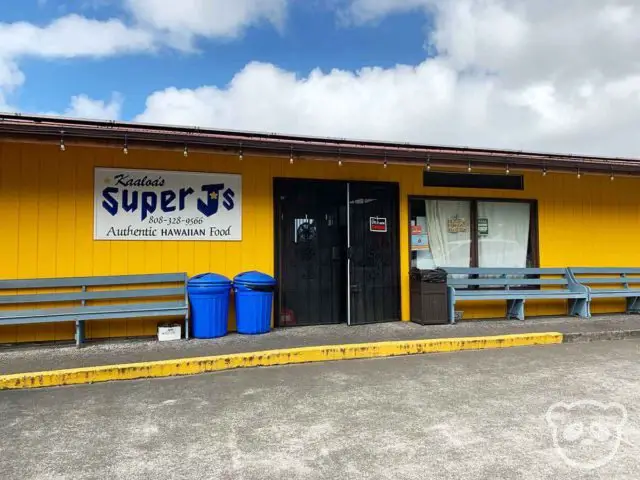 Kaaloa's Super J's
We'd be lying if we didn't say Kaaloa's Super J's was one of our favorite spots in the Kona area. Their food is SO good we're kind of surprised it's not super popular. It's a hole in the wall place with amazing Hawaiian food made and served by a Hawaiian lady and her mom.
Fun Fact: Laulau is a native Hawaiian dish consisting of pork wrapped in a luau leaf and placed in an imu for a few hours. Today, it is typically wrapped in taro leaves, steamed on the stove, and served with macaroni salad and rice.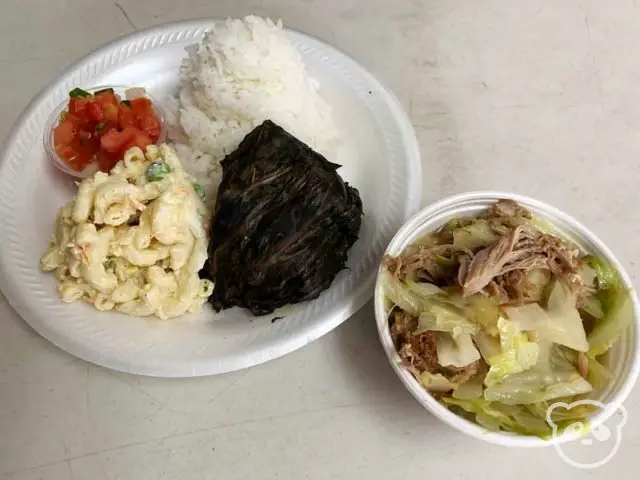 Originally, we weren't super hungry (because we snacked beforehand, lol, foodie problems) so we were only planning on splitting the combo plate which included a choice of laulau, Kalua pig with cabbage, mac & potato salad, lomi salmon, and rice. We had decided on getting the chicken laulau since the plate came with Kalua pork already.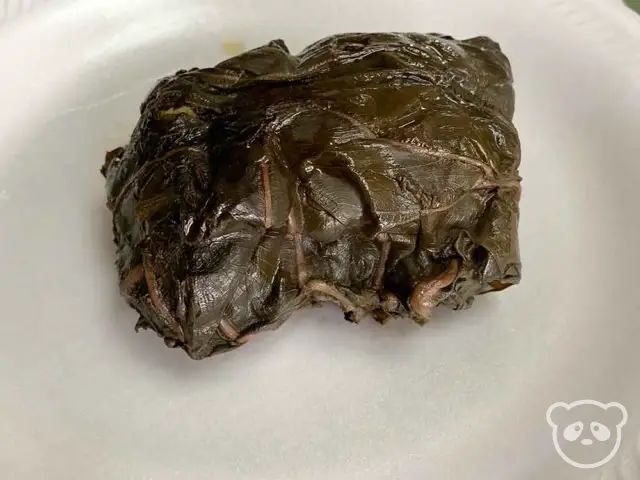 BUT, this is one huge BUT, the food was SO good, we decided we needed to try the pork laulau too. We got the a la carte version of the pork laulau. SO GOOD. NO REGRETS.
Both of the laulaus were cooked amazingly with super tender pieces of chicken and pork. The marinades used were super flavorful, making the taro leaves extra delicious. The Kalau pig had amazing flavor and was probably the best Kalua pork we had in the Kona area.
We also loved the macaroni and potato salad, originally we were expecting a choice of either of the salads or 2 scoops of macaroni and potato salads. But what we got was a mixture of both and it was super good! You definitely get a bit of the starchy potato mouthfeel when you bite into the salad, but we loved the combo. It was also a lot lighter than we expected.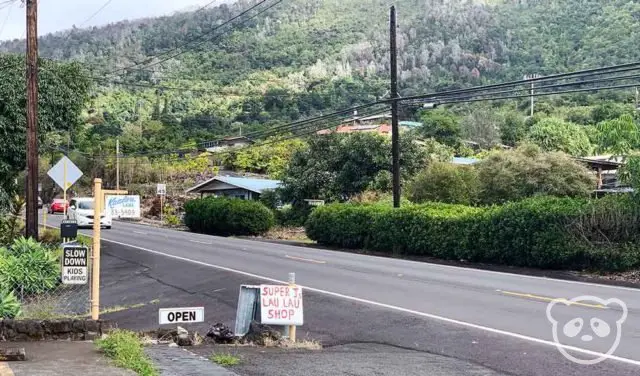 The place is no frills, but they're friendly and offer service with a smile. We heard a lot of people call in orders and get large platters as takeout so those are definitely options as well if you have a large group.
PRO TIP: There isn't too much seating, so get there early!
Papakōlea Green Sand Beach
Important Note: This trail is exposed to the sun, there is no cover. Keep in mind the sun can get intense and the hike can feel much longer than it actually is. This hike can also get dusty walking in the dirt alongside 4WD's, we'd recommend bringing a bandanna to cover your face.  Also don't forget your hats, sunscreen, and lots of water!
Why is Papakōlea Green Sand Beach green?
The green sand beach is "green" due to the remaining olivine particles from lava rock that eroded into sand. Olivine is known locally as "Hawaiian diamond" and can also be found in Oahu on Diamond Head Crater.
This hike is approximately 5.6 miles (9km) in and out (2.8 miles or 4.5 kilometers each way). For us, the hike took us about 45 to 60 minutes one way with the return being a bit faster since we knew where we were headed.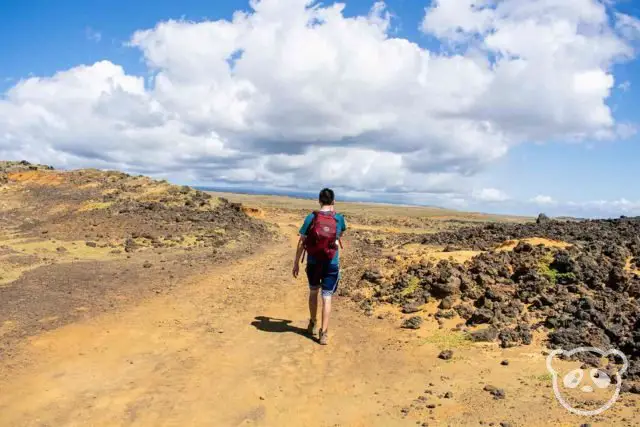 Fun Fact: Papakōlea Green Sand Beach is one of 4 green sand beaches in the world!
Remember to be prepared for this hike as it is pretty rugged, we saw plenty of people turn back because they were wearing flip flops and not shoes. At the very least, you'll need closed toed shoes, the path is not paved and there are lots of pebbles and rocks.
The trail also isn't super clearly marked so there are times where you may get a bit lost walking through the pasturelands. Definitely plan for extra time to allow yourself the time to get lost! We pretty much followed the trail along the coast and various 4WD pathways.
Fun Fact: The Papakōlea Green Sand Beach, also known as Mahana Bay, is located in a bay made up by Pu'u Mahana, a tuff ring formed 49,000 years ago by a Mauna Loa eruption.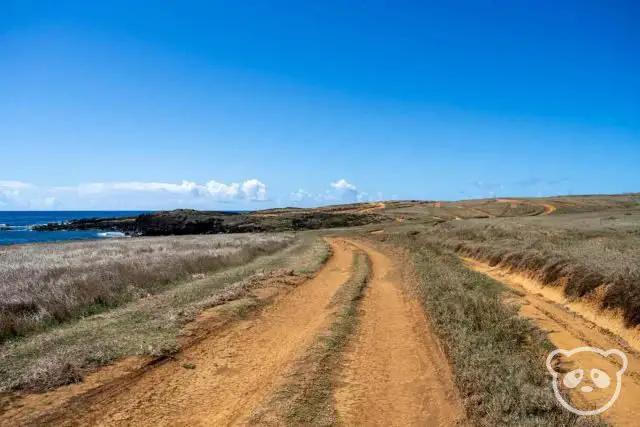 Locals will offer to take you from the parking lot to the green sand beach but we opted against it since you can definitely tell how much driving in the area has ruined the landscapes.
It may be a bit difficult to get there, but it's totally worth it to see one of the few green sand beaches in the world!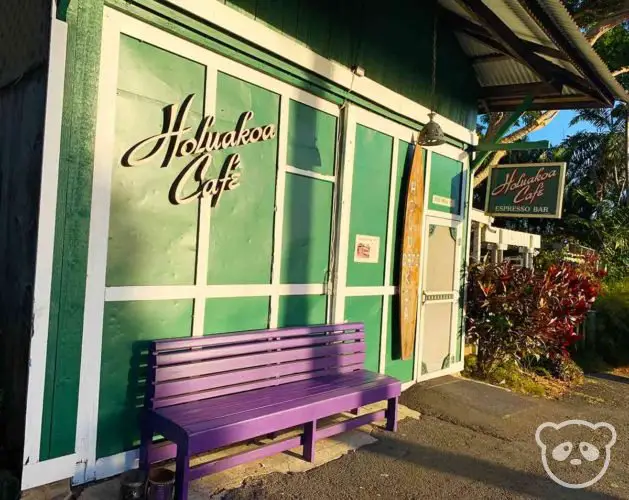 Holuakoa Gardens & Cafe
Holuakoa Gardens & Cafe is a cute farm-to-table restaurant located in the hills above Kailua-Kona. The produce and ingredients are all locally sourced from the island of Hawaii. For this reason, the sample menu offered online may not be available as it prepared based upon seasonal availability.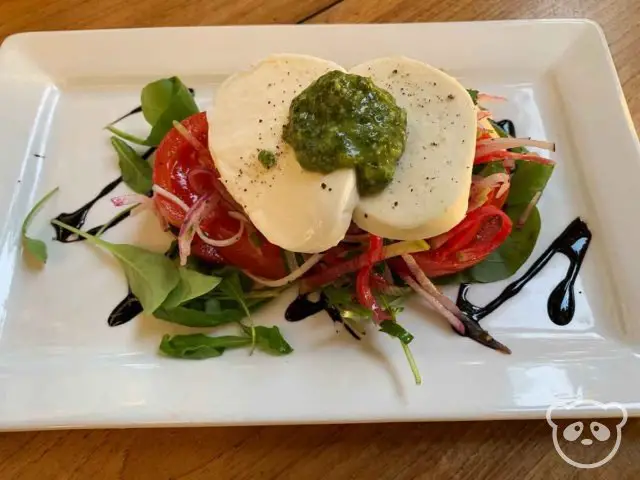 We ordered the nightly special caprese salad which included Lehualani greens, heirloom tomatoes, fresh mozzarella, macadamia nut pesto, and a balsamic reduction. The greens were from a local farm and were super fresh and we absolutely LOVED the mac nut pesto!
For our entrees, we shared the pan roasted fresh catch and the hand-crafted ulu gnocchi. The catch of the day was mahi mahi so we got that with parmesan & herb risotto, sauteed curly kale, shallots, snow peas, and a lemon Beurre Blanc. The mahi mahi tasted very fresh and the risotto was amazing. We loved the sauce with the veggies!
Since breadfruit (ulu) was technically out of season, this was the only way we were able to try some breadfruit, and try it we did! The ulu gnocchi was so delicious, the breadfruit added a bit of sweetness to the more starchy gnocchi. We loved that it came with Ali'i mushrooms, broccolini, heirloom tomatoes, and a brandy & parmesan cream sauce.
Our dinner was finished off with our delicious dessert, a yummy lilikoi (passionfruit) cheesecake with a graham cracker crust and lilikoi sauce. It was one of the best cheesecakes we've had since we typically find it to be a bit on the heavy side.  
Many of the items on the menu were more standard "American" fare, but we definitely tried to order things we wouldn't necessarily be able to order on the mainland.
Keep in mind, this is a "slow food" type of restaurant, no one is in a rush, and the food can sometimes come out slowly. Between our appetizer and our entrees, we waited about 1 hour.
PRO TIP: We recommend making reservations for Holuakoa, since they're a slow food establishment, they do begin turning people away earlier than you'd think. We saw several parties turned away once it got later since they didn't have a booking.
If You Have More Time
List of the Sights 
DAY 1 – Explore the Kailua-Kona Area
DAY 2 – See Ancient Hawaiian Petroglyphs!
DAY 3 – Captain Cook & Beyond
Map of the Sights
This map includes a list of all of the Sights to See, Restaurants as well as the routes by day (i.e. Day 1, Day 2, and Day 3) within specified layers.
By default, only the Sights to See and Restaurants are shown but you can select to view the daily routes. Use the slide out panel to select layers to toggle them on and off using the checkboxes.
The Kona area of the Big Island is so much more than delicious coffee and beaches, there is a lot of native Hawaiian history and hiking trails to explore all within 3 days.
Want to visit Kona, HI soon? Pin this post for later!