This post may contain affiliate links. If you click one of these links, we may receive a commission. We're grateful for your continued love of this site!
Everyone's heard of Amsterdam, but how many visitors to the Netherlands have actually heard of Leiden. Even though the quaint college town is only 30-40 minutes from Amsterdam, depending on which train you take, Leiden is one of the most underrated destinations in the Netherlands.
Fun Fact: Second only to Amsterdam, Leiden has the most bridges and canals in the Netherlands. There are 88 bridges and 28km (~17.4mi) worth of waterways in the city.  
Jimmy had a 3 week work trip there so we got to explore all it has to offer. Since we were there for awhile we opted to stay at an Airbnb so that we could get some of the comforts of home and do our own laundry. 
Fun Fact: Leiden University is the oldest university in the Netherlands. It was established in 1575 by William of Orange after the city's resistance from the siege of Spain.
Leiden has a reputation in Dutch history for being the main battlefield for various sieges and attacks. From the siege of 1420 to the Dutch revolt against the Spanish in the 1570s, it has given the city a unique history. If you visit in October, there is even a festival celebrating the end of the siege in 1575 (this was also the same siege for which the university was created). The citizens of Leiden and their ancestors got a lot out of that revolt!
For a smaller, less-populated city, Leiden's got its share of museums and cool things to do. Dare I say, it might even rival that of Amsterdam? The best part is that because the city is smaller than Amsterdam it's super easy to explore on your own. But a walking tour of Leiden is also available. It is different from Amsterdam though, it's got a smaller town vibe and feels more chill. I'd highly recommend just strolling and moseying around the city for a bit of R&R (rest and relaxation).
These are our top picks to explore for a 2 day detailed itinerary for Leiden, including hotel recommendations, things to do, and what to eat!
Where to Stay in Leiden, Netherlands
Leiden is a peaceful city located near Amsterdam so as easily as you can take a day trip to Leiden from Amsterdam, I'd highly recommend you stay a night or two to explore the city. And for this reason, it was perfect for our A Weekend Away series.
Jimmy has been to Leiden a few times for work so we've got a compilation of the best places to stay in Leiden with amazing amenities. Usually his work sends him to the Golden Tulip Leiden Centre, it's one of the comfiest places to stay and it's super close to the Leiden Centraal train station as well as the Leiden City Center. As far as amenities go, it is a 4-star hotel so they have free wifi, a gym and a pool, a business center, and restaurants on-site. You can even bring your pet, but that may be an additional charge. Book your stay at the Golden Tulip Leiden Centre now!
Golden Tulip has 2 properties that share a lobby and the same amenities. There's also a more budget-friendly option, the 3-star Tulip Inn. So if you love hotel amenities, it'll definitely be worth it for you to book a room at Tulip Inn!
PRO TIP: The Restaurant Reubens at
Golden Tulip
has an amazing breakfast buffet. It's not the cheapest, but Jimmy highly recommends it.
Our other recommended hotel (courtesy of his work, lol) is the Holiday Inn Leiden. It is located a little bit further from the city center but it's still a great spot to stay. On the weekdays they offer a free shuttle that will take you to Leiden Centraal station, otherwise it's a 1.4mi or 2.2km walk to the station or you can take several buses to get there (30, 31, 37, 38, or 43). The rooms are simple with a double bed, desk, a water boiler for tea, and a coffee maker. They also offer free wifi, gym, and an indoor pool. Learn more about staying at the Holiday Inn Leiden.
Day 1 – Leiden City Center & Leiden Street Market

Start off your day with a quick coffee from Borgman & Borgman. Their located along one of the main streets so they're convenient AND they have delicious coffee. We got a flat white and a latte. They also gave us a little biscotti which was a nice touch. Their pastries are yummy too!   
After having our morning pick-me-up, we began exploring the historic city center.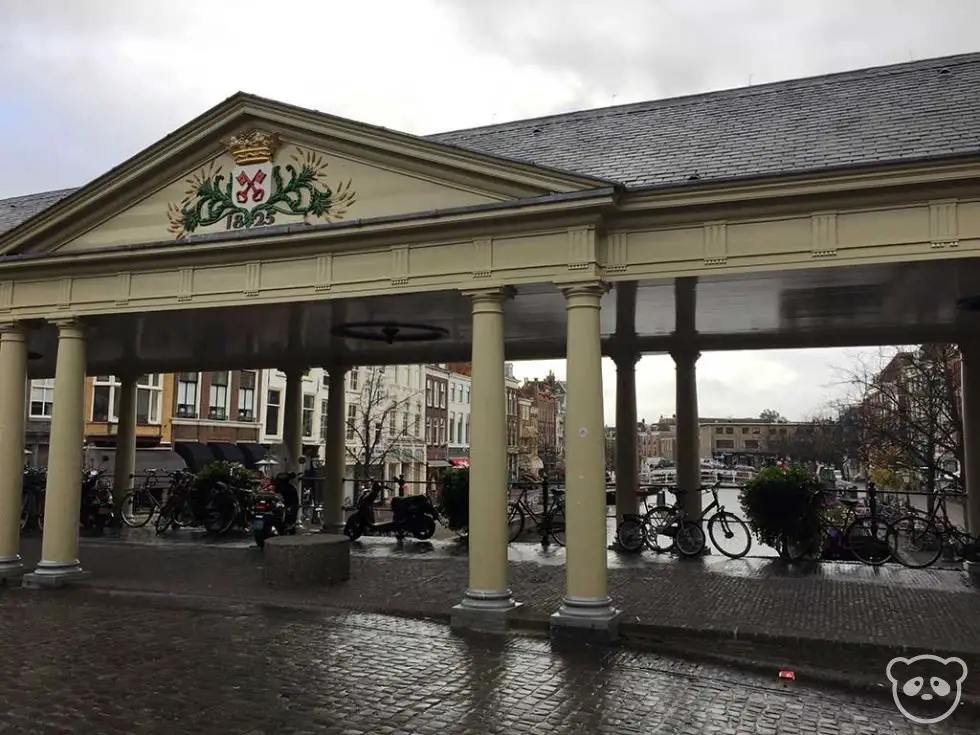 Leiden City Center
Technically, the entire area surrounding the moat (or large canal) is within the original city center, where the city walls once stood. See map at the end of the post for more detail.
For the purposes of exploring Leiden, we will be discussing the city center as the primary location for many of the sights as well as the center of the action in this guide to Leiden. See map at the end of the post for more detail.
The historic city center is one of the cutest parts of the city with gorgeous architecture. Many of the sights you'll be wanting to visit are located within this general area.
We'll go through all of the spots one-by-one so you don't miss a beat!
Fun Fact: Leiden has one of the most intact moat fortifications in Europe. The outer canal was dug in the 17th century and the historic city center is protected by a 6km (~3.7mi) long moat.
First things first, while we know if you're following this Leiden 2 day itinerary step-by-step you will have literally JUST eaten breakfast, but because you might be walking by these market stalls I wanted to make sure I discuss it so you guys know what's going on. 🙂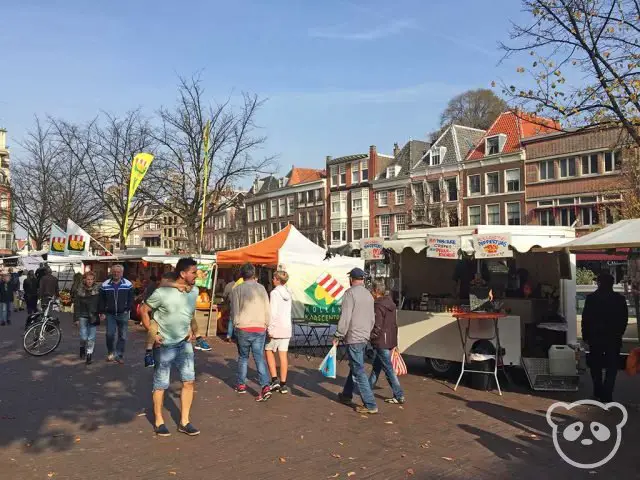 Leiden Street Market (Wednesdays & Saturdays only)
On Wednesdays and Saturdays from 8am to 5pm, Leiden has an amazing street market full of stalls selling produce, groceries, and some knick knacks. But, in my opinion, the best part of the street markets is the food! I totally pigged out at the street market at least once a week when we were living in Leiden!
The Leiden Street Market is centered around Aalmarkt, Vismarkt, and Nieuwe Rijn streets. If I were you, I'd plan my trip around the street market because it's totally worth seeing, plus it's a cheap meal!
PRO TIP: Expect the Wednesday market to be much smaller than the Saturday market on the weekend since majority of the residents are working outside of Leiden. For this reason, some stalls might be in different locations on Saturday vs. Wednesday.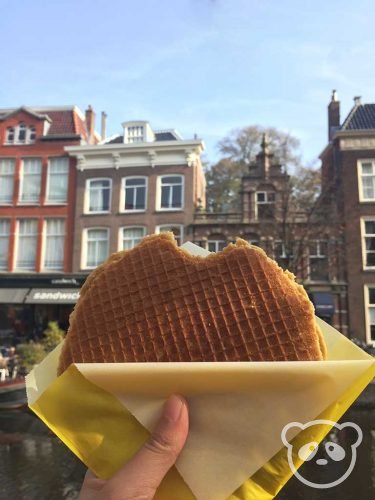 I usually came around here for brunch/lunch and I'd always get the poffertjes (Dutch mini pancakes), stroopwafels (sticky syrup sandwiched between 2 thin waffles), and Dutch haring (lightly pickled herring).
All the people on Tripadvisor said that Tony Vergunst's stroopwafel was the best. But I beg to differ since they premake all of their stroopwafels and just keep them under a heated lamp. After sampling stroopwafels throughout the Netherlands, in Leiden, I prefer Fijne Stroopwafels. They would always make mine fresh for me! Sure I had to wait a little, but I don't mind… it tasted so much better and less dry!
As far as poffertjes and haring goes, I don't really have a preference. If I remember correctly, there was only one stall with poffertjes and haring is haring, if it's fresh it's good haring.
I found that the haring at the street market was cheaper, but they never had pickles. The fish stall by the Leiden Centraal train station would always have pickles and it would cost a little more so you can pick your poison, haha. Personally, I preferred my haring with pickles so I didn't mind paying more for it, but I loved the haring, period, so haring is haring!
PRO TIP: If Dutch haring isn't really your thing, try kibbeling instead. It's a fried, battered cod served with mayonnaise. It is very similar to the fish in British fish and chips.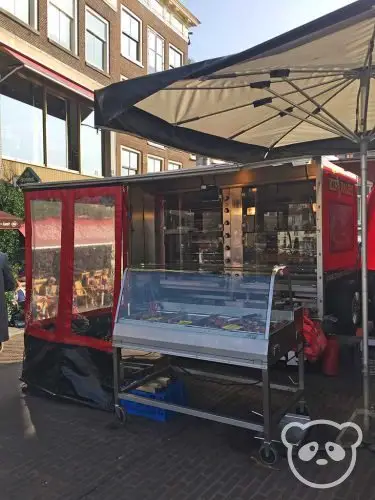 Also if you're Jonesing for some chicken, the rotisserie chicken truck has REALLY good chicken. It's surprisingly good even though it's just cooked from a truck. It's perfectly cooked and seasoned, the meat isn't too dry. I couldn't eat all that food on my own so one afternoon I actually grabbed some to-go for dinner later that night.
PRO TIP: Even though the market doesn't technically close until 5pm, stalls start closing up earlier than that. If you catch the rotisserie chicken truck at the right time, probably around 2pm or so, basically just before they pack up and leave, they may even throw in an extra chicken wing or drumstick with your order! Experiences may differ though, so extra food isn't guaranteed! 😉
Burg Poort
On your way to the Burcht van Leiden you'll pass through Burg Poort. It's the southernmost gate to the Burch van Leiden and is beautifully ornamented with a lion wielding a sword at the top. Once you pass through the gate, you enter into an older part of the city with narrow alleys.
If you head further inwards down Burgsteeg, you'll reach the stairwell that takes you up to Burcht van Leiden.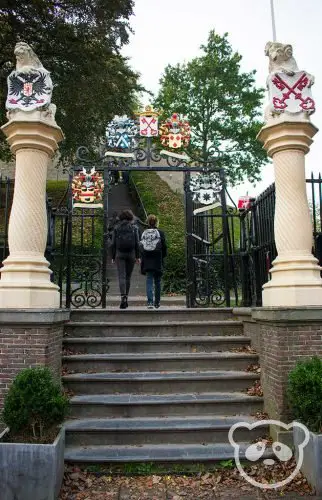 Burcht van Leiden (Castle of Leiden)
At the base of Burcht van Leiden is an iron gate with colorfully painted coat of arms, including the Leiden coat of arms.
Parts of the castle were built in the 9th and 10th century and the city of Leiden was built around the castle and its respective hill. It is also one of the oldest surviving castles in the Netherlands. Today, it's a public park where people can relax and take a stroll.
My favorite part of the castle is climbing up onto the ramparts for great views of Leiden, you can see the tops of most of the buildings, the churches, and windmills. Best of all, it's FREE!!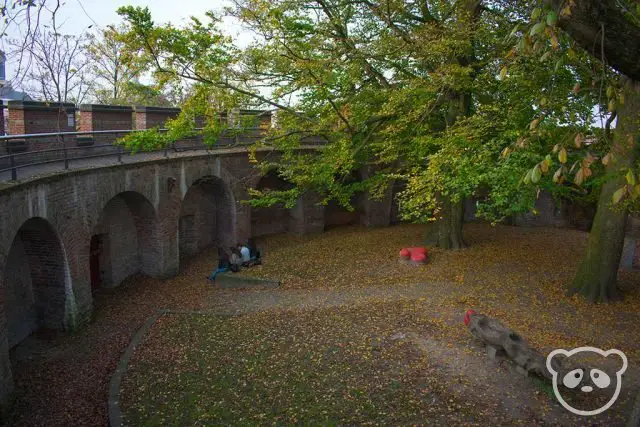 The courtyard at the base of Burcht van Leiden also has a cafe so if you're feeling peckish, it's a great spot to grab a bite or a coffee.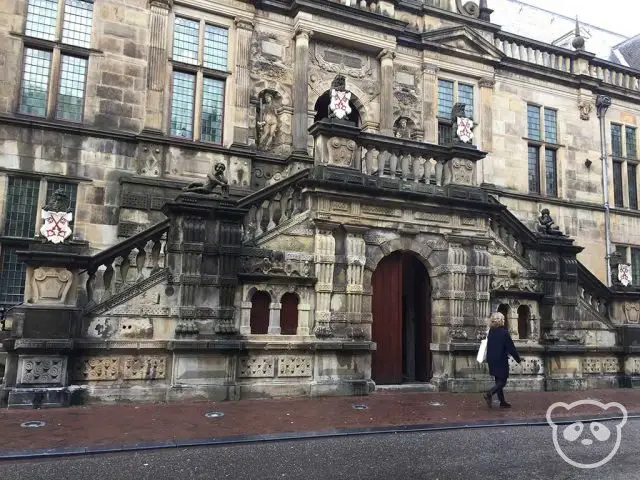 Leiden City Hall (Stadhuis van Leiden)
The city hall was originally built in 1600, but in 1929, a fire destroyed the majority of the building. The facade along Breestraat was the only piece that remained and the rest of the building was rebuilt in 1940.
Because it was reconstructed, the building has its own unique, mixed-up flavor. You can enter the lobby, inside there is a Dutch exhibit about the siege of Leiden in the 1570s. The exhibit is shown in a sketch style, similar to newspaper coming drawings. You'll see a lot of exhibits in this style in Amsterdam namely at the Our Lord in the Attic and the Amsterdam Museums. There is also cool artwork showing different artists' takes on the Leiden city keys.
Shop Along Harlemmerstraat
Next, explore the shops along Harlemmerstraat. This is a great area for souvenir shopping as well as clothing and snacks. There are lots of different types of restaurants and stores here, even a Pull & Bear.
PRO TIP: Typically Dutch shops close fairly early, around 6pm, but on Thursdays they stay open til 9pm. Locals call this "shopping day."
One of my favorite shops is the Van Delft pepernoten store! These make great edible souvenirs because they're yummy and you don't really see them outside of the Netherlands. They have my favorite Dutch cookies! Yes, I know the plain ones look like dog food kibbles, but they are SO good. They are similar to gingerbread but less ginger spice and more nutmeg and cinnamon. You can also get covered, candied versions in various flavors. Some of my favorites were blueberry, lemon cheesecake, and yogurt. I totally wanted to buy up the entire store but I had to stop myself! Important note: Pepernoten or kruidnoten is more of a holiday/Christmas thing so you might not be able to find it outside of the months of September through December.
Explore the Canals
You can't visit a Dutch city without seeing the canals, especially not a city that's only second to Amsterdam in canal count!
I loved walking around the canals in Leiden. On street market days, I'll admit it gets a bit tough since the market brings in a lot of traffic and people, it's definitely less relaxing. It's a trade-off though right? You get delicious foods with the market.
Some of my favorite canals were Oude Vest, Oude Rijn, and Nieuwe Rijn. They're some of the most charming streets in the city. At night, they're also beautiful and quiet, great for a post-dinner stroll.
You can also take a canal boat tour to get the lay of the land or to see more of the city. We stayed there for a few weeks so we opted to skip the boat tour and do one in Amsterdam instead. The tours in Leiden are cheaper, costing only €10 for adults for a 50 minute cruise.
Leiden City Gates
While I know that other Dutch cities, such as Haarlem, Delft, and Amsterdam also have gates, the city gates of Leiden are some of the coolest. There are so many in such a small, easily walkable area!
Fun Fact: Leiden is also known as "The City of Keys" because there are two keys depicted on its coat of arms.
The city of Leiden originally had 8 gates surrounding the city. Today only 2 of them remain, the Zijlpoort and Morspoort.
Zijlpoort is the largest remaining gate and is located at the eastern part of town. The Zijlpoortbrug leads travelers to the gate.
Morspoort is located in the western part of Leiden and has a more unique red and white striped pattern. It is also located next to Molen de Put, an old windmill.
Another gate located close to Morspoort is the Doelenpoort. Like the Burg Poort by Burcht van Leiden, Doelenpoort is a smaller gate. It is white and features a person riding a horse at the top.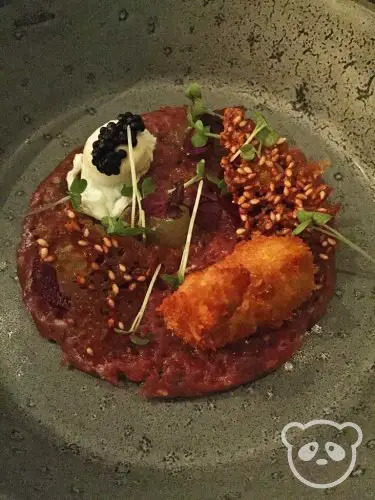 Doelenpoort is also near one of our favorite restaurants in Leiden, Restaurant La Diva. This is our top dinner recommendation because they have amazing Dutch-French fusion food.
It was so highly recommended by Jimmy's Dutch coworkers that we ended up having a large business dinner here. So yes, this spot probably isn't the cheapest, but it's delicious! I'm assuming it's not budget-friendly… I actually have no clue since they booked a group menu so I didn't even see any price tags, lol.
On the French side of things, we had a beef tartare. As a more fusiony dish, we also had a pheasant bitterbollen. A bitterbollen is a Dutch fried meatball typically using beef and veal. The pheasant different and we appreciated the chef's creativity, plus it was delicious! And for another dish we got another interesting take on a Dutch kroket.
They pride themselves upon creating dishes with fresh ingredients so the menu may differ depending upon the time of visit.
Day 2 – Leiden's Windmills & Museum
After splurging for dinner last night, grab Lebkov & Sons for a budget-friendly breakfast. Grab a coffee and a pastry to start your day! If you're feeling hungrier they also sell salads, fruit cups, and sandwiches.
Important Note: You'll need to walk through the train station to get from Lebkov & Sons to the Leiden city center. If you have a Netherlands transportation card (ov-chipkaart) with a balance, you can tap in and out to walk through. You will NOT get charged, if you tap back out within 60 minutes. If you're using individual tickets in a pay as you go method. Go to the ticket machine and get a Station Passagepas. This FREE pass will permit you to get through the station with a 60-min grace period to enter and exit the station. You may repeat this "purchase" of the Station Passagepas as needed.
Spoiler alert: It was the first windmill I saw in the Netherlands from outside, but it was NOT the first one I'd been in.
I was super excited to visit this windmill because it still milled flour! The other windmills I saw were at Kinderdijk where they were responsible for removing water from the land.
Fun Fact: Built in 1743, Molen de Valk is the last windmill in the Netherlands that still grinds flour. You can even still buy their freshly ground whole wheat flour!
In my opinion, it was cool to learn about the history of the windmill and it's importance to the city of Leiden. I also liked that I was able to explore throughout the entire windmill and even walk on the stage outside!
PRO TIP: Audio guides are provided and you can even watch a movie narrated in English with the guide!
I also loved learning how the windmills worked to grind flour and how the millers lived inside the windmill. Plus the views of Leiden from the stage outside are also really nice! For €4 admission could you really go wrong?
This was the other windmill located in Leiden. Initially I'd wanted to visit this one because it looked different from most other windmills.
But aesthetics aside, it wasn't like Molen de Valk because Molen de Put was originally built in 1619, demolished, then rebuilt in 1985.
The windmill isn't open daily, so we didn't actually get to go inside and explore though it looks quite a bit smaller than Molen de Valk. It's usually open on Saturday but since it's operated by volunteers, hours are not guaranteed.
Even so Molen de Put is super photogenic and makes for a great photo-op if they're not open for touring.
Rembrandtplaats
Located just south of Molen de Put is a plaza named after Rembrandt. It's a cute spot with dedications to Rembrandt. You can even see a portrait of him on the side of a house and there's a sculpture of him with an easel!
Fun Fact: Several famous Dutch artists were from Leiden, including Rembrandt van Rijn, Jan Steen, Gerrit Dou, and Frans van Mieris the Elder. All of them were born in Leiden, worked here, and died here, with the exception of Rembrandt who passed away in

Amsterdam

.  
From here you can also see great views of Molen de Put. Nearby there Rembrandtpark though it primarily consists of a large grassy area. Personally I preferred Rembrandtplaats to Rembrandtpark.
These pancakes are BOMB! So you know how everyone goes to Amsterdam and puts Pancakes Amsterdam on their list of must-haves? Well I'm about to debunk that because the pancakes here are SO MUCH BETTER!
After having this a couple of times, Pancakes Amsterdam totally feels like a tourist trap to me now.
So what's the fuss about these Dutch pancakes? Well for starters they're different from the American ones, American ones are more fluffy and doughy. The Dutch version is more like a happy medium between the American style and French crepes. They're nowhere near as thin and crispy as the crepes but they're still super yummy.
We've gotten the smoked salmon pancake, poached pear pancake (seasonal), and bacon & cheese pancake. They are all oh-so-delicious! I wish we could've tried all of their menu.
Their portions are on the larger side so make sure you show up hungry! The giant pancakes are served on huge Delft blue plates. It was fun for us to see what Dutch images were depicted on our plates, it was a surprise for us when we finished our plate.
Now for what NOT to get, skip the poffertjes, you'll find better ones at the street market.
The next stop is one of the most popular museums in Leiden.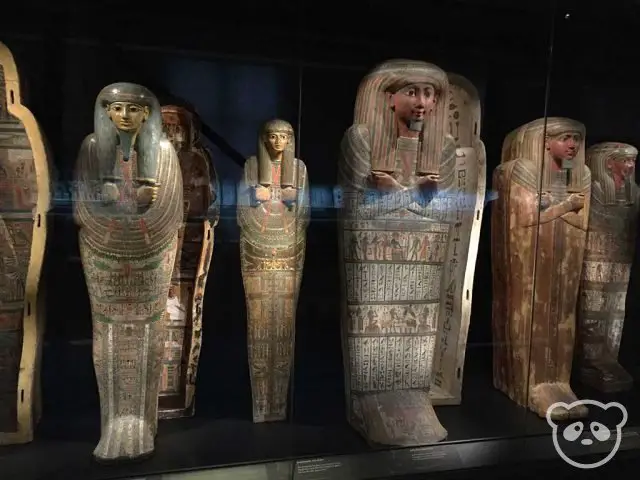 For an amazing collection of ancient art in the Netherlands, Rijksmuseum van Oudheden, is the best spot! It's got a wide selection of Egyptian, Greek, and Roman art.
The number of Egyptian and Roman sarcophaguses is insane. They're all super well-preserved and beautiful.
In the lobby, there is even an actual Egyptian temple. The temple was moved over from Egypt brick by brick with the request that it remain free for the public. And it still is, the admission area is to the right side of the temple.
Fun Fact: The Temple of Taffeh was given to the Netherlands in the 1960s for its help in the preservation of historical Egyptian antiquities when the Aswan High Dam was constructed.
Sometimes the museum even has special exhibits which you can see for an additional fee. When I went they were showcasing Nineveh, an ancient Assyrian city in Upper Mesopotamia, located near present-day Mosul, Iraq. They worked with other museums like the British Museum and the Louvre to bring exhibition pieces for viewing. For a smaller museum it was very well put together and I loved how they were able to get many bigger named museums to provide works for show.
If you're a fan of ancient art I'd highly recommend visiting this museum, the Rijkmuseum doesn't really specialize in antiquities so this one has more to offer in that respect.
Unfortunately I don't have good photos for the food at this place. It was SUPER dark and I didn't want to be that jerk who uses flash, haha.
For a more affordable dinner, I'd recommend this Belgian bar that specializes in serving Belgian beers. Jimmy loves Belgian beers so this is one of his favorite spots in Leiden, he comes here every time he gets sent on a business trip. This place is also popular with locals. 
Their menu also has seasonal availability. And since we went in the colder months they had a lot of stews and meats with sauces. Since we weren't going to Ghent on this European trip, I ordered a Ghent stew with Guinea fowl and Jimmy got a beef with veggies.
For dessert we got a liege waffle which I highly recommend, it was delicious!
Even though we went to a Belgian place, I'd say a lot of the food was similar to Dutch dishes. They also had kibbeling, croquettes, and fries so you could opt for more Dutch options if you wanted.
If You Have More Time…
Horticus Botanicus Leiden & the Old Observatory
The botanical garden in Leiden is the largest botanical garden in the Netherlands and has over 10,000 plants and birds from all over the world including Asia, Southern Europe, and South Africa.
Though the observatory is owned by the university, you can easily combine your visit and see both at the same time. The observatory is usually open to the public on Wednesdays and weekends and they even provide free walk-in tours.
Naturalis Biodiversity Center
Unfortunately this was closed when I visited, but Jimmy has been before and he said it was a great museum. It has one of the largest collections of dinosaur fossils in the country. Parts of the museum are now open to the public though the main exhibition areas still remain closed for renovations.
Leiden American Pilgrim Museum
This is a mom and pop relaxed museum. I'd only recommend going if you're REALLY interested in pilgrims and the history of the Netherlands as a whole. It's more like a couple of rooms in an old house that you can look at rather than an official museum. You can explore the home pilgrims once lived in, though renovations have been made over the years. You can also touch and hold some of their pieces from the 16th and 17th century if you're careful. And you can sit in a 15th century chair if you'd like!
Museum de Lakenhal
Unfortunately this museum has been closed until spring 2019 for renovations. It has impressive works by famous Dutch masters including Rembrandt. It also has a rebuilt model of the Maison d'Artiste, a cubist artists' house conceived by a well-known Dutch De Stijl artists Theo Van Doesburg and Cornelius van Eesteren.
List of the Sights
DAY 1
Borgman & Borgman
Nieuwe Rijn 41
Leiden City Center
Main area around which the Oude Rijn, Nieuwe Rijn, and De Rijn meet
Leiden Street Market (Wednesdays & Saturdays only)
Streets of Aalmarkt, Botermarkt, and Nieuwe Rijn
Burg Poort
Nieuwestraat & Burgsteeg
Burcht van Leiden (Castle of Leiden)
Van der Sterrepad 5
Leiden Town Hall (Stadhuis van Leiden)
Stadhuisplein 1
Shop along Harlemmerstraat
Harlemmerstraat
Explore canals
Much of the historic city center especially Oude Singel, Oude Rijn, & Nieuwe Rijn
Zijlpoort – City Gate
At Haven & Zijlpoortsbrug
Morspoort – City Gate
At Morstraat & 1e Binnenvestgracht
Doelenepoort – Gate
At Doelenpoortsbrug, Groenhazengracht, & Sebastiaansdoelen
Restaurant La Diva
Noordeinde 23
DAY 2
If You Have More Time…
Map of the Sights
This map includes a list of all of the Sights to See, Restaurants as well as the routes by day (i.e. Day 1, Day 2, and Day 3) within specified layers.
By default, only the Sights to See and Restaurants are shown but you can select to view the daily routes. Use the slide out panel to select layers to toggle them on and off using the checkboxes.
Hope you enjoyed our 2 day weekend guide to Leiden. We hope that we've inspired you to get out of Amsterdam and check out things to do in Leiden. It's got a lot of local flavor and is only a short train ride from Amsterdam.
Loved learning about things to do in Leiden, Netherlands in 48 hours? Pin it for later!