This post may contain affiliate links. If you click one of these links, we may receive a commission. We're grateful for your continued love of this site!
Reykjavik is the world's northernmost capital city and also happens to be one of the most amazing cities to visit, especially for a quick 3 day weekend trip! Even though it's the largest city in Iceland, you don't get that vibe, the city is full of character and friendly Icelandic people.  
In Reykjavik, Iceland, where I was born, you are in the middle of nature surrounded by mountains and ocean. But you are still in a capital in Europe. So I have never understood why I have to choose between nature or urban. — Bjork
Bjork describes it best, it is definitely a city amongst nature. Aside from fish and specific types of caviar, her music is probably best known by non-Icelandic folk.
We had an amazing few days in Reykjavik, Iceland and hope you will too! Especially with our detailed itinerary guiding you to various sights and eats. 😉 We're introducing you to some of the most beautiful spots in Iceland as well, I mean, if you didn't see any natural sights in Iceland or see amazing Icelandic waterfalls, did you even really go there?
Here's our guide to 3 days in Reykjavik, Iceland, including beautiful sights to see, delicious eats, and places to stay!
Where to Stay in Reykjavik, Iceland
We wanted to be in the middle of everything, so we chose to stay at Hotel Fron in downtown Reykjavik. It's located in a super convenient spot just off of Laugavegur, within walking distance from lots of shops and places to eat. The rooms are clean and updated, the staff is super friendly and helpful. Hotel Fron also includes a free breakfast with your stay so if you're trying to be budget-friendly, this helps a bit. We enjoyed our stay and would gladly return next time we're in Reykjavik! Click to book your stay with Hotel Fron! 
Airbnb is also a great option, you'll get a chance to stay with friendly Icelandic locals. This might be a better option if you're traveling with a larger party or need more space than a single hotel room.
DAY 1 – Blue Lagoon and the outskirts of Reykjavik
Start your day off with a delicious cup of coffee and some pastries. Iceland is one of the best places for amazing coffee, especially Te & Kaffi, a small local chain in the Reykjavik area. Their lattes have beautiful latte art and are fragrant and boldly flavored.
Fun Fact: Te & Kaffi is basically like the Starbucks of Iceland, they are the largest coffee roaster in the country and operate 14 coffeehouses across Iceland. Note that Starbucks, the American coffee chain does not exist in Iceland.
If you're like us and you love your coffee, definitely try out one of their Micro Roast locations. They'll have more to offer you in terms of methods of coffee preparation. It's not just espresso. They have drip coffee from Chemex, Aeropress, and Siphon preparations. We also found it to be much better than Starbucks! 😉
Like most eats in Iceland, the coffee at Te & Kaffi in Reykjavik isn't the cheapest, but it'll be some of the best coffee you'll ever have!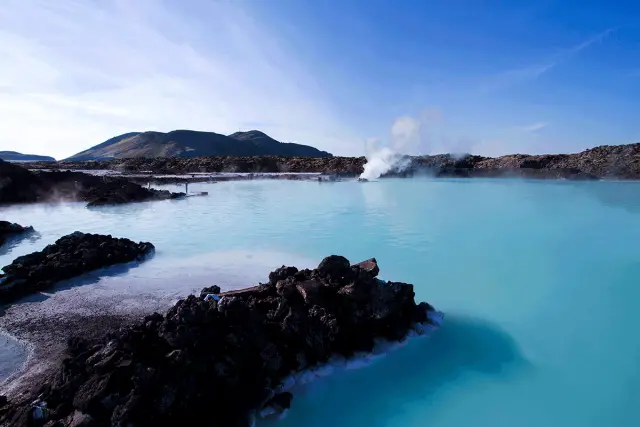 Blue Lagoon isn't exactly the cheapest experience in Iceland (honestly, what is?), but it's well worth it. It's super relaxing and well worth the ticket price.
PRO TIP: If you're on a budget and still want the Blue Lagoon experience, try to go at non-peak times for a cheaper price. You can stay in there all day if you want to! 😉
When we visited, they allowed walk-ins, but now tickets must be purchased in advance so make sure to get it before you go! There are a few tiers to the admission price, but we chose the "Comfort" which included a towel, mud mask, and first drink of choice. Note that the "Comfort" package doesn't include flip flops or slippers so be sure to bring your own, especially if you're a germaphobe like me! See other packages here.
The Blue Lagoon was super relaxing, we loved how different areas of the lagoon had different temperatures you can pick an area to hang out where you feel most comfortable temperature-wise. We visited when it was cold, so we loved the warmer areas most.
PRO TIP: The water in the Blue Lagoon has high silica content, it can make your hair super dry and stiff. Be sure to use some leave-in conditioner in your hair, tie it up, or use a shower cap to protect it.
For the best lunch ever, grab a hot dog from Baejarins Beztu Pylsur. They're the world's most famous hot dog stand, so many famous people have made this one of their must-do's in Iceland.
From Bill Clinton, the former U.S. president, to Charlie Sheen, Anthony Bourdain, and more have visited this uniquely Icelandic hot dog stand.
Fun Fact: Bill Clinton got his Icelandic hot dogs without ANY onions. It's such a big no-no in Icelandic culture to get your hot dog without onions!
Moral of the story is, don't be like Bill Clinton and GET YOUR HOT DOG WITH ONIONS! ALL THE ONIONS! Really though, you do want it with the onions. I'm not the hugest fan of onions, especially raw onions, but the flavors all work super well together so you definitely won't be disappointed!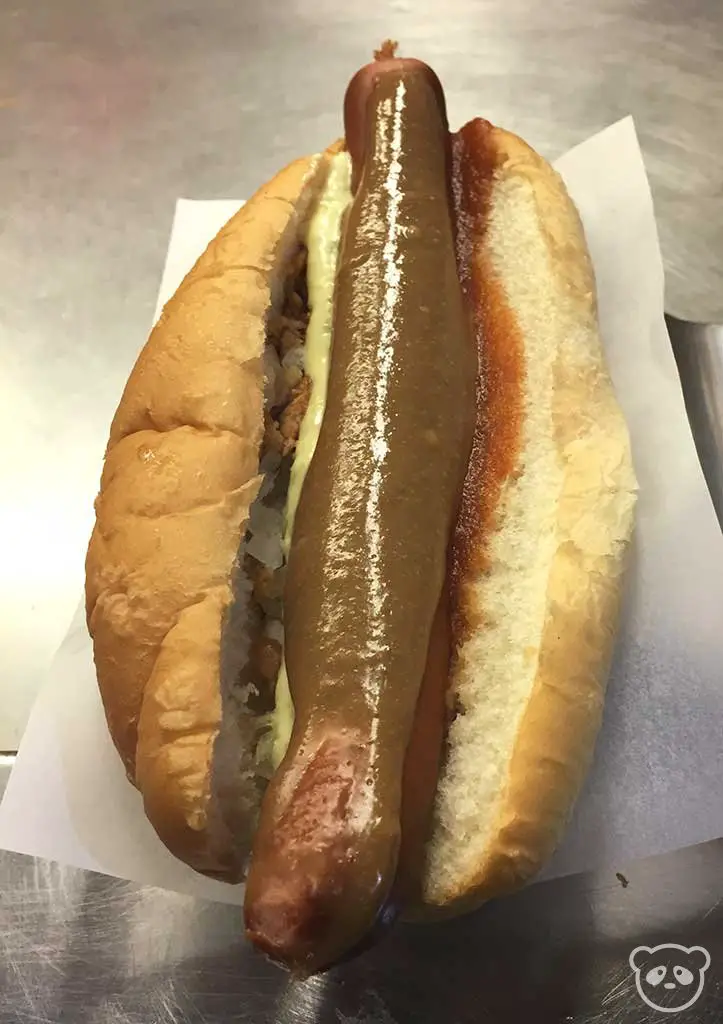 Icelandic hot dogs are made with a mix of pork, beef & lamb served in a steamed bun along with ketchup, sweet mustard, remoulade, crispy fried onions, and diced raw onions. The weiners have a rich hot dog flavor from the pork and beef, the lamb adds a tasty gamey flavor, and the casings are interesting and balloon-like, kind of like popping boba pearls. With that latter reference, you might just have to try it to get what I'm talking about, haha.
The Perlan " Pearl" offers the best 360-degree view of Reykjavik. The views here embody Bjork's impression of the city as an area of urban development and beautiful nature. You get both of those views in one here!
Fun Fact: Depending on the time of day, the Perlan reflects light from the sun and resembles a pearl, giving the building its unique name.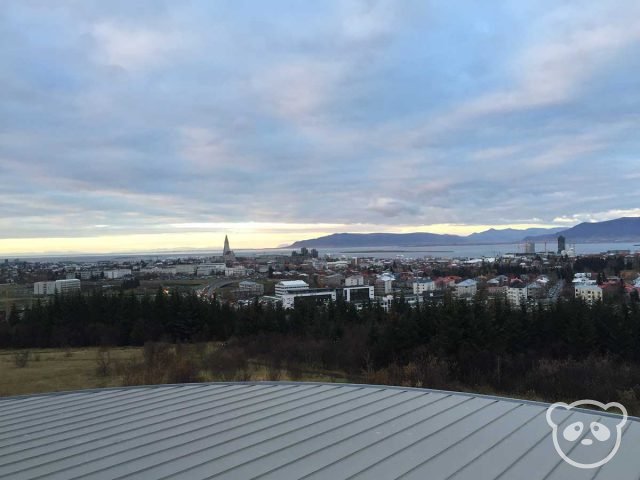 From the top the observation deck at Perlan on Öskjuhlíð Hill, you'll see the buildings in Reykjavik, the Atlantic Ocean, as well as the surrounding mountains, such as Mt. Esja and Mt. Snaefellsjokull on clear days. Admission to the deck is 490 ISK/~$4.04US (2018).
If you're feeling hungry, there is also a revolving, fine-dining restaurant as well as a cafe within the building.
PRO TIP: For a free ride to Perlan, take the shuttle located by Harpa in downtown Reykjavik. It runs between 10am and 7pm daily. See
schedule
for more information.
Fun Fact: Perlan was designed by architect Ingimundur Sveinsson and consists of a large  glass dome that sits on six hot-water tanks. Each tank holds 4 million liters of geothermal hot water. These are all supported by a gigantic steel frame which holds everything together but also acts as a large radiator. In the cool winter months, hot water runs through the frame, and cold water is used during the warm summer months.
When we visited Perlan during the construction of the museum so we didn't get to see the exhibits, but they sound super cool! They have ongoing exhibits, such as the "Wonders of Iceland," educating visitors about the geological history of Iceland. There is even a glacier exhibit with a manmade ice cave! A new planetarium exhibit is opening in December 2018 called "Water in Icelandic Nature" and will be the first planetarium in Iceland! Admission to the "Wonders of Iceland" exhibit also includes the observation deck and the ice cave for 2,900 ISK/~$23.90US (2018).
We're huge animal lovers and we checked out this museum because we were very interested in the different types of whales in Iceland and the rest of the Atlantic.
Fun Fact: Whales of Iceland has 23 man-made, life-sized whale models. They are all hand-painted and represent all of the whales found in Icelandic waters throughout its history.
This isn't a huge museum but it has a ton of educational information about whales, you will definitely learn a lot! We loved all the life-sized whale models and the interactive exhibits. They even had an audio guide app that you can download on iOS or Android that you can download ahead of time so you'll be ready when you visit! The audio tour takes only 30 minutes but you'll learn about over 20 whales.
PRO TIP: If you forget to download it ahead of time, not to worry, Whales of Iceland also has free wifi!
Fun Fact: Blue Whales are can weigh up to 190 tons, be up to 33 meters long, and can live as long as 90 years.
Admission is 2,900 ISK/~$23.90US for adults, 1,500 ISK/~$12.36US for children between 7 – 15 years, and FREE for children under age 7. There is also a family ticket that costs 5,800 ISK/~$47.79US and includes 2 adults and 2 children.
For dinner, try Icelandic style tapas. Tapas Barinn also has traditional Spanish tapas, but when you're in Iceland, ya gotta eat like an Icelander right?
Their menu is primarily divided between items Del Mar "from the sea," De La Tierra "from the land," and De La Huerta "from the garden." They also have an Icelandic Gourmet Feast which is a prix fixe tapas menu with "the best of Iceland." 
Being the foodies we are, we decided on 1 order of the Icelandic Gourmet Feast with traditional Icelandic dishes, such as Icelandic lamb, local Arctic char, smoked puffin, Minke whale, and local blue ling cod.
We had also taken a tour with Extreme Iceland, one of our guides told us his favorite food was Icelandic foal aka baby horse. Since they had it on the menu at Tapas Barinn, we had to give it a shot! It was very tender and surprisingly good, our server also told us it was one of his favorite dishes on the menu.
Aurora Borealis aka The Northern Lights
If you're visiting during the months of September through March, I would definitely try see if you can view the Northern Lights every night. Chances become smaller when there are more daylight hours or if the weather is stormy, but you should maximize your time because there's no guarantee you'll be able to see them every night you're in Reykjavik.
PRO TIP: Check out Iceland's
Aurora Forecast
to find out the likelihood for seeing the aurora for the week. This site will be your best friend, it was definitely ours!
Sometimes people have been able to see the aurora even in late August when the skies are darker and clear. Even in the winter, you might miss the Northern Lights because it's snowing outside. Seeing an aurora requires a dark, clear sky, you'll need a lot of luck for Mother Nature to make the weather agree with you. It all comes down to chance.
PRO TIP: If you're on an aurora hunt, be sure to bring hats, gloves, and a warm jacket. You might even want to consider hand warmers or a cup of hot chocolate, it gets super cold out there!
DAY 2 – Downtown Reykjavik
For breakfast, grab some Icelandic grub at Cafe Loki. Their traditional homestyle Icelandic dishes are amazingly good!
If you've been to other areas of Scandinavia, like Copenhagen, Denmark, you may have had smorrbrod. We found that Icelandic breakfasts with their cured or smoked fish on rye bread were very similar to Danish smorrbrod. They're lighter breakfasts than what us Americans tend to expect, but delicious nonetheless.  
Fun Fact: Skyr is an Icelandic cheese product that has the consistency of yogurt. It's typically found in supermarkets in yogurt-like packaging with fruity preserves mixed in. It can also be used to make desserts such as mousse and cheesecake.
Be sure to try the herring on rye bread or try their Skyr crepe. If you're not the hugest fan of herring you can also get smoked trout instead. If you're up for something heartier, definitely try the lamb soup or the smoked lamb flatbread.
Statue of Leif Erickson
Leif Erickson's statue is located right in front of Hallsgrimskirkja and was a gift from the United States to Iceland to commemorate the 1,000 year anniversary of the founding of Althing (Alþingi), the parliament of Iceland.
Fun Fact: Leif Erickson, the Norse explorer, was originally from Iceland. He is believed to be the first European explorer to reach the North American continent in approximately 1000. He established the Vinland settlement in present-day Newfoundland.
Though Leif looks like he fits right in, in front of Hallsgrimskirkja, the church hadn't been built when he was placed there. When the U.S. gifted the statue, they had demanded that he be placed on top of Skólavörðuholt Hill, this was very controversial as there were plans to build Hallsgrimkirkja and the plaza on the hill.
Even though it's just a statue, the placement in front of the church makes it look like he is sailing a triangular Viking ship (Hallsgrimkirkja) off to explore new lands. It's definitely photo-worthy especially if you're stopping by Hallsgrimkirkja anyways.
Hallsgrimskirkja is the largest church in Iceland and it also happens to have one of the best views of the city of Reykjavik. Even though the church is operating, you can still visit and get some amazing views as long as church isn't in session.
Fun Fact: Hallsgrimskirkja was designed by Guðjón Samúelsson, one of Iceland's most influential architects, in expressionist architectural design. Construction of the church began in 1945 and it took 41 years to complete, the church officially opened in 1986.
The church tower is also an observation deck and is one of the most visited tourist destinations in Reykjavik. And even though there is paid entry to the tower, the views from the tower are well worth it! You can see so much of the colorful buildings in the city as well as the mountains and the Atlantic Ocean.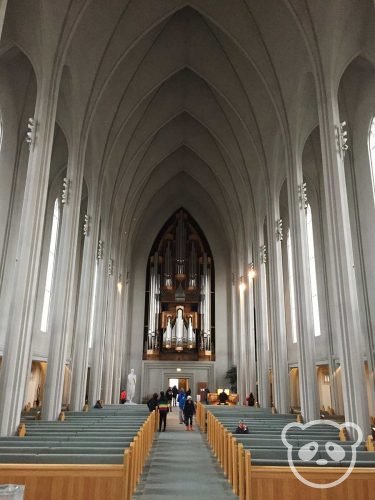 Fun Fact: The design of Hallsgrimskirkja was inspired by beautiful Icelandic nature, the strong columns making up the facade of the building were based upon cliffs of basalt columns.
Tickets are sold in the church shop and cost 1,000ISK/~$8.24US for adults and 100ISK/~$0.82US for children aged 4-7 in 2018. Check the website for updated opening times and dates as the church can be closed for weddings and concerts.
Please note that the tower is only accessible via an elevator and there are a few steps between the elevator and the open-air observation area.
Be sure to check out the church as well, there is a beautiful organ to the rear of the church. Outside the church, pass by Leif Erickson's statue and say "Bye!" to Leif before you go.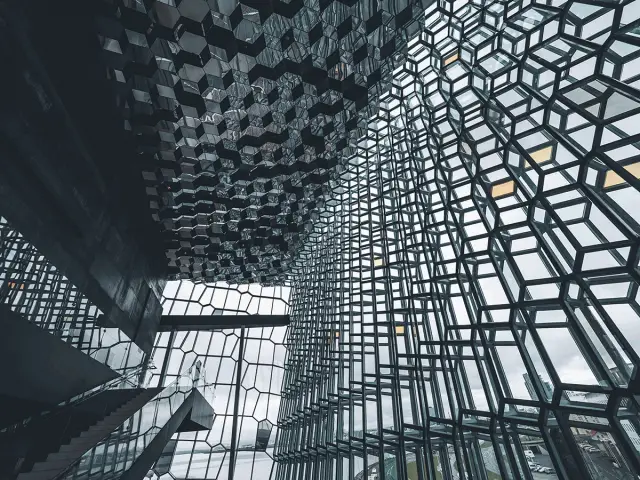 Harpa is the ultra-modern glass concert hall and convention center in the middle of downtown Reykjavik. Its design is super cool and it is one of the most recognizable buildings in Reykjavik aside from Hallsgrimskirkja.
There are tons of events going on at Harpa all the time, including some Nordic foodie ones we totally wish we could've been there for! During Christmas time they even have The Nutcracker!
Fun Fact: The building is made of a steel frame and geometric glass panels throughout and was completed in 2011. It was designed by Henning Larsen Architects, Danish architectural firm, and Danish-Icelandic artist Olafur Eliasson.
They also offer guided tours of the building, however all rooms may not necessarily be accessible due to ongoing events. On the plus side, you will be able to see rooms that the general public doesn't! Who doesn't like an inside scoop?
Tours are offered in English daily and last 30 minutes. As of 2018, tickets are 1,500ISK/~12.36US for adults and 1,250ISK/~$10.30US for students, seniors, people with disability as well as groups of over 10 people. Children under 16 are FREE. See link for schedule and availability.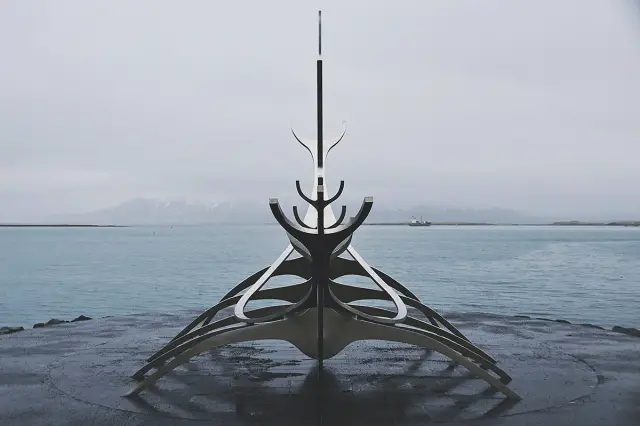 Sun Voyager (Sólfar)
This is one of the most unique sculptures in Iceland and is made with stainless steel atop a circle of granite slabs.
Fun Fact: On a clear day, you can see Mt. Esja across the bay, behind the Sun Voyager.
The Sun Voyager was created by Icelandic sculptor Jón Gunnar Árnason inspired by the idea of a dreamboat, an ode to the sun symbolizing light and hope. Contrary to popular belief, it is not based on a Viking ship.
PRO TIP: Try visiting during sunset, the area looks beautiful with the sun setting behind the Sun Voyager.
For lunch, check out one of our favorite budget-friendly restaurants in Iceland. Not only is this spot affordable (for Iceland prices), but it's also got some of the best Icelandic cuisine! It's a super casual restaurant, you order first, they'll give you a number, find a seat, and they;ll deliver your food to your table. 
Sea Baron has primarily seafood options, sorry vegans/vegetarians, it has a lot of variety ranging from trout and scallops to redfish, cod, salmon, and many more. All of the fish is local so options may vary depending on the season.
They are best known for their langoustine soup and grilled fish skewers. We loved their langoustine soup and grilled haddock. We also gave the whale steak a try, just because we were curious. We actually loved it a lot and found it very fresh.
PRO TIP: They have a refrigerator of raw seafood skewers up in the front. Pick what you want and take it up to the cashier to pay. The next time you see it, it'll be nicely grilled and at your table!
Explore Downtown Reykjavik
Walk the streets of Reykjavik or go shopping! We loved all the cutesy Scandinavian style buildings and all the colorful murals throughout the city. It definitely made my day brighter in the mostly overcast weather during the time we were there.
Many of the major stores are located along Laugavegur or Skólavörðustígur, including some of our favorite shops:
We loved all the Icelandic souvenirs here, they were all well-designed and we wished we could've brought all of it home! They also have some fancy Icelandic chocolate, called Omnom here. Don't confuse this with the "Icelandic Chocolate" brand name, Omnom is made in Iceland chocolate but is WAY better than the "Icelandic Chocolate" brand). We also loved their colorful building and the pathway leading to it, totally reminded me of Candyland!
Lundinn aka "The Puffin Store" | Laugavegur 83
This store is just about the cutest and most Icelandic store ever! There are so many puffins here it is insane! You can buy just about any kind of puffin in any shape or size, it's a great stop for souvenirs. Jimmy isn't a huge souvenir shopper but even he got a puffin for his niece here.
The Viking Shop
aka "The Troll Store" | Skólavörðustígur 25
Even though it's technically called The Viking Shop, it's best known for its trolls that hang out in front of the store. They're great for photo-ops, but the store also has some great souvenirs. From Game of Thrones gear to "How to Speak Icelandic" shirts, there's something for everyone.
When I went to Iceland I'd wanted to get an Icelandic sweater aka lopapeysa, only to get to the store in Reykjavik and find out that my sensitive skin is super allergic to Icelandic wool because I immediately turned super red and warm.How sad! I'd done a ton of research on Icelandic sweaters only to not get one at all. At least I can help you beautiful readers! This is THE place to get an Icelandic sweater because you can purchase it directly from the people who make them. So short of having a grandmother or mother who can knit one for ya, this is the next best place!
PRO TIP: Many stores in Iceland do close on the earlier side, sometimes as early as 6pm. Try to check their closing times in advance or shop early in the day.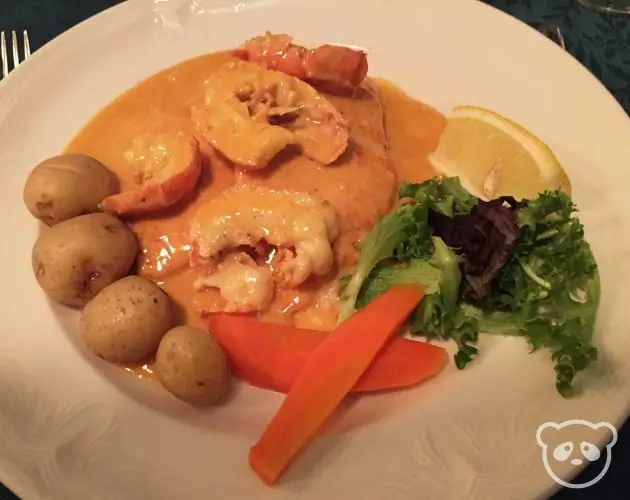 This spot is considered to be mid-range in price for Reykjavik, though I'll admit it is more on the expensive side. Since we're from the San Francisco area in California, we're used to higher standards of living but this is definitely more on the higher side of mid-range even for us.
Still even with the higher pricing, they have a lot of traditional Icelandic fare and it's well worth trying. The restaurant is smaller with a father-son team in the kitchen and only seats 44 guests so you'll be in for a more "homey" type of experience.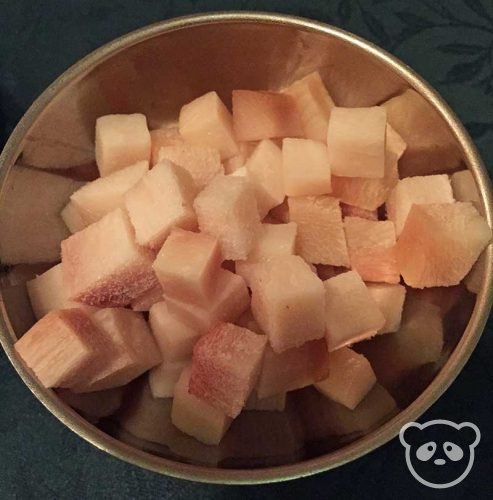 Fun Fact: Contrary to popular belief, Icelandic fermented shark or hákarl is not "rotten shark." Hákarl is made from the Greenland shark which is poisonous if eaten fresh; however, it can be eaten after processing. Traditionally, hákarl was made by placing a gutted and beheaded shark in a shallowly dug hole in gravelly sand, with stones placed on top to flatten the shark. The shark is left to ferment for 6-12 weeks depending upon the season and then cut into strips to hang dry for several months. This creates a brown crust on the meat which is removed when served.
We started with an appetizer of the fermented shark (hákarl). It was definitely an interesting dish, the shark tasted similar to preserved, dried, or salted fish which was fine. But after you taste and swallow it, the ammonia smell definitely hits you! It kind of goes up your nose, like wasabi or horseradish would. We also split a sashimi appetizer with Finn whale and salmon. It included some wasabi and Japanese style pickled ginger. The salmon was also topped with flying fish roe, it was super delicious.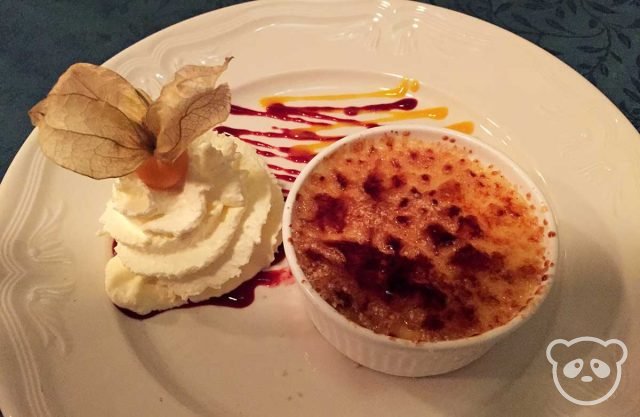 Jimmy ordered a grilled Icelandic horse tenderloin with mushroom, potato wedges, and Bernaise sauce. I was in the mood for seafood and got the pan-fried halibut topped with langoustine and served with langoustine sauce. For dessert, we got the delicious Skyr brulee, which is similar to a creme brulee but made with Icelandic skyr instead.
DAY 3 – Golden Circle
Fun Fact: The term "Golden Circle" is a marketing name for the sightseeing route derived from one of the primary stops, Gullfoss Waterfall. In Icelandic, "Gullfoss" means "golden waterfall." The two other main tourist sights are Haukadalur Geothermal Area, where Geysir & Strokkur are located, and Thingvellir (Þingvellir) National Park.
We recommend renting a car for day 3 because it makes it easier to navigate and get to all the different spots in the Golden Circle. But if you're unable to, check out these tours of the Golden Circle: Golden Circle with Kerid Crater, Golden Circle Full Day Tour, and Golden Circle with Blue Lagoon Transfer.
Reykjavik Roasters
Grab a quick and light breakfast at Reykjavik Roasters. This cute spot is also known for its amazing coffee. They do a great cortado, but they can also do an aeropress and lattes with beautiful art. For the chocolate lovers out there, they even have a hot chocolate made with delicious OmNom Chocolate!
Pastries are the jam here, start your morning with a croissant and jam, or Greek yogurt with muesli & honey. They also offer oatmeal and yummy chia porridge for the health conscious.
Super unique for a coffee shop is their DIY DJ stand. They have a record player and records out for public consumption, feel free to look through the albums and select your music of choice!
Don't overeat here, you'll be for a great treat at lunch! Afterwards get on your way, leaving Reykjavik for the Golden Circle.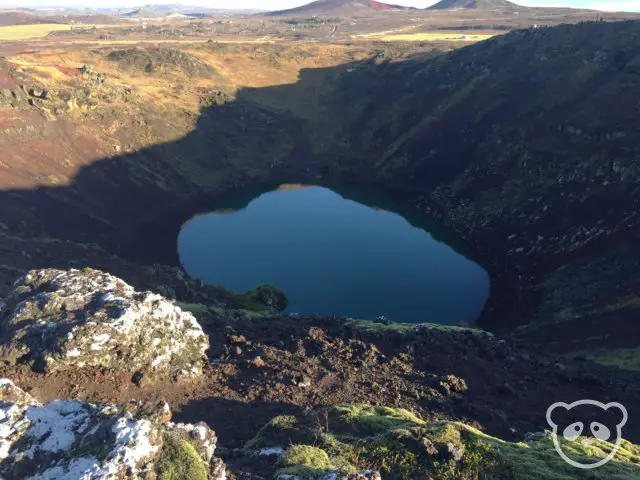 While Kerid Crater isn't typically on the Golden Circle route, it is well worth visiting! Depending on the time of day or the season, the colors of Kerid can change with the lighting. Sometimes you can see beautiful blue and green tones, other times warmer colors of reds and yellows.
The crater also has a lake which fills with water depending upon changes in the water table. During the winter, this lake tends to freeze over.
Fun Fact: Kerid Crater was formed about 6,500 years ago. It was originally a cone volcano and became a crater when a small magma chamber beneath it emptied towards the end of the eruption and collapsed.
Kerid Crater is quite large, approximately 270m/886ft long, 170m/558ft wide, and 55m/180ft deep. The lake's water ranges between 7-14m/23-46ft deep. Even though parking is FREE, there is a charge for admission of 400ISK/~$3.29US per person (2018) since the crater is located on private property.
The Kardashians came here so it must be good! Just kidding, we didn't really go here because they came here. I was doing research on Iceland in preparation for our trip and came across this organic greenhouse tomato farm that also happened to have a restaurant serving their own products as well as Icelandic horse shows. I only watched the episode of the Kardashians featuring the farm after we'd already decided on going, haha.
In any case, the restaurant has wonderful food and it's definitely worth a pit stop while driving along the Golden Circle. You can opt to order their signature tomato soup & bread buffet or choose a la carte options from their menu.
The best thing about the restaurant is that they allow you to mix options on the menu — I ordered the soup & bread buffet while Jimmy ordered some ravioli with fresh tomato sauce from the menu. For dessert, we split the cheesecake with green tomato sauce.
The tomato soup was amazing, I gave Jimmy a little bit to taste and he totally regretted not getting the buffet. The unlimited soups definitely warmed up my stomach and the bread helped fill me up. They have a few different breads to try so you can sample something new each time you head back to the buffet table to grab more!
PRO TIP: During the summer months or peak season, you might want to make a reservation. The restaurant tends to get packed with tourist buses and they're only open between 12pm and 4pm!
Fun Fact: Icelandic horses have 5 gaits — walk, trot, canter/gallop, tölt, and the skeið or "flying pace."
If you visit during the summer, there are horse shows where you can see the Icelandic horses demonstrate their distinctive 5 gaits. There are also farm tours however those are limited to groups of 10+ so definitely bring your friends and schedule it in advance.
Also known as the "golden waterfall," Gullfoss is one of the best known waterfalls in Iceland, partially because it is located along the Golden Circle route. It is also famous for being saved from becoming hydroelectric power.
Fun Fact: During the 1900s, foreign investors wanted to purchase Gullfoss from Tómas Tómasson, a local farmer, in order to harness the power of the waterfall for electricity. He refused to sell it, but ended up leasing it to them. His daughter, Sigriður fought tooth and nail, hiring lawyers to have the rental contract voided. She went as far as to threaten to throw herself into the waterfall in order to save it. In the end, she was able to save Gullfoss and became known as Iceland's first environmentalist.
Today, the Icelandic government owns Gullfoss. It was designated as a natural reserve in 1979 and the public can freely visit and enjoy the beauty of the area. There is also a plaque recognizing the work of Sigriður Tómasdóttir in preserving the waterfall.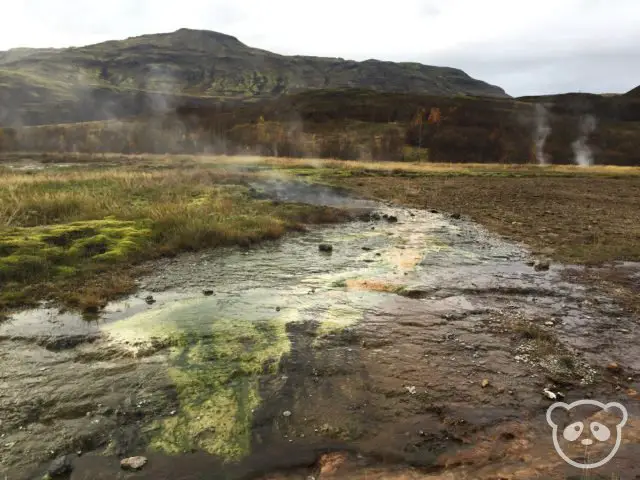 Haukadalur Geothermal Area
The valley known as Haukadalur is home to a few geysers and one of the most geothermally active areas in the world. Two of the largest geysers here are "Geysir" and "Strokkur."
Fun Fact: Geysir gave all other geysers their name, however it no longer erupts on a regular basis because back in the day, people used to use geysers as trash dumps.
Strokkur, on the other hand, erupts every few minutes. In fact, it erupts so often that we were able to see the streams of water fly into the air several times during our visit.
Fun Fact: Strokkur erupts every 6 to 10 minutes and can reach up to 40m/130ft high, but usually it only reaches between 15-20 meters or 49-66 feet.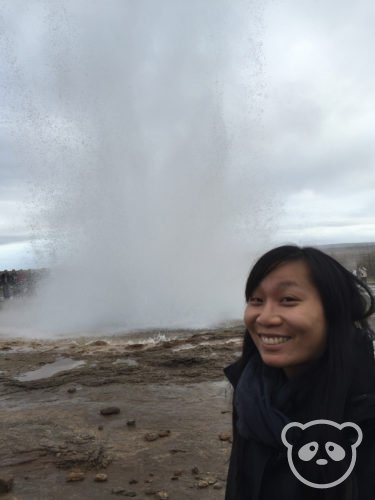 Aside from Geysir and Strokkur, be sure to check out some of the other geysers, including Little (Litli) Geysir, Blesi, Fata, and Konungshver.
PRO TIP: There are a signs just behind the chain link fences of each geyser with their respective names.
Important Note: Remember to stay behind the chain fences, the water is insanely hot, you don't want to get scalded!
Aside from geysers, there are also mud pools and fumaroles in the area. Mud pools are usually acidic hot springs with bubbling mud. Fumaroles can be stinky! They are openings in the earth's crust that let out steam and gases such as carbon dioxide, sulfur dioxide, hydrogen chloride, and hydrogen sulfide.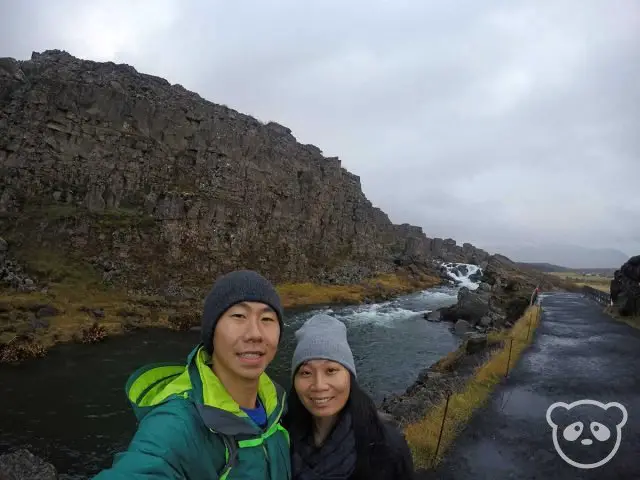 Thingvellir National Park is one of the coolest places in Iceland because of its historical, geological, and natural significance. There are so many areas to explore within this beautiful park.
Fun Fact: Thingvellir National Park became Iceland's first national park in 1928 and was designated a UNESCO World Heritage Site in 2004.
Thingvellir was culturally recognized by UNESCO primarily because of its importance within Iceland's history. The park holds the meeting site for the first parliament (Alþing) in the country, which was held in 930AD.
Fun Fact: Iceland is located on the Mid-Atlantic Ridge and is geographically located on two separate tectonic plates. Reykjavik and the West Fjords are located on the North American plate and the East Fjords are on the Eurasian plate. The two plates grow further apart at a distance of 2.5cm or 1in every year.
Geologically, Thingvellir is the site where two plates meet, and this provides the area with a unique set of landscapes. This is primarily seen in the large, rocky canyons throughout Iceland, such as the Almannagjá Gorge in Thingvellir as well as the underwater Silfra rift in Thingvallavatn (Þingvallavatn) lake. Almannagjá Gorge is one of the few places in the world where you can walk between two tectonic plates. It's super cool to see how and where the earth's crust were torn apart, forming rough edges of stone.
Fun Fact: Many Game of Thrones scenes were filmed in the Almannagjá Gorge in Thingvellir, it is featured at various points throughout the series.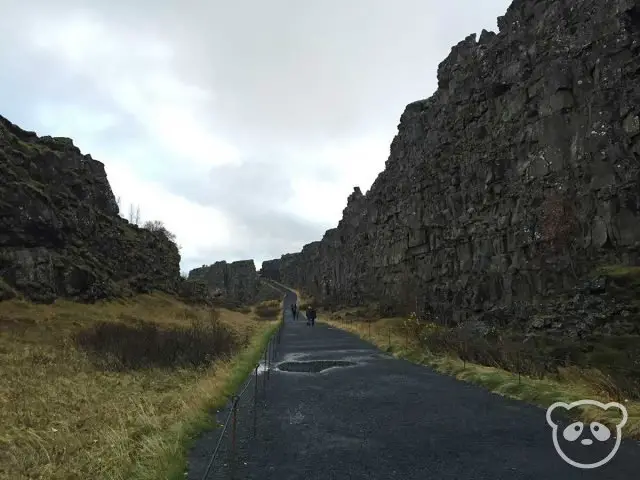 Be sure to hike on the Öxarárfoss trail, this path takes you through the Almannagjá Gorge and to the Öxarárfoss waterfall. Learn more about Öxarárfoss and more waterfalls in our guide to Iceland's most beautiful waterfalls.
Aside from hiking along the plates, you can also snorkel or dive into the Silfra rift! We didn't do this since we can't swim, haha didn't want to die but some of our friends have. They said it was an amazing experience since the water is super clear, but keep in mind that the water is quite chilly, even during the summer.
Fun Fact: The water in Silfra is so clear that you can see over 100 meters or 328 feet.
Note that for snorkeling, you must be at least 12 years old and able to swim. For scuba diving, requirements are that you either have drysuit certification or you must have completed 10 dives in a drysuit.
Even if you don't or are unable to dive in Silfra, it's still super amazing to be able to see the results of the earth's movements in the canyons and ravines of Thingvellir.
Some of Iceland's most historical events have happened within the confines of Thingvellir National Park.
Fun Fact: Althing (Alþingi), the oldest parliament in the world and the Icelandic national parliament, was founded in 930 AD. Sessions were held there until 1798. Today, they are held in Reykjavik.
Located along the Öxarárfoss trail, by the Almannagjá Gorge, is the original site of the Althing (Alþingi). The site, next to the boardwalk, is marked by an Icelandic flag, and was once the Law Rock (Lögberg) where parliament (Althing/Alþingi) would convene. The speakers (lögsögumaður) would recite the laws against the cliffs to assembled crowds.
Thingvellir is an amazing tourist sight in Iceland with tons of history, gorgeous views, and lots to see and do.
Iceland has some of the best fish and chips in the world, outside of the United Kingdom. This is because they're located smack dab in the middle of the Atlantic Ocean and have access to fresh and local fish.
Keep in mind that their fish is super fresh, they get a new shipment of fish every morning, so their fish offerings change daily, but they typically will have cod, haddock, ling cod, wolf fish, pollock, and more. They also offer langoustine and mussels as well as sandwiches.
Try their fish and chips along with some delicious Skyr-based desserts. They also have an interesting Icelandic biscotti with Icelandic moss in it.  
List of the Sights
Note: Unless otherwise stated, all locations listed are in Reykjavik, Iceland.
DAY 1
DAY 2
DAY 3 – Golden Circle
Map of the Sights
This map includes a list of all of the Sights to See, Restaurants as well as the routes by day (i.e. Day 1, Day 2, and Day 3) within specified layers.
By default, only the Sights to See, Restaurants, and Lodging are shown but you can select to view the daily routes. Use the slide out panel to select layers to toggle them on and off using the checkboxes.
We enjoyed writing this 3 day guide to Reykjavik, we were totally reminiscing all of the beautiful landscapes we saw and delicious foods. We can't wait to go back to Iceland again!
Loved this 3 day Reykjavik, Iceland itinerary with Golden Circle? Pin it for later!