This post may contain affiliate links. If you click one of these links, we may receive a commission. We're grateful for your continued love of this site!
In one of our previous A Weekend Away posts, I'd once said that many tourists come to San Francisco expecting warm weather, palm trees, and sunshine, but they're met with fog? Well those descriptors better describe the Los Angeles (LA) climate. This month's A Weekend Away post is a 3 day long weekend guide to Los Angeles.
I like Los Angeles. So many artistic people, and I just love the weather.


– Carly Rae Jepsen
Our Los Angeles in 3 days itinerary will take you through a few main areas of Los Angeles including West LA, Central Los Angeles, Koreatown, Hollywood Hills, and Downtown Los Angeles. This guide also has recommendations that are off the beaten path, so don't expect to see the Hollywood Walk of Fame here!
Los Angeles is the densest metropolitan region in the United States and is the 2nd largest metropolitan area in the country after New York City. Los Angeles is pretty spread out with multiple communities dotted throughout the city.
Luckily even with its urban sprawl, it does have some public transportation via the metro and the bus system. With that said, the best way to travel around the city is to rent a car or Lyft/Uber. Lyft or Uber is especially great if you don't know how to drive or don't want to deal with potential parking costs (some places are valet only).
PRO TIP: Sometimes, depending on where you're at in the city, taking Lyft or Uber will be cheaper than paying for parking or valet.
Read on to check out our guide to the best things to do all over Los Angeles, from where to stay, what to eat, and where to visit over 3 days.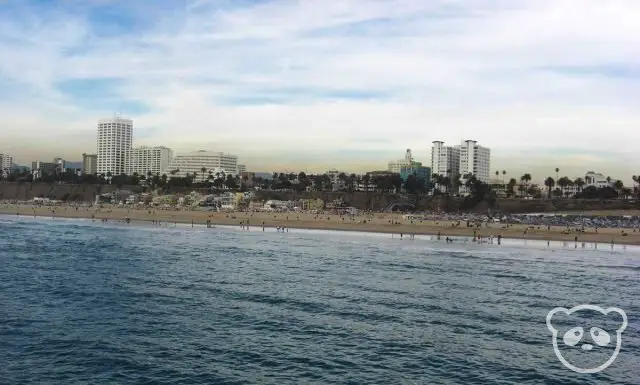 Tried & Tested Places to Stay in Los Angeles
DoubleTree Suites by Hilton Hotel Santa Monica is the best! Well any DoubleTree is the best right? Because they have those amazing free cookies on check in. One of the best things about this hotel is that they have suite rooms where they have a single large room with a king bed as well as a fold out sofa bed. It's perfect for families or friends traveling together! They also have a pool and a gym, perfect for staying fit while on vacation. Book a stay at the DoubleTree in Santa Monica!
One of my other favorites is the Ocean View Hotel in Santa Monica. It's located right on Ocean Avenue so the location is unbeatable. Their rooms have amazing views, you can also see Santa Monica Pier and the Pacific Ocean from your window. They also provide free wifi and bicycle rentals at an additional cost. This modern, boutique, beachside lodging is perfect for couples and it's definitely a great place to stay for a weekend away. Reserve Ocean View Hotel for a romantic weekend trip!
DAY 1 – West Los Angeles & Santa Monica
The first day in Los Angeles will take you through the west side. This region of LA has some amazing touristy spots, but also some that are more offbeat so it's a great mix of things to do in the city.
Also, note that Santa Monica isn't technically IN the city of Los Angeles, it's actually it's own city, but it's within Los Angeles, so it's one of those cities within a city that everyone pretty much considers Los Angeles when they're visiting.
Urth Caffe is my all-time favorite cafe in Los Angeles, and they have a location in Santa Monica! They have amazing lattes with beautiful latte art. You can choose tea lattes or coffee lattes, the choice is yours and they will decorate your cup with gorgeously frothed milk.
PRO TIP: For beautiful Instagram photos, everyone in your party should order a latte. You'll all get a unique piece of latte art in your cup! If it's summer and you're craving latte art, I recommend the Moroccan Mint Latte, the mint will cool ya down and help the hot latte become more palatable in the warm, sunny Los Angeles weather.
Their pastries are also decent as is their salmon scramble. It's great for a heartier yet still light breakfast.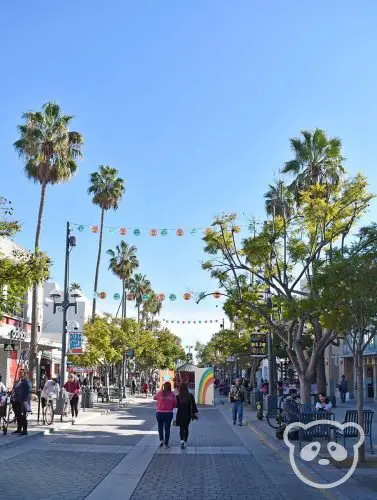 This is one of the most popular shopping areas in the area because its close to many touristy sights in Santa Monica. It's got a mix of cool shops from Apple to the Gap and Club Monaco amongst many more.
PRO TIP: If you visit during the holidays, there will be beautiful Christmas decorations everywhere!
Aside from shops, there are also quite a few restaurants, bars, and cafes. Some of these, like Coffee Bean & Tea Leaf, are great choices for breakfast!
Coffee Bean is one of my favorite grab and go coffee spots in Southern California. The chain is originally from Southern California and is known for its amazingly fragrant coffee. Their espresso is rich in flavor and smells insanely good. Their teas are also great (and yes, being Chinese-American, I am a tea snob) and they make amazing tea lattes.
Personally, I recommend their vanilla latte! You can get it either iced or hot, but I love how they used crushed ice for their iced lattes.
Their pastries are also delicious, I love their chocolate chip cookies and croissants.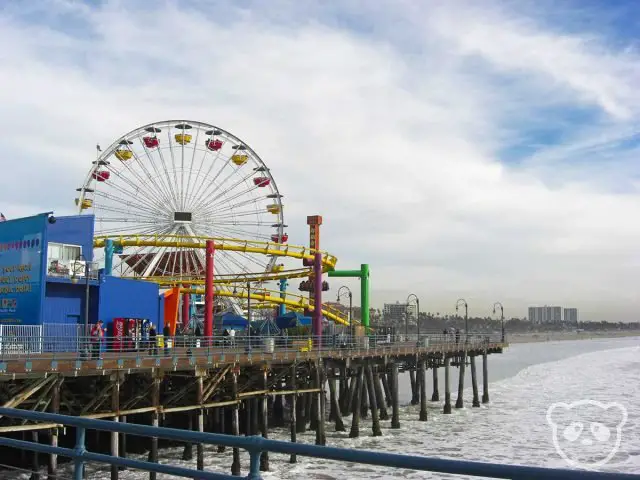 Best known for being the end of Route 66, the Santa Monica Pier also has a boardwalk area with arcade games, rides, and sweeping views of the coastline.
Santa Monica Pier is a short walk from Third Street Promenade so it's a great place to visit when you're in the area. There is something here for everyone, theme park fiends will enjoy a Ferris wheel ride, children will love the carousel and funnel cakes, and history buffs will delight at the free walking tours.
PRO TIP: To join the free historical walking tour, show up at the Pier Shop in the Merry-Go-Round building before 11am or 12pm noon on weekends and look for the Pier Docents in blue shirts.
Walk along the boardwalk on a sunny day, grab a quick lunch, explore the shops, and get amazing views of the Pacific Ocean. You can even check out the aquarium and the trapeze school for a more unique experience. Throughout the year, there are also multiple events held weekly and are open to the public. For the event schedule, see the website.
If you haven't already gotten your fill of burgers and funnel cakes at the Santa Monica Pier, you can head back to the Ocean Avenue/Third Street Promenade area for delicious Greek yogurt.
The most unique thing about this place is its vast number of options for Greek yogurt, you can get it any way you want — frozen as a soft-serve, savory, sweet, or with toppings.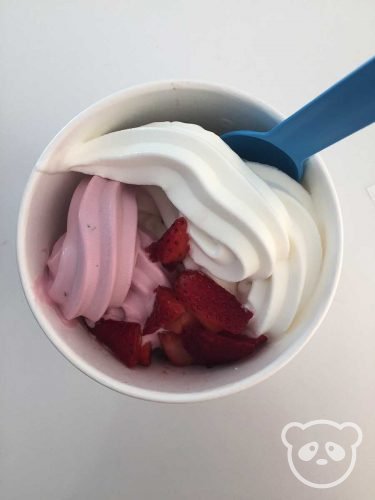 Their frozen soft-serve is amazing, you can definitely tell it is Greek yogurt, it's super creamy and has a very rich flavor. Their flavors rotate constantly so there will definitely be something new, our personal favorites were the original and honey flavors.
The fresh yogurt is a unique offering and very tasty. You can usually find it in their refrigerator glass cases looking like flavored cream cheese, haha. They have multiple flavors that also rotate. We loved the "Hermes" sweet combo with fresh Greek yogurt topped with dates, walnuts, cacao nibs, shaved chocolate, carob chips, and Greek honey.
Venice Beach
Explore the Venice Beach Boardwalk and check out all the shops along the way. Continue heading down to the Canals of Venice, along the way you'll pass by street vendors and performers.
You'll also see the original Gold's Gym and Muscle Beach, where THE Arnold Schwarzenegger (amongst others) used to work out. You can work out at Muscle Beach too, at a fee. Or you can also shoot some hoops at the Venice Recreation Center. There is also a skate park where you can practice going up and down the ramps with bikes and rollerblades you can rent nearby.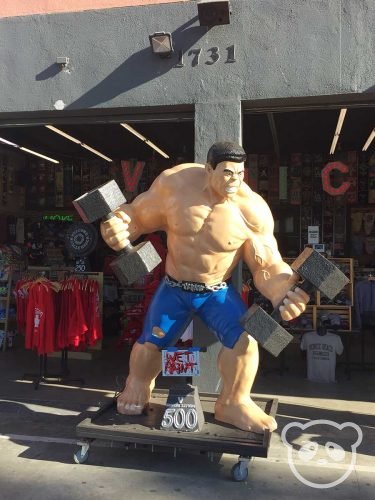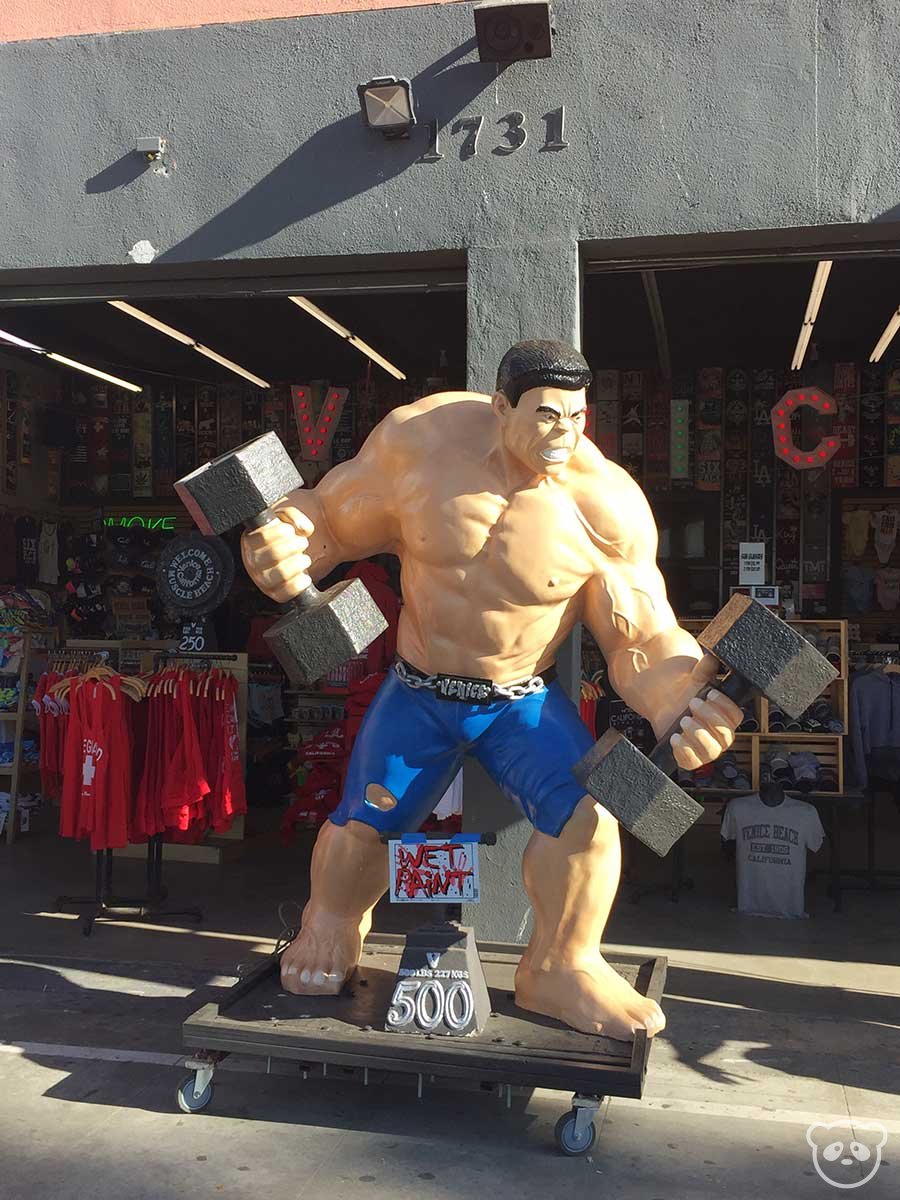 Don't forget to check out the beautiful murals throughout the area, they are amazing and definitely worth seeing. Also the Venice Public Art is covered in street art and is super unique with areas painted with colorful graffiti.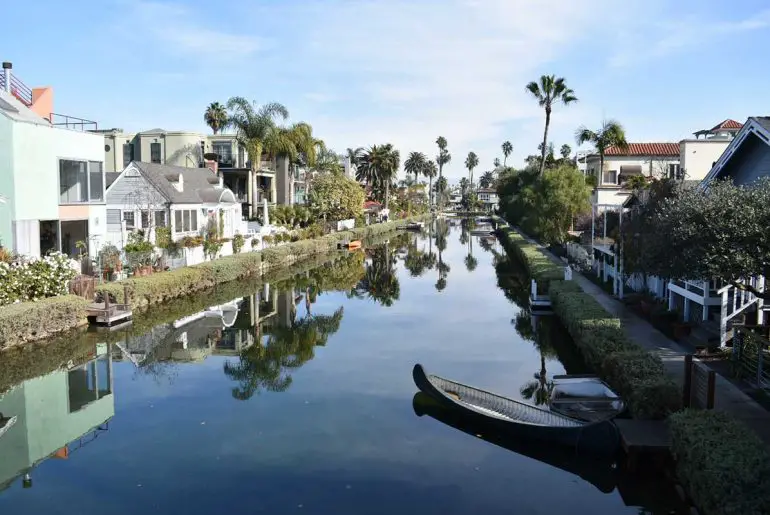 Canals of Venice
Be sure to visit the Canals of Venice, one of the most beautiful areas of Venice Beach. Here you'll see tons of multi-million dollar homes alongside man-made canals.
Fun Fact: The Venice Canal Historic District was by developer Abbot Kinney in 1905 as part of his Venice of America urban plan. He dreamed of recreating the appearance and vibe of Venice, Italy in southern California.
When the area was originally built, it was 3 to 4 times as large as it is today. By the 1920s, cars had become a popular method of transportation and many of the canals were filled in 1929 to create roads. Today, 6 canals remain — Carroll Canal, Linnie Canal, Howland Canal, and Sherman Canal running from east to west and from north to south, Eastern Canal and Grand Canal.
PRO TIP: If you visit in the winter, there is a neighborhood Christmas decoration contest. You'll get to see all the homes with holiday garb along with their award ribbons from 1st to 3rd place.
For a yummy dinner, fill your stomach at Tsujita. They are specifically known for their tsukemen, or dipping ramen. In this Japanese method of eating tsukemen, the ramen broth and ramen noodles are served separately and you take a chopstick full of noodles and dip it into the ramen at a time. This helps the ramen catch flavor from the broth.
PRO TIP: The broth from tsukemen, or dipping noodles, are typically richer, thicker, and saltier than usual ramen so that the noodles can easily absorb flavor solely from the dipping process. Depending on how much you love salt, you may or may not want to drink the soup later on.
Definitely try the cha siu pork tsukemen, it's absolutely delicious! The noodles are thick and chewy and the broth is so richly flavored and so good.
PRO TIP: Make sure you order the correct item, if you order "ramen," the noodles will be served in the broth and not separate.
This spot is a definite must-try in the West LA area! Keep in mind that the waits can be long so if you're not a fan of waiting try to get there early or during off-hours.
DAY 2 – Central Los Angeles & the Hollywood Hills
For day 2 of our 3 days in Los Angeles itinerary, we're taking you around Central Los Angeles and the Hollywood Hills. This day's sights are a mix of amazing touristy spots with a couple of off the beaten path things to see and eat.
Even though Los Angeles isn't anywhere in the South, for some reason it's known for chicken and waffles. And wow, these chicken and waffles are good! The chicken is deliciously breaded, crispy, and juicy, the waffles are fluffy and buttery. You want these chicken and waffles!
Note that if you prefer a crispy waffle, this is not the place for you. Their waffles, while not soggy, are more on the softer side.
I recommend considering this meal a brunch because you WILL be super stuffed afterwards. Jimmy decided on the Herb's Special with half chicken smothered with gravy & onions, 2 waffles, and syrup. I got the Carol B Special with chicken breast, 1 waffle, and syrup. We share most foods because we're always down to try new foods, but we don't share our Roscoe's. THAT is how good it is!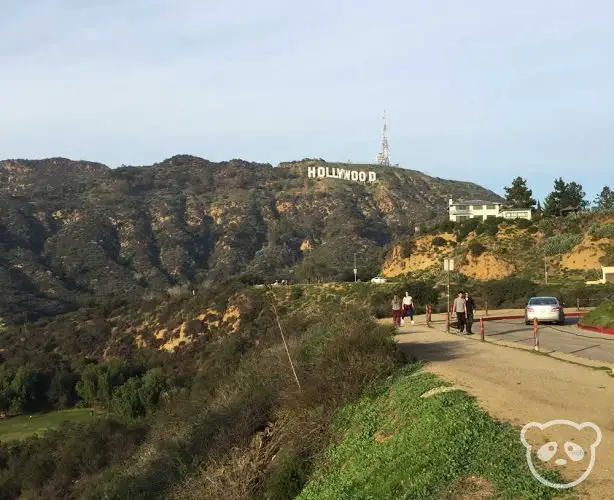 Hollywood Sign
Fun Fact: The Hollywood sign once said "Hollywoodland" so named for the new housing development in the area at the time.
Next up, is the best view of the Hollywood sign. This area is our favorite place to see the sign because it's as close as you can get without needing to hike up to it and it's the perfect photo op. Set your GPS to 3000 Canyon Lake Drive, Los Angeles and drive on over. 
PRO TIP: Make sure you park in a legitimate spot and look for "No Parking" street signs, cops are everywhere and will ticket you if you don't comply.
If you're not planning on driving in Los Angeles, not to worry, there are tours that include the Hollywood Sign. Or the Hollywood sign and Griffith Park.
Los Angeles County Museum of Art, or LACMA as it is lovingly called, is our all-time favorite museum in Los Angeles. Not only is it home to tons of contemporary and modern art, but it also has super cool temporary exhibits. I've been to a Tim Burton special exhibit here and it was amazing!
The museum is the largest museum on the west coast and has innumerable pieces of art ranging from Pablo Picasso to Alexander Calder, Diego Rivera, Roy Lichtenstein, and many more. Aside from modern pieces, the museum also has antiquities from Greek, Roman, Islamic, and Asian empires as well as American and Latin American art.
Since we're huge fans of contemporary art, those collections are usually our favorites, and they're housed in the Broad Contemporary Art Museum building.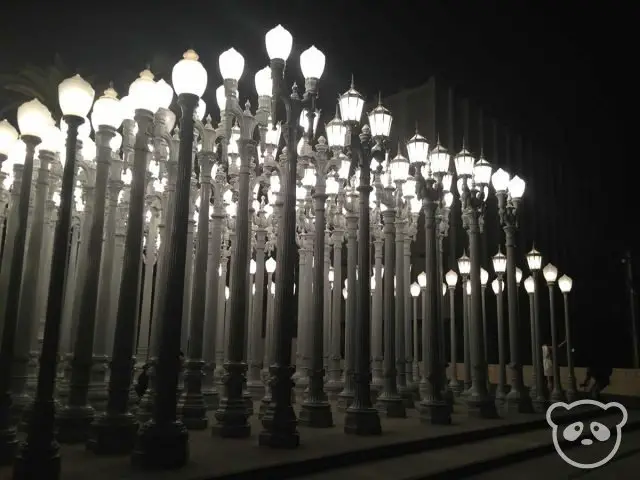 Fun Fact: "Urban Lights" by Chris Burden (2008) was featured in the movie, No Strings Attached with Natalie Portman and Ashton Kutcher.
PRO TIP: You can see the "Urban Lights" exhibit outside of LACMA for free without a ticket since it's a set of sculptures before the ticketing area. It makes for amazing photos day or night.Learn more about "
Urban Lights
."
LACMA is also located next to La Brea Tar Pits and Page Museum. If you're interested in natural history and prehistoric animals, this is the place to visit! You can get tickets here.
Ever had a macaron ice cream sandwich before? We hadn't! At least not until we visited Milk!
It's one of the first places in Los Angeles to offer the macaron ice cream sandwich and they have such amazing flavors! They usually have a few staples like cereal & milk, grasshopper, and red velvet. But our favorites are the more unique and seasonal flavors that they don't always have like jasmine tea, green tea, and Thai tea.
Keep in mind that the macarons can be a bit firm initially, since they're taken fresh out of the freezer. You may have to wait for it to warm up a little bit before eating, but it's well worth the wait!
They also have normal cookies and other types of cakes as well. They are particularly well-known for their blue velvet cake, which is a blueberry, blue colored cake. It's super yummy as well.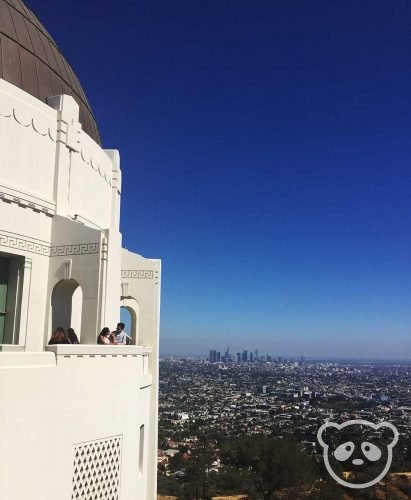 Griffith Observatory is both a tourist spot and a local gem, it has amazing views of Los Angeles as well as a perfect view of the Hollywood sign.
Fun Fact: Griffith J. Griffith donated the land surrounding the observatory to the City of Los Angeles for the construction of an observatory, exhibit hall, and planetarium. He wanted astronomy to be accessible to the public; for that reason, today admission to the observatory remains free of charge.
Visit during the day and you'll be in for a treat, you'll be able to see beautiful views of downtown Los Angeles, Hollywood, and during clear weather even the Pacific Ocean. Inside the observatory, you can check out the Tesla coil and exhibits about the moon and our solar system. At a fee, you can also buy tickets to various shows in the planetarium, see website for more information. You'll definitely learn a lot in there!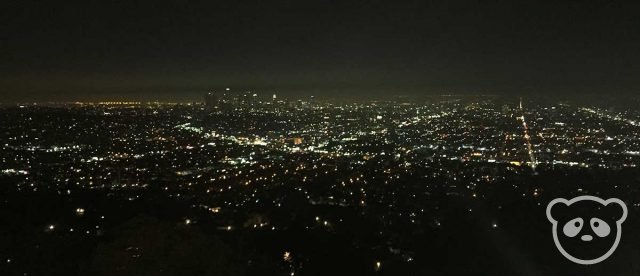 After sunset, you'll be able to see the city light up as well as look through their historic telescopes. Make sure you get in line early, they cut off the line for the telescopes by 9:30pm so that they can close by 10pm.
PRO TIP: If you don't want to spend your night waiting for their historic telescopes, try visiting Griffith Observatory during their
Public Star Parties
. They occur every month on a designates Saturday, see
schedule
. People are super cool and friendly and will gladly let you take a peek through their telescope, I once saw the
rings of Saturn
here!
Koreatown
Los Angeles has the biggest Koreatown in the world and despite the name, is much more diverse than you'd think — the population actually has more Latinos (at 53.5%) compared to Asians (32.2%). This combination has led to delicious fusions of food, such as short rib kalbi tacos that California has become so famous for.
Fun Fact: Los Angeles has the largest Korean population outside of Korea. In the U.S., New York City comes in at a close second with Honolulu in 3rd, San Jose (CA) in 4th, and San Francisco in 5th.
Koreatown (or K-town, as locals call it) is one of the best places to shop for Korean skincare items, grab drinks, and get delicious food. You can pretty much get skin products at any plaza, there are so many stores full of brands, like Iope, Innisfree, The Face Shop, and more.
The nightlife is great in K-town with tons of bars and restaurants open late. You'll definitely want to get some delicious food here! For Korean bar food, try OB Bear or Yup Dduk La, a Korean rice cake chain from Korea. If you're more into Korean barbecue, Soowon Galbi and Ham Ji Park, are great, but our overall favorite is Kang Ho Dong.
For the best Korean BBQ in LA you have to try Kang Ho Dong Baekjeong. They're famous for their prime short rib (super delicious) and their ring of steamed egg and corn cheese around the barbecue grill. The steamed egg cooks with the heat of the grill. The servers will come by your table and fill (and refill) your egg with a pitcher.
Honestly you can't go wrong with any order, but we always get the beef combo which usually comes with thinly sliced brisket, seasoned prime boneless short rib, a choice of prime boneless short rib OR prime rib eye, and a choice of beef brisket soybean paste stew OR kimchi stew. We usually pick the rib eye and the soybean paste stew. IT IS SO GOOD, you won't regret getting it!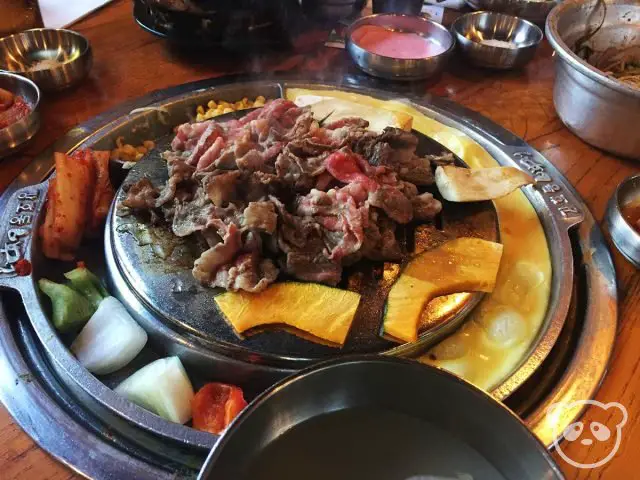 The combo comes with steamed egg, corn cheese, onion, and kimchi. They also give you a fresh salad when you sit down. For people who don't love beef as much as we do, they also have a pork combo and other appetizers you can choose from.
PRO TIP: The "small" size combo is recommended for 2 people and the "large" is recommended for 3-4 people.
For drinks, try Korean Hite or OB beer or grab some soju. They serve their soju frozen so it's extra refreshing and smoother.
PRO TIP: Keep in mind that the waits at Kang Ho Dong can be quite long, at least 1-2 hours. If you're starving or simply don't have time to wait, Soowon Galbi might be a better option for you since they take reservations.
DAY 3 – Downtown Los Angeles (DTLA)
Spend the last day in Los Angeles exploring downtown Los Angeles. Even though the area primarily office buildings, it is still full of art and culture.
Important note: If walking around Downtown Los Angeles, be careful not to wander into Skid Row unintentionally. Skid Row is a 1 square mile area between 3rd & 7th street and Alameda. It has one of the largest homeless population in the U.S. and has since the 1970s. Even though most homeless people are harmless and are just going about their daily lives, some can get aggressive if you don't give them money.
For breakfast, head over to Grand Central Market for lots of delicious eats. The indoor food market has tons of options to choose from, wood-fired pizza, Salvadorian pupusas, ice cream, green juices, literally the world is your oyster.
PRO TIP: Grand Central Market has its own parking structure right next door, we usually park there since its elevators take us right into the market. If you choose not to drive, they have a free shuttle that will provide you with a ride to or from the market to various areas in downtown LA. Call this number (213-896-9260) to book it.
Eggslut is one of the most popular places to eat at in Grand Central Market. They are known for their various breakfast sandwich options as well as the "Slut." The "Slut" is a cage-free coddled egg on top of a smooth potato purée, poached in a glass jar, topped with gray salt and chives, served with slices of baguette. Check out the full menu here.
The food is good, but we found it a little overrated for the wait (we waited approximately 1 hour), but we'd definitely get it if there was no wait.
Sarita's Pupuseria
Now THIS, is our favorite spot in Grand Central Market. Yep we've eaten it for breakfast too, any time is a good time for a pupusa! We especially love their beef and bean pupusas with a side of fried plantains, they are SO good and freshly made to order.
Surprisingly even though they're well-known for their yummy pupusas, there usually isn't a wait here. If you're starving and don't want to wait for Eggslut, well you know where to go now.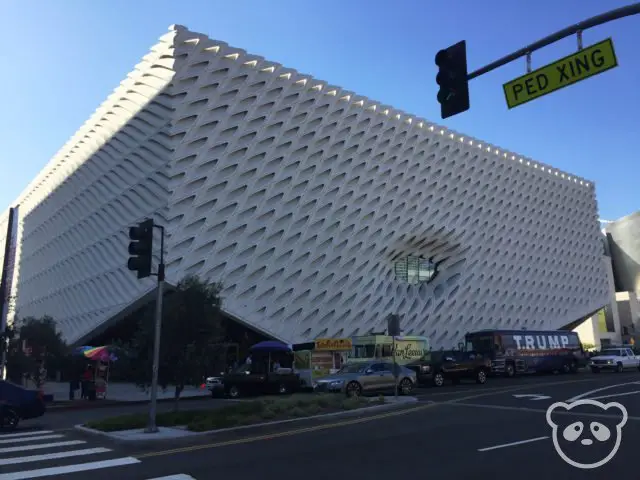 Definitely check out The Broad museum for some more contemporary art. The best thing about the museum is it is FREE. Note that you still have to get a ticket though, so just because it's free doesn't mean it doesn't require a ticket.
To get tickets, either show up at The Broad and wait in line for a standby general admission ticket, or reserve them online at no cost. Please note that if you want to see Yayoi Kusama's Infinity Mirrored Room—The Souls of Millions of Light Years Away, you will need a separate ticket.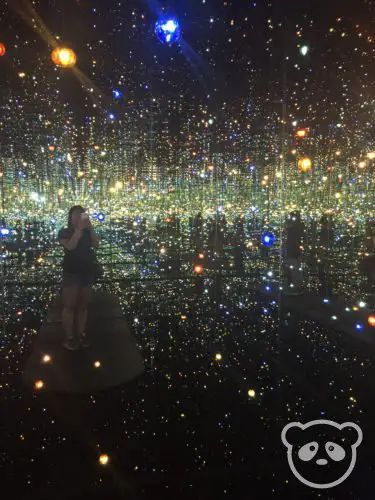 For the Infinity Mirrored Room, you will need either a general admission ticket (either booked online or standby) to enter the museum. Once you get inside the museum, sign up for your spot to get into the room via the iPad kiosk in the lobby. For more details, see website.
PRO TIP: Most people visit The Broad to see the Infinity Mirrored Room. With that said, the earlier your general admission ticket, the higher the likelihood of you getting to see Yayoi Kusama's Infinity Mirrored Room since timeslots do run out.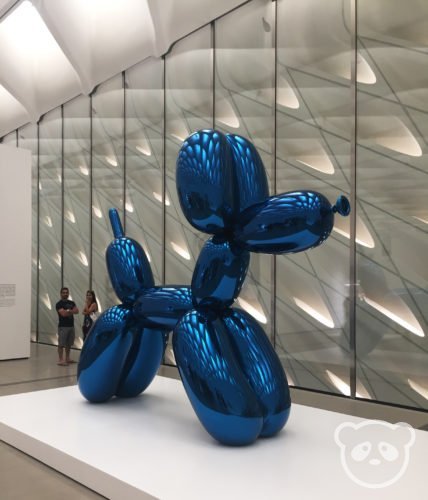 Now that we've gotten that out of the way, even though it's on the smaller side (it's nowhere near as large as LACMA), there is so much other stuff to see in the museum! You'll be able to see a Jeff Koons' balloon animal, works by Roy Lichtenstein, and Takashi Murakami.
The Museum of Contemporary Art (MOCA) is a popular modern art museum in Los Angeles, they also have a few buildings throughout town — MOCA Grand, MOCA Geffen, and MOCA Pacific Design Center (PDC).
The best thing about MOCA is they usually have different artwork on view as well as special exhibits so you'll usually be able to see something new every time. What we've noticed is that the MOCA Grand location tends to be more static so they have a regular collection as well as special exhibits.
Lunch at Wurstkuche for some of the most unique hot dogs ever! This casual spot is famous for their exotic sausages, ranging from duck & bacon to pheasant, and many more. They are so delicious and we loved being able to try something new and different. See their menu for more information.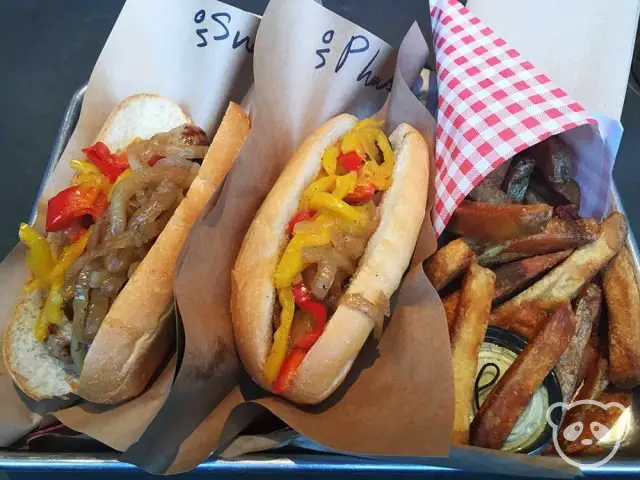 Jimmy ordered their rattlesnake & rabbit sausage with jalapeno peppers because it was known for its buttery and mildly spicy. I got their pheasant with herbs de provence and it was juicy and savory as advertised. They were so delicious so we'd gladly go back for some more gourmet hot dogs!
We also got a small order of fries with the pesto mayo dipping sauce. I got a Mr. Q Cumber (cucumber) soda and Jimmy indulged in a German beer on tap.
PRO TIP: It's a popular spot so waits can be long, but it's worth it! We went during the off hours and there was still a wait, definitely go before you're actually hungry so you don't get hangry.
Little Tokyo
On your way back to downtown, check out Little Tokyo, also known as the Japantown of Los Angeles. Explore the shops and restaurants (if you're still hungry) in the area.
Fun Fact: Little Tokyo is the largest and most populous of all of the Japantowns in the United States, including the Japantowns in San Francisco and San Jose, California.
Visit Tokyo Japanese Lifestyle store  for uniquely Japanese gifts — Rilakkuma, Hello Kitty, and Pokemon plushies will definitely be found here. For ramen, check out the famous Daikokuya, it's affordable and it's always got a line out the door. Nijiya Market is great if you need some groceries or just want some Japanese snacks and candies.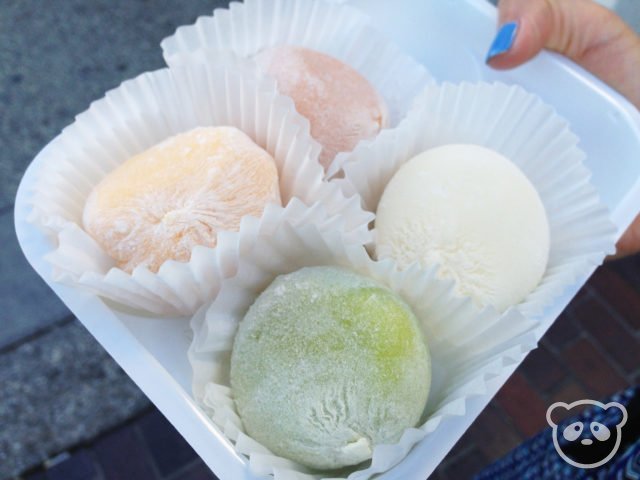 Mikawaya
My favorite spot in Little Tokyo is Mikawaya for their delicious gelato mochis. They have so many uniquely Japanese flavors such as black sesame, red bean, green tea, and plum wine. But for the less adventurous there's also Kona coffee, chocolate, strawberry, and vanilla. Super yummy and such a great dessert!
This is also one of my favorite places because Trader Joe's stopped selling their mochi ice creams so I can't get my fix as easily anymore, sadface.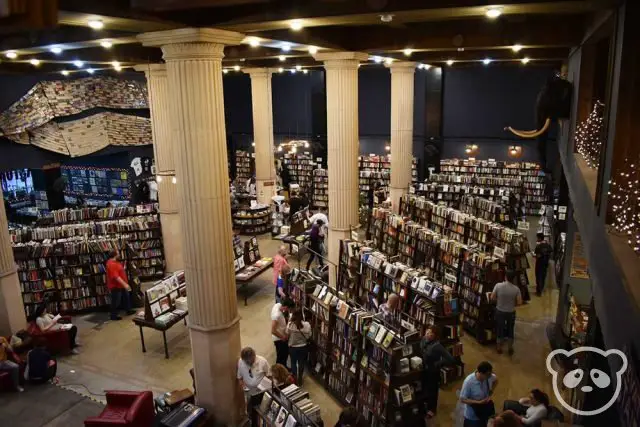 Make your way back towards Downtown to The Last Bookstore, an independent bookstore that's been made famous by Instagram. Even though Powell's Books in Portland is my favorite, this bookstore still holds a special place in my heart.
Aside from selling used books and CDs/records, they've got a bunch of cool artistic sculptures made from old books. They also have a gallery space upstairs with exhibition space for local artists. I love how they try to support local artists as much as they can.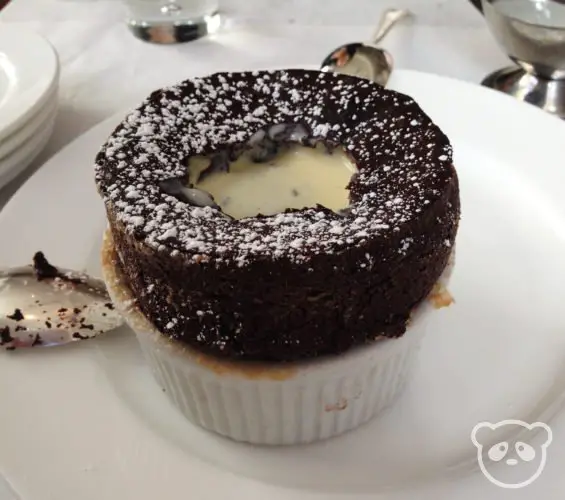 For dinner, gobble up some Bottega Louie. Their American cuisine is a combination of various dishes of European origin, from pizza to chocolate lava cake, macarons, and pastries.
Our favorite things to order here are their pizza and their chocolate lava cake, you definitely don't wanna miss out on their chocolate lava cake. It is super good, so make sure you save room!
PRO TIP: If you're craving some pastries and cakes (not the chocolate lava cake though!) and don't have room in your tummy, grab it to go on the way out!
If You Have More Time in the Los Angeles Area 
List of the Sights in Los Angeles, CA 
Note: Unless otherwise stated, all locations listed are in Los Angeles, California.
DAY 1 – West Los Angeles
DAY 2 – Hollywood & LA Hills
DAY 3 – Downtown Los Angeles
Map of the Sights in Los Angeles, CA
This map includes a list of all of the Sights to See, Restaurants as well as the routes by day (i.e. Day 1, Day 2, and Day 3) within specified layers.
By default, only the Sights to See, Restaurants, and Lodging are shown but you can select to view the daily routes. Use the slide out panel to select layers to toggle them on and off using the checkboxes.
We hope that this 3 day weekend guide has inspired you to explore Los Angeles! Keep in mind that if you're planning on visiting Universal Studios or Disneyland, you will definitely need more time than just 3 days, especially if you want to see as much of Los Angeles as you can. 
Loved this things to do in Los Angeles guide? Pin it for later!