Important Note: The Great Park Carousel is currently under renovation and closed, it is expected to reopen in Fall of 2021. Please see the
City of Irvine
for latest updates and more information.
If you've driven along Interstate 5 in Orange County, specifically in Irvine, California, you may have wondered about the giant orange ball floating in the horizon. That orange balloon is the one and only Great Park Balloon. The City of Irvine offers tethered balloon rides in the Great Park on specified days of the week.
It is one of the best cheap and fun things to do, not only in Irvine, but in Orange County, period! You'll get to take a quick and safe ride up into the sky and get some of the best views in the area.
Fun Fact:

The Great Park Balloon is 118 feet tall, has a volume of 210,000 cubic feet. Its gondola weighs in at almost 1 ton (1,810 pounds).
Since we still haven't gotten a chance to ride in a hot air balloon, even though we went to a hot air balloon festival, this has been the closest and next best thing! It is a super cool experience and well worth the trip, especially if you're already in Orange County.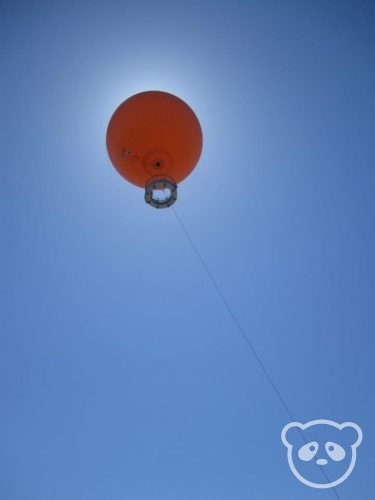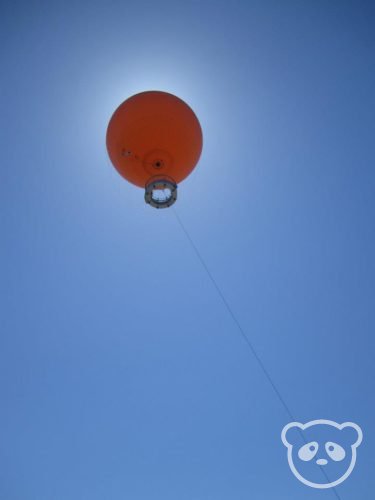 All About the Great Park & The Orange Tethered Hot Air Balloon
The Great Park is a newly developed public park in Irvine, California, smack dab in the middle of Orange County. The park was once the decommissioned Marine Corps Air Station El Toro and though there are sports fields and various activities going on inside the park, there is still a lot of construction and development going on in the area.
The park opened in 2007 and the giant orange balloon became the Great Park's signature attraction. It was also the first attraction to open in the park.
Fun Fact:

The Great Park balloon takes visitors 400 feet above the Great Park and gives them an amazing bird's eye view of Irvine and Orange County. On a clear day, you can see up to 40 miles away.
In short, the balloon is basically a giant balloon filled with helium and is tethered to the ground by a steel cable that can hold up to 90,. Nevertheless, you still feel like you're soaring in the air.
PRO TIP: Make sure you eat before you head over to the park, there aren't too many food options in the area.
I had initially heard about this tethered hot air balloon in Irvine from a friend, she had gotten us super excited about it and it was definitely one of the coolest experiences. We were able to get tickets for early afternoon and it wasn't super packed.
The tethered hot air balloons can fit a maximum of 25 to 30 people for an approximately 10 minute ride. Though it sounds like a packed ship in the tethered hot air balloon, we were still able to walk around to take in the beautiful views and snap photos.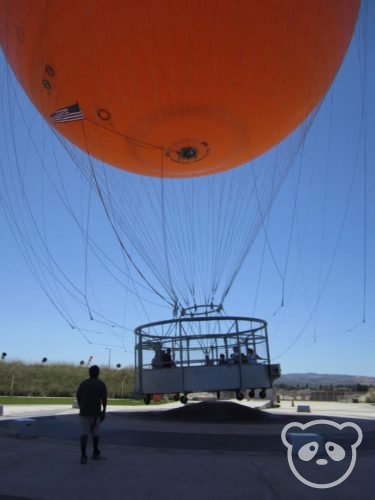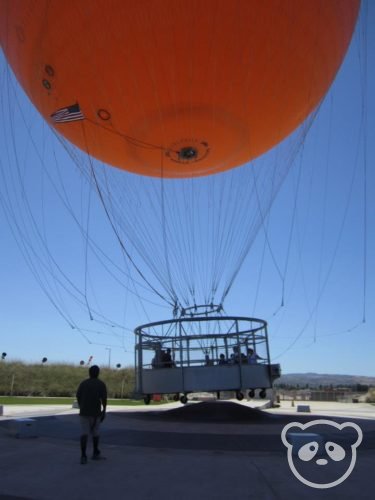 The gondola or "basket" of the hot air balloon has a metal cage for safety purposes. It keeps everyone in, but it can also leave a grate or mesh pattern in your photos, so be prepared for that!
PRO TIP: Consider getting tickets for sunset, we thought it'd be a beautiful time to go, but it's super pretty during the day as well!
I'm not sure anything would replace an actual hot air balloon ride, but this is a more budget-friendly and quicker option. Also if you're seeking an accessible, ADA-friendly option, this is it! Wheelchairs are permitted on the flight.
Fun Fact:

Designed by Aerophile, a Paris-based company, this was the first giant helium tethered balloon of its type in the United States and is now second only to another located at Walt Disney World in Orlando, Florida.
Aside from the giant, orange balloon, there is also a carousel in the park called Great Park Carousel. It is typical of what you'd see at any amusement park so we skipped it. Plus it costs $3 so we couldn't really justify it. After all, we were mainly there for the balloon ride anyways.
Irvine is located roughly halfway between Los Angeles and San Diego so this is a great place to stop on a road trip for a quick tethered hot air balloon ride and to stretch your legs!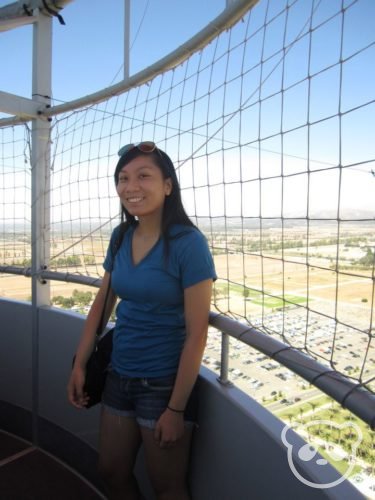 Visiting Information
Ticketing
Adults (19 and older): $10 As of November 2019, it is FREE!
Children (12-18 years old): $5 without a paid accompanying adult FREE as of November 2019
Children (18 years old and younger)*: FREE with paid adult
Family & Friends Pass: $40 for five adults
*Children under 12 must be accompanied by an adult onto the balloon.
Admission is FREE because it is sponsored by homebuilder and Great Park developer FivePoint Holdings.
You will also need to sign a waiver for the balloon flight.
Note: The tethered hot air balloon ride is not recommended for expectant mothers or people prone to motion sickness, vertigo, or heart problems.
Hours
Thursday-Friday: 10am-3pm, 7pm-10pm
Saturday-Sunday: 9am-3pm, 7pm-10pm
Note: Ride availability depends upon weather. Windy conditions can be dangerous and the tethered hot air balloon may have to be grounded.
PRO TIP: I'd recommend calling the Visitors Center beforehand to see if the tethered hot air balloon is flying the day of so you don't waste your time driving over there.
Directions & Getting There
Google Maps will probably be your most reliable method of getting here, it is a newer development so more traditional or older GPS may not have the streets.
From I-5 or Interstate 405, take the Sand Canyon Way exit to Marine Way and then Ridge Valley. Follow signs leading to the parking lot.
Address
Orange County Great Park
6950 Marine Way
Irvine, CA 92618
Website
For the latest and more up-to-date information regarding weather conditions, please contact the Visitors Center at 949-724-6247.
[MAP]