After we saw Dominique Crenn's on Season 2 of Netflix's Chef's Table, we knew we needed to try some of her food! Specifically, we wanted to try her Breton style crêpes for brunch at Petit Crenn in San Francisco, California. We had to make sure it tasted as good as it looked on our TV and she didn't disappoint. 
Fun Fact: Dominique Crenn is the first female chef to be awarded 2 Michelin stars.
The main featured restaurant on the show was her 2 Michelin starred Atelier Crenn, but they also showed her talking to customers at her more casual spot, Petit Crenn. We loved how she brought her French flair to California.
In her episode, she mentioned how her family is originally from Brittany, France and that seafood is a huge deal there. Because of that, San Francisco was the perfect fit for her, full of fresh, local seafood with a similar climate to boot.
Fun Fact: The Breton area is also known for sweet crêpes and savory galettes. Galettes are basically a savory 

crêpes

, but folded differently.
Knowing this, we made sure we ordered at least one crêpe at our French brunch. And Dominique Crenn did not disappoint!
Jimmy made a reservation about a month in advance, they weren't too difficult to make as there were a few spots available on Resy.
PRO TIP: Make an
online reservation
. The restaurant is pretty small and probably couldn't seat more than 30 people.
The brunch menu isn't too complicated, with less than 10 options it keeps things simple.
For drinks, we ordered a small French press coffee and a fresh, cold-pressed orange juice.
The small sized French press coffee was pretty large already, I wouldn't recommend ordering the larger size unless you were dining with 3 or more people. Or if you just really love coffee, then be my guest.
The menu didn't specify the type of orange juice specifically, but the juice was super red, which led me to believe that it was from a blood orange. It was very delicious and naturally sweet, totally reminded us of the refreshingly fresh orange juices we had while traveling in Europe.
Because we are fatties, we got a Pain au Chocolat as our brunch "appy" (appetizer). It was DELISH. It was definitely one of the best croissants we've had in awhile. We loved that the chocolate was more of a darker chocolate because it wasn't as sweet.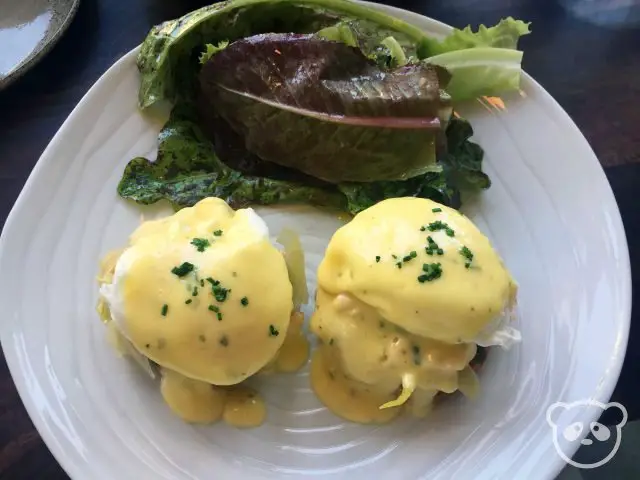 Jimmy is a sucker for benedicts of all shapes and forms, he ordered the Eggs Benedicte with Grilled Trout, Braised Leeks, and a Bernaise Sauce. He said it was the best eggs benedict he's ever had and I totally agree with him! The fish was super fresh and that Béarnaise sauce was amazing. It kicked the average Hollandaise sauce out of the water!
The "muffin" part of the Benedict uses brioche which made it extra delicious. The salad was also super fresh!
Fun Fact: Béarnaise sauce is very similar to Hollandaise, however it uses white wine vinegar as the acid instead of lemon juice.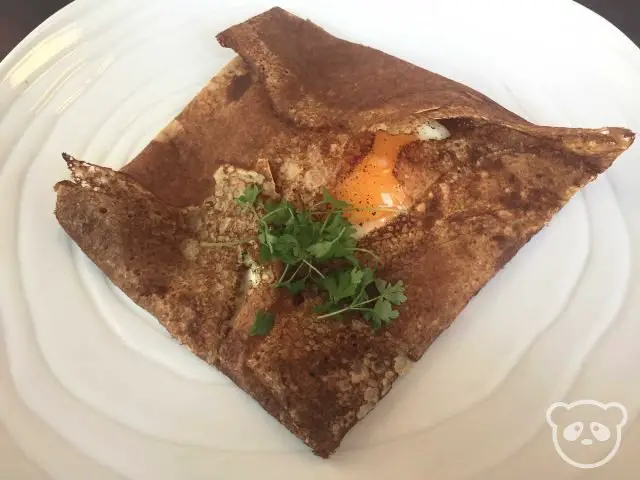 Though I usually love me some sweet stuff for breakfast, I was really after that crepe. Plus it helped that we'd already had a sweet as our appetizer haha. I ordered the Buckwheat Crêpe with Dungeness Crab and a Gribiche Sauce. Technically because this was a savory crêpe, it's a galette but they probably called it a "crêpe" on the menu to reduce confusion.
Fun Fact: Gribiche sauce is similar to a mayonnaise. It is typically made using hard-boiled egg yolks, mustard, vegetable oil, and herbs.
This was, by far, THE best crêpe we've had outside of France, and since we've only been to Paris, we are limited to that experience for now. The Dungeness was super fresh and the crepe was perfectly crispy but soft at the same time. The gribiche sauce was a great complement to the dish, bringing out the flavors of the crab while not being overpowering as I could still taste the sweetness of the crab.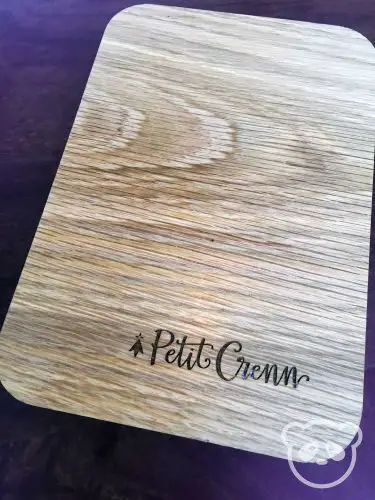 The portions at Petit Crenn are definitely on the smaller side, but you're paying for quality over quantity. Price-wise it is similar to other spots in San Francisco, though maybe slightly more due to portion size. If you're starving when you show up, you might eat up a small fortune but your stomach will be insanely happy afterwards!
I will admit I am a picky eater, meaning that I pretty much taste every single flavor in a dish, so I was pleased with Petit Crenn. I would definitely go back for brunch and we're already planning our next reservation back to Petit Crenn since we'd love to try the dinner menu.
Address & Information
609 Hayes St
San Francisco, CA 94102
415-864-1744
Website
Online Reservations
Map
Hope you enjoyed reading about our French brunch at Petit Crenn as much as we liked writing and eating it! 
Wanna try Petit Crenn in Hayes Valley, San Francisco? Pin it for later!