This post may contain affiliate links. If you click one of these links, we may receive a commission. We're grateful for your continued love of this site!
Amsterdam isn't too large of a city, so it's perfect for a weekend getaway. This month's A Weekend Away itinerary post is on Amsterdam! This guide to Amsterdam includes many must see spots as well as off the beaten path sights to see and do that are more popular with locals. Jimmy spent a few weeks working in the Netherlands had the time and opportunity to explore some of the more unique and locally popular sights.
When you think of Amsterdam, what comes to mind?
Is it the beauty of the Dutch capital, streets of canal houses, tulips a-blooming, windmills, and Delft blue?
Or is it the darker side, the city where vices like prostitution and "coffee shops" are legal?
"Some tourists think Amsterdam is a city of sin, but in truth it is a city of freedom. And in freedom, most people find sin."
– John Green, The Fault in Our Stars
Amsterdam kind of has a Dr. Jekyll & Mr. Hyde reputation. It has become known for its beauty, but also it's sex and drugs. But if you spend enough time in the city, which most people unfortunately do not, you'll definitely get to see more of the distinct beauty. The city is just as gorgeous as you've seen in photos all over Instagram! We'll take you to the best, local spots in this 3 day itinerary.
Fun Fact: Amsterdam is the capital of the Netherlands, but the government sits in The Hague (Den Haag). You'll find Parliament and the Royals residing there and not in Amsterdam.
Though Amsterdam is known for its vices, the city is one of the safest capital cities in Europe and perfect for a solo traveler. Jimmy was on a work trip in the Netherlands so I was able to explore Amsterdam on my own. For this reason I wanted to explicitly state that Amsterdam felt super safe, I have heard that pickpockets hang out around the Amsterdam Centraal train station but I never encountered any. This was my personal experience though, so other experiences may vary.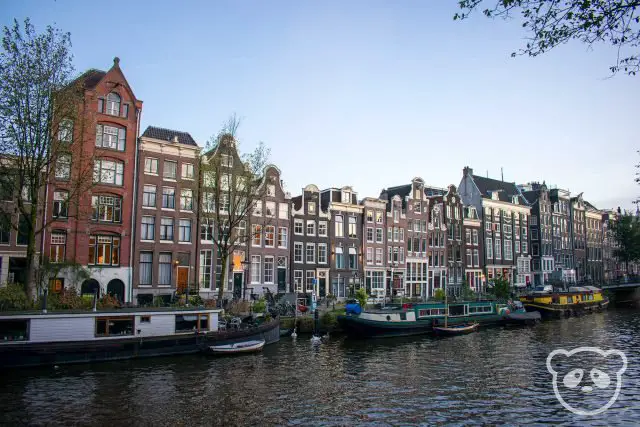 This 3 day long weekend guide to Amsterdam has a healthy mix of the touristy spots with the more local ones and it'll give you a taste of the best parts of the city, including its art and culture.
Here is our 3 day itinerary for Amsterdam!
DAY 1
One of the coolest things in the Netherlands are the food & flea markets. They sell street side favorites, like stroopwafels (caramel or chocolate filled sandwich wafer cookies), poffertjes (mini pancakes), and Dutch haring (herring).
Start the day off with food at Albert Cuyp Market (Albert Cuypmarkt) in de Pijp area of the city.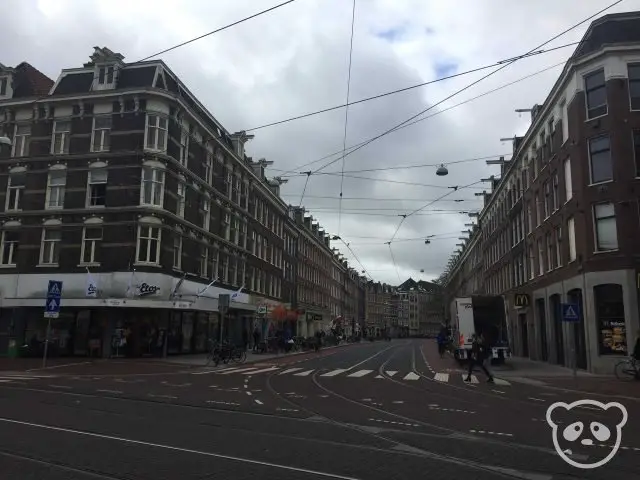 This is one of the markets where the locals can still outnumber the tourists and this is also why it's my favorite market in Amsterdam. The market was established in 1905 and has remained immensely popular ever since.
Fun Fact: The Albert Cuypmarkt has 260 stands and is the largest day market in Europe.
It's got tons of stalls ranging from clothing to household goods, coffee and traditional Dutch street food, such as stroopwafel, Dutch haring, and juice stands. My favorite items to get here are the stroopwafel and the haring!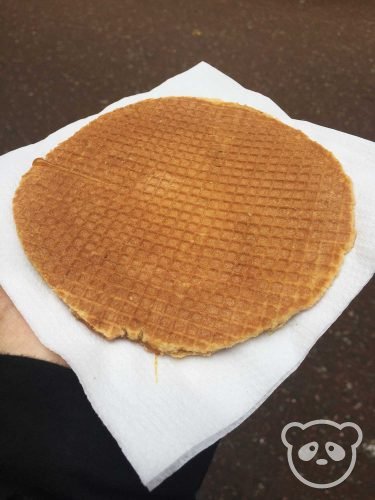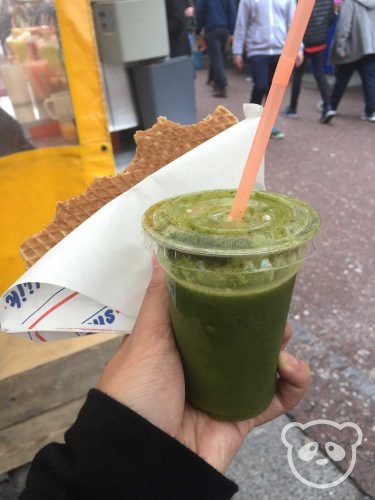 Rudi's Original Stroopwafels (Goudsche Siroopwafels) is my fave spot for stroopwafels in Amsterdam. The buttery cookie has perfect texture and they give you a good amount of caramel to go inside. This one can be a bit messy to eat because they load them so well! But the mess is worth it, they're full of caramelly deliciousness! They will also warn you not to hold them upright to eat them and keep them flat (sideways) because it will fall apart more easily.  
Vishandel Molenaar, a local fishmonger, is an amazing spot for Dutch haring! You can get it in a sandwich (broodjes) or just the fish. I prefer mine filleted and cut up with a side of onions and pickles, but the Dutch way is to eat them by dipping them into your mouth hole by the tail.
You can also get tons of other Dutch goodies to eat there as well as souvenirs.
Important Note: This (as well as most markets) are closed on Sundays so if you're trying to rearrange this itinerary, plan accordingly! 🙂
After your tummy is satisfied, take a 10 minute walk over to Museumplein.
The Rijksmuseum is one of the most famous museums in Amsterdam as well as the entirety of the Netherlands. Some of the most famous artworks from the Dutch Golden Age are located within the walls, you'll be in the presence of pieces by Rembrandt van Rijn and Johannes Vermeer. For this reason, the majority of tourists tend to make the pilgrimage here to see those works.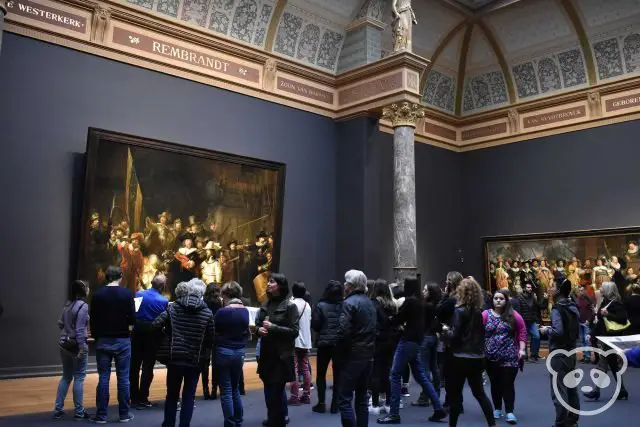 Some of the more famous Golden Age pieces on view at the museum include The Night's Watch (1642) and The Syndics (1662) by Rembrandt, The Milk Maid (1660) by Johannes Vermeer as well as more recent work such as a self-portrait from 1887 by Vincent van Gogh.
Though the Rijksmuseum has some Van Gogh work, it's definitely not as extensive as that within the Van Gogh Museum. If you're a fan of the more contemporary styles, I'd recommend skipping the Rijkmuseum in favor of the Van Gogh Museum.
Also don't skip the Rijksmusum Library, it is absolutely beautiful! Definitely the stuff of Belle's dreams (Beauty and the Beast reference, lol).
General admission for the Rijksmuseum is €17.50 for adults.
One of my favorite parts of the Van Gogh Museum is that they include many of Vincent Van Gogh's letters to his brother, Theo. It provided more insight into the thought processes and inspirations of the late artist.
"I'm glad that we're both working for the same firm now… You must in any case go to the museum often, it's good to be acquainted with the old painters, too, and if you get the chance read about art, and especially magazines about art…"

Vincent Van Gogh to Theo from The Hague, 19 November 1873
Aside from those internal processes, you will also learn about how he dealt with his mental illness as well as his collaborations with other artists of his time, such as Paul Gauguin.
At the Van Gogh Museum, you'll see some famous works by the painter, including The Bedroom (1888), Almond Blossom (1890), Irises (1890), and Sunflowers (1889).
General admission for the Van Gogh Museum is €18 for adults, tickets can only be purchased online this spring. See website for more up to date information.
No photos are permitted within the museum so you'll just have to take my word for it! 😉
For lunch, there aren't too many options nearby so I'd recommend getting something small from the cafes at Museumplein or inside one of the museums.
Since you're at Museumplein, you might want to visit the popular, Iamsterdam sign.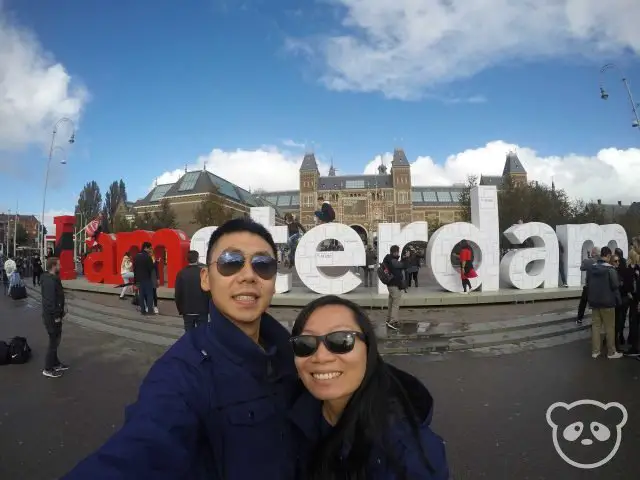 The sign is based upon a popular slogan for the city and is especially popular amongst tourists. It's meant to be an introduction and a statement of inclusion for all who visit, reside, study, and work within Amsterdam.
Fun Fact: Each letter is over 2 meters tall and the slogan is 23.5 meters wide.
It's a great photo op if you're in the area and very Instagrammable. But it'll be tough to get a shot without other people in it. It's really THAT popular!
Next up on the activity list is another museum so if you're already visited Rijksmuseum and still want to see the Van Gogh Museum, now would be the time!
Otherwise if you're all museum-ed out already, I'd recommend heading out to some greenery, and there's no place better nearby than Vondelpark.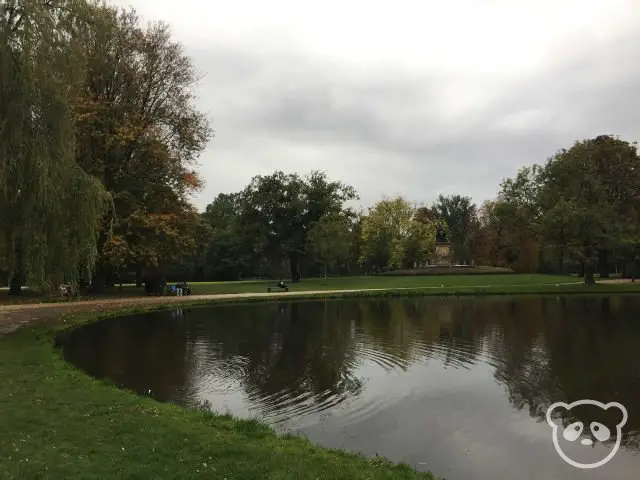 Vondelpark
The park is the largest park in Amsterdam and one of the most famous parks in the Netherlands. The park is 47 hectares (120 acres) big and has over 10 million visitors per year.
Fun Fact: Vondelpark was completed in 1865 as Nieuwe Park, and was renamed in 1867 as Vondelpark, named after Joost van den Vondel, a Dutch poet whose statue was placed inside the park.
There are also plenty of bike trails within the park so biking might be the best way to get around, personally I enjoyed walking through the park because I was able to slow down and relax a bit, but to each their own! Bike rentals are available nearby but outside of the park, so the choice is yours.
Dying to see some more gorgeous Dutch landscapes? Take a day trip to Kinderdijk! 
For dinner, take the streetcar and make your way to Haesje Claes.
This spot definitely requires a reservation, it is THAT popular. Aside from the fact that it's one of the best places to get a Dutch stamppot in Amsterdam, it also caters to a lot of tour groups so making a reservation is a necessity. We saw at least 10 people get turned away because they didn't have a booking.
Fun Fact: The Dutch stamppot is a traditional comfort food in the Netherlands, it consists of potatoes mashed with various vegetables, sometimes even fruits, topped with meat. Popular meat toppers include sausages, bacon, and stewed meats.
One of my main goals in visiting the Netherlands was to try some stamppot! Bear was able to meet me in Amsterdam for dinner after work so we each had our own stamppot as well as an appetizer to start.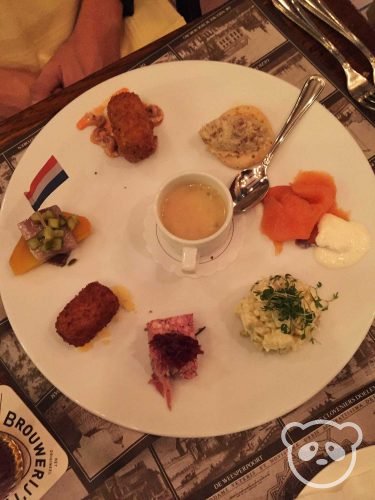 The appetizer platter gave us a chance to sample various types of traditional Dutch fishes, including haring as well as some traditional Dutch eats like a kroket (croquette).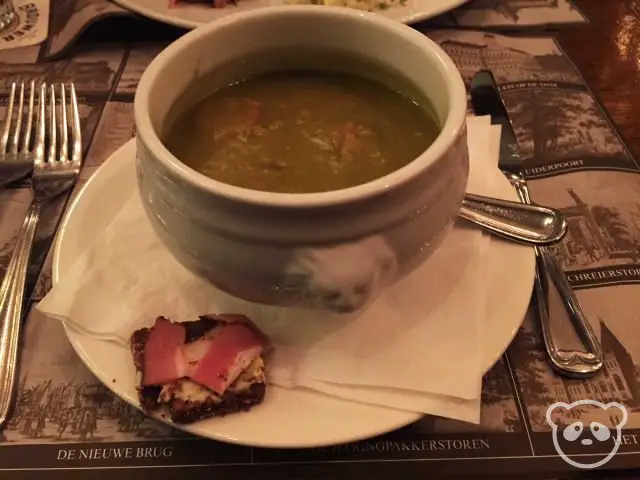 For our second appetizer, we got a pea soup.
We both ordered a different stamppot so that we could try more things.
The stamppot above was the hotchpotch stamppot that Bear ordered. 
I got the stamppot of the day which happened to be a meatball with broccoli, potatoes, onions, and pickles.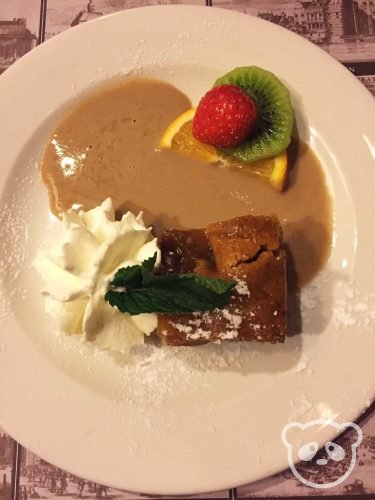 We finished off with an apple pie for dessert.
After dinner, we made our way to the Red Light District to explore and get a sense of the vibe in the area.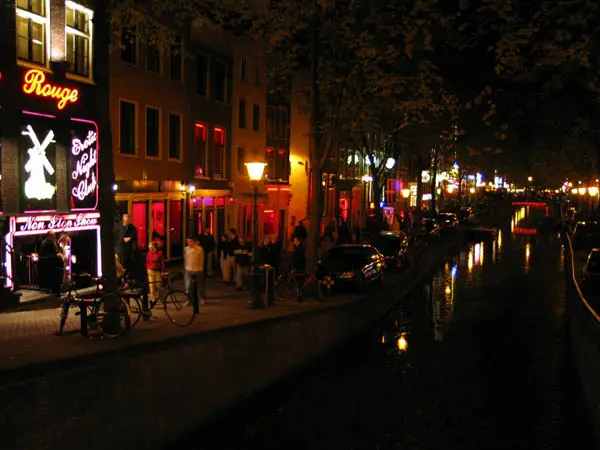 Red Light District aka De Wallen
The red light district is located in the De Wallen area of Amsterdam along Oudezijds Voorburgwal and Oudezijds Achterburgwal canals. It is one of the oldest and most picturesque parts of the city. In fact, some famous tourist sights are also located along these canals, such as the Old Church (Oude Kerk) and Our Lord in the Attic Museum (Ons' Lieve Heer Op Solder Museum).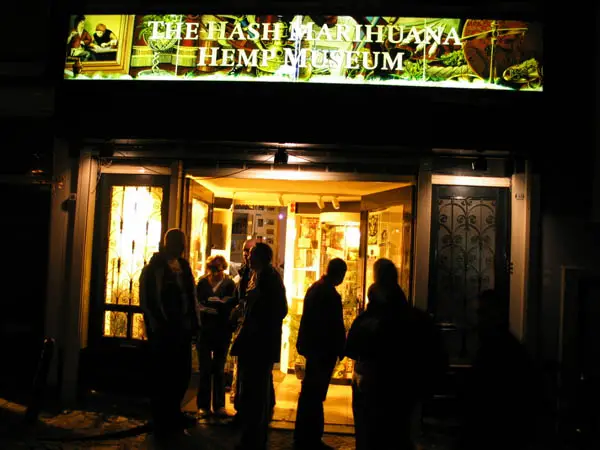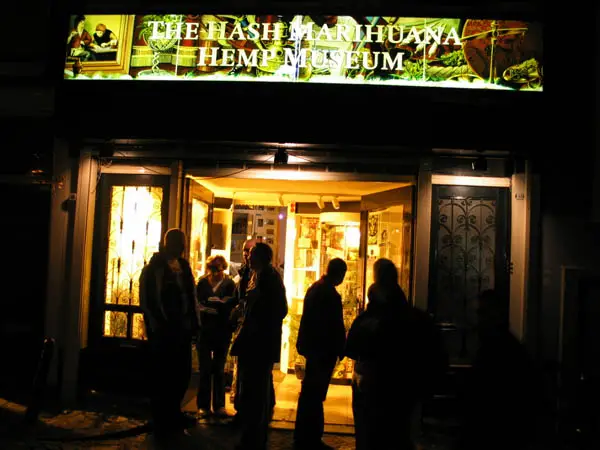 Aside from prostitution, this is also where most of the city's "coffee shops" are found. "Coffee shops" is in quotes because these are spots where you'd be more likely to find a weed brownie than an espresso. However I didn't go these "coffee shops" so I can't comment on it, but I can talk about the ladies dancing or sitting on stools in the windows.
Fun Fact: In 2000, prostitution was made legal in Amsterdam in order to put a government effort into regulating the industry and reduce sex trafficking.
Prior to going to the Netherlands, I'd heard various stories about how the red light district could be seedy, but I didn't feel that way at all. I just feel like a lot of people there were either tourists or on their bachelor (for you non-Americans, stag) parties.
We did see some people coming out of the apartments and guys cheering them on. So it was a very "bro"-like atmosphere. We walked around there after dinner, around 9 or 10pm and while I did see women wearing lingerie in the windows it wasn't anything I wasn't expecting.
With that said, if you're uncomfortable or don't feel safe with these types of situations I would suggest you not go. Otherwise, you can try visiting the red light district in the late afternoon and early evening when it's less populated and light out. Some of the women start work as early as 3pm in the afternoon so it is possible to get a taste of the experience without going to the red light district late at night. You'll know if the women are out by the pink or red glow of the lights they turn on when they're out in the windows.
PRO TIP: DO NOT take photos of the red light district area, including the women in the windows, it is NOT ALLOWED. There are bouncers everywhere and they will make sure those photos disappear, at best they'll make you delete them, but it's probably also not worth the risk of getting your phone or camera getting throw into the canal. 
Aside from experiencing the red light district, I also wanted to see the Red Light Secrets Museum of Prostitution.  
In short, this museum showcases the history of the sex industry in Amsterdam within a building that was once a brothel. This was also one of the main reasons I was so interested in the museum. An audio guide is also included in the admission, it is narrated by a Russian sex worker, you get to hear her stories and she presents the information in a light-hearted way.
At the museum, I learned the regulations women who work as prostitutes have under the law, which includes safer sex, regular blood tests, and of course taxation. This type of legalization is supposed to reduce the amount of sex trafficking as well, however this may or may not be working according to plan.
Still, this doesn't mean that the women are 100% safe as some have been victims of sex crimes and the exhibits tell some of those stories. In fact, a prostitute was actually murdered inside the building and the perpetrator was never found. This was included as part of a memorial for victims of sexual abuse.
Another exhibit they had also gave an idea of the "male gaze" the women (who prostitute) experience throughout their night in the window. I felt that this was a great way to put visitors in a prostitute's shoes, especially male visitors to the museum and get a taste of their thirsty and creepy looks. My only hope would be that men would actually learn from the experience but that might be too hopeful on my part.
Important Note: Canal houses are pretty small in general, so this museum is on the smaller side as well. It can get crowded in the evenings as more people walk around the red light district. If you're wary of crowds and a bit claustrophobic, I'd recommend going to the museum in the afternoon when the museum itself and the district is less busy.
Aside from hearing their stories, my favorite part of the museum was that it was respectful to sex workers. It presented their voices, showed their lives, and gave insight to their jobs in a coherent and tasteful way without placing any negative judgement upon them.
Admission includes the audio guide and is €9.50 online and €12.50 at the door. At certain times you can even purchase off peak tickets for an additional discount.
After we saw the museum, we walked along the De Wallen canals a bit more and headed to back.
DAY 2 – Rembrandt Day
I call this Rembrandt day because this itinerary will be taking you to a lot of sights that are related to Rembrandt and you'll get to see his importance as a painter in the Dutch Golden Age as well as his legacy as a painter in the Netherlands.
After a later night out, I'd recommend sleeping a bit more and grabbing a brunch from stalls at Waterloopleinmarkt.
Waterlooplein Market (
Waterloopleinmarkt
)
This market has an amazing selection of food, and like all Dutch markets, the typical street food options prevail, such as stroopwafel, poffertjes, and haring. At this market, I decided to opt for something simpler and grabbed a hot dog and a fruit juice instead. The hot dog stand served their hot dogs "Dutch style" with curry ketchup, mayonnaise, and chopped onions. It was delicious!
As a refreshment, I also grabbed a freshly squeezed blended fruit juice of apple, orange, and pineapple.
Important Note: This (as well as most markets) are closed on Sundays so if you're trying to rearrange this itinerary, plan accordingly! 🙂
Now that you're tummy is happy, make your way over to Rembrandt's House.
While my inclinations tend towards contemporary art, I learned a lot about Rembrandt in art history courses so I'm more than aware of his existence and his work. Because of this, I made a larger effort to see his work in Amsterdam and I was pretty excited to see his house.
Fun Fact: Rembrandt moved into this house at the height of his career and lived here for 20 years.
The house is surprisingly large, with rooms full of 17th century furniture, objects, and utensils to show what the house looked like up until Rembrandt went bankrupt.
Fun Fact: Jacob van Campen was responsible for the renovation and reconstruction of the facade of Rembrandt's house. He would later go on to design the Amsterdam Town Hall, which is what we know today as the Royal Palace at Dam Square.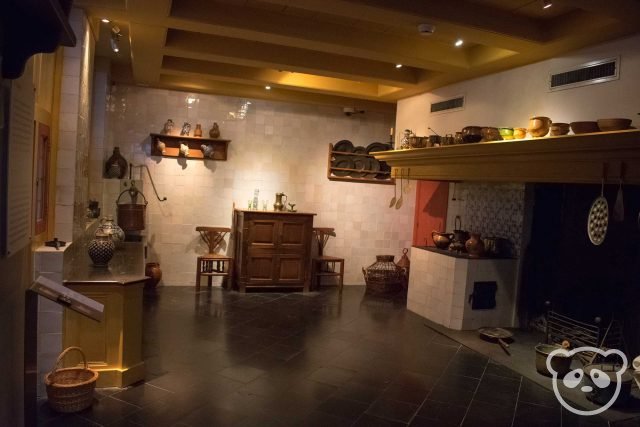 Back in the 17th century, Rembrandt would have been considered on the wealthier side. He would paint portraits for merchants, patrons, and clients all over Europe. As such, his main income came from those commissions, but he also had additional income from the sales of his paintings and his school. However he did not invest his money well, purchasing the house at a high cost and financing over ⅔ of it by a mortgage. Ultimately, he wasn't able to maintain the payments on the house beginning in the 1640s and by 1656, he was bankrupt.
Fun Fact: The Night's Watch, one of Rembrandt's most famous works that can also be seen at the Rijksmuseum was painted in this house.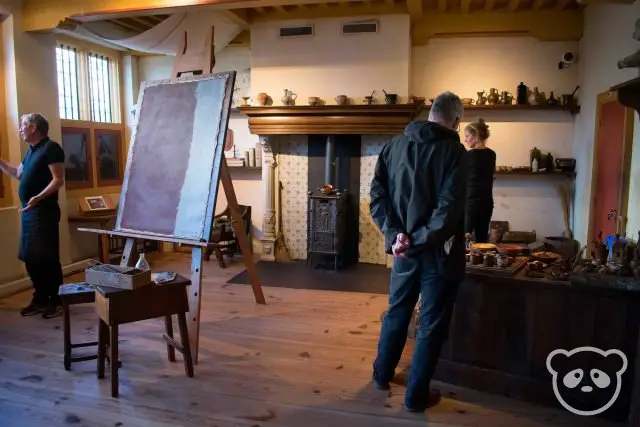 Rembrandt's house is an amazing way to see how a more well-off 17th century family lived. You get to see his bedroom, his office, as well as the kitchen and his studio. Some of the most famous Dutch artists came directly from the studios of Rembrandt, including Ferdinand Bol and Gerrit (Gerard) Dou. Ferdinand Bol will be mentioned again in the next stop of this itinerary. 😉
General admission costs €13 per person and tickets are available online.
Make your way closer to the canal ring to Museum Van Loon.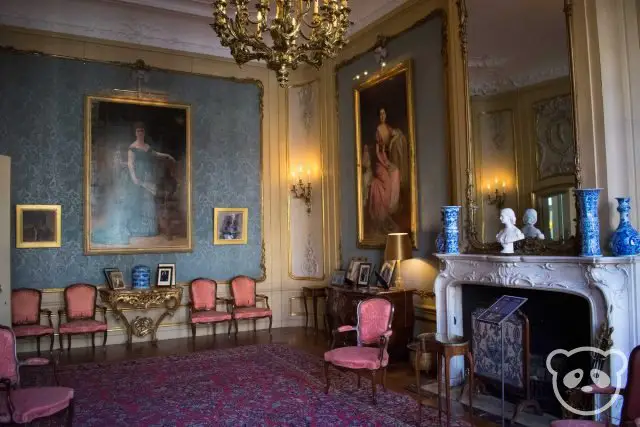 Museum Van Loon was one of my favorite museums in Amsterdam, it gives an amazing glimpse into how the wealthy merchants of the Dutch Golden Age lived. This house was once the home of Willem Van Loon, who co-founded the Dutch East Indies Company. He built the house for his family in 1672.
Fun Fact: Homes in Amsterdam were once taxed upon the width of the house. As such many canal homes are skinny and tall, and you can easily tell which homes were built by the wealthy as their facades are much larger than the rest.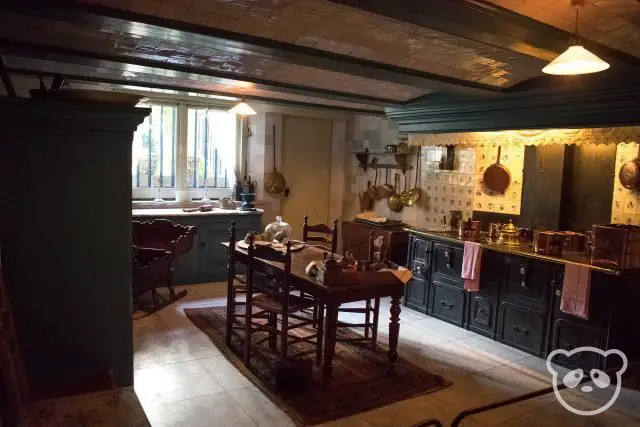 The home has had some slight renovations, but for the most part, the home remains as it looked during the 17th century. You can freely explore the rooms in the house from the living rooms, to the kitchen, bedrooms, garden, and coach house.
Fun Fact: The museum is the only one in the country where the canal house, garden, and coach house can be viewed in its entirety.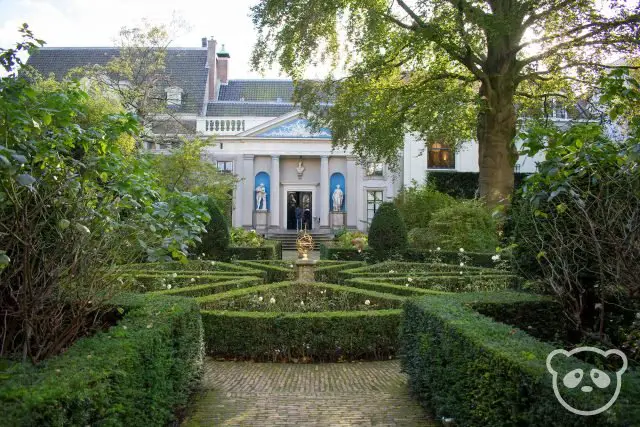 Aside from Van Loon, one of Rembrandt's most successful pupils, Ferdinand Bol, also once resided within this home. During the time I visited the museum, there was a special exhibit on Bol's work inside the coach house. Otherwise during normal times, the historical carriages and harnesses of the Van Loon family are exhibited here.
Tickets will set you back €13 per person online.
After exploring the Van Loon house, head back into the city center to Dam Square.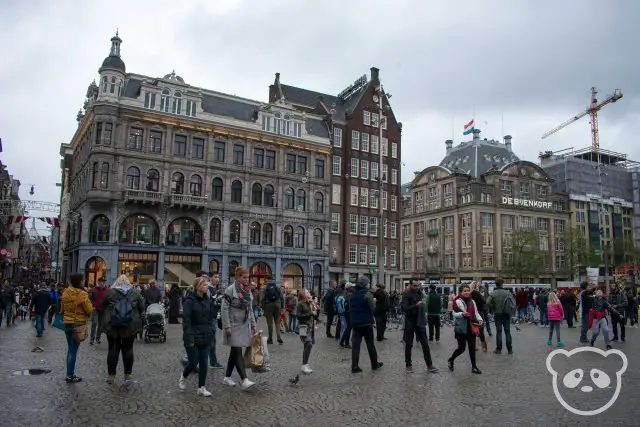 Dam Square (De Dam)
Dam Square is located at the end of important streets – Nieuwendijk, Kalverstraat, and Damstraat and is a stone's throw away from the Amsterdam Centraal train station.
This is the most famous square in Amsterdam and was created in the 13th century when a dam was built around the Amstel River to prevent the Zuiderzee Sea from flooding the city.  Today, the square is known for its touristic sights, such as the Royal Palace, the New Church (Nieuwe Kerk), and the Beurs van Berlage, an old Stock Exchange building now used as an events space.
When I initially booked my tickets for this spot, I was thinking, "Oh I'll get to see a palace in the middle of the capital!" It was definitely different from what I was expecting, as its history is way more complicated.
Fun Fact: The building was never meant to be a palace, it was built as a town hall, and became a royal palace under Louis Bonaparte's rule.
The building opened as the Amsterdam Town Hall in 1655 and was designed by Jacob van Campen who was inspired by the town hall in Antwerp, present-day Belgium. It remained a town hall until 1806 when Napoleon Bonaparte took over the Dutch Republic and placed his brother, Louis Bonaparte on the throne as King Louis I of Holland.
After Napoleon was defeated in 1813, the palace was restored to the Kingdom of the Netherlands. At the time, King William I of the Netherlands realized the importance of having a palace in the capital and moved into the building.
Today, the building is primarily used for government functions, such as state visits and entertaining by the monarchs. As a result, there are days where the Royal Palace is unavailable for sightseeing, make sure to check the calendar when you're planning your trip.
Most of the rooms on the ground floor are open to the public (with paid admission), the Citizens' Hall is the most impressive because of the gigantic chandeliers, beautiful sculptures, and gorgeous marble throughout the room. Overall, the artwork in the palace is amazing and includes works by Dutch artists like Ferdinand Bol. It was cool to see the royal bedrooms as well as where the state events are held.
With the cost of admission (€13), an audio guide is included. I highly recommend grabbing one of these because you learn so much more about the palace this way! Tickets can easily be purchased online. 
PRO TIP: Tickets for the Royal Palace are NOT timed, so you can show up at any time for the date you've purchased.
For dinner, try one of Amsterdam's most famous fry stands! Don't forget to get them the classic style, with regular mayo. If you're wanting to try some other sauces, they specialize in them so there are a ton of options. The Flemish fries, from the 60-year-old stall, are hot, crispy pieces of deliciousness and very affordable.
The last stop of the day will be one of the most famous spots in Amsterdam, the Anne Frank House.
When I was 10 years old, Anne Frank was required reading for students in California. I didn't realize it at the time, but it was kind of surreal to read the story of Anne Frank and what she went through during Nazi occupation of the Netherlands; her life was so vastly different than mine though she was only a few years older. Ever since reading the book, I've wanted to see the house the Frank family hid within during the time.
Fun Fact: The Diary of Anne Frank has been translated and published into over 65 different languages.
From the outside, the house looks like any other canal house on the street (until you see the long lines of visitors waiting outside) and that's probably what made it such a great hiding spot. However what I didn't know until I got to the house was that The Secret Annex, where the Frank family and others were hiding was located at the back of the house, away from the street.
The house itself is quite small so it can be a bit claustrophobic in there, especially when it's crowded. But it's definitely well worth the visit. For me personally, it was great to be able to see where Anne Frank lived and imagine her in the space as she wrote her diary.
To keep people moving and to allow visitors to see the space, photographs are not permitted here so you'll just have to trust me on this one!
PRO TIP: Currently there are renovations at the museum and there aren't any walk-ins available. You should purchase your
tickets online
instead, do note that tickets are timed so make a reservation you can live with.
General admission for the house is €10 per person and there is an online surcharge of €0.50 per booking.
The Anne Frank House is one of the sights in Amsterdam that stays open late, depending on the day and the season, as late as 10pm, so if you have other spots you want to cover on your itinerary you can definitely go to this one later.
DAY 3

Pancakes Amsterdam is one of the most touristy dining spots in Amsterdam, but it's also got some great Dutch pancakes.
Fun Fact: Dutch pancakes (pannenkoek) are thin, crepe-like pancakes from the Netherlands. They typically include slices of apple, cheese, bacon, or raisins and are usually thinner and larger than American pancakes.
The menu at Pancakes is fairly extensive and has more traditional Dutch varieties as well as American style pancakes and poffertjes (mini pancakes). I opted for the more traditional Dutch version with apples and cheese.
After the hearty breakfast, you can start your day with the first stop on the list!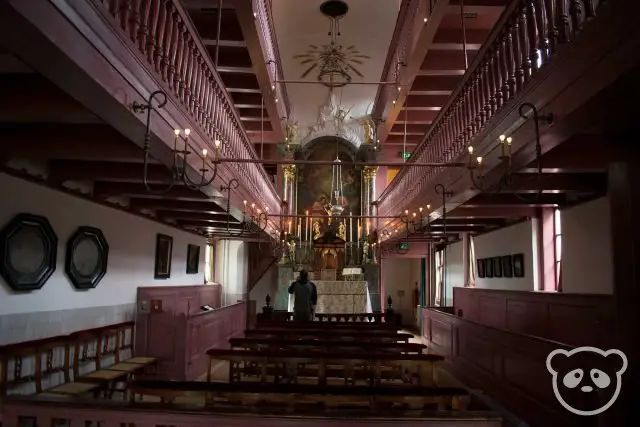 Our Lord in the Attic Museum was, by far, the most unique museum I saw in Amsterdam and it also happens to be one of my favorites.
Long story short, the building is a church, canal house, and museum in one. The name is begotten from the Catholic church located within the attic.
The canal house itself was built in 1630, and in the 1660s, the upper three floors were converted into a Catholic church.
Fun Fact: Following the Dutch Revolt of Spanish rule, Catholicism was banned in the 1580s. All churches were stripped of their "extraneous" decor and converted to Protestant.
During this time, Catholics were not allowed to hold worship services that were visible to the public. As a result, Catholic churches were forced into hiding, becoming clandestine churches, like the one within Our Lord in the Attic Museum. Today, the museum represents a voice of tolerance and encouragement for differences amongst all in the city of Amsterdam.
Fun Fact: This museum opened in 1888 and is the 2nd oldest museum in Amsterdam after the Rijksmuseum.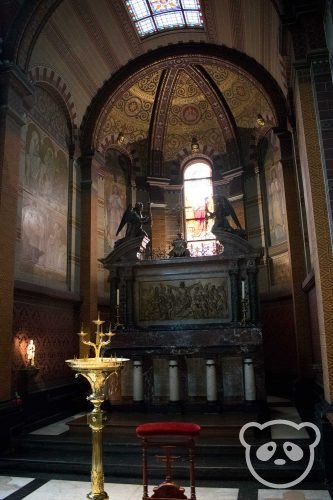 Aside from the interesting history of the church itself, it was cool walking through the rooms of the canal house in its 17th century splendor and seeing all the aspects of the church from the chapel to the confessionals, restored to its appearance in 1862.
Admission is €11 per person and includes an audio guide.
This museum is where you go to learn everything about the city of Amsterdam. Their permanent exhibit called "Amsterdam DNA," goes through 1,000 years of Amsterdam history.
Fun Fact: The city of Amsterdam was named after its location around a dam on the Amstel River.
It was my favorite part of the museum because it presents the history in an interesting and attention-grabbing way with an exciting narrator for the audio guide and hands-on interactive exhibits. Amsterdam DNA divides up the history into 4 main pieces: late Middle Ages, Golden Age, end of 19th to the early 20th century, and modern times, from when the city was named and built until today.  
Fun Fact: Amsterdam was built on swampland and in the 1650s, many of the houses in the city center were built on timber piles that were driven deep into the ground.
I appreciated that the narrative also discussed issues related to diversity and tolerance. They mentioned how past intolerance of different religions once affected the city eventually leading to change, acceptance, and encouragement of other views.
The museum also has temporary exhibitions and when I visited there was a special exhibit on the artworks of Rembrandt's most well-known pupils, Ferdinand Bol and Govert Flinck.
Tickets for the Amsterdam Museum are €13.50 per person and include an audio guide.
For lunch, head over to Frens Haringhandel for some delicious Dutch haring. Also great are their haring broodjes (herring sandwiches) and kibbeling (typically fried cod).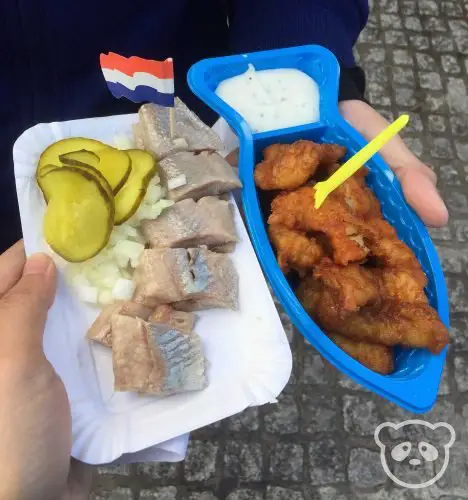 They also have smoked eel as well as other types of fish, such as salmon and mackerel.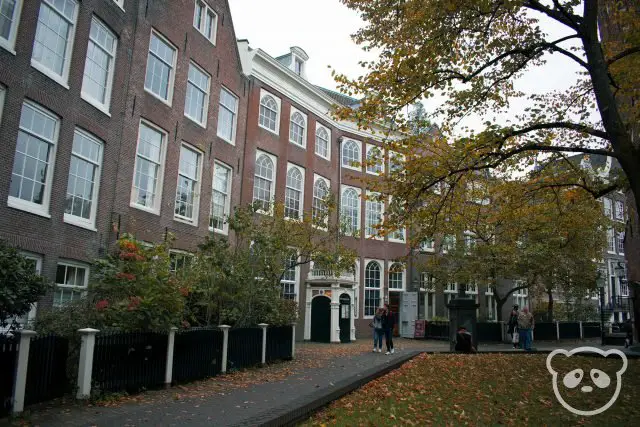 Begijnhof
Next up, is the Begijnhof. The Begijnhof is a courtyard with 2 churches and secluded homes that were originally built for Catholic sisters who were unmarried women who lived like nuns.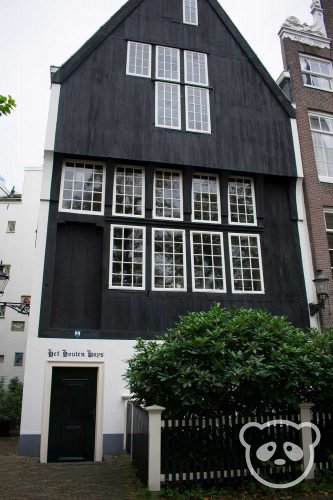 Within this courtyard is Het Houten Huis, the oldest house in Amsterdam. The house was built in 1420 and is one of two wooden houses in the city.
Fun Fact: After a series of catastrophic fires in Amsterdam, homes built from timber were banned in 1521.
After Catholicism was prohibited, services were still allowed within the Begijnhof because the homes were private property. However the chapel was closed until it was given to the English Presbyterians.
The Begijnhof is one of the most tranquil parts of the city. The buildings surrounding the courtyard block out noise from the street. And because of this sound carries in the courtyard so remember to be respectful and quiet as the houses are still occupied by women.
Jordaan Canal District & The 9 Streets (De 9 Straatjes)
What better way to get a taste of Amsterdam than to walk along the scenic Jordaan canals? The picturesque streets are amazing to look at and even more beautiful to look at. De 9 Straatjes is "The 9 Streets" in Dutch and refers to the 9 blocks in Jordaan with the prettiest canal homes, some of these streets include Singel, Herengracht, Keizersgracht, and Prinsengracht.
This was exactly as I dreamed traveling in the Netherlands would be, and personally I found it to be much more romantic than the streets of Paris. With that said, my favorite time to take a stroll would be just before sunset as you get a glimpse of the canal houses at golden hour along with the opportunity to see the lights come on and see the houses by night. If that isn't possible however, I'd still recommend taking a post-dinner stroll along the canals, it's a really special experience.
No trip to Amsterdam would be complete without a small boat canal tour! The open topped boats are an intimate way to cruise through the beautiful canals. 
In all honesty, I had no idea what I was getting into when I was looking up canal boat tours. Bear had previously been to Amsterdam and taken a large boat tour, this time around he was set on taking a smaller, more personal tour. And a tour with Those Dam Boat Guys fit the bill! 
One of Jimmy's gripes about the larger boats was that they couldn't fit into some of the smaller canals, but the smaller motorboats are able to sail into both.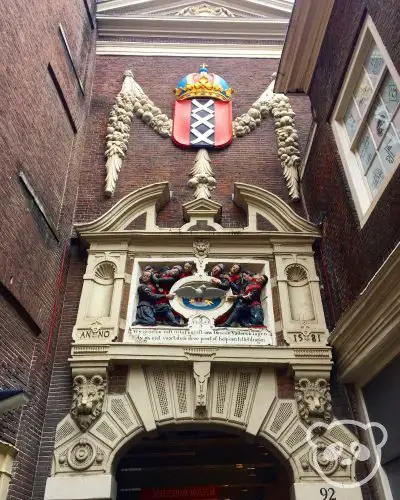 Fun Fact: Contrary to popular belief, the XXX on the flag of Amsterdam do not mean sex and drugs. Legend has it that the 3 crosses represent the three dangers of ancient Amsterdam – Fire, Floods, and the Black Death. However in actuality, the flag is based upon the coat of arms of Amsterdam and XXX stand for the three crosses of St. Andrew. He was a fisherman from the 1st century AD who was said to have been crucified on an X-shaped cross. The city's symbol dates back to 1505 when it was just a small fishing town and all ships in Amsterdam had this flag.
Our tour was amazing and well worth the money! Granted the tickets are a bit pricier than the larger boats, I think the comfort and intimacy of the smaller boat is worth it. Our boat was about 11 people total, including the captain, who told us a lot about the history of the city and provided more information (and fun facts!) on the canal houses and their architecture. Because the tour group was so small, he encouraged us to ask questions about the things we saw and offered to help us take photos while we were on the boat.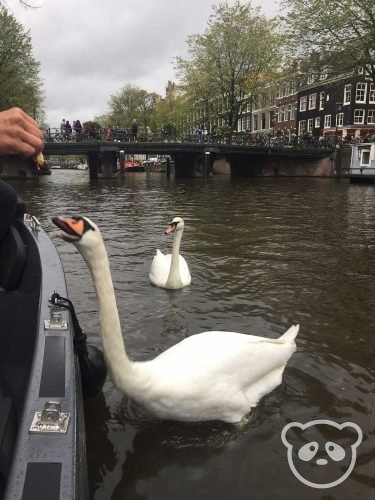 PRO TIP: You're even allowed to bring drinks and snacks to munch on while you're on board. They even have ponchos available in case of rain and blankets if it gets chilly. And it can get chilly, especially while you're sitting there and not moving.
Unfortunately while we were on board it was raining quite a bit so we don't have too many photos from the ride as the small boats provide zero cover.
Note that the boats do allow smoking so if you have allergies, you should definitely let them know. They do try their best to have smokers sit in the back of the boat so that the smoke doesn't affect the other passengers.
The canal tour costs €25 per person for a 90 minute tour around Amsterdam's most beautiful canals. Check out our full review of Those Dam Boat Guys canal boat tour for more information on why we chose them and our entire experience!
For dinner, we have one of Bear's favorite restaurants, Jacketz! This spot specializes in baked potatoes with unique toppings, a few of them are Dutch-inspired, while others are more American but they're a great meal and worth the stop. Check out the menu.
For the Dutch variety, they have a traditional stewed beef and the Dutch fish stew. 
I originally wanted to order the Dutch fish stew, but they were out. Instead, I settled for the chicken salad with fresh herbs, and Bear got the traditional stewed beef. I would say that these are similar to the Dutch stamppot meals (meat and potatoes with veggies), but presented in a more creative way. 
Get out of Amsterdam, Leiden is another Dutch city located only 30 minutes away! 
List of the Sights
Note: All addresses are located within Amsterday unless otherwise stated. 
DAY 1
Albert Cuyp Market (Albert Cuypmarkt)
Albert Cuypstraat 
Rijksmuseum
Museumstraat 1
Van Gogh Museum
Museumplein 6
I Amsterdam Sign


Hobbemastraat 19

Vondelpark
Stadhouderskade 47I
Restaurant Haesje Claes


Spuistraat 275

Red Light District aka De Wallen
Oudezijds Voorburgwal and Oudezijds Achterburgwal canals

Red Light Secrets Museum of Prostitution
Oudezijds Achterburgwal 60

DAY 2 – Rembrandt Day
Waterlooplein Market (Waterloopleinmarkt)
Waterlooplein 2
Rembrandthuis Museum (Rembrandt House Museum)
Jodenbreestraat 4
Museum Van Loon


Keizersgracht 672

Dam Square (De Dam)
Royal Palace (Koninklijk Paleis)
Dam Square
Vlaams Friteshuis Vleminckx


Voetboogstraat 33

Anne Frank Huis (Anne Frank House)
Prinsengracht 263-267
DAY 3
Pancakes Amsterdam


Prins Hendrikkade 48

Our Lord in the Attic Museum (Ons' Lieve Heer Solder Museum)
Oudezijds Voorburgwal 38

Amsterdam Museum


Kalverstraat 92

Frens Haringhandel


Koningsplein

Begijnhof
Begijnhof alleyway near Spui
Het Houten Huis


Begijnhof alleyway near Spui

Jordaan Canal District & The 9 Streets (De 9 Straatjes)
Herengracht, Keizersgracht, & Prinsengracht 
Those Dam Boat Guys Canal Tour


Meeting Point: Nieuwe Leliestraat 2

Jacketz


Nieuwendijk 32
Map of the Sights
This map includes a list of all of the Sights to See, Restaurants as well as the routes by day (i.e. Day 1, Day 2, and Day 3) within specified layers.
By default, only the Sights to See and Restaurants are shown but you can select to view the daily routes. Use the slide out panel to select layers to toggle them on and off using the checkboxes.
Amsterdam is an amazing city, full of art and culture to experience. 3 days is hardly enough to experience it, but this itinerary is perfect for a taste of Amsterdam during a weekend trip or short holiday. 
Loved this itinerary? Pin it for later!