This post may contain affiliate links. If you click one of these links, we may receive a commission. We're grateful for your continued love of this site!
Like Detroit, Chicago, and Baltimore, Cleveland is one of the many industrial towns located in America's "Rust Belt." In the late 19th century, the city was home to iron and coal deposits, as well as John D. Rockefeller's Standard Oil Company. Jobs were plentiful drawing immigrants from all over the world and within the United States. The colorful history of Cleveland, Ohio makes it the perfect destination for a quick, weekend trip.
"I love the normalcy of Cleveland. There's regular people there."


– Drew Carey
Cleveland is located along the southern edge of Lake Erie, a prime place for shipping products and goods created in the factories out the rest of the Midwest as well as to the East Coast via the Erie Canal.
Fun Fact:

The city of Cleveland was named after its founder General Moses Cleaveland. The letter "a" in "Cleaveland" was removed when a local newspaper didn't have enough space for it.
Today, Cleveland is more known for the Cleveland Cavaliers basketball team, famous people (namely Lebron James, Halle Berry, and Drew Carey) and its delicious Polish and Central European food scene. Still, Cleveland is surprisingly under the radar because the city has so much to explore!
This is the best itinerary for 48 hours in Cleveland, including where to stay, sightsee, and eat!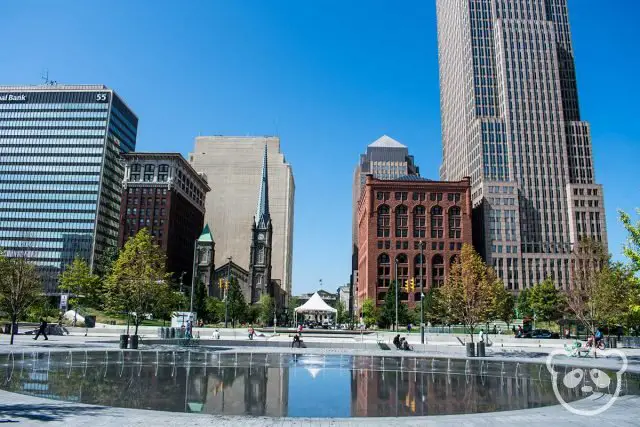 Where to Stay in the Cleveland, Ohio Area 
Hyatt Regency at the Cleveland Arcade is one of the most beautiful hotels in the area. The arcade building lobby is beautiful itself and the rooms are modern and renovated. It is also super close to the attractions in downtown Cleveland, basically within walking distance to most sights. Upgrades are also available for views of the city or the gorgeous arcade. Book the beautiful Hyatt Regency at the Cleveland Arcade now!
Hampton Inn Cleveland Solon is one of the best and affordable hotels in the area, though it is a bit farther from Cleveland proper. The hotel itself is modern with a friendly vibe, the front desk is super friendly, and a delicious continental breakfast is included with the booking.
Our room was pretty large with a full couch in addition to the double bed. They use Neutrogena toiletries which was nice and they even offered select bathroom products for free, like a toothbrush or razor, in case you'd accidentally left them at home. We loved our stay and would gladly stay there again in the future. Book Hampton Inn Cleveland Solon today!
Airbnb is always a great option in Cleveland, our duplex in Ohio City was super convenient and we got to go to Seti's Polish Boys food truck just like locals would.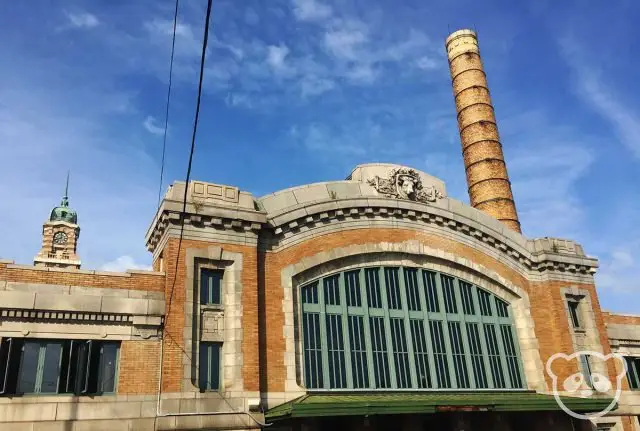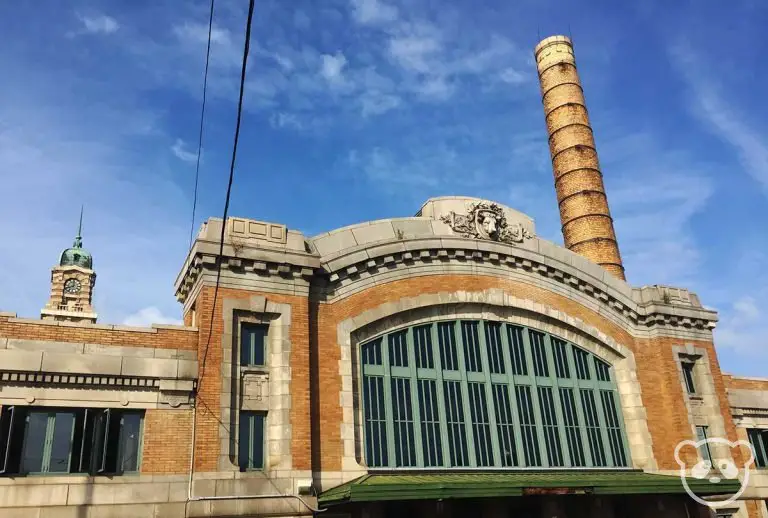 DAY 1 – Cleveland Rocks
Day 1 in Cleveland is full of Cleveland culture, from the oldest market in the city (West Side Market), to the Rock & Roll Hall of Fame, you'll get a taste of what Cleveland is about and more!
Start your morning by perusing one of the best food markets in the area! Aside from cooked foods inside the main building, there is also another building with produce as well as stalls set up outside throughout the grounds.
Here, you'll also find some of the most renowned Cleveland eats, including Frickaccio's pizza bagels, delicious bratwurst sandwiches at Frank's Bratwurst, and the West Side Market Cafe. There are also tons of ethnic food options — Middle Eastern, Mediterranean, Cambodian, Mexican, Polish, and more.
We were ready to start eating so we tried a bratwurst sandwich at Frank's. It was super delicious and great for a grab & go eat.
For an amazing coffee, great pastries, and a yummy lunch. Try Fluffy Duck Cafe! Since we'd just had the bratwurst sandwich, we weren't starving too much so we settled on an orange cardamom latte, a regular latte, kouign amann, and a blueberry muffin.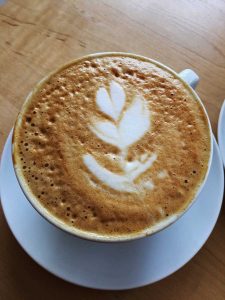 The orange cardamom latte was very fragrant and more unique, but they also have other options like vanilla, local honey, or chocolate. The kouign amann was so deliciously flakey, we totally wished we could've had another, but we ordered the last one! The blueberry muffin was also super good.
They also offer sandwiches and pizza, but since we'd just had a brat sandwich we weren't feeling one. They looked absolutely amazing though!
Who would've thought Cleveland was home to the artwork of so many famous artists? We totally had no idea 'til we visited this museum!
There are tons of works by renowned artists such as Claude Monet, Pablo Picasso, and more. During the time we visited, they were also home to the Yayoi Kusama Infinity Mirrored Room special exhibit.
PRO TIP: General admission is FREE, you may have to pay additional for any special exhibitions going on during your visit that you wish to see.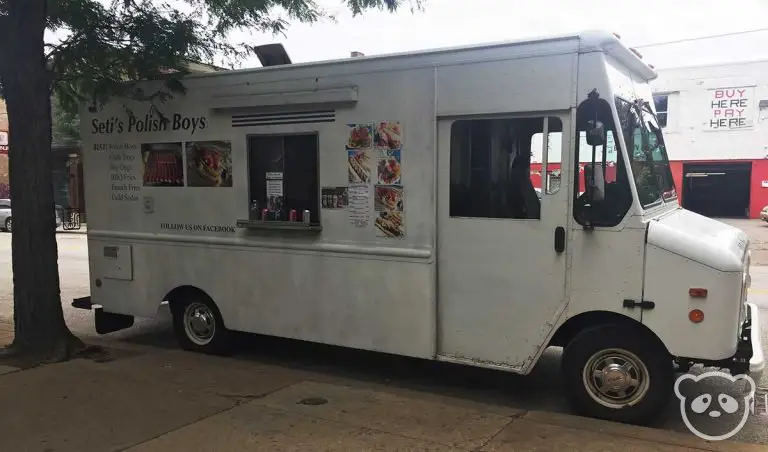 Hopefully the walk around the market and traveling has helped you work up an appetite! Seti's Polish Boys is amazingly good, you can't visit Cleveland without trying this food truck!
They're only open a few hours of the day between 10am and 3pm so it might be more difficult to catch them, but trust us, it's worth the effort.
The owners are super friendly and were patient with us as we attempted to figure out what we wanted to get. We ended up deciding on the "Best Polish Boy" and "Big Dog" since we wanted to try both types of sausages.  
The "Best Polish Dog" consisted of a smoked beef polish sausage with fries, slaw, and BBQ sauce. It was SO delicious! We'll never see a polish dog the same way again, haha. What really made the dog so much better were all the condiments they put on. Plus, due to the large Polish population in Cleveland, the sausages were much better than what we could've gotten back home in California.
The "Big Dog" was also super yummy, it had a quarter pound beef dog with chili, onions, slaw, and BBQ sauce. Even though some of the condiments were similar to the "Best Polish Dog," the addition of the chili definitely gave it a different flavor.
PRO TIP: There isn't really any outdoor seating in the area so we recommend grabbing it to go.
Next stop is the world famous Rock and Roll Hall of Fame! This spot is a definite must for music lovers! This place is so huge it's insane! They cover so many different musicians throughout the decades and there are exhibits talking about the history of rock & roll.
Fun Fact:

The name "rock and roll" was coined by Alan Freed, a radio DJ for WJW Cleveland in the 1950s. For this reason, Cleveland became the host for the Rock and Roll Hall of Fame in 1986.
We learned so much about early influencers of rock & roll, majority of them being African-American artists, such as Howlin' Wolf, Charles Brown, Louie Armstrong, Billie Holiday, and Nat King Cole.
They characterize the remaining inductees by decade and style. You'll see many of your favorites such as The Beatles, Elvis Presley, Aretha Franklin, Diana Ross, The Jackson 5, and Nirvana. They also have an amazing collection of concert costumes from Michael Jackson, Janet Jackson, and Britney Spears. 
If you're more of a hip hop fan than the more traditional rock and roll, there are also smaller exhibits on Run-DMC, N.W.A, and Flavor Flav.
When you visit you can also cast your vote for the next year's inductees so make sure your voice is heard!
PRO TIP: Purchase your tickets online in advance to save a few bucks.
Cleveland Script Sign
This is one of the most Insta-famous sights in Cleveland. There are a few of them throughout the city, but we chose to go to the one at Voinovich Bicentennial Park. It was convenient since its located right behind the Rock & Roll Hall of Fame, right by Lake Erie.
Climb all over the sculpture for an amazing photo opportunity! #ThisIsCle
For dinner, try Sokolowski's University Inn! This hole-in-the-wall Polish spot has amazing Eastern European cuisine served in cafeteria style, just like in Poland!
They're famous for their Polish favorites, such as stuffed cabbage, chicken paprikash, fresh bratwurst, smoked kielbasa, pierogis and local Great Lakes specialities like beer battered Lake Erie perch and fresh pan-seared walleye.
Dining here is an experience in itself, when you walk in, grab a menu and get in line. When you get to the cafeteria counter (we're not kidding!), you'll tell them the protein option you want and then you'll pick your sides and your choice of bread. While you're in line, you can also pick your bottled soda or dessert. At the end, you'll pay for your dinner.
Look for a table and then raid their open salad bar. The bar is pretty basic with your typical iceberg lettuce options but they also have macaroni and potato salads.
We got to go with Jimmy's friend so we got to try more stuff! We got steamed pierogis, chicken paprikash, and smoked kielbasa. The kielbasa was to die for! For our sides, we got the mashed potatoes and corn.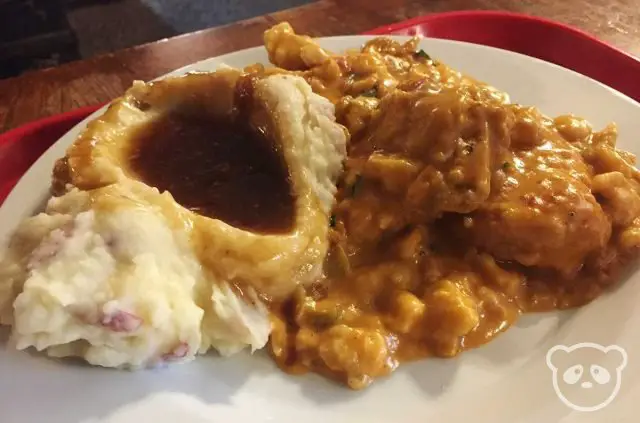 It was such a delicious meal and we were left absolutely stuffed. Definitely come here on an empty stomach because you will leave full!
PRO TIP: Sokolowski's isn't open on Sundays and is only open on Saturdays for dinner so plan accordingly!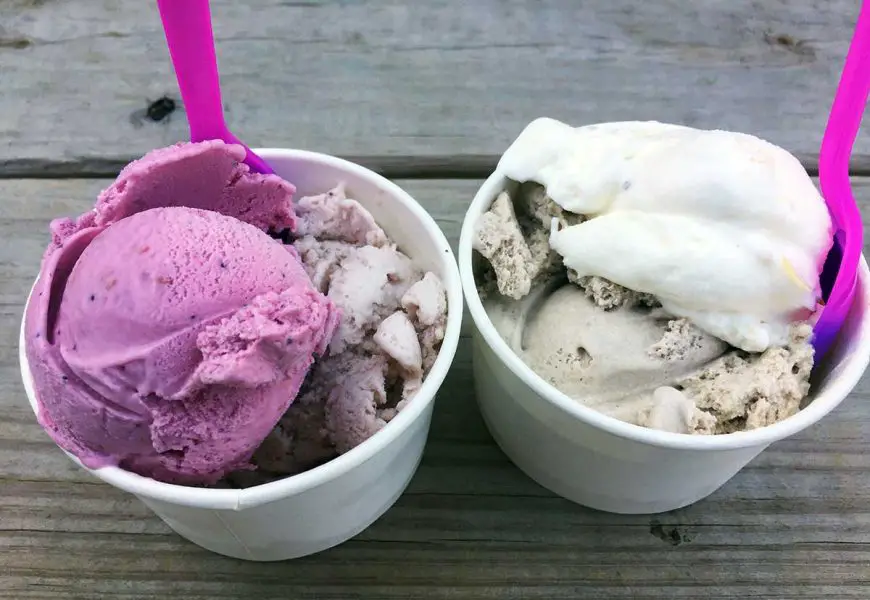 The ice cream here is AMAZING. Point blank, you WILL regret if if you don't come here.
They have tons of unique weekly flavors and they're all small batch, so if it's gone, it's gone. You missed out. We were actually responsible for cleaning out one of the flavors when we were there. :p
I got the raspberry kefir and hojicha (roasted green tea) flavors. We didn't wanna share our hojicha so Jimmy got that too along with the banana. They were so good!!   
They're also dog friendly (outside) and have a great outdoor seating area with several picnic tables where you can eat your ice cream.
DAY 2 – Explore Downtown Cleveland
Today's itinerary will guide you through the Shaker Heights area as well as downtown Cleveland, but also through some of the cultural parts of the city.  
Start your trip to Cleveland with a delicious brunch spot that's super popular amongst locals! This spot in trendy Shaker Heights has got delicious homemade eats as well as unique offerings, such as housemade sticky buns and lemon souffle pancakes.
Those were actually two of the things we ordered. We debated whether to order the sticky buns or not since they sounded a bit messy and potentially super sweet. They were a bit of both, so definitely be careful when eating, but that sticky bun was amazing! We'll probably never see a sticky bun the same way again.
The lemon souffle pancakes were so good! They were light and fluffy and had the perfect amount of lemon zest. It was served with a blueberry compote on top and that was delicious too!
We also got their house cured salmon with a choice of a bagel or toast, egg salad, tomato, shaved red onion, and capers. The salmon was perfectly cured, not overly salty, like most commercial lox, probably because it was housemade. It was an amazing way to eat lox and bagel. The egg salad was also super delicious!
They also serve Amish eggs, which we wished we could've tried partially due to the Amish population in Ohio, but also because they looked super good. However we'd already gotten 3 items between the 2 of us and we were pretty full already.
PRO TIP: Fire only offers brunch on the weekends, if you're visiting on a weekday, try it for dinner. Our local friends loved it for both meals!
After our brunch, we walked over to the Shaker Square Market. It's an outdoor farmers market held on Saturdays from 8am to noon between April and December.
There are a ton of different stalls selling various fruits & jams, vegetables & produce, as well as Amish eggs, and cooked food. The food looked delicious but we were super full from brunch so we didn't partake in any of it.
Shaker Square Market even had an SPCA booth. We totally fell in love with a few kittens while we were there, too bad we couldn't take them home with us!
Cleveland Trust Company Building
Next, we head to downtown Cleveland! The Cleveland Trust Company Building, which was once the location of the Cleveland Trust Company and was built by George B. Post in 1907 in the Beaux-Arts style.
Fun Fact:

The exterior and interior of the Cleveland Trust Company Building appear in the 2012 movie, "The Avengers."
The building is known for its ornate architectural details, its beautiful Tiffany-style rotunda, and amazing drum murals around the dome.
Today the building houses Heinen's Grocery Store where you can purchase cooked foods and your typical produce. There is even a seating area underneath the rotunda, you can enjoy the views of the building while you eat!
PRO TIP: Heinen's provides validated parking (first 90 minutes free) at a nearby lot with a $50 purchase. The parking lot is located about ½ block away at 740 Euclid. Give your parking ticket and the receipt to the service desk inside Heinen's and they will provide you with a validation stamp. Get the ticket re-stamped at the machine in the parking lot and you'll receive a new ticket for exit.
The Cleveland Arcade (The Arcade) is yet another beautiful building in Cleveland, the Victorian era building consists of two 9-storey towers connected by a 5-storey shopping arcade. Like the Cleveland Trust Company building, this spot has also been somewhat repurposed.
Today, it is the location of Hyatt Regency – Cleveland at the Arcade, with its top three floors and two towers as part of the hotel. There are still some shops and a food court in the mall, but it is also used as a wedding venue.
Fun Fact:

The Cleveland Arcade was built in 1890 as the first indoor shopping mall in the United States and was nicknamed Cleveland's Crystal Palace.
The Arcade was designed by John Eisenmann and George H. Smith and was inspired by the Galleria Vittorio Emanuele II in Milan. Construction costed $867,000 ($23,700,000 in 2017 dollars) and was financed by several wealthy Clevelanders, including John D. Rockefeller, Marcus Hanna, and Charles F. Brush.
PRO TIP: Many of the stores have different hours, closing much earlier then The Arcade itself (6am-7pm daily), but go for the architecture not for the shops. Also The Cleveland Arcade sometimes closes earlier for events, when we visited it closed at 5pm.
Cleveland Mall
If you've been to Washington D.C., you've probably heard of The National Mall, well Cleveland has their own The Mall. This area of downtown is a long public park with beautiful sculptures and is surrounded by ornate civic buildings, including the Cleveland City Hall, Cuyahoga County Courthouse, Public Auditorium, and the Cleveland Public Library.
The park was created as part of the City Beautiful movement of the 1890s and 1900s meant to bring grandeur and beauty to urban spaces. The Mall has three sections — Mall A (Veterans' Memorial Plaza), Mall B, and Mall C (Strawbridge Plaza).
At Mall A or Veterans' Memorial Plaza, you'll also find the Fountain of Eternal Life, also known as War Memorial Fountain and Peace Arising from the Flames of War. The sculpture fountain was designed in 1964 by Marshall Fredericks, a graduate of Cleveland Institute of Art. The fountain honors Clevelanders who served, died, or were declared missing in military service.
Free Stamp aka The World's Largest Rubber Stamp
Located to the east of Cleveland City Hall, Willard Park, home to the Free Stamp, is technically part of the Cleveland Mall. The Free Stamp is an outdoor sculpture by Claes Oldenburg and his wife Coosje van Bruggen, who also designed Cupid's Span in San Francisco.
The word "free" at the bottom of the stamp represents the emancipation of American slaves before and after the Civil War.
To explore Downtown Cleveland without a car, check out this Downtown Highlights Walking Tour! 
The Clubhouse
The Clubhouse is one of the best places in Cleveland to get some delicious Eastern European grub on!
They specialize in chicken paprikash, a dish made with chicken breast and a paprika sauce. It's absolutely delicious. Their Hungarian goulash is also amazing. But for the less adventurous they also serve burgers, fettuccini alfredo, and St. Louis ribs.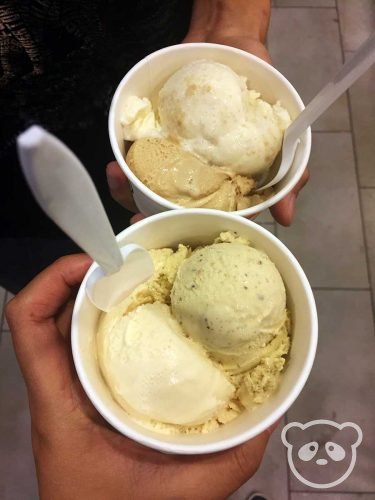 This is one of the best ice cream spots in Cleveland and is super popular amongst locals, said our friends who took us here!
Their ice cream is super creamy and delicious. They have tons of flavors both of the normal variety (i.e. strawberry, vanilla, chocolate), and some of the more adventurous like banana cream pie, "Blue Cosmo," and toasted pistachio.
I got the toasted pistachio (AMAZING!) and the banana cream pie. Jimmy got the butter pecan and dark roast coffee.
We loved their devotion to fresh and high-quality ingredients, using fresh local strawberries for their strawberry flavor and Oregon Bing cherries & blackberries for other flavors.
If You Have More Time in Cleveland, Ohio
List of the Sights in Cleveland, OH
Note: Unless otherwise stated, all of the locations below are located within the city of Cleveland, OH.
DAY 1 – Cleveland Rocks
DAY 2 – Explore Shaker Heights & Downtown Cleveland
Fire


13220 Shaker Sq

Shaker Square Market
Located at Shaker Square at N Moreland Blvd & Shaker Blvd
Cleveland Trust Company Building


900 Euclid Ave

The Cleveland Arcade
401 Euclid Ave
The Cleveland Mall


Located between Rockwell Ave, E 9th St, the railroad tracks, and Ontario St

Free Stamp aka World's Largest Rubber Stamp


Willard Park at Lakeside Ave E & E 9th St

The Clubhouse
6365 Pearl Rd
Parma Heights, OH 44130

Mitchell's Homemade Ice Cream
1867 W 25th St
If You Have More Time
Map of the Sights in Cleveland, OH
This map includes a list of all of the Sights to See, Restaurants as well as the routes by day (i.e. Day 1, Day 2, and Day 3) within specified layers.
By default, only the Sights to See and Restaurants are shown but you can select to view the daily routes. Use the slide out panel to select layers to toggle them on and off using the checkboxes.
We loved exploring Cleveland and all it had to offer in the span of 48 hours! Cleveland, Ohio is perfect for a weekend trip for a destination along Lake Erie, especially for those of you who love rock & roll, ice cream, and beautiful architecture. 
Wanna visit Cleveland, OH for a weekend? Pin it for later!