Every year, one of our favorite annual activities is strawberry picking at Swanton Berry Farm in Northern California. This also happens to be our yearly couple tradition – usually in the month of May we'll hit up the farm for u-pick strawberries before Memorial Day weekend hits and it gets crowded.
However if you are unable to make it out to Swanton Berry Farm before Memorial Day weekend, not to worry! There are still plenty of strawberries to be picked in early to mid June. In fact, due to the intense storms this past winter (2022-2023), peak time for their strawberries ended up being in mid-June.
Fun Fact:

Strawberries are the first fruit to ripen in the spring. In Northern California, strawberry season is typically in May through July, but it can sometimes last until October. The season varies depending upon the weather.
Oh my, things were different for us in 2018!
For the first time in the 5 years since I've been u-picking strawberries here, the strawberry fields were at a different location! We were coming from the San Francisco direction to Davenport and had to drive 7.5 miles (~10min) back up the coast, north to Coastways Ranch in Pescadero.
PRO TIP: Make sure you check their website to see which farm is available for u-pick. Their site is up-to-date with the latest information and you can even see when strawberry season begins!
I talked with one of the workers at The Farm Stand briefly and he mentioned that they alternated the u-pick fields to prevent them from being overpicked.
Again, this was the first time we've seen the sign out front telling visitors to drive to the other farm. My guess might be that it's now super crowded on the weekends so they only allow fruit picking at the fields by The Farm Stand on weekdays. The other reason may be that we showed up at a different time in the season, but we have no idea, these are purely just conjectures at this point.
We didn't mind heading to the Coastways Ranch farm, but the one we normally go to just holds a special place in our hearts due to our annual tradition.
Fun Fact:

Strawberries are the only fruits to have seeds on the outside. They can have as many as 200 seeds!
Swanton Berry Farm U-Pick Experience
Since we got to go to both farms, we'll do a comparison between the two. 🙂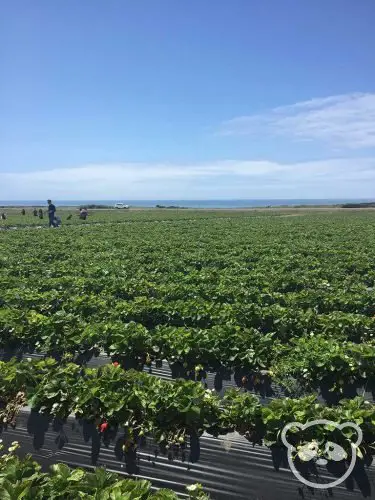 U-Pick @ The Farm Stand
Usually we'll park by The Farm Stand and walk on the dirt path into the strawberry fields. Some people also opt to drive their cars closer to The Farm Stand as well, but we usually walk. This is because we'd have to drive back to The Farm Stand anyways to pay for the strawberries so it's easier. Plus, we like to think we're considerate so we'd hate to have accidentally spray other berry pickers with dust as we drive along the path. As of 2023, there is a cashier putting together cardboard boxes for picking as well as managing the payment process so it might be helpful to drive down the path. 
PRO TIP: If you do choose to drive in, follow the signs and please drive slowly so that you minimize the amount of dust that gets kicked up from your car to the lungs of those walking past.
Fun Fact:

In 1987, the farm became certified by California Certified Organic Farmers, making them the first organic strawberry farm in the state.  
Picking here is pretty simple, but there isn't much signage. This is probably because it's right by the shop, but I've included the details below in the How to Pick Strawberries & Pay For Them section.
Fun Fact:

If you fill up the cardboard box up to the top of the box, it is roughly 10 pounds, in the photo above, it is definitely over 10 pounds because we got a little too pick happy in the fields.  
This farm is probably our favorite because we know what to expect and also we enjoy perusing the shop so it's just more convenient for us. We don't have to drive around to Coastways Ranch AND The Farm Stand to get what we need and want.
Coastways Ranch
This farm is located in Pescadero, approximately 7.5 miles or a 10 minute drive north of The Farm Stand along Hwy 1 (Pacific Coast Highway.)
Keep your eyes peeled for the signs for u-pick, they are placed along Hwy 1 and can easily be missed if you're not paying attention and/or visiting for the first time.
The drive into this farm is a bit longer and sometimes there will be bouts of traffic as you wait for parking spots to free up. There is only 1 way in and out of this farm with small, narrow roads so please drive carefully.
Even though we prefer our usual field, the Coastways Ranch field is MUCH larger, so you can spread out more to find your strawberries and you also have a better chance at getting photos without as many people in them.
Important Note: Not all strawberry fields in the farm may be available at a given time, please pay attention to and follow the signs. Sometimes you're not allowed to pick from certain fields, the strawberries may not be ready yet.
This field was definitely busy when we went and there were huge signs surrounding the weighing station telling people what to do. I'm glad they had this because it would be super helpful for newbies. For more information on How to Pick Strawberries & Pay For Them, see the section below.
PRO TIP: Even though the weighing station is located within the parking lot, please be careful and mindful of others as it is still a parking lot. People need to leave the farm and others might want to get into parking spots so please try not to block them.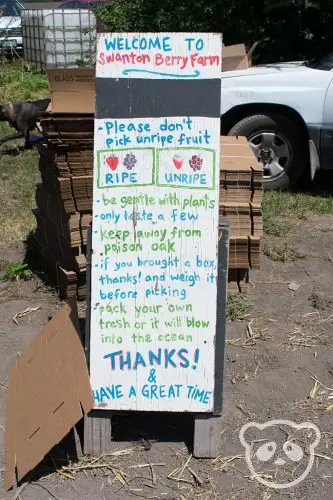 How to Pick Strawberries & Pay For Them
Grab a container or box, they'll sometimes have some available inside The Farm Stand in the field. Or if you're at Coastways Ranch, they'll have a stack of flat boxes available for you to put together.

Head over to the strawberry field! Be careful not to step on any of the plants while you're there. I actually saw kids putting their boxes full of strawberries right on top of strawberry plants, completely crushing them. So please, be considerate and mindful, even if you have to wrangle your children.

Pick to your heart's delight! Please only pick the red ones! You'll only want to pick these anyways since they tend to be super sweet. 

Take your box of strawberries over to the weighing station for payment.


At The Farm Stand U-Pick, you'll have to make your way back to the shop you can now pay at the field since they have attendants helping with boxes and accepting payment via Square. There, they'll have self-service scales where you'll enter in the weight along with a book where you'll write down the amount you purchased and the total cost. Then you'll deposit your money directly into their cash register. They go by the honor system, which, IMO, is very cool and super unique.



At Coastways Ranch, they have workers located in the parking lot to help you weigh and take your money. This is more of a typical experience you'd have anywhere else.
PRO TIP: Strawberries do not ripen once off the vine, only pick the red ones. White ones are a no-go. Otherwise you'll be wasting strawberries by picking them too early!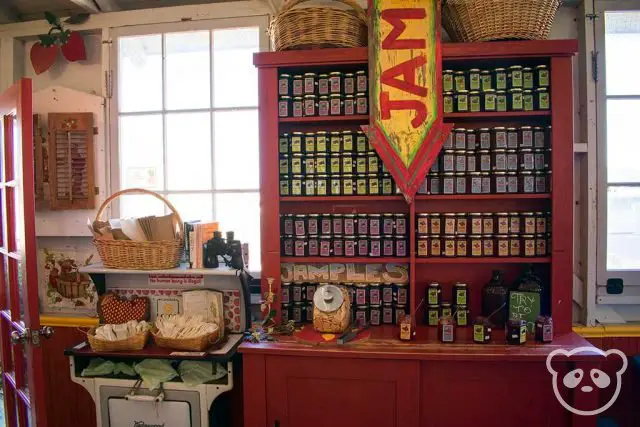 The Farm Stand
We love going here because of the unique vibe and the delicious strawberry shortcakes! That is our favorite thing to get here, aside from the strawberries we pick ourselves.
Besides being the place you go to pay for your u-pick strawberries, this is where you can get your grub on!
They sell various types of pies, cobblers, berries, as well as my favorite strawberry shortcake and soup! They'll also have some refreshing drinks like strawberry lemonade, iced tea, and coffee.
There is also a jam tasting station where you can try out all the different types of jams they make in-house. They are advertised as "small batch, low sugar" and you can choose from strawberry, strawberry olallieberry, olallieberry, strawberry rhubarb, strawberry citrus, loganberry, blackberry, and tayberry jams.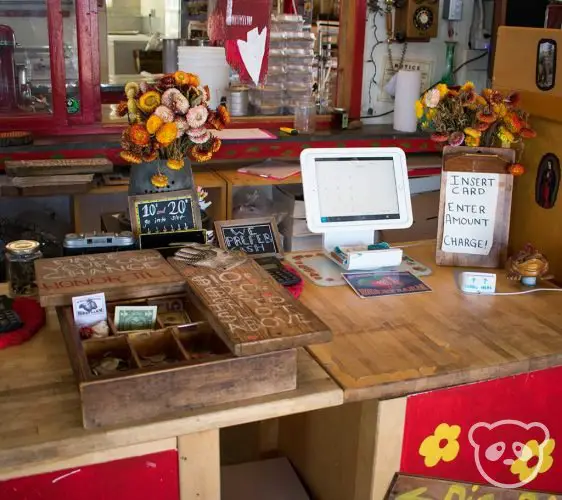 As I mentioned before, their payment is based upon an honor system and you can deposit your cash into their register yourself. For bills and coins under $20, they have a cash drawer you can place your money in. They have a dropbox for bills $20+ and cash is preferred. In the past they didn't accept credit or debit card, but I noticed as of 2018, they are now accepting card payment via a system similar to Square. As of 2023, the payments are no longer honor system so please wait for a cashier to come over and help you. 
I was a bit sad they decided to accept cards, because there is a small-town feel and a charming vibe to accepting payment via a honor system. But I guess it was time to get with the times!
We also noticed that the workers hover a bit more around the cash register now compared to the years before. I'm assuming it's because some people haven't been honest and may have been stealing their cash. Sigh, people these days… this is why we can't have nice things!
Why We Love Swanton Berry Farm
You get to pick strawberries right next to the Pacific Ocean! What more could you ask for, especially on a beautiful spring or summer day? We love that we can see the ocean while we're picking our berries.
Other reasons we love u-pick at Swanton Berry Farm:
The strawberries are organic and they are certified in the state of California. This definitely makes me feel better about eating the strawberries unwashed and unrinsed while picking in the fields, since I'm not eating horrible pesticides. (I am aware organic farmers still use organic pesticides.)

They choose strawberry varieties based upon flavor, and they're one of the best we've ever tasted!

Their strawberry shortcake is amazing! Even though it's gotten more and more expensive over the years, we still love it and make sure we bring at least a couple home each trip to the farm.

Jimmy loves their strawberry jam. Sometimes they will distribute their small batch, low sugar jams to nearby supermarkets, like Whole Foods, but that's not always the case. Plus we like to get it directly from them and support a local business.

They also sell other foods including soup, strawberry lemonade, coffee, chocolate covered strawberries, and various pies. Sometimes they'll even sell some vegetables they've picked, such as brussels sprouts and peas.

They are unionized. This can raise the prices a bit, but it also means that the workers are treated well. The workers receive benefits, such as healthcare, pensions, as well as low-cost housing subsidized by the farm. Not all competing farms will provide this!  

You can also pick other fruits there! Aside from strawberries, they offer u-pick for kiwis and olallieberries. Just check their website for the availability and season.

They also have stands at farmer's markets throughout the Bay Area if you're looking for their product and produce but don't have time to head out to Davenport or Pescadero. They'll be at various markets throughout the week including Aptos, Berkeley, Menlo Park, Santa Cruz, San Rafael, and San Francisco. Check their

website

for dates and times.
General Information for Swanton Berry Farm
Helpful Tips
Remember to dress appropriately for u-pick! On their site, they mention farm wear, but what does that mean? We usually wear athletic shoes with leggings, jeans, or shorts depending upon the weather. It typically does get quite windy on the California coast so we'd also recommend a windbreaker or warm clothing in layers. Also wear shoes you wouldn't mind getting muddy or dusty. 

Bathrooms are porta-potties located in the fields and outside of The Farm Stand. They usually have hand washing stations stocked with paper towels available so your hands will be clean for strawberry picking!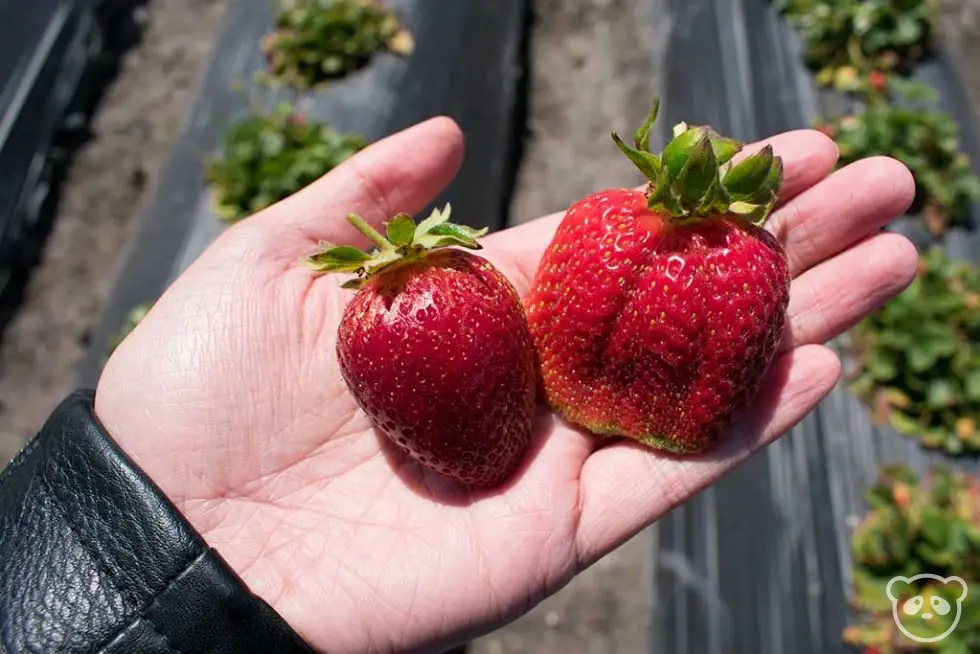 2023 U-Pick Price
As of 2023, the strawberries are $8/lb. If you purchase 10+ pounds, then your strawberries become $4.50/lb.
If you're feeling lazy or just don't want to pick your own, you can also purchase pre-picked strawberries inside The Farm Stand.  
Addresses & Hours (During Strawberry Season 2023)
The Farm Stand:
Open daily 8am-5pm
25 Swanton Rd.
Davenport, CA 95017
They take cash, card, and Apple Pay (only at The Farm Stand, not at the field).
U-Pick by the Farm Stand:
Open Saturdays & Sundays
25 Swanton Rd.
Davenport, CA 95017
As of 2023, u-pick is only on weekends 9am-5pm to prevent overpicking.
Be sure to go back to the Farm Stand to pay, You can pay in the field, they'll take the following forms of payment: cash, and card via Square.
Check their website for latest updates on u-pick availability.
Coastways Ranch U-Pick:
Open Saturdays & Sundays 10am-5pm
640 Highway 1
Pescadero, CA 94060
Check their website for latest updates on u-pick availability.
Directions & Map
From either directions, San Francisco (north of the farm) and Santa Cruz to the south, you can take Hwy 1 (Pacific Coast Highway) to reach Swanton Berry Farm.
We're excited to share our annual tradition with all of our readers. Let us know in the comments if you've enjoyed it as much as we do!
Enjoyed this post about Swanton Berry Farm's U-Pick strawberries? Pin it for later!