Hong Kong is a unique territory of juxtapositions where the East meets the West, the modern meets the traditional, and the countryside meets the concrete jungle. Yes, the countryside still exists in Hong Kong, I actually planted rice there.
Hong Kong cuisine is best described as British style with a Chinese twist. You'll see that in a lot of the offerings such as HK style milk tea, eggs and ham with toast, afternoon tea sets, and pineapple bun with butter. Aside from the fusion aspect, there are also a lot of traditional southern Chinese dishes as well like roast goose, dim sum, and wonton noodles. HK cuisine is constantly evolving and they love coming up with new ideas and ways to market restaurants and corresponding plates.
My mom was born and raised in Hong Kong before moving to the United States. Having grown up eating Hong Kong style cuisine via Chinatown restaurants and vacations to visit family, I know what's good! 😉 It was when I finally had the opportunity to live there that I grew my list of favorite places and must eats. 
Even though I've since moved back to the States, I dream about my frequent haunts constantly. Most people do "Top 10" lists, but it was too difficult for me to pick only 10 so I went with "Top 20." 
Local Flavors of Hong Kong
To me, the local flavors can be described as "Traditional," "Trendy," or "HK-style." The traditional flavors consist mainly of Cantonese cuisine or strictly British style dishes. Trendy dishes include cutesy meals and tea sets that look good and taste good. This can also include other cuisines that are currently popular and delicious such as Japanese ramen or Korean BBQ.  British-Chinese fusion, what you would expect of a cha chaan tang (HK-style cafe), to me, means HK-style.
Here are my top picks for food in Hong Kong:

1. Wonton noodles at Tsim Chai Kee Noodle 沾仔記 
(Traditional-Chinese)
I love the wonton (雲吞 – wun tun) here, they are full of shrimp and extremely large. In my mind, they blow Mak's Noodles out of the water. The noodles are chewy and the shrimp shell broth is excellent. You can also opt to include fresh beef slices (鮮牛肉 – sin ngau yook) or a giant dace fish ball (鯪魚球 – lang yu kau) both of which are insanely good, but it's just too much food for me to consume at once.

Locations:
Shop B, G/F Jade Centre, 98 Wellington Street, Central, H.K. Island 香港中環威靈頓街98號地舖
G/F Siu Ying Commercial Building, 153 Queen's Road Central, Central, H.K. Island 香港中環皇后大道中153號兆英商業大廈地庫
Shop 8, 50 Tam Kung Road, To Kwa Wan, Kowloon 九龍土瓜灣譚公道50號8號舖
G/F, 40 Chung Wui Street, Tai Kok Tsui, Kowloon 九龍大角咀中匯街40號地下

2. Afternoon tea set at The Lobby at The Peninsula 

半島酒店大堂茶座

 
(Traditional-British)
This is my favorite place to get a more traditional high tea set in Hong Kong, it is also the oldest place for afternoon tea in Hong Kong. You get your pick of teas and it comes with a 3 layered set that includes delicious finger sandwiches, scones, and desserts. They don't take reservations so make sure you get in line early. Tea time starts around 2pm and this is the one place in Hong Kong where people actually sit and enjoy tea and they won't rush you to constantly flip tables.

Address:
G/F, The Peninsula Hong Kong, 22 Salisbury Road, Tsim Sha Tsui, Kowloon 九龍尖沙咀梳士巴利道22號香港半島酒店大堂

3. Dim sum at Yum Cha 飲茶 (Trendy)
They're the ones that started the trend so this is THE place for cute dim sum. My friends told me about this place and I thought, it must be a gimmick, oh how wrong I was… I would recommend their pineapple shortcake birds, colorful Cookie Monster-like runny custard buns, and piggy BBQ pork buns. Cute AND tasty, does it get any better than that?

Locations:
2/F, Nan Fung Place, 173 Des Voeux Road Central, Central, H.K. Island 香港中環德輔道中173號南豐大廈2樓1-2號舖
3/F, 20-22 Granville Road, Tsim Sha Tsui, Kowloon 九龍尖沙咀加連威老道20-22號3樓
Shop 7, 4/F, Langham Place, 8 Argyle Street, Mong Kok, Kowloon 九龍旺角亞皆老街8號朗豪坊4樓7號舖

4. Pineapple bun with butter at Kam Fung Restaurant 

金鳳茶餐廳 
(HK-style)
This cha chaan tang restaurant has the best pineapple bun with butter (菠蘿油 – bor lor yau) that has ever grazed my tastebuds. The pineapple bun is always freshly baked and the pat of butter is thick but not overly rich. The sweetness of the bun goes perfectly with the lightly salted Australian butter.

Also order-worthy:
Satay beef with instant noodles (沙嗲牛肉麵 – sa dea ngau yook gung jai min). You may wonder how something so simple can taste so delicious, "it's just beef with some top ramen." You could not be more wrong, the satay sauce goes amazingly well with the beef and the noodles are prepared perfectly al-dente.

Iced milk tea (凍奶茶 – dong nai cha). The iced milk tea here is bomb because they don't actually ice it, they put the entire glass in the fridge so you get full-on HK-style milk tea flavor and no dilution from the ice!

Note: Those of you who don't read/speak Chinese may struggle a little at this cha chaan tang because this is definitely where the locals go; however in my experience taking American friends here, they are very friendly and will try their best. 

Address:
G/F, Spring Garden Mansion, 41 Spring Garden Lane, Wan Chai, H.K. Island 香港灣仔春園街41號春園大廈地下

5. Tonkotsu ramen at Butao Ramen 豚王

 
(Trendy)
A chef from Japan was courted to work at this establishment and when it first opened, the lines used to be hours long at lunch time on the weekdays. However the popularity has died down and more locations have opened to alleviate the waits. And the most recent time I went, there was no wait at all.

They have 4 main ramen broths, the namesake Butao Ramen (a normal tonkotsu), Green King (pesto-based tonkotsu), Black King (black sesame tonkotsu), and Red King (spicy tonkotsu). The broths are fully customizable, so you can pick to your own heart's content your sodium amount, oil level, and specific ingredients. Unfortunately I've only had the opportunity to try the normal tonkotsu as that's what I generally crave when I go there, but it is pretty amazing! A general plus is that they have English menus as well, all you gotta do is circle what you want.

Locations:
69 Wellington Street, Central, H.K. Island 香港中環威靈頓街69號
Shop 4, G/F, V Point, 18 Tang Lung Street, Causeway Bay, H.K. Island 香港銅鑼灣登龍街18號V Point地下4號舖
Shop 404, G/F, Yuan Kung Mansion, 20 Tai Koo Shing Road, Tai Koo, H.K. Island 香港太古太古城道20號元宮閣地下404舖
G/F, Kam Wing Commercial Building, 28 Minden Ave, Tsim Sha Tsui, Kowloon 九龍尖沙咀棉登徑28號錦榮商業大廈地下
6. 8-colored xiao long bao at Paradise Dynasty 樂天皇朝 
(Trendy)
This is definitely a trendy eat because it includes XLBs of different flavors than the traditional Shanghainese style. When you order this, they also provide you with a tiny cheatsheet with photographs of the different XLB with the corresponding fillings. They include original (pork), ginseng, foie gras, black truffle, cheese, pork with crab roe, mushroom, and numbing spice. I know it's a fairly large order, but it's not something I would share personally. I wanna try all of the flavors! My personal favorites were actually the ginseng and the foie. I liked that both flavors were different from the more traditional (pork and pork with crab roe). I also am not usually a huge fan of ginseng normally, but even I was surprised that I didn't hate it.

Locations:
6/F, Lee Theatre, 99 Percival Street, Causeway Bay, H.K. Island 香港銅鑼灣波斯富街99號利舞臺廣場6樓
Shop 203-205, 2/F, Grand Tower, 639 Nathan Road, Mong Kok, Kowloon 九龍旺角彌敦道639號雅蘭中心2樓203及205號

7. Condensed milk bun with butter at Tsui Wah Restaurant 

翠華餐廳

 
(HK-style)
First things first, this is a large restaurant chain in Hong Kong, but they also have one of my things to eat for breakfast ever. The key here is in the bread, it toasts to a perfectly crispy texture, and is super tasty with the condensed milk and butter on top. I have tried at great length to recreate this favorite but it's been difficult for me sourcing the bread. They even have a small location at the airport so I can get my fix even when I'm just on a layover! 😉
Also order-worthy:
Breakfast set c – ham and abalone macaroni in broth with buttered toast, choice of breakfast meat with eggs, and a drink. I usually go with ham and fried/scrambled eggs and an HK-style milk tea. Though macaroni in broth might sound strange to Americans/Westerners, it's definitely a comfort food for me as I grew up eating it in my local Chinatowns. I also like that it include small slivers of abalone and is a good amount of food at a decent price.

Hainan chicken rice. The Hainan chicken rice is amazingly delicious here, it comes with the whole nine yards, poached chicken, chicken soup, rice cooked in chicken broth, and 3 dipping sauces. Note that this is only available after 11am for lunch and dinner. They're a large chain in Hong Kong with multiple locations so you don't need to worry as much about the language barrier. They also have bilingual (Chinese-English) menus.
Select Locations:
G-2/F, 15-19 Wellington Street, Central, H.K. Island 香港中環威靈頓街15-19號地下至2樓
G/F, 84-86 Des Voeux Road Central, Central, H.K. Island 香港中環德輔道中84-86號地下
G/F, 483-499 Jaffe Road, Causeway Bay, H.K. Island 香港銅鑼灣謝斐道483-499號地舖
G/F, 2 Carnarvon Road, Tsim Sha Tsui, Kowloon 九龍尖沙咀加拿分道2號地下
Shop 60-66, G/F, Harbour Crystal Centre, 100 Granville Road, Tsim Sha Tsui, Kowloon 九龍尖沙咀加連威老道100號港晶中心地下60-66號舖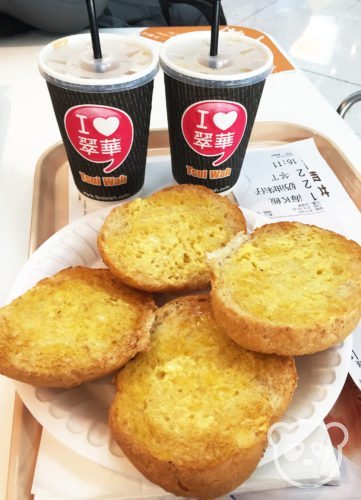 Airport Location:
Tsui Wah Eatery – I Love 翠華
(Restricted Area) Shop 7E180, Departures East Hall, 7/F, Terminal 1, Hong Kong International Airport, Chek Lap Kok, Lantau Island 大嶼山赤鱲角香港國際機場一號客運大樓第7層離港層東大堂7E180號舖(禁區)

8. Roast goose at Kam's Roast Goose 

甘牌燒鵝

 
(Traditional-Chinese)
The BBQ rice plates here reign supreme, I prefer getting the roast goose here with another BBQ meat like BBQ pork or poached chicken. I also love that they provide their deliciously flavored 1,000 year old egg gratis.

Note: This is restaurant was derived from the famous Yung Kee restaurant and holds 1 Michelin star so expect lines to be lengthy.

Address:
G/F, Po Wah Commercial Center, 226 Hennessy Road, Wan Chai, H.K. Island 香港灣仔軒尼詩道226號寶華商業中心地舖

9. Black sesame sweet soup at Tsui Yuen Dessert Shop 

翠苑甜品專家

 
(Traditional-Chinese)
As a kid, I had the opportunity of having black sesame sweet soup (芝麻糊 – ji ma wu) at a dai pai dong hawker, I remember the fragrantly toasted black sesame flavor like it was yesterday. Unfortunately that place no longer exists and this is THE closest replacement I have been able to find. You know it's gonna be good when you walk into the shop and literally all you can smell is the sweet fragrance of toasted black sesame.

Address:
G/F, Pao Woo Mansion, 177-179 Wan Chai Road, Wan Chai, H.K. Island 香港灣仔灣仔道177-179號保和大廈地舖

10. Eggettes/egg waffle at Mammy Pancake 媽咪雞蛋仔 
(HK-style)
I was introduced to this place last year by my friends to replace the disappointing eggettes I've been getting from the place I've been going to for nearly a decade. Mammy Pancakes is a GREAT replacement, it's got a ton of flavors at affordable prices. They range from original to green tea to more unique and seasonal flavors like Okinawa purple yam and chestnut. I didn't get to try the purple yam because it was out of season but the chestnut was pretty good and I don't even like chestnuts; each bubble of the egg waffle had a chestnut in it!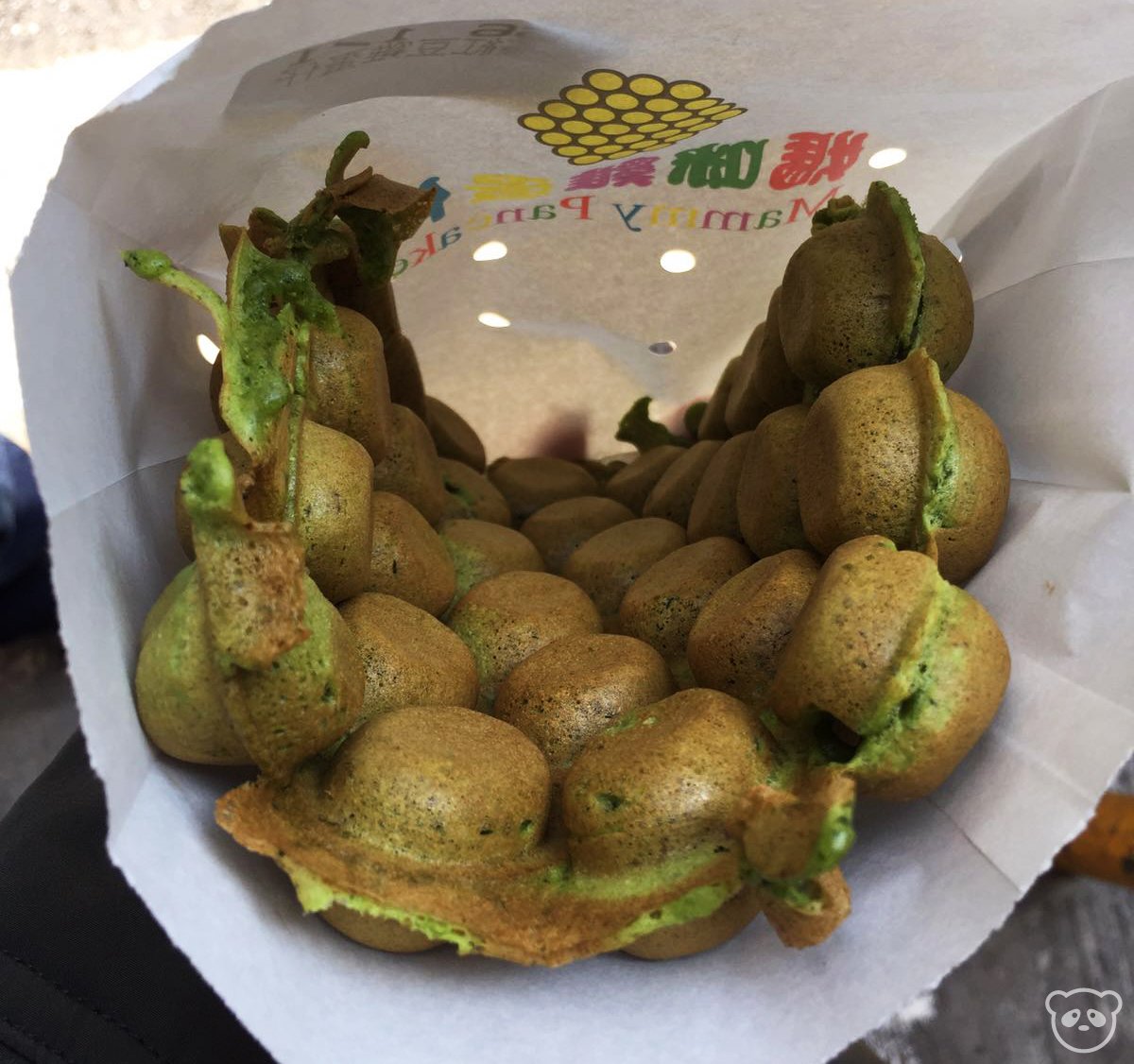 Locations:
Shop 17, G/F, Leishun Court, 1-5 Haven Street, Causeway Bay, H.K. Island 香港銅鑼灣希雲街1-5號禮信大廈地下17號舖
Shop G23, G/F, Young City Zone, 1 Kwong Wa Street, Mong Kok, Kowloon 九龍旺角廣華街1號潮流地域G23號地舖
G/F, Carnarvon Mansion, 8-12 Carnarvon Road, Tsim Sha Tsui, Kowloon 九龍尖沙咀加拿分道8-12號嘉芬大廈地下
Shop K1B, G/F, 36 Man Tai Street, Hung Hom, Kowloon 九龍紅磡民泰街36號地下K1B舖

11. Iced lemon tea at Honolulu Coffee Shop 

檀島咖啡餅店 
(HK-style)
The iced lemon tea (凍檸茶 – dong ling cha) here is amazingly tangy, yet sweet. The strength of the tea is pretty strong as well which makes it very delicious.

Also order-worthy:
Egg custard tarts (蛋撻 – daan tat). I prefer them here over the famous place in Soho because they have the flaky puff pastry-like crust which I personally enjoy more than the cookie crust.

Address:
G/F & Mezz Floor, 176-178 Hennessy Rd., Wan Chai, H.K. Island 香港灣仔軒尼詩道176-178號地下及閣樓

12. Tonkatsu at Tonkichi Tonkatsu 丼吉日本吉列專門店餐廳 (Trendy – Japanese)

The tonkatsu here is fried perfectly crisp with a juicy pork chop on the inside. The sauce here is amazing, after you order they will give you a bowl with sesame seeds and a pestle so that you can grind your own sesame seeds for the tonkatsu sauce. The cabbage and rice is also refillable here which is a nice touch.

Locations:
Shop 412, Podium 4, World Trade Centre, 280 Gloucester Road, Causeway Bay, H.K. Island 香港銅鑼灣告士打道280號世貿中心4樓412號舖
Shop 3013, 3/F, IFC, 1 Harbour View Street, Central, H.K. Island 香港中環港景街1號國際金融中心3樓3013號舖
10/F, The Toy House, 100 Canton Road, Tsim Sha Tsui, Kowloon 九龍尖沙咀廣東道100號彩星集團大廈10樓全層
Shop L401, 4/F, The ONE, 100 Nathan Road, Tsim Sha Tsui, Kowloon 九龍尖沙咀彌敦道100號The ONE 4樓L401舖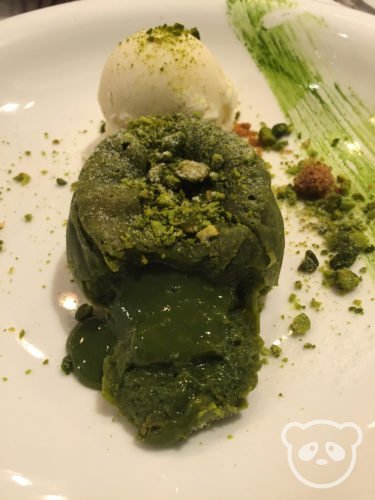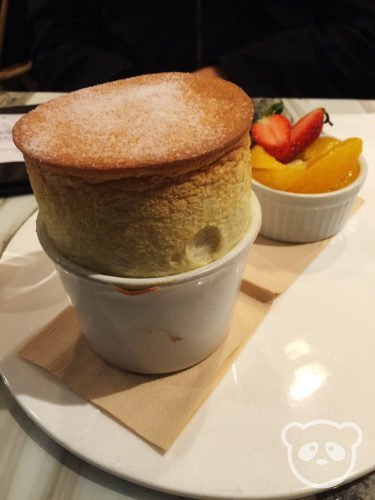 13. Desserts at HeSheEat (Trendy)

The desserts here are fusiony in a east meets west style. Anything green tea flavored will be delish, they have a matcha green tea lava cake and their souffles are amazing.  

Locations: 
Shop 201, 2/F, Causeway Place, 2-10 Great George Street, Causeway Bay, H.K. Island 香港銅鑼灣記利佐治街2-10號銅鑼灣地帶2樓201號
Shop 4, G/F, Ngai Hing Mansion, 22 Pak Po Street, Mong Kok, Kowloon 九龍旺角白布街22號藝興大廈地下4號舖
14. Lemon crispy bun at Sing Heung Yuen 勝香園 (HK-style)

Dai pai dong at its best. This place was actually featured in several Hong Kong TV series and movies, but that's not why I come here. I come here specifically for the lemon crispy bun (檸檬脆脆 – ling mung chui chui), they make their own lemon preserves and you can definitely taste the quality. The mixture of the preserves with butter on the freshly toasted bun are a delight to the taste buds!  

Also order-worthy:
7-Up with salted lemon (鹹檸七 – haam ling chut). I know what you're thinking, I'm telling you to order a soda. It is definitely a soda, but their homemade salted lemon added to it is tasty and refreshing. I particularly enjoy ordering it during the summer when I need more electrolytes to survive the heat, but due to the subtropical climate in Hong Kong, you can pretty much drink it anytime.

Address:
2 Mei Lun Street, Central, H.K. Island 香港中環美輪街2號排檔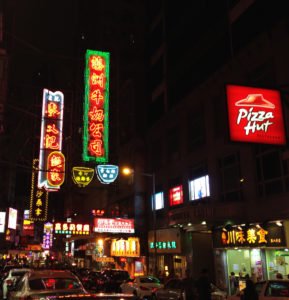 15. Steamed egg white & milk pudding at Australia Dairy Company 

澳洲牛奶公司 
(HK-style)
The breakfasts here are famous, particularly their scrambled eggs; however I'm not sure why. My personal recommendations lie with their desserts.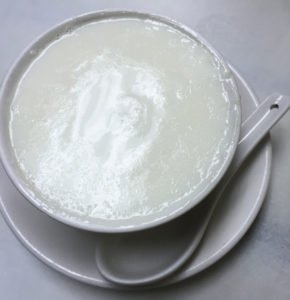 Their steamed egg white & milk pudding (蛋白燉鮮奶 – dan bak dun sin nai) is slightly custardy with amazingly smooth texture. Why stand in line for their breakfasts during the day when you can have great dessert after dinner?   

Address:
G/F, 47-49 Parkes Street, Jordan, Kowloon 九龍佐敦白加士街47-49號地下

16. Super mango drink with glutinous rice balls at Hui Lau Shan 許留山 
(Trendy)
I love mango in general, but I love anything mango from Hui Lau Shan. With that said, my favorite, by far, is their super mango drink with glutinous rice balls. They add layers of mango juice, coconut juice, mango chunks, and glutinous rice balls. I love the glutinous rice balls in particular because they are more chewy than sago and have a different (more doughy) texture than boba pearls. They have a preset menu with all the possibilities so you can also get this same drink with sago, jelly, or herbal tea jelly if that is what your heart desires.They're a huge dessert chain so you can pretty much find them almost everywhere.

PRO TIP: If you're only feeling a drink, it's cheaper to order it from the cashier outside to-go than to go inside and get the same thing.
Select Locations:
Shop D, 163 Hennessy Road, Wan Chai, H.K. Island 香港灣仔軒尼詩道163號D舖
G/F, 19 Lee Garden Road, Causeway Bay, H.K. Island 香港銅鑼灣利園山道19號地下
Shop A, G/F., Tak Cheong Commercial Building, 215 Portland Street, Mong Kok, Kowloon旺角砵蘭街215號德昌商業大廈地下A舖
G/F, Bowa House, 180 Nathan Road, Tsim Sha Tsui, Kowloon 九龍尖沙咀彌敦道180號寶華商業大廈地下
G/F, 9 Lock Road, Tsim Sha Tsui, Kowloon 九龍尖沙咀樂道9號地舖

17. Cold noodle at Bak Mei Noodle Stand 百味食品

 
(Trendy)
This was my favorite go-to cheap eat as a college student in Hong Kong; it's similar to the cart noodles idea where you pick your noodle type and pick your toppings to go with your noodles, but younger and trendier.

There are a set number of toppings you're allowed to get so I usually go with their spinach noodle and get chicken gizzards, baby octopus, corn, and cucumber. I have also tried their clams and sausages in the past. You can also pick a sauce for your cold noodles and I love their garlic sauce, it is so good!!! As you pick everything they'll put it in a bag and when you're done choosing they'll mix it up for you. No worries if you can't read the Chinese signs, just point at what you want and they'll take care of you 🙂

Bonus:
Next to this stall is another the Happy Lemon shop. I love getting the green tea with salted cheese and boba topping. It's a refreshing drink that I get right after I finish my noodles so I can wash down the garlic flavor.

Address:
3/F, Argyle Centre, 688 Nathan Road, Mong Kok, Kowloon 九龍旺角彌敦道688號旺角中心3樓
18. Rice cakes with cheese topping at Goobne Chicken (Trendy – Korean)

This was amazing! That's all I have to say. Just kidding. This restaurant is actually an import from Korea so you know it'll be good. But seriously, they serve their stir fried rice cakes on a sizzling hot plate with melted mozzarella cheese. It keeps it hot so that you can still pull out rice cakes in cheese strings when it reaches your table.

Also order-worthy:
Korean fried chicken. This is actually what they're known for because they are called Goobne Chicken after all. Their fried chicken was pretty bomb, you can order them based upon sauce and they are crispy fried pieces of flavorful goodness. I will admit that in my own mind the rice cakes definitely overshadowed the chicken.

Address:
2/F, The HART, 4 Hart Avenue, Tsim Sha Tsui, Kowloon 九龍尖沙咀赫德道4號The Hart 2樓

19. AYCE sweet tofu pudding at Law Tai Tofu Fa 鴻淘士多-羅太豆花
 (Traditional-Chinese)
Yes, you heard me, all you can eat sweet tofu pudding (豆腐花 – dau fu fa). This place is in the boonies, you sit outside dai pai dong style and you basically pay a set price ($12HKD or approximately $1.53US) to eat all the sweet tofu you want. It's great for the price and of decent quality as well.
Note: There are 2 sweet tofu shops in this area, one with a fancy building where you eat outside on picnic benches with tables. You want the hole-in-the-wall, not-so-fancy one, looks like a shack but that has plastic stools. 🙂 See Youtube for clarification.

Address: (There isn't a clear address, but it is in this area, see map below)
Fai King Road by Ho Sheung Heung Road, Sheung Shui, New Territories 新界上水快景路近河上鄉路

20. Fried stinky tofu or other street foods at Kai Kei Snack 

佳記小食店

 (Traditional-Chinese)

As you've probably already seen on my IG, I am a fan of stinky tofu (臭豆腐 – chau dau fu). Yes, it can smell like pungent sewage, but it definitely doesn't taste like it. However it is an acquired taste, and how better to acquire that taste by starting with a fried one. While this isn't my favorite place in the whole entire world to get it, I do love their sauces.

When you order it, they place it in a paper bag for you and you can slab on their sweet brown sauce and their spicy chili sauce. The chili sauce isn't that spicy, but their sweet brown sauce is great, and the combination of all the flavors together is so delicious. And at that point, you honestly don't even smell the stink anymore.

Address:
43 Dundas Street, Mong Kok, Kowloon 九龍旺角登打士街43號
Map to these Local Eats
Some of these spots have more than 5 locations, for those only a select few have been shown within the map.
Hope you enjoyed my list of Hong Kong foods and come back with your stomachs full and happy! Comment below if you've had any of these foods or are excited to try them! 🙂
Loved these local eats in Hong Kong? Pin it for later!