This post may contain affiliate links. If you click one of these links, we may receive a commission at no additional cost to you. We're grateful for your continued love of this site!
We knew that most Europeans don't celebrate Halloween and that it's more of an American thing. But since we were visiting Copenhagen in mid-October, we wanted to check out Tivoli Gardens! Tivoli actually inspired Walt Disney to create Disneyland, we were hoping that there would be some sort of amazing Halloween celebration there. And, Tivoli didn't disappoint at all!
Fun Fact: Tivoli is the world's second oldest still-operating amusement park in the world. It opened on August 15, 1843 and is Denmark's most popular attraction with 4.6 million visitors in 2017.
The gardens were lit up in amazing oranges and purples. The entire amusement park was dressed up in Halloween splendor with jack-o-lanterns and spider webs everywhere! The Halloween season is in mid October until early November so if you're visiting Copenhagen during this time of the year, you're in luck.
Even though we went to Tivoli around Halloween, the theme park is actually open at multiple times throughout the year. You'll definitely be able to see Tivoli Gardens outside of October and November, though there might not be holiday specific decorations.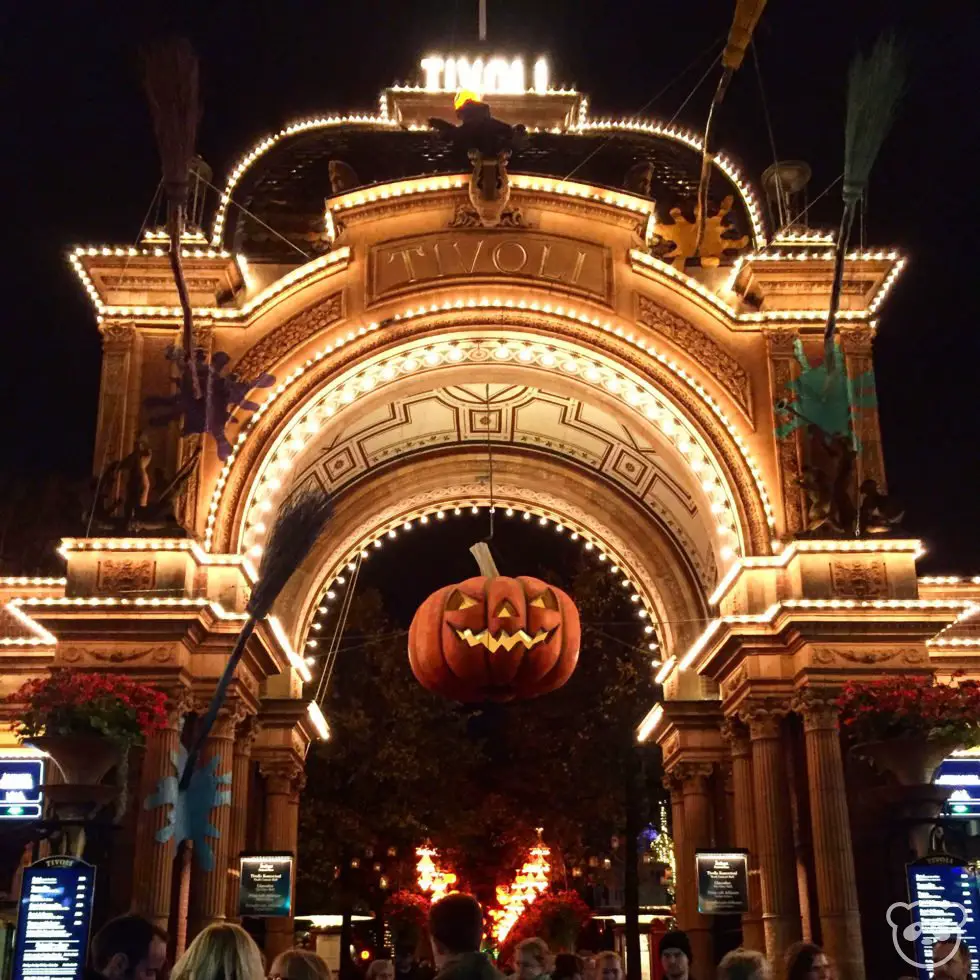 How to get into Tivoli Gardens
There are three entrances to Tivoli Gardens: Vesterbrogade (main entrance), Bernstorffsgade, and Tietgensgade.
We entered through the Bernstorffsgade entrance since we took a bus after dinner from Copenhagen Street Food. This entrance had a few swinging jack-o-lantern decorations. We had noticed them earlier that morning when we were going to take the train.
PRO TIP: If you use the Copenhagen Card or you're purchasing a ticket, you'll need to enter through the Vesterbrogade or the Bernstorffsgade entrance. We didn't know this so we ended up walking around the entire park.
Bernstorffsgade is located directly across the road from the København H (Central) train station. This one is most convenient if you're taking the train. Tietgensgade has a smaller entrance that is only accessible if you have an annual pass.
Fun Fact: The famous Danish fairytale author Hans Christian Andersen visited Tivoli Gardens often during his life.
Since we used the Copenhagen Card, this also meant that we had to line up for tickets. It was easy to get in though because the lines were not too long even though the amusement park was busy. They swiped our cards and gave us our tickets to get in.
At peak times during the summer season and early in the evenings the park can get crowded. If you're visiting during those times you might want to grab skip the line entry.
We exited through the Vesterbrogade entrance/exit and we loved the giant jack-o-lantern hanging from the "Tivoli" arch and another popping out of a wooden crate. The decorations were so festive!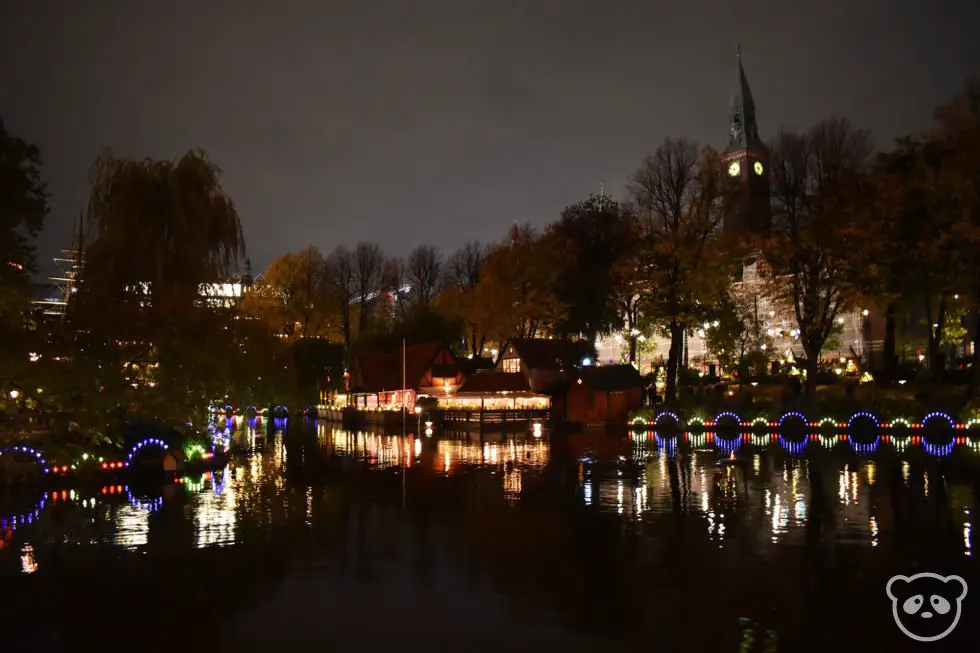 Tivoli Gardens Amusement Park
When we first walked in, we saw the arcade area and we weren't super impressed. It wasn't until we got further into the theme park and saw all of the Halloween decorations and lights did it feel more magical.
The bright lights and cool decor gave us a vibe similar to Disneyland, though I'm not sure Jimmy could agree since he hasn't been to Disneyland. But that's definitely what it reminded me of! And only because I'd been to Disneyland and Disney World first.
To be honest, we're not huge fans of rides, especially rides that you have to pay extra for by getting ride tickets so we didn't ride on the roller coasters or anything like that. We were primarily at Tivoli for the experience, plus I wanted to see what the park that inspired Walt Disney was really like.
That's not to say that you shouldn't visit Tivoli normally though, it's just a different vibe when you visit during specific holidays because it's so festive!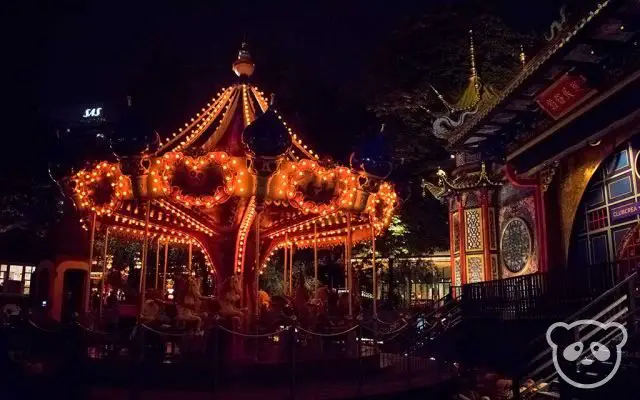 Fun Fact: Walt Disney based Disneyland upon Tivoli Gardens. When he visited Tivoli, he showed up with a notebook and took notes on the decorations, the rides, EVERYTHING.
One of the coolest things about Tivoli Gardens is that the amusement park literally has everything! Aside from rides, there is also a hotel on-site, multiple restaurants, and shops. Since we got to Tivoli after dinner, we weren't up for eating but many of the restaurants looked really cool. They were also Halloween themed and you could dine outside amongst pumpkins and jack-o-lanterns. There were also stalls selling hot cider and hot chocolate so if you're freezing in the chilly fall weather, you're definitely covered!
There are also seasonal shows and events to draw in locals along with tourists. For Halloween, there is a scary-themed show in addition to a haunted house. We're fraidy cats so we didn't go to either of those.
Tivoli Gardens has your typical carousel rides, but also bumper cars, a dragon-themed roller coaster and even an aquarium. There are a total of 30 rides so there will be something that strikes your fancy. The park's got tons of things to do, but it may just cost you a little more.
If you love rides, but want to save some coin, you can purchase an unlimited ride pass and take the roller coaster over and over again.
Fun Fact: The wooden roller coaster at Tivoli is the park's oldest and most popular ride. It has been in operation since 1914 and is one of the few roller coasters in the world that still has a brakeman on board every train.
Underneath the Demon roller coaster in the Chinese-themed area, there is even a mini light show that happens three times an hour and has over 16,000 lights with music. In the same area there are also Chinese-style buildings and even an Asian restaurant. We did not try the restaurants so we cannot tell you whether the food is good or not, haha.
Close to the entrance there are also lots of arcade games if you want to try your luck at winning some stuffed animals and prizes. We didn't try though since we were visiting for the weekend from the Netherlands and didn't want to deal with having to bring it home.
If you visit during the day, the Halloween decorations are still up and visible. And you'll even be able to see the garden. But at night you'll be able to see the Tivoli Illuminations light show!
Related Post: See beautiful holiday lights in Los Angeles, CA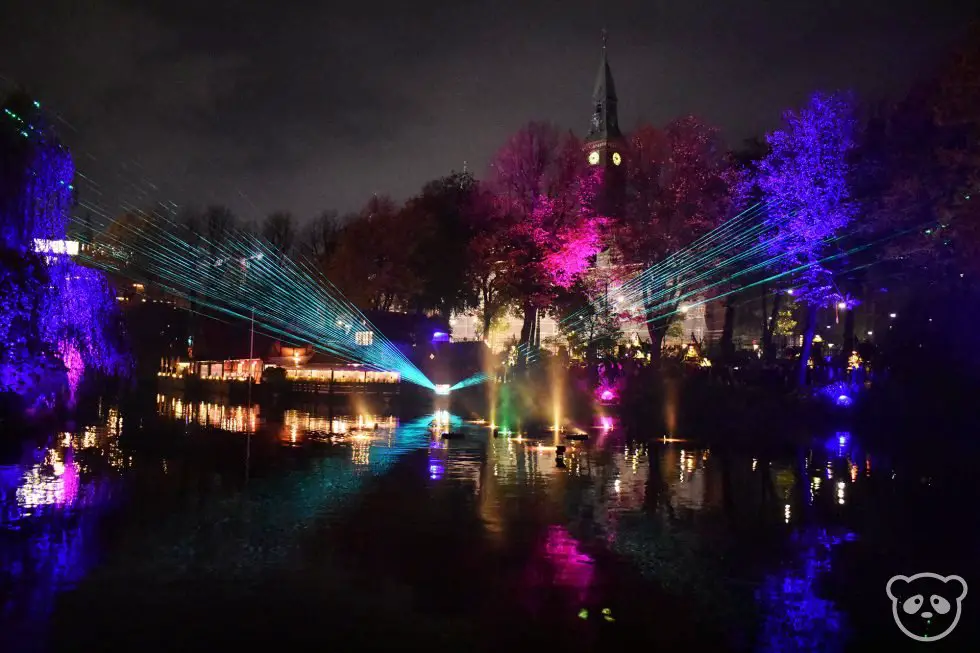 Tivoli Illuminations Light Show
The light show which happens every night at 9pm on the Tivoli Lake during the Halloween season. See show schedule for latest times. Note that show times may differ depending upon the season.
It's basically a laser light display with synchronized music, it's pretty cool to see if you have time. Best of all, it's FREE with the cost of general admission, so why not?
PRO TIP: The best place to watch the show is on the bridge over Tivoli Lake or in front of the Vertigo ride. Get there at least 15 minutes early if you want a good spot!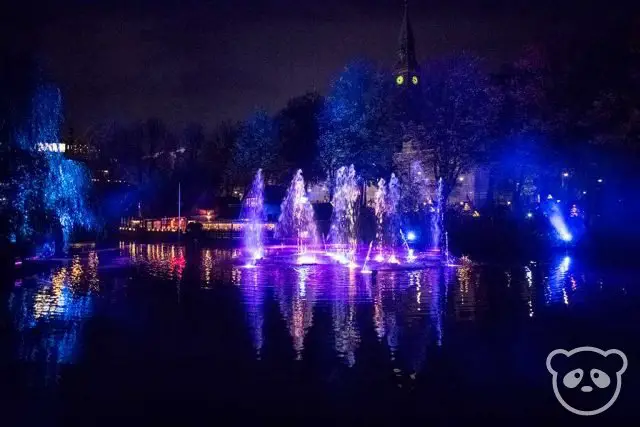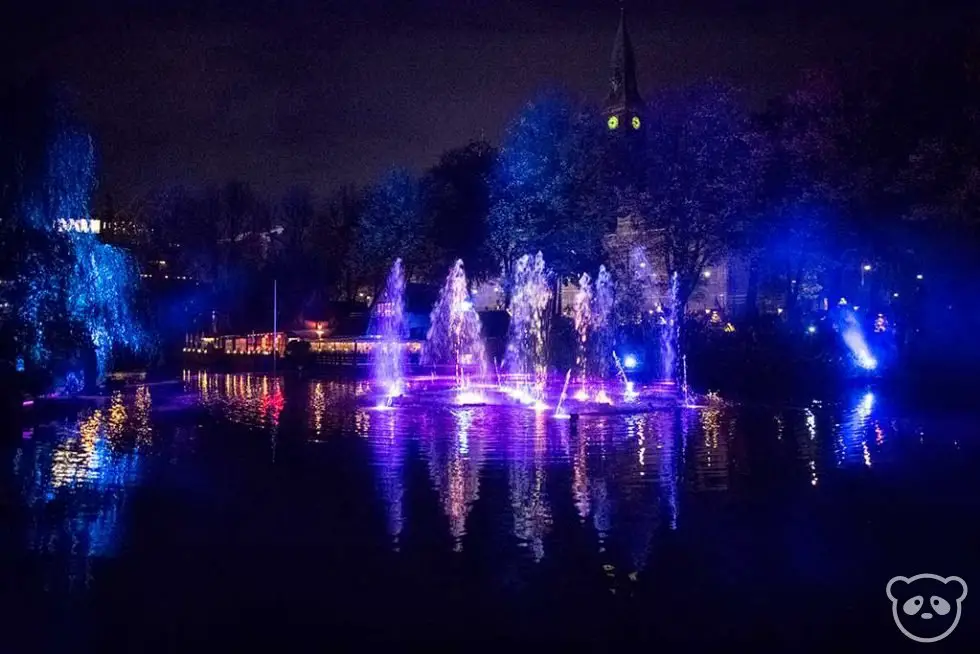 Tivoli also has tons of other shows that we didn't get to see because we went to the park after dinner. See all of the shows and showtimes here.
What Did We Think?
Overall we enjoyed the light show and our time at Tivoli Gardens. It was a really cool experience, especially for Jimmy since he'd never been to Disneyland, it was completely new to him. It is pretty expensive though, especially with ride tickets so I was glad we're not rides type of people. We might consider going again in the future if we get a Copenhagen Card again since admission is included but otherwise we think once is enough.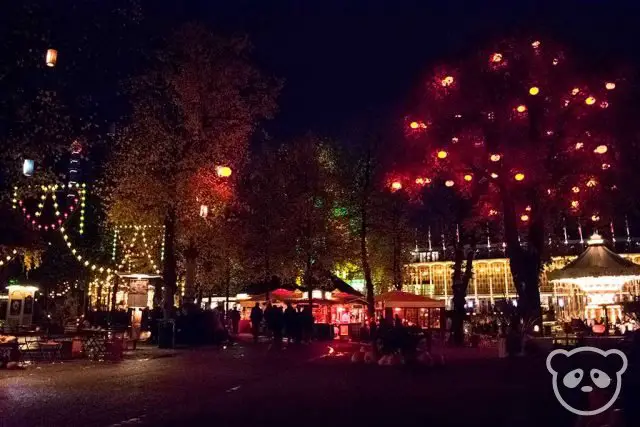 Helpful Tips
Check to make sure Tivoli is open before you go. It's usually open during specific seasons: Easter, Summer, Halloween, and Christmas. The

website

will have up-to-date information on open dates and hours.

If you visit during the summer, there are concerts on Friday nights. The tickets will be more expensive, but you're also getting more entertainment.

Don't forget to bring an umbrella! It might rain during the Halloween season, it was drizzling when we were there.

Keep warm, it's already pretty chilly in Copenhagen in October, especially at night. Don't leave the scarf and gloves at home!

The park is usually less crowded in the afternoons and early evening.
Visiting Information
Address
Vesterbrogade 3
1630 København V
Website
2018 Season
Winter
January 31 to February 23
Summer
April 1 to September 20
Halloween
October 11 to November 3
Christmas
November 16 to January 5
Hours
Sunday – Thursday: 11am-11pm
Friday – Saturday: 11am-12am
Tickets & Pricing
Admission
Adults & Children (8+ years): 130-140DKK/~$19.20-20.68US
Children (3-7 years): 60DKK/~$8.86US
You can also purchase general admission online.
The Copenhagen Card will include general admission to Tivoli Gardens, including the seasonal admission however it does not include rides.
PRO TIP: With the Copenhagen Card, you can enter once daily, for example, if you purchase a 2-day Copenhagen Card, you can enter the park two times total, once per day.
Aquarium
The aquarium opens daily at 12:30pm. Tickets typically cost 25DKK/$3.92US at the gate, but online they are only 20DKK/~3.14US.
Important Note: The aquarium admission does NOT include general admission. And only the Unlimited Rides Plus package includes aquarium tickets.
Rides
Each ticket costs 30DKK/~4.70US, but the cost of the rides can vary between 1 to 3 tickets. Ride tickets can be purchased at various stalls and vending machines around the park. See cost per ride information here.
If you're interested in unlimited rides, an unlimited ride package ranges between 230-290DKK/~$36.09-45.46US depending on the inclusions. Note that unlimited ride packages DO NOT include general admission. See ticketing information here.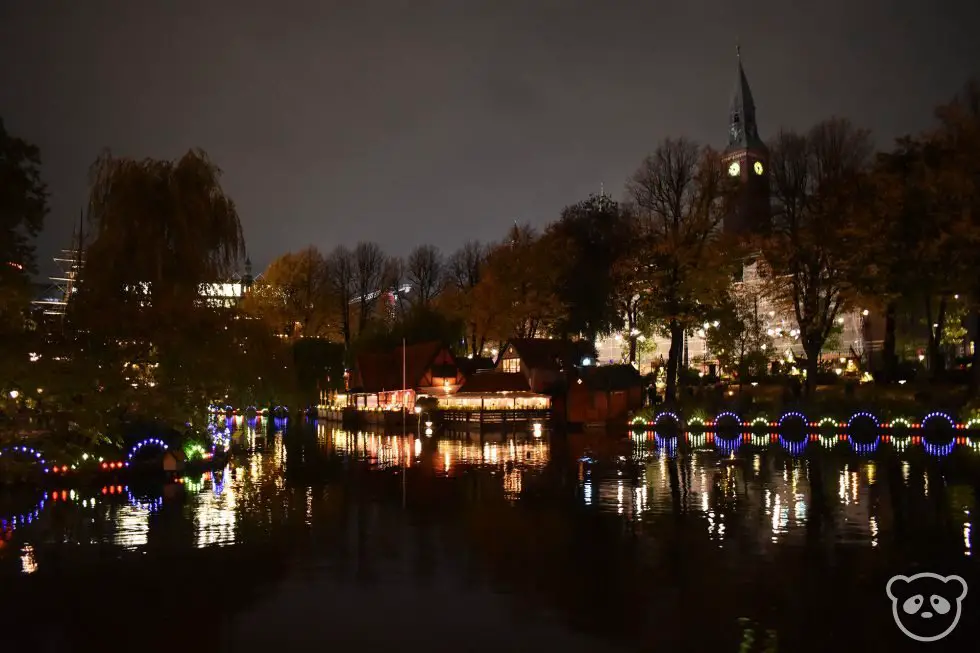 Getting There & Directions
The main entrance is off of Vesterbrogade but there are 2 additional entrances. Bernstorffsgade is located directly across the road from the København H main train station. This one is most convenient if you're taking the train.
The bus dropped us off by the Tietgensgade entrance and we didn't know we couldn't get in through that one. I don't recommend using the Tietgensgade entrance unless you have an annual pass. It is a smaller entrance and it is turnstile only so you won't be able to purchase tickets. Only annual pass holders or people with tickets will be able to swipe their passes.
You can also take buses 1A, 2A, 5A, 6A, 9A and 26 to get to Tivoli Gardens.
Now that you know all about Tivoli Gardens, doesn't that make you want to see it in real life on your next trip to Copenhagen? Let us know how much you enjoyed it in the comments below!
Loved learning about Tivoli Gardens? Pin it for later!