This post may contain affiliate links. If you click one of these links, we may receive a commission. We're grateful for your continued love of this site!
Unless you've been living under a rock for the past few years, you know that Page, Arizona has become one of the hottest places to visit in the United States, thanks (or no thanks) to Instagram. But if you're tight on time, can you actually see all of those cool places in Page in one day? Yes, there are a lot of things to do in Page, Arizona, but we were definitely able to do Horseshoe Bend, and BOTH Upper and Lower Antelope Canyons in one day!
Fun Fact: The city of Page was founded in 1957 as a community primarily made up of Glen Canyon Dam workers and their families.
Page is an interesting town, it's one primarily created out of necessity that became a hotspot for tourists thanks to Instagram. You definitely get that vibe if you hang around a bit in the city since you'll get to see people going about their daily lives. Even then there are many natural wonders you can see in the vicinity of Page, as well as historical and sacred sites that are important to the Navajo and Anasazi Natives.
Important Note: Page is located close to many Navajo and Anasazi sacred sites, please be considerate and mindful when visiting them.
This is our complete guide to the best things to do in Page, Arizona in one day! (Plus a few other places to see if you have more time.)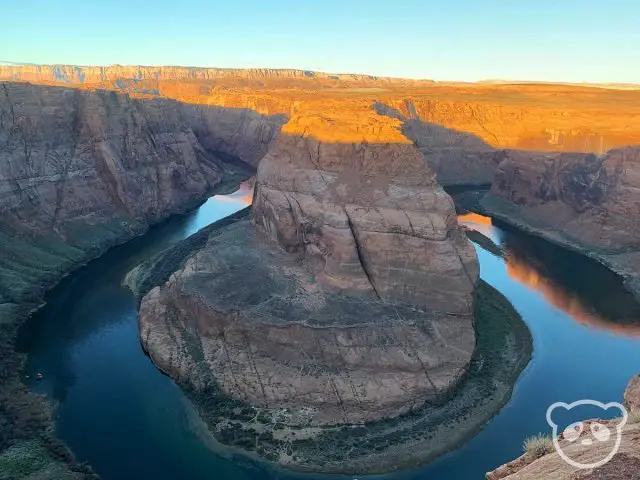 Horseshoe Bend Overlook
Horseshoe Bend Overlook is so named for the horseshoe-shaped curve of the Colorado River located just outside of the town of Page in northern Arizona. It is located within the Glen Canyon National Recreation Area approximately 5 miles downstream from Glen Canyon Dam and Lake Powell.
Fun Fact: Horseshoe Bend Overlook has a 1,000 foot drop. The overlook is located 4,200 feet above sea level and the Colorado River is 3,200 feet above sea level.
Important Note: Given that there is a 1,000 foot drop, Horseshoe Bend Overlook can be dangerous. Though Navajo sandstone looks like hard rock, it can actually be brittle, especially when absorbing the weight of visitors over time. People have died while visiting Horseshoe Bend and we hope that our readers don't become one of the casualties.
With that said, Horseshoe Bend was as beautiful as we saw on Instagram and it's definitely worth a visit! I'm sure you don't need us to tell you that already though, you've probably seen all the photos on Instagram too.
What's the Best Time of Day to Visit Horseshoe Bend?  
We recommend starting your day off at Horseshoe Bend Overlook for 2 major reasons:
You'll get to see Horseshoe Bend when it's quieter and with less visitors, though don't think you'll be the only people there. (You won't, thanks to Instagram.)
You have a better shot at getting amazing photos at Horseshoe Bend if you can wake up early and get there before sunrise, see PRO TIP below 😉
PRO TIP: Try to get to Horseshoe Bend before sunrise, or around sunset. This is because the sun is less strong. When the sun is high in the sky, it gets super bright and has a tendency to overexpose the photos removing much of the detail in the rock formations.
To be honest, we aren't morning people so we didn't make it there before sunrise. We made it there shortly thereafter and were able to still enjoy it with less brightness. Definitely do as we say and not as we do, haha.
How To Get To Horseshoe Bend Overlook
Horseshoe Bend Overlook is located just off of US Route 89, a two lane highway which runs between Flagstaff, AZ and southern Utah via Page. The trailhead and parking lot are located approximately 1.5 miles south of the Welcome to Page sign and about 5 miles away from the city center of Page. See map below for more information.
Does it cost money to visit Horseshoe Bend Overlook?
Technically it is FREE to visit Horseshoe Bend Overlook; however, unless you walk in, it will cost you *some* money to get in. Note that it is VERY difficult to walk into Horseshoe Bend Overlook trailhead, it is quite a hike and you will be walking along a US highway.
PRO TIP: DO NOT park along US Route 89, it is illegal and you WILL be ticketed. There are always police patrolling the area, it's really not worth it.
Typically, the best options are either parking in the official parking lot or taking a shuttle during peak season.
However since January 30, 2019, the city-owned parking lot at Horseshoe Bend Overlook has been closed for renovations. Beginning January 30, 2019 until April 15, 2019, there will be a shuttle taking visitors between a temporary parking lot and from at 10am in the morning and runs until 5pm. Charges are $5 per person round-trip shuttle fee which includes parking and you take a shuttle bus between their temporary parking lot and Horseshoe Bend Overlook. You can also purchase tickets online in advance. For more information about the shuttle, see the NPS.gov site.
Once the parking lot reopens, there will be charges for parking at the Horseshoe Bend Overlook parking lot, it will cost $10 for private passenger vehicles.
Sometimes during high season, there are also locally operated shuttle services that operate in the area. They usually run it from private property at the intersection of US-89 and AZ-98, by the Welcome to Page sign. When we saw the sign it costed $20 though we're not sure if that was a per car or per person charge.
How long is the hike to Horseshoe Bend Overlook?
The hike to Horseshoe Bend Overlook from the parking lot is approximately 0.75 miles (~1.2 km) making it a 1.5 mile (~2.41 km) round trip. From the parking lot, you basically climb up a small hill (where you'll be to see the overlook from afar) and down the hill to the edge of the overlook. When you're on the hill, you'll see an area with a bunch of people THAT is where the overlook is.
Keep in mind that accessibility may be an issue, the hike is over sand so it might not be too easy to push a stroller or wheelchair through. However with the new improvements and construction underway, there are plans for a 1 mile long accessible trail.
Once you get to Horseshoe Bend Overlook, you'll be treated to sweeping views of Navajo sandstone and the Colorado River. It is truly a gorgeous spot!
Upper Antelope Canyon
Upper Antelope Canyon is one of the most famous and popular sights to see in Page, Arizona. This is partially due to the prevalence of beautiful shots of wavy red walls and beams of light trickling through the slot canyons.
Fun Fact: The Diné (Navajo) name for Upper Antelope Canyon is tsé bighánílíní, meaning "the place where water runs through rocks."
How to Visit Upper Antelope Canyon
The best and only way to see Upper Antelope Canyon is to take a guided tour. There are various tour companies that offer tours of Upper Antelope Canyon. When we booked many of the tours were already unavailable so we booked with Antelope Slot Canyon Tours.
Important Note: Antelope Canyon is located on Navajo land and MUST be visited with a guided your. Navajo permits must also be obtained and are included in the cost of the tour.
Tickets for tours are easily purchased in advance online. You can select dates and times that best suit your itinerary. Sometimes they even offer discounts for early bird and end of the day time slots.
Important Note: Antelope Slot Canyon Tours does not allow wheelchairs or children under 6 years old.
Fun Fact: Upper Antelope Canyon is located within a dried river bed, your tour guide will drive you through it and you'll be able to walk right into the slot canyon!
The tours take approximately 1 hour and 30 minutes however a decent amount of that time is spent driving to and from the slot canyon. We would estimate it to be around 40 to 50 minutes total of round trip driving time.  
PRO TIP: Be sure to arrive at least 30 minutes before your tour time to check in for your tour!
Upper Antelope Canyon is very narrow and can get super crowded during peak season. Be aware you will be in tight quarters and will need to move with your tour. Don't lose your tour guide since it's easy to do so in there, especially since it can get dark in there.
PRO TIP: Selfie sticks, monopods, tripods (unless you're on the more expensive photography tour), and bags of any type (including purses and backpacks are not permitted! Remember to leave them in your car, ideally out of sight in the trunk.
What's the Best Time of Day to Visit Upper Antelope Canyon?
We went with Antelope Slot Canyon Tours and they were great! We got the "prime" time slot at 10:30am and we purchased our tours online in advance for $78 per person. Note that there is also a 3% surcharge for the purchase. Keep in mind that tours may sell out, especially during peak season, so it's best to plan ahead.
10:30am and 1pm time slots are typically considered "prime" are the most expensive. During the summer months, you may even get to see the sun beams appear!
Fun Fact: Antelope Canyon first opened to the public in 1997. It has been a favorite of photographers and tourists ever since.
Nevertheless, they offer tours throughout the day and you'll get to see the beautiful slot canyon regardless so I wouldn't necessarily worry about the "best time." Either way, the canyon will be amazing!
How long is the hike through Upper Antelope Canyon?
Honestly, the hike through Upper Antelope Canyon isn't bad at all! It is relatively short and it is an "in and out" type of path. You return the same way you went in.  
Fun Fact: Upper Antelope Canyon is approximately 1/8th of a mile (206 meters) long.
At the end of the 1/8th of a mile, there is a dead end with an opening where you can see some of the Navajo sandstone rock formations.
Will I get great photos inside Upper Antelope Canyon?
The tours are great for photographers, even if you don't get a photography-specific tour because the guides help you create the unique shots that you've seen all over Instagram. You can get the famous light beam shots AND the dropping sand photographs easily.
Plus your guide will tell you the best settings for your cameras and iPhone and she even helped me snap a few photos in the best angles! We loved her!
PRO TIP: If you aim to do either the Upper or Lower Canyon in the morning, you can easily to the other in the afternoon and see both in one day!
Lower Antelope Canyon
Important Note: Access to Lower Antelope Canyon requires climbing 5 flights of stairs and walking 1.1 miles (1.8 km). It is not recommended for people who may have difficulty.
Lower Antelope Canyon is different from Upper Canyon and is beautiful in its own way. We wanted to see both canyons so we could compare them and we are glad we did both.
Fun Fact: The Diné (Navajo) name for Lower Antelope Canyon is Hasdestwazi meaning "spiral rock arches."
Note that you do have to walk down sets of stairs in order to see Lower Antelope Canyon, hence its name. You need to walk down the stairs to descend into the canyon.
PRO TIP: People who are not fans of tight spaces, may not enjoy visiting slot canyons due to the cramped and narrow walkways between the canyons. But Lower Antelope Canyon tends to have wide paths than Upper Antelope Canyon.
How to Visit Lower Antelope Canyon
Like Upper Antelope Canyon, the only way to see Lower Antelope Canyon is to take a guided tour. There are two main tour companies that offer tours to Lower Antelope Canyon, they are Dixie Ellis Lower Antelope Canyon Tours and Ken's Tours. Both of which share the same parking lot. 
When we booked, Dixie Ellis was the only company that had availability so we automatically chose them.
PRO TIP: During peak season, tours can sell out so definitely book
online
in advance!
Fun Fact: Antelope Canyon was created by water erosion of Navajo sandstone, which primarily occurs from flash flooding.
Tickets to Lower Antelope Canyon tend to be cheaper and more budget-friendly since it is less popular and crowded than Upper Antelope Canyon. The tickets cost $40 per person, but there is also an additional $8 charge for the Navajo Nation permit and a 2.5% processing fee.
PRO TIP: If you visit both Upper and Lower Antelope Canyons in the same day you can ask for a refund for the Navajo Nation permit since you will be charged twice for it, just show them your receipt.
The tour with Dixie Ellis takes between 1 hour to 1.5 hours depending on the guide and how busy the canyons are. We loved our tour guide, he was an Anasazi Native from Utah but he had a lot of interesting stories about his way of life and shared his poetry with us.
PRO TIP: Be extremely careful when visiting Lower Antelope Canyon, our guide warned us that people have actually fallen and died here so it is super important to hold the handrails and not try to take photos while on the stairs.
What's the Best Time of Day to Visit Lower Antelope Canyon?
The best time to visit is typically in the early morning or late afternoon since it can get hot in Lower Antelope Canyon in the mid afternoon. We went to Lower Antelope Canyon for the 1pm tour but since we visited in the winter it wasn't too warm.
Since light beams are less common in Lower Antelope Canyon, you don't necessarily have to plan for that because you can't, if it happens it happens! Unfortunately we didn't get a chance to see them.  
How long is the hike through Lower Antelope Canyon?
The hike through Lower Antelope Canyon isn't too long and consists of a one way path where you exit from another area of the canyon. It is pretty cool coming out of the exit because it seems to come out of nowhere.
Fun Fact: Lower Antelope Canyon is approximately 1.1 miles (1.8 km) long.
Though the tour and hike aren't too extensive, this one definitely felt longer than the Upper Antelope Canyon hike, which it should because it was. Since we saw this one after we saw Upper Antelope Canyon it felt really long, so we were a bit "canyoned out" by the end of it.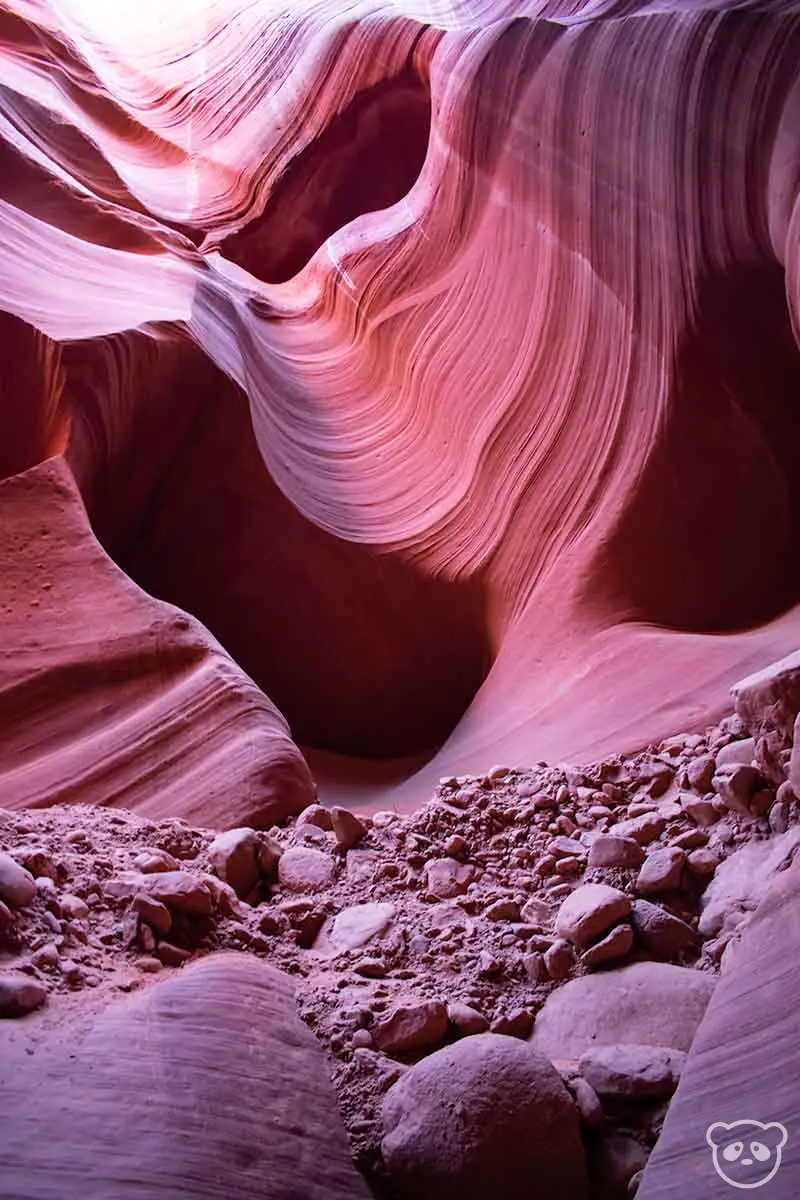 Will I get great photos inside Lower Antelope Canyon?
YES! Our guide was super nice about telling us which settings to use on our cameras and iPhones as well as helping us take photos with no one else in them. Definitely great when you're traveling as a couple and want shots together!
Lower Antelope Canyon was also brighter and had better lighting than Upper Antelope Canyon so you'll definitely be able to get rich reds in your photography.
Should you see the top three Page attractions in 1 day?
If you're short on time and only have a day to spend in Page, we would highly recommend seeing Horseshoe Bend Overlook, Upper Antelope Canyon, and Lower Antelope Canyon all in one day.
We were glad we got to see the three highlights of Page in a single day and it was truly worth it, all of those spots were so beautiful! And of course, a lot of the time it's important to let your budget decide when you're traveling.
If You Have More Time: Additional Things to Do in Page, Arizona
Other Slot Canyons

– Aside from the Upper and Lower Antelope Canyons, you can also consider checking out Cathedral Canyon, Canyon X, or Secret Canyon if you aren't already "canyoned out!" Another important thing to consider is that some of these canyons may be more budget-friendly since they aren't as popular.

Glen Canyon Dam

– Since you're in Page, why not visit the dam for which the city was built? There is a museum here where you can learn more about the construction as well as the city. We have a friend who visited it and said the tour was great!

Anasazi Petroglyphs at Horseshoe Bend

– These petroglyphs are located to the northern side of Horseshoe Bend however they are only accessible via boat and a short hike. The best way to see these petroglyphs is to take a tour and we wished we had time to do it since they looked amazing!
How to Get to Page, AZ
From Phoenix (south), drive I-17 North to US-180 West to US-89 North to reach Page in approximately 4 hours and 13 minutes. This drive is about 273 miles long.
Interested in seeing more of Arizona? Check out our 3 day itinerary for Phoenix & Scottsdale, Arizona! 
From Sedona (south), take AZ-89A, US-89 North, and Coppermine Road for about 2 hours and 45 minutes and arrive in Page after approximately 158 miles.
From Flagstaff (south), drive on US-89 North for 129 miles for approximately 2 hours and 10 minutes to get to Page.
From Grand Canyon South Rim, take AZ-64 East and US-89 North for a total of 132 miles. This will take approximately 2.5 hours.
From Kanab, Utah, drive on US-89 South for approximately 74 miles. This drive will take about 1 hour and 15 minutes.
It is also possible to see Page via tours from Las Vegas, Scottsdale (AZ), and Flagstaff (AZ) or Sedona (AZ).
Places to Eat in Page, AZ
Page isn't exactly the largest city in Arizona and is kind of located in the middle of the desert so don't expect any particularly gourmet foodie options here.
For Navajo tacos, be sure to check out Into the Grand or Steer 89. Big John's Texas BBQ has some delicious smoked meats and Birdhouse has great wings for quick eats.
PRO TIP: The people who own Steer 89 also own Antelope Slot Canyon Tours, so if you do the Upper Antelope Canyon tour with them, they will give you a Steer 89 coupon.
If you happen to visit during a holiday when other restaurants aren't open, it is a pretty small city after all, Denny's or McDonald's might be your best bet. Neither of the two are my favorites, generally speaking, but beggars can't be choosers! 
And of course, don't forget the free continental breakfast that might be available at your hotel! We stayed at Best Western Plus at Lake Powell which had a yummy breakfast buffet! 
Where to Stay in Page, Arizona
We recommend getting into Page the night before and staying there since it's easier to get an early start to your day. During our one day trip to Page, we stayed at the Best Western Plus at Lake Powell, even though it is technically located in Page. Not sure why they decided on this misnomer but it was a great place to stay!
We booked a queen room with 2 queen beds for the two of us since that was all they had left. Not a huge deal though since the rooms were SO large, we definitely felt like we still had a ton of room even with the second bed there. Since our room was on the first floor we were a little afraid that our room might be noisy but it wasn't! We also had a view of the pool though it was closed in the cooler months.
Best Western Plus at Lake Powell had great amenities including on-site self service laundry, a small gym with decent equipment, free wifi, and of course that aforementioned delicious breakfast! Aside from the pool, there is also a hot tub and inside the room there is a coffee maker, flat screen cable TV, Pharmacopia toiletries, and a hairdryer.
For breakfast, you can easily make your own breakfast tacos with the sausage, scrambled eggs, potatoes, cheese, sour cream, tortillas, and salsa they have on hand. They also have mini cinnamon rolls and other pastries, such as muffins! There is also a mini pancake machine that makes them fresh, it was so cool seeing them drop out! They also had the more typical offerings like hard boiled eggs, cereals, and toast, but we didn't get any of that since the other stuff looked so good. We didn't expect so much variety here and we were pleasantly surprised. Book your stay and enjoy a wonderful breakfast at Best Western Plus at Lake Powell!
For a similar lodging option located right across the street from Best Western Plus at Lake Powell is Best Western View of Lake Powell Hotel. As advertised, they do actually have a view of Lake Powell, albeit from the hilltop. Their room interiors are almost exactly the same and they offer a hot breakfast as well. They also have similar amenities — free wifi, gym, outdoor seasonal pool, and a flat screen TV. Stay at Best Western View of Lake Powell Hotel! 
If you're looking for a budget-friendly option, check out Motel 6 Page. They offer the basics, including free wifi, cable TV, a private bathroom, and a seasonal outdoor pool. Reserve a night at Motel 6 Page!
Map of the Sights
Loved our 1 Day Guide to Page, Arizona? Pin this for later!