This post may contain affiliate links. If you click one of these links, we may receive a commission. We're grateful for your continued love of this site!
Downtown Los Angeles has become more hipster and popular over the years as it has gentrified and welcomed more art museums and trendy restaurants in the area. Nowadays there is so much to do in the area that it could keep you occupied for the better part of the day if not the entire weekend. This great list of things to do will entertain you with sights and places to eat in downtown Los Angeles!
As this guide was inspired by my insanely long wait (~5+hrs) to get into Yayoi Kusama's Infinity Mirrored Room—The Souls of Millions of Light Years Away, many of the sights I suggested are geared towards the arts. But this is also an amazing itinerary for spending one day in downtown Los Angeles.
Other noteworthy sights further from the main downtown area include LA Live (Staples Center and the Grammy Museum are located here), Chinatown, and Dodgers Stadium.
Important Note: DTLA has not fully gentrified, there are still pockets (i.e. Skid Row) that you would want to stay away from, but for the most part it's relatively safe. Be careful which direction you walk in, especially if you head down to Little Tokyo and The Last Bookstore as you could easily end up in Skid Row.
Below are my suggestions, as an art fanatic and foodie, on what to do in downtown Los Angeles while you're waiting to get into Yayoi Kusama's Infinity Mirrored Room—The Souls of Millions of Light Years Away. You can also enjoy these recommendations while you're just hanging around in downtown, and best of all, all of these places can be seen in 1 day! 😉
Sights to See in Downtown Los Angeles
Yayoi Kusama's Infinity Mirrored Room—The Souls of Millions of Light Years Away is one of the most famous and highly-sought exhibits in Los Angeles and at The Broad. This exhibit is part of the reason for the insanely long lines outside of this museum, but this museum is also FREE so that doesn't help either! 
The Broad features modern art and is on the smaller side, so it definitely won't keep you occupied for the time it takes to get into the Infinity Room (especially if it takes you 5hrs, like my wait). It'll probably take you 1-2hrs (max) to get through this museum, but they have a lot of cool exhibits that are also very Instagrammable!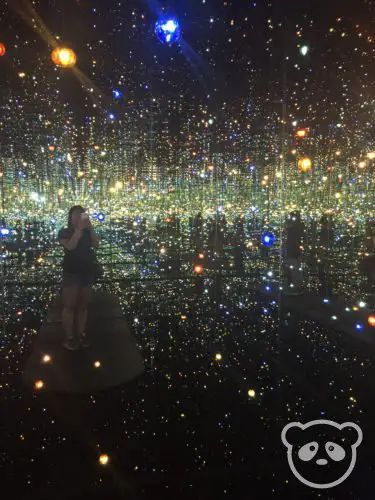 Aside from being a really cool free exhibit, it's also very Instagrammable 😉 But it also happens to be insanely difficult to score tickets online so many people end up "waiting in line" to get in. Yes, "waiting in line," in quotations.
Let me explain… so if you want to see the Infinity Mirrored Room, once you get in the door of The Broad get yourself STRAIGHT to the iPad at the line for the exhibit. Sign up on it to score your spot "in" line. You'll need to enter your name and your phone number. Don't worry! They'll text you when it's almost your turn so feel free to explore The Broad or even leave the museum. Just make sure you'll be able to get back when they text you! 🙂
I've done exactly as I stated above and I once waited over 5hrs in order to get into the exhibit since I was unable to book the tickets online (granted it was July 4th weekend, so it was BUSY).
Aside from the Infinity Room, some of my favorite exhibits include the following: Andy Warhol's Campbell Soup cans, various works by Roy Lichtenstein, various works by Keith Haring, Jeff Koon's "Tulips" (above left) and blue "Balloon Dog" (above right), and Robert Therrien's "Under the Table."
Fun Fact: "Broad" in The Broad is pronounced "bro-d" even though it looks like "br-uhd" as in another descriptor for "wide." It's the last name for the philanthropists who founded the museum.
Overall, the museum includes lots of exhibits at a good price (FREE), so it's definitely worth spending time to see more of, especially since you have to wait for the main event anyways!
Important Note: If the museum is having a special exhibit, those will cost money (for a timed ticket), and you're not guaranteed time in the Infinity Room. You will still have to sign up for that via the iPad when you get there.
Website
Address: 221 S. Grand Avenue, Los Angeles, CA 90012
Tickets: FREE (still need a ticket, they pass them out in line), special exhibit timed tickets are at an additional cost
This was my favorite place in all of downtown LA… that might just be because I'm a huge Frank Gehry fan and I'm a sucker for beautiful architecture. I love how the building looks so organic and flowy! Its design is very typical of Gehry buildings, so if you're a Gehry fan like I am, you'll definitely love this!
One of the best things about this concert hall is that you don't have to attend a music event to see it, they provide guided tours as well as self-guided audio tours. Both tours are complimentary which is pretty amazing in this day and age!
Guided tours, which are approximately 60mins long, are only offered on specified dates and times, see schedule. Self-guided audio tours, on the other hand, are offered most days between 10AM and 2PM. See schedule for more infomation. The self-guided audio tours are also approximately 60mins long and begin at the check-in area, the Grand Lobby of the concert hall. The best thing about these audio tours is they don't require a reservation and you can drop by anytime to do it, as long as they're offering it at that time.
Important Note: Because the audio tours are free, they will take your ID (or passport) hostage while you're doing the tour since it is possible to wander off the premises with it.
We did the audio tour which takes you around much of the interior as well as exterior via the patio garden area. The interior space is beautiful and designed to promote a sense of organic flow throughout the building while enhancing acoustics. The actual garden area of the patio is fairly small with several trees and sculptures; there is also a small performance area. The best thing about this patio area is that you'll get to exercise your photography muscles and take cool, artsy photos of the building.
Note: Some days you may not be able to enter the auditorium if groups are practicing, they'll have a sign on the door stating whether you're allowed to go inside.
Website
Address: 111 S. Grand Avenue, Los Angeles, CA 90012
FREE (no tickets necessary) | FREE self-guided audio tours and guided tours
This bookstore is surprisingly large and super quirky; it's got a lot of interesting sculptures built from books. They sell new and used books as well as records so it's a great place to search for those hard-to-find books. It's definitely worth a visit if you're in the area, even if you're not super into books, asit's an interesting sight to see.
They have a doorway built with old books as well as sculptures of flying books, similar to the flying toasters in those old Windows screensavers. There are also featured local artists' work displayed within the building.
Website
Address: 453 S Spring St – Ground Floor, Los Angeles, CA 90013
FREE (no tickets necessary since it's a bookstore)
This building was the filming location for various movies including 500 Days of Summer. It was built in 1893 and listed on the U.S. National Register of Historic Places as a historical landmark in 1977.
Designed by Sumner Hunt and George Wyman in the Italian Renaissance Revival style, the building has a European style look with wrought iron grillwork and an sunlit central atrium. The Bradbury Building looks as beautiful in person as it does in the movies, it's one of the most beautiful interiors I've ever been in.
Note: Visitors are only able to go as high as the first stair landing since there are occupied offices through the building.
Website
Address: 304 S. Broadway, Los Angeles, CA 90013
FREE (no tickets necessary)
To be honest, this museum is not one of my top museums to visit while in LA. I prefer the other location on Geffen, which is a little further from The Broad and closer to Little Tokyo. Neither of the locations are huge, however with the purchase of your $15 general admission ticket, you gain entrance to both locations.
Part of my preference for the Geffen location is due to the temporary exhibit I saw at the Geffen, which I enjoyed much more than the exhibits I saw at the Grand location. The exhibits at the Grand location are primarily permanent exhibits while the Geffen usually houses temporary exhibits; as a result, your experience may differ.
Website (for all locations) | Website (Grand location) | Website (Geffen location) 
Address: 250 South Grand Avenue, Los Angeles, CA 90012 (Grand location) | 152 North Central Avenue, Los Angeles, CA 90012 (Geffen location)
Admission: Adults – $15 for both downtown LA locations (Grand & Geffen) 
Things to Eat in Downtown Los Angeles
This is a great place to get food when you get hungry during your 5+hr wait for the Infinity Room. It's similar to the Public Market in Seattle so there are a ton of options and you'll find any type of food to fit every palate.
My top recommendation is Sarita's Pupuseria. Pupusas are a type of Salvadorean food, made with a thick corn flour tortilla and stuffed with savory fillings, such as beef, beans, and cheese. If you've had Venezuelan arepas before, these are similar. Their pupusas are BOMB. I also like getting their plantains because I CANNOT say no to plantains!
Eggslut is also famous for their breakfast/brunch options, but after the long wait, I wasn't too impressed. But you can try for yourself 🙂
Website
Entrance Locations: 317 S. Broadway, Los Angeles, CA | 314 S. Hill Street, Los Angeles, CA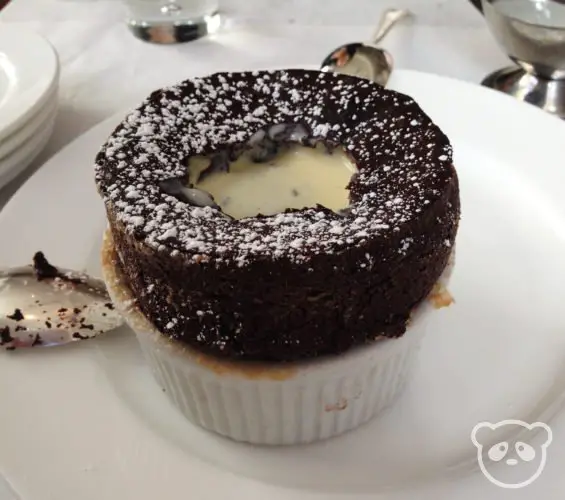 Bottega Louie, or "Bottega" as I like to call it, is my go-to place for food with an Italian/French flair. Their pizzas and pastas, while delicious are pretty good, but the waits can be long. One interesting thing to note… After you check-in with them, the hosts/hostesses will take note of what you're wearing so they never have to ask you what your name is and they'll still be able to find you when your table is ready! Definitely quality service!
Though their food is good, but not particularly remarkable (IMO), their chocolate lava cake is TO DIE FOR! One of the best chocolate lava cakes I've ever had short of having to make it myself. Sometimes I also grab some of their macarons for the road, they are not as great as the ones from Paris, but it'll do when I'm in LA.
Website
Address: 700 South Grand Avenue, Los Angeles, CA 90017
Little Tokyo is a bit of a walk from The Broad, and it's become more of a mini Koreatown than a Japantown these days, but there's still some good food to be had!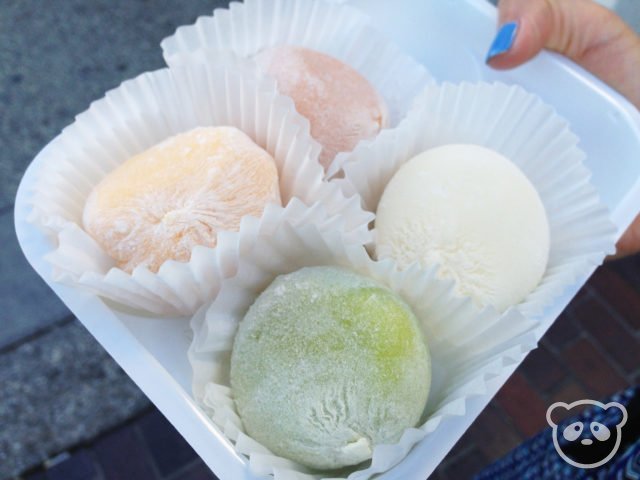 Mikawaya has amazing ice cream mochi with Asian flavors that are definitely worth a taste. They're also the same company that stocks your local Trader Joe's with ice cream mochi flavors like green tea, chocolate, vanilla, and mango. Except when you visit their location at Little Tokyo, you have access to WAY more flavors!
Address: 118 Japanese Village Plaza Mall, Los Angeles, CA 90012
Daikokuya is famous for ramen in LA however the waits are insanely long and I honestly prefer Orenchi Ramen back home in the Bay Area. Nevertheless, it's always worth it to try a new place especially if the waits aren't horrible. I disliked it mainly due to the canned bamboo shoots in their ramen so you might want to skip that.
Address: 327 E 1st St, Los Angeles, CA 90012
Little Tokyo Website
Location of Japantown: According to Wikipedia, "Little Tokyo can be found in roughly five large city blocks. It is bounded on the west by Los Angeles Street, on the east by Alameda Street, on the south by 3rd Street, and on the north by First Street, but also includes a substantial portion of the block north of First and west of Alameda, location of the Japanese American National Museum, the Go For Broke Monument, and a row of historic shops which lines the north side of First Street."
For more restaurants, check out these 9 spots in Los Angeles.
Map of the Sights
This concludes our list of the best things to do in Downtown Los Angeles. Hope this post will help entertain you while you wait for your text from The Broad for the Infinity Room!
Loved this post? Pin it for later!