This post may contain affiliate links. If you click one of these links, we may receive a commission. We're grateful for your continued love of this site!
This month's A Weekend Away destination is yet another European hot spot, the capital of chocolate and waffles, Brussels, Belgium! We spent only 2 days in Brussels but it was definitely enough time for all of the things we wanted to do, namely see sights and eat. Our 2 day weekend itinerary will go through the best places to eat and see beautiful Art Nouveau architecture in Brussels.
When Jimmy was working in The Netherlands, we decided to take a weekend trip to Brussels. Jimmy had been before on a previous work trip because he wanted to make a quick stop for some Belgian brew. This time around, we prioritized our itinerary around eating delicious chocolate, mussels, and waffles while seeing beautiful art and architecture.
Fun Fact: Brussels became a city in the 13th century and occupies an area measuring 161 sq km/62 sq mi. Most residents of Brussels Flemish Dutch or French. You'll see a lot of signs throughout the city featuring both languages and sometimes even English!
We'll try our best to include all of the sights in all 3 languages – English, French, and Dutch, so this itinerary will be even more useful to you.
For Dutch city itineraries, check out our weekend guides for Amsterdam and Leiden. 
We got into Brussels late Friday night around 12am (so it was technically Saturday already), slept for a few hours before heading out to explore the city!
Here are our top sights for a quick 2 day weekend in Brussels!
Where to Stay in Brussels, Belgium
We stayed at ibis Hotel Brussels Centre Gare du Midi located across the street from the Brussels-South Train Station and the Gare du Midi Metro Station. It's location is super convenient, we practically jumped off the Thalys train (from Leiden) and into the hotel, lol.
The rooms are simple and no-frills, but it's definitely more than enough for a quick weekend. We got the double room with a queen bed and while the decor in our room was dated, it's a steal for the price. They also offer luggage storage however they are only lockers in the basement so don't forget your Euro coins!
PRO TIP: The hotel is also located close to
Midi Market
, definitely make sure you explore it!
Book your stay at ibis Hotel Brussels Centre Gare du Midi now! 
DAY 1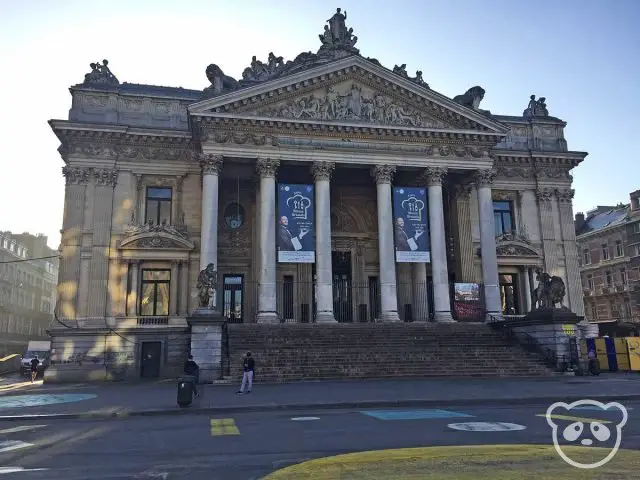 Old Brussels Stock Exchange Building (Bourse de Bruxelles/Beurs van Brussel)
This beautiful building was once home to the Brussels Stock Exchange, which was started by Napoléon Bonaparte in 1801. The old Brussels Stock Exchange Building was built between 1868 and 1873 by architect Léon Suys in the Neo-Renaissance style.
Fun Fact: The Neo-Renaissance style of architecture is classified by Italian Renaissance revival style of architecture with a French twist that was popular in the 19th century. Aside from Italian aesthetics, it was also inspired by on Gothic and Baroque style.  
As of 1996, the Brussels Stock Exchange is no longer located in the building. There are rumors of the building becoming a beer museum in 2018.
Locals love sitting on the steps and hanging out on nice days. In the afternoons there are sometimes even street performers in the nearby Place de la Bourse/Beursplein, the plaza directly in front of the building.  
This spot is most famous for their delicious pastries, namely their meringues and brioche. We got here first thing in the morning for a taste of their baked goods and a latte.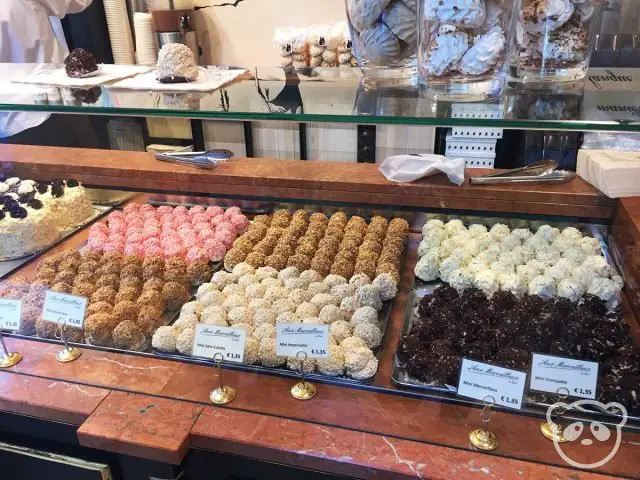 We got the The Impensable (coffee whipped cream coated with crystallized coffee meringue) and The Merveilleux (chocolate whipped cream coated with shavings of dark chocolate). They're a little sweeter than we would have liked, but damn they were good. They're like creamy puffs of melt in your mouth goodness!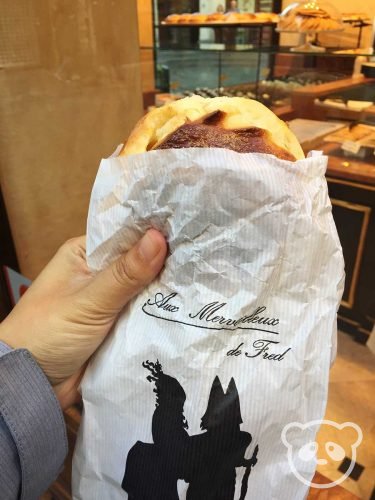 Their sugar brioche was also amazing, and different from the ones we've had in Paris in a good way. It was lightly sweet, soft, and delicious!
The Grand Place (Le Grand Place/Grote Markt)
This is the Brussels town square, but is also one of the most famous sights in Brussels. The plaza is lined with the Brussels Town Hall, the Museum of the City of Brussels, and opulent guildhouses.
Fun Fact: The Grand Place has been a UNESCO World Heritage Site since 1998.
The Grand Place is beautiful and is always busy, we ended up passing through this area multiple times during our stay in Brussels, taking photos and different times of the day.
PRO TIP: For the best daylight photos, come to The Grand Place during golden hour, the way the sun hits the golden decor on the guildhouses is beautiful! At night, you'll be able to take pix of the lighted buildings.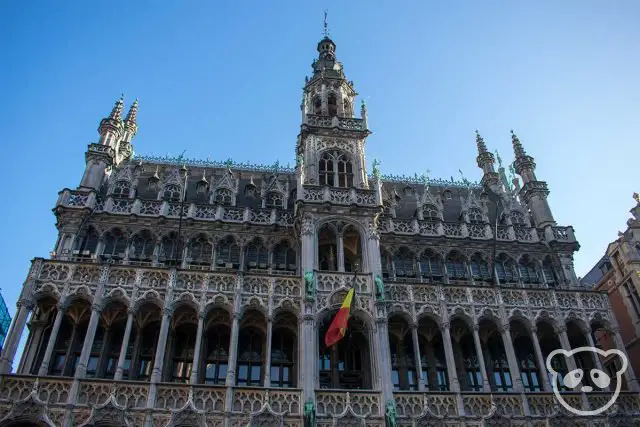 Fun Fact: The famous author of The Hunchback of Notre Dame fame, Victor Hugo, once called The Grand Place the "most beautiful square in the world."
Many important events take place within this plaza, including the Flower Carpet. The Flower Carpet is a tapestry of begonias made by volunteers once every two years during the month of August. The 1,800 square meter carpet is placed in the middle of The Grand Place. The Ommegang of Brussels, or medieval pageant, and the Belgian Beer weekend both also take place at The Grand Place.
The Pissing Sculptures of Brussels
One of the most famous "pissing sculptures" in Brussels is Mannekin Pis, the peeing boy. You'll see him throughout the city and you can even buy tiny souvenirs of his pissing self.
If you visit Brussels during a holiday, you'll even get to see him in costume. When we visited, Mannekin Pis was celebrating a feast held in his honor. 
Also check out Jeanneke Pis, the peeing girl, and Zinneke Pis, the peeing dog.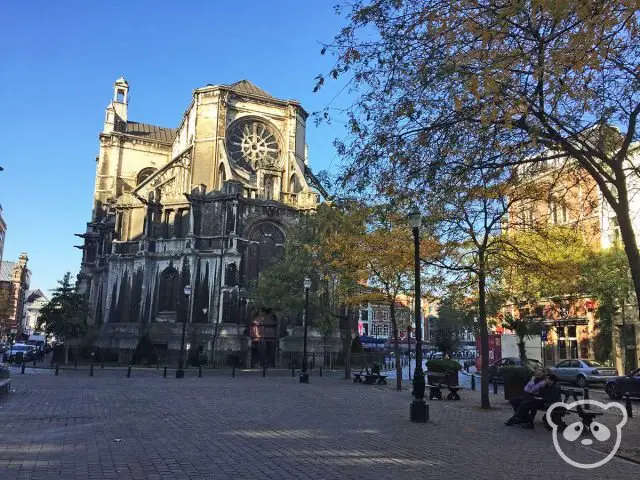 This church is located approximately 10 minute walk away from Le Grand Place and has a beautiful Gothic facade with Baroque style details inside.
There is also a market at the front of the church on Saturday mornings. We saw a bunch of locals purchasing their fruits and vegetables there.
Fortifications of Brussels – The Black Tower (Tour Noire/Zwarte Toren)
Located just behind Saint Catherine's Church, is the medieval ruin from the early 13th century known as The Black Tower. This was originally one of the towers along Brussels city walls and is surrounded by a modern building today. It's so well hidden that I actually didn't even notice it until Jimmy pointed it out, definitely keep your eyes peeled!
Fun Fact: The tower became obsolete when Brussels began to outgrow its walls. In 1356, a second set of walls began construction. It is believed that The Black Tower survived demolition because the property became privately owned. Today, it is a historical landmark.    
Buy Some Chocolate!
You can't go to Brussels and not try some Belgian chocolate. Skip those "popular" Belgian chocolates found all over the world like Leonidas and Godiva and get some more local and not so mass-marketed good stuff.
Some of our favorites were Frederic Blondeel, Galler Chocolatier, Pierre Marcolini, and Passion Chocolat. Frederic Blondeel and Pierre Marcolini are locally famous for beautiful Belgian truffles, the latter even has amazing pastries and cakes!
Passion Chocolat is the epitome of local, they make everything by hand so even though their chocolates might look less "pretty" by common standards, their quality is outstanding. We got the most amazing 100% cacao chocolate bar there!
Lastly, Galler Chocolatier is a great and more budget-friendly option. They have their own store near The Grand Place, but their chocolate is also sold at local supermarkets. If you get a chance, I'd recommend getting their chocolate bars at their store since they have more options. The supermarkets have limited variety. They have unique flavored chocolate bars such as matcha, strawberry, and almond. Our favorites were the almond and matcha chocolates.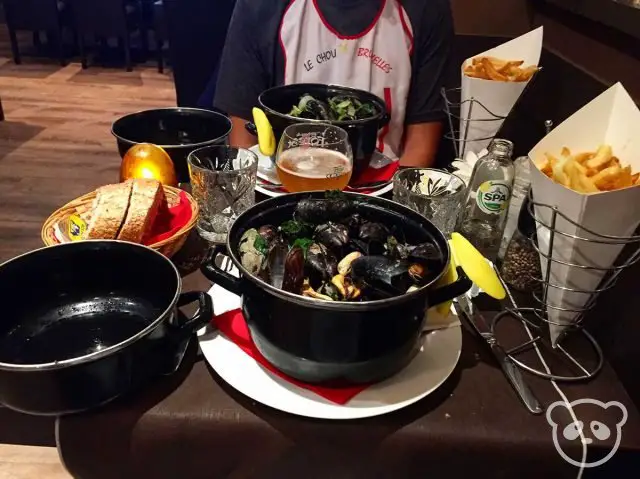 For lunch, we ate at this delicious Belgian spot! They have Mannekin Pis in various forms all over the restaurant, it's pretty hilarious. He's standing by the door, at an altar in the dining area, and he even appears in gummy form joining your table with the check at the end of your meal.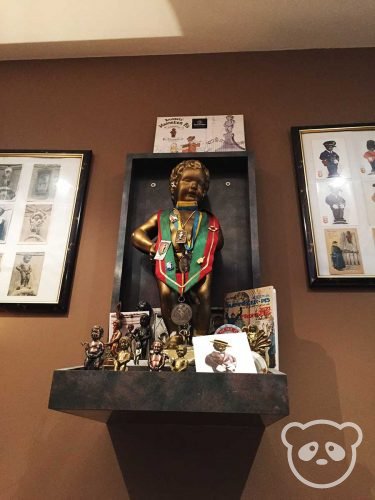 Fun Fact: Le Chou serves 30 different types of mussels with fries (moules frites) and this was why we decided to come here!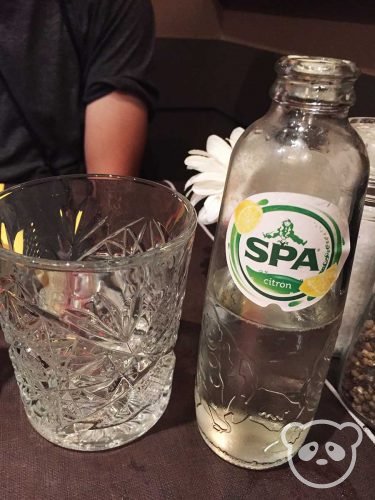 For drinks, Jimmy got one of his favorite Belgian beers and I tried out the Spa citron. It was similar to a Sprite but less sweet and more tart.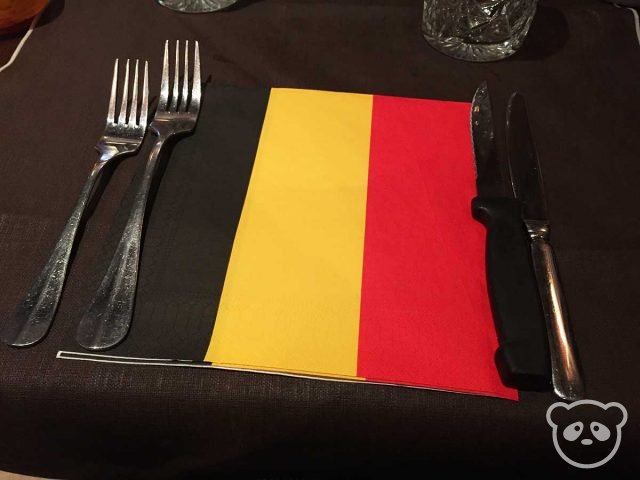 We decided to do their Le Chou 3 course prix fixe menu which included a starter, entree, and dessert. The best part was you could pretty much choose anything listed on their menu to make into your own customized prix fixe!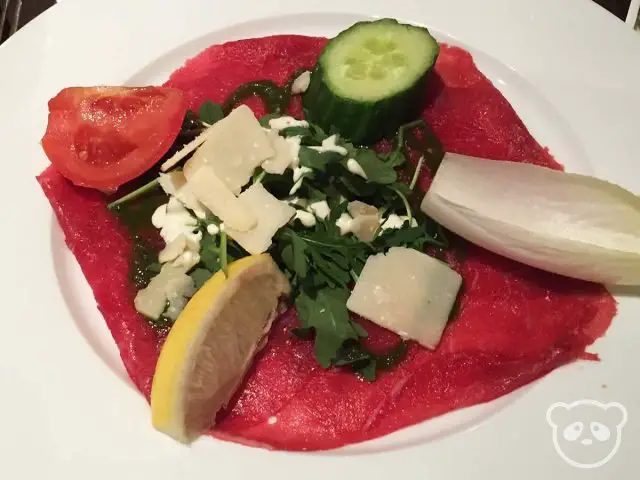 I had the Belgian beef carpaccio and the tartufata (truffle) moules frites. Jimmy got the foie gras with toasts and jam and the saffron moules frites. We thought our starters were amazing already, but damn we were blown away by our moules frites.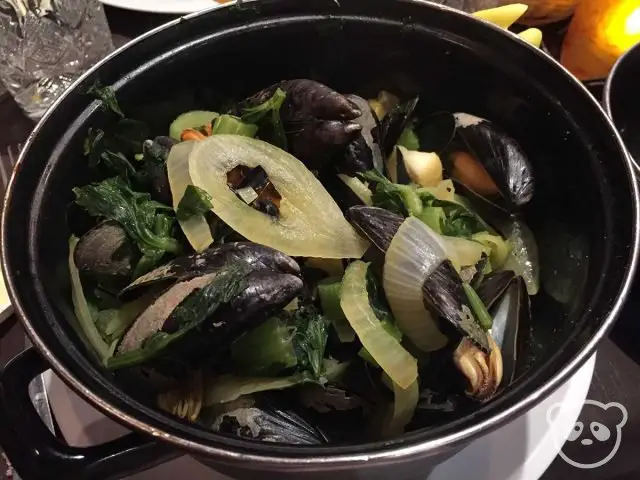 My tartufata moules frites was full of fragrant goodness, it had tons of truffle and mushroom flavor in it and was so delicious. Jimmy's saffron sauce was a little richer, but in a good way because it was super good! 100% we would definitely go back to this spot! The house-made fries were the perfect carrier for the mussel sauce.
They even gave us mussels pinchers so we could remove the mussels from their shells without getting our hands dirty.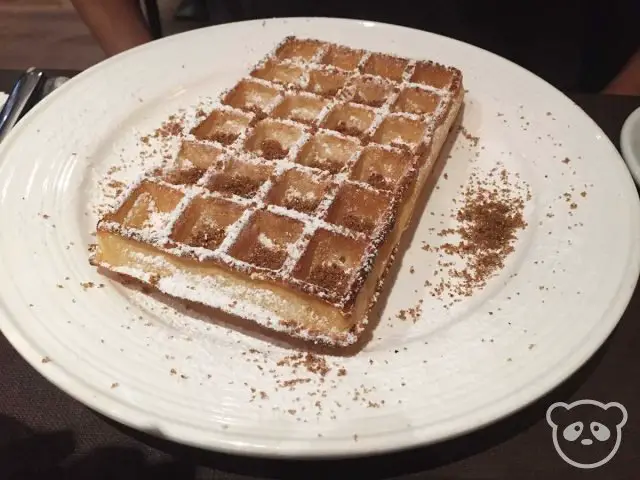 PRO TIP: Don't go to Brussels without getting a Brussels waffle!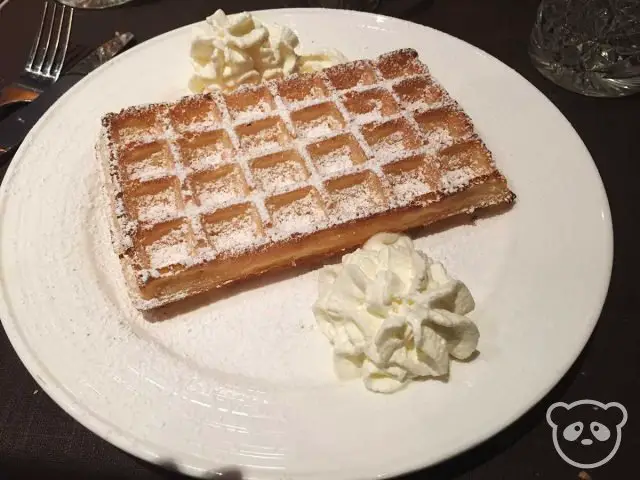 For dessert, we each got our own Brussels waffle. I ordered my waffle with whipped cream and powdered sugar. Jimmy had a brown sugar and powdered sugar waffle.
Victor Horta's Art Nouveau in Brussels
The famous Victor Horta left his Art Nouveau mark all over Brussels and I made an effort to visit as many of his buildings as I could, even if I could only see the outside.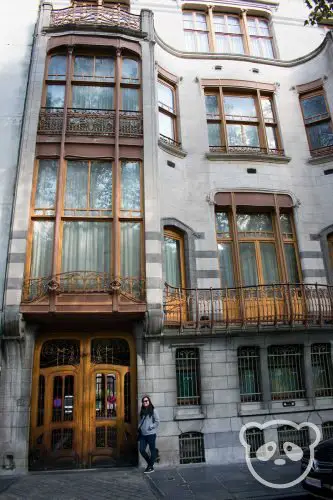 This was the case with Hôtel Tassel and Hôtel Solvay, both of which are not open for public tours. In order to visit, you must schedule in advance and the tours are quite expensive. For those two we were only able to photograph them from the outside. Not gonna lie, we totally peeked in through the windows though!
Horta Museum (Musée Horta) was insanely beautiful! Cameras aren't allowed inside so we only have photos from the outside but the level of detail was crazy. We loved being able to wander around Horta's old home and studio, imagining the family living and Horta creating within the space.
Learn more about architecture around the time of Art Nouveau, check out our guide to Antoni Gaudi's buildings in Barcelona. 
Fun Fact: Victor Horta designed his home with mirrors on the top floor so that it would create an infinity mirror effect, reflecting on the staircase throughout the levels.
Growing up The Adventures of Tintin was one of my favorite TV cartoons, naturally we had to visit the Tintin store!
Fun Fact: The Adventures of Tintin was originally a comic book series written by Belgian cartoonist

Georges Remi, under the

Hergé pen name. The books were one of the most popular European comics of the 20th century and have been translated into over 70 languages.
There were Tintin products everywhere and various figurines of characters from the cartoons. They also had the books in many different languages, if your language is more difficult to come by they are bound to have it here! I noticed that not all the languages for all the books were available when we went, but it may be because they hadn't restocked it yet.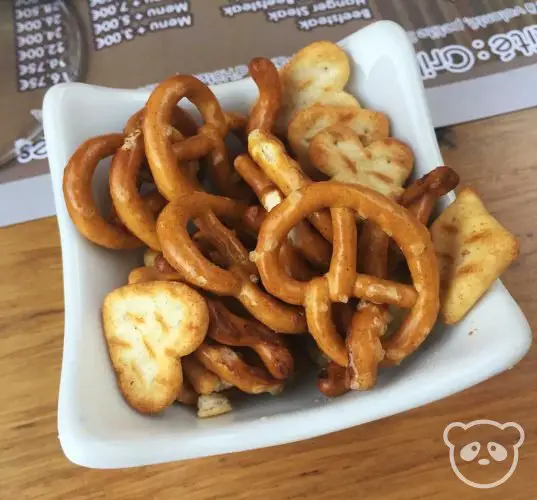 We basically had a day full of mussels, lol. Le Zinneke was our dinner spot because they served 69 different types of mussels, how could we say "no?!?" This spot is located quite a bus ride away from the main touristy area around The Grand Place and definitely had more locals.
We'd eaten a lot at lunch so we weren't super hungry. We settled on just getting an appetizer to share and two different moules frites per person.
For our appetizer, we saw that they had raw mussels with a dipping sauce so we thought we'd give that a try. I mean we'd never seen it anywhere else before so our adventurous palates were dying for a taste!
Long story short, I would not recommend it if you haven't had it before. It's probably one of the few things I wouldn't recommend. It has a distinct fishy and metallic flavor that I'm not a huge fan of even though we'd drenched it in the mayo-based dipping sauce.
I had to have the No. 40 Moules Olivia, mussels with lobster stock, French Espelette pepper, white wine, and parsley since I love me some lobster! It was smack ya in the face with flavor and was super delicious. I loved the lobster soup base with the mussels together!
Jimmy got the No. 6 Moules à l'Indonésienne, mussels with garlic, lemongrass, and ginger. The flavors in this were amazing, loved all the spices with the fragrant lemongrass together. In the US, we rarely get to sample such unique broths with our moules frites so these two mussels spots were a definite treat!
With our check, we got some dinner mints and a couple of shots!
Even though we were full from dinner, we were still Jones-ing for more waffles. What can we say, we REALLY loved the waffles we had in Brussels!
Fun Fact: Maison Dandoy has been located at its Rue au Beurre, Brussels shop since 1859, thirty years after it first opened.
Since we had literally JUST had the Brussels waffle, we decided to get the Liege waffle from Maison Dandoy. We watched them make our waffle and it did not disappoint at all! They make their Liege waffles perfectly textured. We got the brown sugar version and it was absolutely delicious!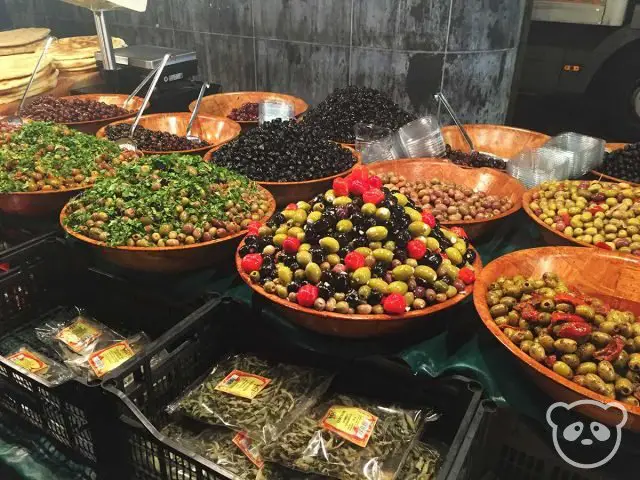 DAY 2
Midi Market
While Midi Market isn't specifically a "breakfast" spot per se, we wanted to make this our first stop because we wanted to check out the market before it got too packed later in the day. Plus our hotel was located across the street so we wanted to check it out.
My, was the market large! It was definitely a lot larger than we expected and it weaved and wove itself in the area just by the "Midi" metro station (Gare du Midi/Zuidstation). This station also happens to be located right by the Brussels-South train station (Bruxelles-Midi/Brussel-Zuid).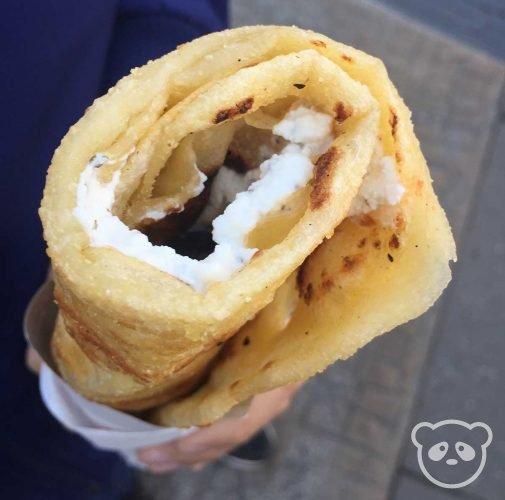 We had our eyes on the prize and hunted down the Moroccan crepe stall and the Liege waffle truck. The Moroccan crepe (Msemen) was amazing! It was the first time we'd ever had anything like it and we absolutely loved it. The lady at the stall grilled our crepe, spread some soft herbed cheese, and rolled it up for us in an easy to eat wrap.  
Don't forget to check out the Gaufres Chaudes/Warme Wafels yellow van for some delicious and warm Liege waffles. The guy toasts them up for ya in his truck and they're so yummy!
There were so many stalls selling clothes, toiletries, toys, electronics accessories, and so much more! Some stalls also had groceries and ready-to-eat foods.
PRO TIP: Midi Market is only open on Sundays between 7am and 1pm. Make sure you're visiting Brussels on a weekend if this is where you wanna be!
It was such a delicious start to our morning! We highly recommend checking out Midi Market!
The Magritte Museum is part of the Royal Museums of Fine Arts of Belgium and is full of René Magritte's works. Aside from Magritte, there are also paintings and pieces by other Surrealist artists, but Magritte is the most well-known.
Fun Fact: The collection at the Magritte Museum is the largest in the world and was primarily from his widow, Georgette Magritte and his primary collector, Irène Hamoir.
Magritte's Surrealist work is typically characterized by a mixture of real life with the impossible. His paintings usually include clouds and various types of fruits along with portraits of people. The work of Magritte was amazing to see in real life, his attention to light and dark as well as his philosophies behind his work is always interesting.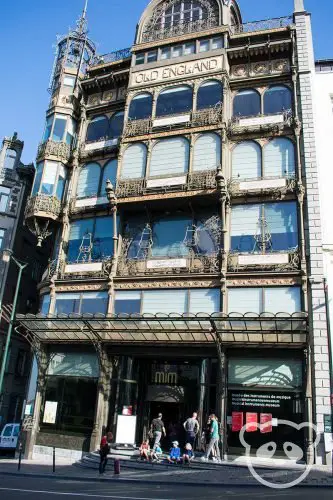 Musical Instrument Museum
(Musée des Instruments de Musique/Muziekinstrumentenmuseum)
If you're a music lover or just enjoy playing a musical instrument, you should definitely visit this museum. There are so many different types of musical instruments! Though the main focus is upon Western musical instruments there are some Asian string instruments as well as African drums showcased within the museum.
Fun Fact: The museum is located in the Old England department store building and was designed by Paul Saintenoy in 1899 in the Art Nouveau style.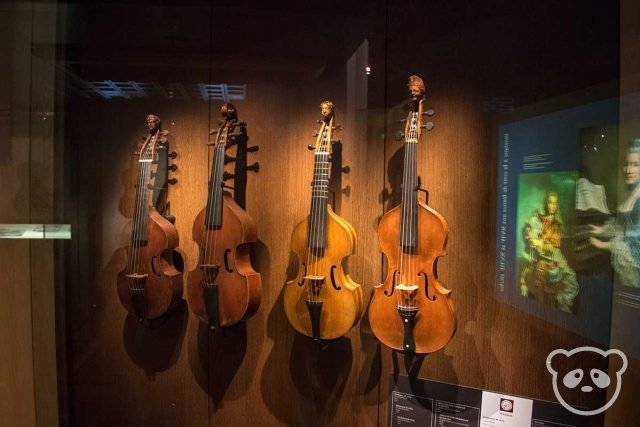 Be sure to check out the Stradivarius string instruments, it's crazy to imagine how much money is held inside those glass cases! There are also many beautifully painted pianos to see, we'd never seen anything like them before.
While we were walking around Brussels we came across this cute popcorn shop. They had many different flavors of popcorn. We decided to get the passion fruit flavor, it was super delicious!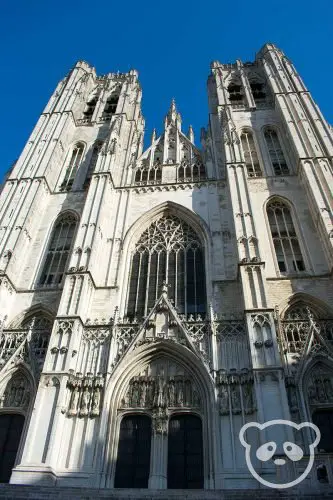 Cathedral of St. Michael & St. Gudule (Co-Cathédrale Collégiale des Ss-Michel et Gudule/Collegiale Sint-Michiels-en Sint-Goedele-Co-Kathedraal)
Like many churches in Europe, the Cathedral of St. Michael & St. Gudule was built over 300+ year period. It began as a small chapel in the 9th century, had Romanesque style pieces added on during the 11th century, and finally some Gothic touches in the 1400s and 1500s.
Fun Fact: The cathedral is built from stone from the nearby Gobertange quarry, located only 45km/28mi away from the building.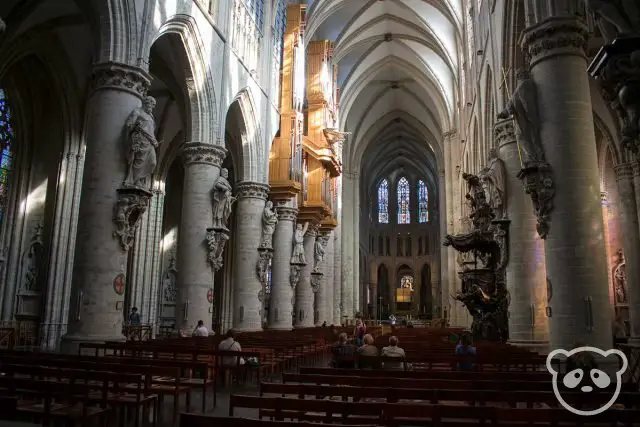 The interior of the church is primarily decorated in a Gothic style with a Baroque style altar, high nave, and huge cylindrical columns. The statues you see along the columns were added in the 17th century after being destroyed when Catholic religious images were removed from churches throughout the country.
Check out this beautiful garden located by the Royal Library of Belgium and the National Archives of Belgium. During the warmer months there are gorgeous flowers there and it's a great place for a relaxing stroll.
From the top, you can even see the spire of the Brussels City Hall and on clear days you can even see the Atomium.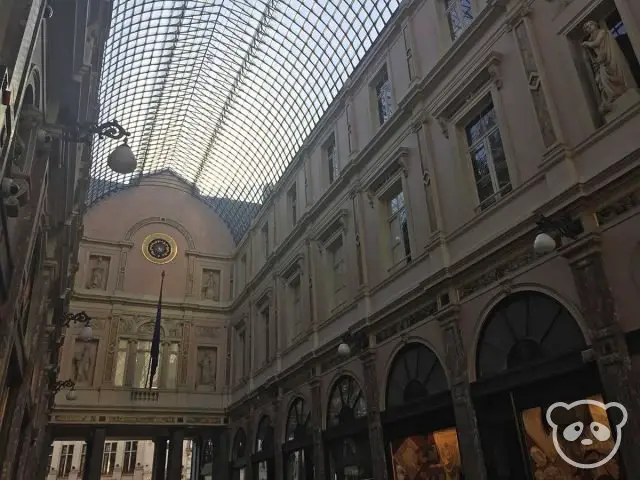 Royal Gallery of St. Hubert (Les Galeries Royales Saint-Hubert/Koninklijke Sint-Hubertusgalerijen)
This pretty shopping arcade is one of the oldest in the world and even precedes the Galleria Vittorio Emanuele II in Milan. It consists of a long passageway full of shops and restaurants. The glass ceiling allows for light to enter the building, bathing the walkway with lots of natural light.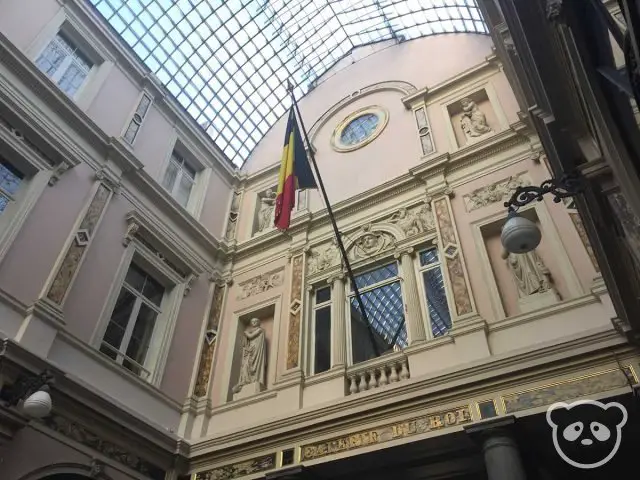 Fun Fact: The shopping mall isn't a straight walkway through the shops for very good reason. The architect, Jean-Pierre Cluysenaer, purposely designed a "bend" so that the colonnades and decor didn't become overly boring to the eyes of visitors.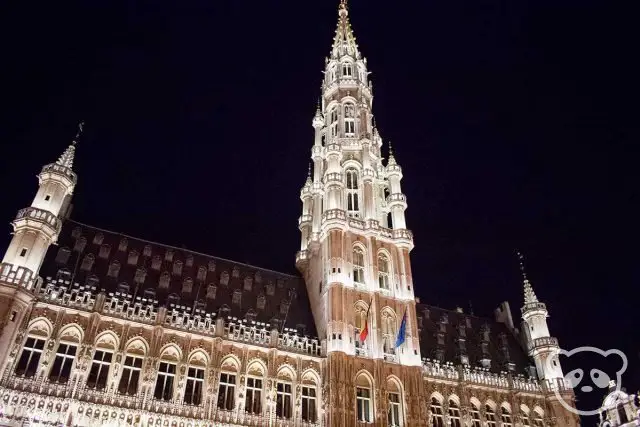 Brussels City Hall (Hôtel de Ville de Bruxelles/Stadhuis van Brussel)
The Brussels City Hall is definitely one of the coolest and most unique buildings in Le Grand Place. This building was built in various stages, the first phase of construction began in 1402 and was completed in 1420. Throughout the years, additions and replacements were made to the building's design.
In 1454, the current tower you see today was added in the Brabantine Gothic style. The tower replaced an older version of the belfry and is 96m/315ft tall.
Fun Fact: When the Brussels City Hall was under construction, another city hall was being built in Leuven and the two cities began a competition. They wanted to see who could build a bigger and better town hall. The one in Brussels ended up being slightly taller for the win.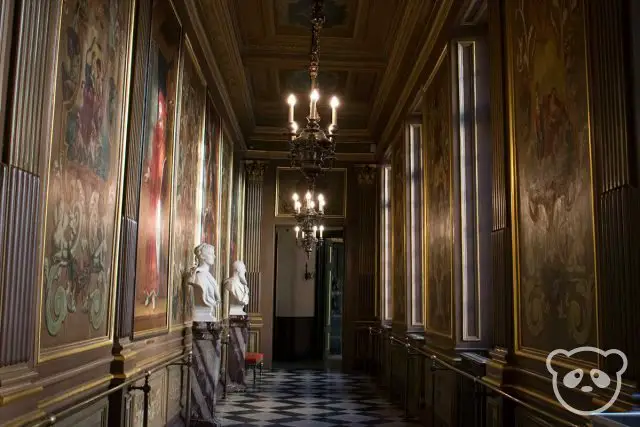 Guided tours are offered of the building with explanations about how the Belgian government works as well as history on the Hapsburg Empire and King William of Orange. It is well worth the 6€ per person. The tour does not need to be booked in advance but you will need to go to the visitor's information center nearby to sign up day-of. The tours last approximately 55 minutes.
We totally stumbled upon this medieval city gate and we were glad we did! Halle Gate was built in the 14th century and was part of the second set of city fortifications. Throughout the years, the gate was used as a prison, customs house, grain storage, and even as a church! Because of this, its architecture has changed over time as well.
Fun Fact: The tower gate originally included a vertically closing portcullis gate and a moat.
Today it is part of the Royal Museum for Art and History and is an operating museum featuring armor exhibits as well as medieval rooms open to the public. Unfortunately, we didn't know about this place before so we weren't able to plan our visit around the museum, but it definitely sounds super cool!
For dinner, we had more delicious Belgian eats! Check out their menu.
We started with shrimp croquettes and for our entrees Jimmy got a steak with bernaise sauce and I ordered their "premier jumbo" 1kg worth of mussels in white wine sauce.
The steak was delicious and came with a side of fries and mayo, it was SO good! Jimmy was finally able to get his steak frites after having so many meals of mussels lol.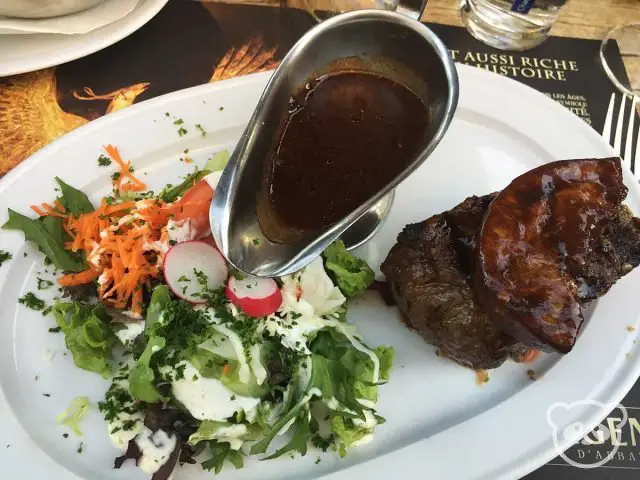 I loved my mussels! The sauce was more typical of the flavors we're used to seeing in the States, but that doesn't mean it wasn't good, just that it was exactly as we expected. Given that this spot doesn't specialize in moules frites (they don't have 20+ versions of broth), I think they did quite well!
For dessert, we split a Brussels waffle with whipped cream. Our last waffle in Brussels was super yummy!
List of the Sights
Note: Unless otherwise stated, all addresses below are located within Brussels.
DAY 1
Brussels Stock Exchange (Bourse de Bruxelles/Beurs van Brussel)
Place de la Bourse
Aux Merveilleux de Fred
Rue du Marché Aux Herbes 7
The Grand Place (Le Grand Place/Grote Markt)
Square at which Rue au Beurre, Rue Chair et Pain, Rue des Harengs, Rue de la Colline, Rue des Chapeliers, Rue Charles Buls, & Rue de la Tete d'or meet
Mannekin Pis
Located at Rue de l'Etuve & Rue du Chene
Jeanneke Pis
Located at Impasse de la Fidelite (past Delirium bar)
Zinneke Pis
Located at Rue du Vieux Marche aux Grains, Rue des Chartreux, & Rue Saint-Christophe
Saint Catherine's Church (Église Sainte-Catherine/Sint Katelijnekerk)
Located at Place Sainte-Catherine
The Black Tower (Tour Noire/Zwarte Toren)
Located at Place Sainte-Catherine, behind Saint Catherine's Church

Frederic Blondeel
Quai aux Briques 24
Pierre Marcolini
Galerie de la Reine 21, inside Galeries Royales Saint Hubert
Passion Chocolat
Rue Bodenbroek 2-4
Galler Chocolatier
Rue au Beurre 44
Le Chou de Bruxelles
Rue de Florence 26
Hôtel Tassel
Rue Paul Emile Janson 6
Hôtel Solvay
Avenue Louise 224
Horta Museum (Musée Horta)
Rue Americaine 25
La Boutique Tintin
Rue de la Colline 13
Le Zinneke
Place de la Patrie 26
Maison Dandoy
Rue Charles Buls 14
DAY 2
Map of the Sights
This map includes a list of all of the Sights to See, Restaurants as well as the routes by day (i.e. Day 1, Day 2, and Day 3) within specified layers.
By default, only the Sights to See and Restaurants are shown but you can select to view the daily routes. Use the slide out panel to select layers to toggle them on and off using the checkboxes.
Hope you've enjoyed this Brussels, Belgium itinerary! We can't wait to go back and spend another weekend in Brussels so we can eat all of the mussels, chocolate, and waffles!
Loved our 2 days in Brussels itinerary? Pin it for later!