This post may contain affiliate links. If you click one of these links, we may receive a commission at no additional cost to you. We're grateful for your continued love of this site!
Wow, where do we begin? Estancia La Jolla Hotel & Spa was one of the best places we've ever stayed at. It's the perfect hotel for couples or even families, but its proximity to the University of California at San Diego (UCSD) campus as well as to Qualcomm headquarters make it a great place to stay for a conference or for work. Estancia La Jolla Hotel & Spa is an amazing lodging option no matter the trip.
While we typically book more budget-friendly stays, we got the opportunity to stay here for Jimmy's work trip. He was attending a conference at UCSD so we stayed here for several days. We loved our stay at Estancia so much we decided to write about it!
Location
As the saying goes, "Location, location, location!" Convenience and location are some of the most important things when considering where to stay in the San Diego area. For us, since Jimmy's conference was located on the UCSD campus, it made perfect sense to stay at Estancia La Jolla, literally across the street from the university.
For others who are looking to travel around the San Diego area, Estancia is still the perfect place to stay. The hotel offers a free shuttle within a 5 mile radius, I took the shuttle to La Jolla Shores Park and La Jolla Cove.
Technically we also tried to take the shuttle to Torrey Pines State Reserve, however due to the weddings on the weekends, it was difficult to get shuttle access (they were all booked up) but they made it up to us by calling us Ubers both ways. This is the type of service Estancia La Jolla offers its guests!
If you want to explore more of San Diego on a budget, I'd recommend taking the free shuttle to the "downtown" area of La Jolla (ask the shuttle driver for La Jolla Shores) and then walking over to the bus stop that will take you to San Diego. With this method you can even get over to Coronado Island! This was exactly how I traveled around San Diego while Jimmy was at his conference.
The San Diego International Airport is also nearby, only approximately 20 minutes away. Unfortunately it is out of free shuttle range, but they do offer a paid shuttle service to and from the airport which you'll need to book in advance. Otherwise you can take a Lyft or Uber, which us what we did, for around $30 each way.
If you do decide to drive here or rent your own car, Estancia does offer valet parking or paid self-parking.
Hiking trails are also close by, you can take a 10-15 minute walk over to the trail leading down to Blacks Beach or paraglide off of the cliffs right above the beach. `
PRO TIP: Don't forget to bring some cash to tip the bell boys and shuttle drivers, they're usually UCSD students and could definitely use the extra money.
Rooms & Amenities
We got the Deluxe King Room which is their simplest (and more affordable) room at a size of 414 square feet. We were located on the second floor with a view into a small garden. The room was clean with free WiFi, flat screen TV, refrigerator, air conditioning, and in-room safe. The bed was so comfortable we got amazing sleep during our trip!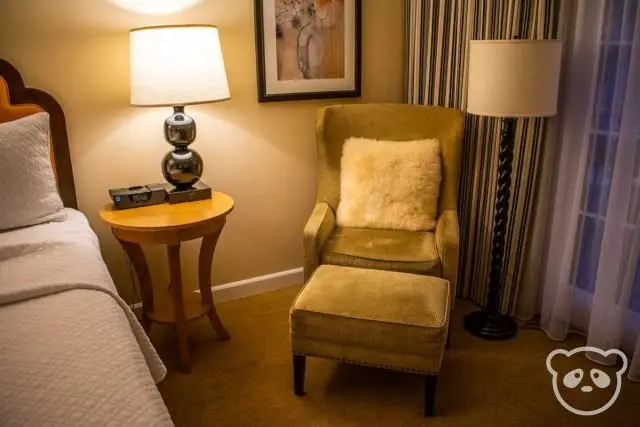 The room was very spacious, we had a lot of space between the two of us, even with the king sized bed, lounger with ottoman, and desk. We also loved how they provided us with bathrobes and slippers, it definitely made for a more relaxing stay.
The bathroom was also clean with great toiletries from fresh. There was a plethora of towels ready for usage as well as a hair dryer and a bathtub. The counter space was large so both Jimmy and I were able to leave our toiletries and toothbrushes out.
We also appreciated that there was a separate door between the toilet and the sink area so that I could use the sink while Jimmy was on the toilet doing his business.
Our mini fridge was under the TV and we had a little coffee maker stand over by the door. Here we could prepare Keurig coffees in the morning prior to heading out for the day. We loved that they provided us with K-cups, sugar, and creamer. All of the essentials necessary to get our morning cup of joe.
We were also welcomed with bottles of Estancia-branded water daily. At check-in, the room also came with a bottle of their Trinitas wine. Personally I'm not much of a drinker, being allergic to alcohol, but Jimmy got to try one of his coworker's bottles. The 3 of them split a bottle and I heard it was great. We ended up giving our bottle of wine to one of Jimmy's friends who now lives in San Diego so we didn't have to try to bring it home or let it go to waste.
If you've got more funds than we did or are trying to splurge for a special occasion, they also have rooms with a garden view and you can even get a balcony too!
Check-In & Concierge
Everyone at the check-in counter was amazing and always on hand to answer any questions we had. The actual check-in at Estancia was a breeze. They provided me with detailed information on getting to Black's Beach as well as booking a shuttle. They also offered help with planning any activities we might want to do, though we didn't take them up on that offer, it is definitely something we would consider in the future!
We also loved the refreshing fruit-infused water that was always available near the check-in area. And most days in the afternoon, there were light snacks and refreshments, such as cookies and lemonade, to be found.
And as I mentioned earlier, the concierge also helped us book Ubers when we needed to get around during the times when the shuttle was unavailable. They even gave us a business card with a number to call them and they quickly arranged for an Uber to come get us at Torrey Pines. We appreciated the attention to detail and friendly service.
Shuttle Service
Have I mentioned how amazing the shuttle service at Estancia was yet? Lol, seriously though, one of the best things about it is that you can tell one of the bell boys where you want to go. They will let you know when it will come by and you can wait for it on the bench at the front of the hotel.
While you're waiting on the bench, they'll usually also ask you if you'd like a bottle of water. If you say "Yes," they'll pull one out of the fridge for ya. Super refreshing and thoughtful of them!
You'll get a friendly driver to pick you up and take you to your destination. When you want a ride back, all you need to do is call the number on the business card that they give you. It's the shuttle driver's cell phone and they'll give you a pick up location and an estimated time of arrival. All you need to do is wait there for them to show up. Easy as pie!
Even if you don't know where the pick up location is, they're patient enough to explain it to you. (I know because this happened to me in the La Jolla Cove area, haha.)
And again, if for some reason the shuttles are unavailable, they'll help ya call an Uber.
PRO TIP: If you're staying at
Estancia
on a weekend, try to see if you can book the shuttles in advance. Sometimes if there is a wedding, which happens often, especially during the summer, it may help to reserve it in advance.
Gardens & Facilities
First off, the hotel is BEAUTIFUL. People have weddings here beautiful!
The Spanish Colonial Revival style popular with many buildings in Southern California is seen throughout the Estancia La Jolla property. Red roofs with earthy-toned stucco, gorgeously green gardens with flowers throughout, the hotel is indeed wonderfully landscaped and beautifully designed. We loved wandering around the hotel and seeing all of the different courtyards.
Aside from the gardens, there is also a saltwater pool and a hot tub. The pool is usually heated so you can swim even at night. The hot tub is a great place to relax, especially after dark when the weather starts to cool. You'll definitely be able to stay warm in there!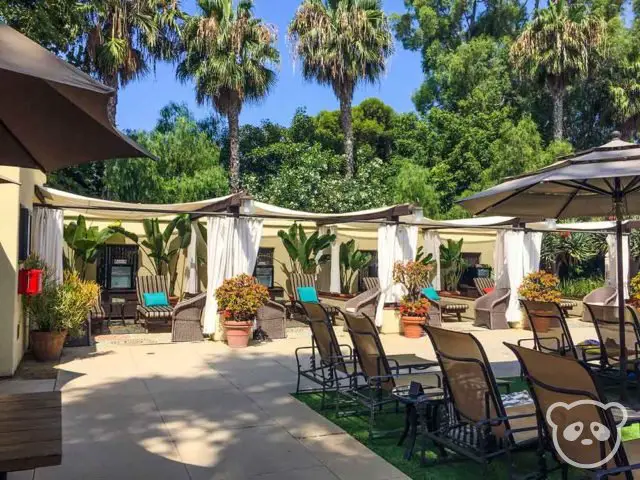 PRO TIP: If you're bringing your kids, remember to also bring along some pool toys!
Estancia La Jolla Hotel & Spa
allows them in their pool. We saw families with pool noodles, beach balls, and more.
Dining
Estancia La Jolla has a few in-house dining establishments. El Adobe is their breakfast restaurant open daily, with a variety of options such as avocado toast, omelettes, tostadas, and more!
Mustangs and Burros is open for lunch and dinner daily. They also offer happy hour between 3pm and 6pm. They offer a range of options with local seafood, meats, and even healthier dishes like farro and salads.
Trinitas Cellars Wine Bar is a great wine tasting room with Napa Valley wines. You can wines by the glass, a tasting flight, and even some eats with your drink! They offer cheese and charcuteries for you to enjoy with your wine. Even though it's a wine bar, they also offer local beers and cocktails.
Blend Cafe is the most budget friendly option and was where Jimmy would get his morning coffee and pastries for breakfast. Their blueberry muffin was delicious and their coffees will wake you up. They are open most of the day so it's a great spot to grab food on the go or just before you're heading out for the day.
If you're wanting to enjoy your room more, they also offer around the clock room service. We never had the opportunity to try it out, but it sounds great if all you're after is a relaxing weekend in the comfort of your hotel room!
Gym & Spa
Being more of a resort type of hotel, Estancia also had a fitness center and a spa. Jimmy got a chance to try out the gym. They have a rack full of dumbbells as well as treadmills and ellipticals. They also had medicine balls and yoga mats, it was very well stocked for a hotel gym.
While I was too busy being about town and exploring San Diego and La Jolla, I would definitely come back and try out the spa for a "treat yourself weekend!" They have a large spa menu with facials, massages, mani/pedi, and more.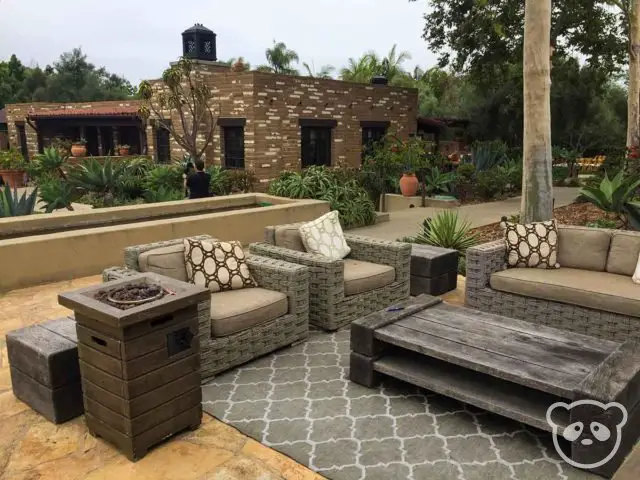 A hard YES! From check in to check out, we loved our experience. We could easily imagine springing for Estancia La Jolla Hotel & Spa for a splurge trip to La Jolla or a quick weekend getaway in San Diego. We'd definitely book Estancia again especially for a special occasion like an anniversary, Valentine's Day, or birthday trip!