This post may contain affiliate links. If you click one of these links, we may receive a commission. We're grateful for your continued love of this site!
While Descanso Gardens is great any time of the year, it's AMAZING during the winter holiday season. Descanso Gardens is a beautiful botanical garden nestled in the mountains of La Cañada Flintridge, close to Pasadena, in Los Angeles county. Beginning in November until January, Descanso Gardens Enchanted: Forest of Light is illuminated into rainbows and it brings a whole new meaning to Christmas lights. Keep in mind that tickets to the Enchanted: Forest of Light are only sold at night!
Fun Fact: Descanso Gardens is an accredited living museum with collections of California native plants and oak woodlands. It also has one of the largest concentrations of camellia plants in the Western Hemisphere and a rose garden with modern and old rose specimens.
After seeing all of my Los Angeles friends posting on Facebook and Instagram about this spot, I had to see it in real life! It looked like a super cool, interactive experience, and it didn't disappoint! It is also a great exhibition for families, kids will love the interactive lighted exhibits that respond with touch!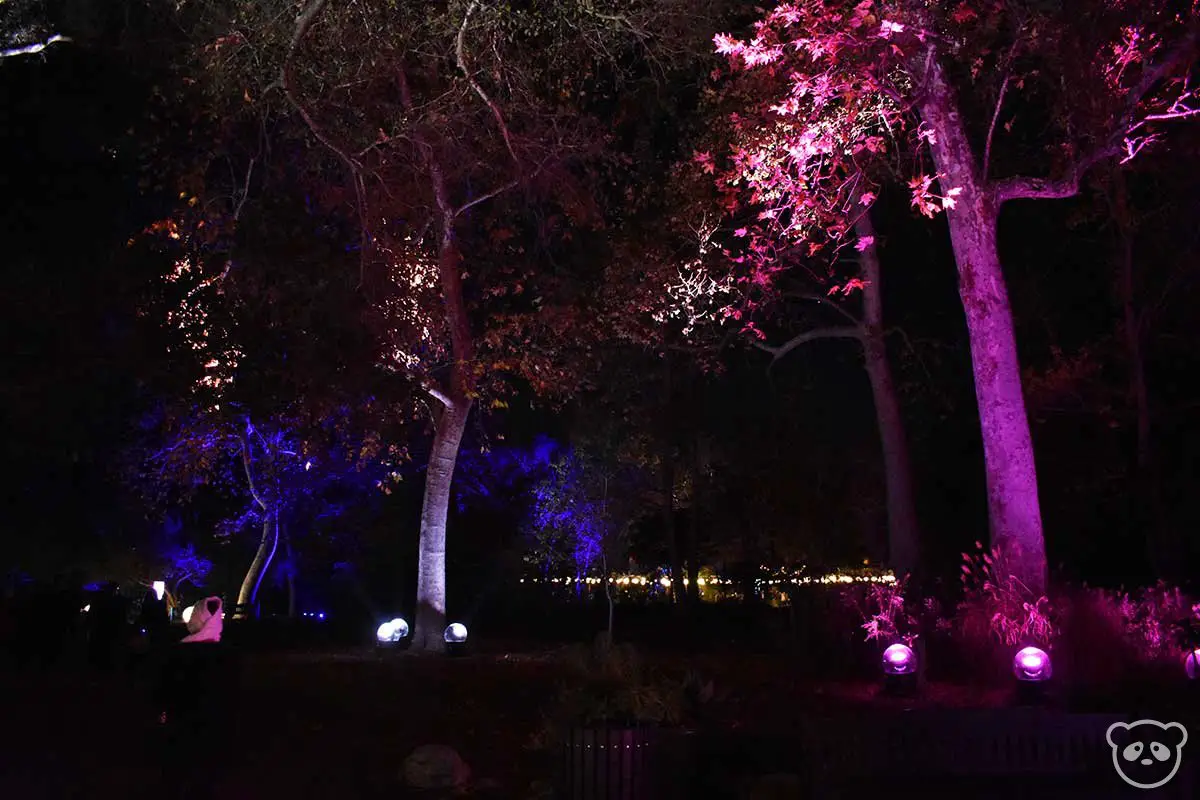 Descanso Gardens Enchanted: Forest of Light
During the day, it looks typical of what you'd expect of a botanical garden, full of trees and flowers. But at night, it completely transforms into a colorfully lit, holiday universe!
Newly added to the light experience for 2021-2022 season is the magical stained glass sculptures by contemporary sculptor, Tom Fruin. They can be found in the Rose Garden.
Fun Fact: Some of the Heritage Oaks at Descanso Gardens are between 300 and 500 years old. Be sure to check them out, they're bathed in white light throughout the park!

Reservations & Booking
Is it difficult to get tickets?
We'd heard that getting tickets might be difficult since they sometimes are sold out. Getting tickets wasn't too horrible for us, but we also visited between Christmas and the New Year.
The Descanso Gardens Enchanted: Forest of Light 2021-2022 winter holiday season runs from Sunday, November 21, 2021 to Sunday, January 9, 2022 from 5:30pm to 10pm daily. The garden is closed November 25 (Thanksgiving), December 24 (Christmas Eve), and December 25 (Christmas Day).
New for the 2019-2020 season are Member-Only nights on Friday, December 20 until Monday, December 23, 2019 and Thursday, December 26 until Saturday, December 28, 2019. This year there will also be "Enchanted with Entertainment Nights" on December 6 (Friday), December 7 (Saturday), December 13 (Friday), and December 14 (Saturday).
There is also an Enchanted Preview Party on Saturday, November 20 to celebrate the opening of the Enchanted: Forest of Light. All food and drink are included with the price of the ticket, purchase tickets here.
Important Note: All of the tickets are timed so make sure you find a date and time that works for you! Rescheduling is possible but it depends upon availability and is not guaranteed.
PRO TIP: If you're not in a rush for holiday photos, visiting after Christmas may be a less crowded experience.
Related Post: Christmas in Barcelona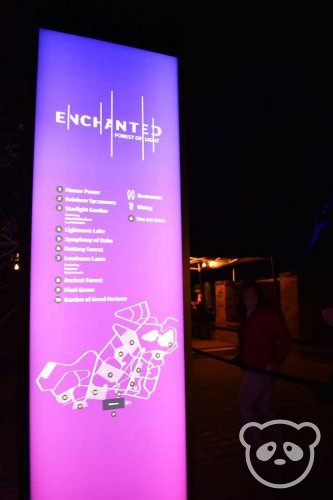 "Enchanted: Forest of Lights" Interactive Nighttime Experience
When you arrive, there is plenty of parking and there is only one entrance. Hand your printed tickets over to the people at the front and they will scan them. Easy peasy.
PRO TIP: Printing out your tickets is highly recommended. Yes, it's old school, and you might want to save trees, but you may not have cell service in the hills so this helps to make sure you get in.
They'll also give you a map outlining all of the different spots in the park. Unfortunately, it's pretty dark in there so if your ticket is for later in the evening you might not even be able to read the map without a flashlight, lol. But, for the most part the garden is pretty self-explanatory.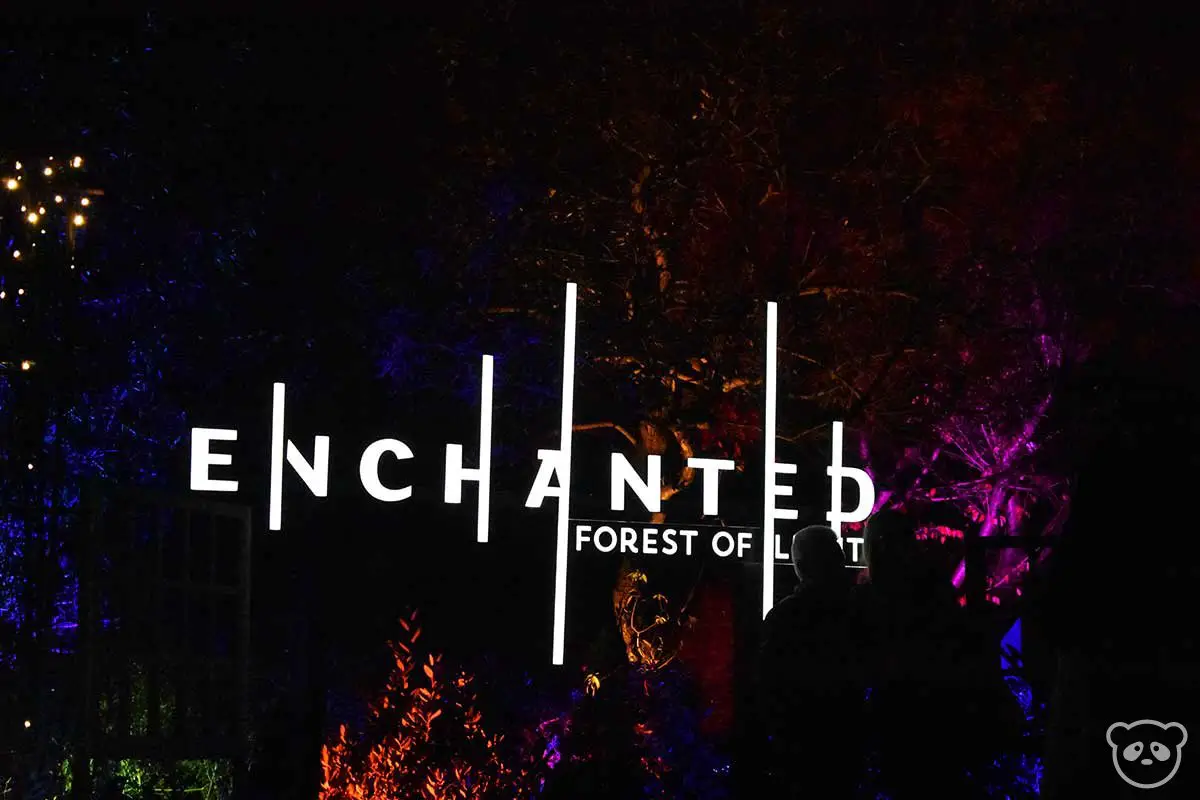 Once inside, you'll be greeted by the giant Enchanted: Forest of Lights sign. It's a great photo taking spot, especially to show where you're at!
For the purpose of Enchanted: Forest of Lights, Descanso Gardens is divided into 10 different "experiences." While they're all shown on the map, you can't see it once inside, so here's the rundown. Numbers 1 through 7 begin in numerical order in a counter-clockwise direction, but after number 7, it continues to 10, 9, and finally, 8 on the main path. You can also choose to go via the other pathway that will loop around to see the exhibits in numerical order.
Enter the Enchanted: Forest of Lights experience to the right and begin with number 1.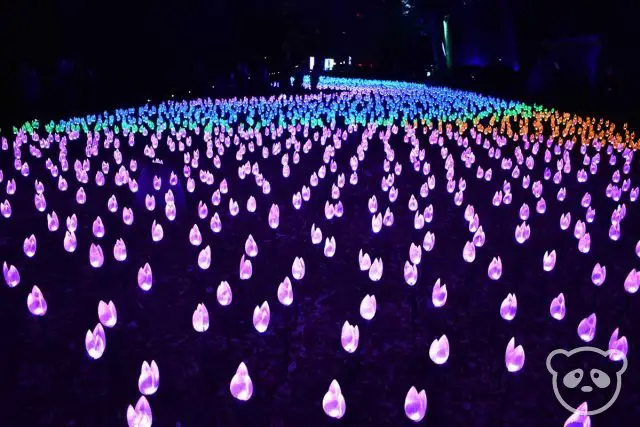 1. Flower Power
This is one of the most recognizable exhibits that has also been seen all over Instagram. It features a sea of rainbow lit tulips in various flower beds. The light show is synchronized to a soundtrack of musical chimes and welcomes you into the park.
It was amazing to see such a large bed of tulips, it was almost like being in an actual tulip garden, except it was night time!
2. Rainbow Sycamores
The towering sycamore tree is one of the most impressive trees that are indigenous to Southern California. This experience was interactive and you could even control what colors the trees lit up to, you have the entire rainbow to choose from! 
3. Starlight Garden
The garden path was a walkthrough an arbor tunnel with glowing stars floating above. Don't forget to have someone snap a shot of you in this tunnel, it's absolutely beautiful!
At the end of the path was a special featured exhibit called Celestial Shadows by HYBYCOZO.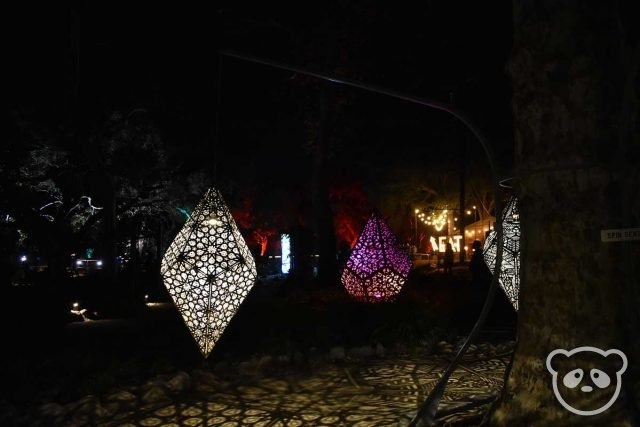 This was the best part of it! It included hanging geometric lamps creating cool patterns and shadows in the darkness. You could spin the lights around and make it more interactive.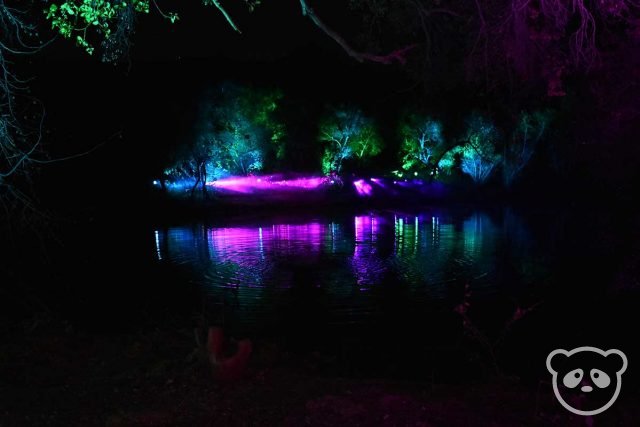 4. Lightwave Lake
Usually this lake is a great spot for bird watching inside Descanso Gardens, but for the purpose of "Enchanted: Forest of Light," it became an area for a light show.
Fun Fact: The lake was originally installed by Descanso Gardens founder E. Manchester Boddy to store irrigation water.
The light waves dance around with music playing in the background. We had seen something similar at Tivoli Gardens in Copenhagen and theirs was much better so we weren't too impressed by this and moved on quickly.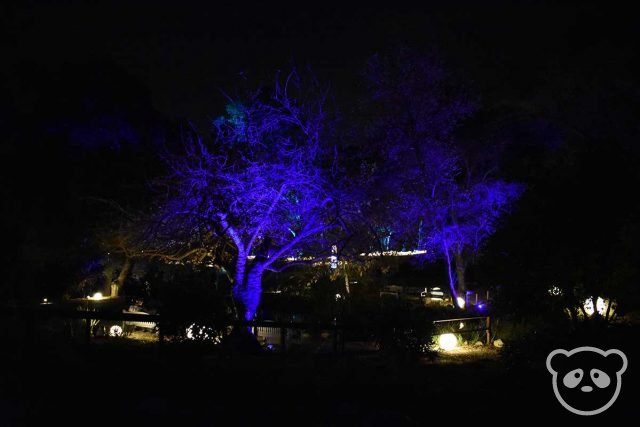 5. Symphony of Oaks
This grove is known for its coast live oak trees which are a major tree species within Descanso Gardens. The colorful lights change as you walk between the trees. 
6. Fantasy Forest
The trees in the Fantasy Forest were lit up in various colors. Though it's not super interactive we saw a bunch of kids having fun running up and down the lit platforms. 
7. Luminous Lawn
The Luminous Lawn was, by far, the most interactive experience. It's also known as Aqueous by Jen Lewin.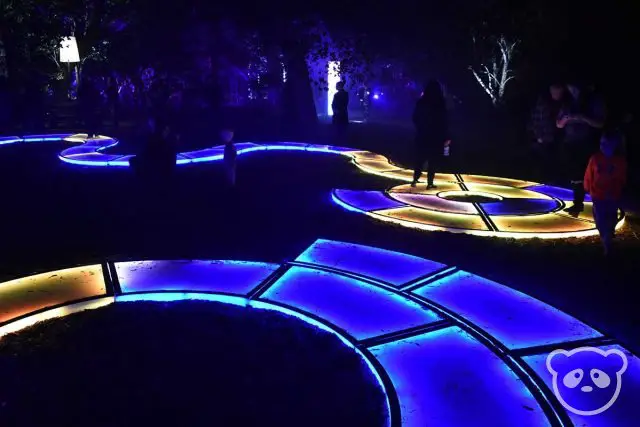 There are pathways and platforms resembling Candy Land or The Game of Life and you can step on them to make them light up across the ground. It was super fun and we saw a lot of children playing around and enjoying themselves in this area.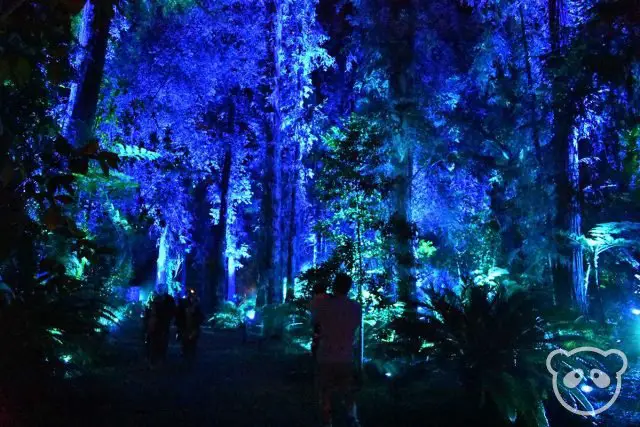 8. Ancient Forest
The Ancient Forest features species of plants that are considered "living fossils" since their ancestors have been around since the time of the dinosaurs.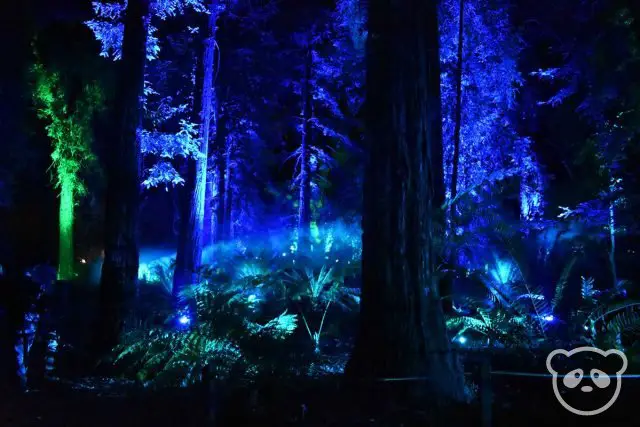 For Enchanted: Forest of Light, the gingko trees, ferns, palms, and coastal redwoods are bathed in a glow of lights. It really feels like you're in the prehistoric times!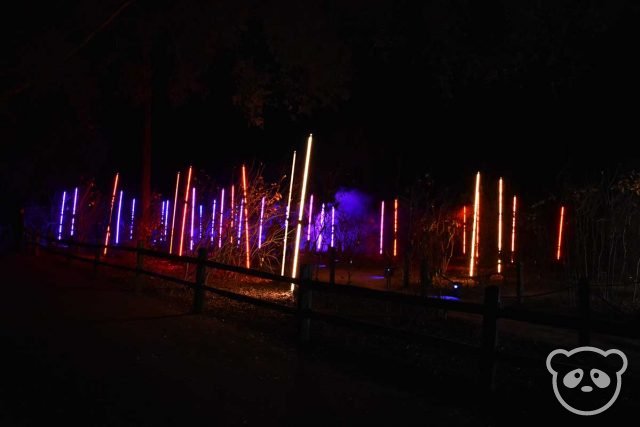 9. Pixel Grove
During the winter, the lilacs are dormant and are primarily made up of twigs. But by night, it lit sabers of light coming up from the ground are a beautiful addition to the otherwise twiggy-looking garden. 
10. Garden of Good Fortune
By day, this is just the Japanese Garden, but by night, it becomes the Garden of Good Fortune. You're drawn in by the bold, red, lanterns which guide you along the path and around the garden. It's a great way to show the Japanese Garden by the glow of night in a creative way that's still true to its roots.
Fun Fact: The Japanese Garden was designed by Eijiro Nunokawa, a renowned landscape architect from the Los Angeles area.  
We had allowed for 1 hour to 1 hour and 15 minutes for this experience but we would've appreciated an extra 15 minutes. 1 hour and 30 minutes would have been perfect since we enjoy taking photos, if it's crowded during the holiday season, you might need closer to 2 hours.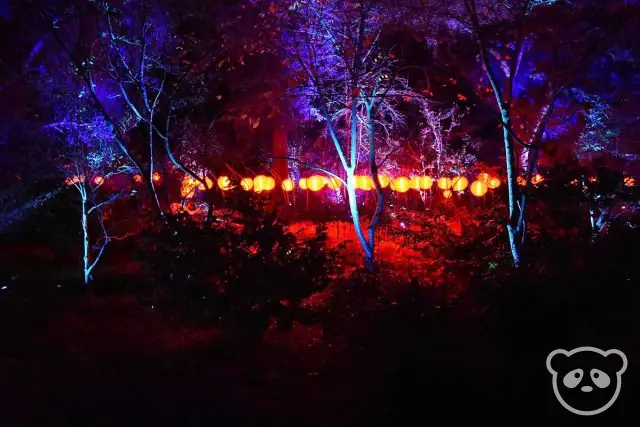 We loved the variety of exhibits in Enchanted: Forest of Lights so it's definitely worth seeing at least once. Don't miss our top picks: Flower Power, Starlight Garden, and Luminous Lawn! They were the most interactive, though the latter two were probably cooler just because they were special art installations. Keep in mind the exhibits may differ at the time of your visit.
For amazing holiday lights, check out the beautiful festivities at Tivoli Gardens in Copenhagen.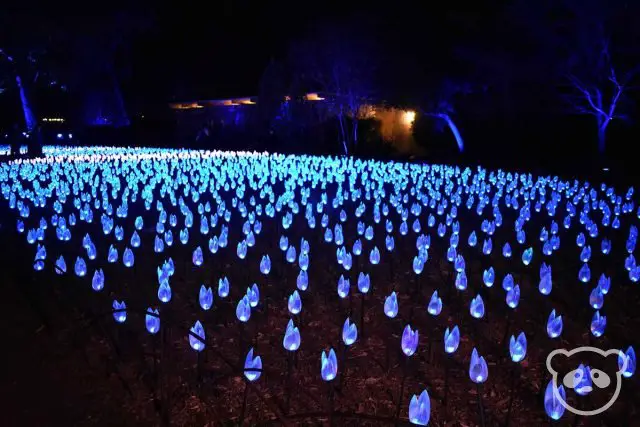 Helpful Tips
Get tickets early, they sometimes sell out. Check below for more information.

Descanso Gardens is located in the hills so it can get a bit chilly at night. If you're from the Los Angeles area or Southern California, definitely bring an extra layer. If you're from Northern California or anywhere else that's typically cooler, you should be fine. 🙂 (I'm wearing a BlankNYC vegan leather moto jacket, Jimmy is wearing a jacket from Banana Republic, similar here. 
The event happens rain or shine. You will be outdoors and depending on the weather, you may need an umbrella!

Wear comfy shoes since you'll be walking around. Also choose shoes you don't mind getting dirty since the paths are gravel and it can get muddy if it's been raining.

Bring a camera! You're doing this for the 'gram aren't ya? If you enjoy taking photos, expect to spend at least 1.5 to 2 hours for this experience.

There is a 30 minute grace period for your timed ticket.
Visiting Information
Address
1418 Descanso Drive
La Cañada Flintridge, CA 91011
Website
2021-2022 Season
Dates
Sunday, November 21, 2021 to Sunday, January 9, 2022
Closed Thanksgiving (November 25), Christmas Eve (December 24), and Christmas Day  (December 25)
Member-Only Nights: Dec. 20–23 and Dec. 26–28
Enchanted with Entertainment Nights: Dec. 6, 7, 13 and 14
Enchanted Preview Party: Saturday, November 20, 2021 at 6pm
Hours
Every night from 5:30pm-10:30pm
Admission to Descanso Garden "Enchanted: Forest of Light"
Adults, Children (2-18), & Seniors: $32-35
Descanso Members: $25-28
Ticket pricing depends upon the date and time selected.
Children under 2 years are FREE, but still require a timed ticket.

Important Note: This year, tickets MUST be purchased in advance. 
2021-2022 season tickets will be available online to Descanso members on Friday, October 1 at 10am. Tickets for the general public will be available online on Friday, October 15.
Getting There & Directions
From downtown Los Angeles, Descanso Gardens is only approximately 20 minutes away via CA-2 (North).
We loved seeing Descanso Gardens all lit up as the Enchanted: Forest of Light. It's an amazing way to spend the holiday season and  is a festive and unique experience. We'd definitely recommend it for couples and families to spend a winter night. 
Wanna visit Descanso Gardens Enchanted: Forest of Light? Pin it for later!