We love trying new things and sometimes this includes local cooking classes. We hadn't made chocolates before and when we saw a Groupon deal for Rachel Dunn Chocolates in the San Francisco Bay Area, we couldn't say no! Plus they were highly rated on Yelp and Groupon so we quickly purchased the voucher to sign up for a class.
Fun Fact: Chocolate was first enjoyed by the Aztecs. Montezuma was known to drink chocolate straight, without any sugar. It was probably super bitter.
For the record, though we enjoy chocolate, we're not all chocolate all the time types of people so we wanted to preface this review with that disclaimer haha.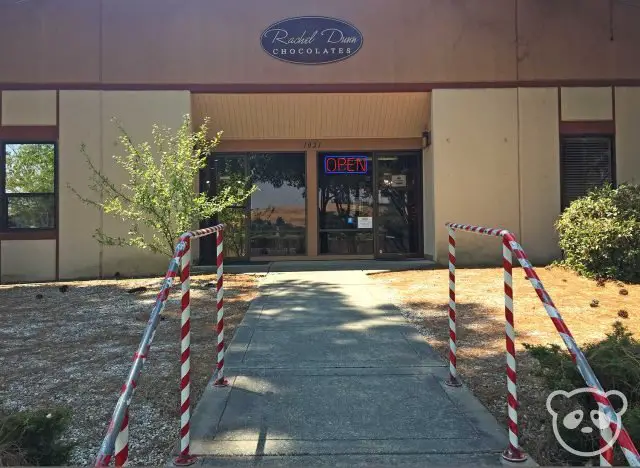 Our Chocolate Making Experience at Rachel Dunn Chocolates
Reservations & Sign In
Purchasing the Groupon was easy as pie, we were even able to get an additional 20% off due to a coupon code offered at the time of purchase. However the booking process was not as easy. We had purchased a Groupon for 2 and had a friend who purchased the Groupon for 1.
There was a little more difficulty in booking the "Chocolate Workshop with Rachel Dunn" using 2 Groupons and when I'd emailed customer support for help they were unhelpful. They were patronizing and made me sound stupid, like I didn't know how to use their site. When I'd replied saying that I was doing everything as they had specified, I received no reply for additional help. I was basically left to fend for myself.
Fortunately since I am somewhat technically savvy I figured out that their website had placed a cookie on my browser and blocked further reservations from my computer. I had already booked for my friend's Groupon for 1 first using Chrome. And after that it wouldn't allow me to book for Jimmy and I's Groupon for 2. (Confused yet? Lol.) This took me a couple of days to mull over and figure out on my own since customer service was no help. I ended up using Safari to book the class using our 2 person Groupon.
PRO TIP: If you're booking using 2 Groupons and having issues, try using different browsers or another computer.
On weekends they typically have a morning class and an afternoon class, see their calendar for further information. Each class lasts about 1.5 hours with briefing in the beginning as well as actual cooking time. At the end, they'll also provide chocolate samples so you can try out all of the chocolate bars they sell along with the various brittles.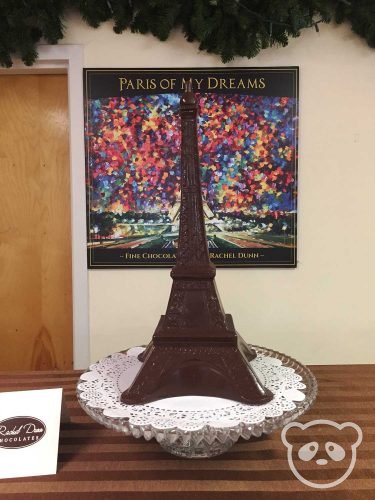 After you're able to book the class, they will send out an email confirmation with house rules and guidelines. And they have A LOT of rules so be prepared for that, haha, you've been warned! The email will also include a link to a waiver that you're supposed to fill out before you arrive. For some reason, our waivers got lost in the email which was kind of strange. But no worries, they have tons of waivers at sign in.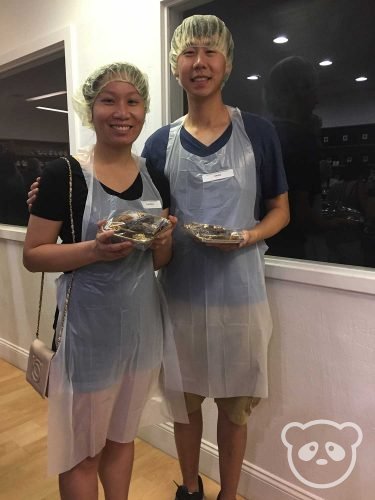 They'll check your name and provide you with name tags for your apron and tray. You'll also outfit yourself in the cafeteria lunch lady uniform with a disposable plastic apron and hairnet. Once everyone has arrived, the marketing guy comes and answers any questions you have about chocolate and give you insight on how they grind their cocoa beans.  
Chocolate Making Class
First things first, the classes are really large, we're talking approximately 50 people. Inside the factory there are 3 long tables that fill up with students for the workshop. It's all very systematic and there is a process so in that sense it feels very commercialized. And they also show an introduction video about the Rachel Dunn Chocolates company. It felt like a video they would show during an advertisement pitch or something haha.
Important Note: Photos aren't allowed inside the factory so unfortunately I can't show many photos.
On the plus side because it's somewhat commercial, there were also 3 large projector screens that showing the live chocolate making process as the instructor is doing them. We learned interesting tidbits of information throughout the class.
Fun Fact: It's better to temper chocolate in a glass bowl as it retains temperature better and prevents the chocolate from hardening.
Be sure to pay attention during the class, it goes pretty quickly so it's very easy to fall behind.
Like I mentioned before, when I purchased the Groupon I looked up reviews on Yelp and Groupon and I'd have to say they were pretty accurate. Overall it was a good experience, but like those reviewers I agree that the class was basically a chocolate dipping class though we did "make" delicious chocolates. We didn't temper the chocolate or anything, it was all done for us before we even stepped foot into the factory. (There is a separate class for tempering, but it's much more expensive.)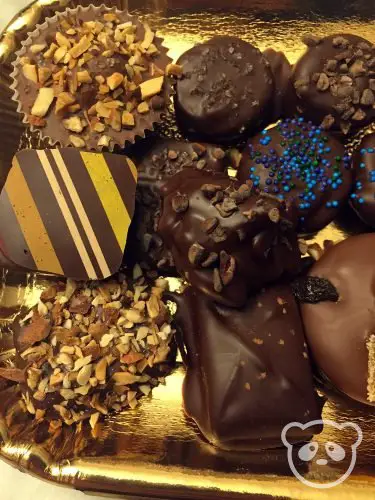 We primarily used 2 methods to make the chocolates: dripping in dark chocolate and a squeeze bottle for the milk chocolate. Personally I prefer dark chocolate more so whenever I could I used the dark chocolate. There are some chocolates where you'd have to use the milk chocolate since the squeeze bottle makes it easier and vice versa.
The types of chocolates made changes depending on the class but we made a buttercrunch dark chocolate, toffee dark chocolate, sea salt chocolate covered caramels, dark chocolate covered marshmallow, dark chocolate truffles, dark chocolate peppermint patties, milk chocolate peanut butter cup, dark chocolate coconut cream, nut clusters, milk chocolate flowers, and dried orange, goji berry, & almond mendiants.
Out of all of those, the truffles were definitely the best. They were legit, melt in your mouth goodness. We've never had such amazing truffles in our lives and that's probably because they were freshly made. The peppermint patties were delicious as well and our instructor told us that the texture changes over time day-of versus 2 days later; they are more tender the first day.
Helpful Tips
They say to arrive 30 minutes before, but if you actually do get there at that time, you're just hanging around doing nothing. We would've probably preferred to arrive 15 minutes beforehand.

If you have long hair, I'd recommend bringing a hair tie since your hair will fit into the hairnet more easily. And if you tie it down your hairnet will also stay on better.

The classes are fairly large and they move pretty quickly so make sure you're paying attention otherwise you might have to ask a friend for help.

Wear comfy shoes, preferably with good arch support. You'll be standing before, during, and after the class. There is nowhere to sit and your legs and feet may get fatigued.
Chocolate Shop
At the end of the class, they take you into their shop area to try out chocolates. They explain to you the different chocolate bars they have and you can sample each one. Our favorites were their 58% Dark Chocolate Venezuela and 58% Dark Chocolate Venezuela Porcelana. Their 33% White Chocolate Tahitian Vanilla was good as well since they use real vanilla beans but it was a bit too sweet for our tastes.
Aside from chocolate bars, they also sell various chocolate making materials, nut brittles, chocolate caramel apples, and French bon-bon truffles. We got to try the almond brittle, coconut brittle, and pumpkin seed brittles and the latter was definitely our favorite. It was the perfect mix of savory with sweet.
In the end, a creamy bar of 58% Dark Chocolate Venezuela and a 12-piece box of bon-bon truffles came home with us.
Final Thoughts
Would we do the class again? Honestly that's debatable because we like chocolate but we don't absolutely love it. We also usually prefer more intimate cooking classes because you're able to learn more, and this wasn't exactly that since the class sizes were so large. Also, the booking issues and lack of customer support was a bit of a turn off. It was definitely a fun experience so we'd recommend going and trying it out. We're all for giving things a shot at least once just to see if it's meant for us.
General Information
Address
1021 Detroit Avenue
Concord, CA
Website
Class Dates & Times
Workshops are offered on specific dates in the mornings and afternoons, check their calendar for availability.
Pricing & Cost
$55 per person
Deals can be found on Groupon and Travelzoo.
Getting There & Directions
From San Francisco, Rachel Dunn Chocolates is located approximately 30 miles northeast via I-80E, CA-24E, and I-680N. The factory and shop are just behind the Costco Wholesale on Detroit Avenue.
Map
Hope you enjoyed reading about our chocolate making class at Rachel Dunn Chocolates as much as we liked writing and experiencing it!
Wanna try this chocolate making experience? Pin it for later!