This post may contain affiliate links. If you click one of these links, we may receive a commission. We're grateful for your continued love of this site!
When we went to Amsterdam I was DYING to take a canal boat tour. I had dreams of cruising and drifting between those cutesy canal homes. But I had no idea there was such a thing as a small, open topped canal boat tour in Amsterdam, did you?
Originally I was looking at the larger boat tours by the more well-known and well-reviewed companies aka the ones that have free tickets included with the Iamsterdam card. (Because EVERYONE and their moms gets this card!) We were staying in the Netherlands for over 3 weeks so we didn't really need the Iamsterdam card and for this reason we had more freedom to choose our canal boat tour.
Fun Fact: The canal houses in Amsterdam are so narrow because the government used to tax on the width of the home. This is how you can tell some of the homes were once owned by wealthy merchants, their homes were sometimes twice the width of others.
Jimmy had been to Amsterdam before and taken the large canal boat tour so he suggested we do a small boat tour. One of his biggest gripes with taking the typical large canal boat tour was they run out of seats inside where the speakers are located. He had to sit outside, instead, where he was unable to hear any of the narration. This is where the research began and my mind was blown by the possibility of a different type of tour!
Needing a list of things to do, see, and eat in Amsterdam? Check out our detailed 3 day guide to Amsterdam!
Why small canal boat tours in Amsterdam are better…
Less touristy vibe because they're not as mass-marketed

Smaller boats can fit into narrower canals

The small motorboats are open top so you can see more of the canal houses

More intimate experience, you can ask the captain questions directly

Every seat on the boat is a great seat

You don't have to worry about finding a seat where you can hear the speaker (because there isn't one!)

It's worth the price-the tickets are usually about the same for both smaller and larger canal boat tours
There are several companies in Amsterdam that offer small canal boat tours, but we ended up choosing Those Dam Boat Guys. Do note that some boat tour operators offering "small boat canal tours" actually have more medium sized boats. Buyer beware, haha, make sure you're actually buying what you want!
PRO TIP: Make sure you take a look at photos of the boats on their websites before booking so you know can see how big the boats actually are.
We settled on taking a tour with Those Dam Boat Guys for a few reasons…
Smaller boat, duh, of course!

The price was right! €27.50 per person for a 90-minute tour.

Their site shows that they have a sense of humor, that always helps doesn't it?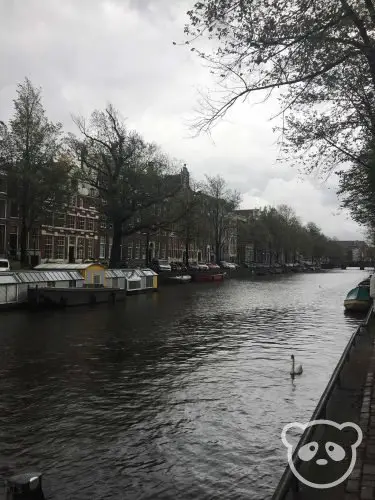 Our Experience with Those Dam Boat Guyz
Reservations & Booking
Their site was super easy to navigate and there were only a couple options so it was easy to find and pick the tour we wanted. We didn't want to do a private tour, so naturally we picked the only option left, the public tour.
Fun Fact: Amsterdam is home to 165 canals; in total, they are 50km (~31mi). The most famous of them are Herengracht, Prinsengracht, Keizersgracht, and Oude Singel.
There was a lot of availability left, we picked the date and chose a 5pm departure. Our tickets arrived shortly thereafter, in our email along with a receipt (in separate emails).
The Perfect Canal Boat Tour
We met up with our group at the designated meeting point Cafe Wester, on Nieuwe Leliestraat 2. Per their request, we arrived 15 minutes early, 4:45pm for us, and were able to use the restroom at the cafe. The servers at the cafe are also familiar with the drill and will permit you to use the restroom in the back. You can also grab a quick drink there if you'd like! We didn't so we waited outside to stay out of their way, the cafe is pretty small.
PRO TIP: Make sure you go to Cafe Wester and NOT Cafe Oude Wester, they are two different cafes!
Just before the tour started, a girl from Those Dam Boat Guys checked us in and walked us over to the boat dock and our captain.
Our captain helped us onto the boat and arranged us all so that the smokers were at the back of the boat and downwind. We appreciated this attention to detail because it ensured that we weren't bothered by the smoke. He also gave us all ponchos to put on in case it began raining during our 90 minute tour.
He was a bit of a quirky guy and also began feeding the swans afterwards. The swans obviously knew him because they were already crowding around our boat, haha.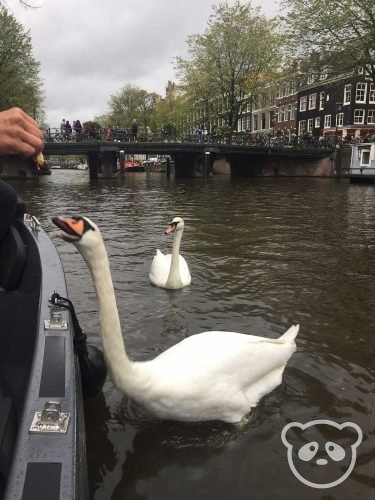 Fun Fact: Many of the canal houses in the Jordaan district were once used as warehouses to store merchants' goods, some still have markings on the front stating the types of goods placed in them.
In the intimate group, we also did introductions and learned that most of the other couples on our tour were from the United Kingdom and the East Coast (United States).
Because the groups are smaller, there isn't really a set route, but if you want to see a specific canal you can suggest it. None of the people in our party had an option so our captain pretty much got to take us around as he pleased, telling us about the city as we went along. One really cool thing was that he actually grew up in Amsterdam so he was able to tell us information that we might not have known otherwise. A lot of it being that the city has changed a lot over the years.
Because we were still trying to get the lay of the land, I honestly couldn't tell you the exact route he took us around. What I can tell you is that he took us through MANY canals and we got to see canals of all different sizes as well as the quaint canal houses alongside.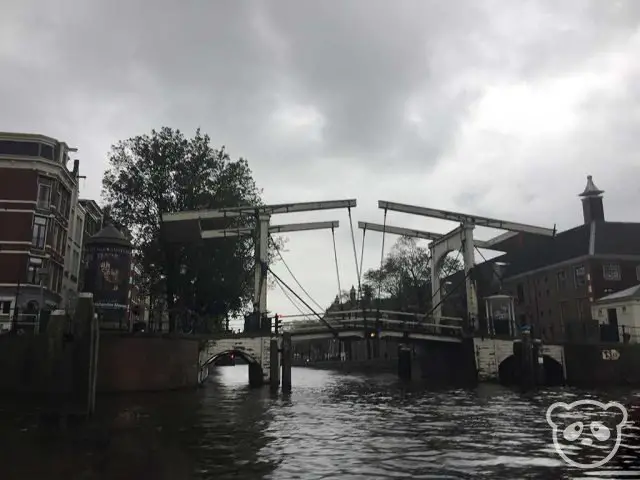 Our captain told us about many of the sights he'd recommend visiting, including the Rijksmuseum, Vondelpark, and a canal house museum which I later visited (so worth it!). Check out our Amsterdam weekend itinerary for more about these sights.
It was very peaceful drifting along the narrow canals in the Jordaan district with an intimate tour group. We got a feel for the larger canal boats when we drove into the wider canals. There, we could hear all of the narration speakers and large motors going.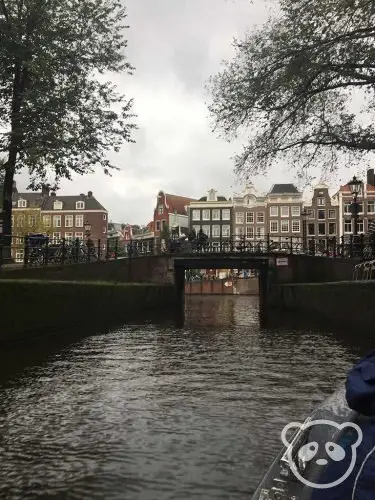 Fun Fact: Many of the canal houses were too narrow to transport large items upstairs through the home. Instead, hooks on the roof line were used as a pulley system to hang up items so that they could be placed into the house through the windows.
It started raining in the middle of our tour and he even provided some people with umbrellas. I'm sure they were regretting rejecting those ponchos earlier, haha. When there was a break in the rain, he took us to a canal intersection in the Jordaan district and helped us take photos!
PRO TIP: Remember to wear warm clothing, especially if you're going on a tour in the evening or at night. It starts to get chilly when you're sitting around and not moving.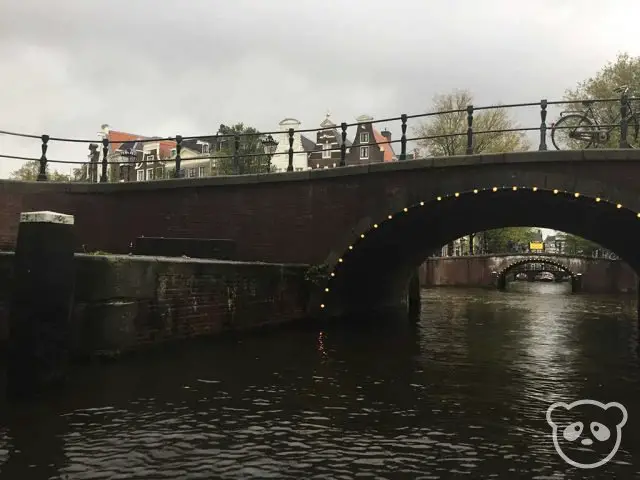 At the end of the tour, the sun was beginning to set and the lights around the canals were slowly beginning to turn on. We almost wished we had taken a sunset tour; however, either way the weather wasn't really cooperating so we would've missed out on golden hour anyways.
Our captain also gave us amazing recommendations for Indonesian food at the end of the tour. And in case you were wondering, tips are appreciated but not required.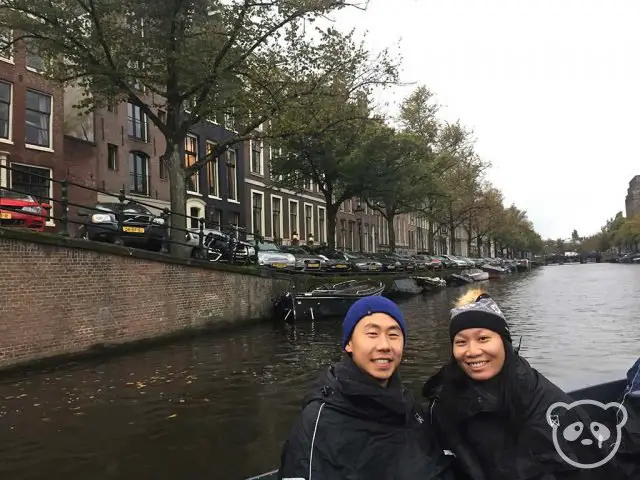 Tour Information
€27.50 per person for a 90 minute tour
This included:
English-speaking captain & guide all-in-one

Small canal boat tour with a maximum size of 10 people
Tours are typically offered at multiple times throughout the day primarily between 11am and 9pm. You can book tickets online in advance. We noticed that the majority of the tours were 2 hours apart and offered on the hour though during high season we saw more times available.
Helpful Tips
It can get chilly while you're on the boat, especially if you take an evening or night time tour, wearing layers is advised.

Tours happen rain or shine! They'll also provide umbrellas and ponchos for ya. We needed and appreciated the ponchos because it started raining while we were on the boat. They'll usually also provide blankets but I don't think that's the case when it's raining.

Food and drink is permitted, and yes, this includes "adult" drinks like alcohol. Some of the people on our tour brought beers and wine. They even provide plastic cups for your wine!

Smoking is allowed, let them know and they'll position you so that it doesn't disturb other guests.

If you're afraid of the weather and don't want to be freezing in the canal boat in the rain or cold even with blankets and ponchos, they allow cancellation up to 48 hours in advance.

They also have an

FAQ page

if you have more questions!
Meet Up Point
This was our honest review on taking a small boat canal tour with Those Dam Boat Guys. We were not compensated or sponsored in any way. We wrote this review because we really enjoyed our experience and wanted to share it with our readers.
Needing to get out of Amsterdam? Try Leiden for a great 1-2 day trip. 
Enjoyed this small canal boat tour in Amsterdam post? Pin it for later!