Make the most of 90 minutes in Chicago by taking a seat aboard this architecture river cruise. You'll learn tons about all the skyscrapers in Chicago, the history of the city, and the important people that made the city what it is today. 
The best (and official) architecture river cruise in Chicago is offered by the Chicago Architecture Center (CAC, formerly known as the Chicago Architecture Foundation) in partnership with Chicago's First Lady Cruises is, by far, my favorite boat tour EVER. Full disclosure, I actually took this tour almost 5 years ago with my family. This time, since we were traveling to Chicago as a couple, I decided to take it again with Jimmy!
The most amazing thing about having taken this tour a couple of times is that it was great to see the changes in the city. There were definitely buildings we saw this time around that didn't exist previously (or they were just a construction zone a few years ago). We had a lot of fun learning about the different architectural feats surrounding us.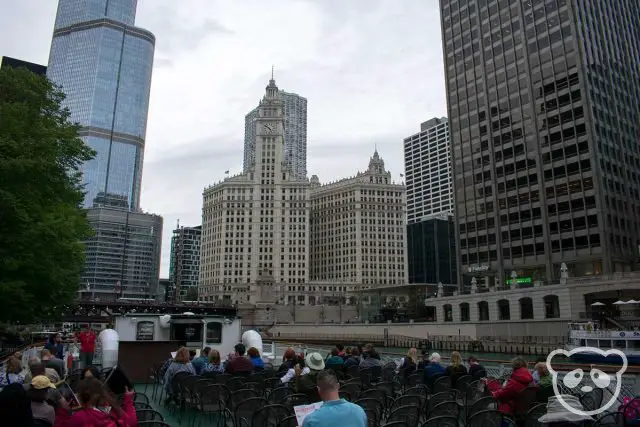 Some things remained the same, the boat tour lasts 90 minutes and takes you through the main, north, and south branches of the Chicago River. As with every river cruise offered through the Chicago Architecture Center, a knowledgeable CAC-certified guide was provided and told us about all of the ins and outs of Chicago's beautiful architecture.
Fun Fact: All of the tours offered by the CAC are given by volunteer docents who go through specialized training and are passionate about the city and its architecture.
One of the cool things about the architecture river cruise tour along the Chicago River is that it's pretty much different every time you go. You might have a different docent or a new building has gone up, all of these providing you with a new and different experience each and every time.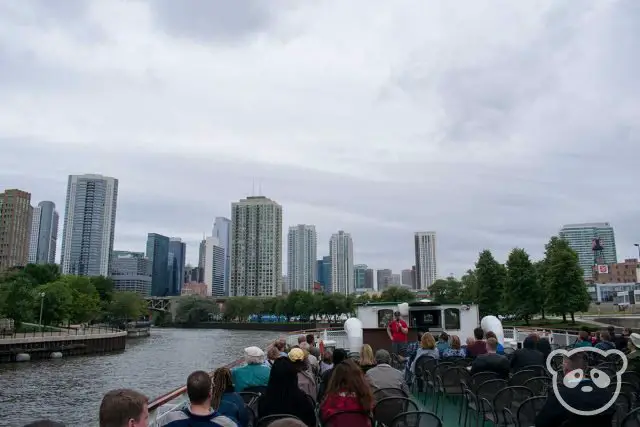 Why You Need to Take a Tour with the Chicago Architecture Foundation Center's River Cruise Aboard Chicago's First Lady
Initially, we decided to go with this tour because it was offered by the Chicago Architecture Foundation. Because of that we felt that it was more legitimate and would have higher quality docents than the other architecture boat tours in Chicago.
September weather in Chicago can sometimes be unpredictable, I'd had previous experiences visiting Chicago around the same time and it was sunny and warm. But in our case during this trip, a storm from the Atlantic was bringing in clouds and rain. We were afraid it was going to rain while we were onboard the architecture boat tour!
Fortunately for us, it didn't end up raining, but our photos are still full of clouds. So FYI/disclaimer, if you see any photos in this post with sunny, blue skies… well those were from my first ride aboard this river cruise. That previous architecture cruise was also taken in September, but Mother Nature just didn't cooperate this time around.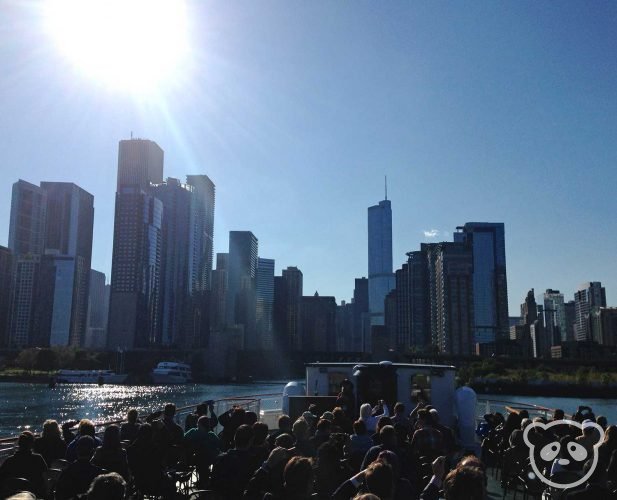 PRO TIP: If weather permits, try to sit upstairs on the open-topped deck. The views from there are amazing and there's literally no bad seat in the house (or on deck).
Chicago's First Lady Cruises route took us through the western part of the main branch of the Chicago River, then to the north and south branches. Just before the end of the tour, we sailed the remaining eastern half, towards to the mouth of the river by Lake Michigan and Navy Pier.
We'll discuss the various portions of the river cruise based upon where they are located along the Chicago River.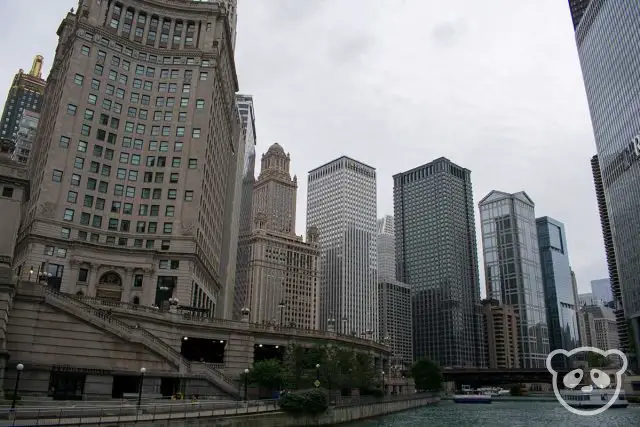 Chicago River – Main Branch
This was both the beginning and the end of our tour since the dock is located along this section of the Chicago River. It also happens to be by to The Loop and River North which is where many of the tall skyscrapers are located.
Along this piece of the river, you'll see a wide timeline of architecture, ranging from the Beaux-Arts style to Art Deco, Mid-20th Century Modern and Contemporary.
Fun Fact: Located right across from the boat cruise dock is the Contemporary style Apple Store. It is a glass-walled pavilion that was recently completed by London-based Foster + Partners who also designed Apple Park, Apple's new "Spaceship" campus.
Some of these buildings included the Wrigley Building (1924), Merchandise Mart (1930), Marina City (1967), Lake Point Tower (1968), AMA Plaza/IBM Plaza (1971), Trump International Hotel and Tower (2009), and Aqua at Lakeshore East (2009).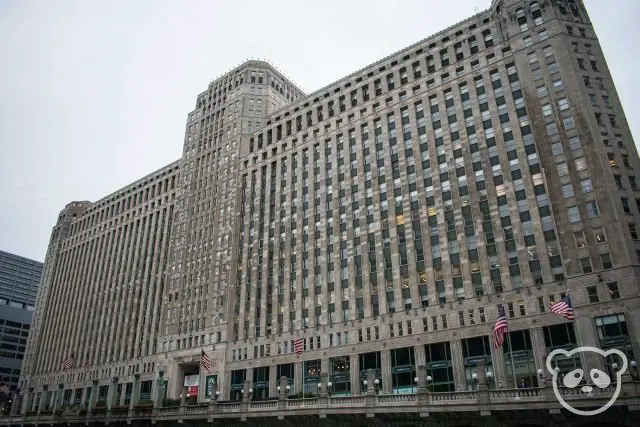 We learned some cool history about the buildings. Merchandise Mart was once the largest commercial space in the world and was built by Marshall Field & Co in 1930. From the boat, you'll be able to see 8 bronze busts of important American merchants, including Frank Winfield Woolworth, Marshall Field, Aaron Montgomery Ward, Julius Rosenwald & Robert Elkington Wood (Sears, Roebuck and Company), John Wanamaker (department store), Edward Albert Filene, and George Huntington Hartford (A&P grocery).
PRO TIP: The Marina City multi-use building can be seen from multiple vantage points near The Loop and River North. Just keep an eye out for those twin corn cob buildings.
Chicago is a beautiful city in general, but this area is one of my favorite parts along the river, there are so many different styles of skyscrapers to behold. It's even more amazing to see them while drifting down the river and learn more about them at the same time!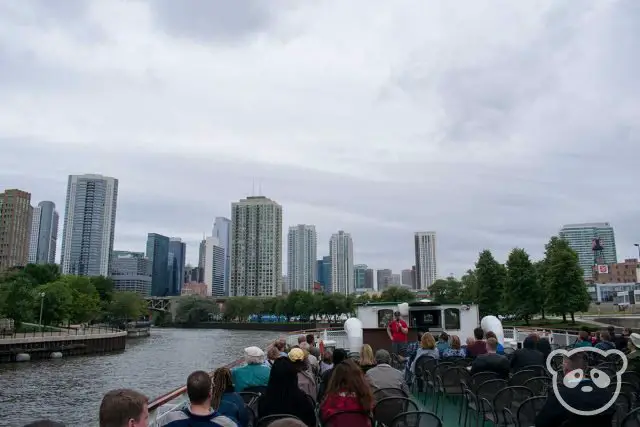 Chicago River – North Branch
I loved this part of the river for its history, it has one of the oldest buildings along the river as well as some of the coolest renovations of historical buildings.
Fulton House was built in 1898 by Frank B. Abbott as a 15-story cold-storage warehouse building. In 1981, it was renovated into condos and offices.
Fun Fact: Because Fulton House was originally a warehouse, it didn't have windows and they had to be cut out of the sides.
Right next to Fulton House is the Kinzie Street Railroad Bridge (also known as Carroll Avenue Bridge). It has been abandoned since 2000 and was designated a Chicago landmark in 2007. Even though it is no longer in use, it is still owned by the Union Pacific Railroad and the bridge is left permanently upright and is only lowered once a year.
Fun Fact: The Kinzie Street Railroad Bridge is the only bridge in the downtown area with an overhead counterweight. You can easily see the counterweight block that allows the bridge to remain open and allow boats to pass, it is yellow in color and weighs over 50 tons.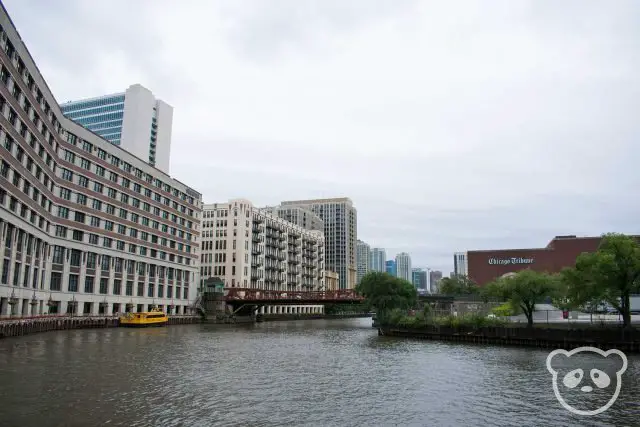 600 West is further up the north branch and was once the warehouse of the Montgomery Ward Company. Its strong horizontal lines are reminiscent of Frank Lloyd Wright's prairie style architecture prevalent throughout the Chicago area as well as many parts of the Midwest.
Fun Fact: Aaron Montgomery Ward, who was also the founder of the company bearing his name Montgomery Ward, was a lover of litigation. He sued anyone, including the city, for attempting to build buildings or structures inside Grant Park, citing laws from 1836 to maintain the park as "forever open, clear, and free." Today, Grant Park consists of the Cloud Gate, the Art Institute of Chicago, Jay Pritzker Pavilion, and more.
We loved seeing all the various warehouses in the Fulton River District, River West, and River North areas. It was super interesting learning about all of these large buildings that once played an important role in Chicago's industries finding a second life as residential lofts and commercial offices. It is such a great way to make use of existing buildings without needing to tear them down just to build new ones!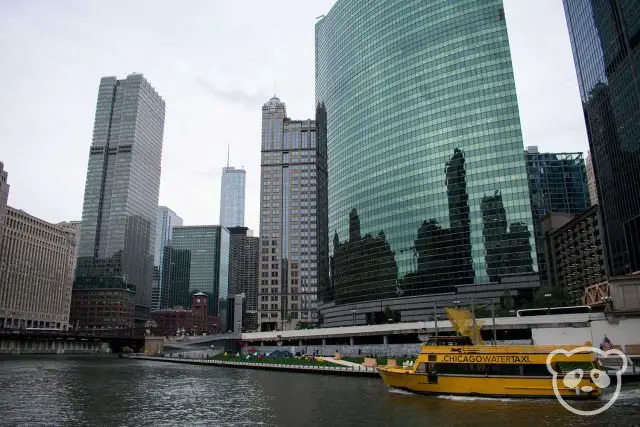 Chicago River – South Branch
To the south of the river, we saw more modern looking buildings. These were primarily glass-based and included amazing engineering feats within their designs.
Two such notable buildings include 150 N. Riverside (2017) and Boeing Headquarters (1990).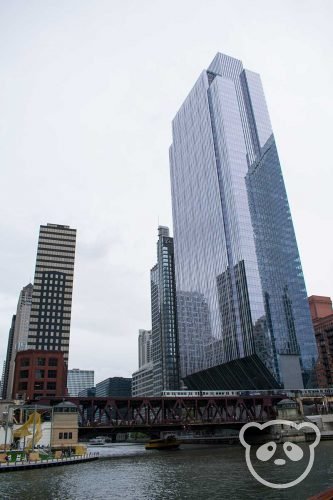 150 N. Riverside is a visually interesting building, at the bottom, you'll see it extending below into a triangular point. This is because the width of the lower floors are restricted by the river on one side and railway tracks to the other.
Fun Fact: Building 150 N. Riverside required high-strength steel posts drilled into the bedrock and a liquid mass damper housing water that shifted with the wind direction to maintain the structure's stability.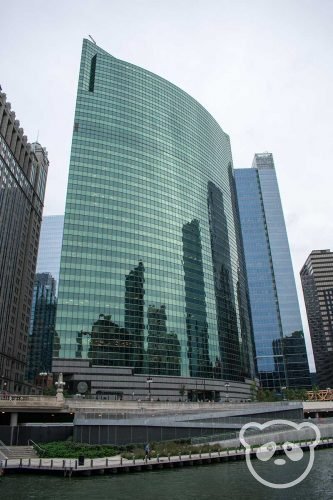 It was also interesting to learn that some of the buildings, like 333 West Wacker Drive (1983), were designed for its location by the river. The green glass facade was chosen specifically to match the color of the Chicago River.
Located by the southern branch of the Chicago River, is Willis Tower aka Sears Tower (1974). Pretty much anyone who was born prior to the 2000s will know this building as "Sears Tower," amirite?!? But I digress…
Fun Fact: The Willis Tower/Sears Tower is 110 stories and 1,450 feet tall. It was built in a bundled tube structure, with a total of 9 tubes, each supporting the other at various heights. This allowed the building to withstand the intense winds in Chicago.
This building is one of the most famous buildings in Chicago and was once the tallest building in the world. It was completed in 1973 and surpassed the Twin Towers in New York City. The Willis Tower/Sears Tower remained the tallest for over 20 years, until the Petronas Twin Towers were built in 1996.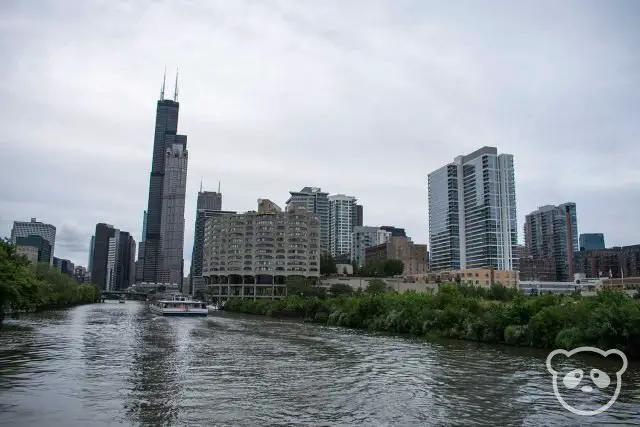 Overall Thoughts
We had such an amazing time on the architecture boat tour! We got to see so much of the city and learned a lot about the history of the city as well as the engineering and design aspects of the skyscrapers. Many of our "fun facts" were things we found out about on the tour, so if you take the tour, you will definitely learn some of these and more!
Even though the tours were 90 minutes long, they definitely don't feel that way. Time went by quickly as we were cruising along the river and taking in the sights. It's truly amazing how much thought and engineering went into the design of some of these buildings! 
Sure, this is a larger boat tour and isn't as small or intimate as other boat tours we've taken elsewhere (all of the boat tours in Chicago are gonna be large for that matter). But the docents are open to taking questions and will ask that you leave them to the end and ask when you off board the ship.
We would definitely do the tour again in the future since new buildings are under construction in Chicago all the time. Our docent pointed out the new construction zones and even told us that a few cool buildings will be unfortunately blocked from view when they new ones are complete. You'll be in for a treat (plus something different) each and every time you take the tour.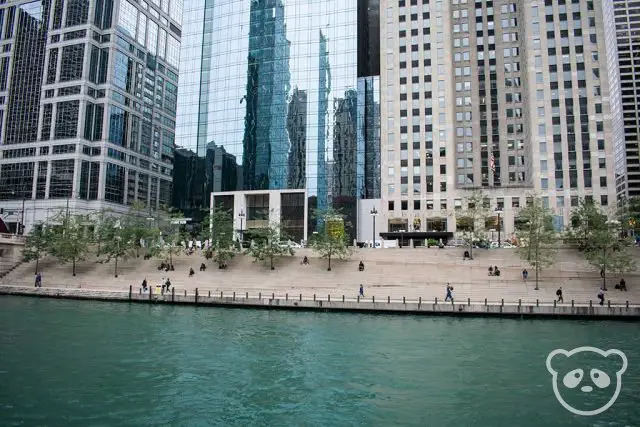 PRO TIP: Explore the Chicago Riverwalk, Magnificent Mile, or River North before or after your tour. It's a great way to get to know the city and see some of the buildings more closely.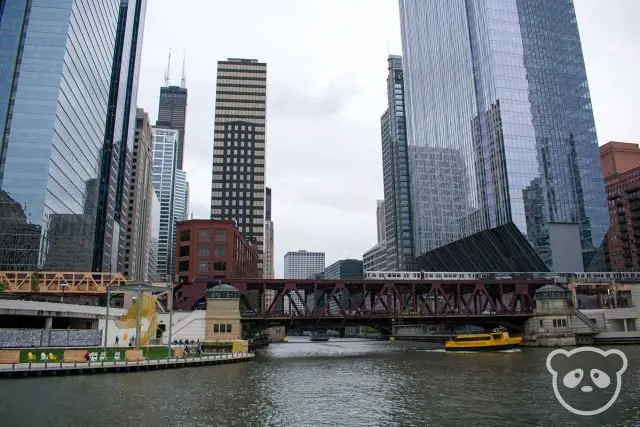 General Information
Meeting Point
112 E. Wacker Drive, Chicago
Located at the southeast corner of the Michigan Avenue Bridge at Wacker Dr.
The specific docks are numbered. If you pick up your tickets at Chicago's First Lady will call ticket booth, they will tell you which dock to board your boat.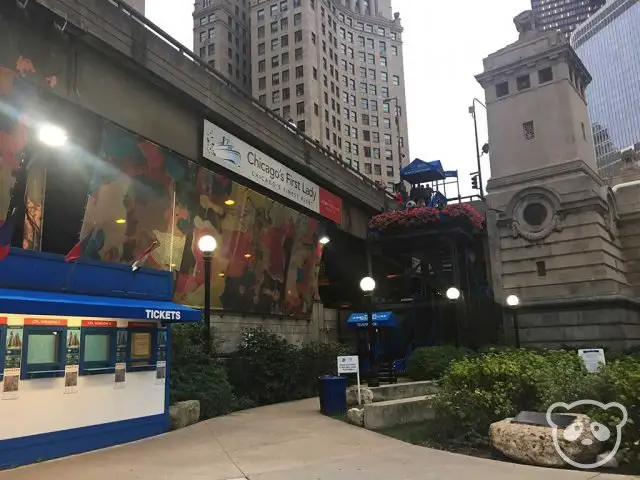 Location Map
Cruise Tickets
$47 all daytime cruises
$52 all 7:30pm Twilight Cruises
Due to the chilly Chicago winters, the cruise is only offered during the warmer months between April and November.
River boat tickets can be purchased online or in person. They have many times throughout the day, see the CAC site for more information.
Important Note: Infants and children under 3 will need to purchase a ticket.
PRO TIP: If you're traveling to Chicago during peak season, I recommend purchasing tickets online in advance as the tours can sell out.
Helpful Tips
The tours happen rain or shine so be ready for the weather! It can get chilly (Chicago IS "the windy city" after all), I recommend a windbreaker. An umbrella or poncho can be useful on rainy days.

Boarding begins 15 minutes before departure time (listed on your ticket), be sure to arrive on time so the boat doesn't leave without you! (They recommend arriving 30 minutes beforehand just to be safe.)

Seating is first-come, first-served. If you want a specific seat, arrive early!

Restrooms are available on board. Note: Restrooms will close 10 minutes prior to docking.

There is also a full service bar on the boat. They hand you a drink menu while you're boarding. If you're feeling like some drinks, you can easily order cocktails, beers, or wine downstairs. They also sell snacks for the peckish.

Individually wrapped food is permitted on the boat.
We had an amazing time onboard Chicago Architecture Foundation Center's River Cruise Aboard Chicago's First Lady. We hope that you'll take this tour and enjoy it as much as we did! 
Wanna take a architecture boat tour in Chicago, Illinois? Pin it for later!
Disclaimer: This post was created in partnership with Chicago Architecture Center. We were provided complimentary tickets in exchange for this post. As always, all of our thoughts, experiences, and photos are our own.