This post may contain affiliate links. If you click one of these links, we may receive a commission. We're grateful for your continued love of this site!
Austin, the beautiful capital city of Texas, is a great place to visit for amazing barbecue, Tex-Mex cuisine, and artistic murals. It's also known for live music (wish I'd known that beforehand), gorgeous Colorado Riverfront, and bats that fly from under the Congress Avenue Bridge. And since the city is located practically in the middle of the country, Austin is the perfect destination for a weekend getaway within the United States!
"I've been surprised by Austin. I had a cowboy image of the place. It's a pretty sophisticated city – in some ways, more sophisticated than Boston. And there's a lighter feel to the place. It's very good for my spirits."


– Tim O'Brien
That quote pretty sums up how we felt about Austin, we LOVED it there! Like Tim O'Brien, we were definitely expecting a cowboy-like town full of old white people, but we were wrong. We loved how diverse the city was and all the various cuisines offered by restaurants and food trucks throughout the city.
There was so much to eat and explore we didn't feel like a weekend was nearly enough time. But a weekend was all we had time for so this month's A Weekend Away is our guide to 48 hours in Austin, TX!
Here's our 2 day weekend in Austin, Texas itinerary!
Where to Stay in Austin, Texas
We stayed in the North Loop area which was more residential but still had conveniences such as Target in nearby shopping plaza. It also happens to be fairly close to the University of Texas, Austin campus. It was a great area to stay in since its less busy and the highway provided good access to downtown Austin.
Super 8 by Wyndham Austin University/Downtown Area is a great budget friendly place to stay in North Loop. This spot is amazing because they provide a FREE continental breakfast in the mornings. The rooms have a coffee machine, free wifi, a flat screen TV, and best (and most important of all) they have FREE parking. Book your stay with Super 8 Wyndham Austin University/Downtown Area now!
Another great spot in North Loop is Motel 6 Central South University of Texas. This no frills option provides FREE parking and FREE coffee in the morning. They also have an outdoor pool for those hot Austin summers and they offer spacious rooms with free wifi. Click to book a night at Motel 6 Central South now!
For lodgings in the downtown Austin area, try Aloft located smack dab in the middle of downtown Austin. It has an amazing location at a relatively affordable price. Their rooms are modern yet cozy and they have an on-site gym and free wifi. This spot is also perfect if you have pets since they don't charge extra. Best of all, you'll be able to explore downtown Austin on foot! Book a stay at Aloft in Downtown Austin!
Hampton Inn & Suites in downtown Austin is also a great place to stay! It is located a stone's throw from the Colorado River so you can take your morning run along the Ann and Roy Butler Hike & Bike Trail. But if you're not a morning run kind of person, you can also use their gym to stay fit or take a dip in their pool. They also offer a complimentary breakfast buffet, 24 hour front desk for check-ins at any hour, and free wifi. In our opinion it's one of the best places to stay in Austin, TX, book a night at Hampton Inn & Suites today! 
Day 1 – Learn About the Texas State Government & Some of Austin's Most Unique Spots
Epoch Coffee
For your morning coffee, check out Epoch Coffee. They have tasty lattes and delicious pastries with a friendly vibe. The cafe is located in the middle of a residential area so they have a ton of local clientele and it's also a local study spot (that's also open 24 hours). We were headed to our next spot so we only got our coffee to go.
Franklin Barbecue
So it's not even 7am yet, but we're already thinking about lunch. This is because we were planning to wait in line for Franklin Barbecue.
At this famous BBQ spot, the line starts before 7am and doors open at 11am. When we got there at 7am on a Saturday morning, the line was already down the side of the building.
Fun Fact: President Barack Obama had Franklin Barbecue cater for his second inaugural dinner. If it's good enough for Obama, Franklin's definitely good enough for us!
Don't worry about bathrooms, they do open for the public to use their bathrooms and to sell some refreshments, such as bottled sodas and beer.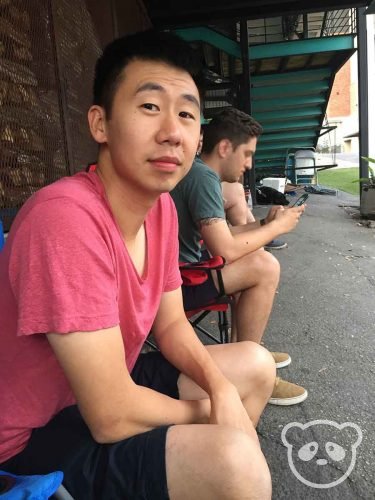 PRO TIP: Get there before 7am if you're headed there on a weekend. Franklin also provides foldable chairs for their waiting customers but they do run out so be sure to check under the stairs for them!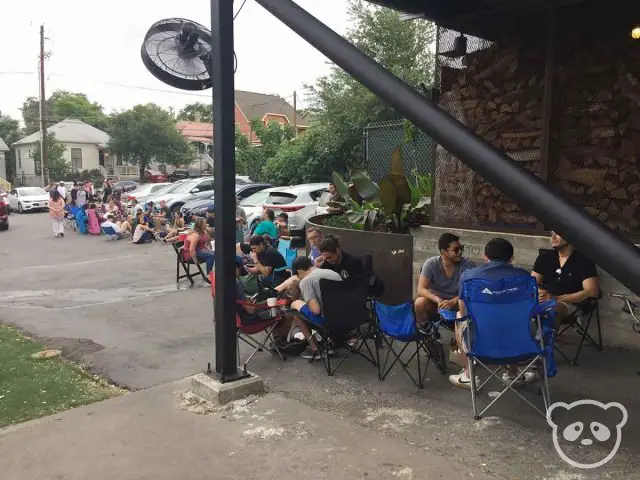 We were finally able to get in around 1pm and ordered the brisket, beef ribs, sausage, and pork ribs. The fatty brisket was amazing as were the beef ribs. For sides, we got some potato salad and for dessert, a small pie. The BBQ order also came with white bread.
Franklin was so yummy, it's definitely the best BBQ we've ever had. And we loved how none of the meats needed the BBQ sauces.
PRO TIP: In case you love it so much you want to bring it home, Franklin also sells a vacuum-sealed chilled brisket. It's not cheap but Jimmy got one for an upcoming family gathering. TSA will check your brisket though, FYI.
Texas State Capitol Building
Have you ever seen a pink government building? Well, you'll definitely see one in Austin if you visit the Texas State Capitol Building. And the building is GORGEOUS, inside and out! In fact, it probably has more substance than your latest online date (no judgement though Jimmy and I met online).
Fun Fact: The Texas State Capitol Building looks pink from afar because it was constructed in "sunset red" granite, also known as Texas pink granite, from a local quarry in nearby Hill county.
PRO TIP: To learn more about the capitol building as well as Texas history and how the legislature works, take a free tour of the Capitol!
The Texas State Capitol is open daily and free tours are offered everyday though opening hours may differ. Tours meet inside the South Foyer, outside of the tour guides office inside the capitol building. The tours leave every 30 to 45 minutes and last approximately 30 minutes.
Fun Fact: The Texas State Capitol Building was built in 1885 in the Italian Renaissance Revival style and at over 310 feet, it is taller than the United States Capitol Building in Washington D.C.
The building is insanely beautiful with its striking pink exterior and gorgeous rotunda inside, be sure to at least check out the pink granite outside if you're unable to make it in!
This small group tour around Austin includes a guided tour of the capitol building as well as a food truck excursion.
Lick's Honest Ice Creams
For dessert slash afternoon snack, check out Lick's Honest Ice Creams for some of the best ice cream we've ever had! Their ice cream is seriously creamy and they have tons of unique flavors including vegan and dairy-free options.
I love specialty seasonal flavors so I tried their cilantro lime, goat cheese thyme & honey, garden lemon, Lady Bird lavender crisp, roasted beet fresh mint, and Thai lime & lemongrass. I seriously wanted to try them all but I felt bad so I had to draw the line somewhere and stop myself lol.
In the end, I ended up getting the roasted beet fresh mint and the Thai lime & lemongrass because they were delicious and refreshing flavors, perfect for the heat of springtime in Austin.
The Thai lime & lemongrass ice cream was made from coconut so it was vegan but still very creamy and that's precisely why I loved it!   
Jimmy loves bolder, smack ya in the face flavors so he got the pecan & rum and the dark chocolate olive oil & sea salt flavor. They were both super yummy too!
Beautiful Murals of Austin
After our ice cream stop, we decided to check out some of the most famous murals in Austin, including the "You're My Butter Half" and "Greetings From Austin."
How could we say no to "You're My Butter Half"? It's so cheesy it's kind of stomach-turning but sometimes we like those cutesy things. It's a perfect stop if you're traveling to Austin as a couple!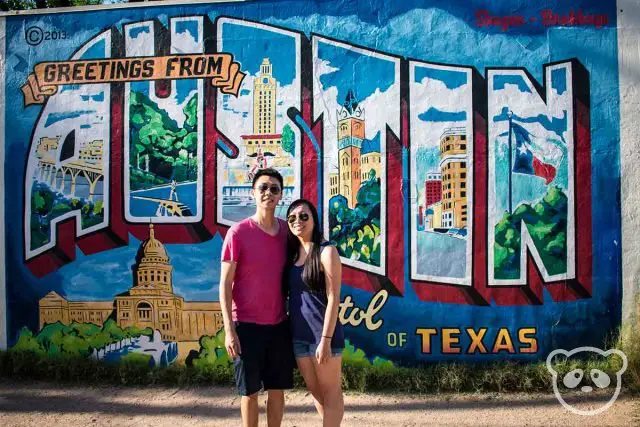 "Greetings From Austin" is a great mural to visit to commemorate your visit to Austin. It looks exactly like you'd imagine a postcard from Austin to look like except you can be in it!
Some other noteworthy murals of note are "I Love You So Much," "Won't You Be My Neighbor" featuring Mr. Rogers, and tons more found throughout Downtown which we'll discuss in Day 2 of our itinerary!
There are also tours that take you around to the murals of Austin, like this Murals & Street Art Electric Bike Tour.
Ann and Roy Butler Hike & Bike Trail
Note that the Colorado River mentioned within this post is not the same one as the Colorado River running through the Grand Canyon and Horseshoe Bend in Arizona, this one only runs through Texas.
Explore the beautiful Austin waterfront along the Colorado River, it's a great spot for a quieter walk, the paths are well-marked and it's popular amongst locals. Try to arrive early as parking can be difficult to come by.
There are also kayaks available for rent in this area so there are definitely tons of activities available especially during the warmer months.
PRO TIP: Kayaks are also a great way to see the bats fly out from under the Congress Avenue Bridge.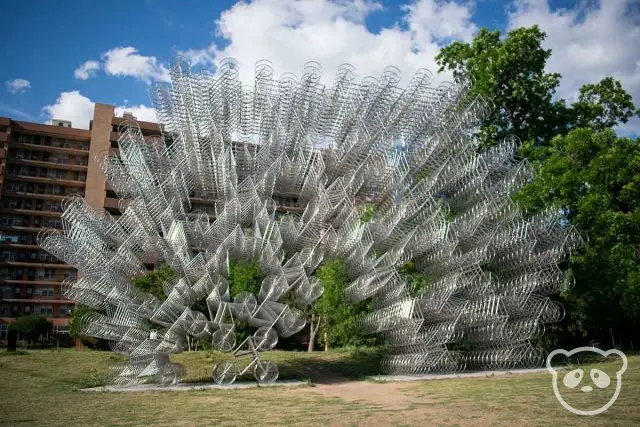 Be sure to check out Ai Wei Wei's Forever Bicycles at Waller Delta by the northern shore of the Colorado River, the visually interesting and mind-boggling outdoor sculpture depicts bicycles made of metal. It's definitely worthy of a visit!
Head over to the southern bank of the Colorado River and explore that side of the Ann & Roy Butler Hike & Bike Trail. See the famous Stevie Ray Vaughan Memorial, the area surrounding the statue has amazing views of the buildings in downtown Austin as well as the Colorado River.
Bats Under the Congress Avenue Bridge
If you have the time to visit the area during spring and summer months, sometimes even until early fall, you're in for a treat! Stick around the park and around dusk, you might get to see over a million bats fly out from under the Congress Avenue Bridge.
Fun Fact: The bats under the Congress Avenue Bridge are the largest urban bat colony in the world with as many as 1.5 million bats living underneath the bridge depending upon the season.
This unique phenomenon is a sight to behold, though unfortunately we were not be able to see them. Like most natural occurrences, this experience is weather and animal dependent. In our case it ended up raining the next day, so the bats probably weren't feeling particularly hungry and just wanted to stay warm in their roosts. We only got to see a few come out to hunt.
Fun Fact: The bats congregate under the Congress Avenue Bridge due to the nooks and crannies on the underside of the bridge are perfect for the bats to hide out, making them ideal bat roosts. Every night the Austin bats eat between 10,000 to 20,000 pounds of insects.
To increase your chances of seeing the bats, the best time to visit Austin is between the months of March and October and they typically begin to fly out approximately 20 minutes before sundown. They can fly out for as long as 45 minutes!
PRO TIP: Bat pups are usually born in June, but they don't begin flying until mid-August. During this time, you'll be able to see the most bats!
The best spots to see the bats are usually on the grassy hill to the southeastern side of the Congress Avenue Bridge. You can also stick to the eastern portions of the Ann & Roy Butler Hike & Bike Trail by the Congress Avenue Bridge for a great view.
You can also kayak the Colorado River or Lady Bird Lake for an amazing view of the bats under the Congress Avenue Bridge. There are also boat tours that take people out to the river, however we do not recommend those since they tend to shine flashlights underneath the bridge in an effort to force them out. I mean, would you want a flashlight shown in your face as you're about to wake up? We didn't think that was so nice.
PRO TIP: If you're afraid of guano (bat pee and poop), be sure to stay closer to the northern bank of the Colorado River or find a spot on the Congress Avenue Bridge. Still, it's typically no more than a sprinkle, so you can also wear a windbreaker jacket to cover yourself if you wish.
For a sample of what you might be in for, check out video from Bat Conservation International.
Rainey Street Historical District
The food and nightlife along Rainey Street is some of the best in Austin! Rainey Street is uniquely Austin, and the easiest way to explain it is a street full of bars located in craftsman or bungalow style homes. So you can imagine these bars and restaurants along Rainey Street gets pretty packed at night.
People typically bar hop while stopping by a restaurant or food truck in between to get some grub on. So there are tons of food options in the area, it's a great spot to have dinner before heading out to some bars.
PRO TIP: Free parking is difficult to come by here, expect to pay for parking at the parking lots throughout the area.
For dinner, we tried out some of the best food trucks in the city. Four Brothers had amazing arepas, yucca fries, and plantains to curb my Venezuelan craving. They also had a delicious tres leches cake that we split for dessert.
Jimmy tried the chopped brisket sandwich at Gebby's BBQ and it was pretty good. Though we both agreed that Franklin Barbecue was way better. There is a chance we could've been a little spoiled on beef brisket after eating at Franklin lol.
If you're not interested in BBQ or Venezuelan food there are tons of food trucks located along Rainey Street itself as well as the streets located off of Rainey so there are tons of options for you. The area is also great for large groups to find a place they'd like because everyone can just grab their own thing and meet up later. Just make sure you can find your friends afterwards! 😉
Day 2 – Eat Your Way Around Austin & Explore Downtown Austin!
Houndstooth Coffee
For our morning coffee and first pastry of the day, we started off at Houndstooth Coffee. There are multiple locations throughout the city and they have a good variety of coffee and espresso options.
I got a vanilla latte and Jimmy got the cortado, both were amazing. We loved the taste of their coffee and their blueberry crumble muffin was also delicious.
One thing I really loved aside from the vibe and ambience of the place was their love of their state. Their coffee cups have the shape of Texas on them and once you finish your coffee you'll be greeted with another Texas inside. It was super cute and we loved that small detail.
Mi Tradición
And sometimes we like eating two breakfasts in the morning, haha. So for our heavier breakfast option, we stopped by Mi Tradición, a local Mexican bakery. Not for their pan dulce, though that looked amazing as well, but for their breakfast tacos! (Houndstooth does have breakfast tacos, but they're shipped in from Taco Deli so they do not make them on-site.)
The storefront has two sides, a bakery side, and a restaurant side. For breakfast tacos, or all actual Mexican food, really, you want to head over to the restaurant side. You head over to the cashier, order there and they'll call your number to pick up your food.
PRO TIP: If you want breakfast tacos, you'll need to visit in the morning. They don't serve tacos al pastor or any other Mexican foods until lunch time.
The breakfast tacos at Mi Tradición were amazing! Since it was our second breakfast, we split a chorizo, egg, and potato taco. We also got a yummy horchata. It was SO delicious, we definitely didn't regret getting another breakfast.
Hope Outdoor Gallery (Baylor Street Art Wall)
As of July 6, 2019, there is currently no news regarding the reopening of Hope Outdoor Gallery at Carson Creek Ranch. We will be updating this post as we learn more. 
This super cool artsy community park was especially popular amongst tourists wanting to check out street art and graffiti. It was located at 11th and Baylor Streets and had amazing views of downtown Austin.
Hope Outdoor Gallery was where street art was legally sanctioned and permitted where local artists could practice their craft. For this reason, the art on the walls were constantly changing, you could visit one day and the art could be completely different the next. It was truly a special spot.
Fun Fact: Shepard Fairey, the artist behind President Barack Obama's "Hope" posters was one of the first to paint on the walls when the park opened in 2011.
Though it is currently closed and moving away from the downtown area to Carson Creek Ranch (approximately 12 miles away near the Austin airport), we're hoping that Hope Outdoor Gallery will be able to maintain some of its unique flavor.
Please note that visiting the park currently will result in a ticket for trespassing and there is a security guard watching the site. We'll be updating this post with information as we learn more about the reopening of the park. It is set to open in summer 2019. 
Valentina's Tex Mex BBQ
Valentina's Tex Mex BBQ made a girl who didn't like pulled pork (at all) fall in love with pulled pork. That is how good Valentina's is!
In all seriousness though, go to Valentina's you won't regret it. We decided to go for lunch since our Lyft driver the previous night had said so many good things about it.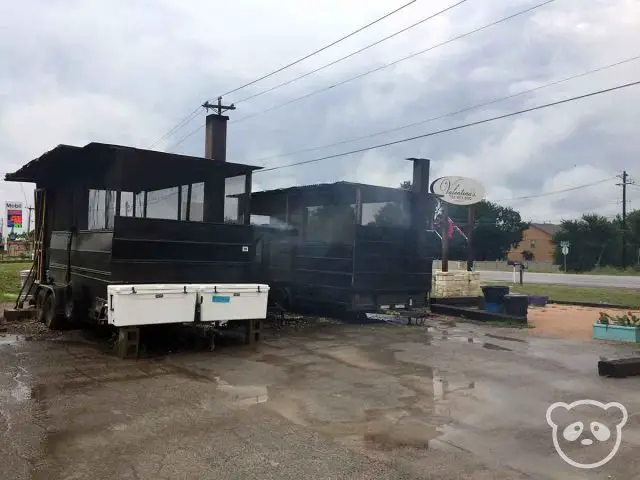 When we got there it was raining and they offered free beers to keep our spirits up, that was already a plus one in Jimmy's book. Ya can't say "No" to free beer can ya?
That aside, it was a fun experience chatting up locals while we were waiting in line for our BBQ. They were actually the ones that told us about the free beer bucket located in the eating area towards the back. It definitely seemed like more locals came here than Franklin and this was probably because it's more out of the way, but the food is still super good.
They had a special of the day which was a delicious set of brisket tacos, we also got a pulled pork sandwich from their normal menu, and smoked corn. Valentina's literally had the best pulled pork I've ever eaten in my life!
PRO TIP: Do not stand in front of the smokers, they will get you checked by TSA because the metal detectors will go off, lol. Seriously do as I say and not as I do, haha.
All of the food there was so good, we liked it even though we had to wait in the rain, and fortunately for us, the rain cleared up just as we were about to leave.
Explore Downtown Austin
Downtown Austin has so many cool murals it was fun for us to just wander around and take them all in. Many of the businesses have hired skilled artists to paint decorative pieces on their buildings.
Check out the Mexic-Arts Museum for amazingly colorful art based upon Central American cultures as well as many others located along Congress Avenue. It was fun wandering around Congress Avenue and Colorado Street to see what art we'd discover and happen upon.
If you're into nightlife, definitely check out the super secret speakeasy bar in downtown Austin. Just look for the Floppy Disk Repair Company sign and ask neighboring restaurants for the code to get in.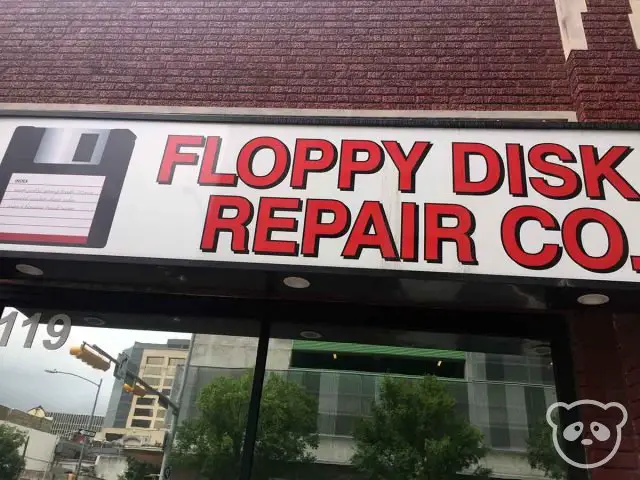 We didn't know about this when we visited, in fact, I even made a comment to Jimmy about it — "Who in this day and age still uses floppy disks?!?" Lol, silly me, if only I'd known about it, but we looked up the sign afterwards and found the bar. We wish we could've gone because it sounded super cool. For more tips on getting in, check out this post.
Salt Lick BBQ
For dinner, definitely check out Salt Lick BBQ. The Driftwood location has the best ambience, with its rustic cabin vibe. Sounded like the perfect place to have some delicious barbecue!
Unfortunately we we had to be off to the airport to catch our flight back to San Francisco so we couldn't go to the Driftwood location, however the location at the Austin-Bergstrom International Airport was still delicious.
PRO TIP: If you're able to go to a non-airport location, you can get their meats by the pound! Plus they also have a larger menu with more meat options, including turkey and bison.
The airport technically has two locations, one which is an actual restaurant and another that's kind of like a stall or kiosk. The actual Salt Lick restaurant has smoked meats platters, sandwiches, and sides. The stall is more of a Tex-Mex style serving smoked meat tacos, it is called Salt Lick Tacos and has delicious pulled pork and brisket tacos!
There is also a shuttle that takes you to Salt Lick from Austin, if you want to head to the non-airport location. You'll even get to go to a winery!
PRO TIP: The Salt Lick BBQ restaurant in the Austin airport is located past security between gates 20 and 21. The Salt Lick Tacos kiosk is located near the Heart of Austin bar by gate 19. See
map
for more detail.
Note that unlike Franklin BBQ and Valentina's, Salt Lick's smoked meats, while delicious are meant to go with their BBQ sauce. As in, they taste WAY better with the sauce than without. We loved our tacos with the sauce though, they were so good!
PRO TIP: If you like Salt Lick's BBQ sauce and rubs, definitely get some at the airport! You can buy it by the bottle! We loved their "original BBQ sauce."
We were very impressed with Salt Lick especially as an airport dining option. It would definitely be one of our top choices if we had to eat at the airport.
Amy's Ice Creams
Like Salt Lick, Amy's Ice Creams has a few locations in the Austin area, but it is also located at the airport. Since we had to get dinner at the airport we decided to give Amy's a try also.
They have a ton of unique flavors as well as the more traditional like chocolate and sweet cream vanilla. Personally, I was after their popcorn flavor, made with their sweet cream vanilla as the base and pieces of popcorn. It was so good! It was a great combination of creamy milky flavor with savory popcorn, it was like a combination of kettle corn and ice cream-in-one!
If You Have More Time in Austin, TX
List of the Sights – Austin, Texas in 48 Hours Itinerary
Note: Unless otherwise stated, all of the locations below are located within the city of Austin, TX.
DAY 1 – Learn About the Texas State Government & Some of Austin's Most Unique Spots
DAY 2 – Eat Your Way Around Austin & Explore Downtown Austin!
If You Have More Time in Austin, TX
Map of the Sights in Austin, TX
This map includes a list of all of the Sights to See, Restaurants as well as the routes by day (i.e. Day 1, Day 2, and Day 3) within specified layers.
By default, only the Sights to See and Restaurants are shown but you can select to view the daily routes. Use the slide out panel to select layers to toggle them on and off using the checkboxes.
We had no idea we'd love Austin this much and we can't wait until we can go back and eat some more of that amazing BBQ brisket and Tex Mex! 
Checking out Austin, Texas soon? Pin this post for later!