This post may contain affiliate links. If you click one of these links, we may receive a commission. We're grateful for your continued love of this site!
Note: We came here during the 2017-2018 Winter Holiday season so the exact holiday festivities and activities may differ.
Also known locally as "Academy of Sciences," California Academy of Sciences is one of the best science museums in the Bay Area. As a kid coming here for school field trips, one of my favorite exhibits was the dolphins in the aquarium… not great for the dolphins, I now realize, but I was young back then so it seemed very cool at the time. Today, a lot has changed, some major renovations were done between 2005-2008 and they no longer have dolphins.
Fun Fact:

The Academy of Sciences used to have two Pacific White-sided Dolphins; in 1995, after 20 years in the tiny tank, they were sent to Sea World in San Antonio. (

SF Chronicle

)
Our main reason for coming to the museum was for the Pterosaurs: Age of the Dinosaurs temporary exhibit (ending January 7, 2018). Even though I'd been to the museum about a "bajillion" times in my younger days, I had no recollection of their holiday decorations and festivities, I'm a sucker for Christmas decorations so this was the cherry on top!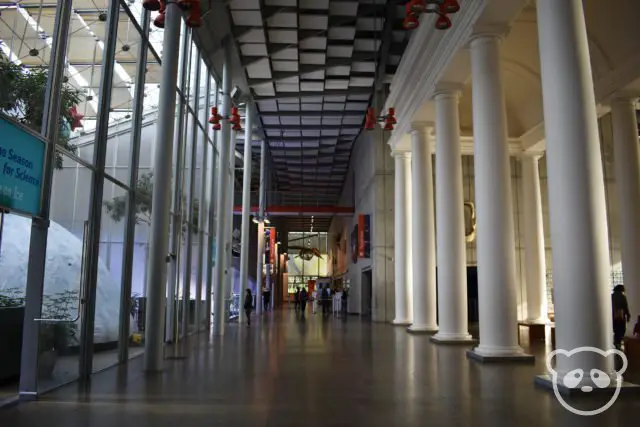 Bear had only been for their Night Life (21+ only) events and some of the exhibits had already closed by the time he got there so he didn't get the full experience and was looking forward to this adventure. The tickets can be a little on the pricey side so we were fortunate enough to score a discount code through his company which saved us a few bucks.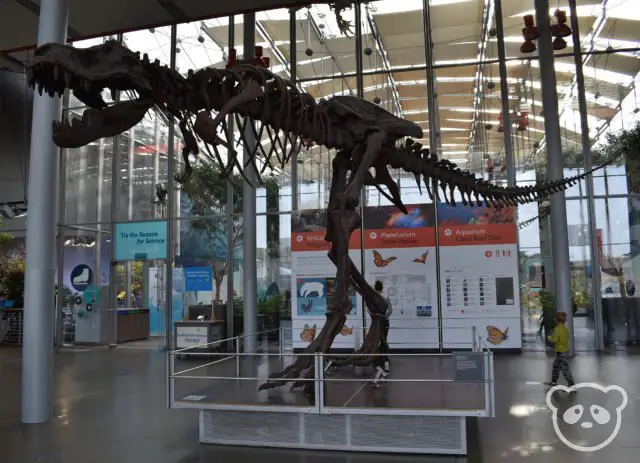 Location & Hours
The museum is located in Golden Gate Park, at 55 Music Concourse Drive, San Francisco, CA 94118. See Google Map below for more detail.
Monday – Saturday: 9:30 am – 5 pm
Sunday: 11 am – 5 pm
Last entry at 4 pm (one hour before closing)
There are additional holiday hours as well as members hours, click here for more detail.
Ticketing Information
General admission pricing can differ as they use a floating ticketing rate depending on popularity, for example weekend admission tends to be more expensive than on weekdays.
For adults, it can sometimes range between $33.50 and $42.00 per person. Students aged 18 and up and seniors aged 65 and up may need to pay between $29.25 and $32.75. For children between the ages of 3 and 17 can expect to pay $29.25 and $32.75 for admission. 
Purchase tickets online here via GetYourGuide. VIP tour tickets of the California Academy of Sciences are also available online. 
If the ticket price is a little steep, they have a total of four free admission days per year as a part of their Quarterly Free Sundays program. Word of caution, be prepared for long lines on the free days.
Note: Groupon sometimes has "deals" for these tickets. However they're actually the same price as purchasing it directly from the Academy of Sciences website. Unless Groupon has an applicable promo code, it's not worth it.  
The cool thing about visiting during the winter months is temporary outdoor rink. It's located to the eastern side of the museum and is set up every year around Thanksgiving. There is an additional fee for skating, $12 per person, but skate rental is included.
We pre-purchased our tickets online (with the Bear's company discount code) and decided to make a day of it so we got arrived early to make sure we could get in line for planetarium show tickets (FREE with general admission on a first-come-first-served basis) since they tend to run out over the course of the day. Surprisingly the day we went the museum wasn't as crowded as we had expected so it didn't seem like they ran out of the tickets, but we're not 100% sure since we got everything we wanted early on in the day.
This brings us to our list of things to see at the California Academy of Sciences!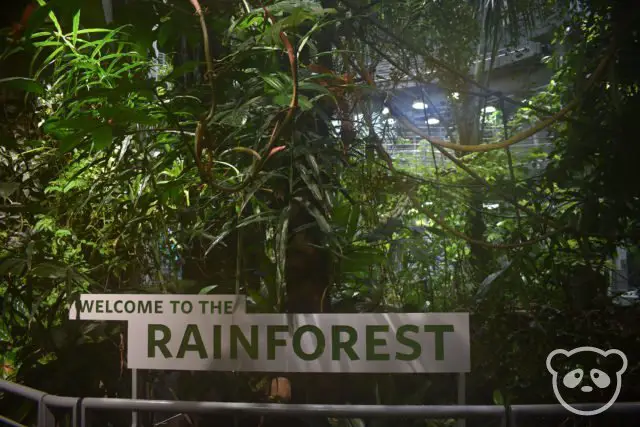 Even though the museum opened at 9:30am the day we went, the rainforest didn't open until 10am, so we hung around and watched them clean the inside of the exhibit and feed the macaws from outside.
Once we got in, it was exactly as I remember, automatic doors that open and close to keep the animals inside a la Jurassic Park. Just kidding, but not really. They do that in order to keep the butterflies from hitchhiking out since there are USDA regulations regarding their escape into the civilian population.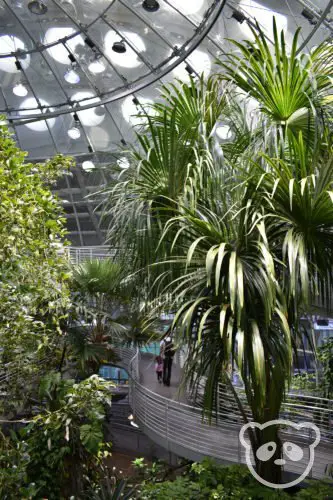 The entire rainforest is 4-stories tall and takes you on a ramp circling up through the exhibits of 1,600+ animals, including 250 butterflies and birds and approximately 100 amphibians and reptiles. There are also a few creepy crawly tanks with various ants and beetles, we skipped those since we're not huge fans of bugs.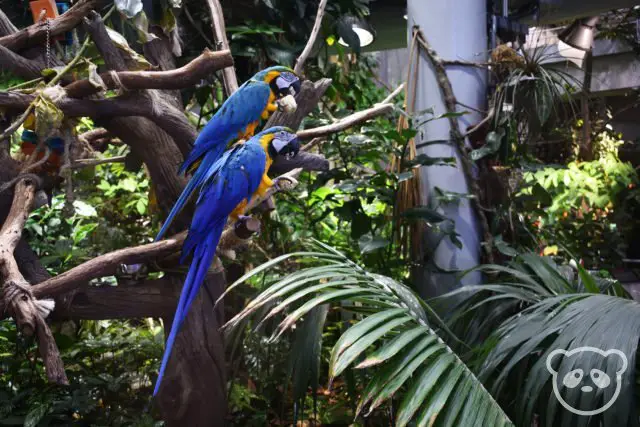 The macaws were my favorite part of the exhibit, I could honestly watch them eat all day! We saw two of them eating corn on the cob and fruits. It was interesting watching them eat the corn, one of them even ate the cob!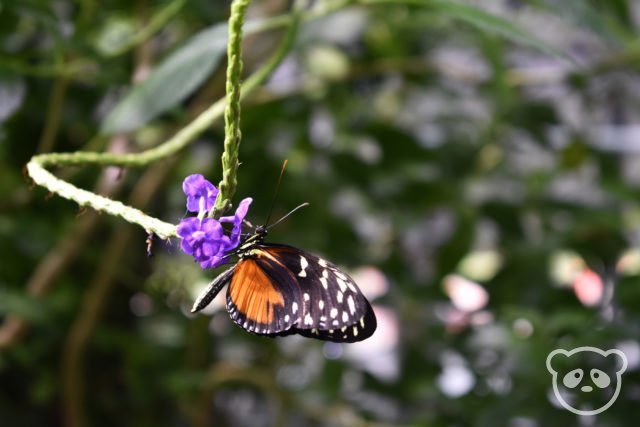 We loved watching the butterflies flutter and flit throughout the exhibit. They mostly hung out on the top floor where there is a skylight and there were feeder plates at the top with fruits for them to eat. It also gave me a chance to practice more macro-photography!
At the end of the exhibit, the elevator at the top takes you directly to the basement where the aquarium and swamp area begins.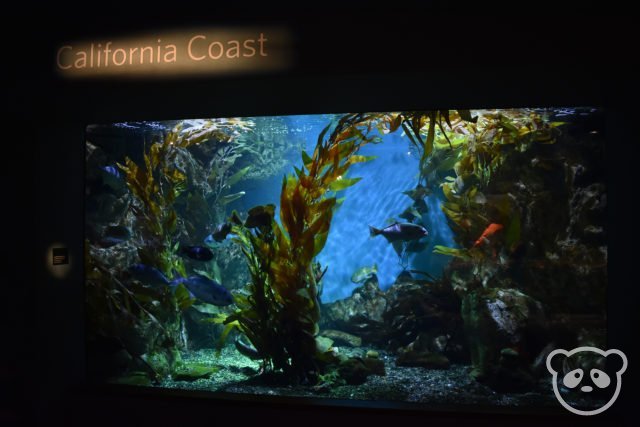 Although my favorite aquarium of all-time is the Monterey Bay Aquarium, this would be the next best thing that's actually within the Bay Area and doesn't require driving 1.5-2hrs south to Monterey.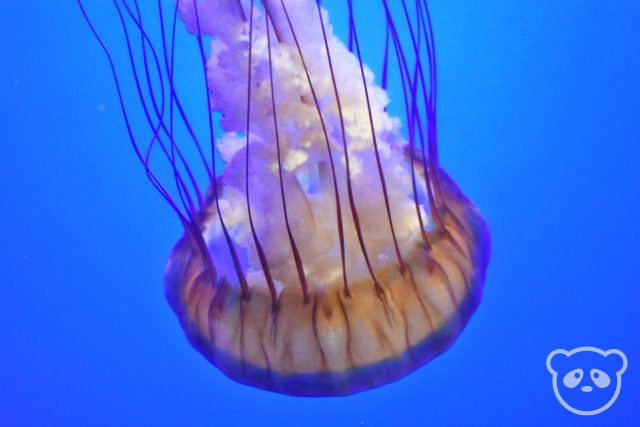 With that said, they've got decent exhibits given the limited space within Golden Gate Park. You can see various tropical fishes and coral in the Philippine Coral Reef as well as a mini version of the Kelp Forest exhibit (at the Monterey Bay Aquarium) in the California Coast. We also loved seeing all of the jellyfishes and pot-bellied seahorses.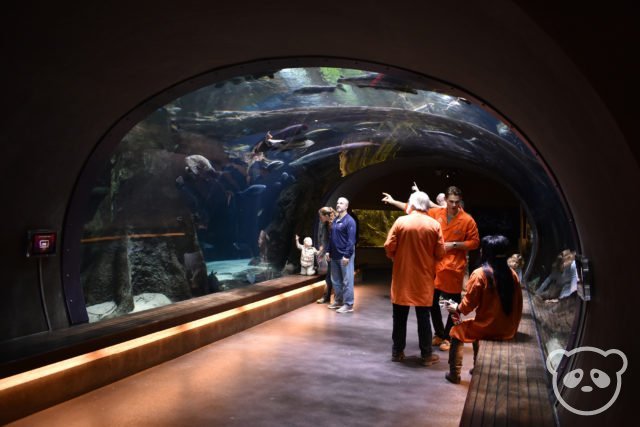 Right outside of the elevator from the rainforest exhibit, there is a underwater tunnel with freshwater fish. It's a great resting spot that's gives you a closer view of the fish since they swim right above you.
There is also a tidepool where children can interact with, basically touch, the starfishes, sea urchins, etc. but after watching Finding Nemo I feel weird about "molesting" the wildlife now so we passed on that.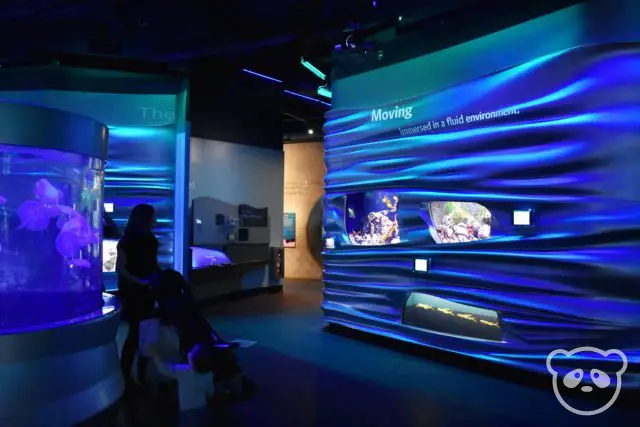 Note that this exhibit overlaps with the rainforest and the swamp due to the flow of the museum's recommended path.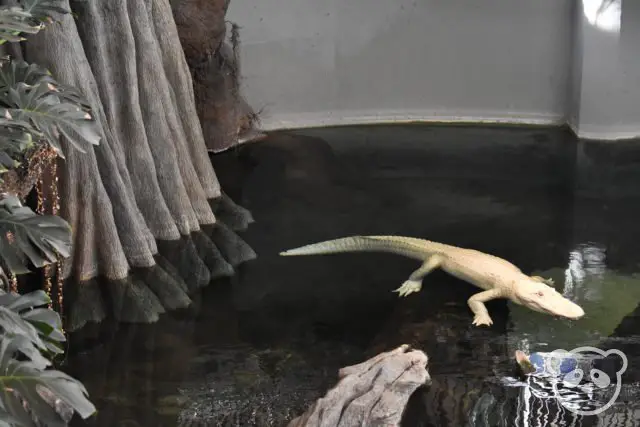 The main draw of this exhibit is definitely the albino American alligator named Claude. It is exactly what you would think of when you think of an albino creature, he's white with pink eyes. Funnily enough, Bear didn't really believe me and he initially thought he was fake so I suggested that we come back later and see if he'd moved. And he did!
Fun Fact:

Albino animals appear white, but in actuality, they just lack pigment. Their eyes look pink because the lack of pigment in the irises allow you to see the blood vessels in the retina. They also tend to have difficulty surviving in the wild as their coloration prevents them from camouflaging.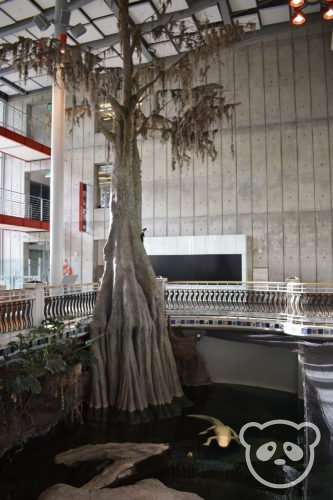 Claude's enclosure is 2-storeys, you can see him from above on the ground floor as well as below from the swamp/aquarium area.
This exhibit consists of a few tanks with an albino alligator, tortoises, alligator gars, snapping turtles, spiders, and some fish.
This exhibit is connected to the aquarium so you'll have to explore the basement of the museum to make sure you don't miss it!
The planetarium dome has stadium style seating with the film projected onto the dome. There are warnings from the staff about potential dizziness and nausea from motion sickness but we were fine. They just tell you to close your eyes and imagine you're back on Earth. 🙂
We went to the 11:15am Dark Universe show; there are multiple showtimes per day, see daily showtimes here. No photos allowed obviously, but it was an interesting show narrated by Neil deGrasse Tyson. We learned a lot about dark matter and dark energy in deep space.
Some of the other shows currently available include Earthquakes and Tour of the Universe.
One of the coolest things about the shows is they will pause the narration in the middle of the show to educate you on recent astronomical discoveries. This applies for all of their shows, not just Dark Universe, so they are more evergreen than the average recorded show since findings in science are constantly changing and updated.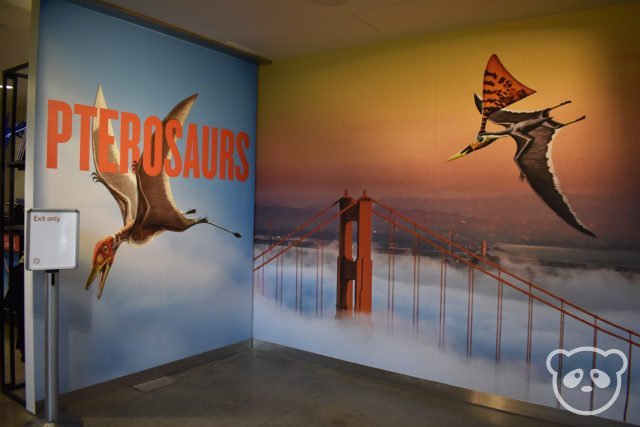 The temporary exhibit we came for! This exhibit ends January 7, 2018 so be sure to make your way there soon!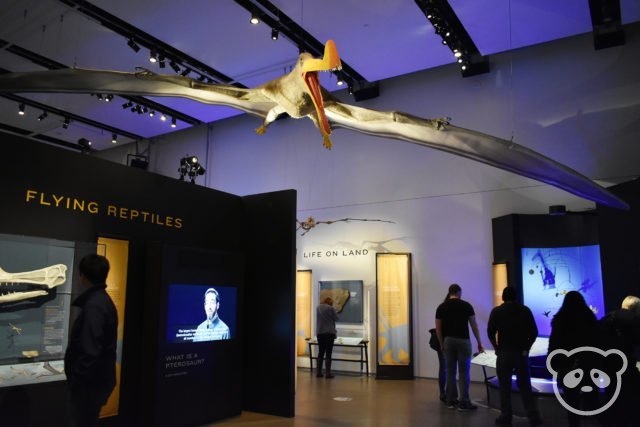 It was originally put on by American Museum of Natural History (AMNH) in New York City (which I also love) so I highly recommend it. Their special exhibits are seriously amazing and this was no exception.
Interested in going to New York for a quick trip, check out 3 day New York city itinerary.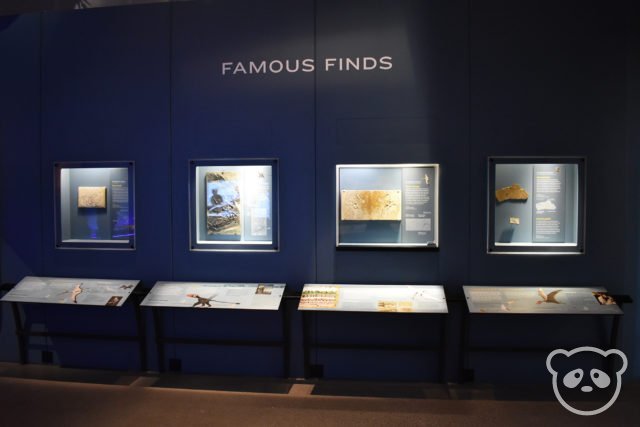 To put it simply, this was the best compilation of pterosaur fossils I've ever seen. I had no idea so many different types of pterosaurs, let alone their fossils, even existed! I also learned that they walked on all fours and their wings folded up, similar to bats.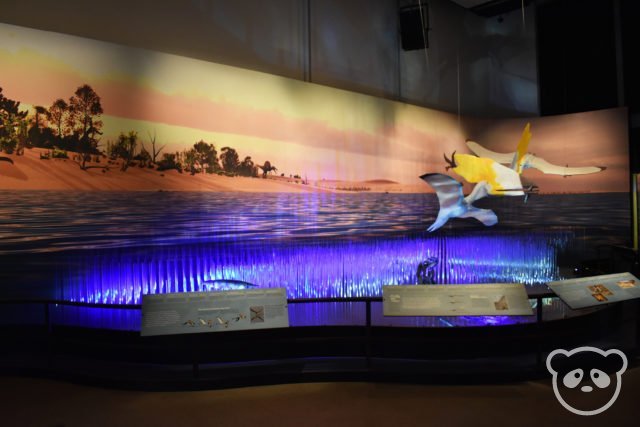 It was cool seeing crystalized fossils of pterosaurs as well as being touching actual fossils of fish that pterosaurs once hunted. You can even see a rare fossilized pterosaur egg!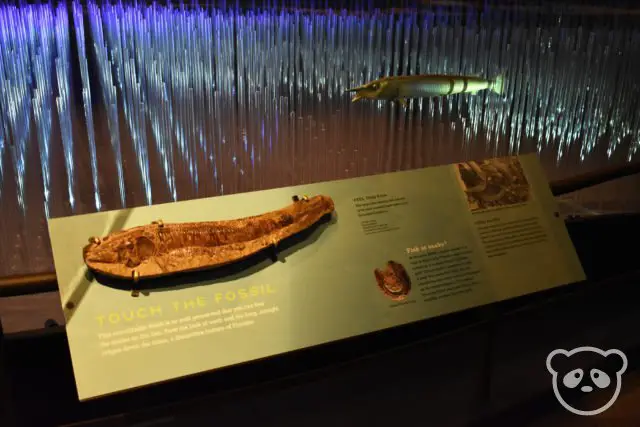 This was super educational and we learned a ton about pterosaurs.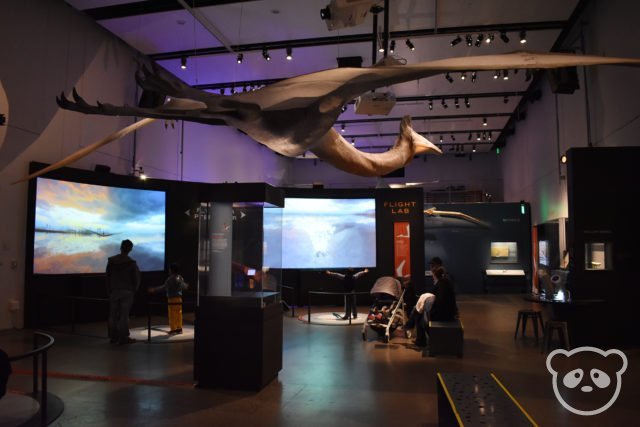 There was also an interactive game where you could test your ability to fly and hunt as a pterosaur. It was very difficult, but also lots of fun. Jimmy and I would have failed as pterosaurs, we would have starved to death.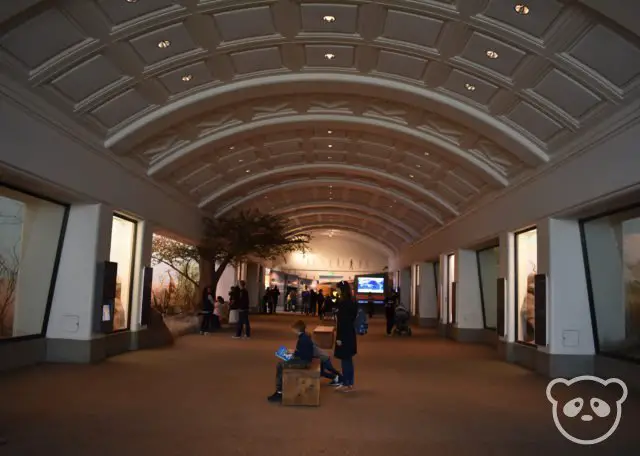 This is part of what I would call the hall of "stuffed animals," it is basically what you would expect to see at any natural history museum. The one exception is in this hall of dead animals, there are also live penguins at the very end. There are penguin feedings daily, check out the times here.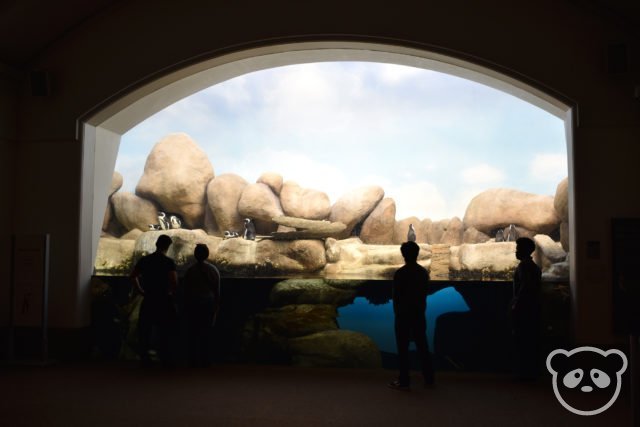 Fun Fact:

William Randolph Hearst, of the Hearst publishing empire and Hearst Castle, captured the stuffed grizzly bear named Monarch, in 1889 as a publicity stunt and model for the California state flag. (

SF Chronicle

)
This room is filled with various African wildlife, from cheetahs and lions to zebras and antelopes.
Don't forget to keep your eyes peeled for the sneaky cat hiding in the tree!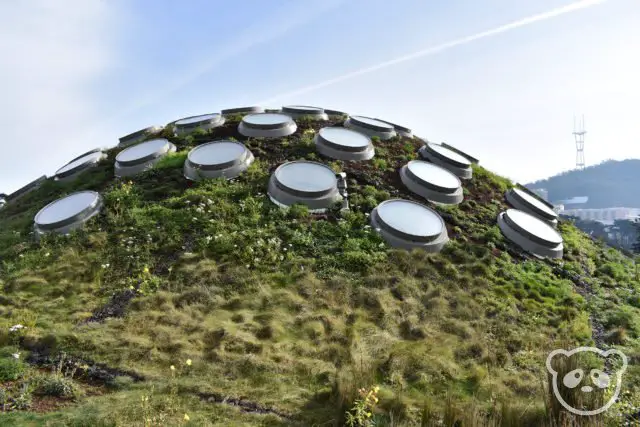 This was one of the interesting and newer additions of the renovation. The roof consists of rolling hills of grass and wildflowers serving as insulation for both heating and cooling to promote greener living.
This exhibit was located within the Earthquakes: Life on a Dynamic Planet area; it was an interesting exhibit because it allows you to feel an earthquake and compare between the 1906 and 1989 Loma Prieta quakes. Being from Michigan, Bear isn't a huge fan of earthquakes, he finds them a bit scary, but I dragged him on the simulator so he can get over his fears. 😉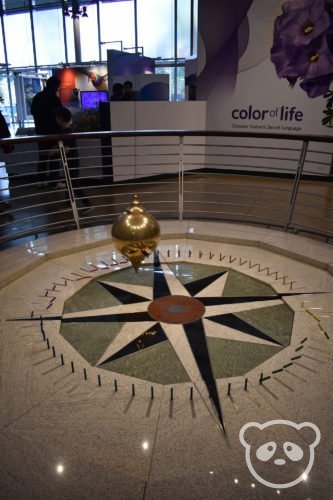 This pendulum was from the original building and dates back to 1951. As it spins, it knocks over a few pegs, proving that the Earth is constantly moving and the force of gravity keeps the pendulum in motion.
Foucault's Pendulum is located within the Kimball Natural History Museum area right by the Earthquakes: Life on a Dynamic Planet exhibit.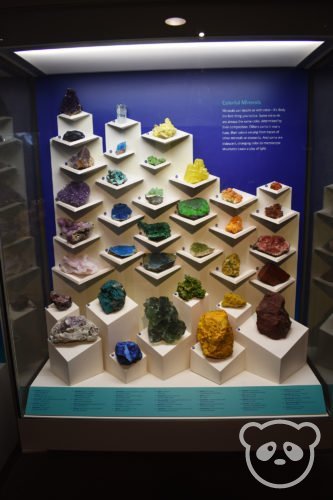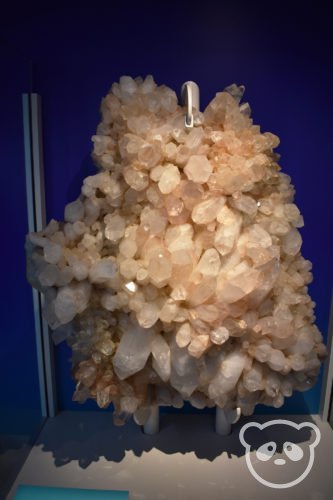 The gems and minerals exhibit was definitely one of the smaller exhibits within the museum. And while I'm not typically a fan of looking at rocks be they colorful or shiny, I loved the fluorescent rocks. The exhibit was interactive, you could press a button to turn the UV light on and see which rocks glowed. It was pretty damn cool!  
The giant shiny quartz (see above right) towards the back wall is also impressive.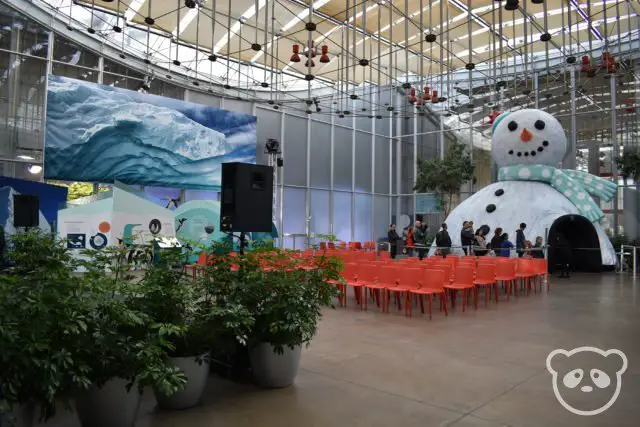 Technically the skating rink falls under this exhibit, but the main pieces of this exhibit are located in the Piazza room located directly behind the T. rex fossil, in front of the entrance (see map).
Because of the holiday nature of this exhibit, it is only available until January 7, 2018.
As I touched on previously, skating is an additional $12 per person including skate rental and is only available at specific times throughout the day, see schedule here. It is located in the East Garden, past the planetarium.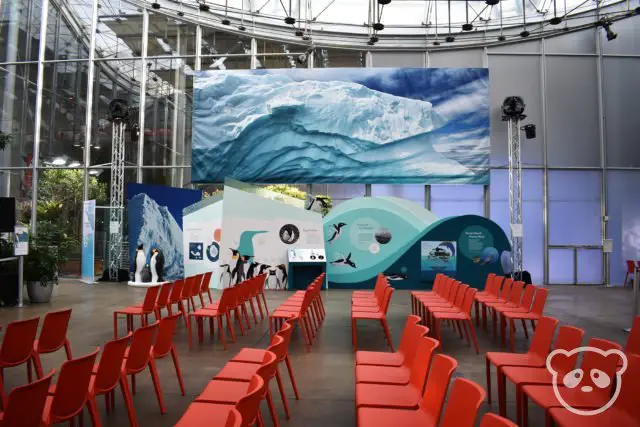 The polar-themed exhibit consists of polar bear and penguin figurines. They serve as great photo props while educating children about global warming and the animals. The snowman theater in the same room (Piazza) is showing a kid-friendly and educational short film on snowflakes.
Location Map
If you're looking for a child-friendly outing or an interactive date, this is the place to be! Even without the temporary exhibits, the Academy of Sciences will keep you entertained for the better part of the day. Plus you'll also get to learn more about the world we live in!
Wanna visit California Academy of Sciences in San Francisco, California? Pin it for later!