This post may contain affiliate links. If you click one of these links, we may receive a commission. We're grateful for your continued love of this site!
This post was updated on May 28, 2018. 
Our A Weekend Away itinerary post this month is our 3 day guide to Hong Kong! This 3 day trip guide is best for first timers visiting the city from a more local perspective. We'll tell you about the best things to see and eat in a long weekend!
I've been meaning to write this post for quite some time since I grew up visiting Hong Kong on trips to visit family as well as living and studying there during college. For that reason, I am super excited to share my favorite weekend spots with you all!
"Who said Hong Kong is too small? In size perhaps but not in it`s soul and personality. Every corner in this city giving you full of surprises, if not every hour but at least every day…."
– Baris Gencel
Note these recommendations are based upon my ideal itinerary for a weekend trip to Hong Kong from a more local point of view so the restaurants may or may not have English menus however I will also be posting a "how-to" Cantonese guide focusing on ordering some of my usual eats in Cantonese soon.
Fun Fact: As it was once a British colony, the official languages of Hong Kong are English and Chinese.
To keep this a short, concise itinerary, the days are going to be organized by region making transportation between the sights and eats as easy as possible. This itinerary would also be a great jumping off point for those of you who may be transiting through Hong Kong so you can pick and choose what you'd wanna see based off of the amount of time you have.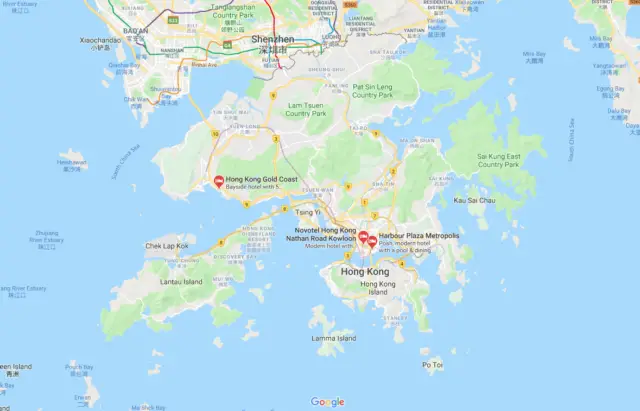 Just a little bit of background information for visiting purposes, Hong Kong consists of four main regions: Hong Kong Island (香港島), Kowloon (九龍), the New Territories (新界), and the Outlying Islands (離島). The Outlying Islands consists of such as Cheung Chau (長洲), Lantau Island (大嶼山), Lamma Island (南丫島), Peng Chau (坪洲), and Tung Ping Chau (東平洲). Note that these regions do differ for political and voting purposes, but you don't really need to know that at this point. 😉
Let's explore Hong Kong in a 3 day long weekend!
DAY 1 – Hong Kong Island (香港島)
Our first day in Hong Kong will start off the most important meal of the day, breakfast!
If you've never had a Hong Kong-style breakfast before you may find the food a bit odd since it's a true mix of Cantonese cuisine with some British flair. This is the type of food I grew up eating so it's my comfort food and is close to my heart. While Bear enjoys eating it, he didn't grow up with it so it's a little different for him, but he would recommend these spots as well!
"Hong Kong is a wonderful, mixed-up town where you've got great food and adventure."
– Anthony Bourdain
With that said, Kam Fung Restaurant (金鳳茶餐廳) is our first stop in Hong Kong. It's frequented by locals who usually know what they want the moment they sit down, so they usually expect you to order promptly however they'll give you additional time if you need it.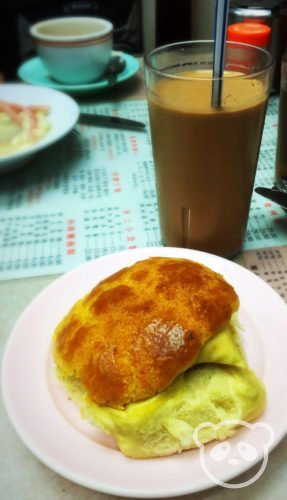 Kam Fung Restaurant (金鳳茶餐廳)
Their must-have is the pineapple bun with butter (菠蘿油); this also happens to be their specialty. In case you're unfamiliar with Hong Kong cuisine, a pineapple bun has nothing to do with the pineapple fruit. It's called a pineapple bun because the sweet, crumbly "shell" on the top of the bun looks similar to the hard skin of a pineapple. In terms of the taste profile, the bun itself is sweet and baked, the shell is sweet and slightly eggy. When you eat them warm, toasted, with a slab of butter from Kam Fung, they are amazing!
I would also recommend getting the cold milk tea (凍奶茶) and their satay beef instant noodle soup (沙嗲牛肉麵). The milk tea is best cold as they don't use ice which keeps the tea flavor from being watered down. I've also seen them grab glasses from the refrigerator so I know it's stored in there. Their satay beef instant noodle soup is excellent, the noodles are cooked al dente, but the star is the satay beef. The satay sauce they use on that is flavorful and very delicious.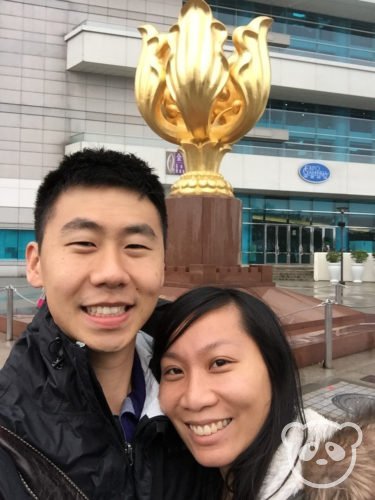 Golden Bauhinia Square (金紫荊廣場)
After breakfast, you can walk it off by heading over to Golden Bauhinia Square (金紫荊廣場). This square was where the handover ceremony of Hong Kong from Great Britain to China took place and there is a commemoration plaque there as well. If you walk further out towards Victoria Harbour from the square, you can get a view of Central and the Tsim Sha Tsui promenade.
From Wanchai (灣仔), take the bus or MTR (subway) to Sheung Wan (上環) to explore more of Sheung Wan the older, more traditional streets.
"Dried Seafood Streets" (海味街)

aka

Des Voeux Road West (德輔道西)
The "Dried Seafood Streets" (海味街) aka Des Voeux Road West (德輔道西) provide an interesting look into the cuisine and culture of the southern Chinese. This is where my grandma used to search for the best dried scallops (瑤柱) for congee (粥). Today, these stores mainly wholesale to restaurants but some still sell smaller amounts of prized dried seafood to local shoppers.
From Sheung Wan, walk through the older streets, such as Queen's Road West (皇后大道西) to get to Hollywood Road (荷李活道) and Man Mo Temple (文武廟).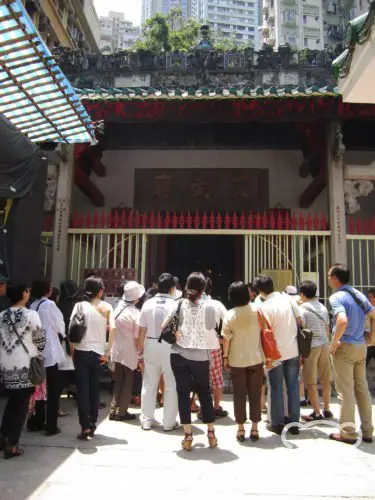 I actually didn't visit this temple until recent visits to Hong Kong since I always thought it was super touristy, it was, but it also has a charm that other temples in Hong Kong don't necessarily have.
Fun Fact: This Man Mo Temple 
(文武廟) 
is one of the oldest temples in Hong Kong and was built in 1847.
The God of Literature (Man Cheong 文昌) is a Taoist deity, known for his filial ways as well as his status as a prominent scholar and heroic warrior. Because of this, students often call on him for help in passing exams, visiting him at his altar and praying for good luck. The God of Martial Arts (Kwan Tai 關帝) was originally a general during the Three Kingdoms Period and was later revered by emperors of China. He is extremely ubiquitous as a deity worshipped in Chinese folk culture, Confucianism, Taoism, and Chinese Buddhism. He was best known for his loyalty, valor, and righteousness.
Fun Fact: In Hong Kong Cantonese culture, both gangster triads and police worship Kwan Tai. It is believed that Kwan Tai will safeguard them in their operations. Every police station in Hong Kong has a Kwan Tai statue should the officers choose to worship him. In those statues, Kwan Tai is depicted with his weapon in his right hand. For the triad statue version, Kwan Tai holds his weapon in his left hand and has a sterner and more threatening facial expression. 
If you've been to other temples in China, this temple might be a lot smaller than you'd expect, but it's small size provides a sense of intimacy and privacy for worshippers. As such, if you see a tour bus group come through, I would wait until they're done to go in as it can get pretty crowded pretty quickly. Entry is also FREE so it's pretty popular.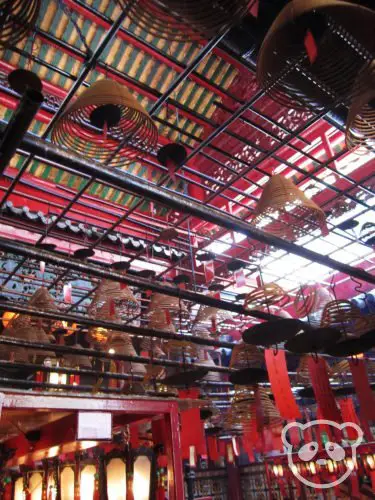 Note that there are hanging curlicues of incense on the ceiling so be wary of ashes coming down as well as incense smoke if you are sensitive to smells.
After visiting the temple, you can walk down the hill to the older streets in Soho (蘇豪) as well as the more "downtown" finance and shopping area of Central.
Soho (蘇豪)
By definition, Soho consists of the area between Central and Sheung Wan south of Hollywood Road (荷李活道). There are shops and restaurants all along Staunton Street (士丹頓街) and Elgin Street (伊利近街) of Soho. 
If you're interested in antiques and vintages items, this is the place to shop! "Antiques Street" lies along Hollywood Road (荷李活道) between the Old Central Police Station (舊中區警署) and Man Mo Temple (文武廟).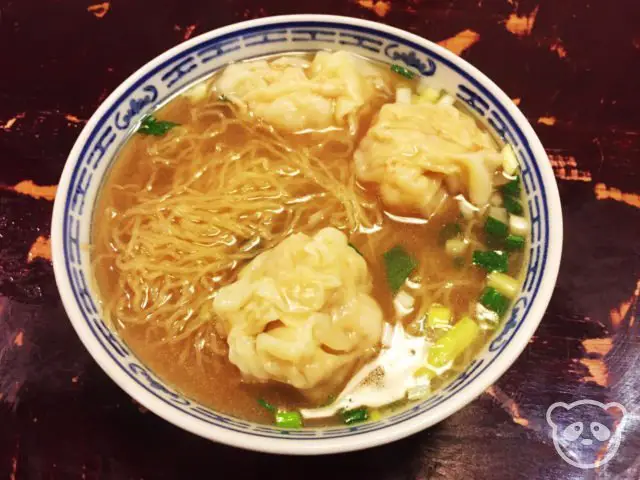 Tsim Chai Kee (沾仔記)
For lunch, check out Tsim Chai Kee (沾仔記) for the best wonton noodle soup in the city. Their wontons are huge, the broth flavorful, and the noodles are perfectly al dente.
You can also opt to get the version with tender beef slices or dace fish cake, or if you're super hungry, all three!
Central (中環)
Walking down to the sea of skyscrapers in Central (中環), you'll be in the hustle and bustle of the city. Majority of the finance-related jobs are located here and as such there are tons of sky-high buildings with fancy restaurants and designer shops.
Some spots worth exploring from an architectural standpoint are the old Supreme Court Building (舊最高法院大樓), HSBC Building (香港滙豐總行大廈), Bank of China Tower (中銀大廈), and the International Finance Center (IFC).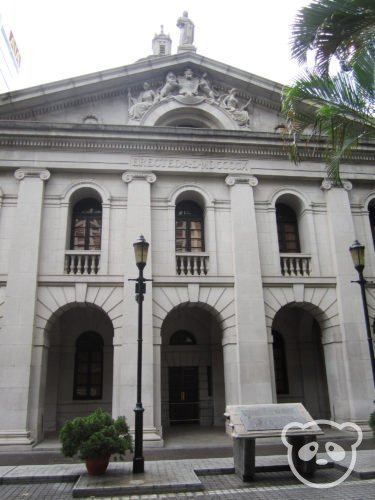 The Court of Final Appeal (終審法院) aka old Supreme Court Building was originally built in 1912 in classical architectural fashion. It was designed by Sir Aston Webb and Ingress Bell, architects of the eastern facade of Buckingham Palace and the Cromwell Street facade of the Victoria and Albert Museum in London.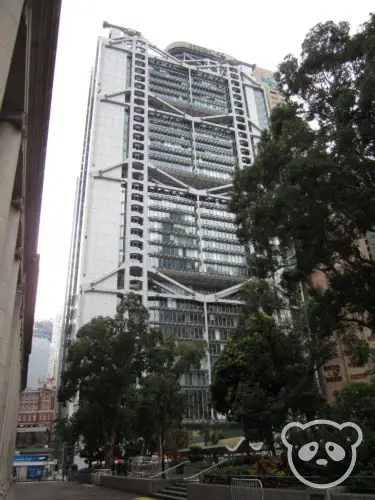 This is the latest rendition of the HSBC Building, which has been built and rebuilt over the last 150 years. The current HSBC Building was built in 1985 and at the time, was the most expensive building in the world, costing HK $5.2 billion (US $668 million) to build. At the front of the building, lay two lucky lions, Stephen (to the left of the building) and Stitt (located on the right).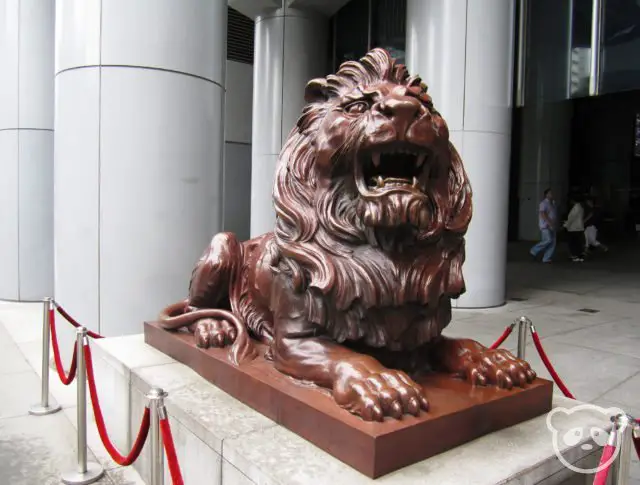 Fun Fact: Stephen the lion has bullet holes on his hindquarters as battle scars from the Japanese occupation. Both lions were also confiscated by the Japanese during the war and sent to Japan to be melted down. Fortunately when WW2 ended, they were found and returned to HSBC in October 1946.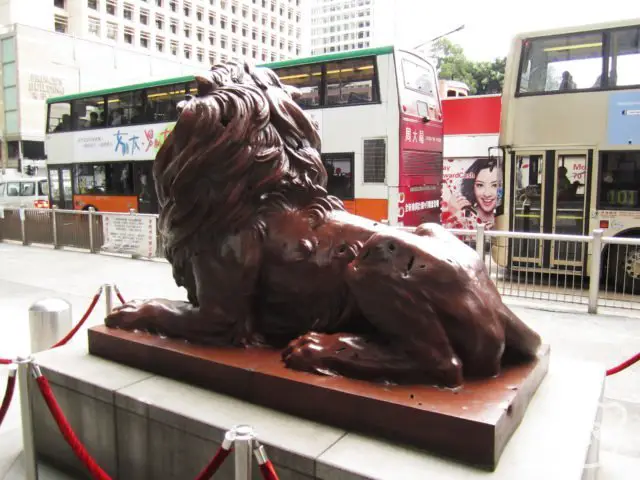 The Bank of China Tower used to have a free viewing area allowing visitors to view the skyline on the 43rd floor, however it is now closed to the public. Still, the unique architecture of the building as well as nearby skyscrapers makes it a worthwhile visit.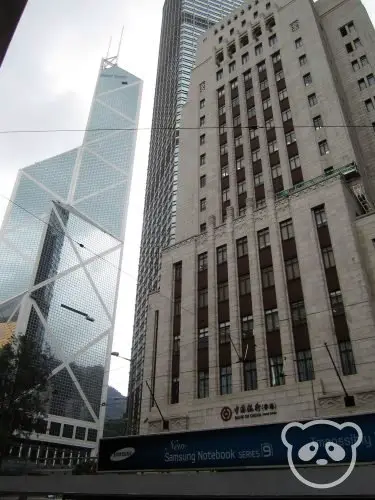 Fun Fact: The Bank of China building was designed by Pritzker Prize-winning architect I.M. Pei and was completed in 1990.
International Finance Center (IFC) is made up of two buildings, IFC1 and IFC2. Though the majority of the buildings consist of offices, there is also a mall inside IFC if you're interested in some shopping.
The Cenotaph (和平紀念碑), also notable, is located at Statue Square by City Hall, is a war memorial dedicated to the fallen soldiers serving in Hong Kong under the two world wars. In the 1970s, engravings were added to commemorate those who perished during the Japanese invasion.
If you're in Hong Kong on a Wednesday night, you should definitely see the horse races at Happy Valley Racecourse (跑馬地). The basic admission for standing room is only HK$10 (~$1.28US) and it's definitely worth it for the experience. People betting on their horses get surprisingly intense – screaming and yelling for their horses while waving their horse betting manuals in the air. Grounds open at 5:15pm and races start around 7:15pm, but they can change depending upon the number of races that day, see schedule for more details. It can also be a little difficult to get there though you can take a taxi or walk from the MTR, for a more historical experience, I'd recommend taking the tram which is the most direct method.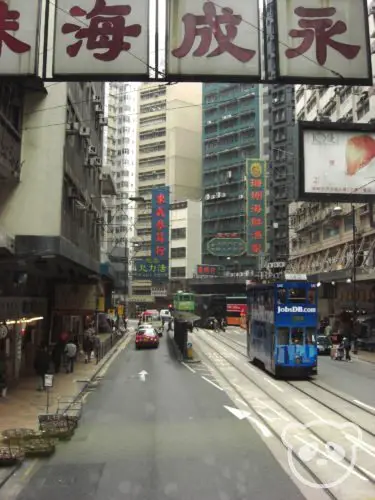 Fun Fact: The tram is known locally and affectionately as the "ding-ding" ("叮叮") due to the bell that is rung to alert pedestrians of an on-coming tram.
Aside from being the best mode of transportation to get to Happy Valley, the tram is also known for being environmentally-friendly, as it is run using electricity rather than gasoline. The lines run only on Hong Kong island in eastern and western bound directions. See map for individual stops.
The tram lines were built in 1908 and are the cheapest, though slowest, form of public transportation in Hong Kong. The current price for adults is HK$2.30 (~$0.29US) per ride, see schedule and pricing for more information.
Brothers Restaurant (兄弟得記燒臘飯店)
Afterwards for dinner, try Brothers Restaurant (兄弟得記燒臘飯店) for delicious Cantonese style BBQ meat rice plates. My favorites were their cha siu and poached chicken rice (see above). It's a casual spot for a quick and simple eats.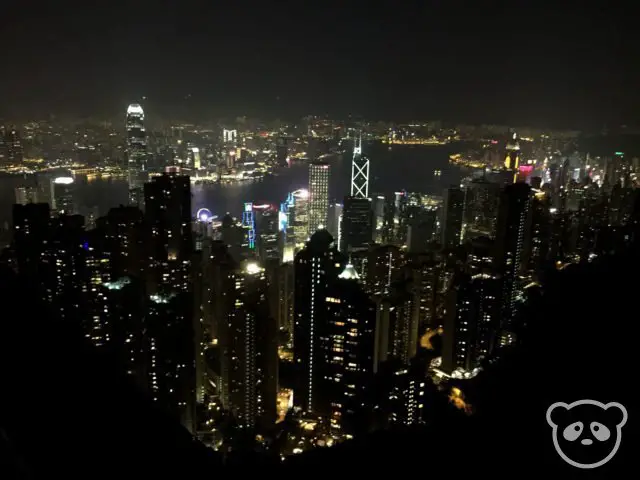 The final sight for the day will be heading over to The Peak (太平山) for an amazing view of the Hong Kong skyline from the top of Victoria Peak. If the lines aren't too long you can try to take The Peak Tram up to the top. However in my experience the lines are now insanely long – I don't think I've been able to take The Peak Tram in about 10 years – so I try to take the bus up from the Central Star Ferry Pier bus stop. It's also possible to take a taxi up from The Peak Tram Station if you find the lines to be too long.
Fun Fact: The Peak Tram opened in May 30, 1888 as the first cable-operated funicular railway in Asia. (

The Peak

)
At the top of The Peak, there is a mall with souvenir shops and restaurants, but the main event is the view. Tickets to the top (Sky Terrace 428) can be purchased on the Ground Floor of Peak Tower, adult admission costs HK $50 (~$6.40US). For updated pricing information, click here.
Fun Fact: The observation deck is 428m above sea level, hence the Sky Terrace 428 name. It is also the highest viewing point in Hong Kong. (

The Peak

)
The view from the Sky Terrace is amazing and it's a great way to end the night.
DAY 2 – Kowloon (九龍)
Start of your day with some breakfast from Tsui Wah Restaurant (翠華餐廳). There are locations all over Kowloon and Hong Kong island so you can go to whichever location works best for you before exploring Kowloon for the day.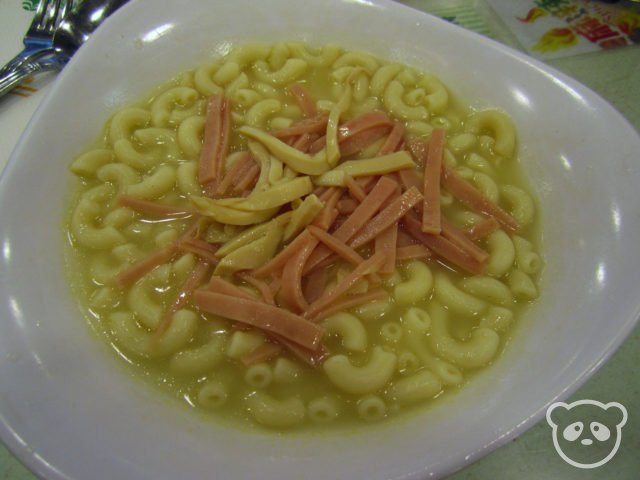 I love the breakfast sets at Tsui Wah, they usually include a main breakfast entree with a side of eggs with toast, and a hot beverage. In particular, I like their ham and squid macaroni in soup, my eggs over easy, and a hot milk tea. Bear loves their satay beef with instant noodle in broth with the same sides and milk tea. We will often also add on their condensed milk bun.
For a better understanding of Hong Kong and its people, check out the Hong Kong Museum of History (香港歷史博物館). 
It's my favorite museum in Hong Kong and a great place to spend the better part of the day. The museum is only HK$20 (~$2.56US) for adults, one of the most affordable sights in the city.
My favorite exhibit is the permanent exhibit, "Hong Kong Story" ("香港故事"), it tells the story of Hong Kong from prehistoric times (400 million years ago) to its return to China in 1997, educating the public about the various residents of Hong Kong, the history as a region full of Chinese immigrants from the mainland, and its unique culture as a melting pot of east meets west.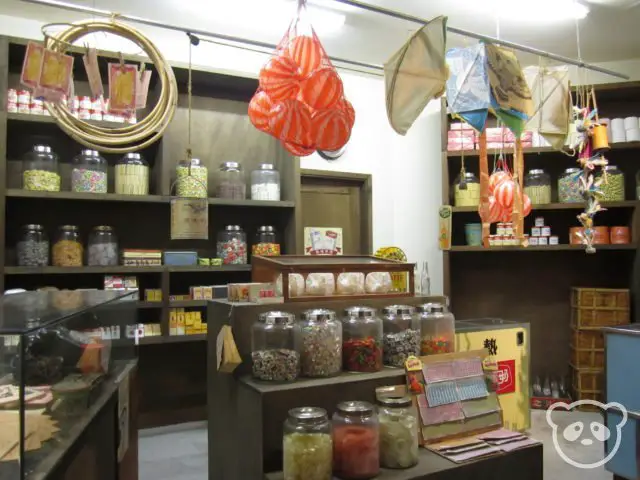 The exhibit has eight parts and spans two floors in the museum. They say that it takes at least 2 hours to go through the exhibit, but they recommend 3 to 4 hours. Personally I spent closer to 4 hours since I enjoyed reading all of the signs and learning about all of the different types of folk cultures as well as seeing experiencing the Hong Kong my parents grew up in. Learn more to plan your visit to the museum here.
Fun Fact: The museum has a life-sized bun tower to depict the folk culture of the island of Cheung Chau. Cheung Chau Island residents organize an annual festival between April and May to keep hungry ghosts residing on the island by building the tower of buns. A race to climb up the tower ensues while collecting as many buns as possible.
I would suggest skipping lunch in favor of having a British-style afternoon tea at The Lobby at The Peninsula. Though this isn't the cheapest lunch option, the experience is priceless as you can enjoy delicious finger sandwiches and scones under the grandeur of The Peninsula. Reservations are not taken, but I would suggest getting in line around 1-1:30pm in order to get in when they open for afternoon tea at 2pm.
Fun Fact: The Peninsula Hong Kong hotel has its own fleet of green colored Rolls-Royces and a private helipad located at the top of its 30-storey tower.
Walk off some of the food by exploring more of Kowloon. K11 offers a great shopping mall that often has exhibitions by local artists as well as sculptures and artistic decor throughout.
Ladies Market (女人街) aka Tung Choi Street (通菜街) and Temple Street (廟街)
Ladies Market (女人街) aka Tung Choi Street (通菜街) and Temple Street (廟街) are also great street markets to take a walk through. Note that these are somewhat touristy areas and I haven't actually made a purchase there in years. Temple Street is a pretty long street though and will provide you with a great way of getting to Mong Kok and closer to dinner.
Mong Kok (旺角) is one of the busiest areas in Hong Kong and is famous for being busy and crowded. However one of my favorite streets to visit is the Mong Kok Pedestrian Street (旺角行人專用區) aka Sai Yeung Choi Street (西洋菜街). I love feeling the hustle and bustle here while enjoying the street performances.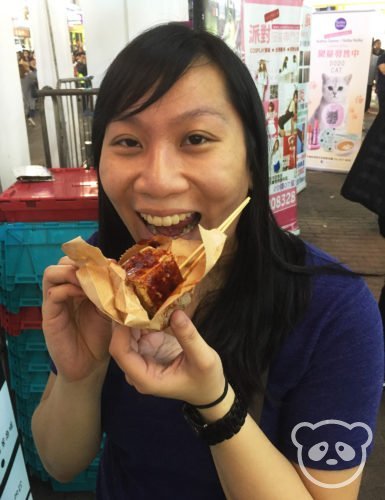 For dinner, I would recommend getting some street stall food in Mong Kok. My favorites include stinky tofu and cold noodles. For specific stall recommendations within Mong Kok, check out my Top 20: Local Eats in HK post. 
Tsim Sha Tsui Promenade (尖沙咀海濱)
Afterwards, check out the Tsim Sha Tsui Promenade (尖沙咀海濱) for an amazing view of the Hong Kong Island skyline across Victoria Harbour. At 8pm nightly, there is a light show called "A Symphony of Lights" with synchronized music and English/Chinese narration. The former Kowloon-Canton Railway Station Clock Tower is also located on this promenade and is a beautiful piece of British colonial architecture.
DAY 3  – Lantau Island (大嶼山)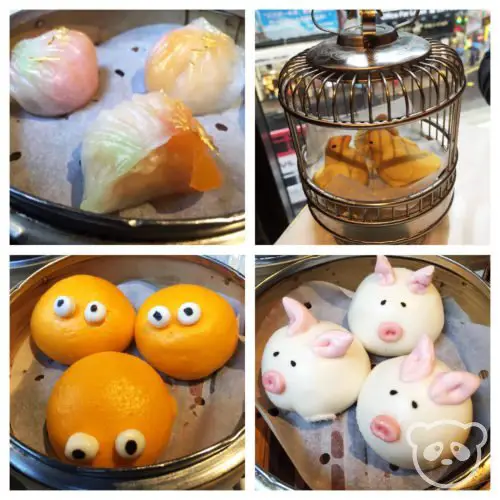 Grab some dim sum for breakfast at Yum Cha (飲茶), possibly the cutest dim sum you will ever see, but also some of the most delicious! There are Yum Cha locations on Hong Kong Island and in Kowloon so you should go wherever makes the most sense for you based upon where you're staying.
For more delicious eats, check out our list of favorite places to eat in Hong Kong.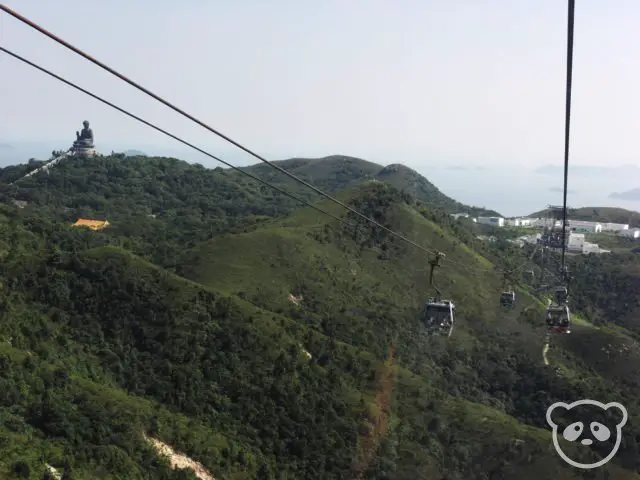 Take the Tsing Yi (青衣) MTR line out to Tung Chung (東涌). If the weather is clear, I suggest taking Ngong Ping 360 to the Tian Tan Buddha/Big Buddha at Ngong Ping (昂坪); however if it is overcast or foggy, you won't be able to see much of a view so in that situation I would advise taking the bus to Ngong Ping.
Fun Fact: The Ngong Ping 360 cable car system is 5.7km (~3.5mi) long and provides visitors to Lantau Island with a 25min trip to Ngong Ping. This trip would typically be a 1hr long by bus.
The one-way ticket from Tung Chung to Ngong Ping is HK$145 (~US$18.56)
PRO TIP: We usually decide if we're going to take the Ngong Ping 360 when we get to Tung Chung, just to make sure the weather is actually clear. And we buy our discounted tickets on the spot, using the
Klook app, check it out here
. You and I both will receive a Klook discount credit if you sign up using my link.
Tian Tan Buddha/Big Buddha (天壇大佛)
Climb up the 268 steps to the Tian Tan Buddha/Big Buddha (天壇大佛) for a great photo op! Surrounding the Buddha statue, there are also smaller bronze statues praising and making offerings to the Big Buddha.  
Fun Fact: The Buddha statue is 34m (112 ft) tall and weighs 250 tons. It can also be seen on a clear day from Macau.
When the skies are clear, you can also see the Big Buddha from the cable cars of Ngong Ping 360.
After climbing the steps up to the top of the Buddha, you can explore the surrounding areas, including the Wisdom Path (昂坪奇趣徑), a pathway full of wooden monuments inscribed with the Heart Sutra prayer.
Sometimes the oxen will come up and say, "Hi!" Though I have never pet them myself, I often see tourists petting them and giving them food. They will also sometimes block the roads when crossing so if your bus ever stops in the middle of the road in Lantau Island, now you know why. 😉
While Ngong Ping Village (昂坪市集) isn't my favorite since it's pretty touristy, it definitely offers a great place to use the restrooms and if you need souvenirs it's a good shopping spot. There are also places for refreshments if you're feeling a bit peckish. We like to get dessert at Honeymoon Desserts.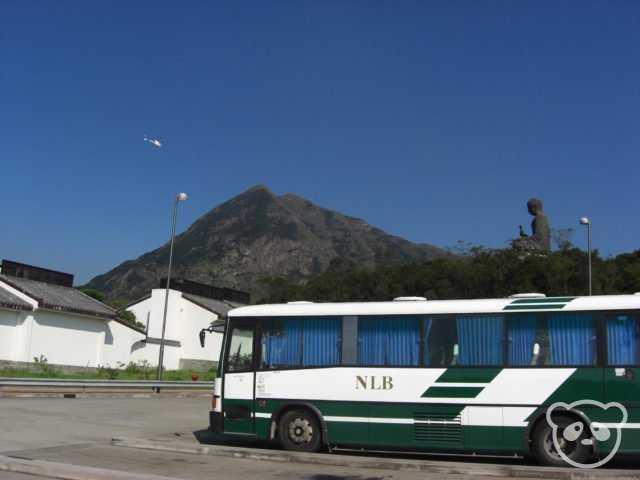 Tai O (大澳)
After exploring Ngong Ping, take the bus (No. 21) to Tai O. Tai O (大澳) was originally a fishing village built from stilthouses aka pang uk (棚屋) by the Tanka (蜑家) aka boat people (水上人). They are also well-known for their shrimp paste so if you love that definitely grab a bottle here.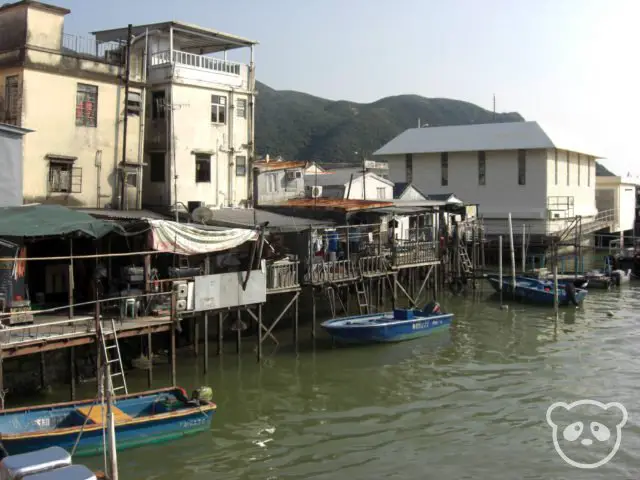 Today, Tai O is more of a touristy town and even though it's lost a lot of its local charm, it's still worth visiting. There are stalls along the main street where you can get some street snacks for lunch. I recommend the grilled seafood stalls, they're very delicious!
One of my other favorites is the grandpa who sells charcoal grilled eggettes (or puff waffles or egg waffles, whatever you wanna call it). I've been visiting him for the past 10 years, on every trip I make to Hong Kong. He's gotten much more popular over the years (the line goes down the street) but he still makes it the exact same way – using a metal egg waffle pan over a "chimney" filled with charcoal. Though the batter is more cakey than I usually prefer, I love the charcoal flavor and the unique crispy texture of his eggettes. They're just not the same as eggettes from an electric eggette iron.  
Locals will also offer to take tourists out on boats to see the Chinese white dolphins. I've personally never been on those tours, but let me know in the comments if you have and tell me about your experience!
From Tai O, you'll take the bus back to Tung Chung. In Tung Chung there is a huge outlet mall (called Citygate Outlets) by the MTR station, however I've never found the stuff to be all that cheap so I usually just head back to Hong Kong afterwards.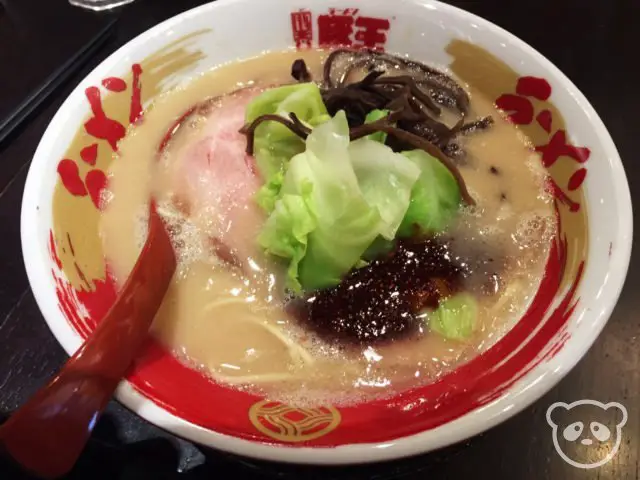 Butao Ramen (豚王) is one of my favorite ramen spots in the city, they have 4 main soup bases all made from tonkotsu broth but with different flavors. There is an original, spicy, pesto, and black sesame, all of which are super delicious. I love that the broths are customizable to your tastes; you just circle what you want on the menu and you can pick the sodium and oil levels. And, they even have English and Chinese versions of the menu!
If you're still up for it after a day of exploring Lantau, you can head to Lan Kwai Fong (蘭桂坊), home of clubbing and nightlife in Hong Kong. It's gotten a lot more pricey over the years so I no longer go out to LKF. However it can be a fun area if you're interested in grabbing drinks and hanging out with expats. Soho is has a bunch of bars and restaurants that get bustling with nightlife, but again expect mostly expats and foreigners. 
List of the Sights
Note: All addresses will be within the region listed per day unless otherwise stated
(i.e. for Day 1 all sights will be located on Hong Kong Island).
DAY 1 – Hong Kong Island (香港島)
Kam Fung Restaurant 金鳳茶餐廳
41 Spring Garden Ln, G/F, Wan Chai
灣仔春園街41號春園大廈地下

Golden Bauhinia Square 金紫荊廣場
1 Expo Dr, Wan Chai
灣仔博覽道1號

"Dried Seafood Street" "海味街"
Des Voeux Road West (德輔道西), Sheung Wan (上環)
Man Mo Temple 文武廟
124-126 Hollywood Road, Sheung Wan
上環荷李活道124-126號

Soho 蘇豪


Staunton Street (

士丹頓街

) & Elgin Street (伊利近街), Central (中環)

Tsim Chai Kee Restaurant 沾仔記
98 Wellington St, G/F, Central
中環威靈頓街98號地舖

Court of Final Appeal 終審法院 aka Old Supreme Court Building 舊最高法院大樓
8 Jackson Rd, Central
中環昃臣道8號

HSBC Main Building 香港滙豐總行大廈
1 Queen's Road Central, Central
中環皇后大道中1號

Bank of China Tower 中銀大廈
1 Garden Rd, Central
中環花園道1號

International Finance Center (IFC) Mall
8 Finance Dr, Central
中環金融街8號

The Cenotaph 和平紀念碑
4 Jackson Rd, Central


中環昃臣道4號

Happy Valley Racecourse 跑馬地
Wong Nai Chung Rd, Happy Valley
跑馬地黃泥涌道

Brothers Restaurant 兄弟得記燒臘飯店
14 Matheson St, Causeway Bay
銅鑼灣勿地臣街14號地下
The Peak 太平山
1 Lugard Road, The Peak
山頂盧吉道

DAY 2 – Kowloon (九龍)
Tsui Wah Restaurant 翠華餐廳
2 Carnarvon Road, G/F, Tsim Sha Tsui
尖沙咀加拿分道2號地下

Hong Kong Museum of History 香港歷史博物館
100 Chatham Road South, Tsim Sha Tsui


尖沙咀

漆咸道南100

號

The Lobby at The Peninsula
The Peninsula, Salisbury Road, Tsim Sha Tsui
尖沙咀梳士巴利道半島酒店

K11
18 Hanoi Road, Tsim Sha Tsui
尖沙咀河內道18號

Ladies Market 女人街
Tung Choi Street (通菜街), Mong Kok (旺角)

Temple Street 廟街
Temple Street (廟街), Mong Kok (旺角)

Mong Kok Pedestrian Street 旺角行人專用區
Sai Yeung Choi Street (西洋菜街), Mong Kok (旺角)

Tsim Sha Tsui Promenade 尖沙咀海濱
22.293263 N, 114.171211 E

DAY 3  – Lantau Island (大嶼山)
Yum Cha 飲茶
2/F, Nan Fung Place, 173 Des Voeux Road Central, Central, Hong Kong
中環德輔道中173號南豐大廈2樓1-2號舖
Head to Tung Chung 

(東涌)

Ngong Ping 360 (weather-permitting)
Tung Chung 

(東涌) – 

Walk for approximately five minutes from Tung Chung MTR Station to the Tung Chung Cable Car Terminal
22.290319 N, 113.938404 E
Tian Tan Buddha/Big Buddha 天壇大佛
Ngong Ping Rd
昂坪路
22.253989 N, 113.904984 E

Wisdom Path 昂坪奇趣徑
Ngong Ping Rd


昂坪路


22.2526364 N,113.9121992 E
Ngong Ping Village 昂坪市集
111 Ngong Ping Rd
昂平路111號

Tai O 大澳
Tai O Bus Stop: 22.2540012 N,113.861891 E
Head back to Central, Hong Kong

Butao Ramen 豚王
69 Wellington St, Central
中環威靈頓街69號地舖

Lan Kwai Fong 蘭桂坊
Lan Kwai Fong (蘭桂坊) & D'Aguilar Street (德己立街), Central (中環)
Map of the Sights
This map includes a list of all of the Sights to See, Restaurants as well as the routes by day (i.e. Day 1, Day 2, and Day 3) within specified layers.
By default, only the Sights to See and Restaurants are shown but you can select to view the daily routes. Use the slide out panel to select layers to toggle them on and off using the checkboxes.
That concludes our long weekend itinerary for Hong Kong. Surprisingly for such a small destination there is much more you can do. Hope you enjoy your weekend away in Hong Kong! Feel free to share your experiences in the comments below.
If you're interested in more sightseeing in Hong Kong, check out this list of Top 15 Spots in Hong Kong.
Loved our guide to all things sightseeing and eating in 3 days in Hong Kong itinerary? Pin it for later!