This post may contain affiliate links. If you click one of these links, we may receive a commission. We're grateful for your continued love of this site!
This post was last updated on July 22, 2018.
Copenhagen is our 2 day destination for March's A Weekend Away guide! This 2 day itinerary includes the best sights to see, places to eat, and things to do. All of these spots are perfect for a weekend trip to Copenhagen. 
What do you think of when you think of Copenhagen?
Perhaps Hans Christian Andersen, The Little Mermaid statue, Tivoli Gardens, and the 3 Michelin-starred Noma?
We also automatically thought of danishes, but we figured to Danes those are just regular pastries, lol.
Unfortunately due to Jimmy's work schedule we were only able to visit for 2 days as a weekend trip, so this post is a little shorter than usual. We could've used another day or two to see a few more things, but we'll take what we can get. 😉
So for this post, we've also included a list of spots we wish we could've seen – If Only We Had More Time…
If Copenhagen were a person, that person would be generous, beautiful, elderly, but with a flair. A human being that has certain propensities for quarreling, filled with imagination and with appetite for the new and with respect for the old – somebody who takes good care of things and of people.
– Connie Nielsen
For a little bit of background information, we flew in late on a Friday night and started our weekend on Saturday morning. As always, our weekend guide for Copenhagen is fast-paced and hits many main sights and foodie stops all in 2 days. 
Here is our perfect 2 day Copenhagen weekend itinerary with recommendations on where to stay, eat, & sightsee! 
Where to Stay in Copenhagen, Denmark
Scandinavia can be super expensive! So aside from cheap flights, a budget hotel was also of utmost importance to us. After some deliberation between the two of us, we settled on the Cabinn City Hotel. It's location was super convenient, only a 5 minute walk from Tivoli and Copenhagen Central (H) Station.
The standard room at Cabinn City Hotel had 2 twin beds placed next to each other as well as an additional bunk bed on top. Nevertheless, it was still super comfortable and even though the bed was located next to the window, it wasn't chilly at all. Like most budget hotels, they provided shampoo and soap in a dispenser, so no travel-sized toiletries here! The decor was modern and they made their beds the Scandinavian way. In case you didn't know what that means, they give you 2 twin comforters to go along with your either 2 twin beds or 1 double bed. This is very common in Scandinavia, we also saw this in Iceland.
Cabinn City Hotel was perfect for a quick weekend trip, book your stay now! 
DAY 1
We arrived closed to midnight the night before and the Copenhagen Tourist Office was already closed. We ended up getting our Copenhagen City Card after they opened in the morning. There's also a pickup location inside the train station right by our hotel (Copenhagen H station), it was very convenient and easy to pick up.
PRO TIP: All of the sights we went to were included with the cost of the Copenhagen card so it was a great way to save money!
We started off our day with a quick breakfast at Lagkagehuset.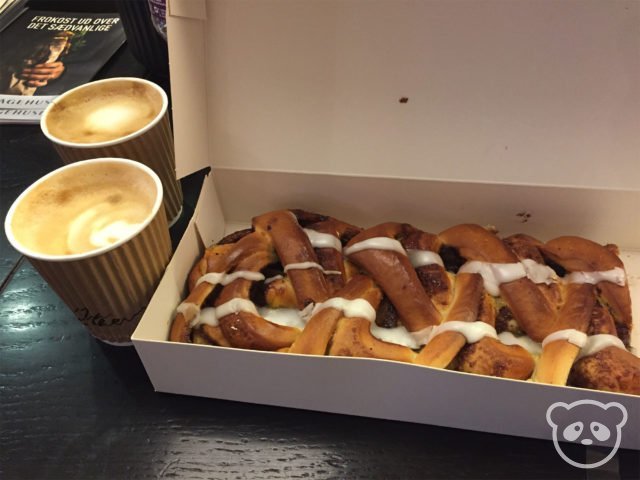 We were fortunate enough for it to be located inside Copenhagen H station as well so it was easy for us to grab and go. They are well-known for their baked goods and pastries. Knowing this, we got their gigantic kringle – it was about 2 feet long – and Bear and I shared it and we still couldn't finish it!
Rundetaarn (Round Tower) is a 17th century cylindrical tower built as an astronomical observatory in central Copenhagen. The top of the tower also provides one of the best bird's eye views of Copenhagen.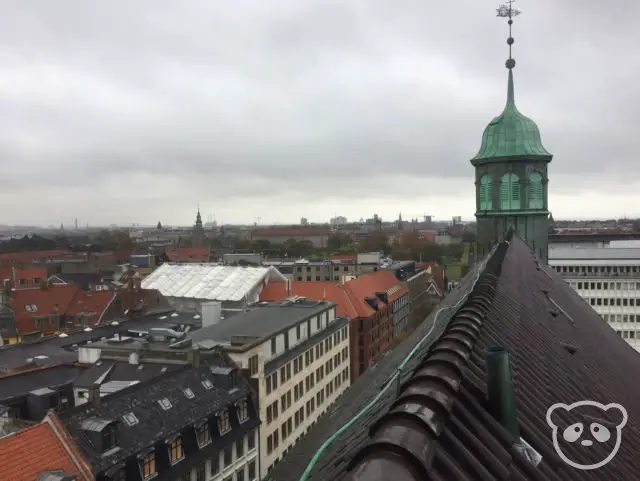 Fun Fact:

Rundetaarn is the oldest functional astronomical observatory in Europe.
Rundetaarn was built by Christian IV between 1637 and 1642. It was the first part of the Trinitatis Complex, which combined the Trinitatis Church, (at one point) the Copenhagen University Library and an observatory in a single building.
Fun Fact:

Rundetaarn is also known for its equestrian staircase that allows horses to easily navigate up to the top of the tower.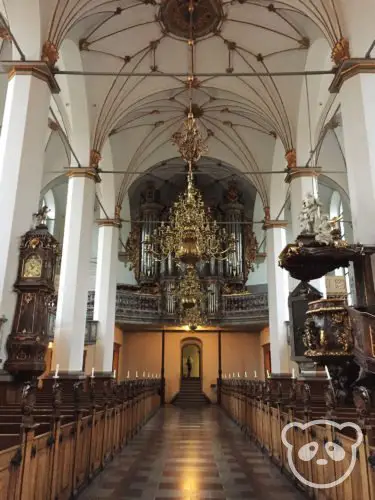 Trinitatis Church
We actually didn't know about the Trinitatis Church before we visited Rundetaarn, but we caught some glimpses of it while we were there so we decided to make it a last-minute addition to our itinerary!
Even though you can see the inside of the church from inside Rundetaarn, there isn't a public entrance to the church from Rundetaarn. To enter, you have to walk out of Rundetaarn around the side of the church building to get to the Trinitatis Church.
Fun Fact:

The original church was built from Dutch brick imported from the Netherlands.
The interior of the church is very simple and practical, without much adornment, like many of the other churches in Scandinavia. But we got a chance to listen to the organ play which was really cool.
For lunch, we headed over to Restaurant Schønnemann for some smørrebrød. Initially when we were researching Copenhagen, we knew we wanted to try some Danish smørrebrød (open-faced sandwiches), then we found this place and we HAD to try it. It's one of the oldest and most well-known smørrebrød restaurants!  
Fun Fact:

Restaurant Schønnemann has been open since 1877 serving good eats and beer ever since.
This was SO good. It's a little pricey if you get their 4 course set lunch menu (also known as the "Lunch Plate"), but trust me, it's so worth it! Their menu is seasonal and what we got might be different, but we had 2 types of pickled herring (curried and tomato), fried plaice fillet, gravad lax, chicken salad, veal liver pate, and pork tenderloin – all served with pieces of bread, butter, and accompanying condiments. For dessert, we also had a delicious almond cake and a choice of tea or coffee.
Note that you will need to put your smørrebrød together yourself, which is nice because you can omit certain things you don't like as much or alter the bread to protein ratio to your liking.
While we were dining, we also noticed that we were total noobs at putting these smørrebrød together, ours were super messy and ugly looking so I didn't take photos of those for you. But if you get a chance to eat there, watch other Danes put them together. They make them so beautifully! Probably because they've been doing it their entire lives… But that's okay, it'll all look the same in your stomach, hehe.
Restaurant Schønnemann is a lunch-only restaurant, they are only open at certain times during the day. Seating is limited so be sure to make a reservation in advance!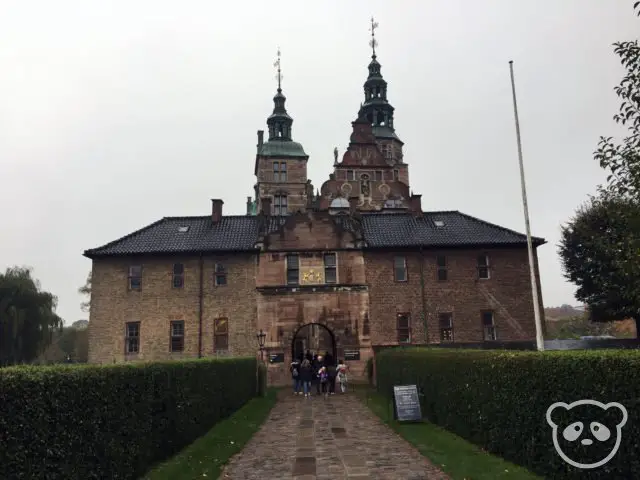 With our stomachs stuffed to the brim, we ventured over to Rosenborg Slot to explore the summer residence of Christian IV, the King of Denmark and Norway from 1588 to 1648.
Like many of the other Danish castles, this one was also only lived in for certain periods of time. It was only used as a royal residence continuously until 1710; afterwards, it was only used as a temporary residence twice, once in 1794 when Christiansborg Palace burned down and again in 1801 when the British attacked Copenhagen.
Rosenborg Slot is home to the Crown Jewels as well as the coronation chair of the king and the throne of the queens so be sure to check those out! And the cool thing? Unlike the Crown Jewels in the U.K., you can actually take photos of these ones! Unfortunately we had a blogger's worst nightmare and lost all of our pix of the Crown Jewels, but trust us, you CAN take pix of them!
Fun Fact:

The Crown Jewels may only be used by the Queen and only within the country's borders. They are typically used a couple of times a year, at the New Year Reception, and otherwise usually during state visits, special family events, and similar occasions.
The gardens of the Rosenborg Slot are also beautiful as well so make sure you allow for enough time to see those, too.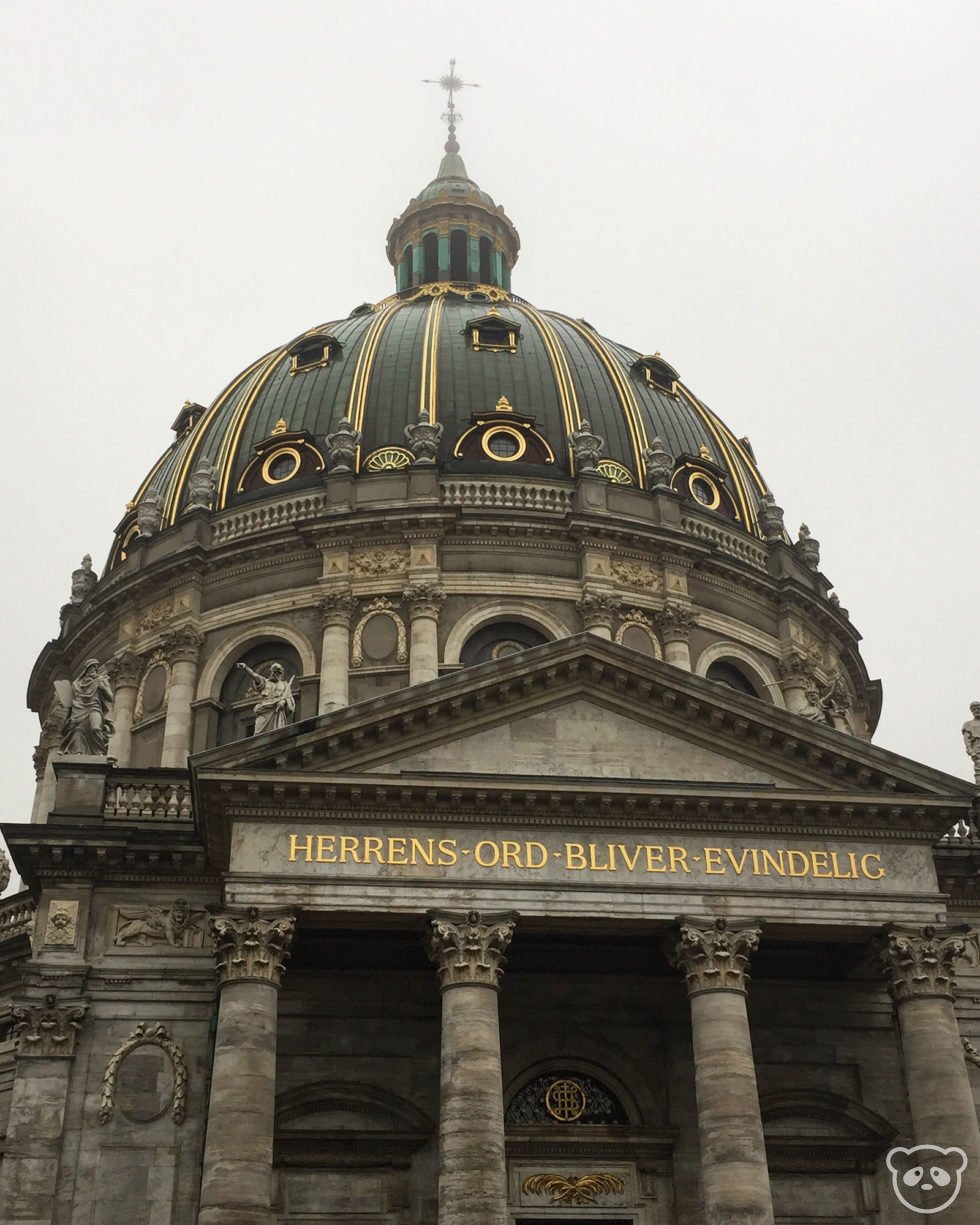 Located a stone's throw away from Rosenborg Slot is Frederik's Church. The church was built between 1749 and 1894, it has the largest dome in Scandinavia.
Fun Fact:

It is also known as "The Marble Church" – in the original plans, it was supposed to be built entirely of marble. It proved to be too expensive and the church was constructed of Norwegian marble, Danish Faxe marble, and limestone.
Unfortunately, the church was closed to prepare for a special event. We had to settle for only seeing the exterior of the building instead. At least it was still beautiful on the outside!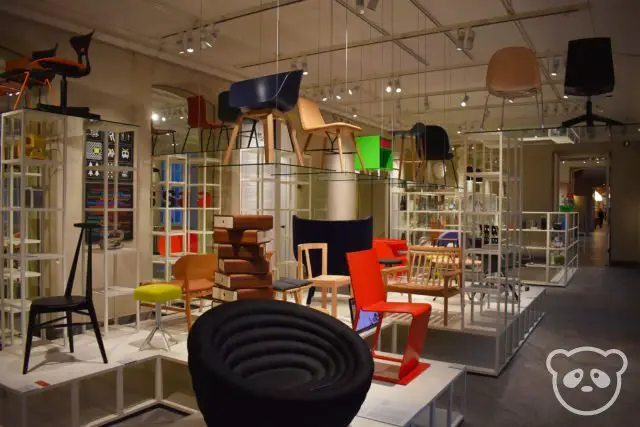 Next, we visited the Design Museum Denmark, home to some of the most beautifully designed items ever!
We got to check out one of the exhibits on Japanese art as well as the temporary one on Erik Mortensen's Haute Couture.
One of my favorite exhibits, that also happens to be a permanent exhibit, is The Danish Chair – An International Affair. I loved seeing all the different types of Danish designed chairs. They show a variety of chairs in a single hallway with differing constructions and designs. All of them are super beautiful and aesthetically pleasing, ranging from super modern bent plywood chairs, to a more traditional wood frame with a woven seat.
If you're an Art Nouveau fan, the museum has a couple of rooms devoted solely to the style. I loved seeing all the organic movements of the pieces in real life.
For dinner, we headed over to Copenhagen Street Food, one of the most famous food markets! There were so many different types of cuisines there! We loved trying the hot dogs as well as the creme brulee donut. But we also indulged in more smørrebrød. When we went to Copenhagen Street Food, it was still located at Paper Island (Papirøen). Reffen (Refshaleøen) has been open since May 2018 with new stalls at a the new location.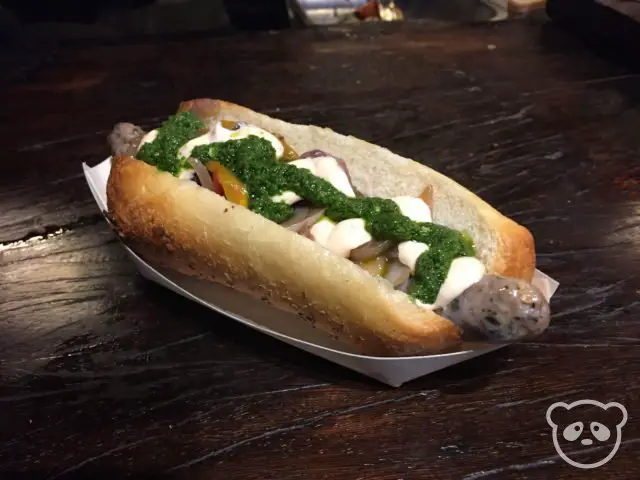 Some of our favorite stalls were: Handmade (smørrebrød), Pølse Kompagniet (hot dogs), and Cheesecaken (cheesecake). I couldn't find the name of the crème brûlée donut stall we loved, but just look for a sign by the Cheesecaken stall that has a sign saying "crème brûlée donut." After the move to Reffen, many of these delicious stalls we ate at are now gone, this is the updated list of stalls. 
Even though the food market is located at Reffen now, it looks like there are still tons of cool options, from grilled fish to Mexican elote, Italian food and even African cuisine.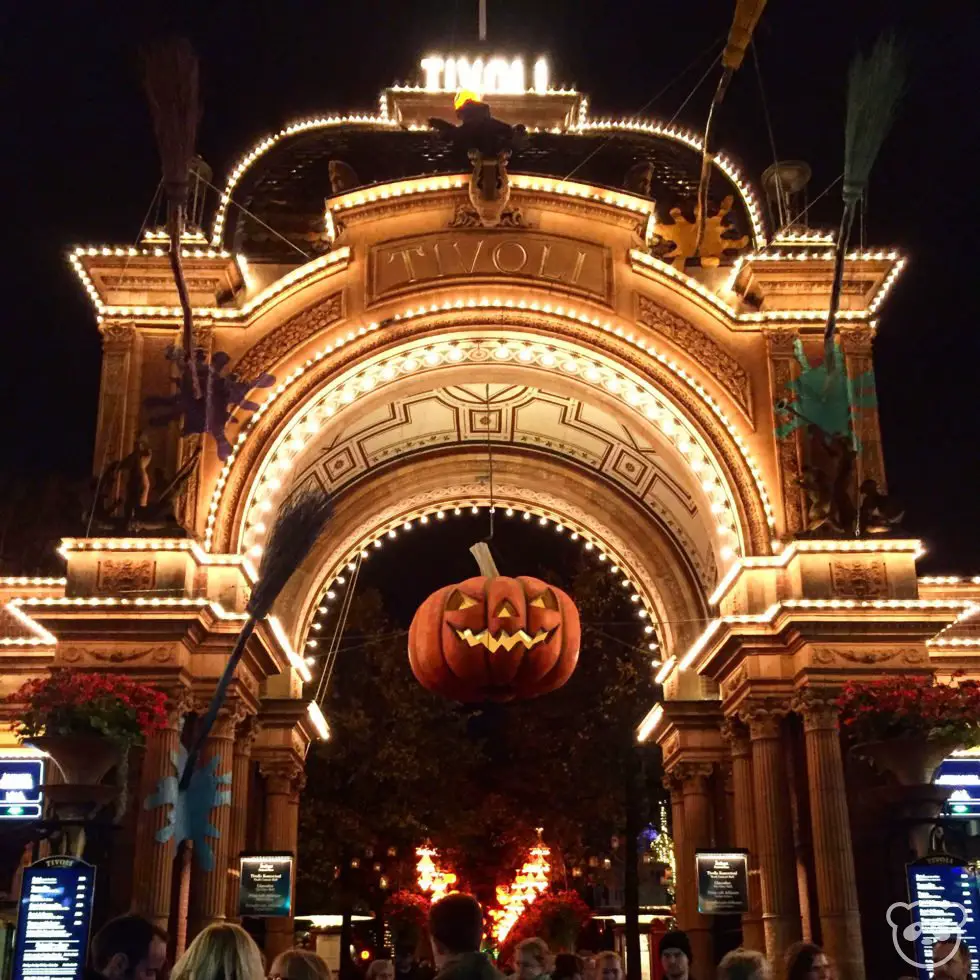 Our last stop for the day was visiting Tivoli Gardens. We were lucky enough to go to Tivoli the weekend before Halloween. The park was completely decked out in Halloween decor. 
Fun Fact:

Walt Disney based Disneyland upon Tivoli Gardens. When he visited Tivoli, he showed up with a notebook and took notes on the decorations, the rides, EVERYTHING.
We'll be writing a more detailed post about visiting Tivoli during Halloween soon, but for now, here's some basics. Check our our post about celebrating Halloween at Tivoli Gardens.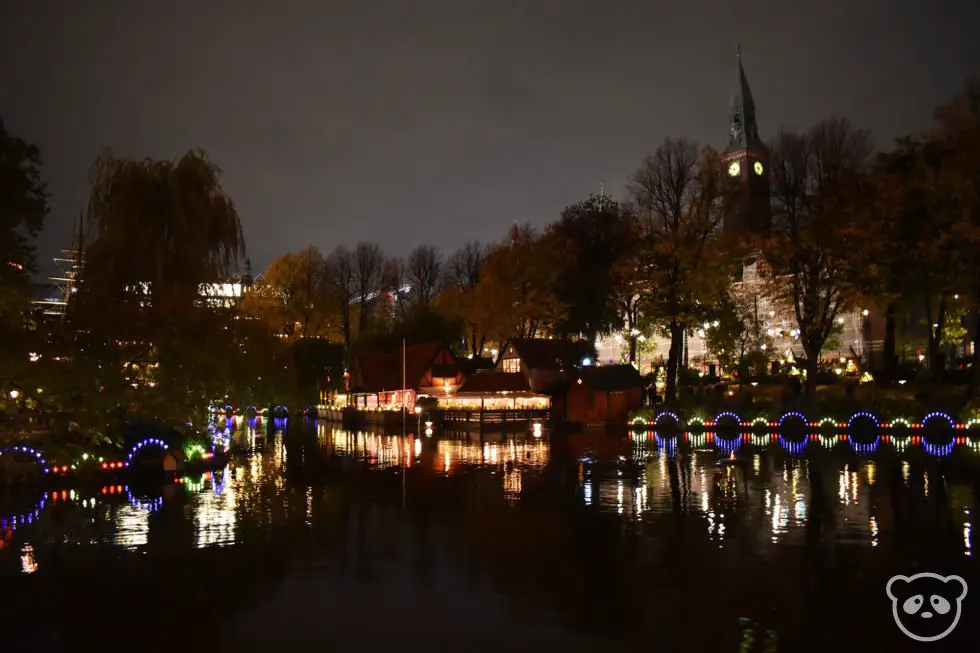 The general admission during holiday events, such as Halloween and Christmas, is usually more expensive. However if you get the Copenhagen City Card, it'll still be covered. Also noteworthy, if you're entering the park using the card, you will still have to line up to get a ticket for entry and you can only enter at certain entrances (that sell tickets).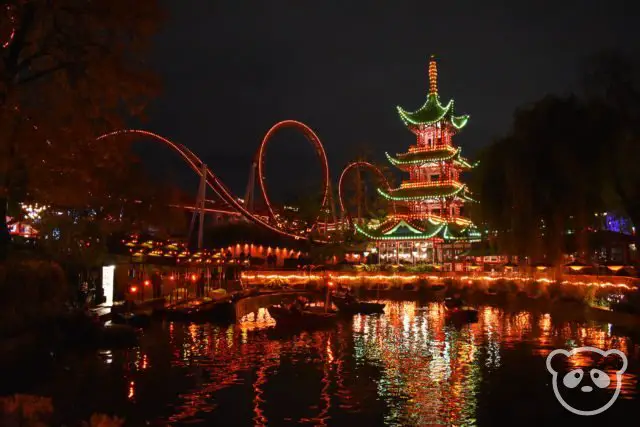 The general admission price is seasonal and varies throughout the year. Also, you will have to purchase ride tickets separately, they are not included in the cost of admission.
DAY 2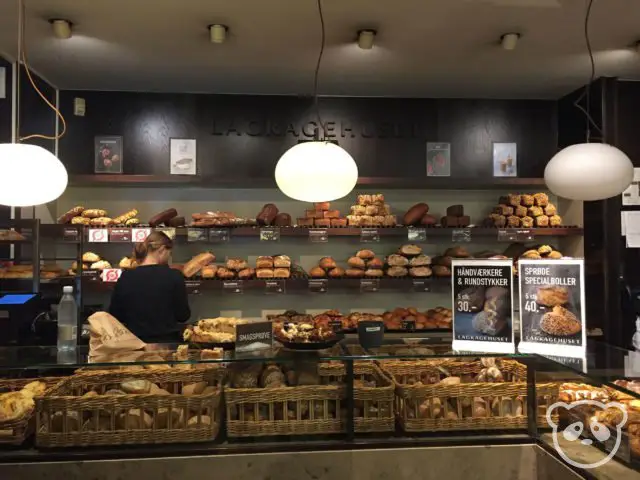 For breakfast, we went back to the Lagkagehuset at the Copenhagen H train station to try more of the delicious pastries!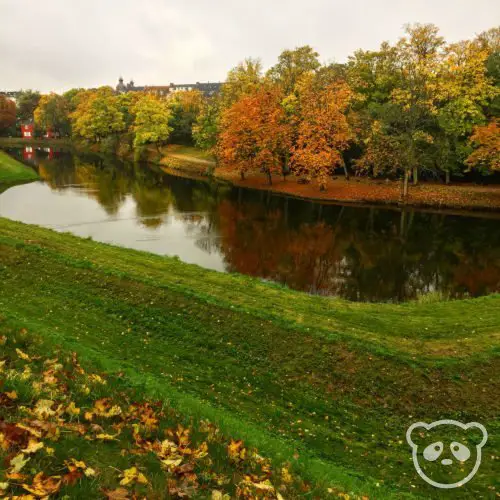 Then we headed over to Kastellet, an active military base in the middle of Copenhagen that is now open to the public. Because there is still some military activity within, you'll see soldiers marching around on the pathways as well as cannon ceremonies.
Fun Fact:

Kastellet is one of the best preserved star-shaped fortresses in northern Europe and was built in the 17th century to guard against attacks from the harbor. (

Copenhagen by Design

)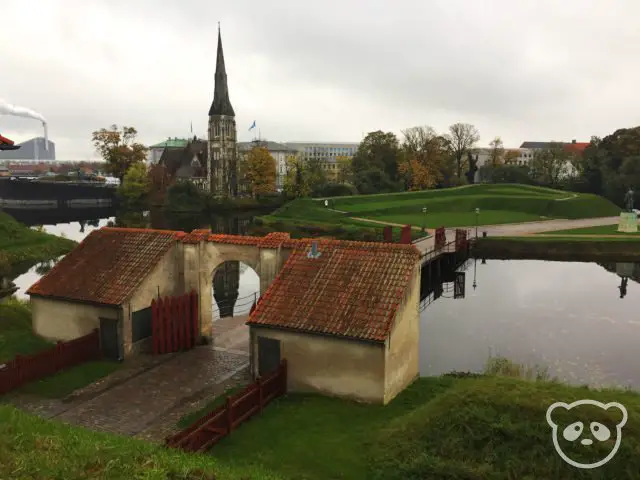 There are two gates by which you can access the fortress, the southern gate or the King's Gate and the northern gate, also known as the Norway Gate. Inside Kastellet, you will see a windmill, a church, as well as various other buildings including a prison and the Commander's House.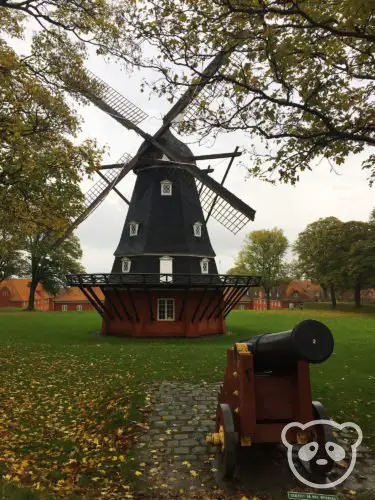 This spot was one of my favorite in Copenhagen not only because it was a peaceful oasis in the midst of the city, but also because it was a very "local" spot, we saw Danes walking their dogs and going on morning runs. It's a super relaxing spot where people are just going about their daily routine.
Afterwards, we headed to the The Little Mermaid Statue nearby.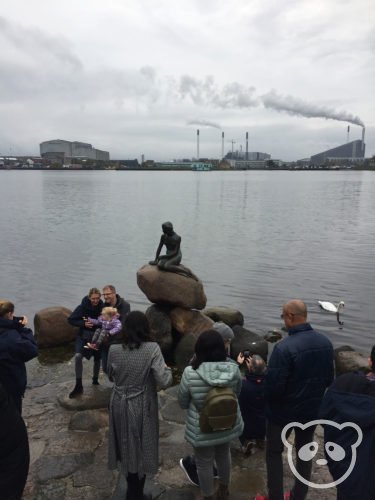 Hans Christian Andersen's fairytale inspired The Little Mermaid statue. Edvard Eriksen sculpted her in 1913.
Fun Fact:

In 1909, Carl Jacobsen, the son of the founder of Carlsberg Group, was fascinated by the ballet of The Little Mermaid at the Copenhagen Royal Theater and commissioned the statue. The head and face of the mermaid was based on the ballerina, Ellen Price. However since she refused to pose nude, the body was based upon Eriksen's wife.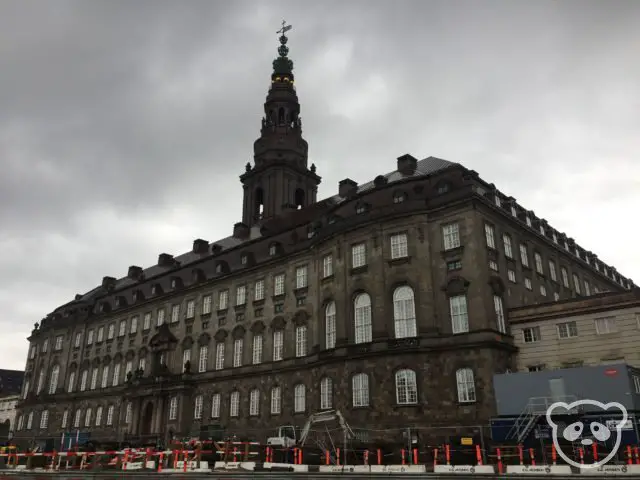 Christiansborg Slot was our next stop! And wow, there was so much more to see than we'd expected. Be better than us and plan accordingly!
Most of the palace areas are open to the public. You can visit The Royal Reception Rooms (including the Queen's Library) inside the palace, The Ruins under Christiansborg, The Royal Kitchen, The Royal Chapel, The Royal Stables, the gardens, and best of all, The Tower.
There isn't much signage within the large palace confines. We had difficulty finding our way and kept getting lost. Fortunately for you, we've found a map of the Christiansborg Palace area so hopefully we've saved you from our fate.
Guided tours are available for The Royal Reception Rooms, The Royal Kitchen, The Ruins under Christiansborg, and The Royal Stables. Due to our limited time, as we only had a few hours, we didn't take any of the tours. If you're in Copenhagen for more than 2 days, they'd be a great option to learn more about the palace.
Fun Fact:

The Queen's Library

, which can be seen while visiting The Royal Reception Rooms houses the Queen's private book collection and the shelves extend to hold 3km (almost 2 miles) worth of books!
Due to our limited time, we saw The Royal Reception Rooms, The Royal Kitchen, and The Ruins on our own.
The Royal Reception Rooms had an audio guide and it was cool being able to explore (pretty freely) inside the halls and rooms at our own pace. The Royal Kitchen provided a lot of insight into the cuisine and preparations for Royal banquets and parties. They even have special effects like lighting and smells to make you feel like you're inside a working kitchen! The Ruins under Christiansborg was interesting because it takes you through a history of the grounds before it was even the Christiansborg Palace as well as various renditions of the palace through the years as it suffered through damages and reconstructions.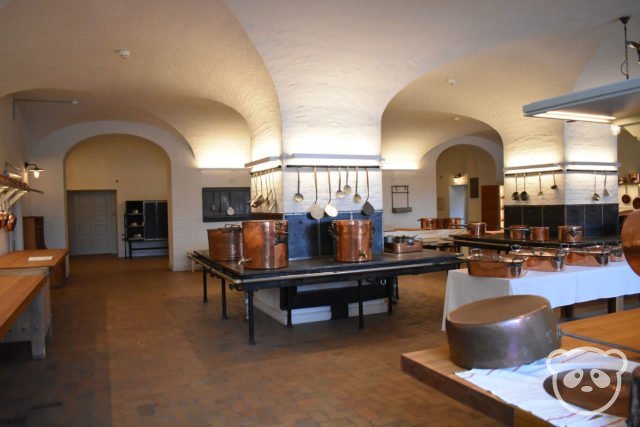 Fun Fact:

The Royal Kitchen has one of Europe's largest collections of copper cookware.
Afterwards we saw The Royal Chapel which is easily accessible from the street, had I known this I would've probably seen it first or last. But now you know. 😉 This was interesting to see, it was beautiful, even under the cloudy overcast gray sky. The church was inspired by Greek and Roman architecture and it definitely looks like it!
The Danish Parliament is also located within the Christiansborg Palace complex, unfortunately we didn't know this ahead of time so we weren't able to schedule a guided tour.
You can easily spend an entire day within the walls of the palace. Especially you want to see everything Christiansborg has to offer!
The last place we visited inside the Christiansborg Slot was The Tower! This is easily one of the best parts about seeing the palace because it provides one of the best views of Copenhagen. It is much higher than Rundetaarn so you get to see a lot more, but even better? It's FREE! It can be difficult to find though so definitely refer to the map.
There isn't a cafeteria or anything to eat inside Christiansborg aside from the restaurant at The Tower so we were starving by the end of our visit. But we were also rushing to get to our canal tour so we quickly went over to the Stromma Canal Tour stop at Gammel Strand to grab our boat tickets.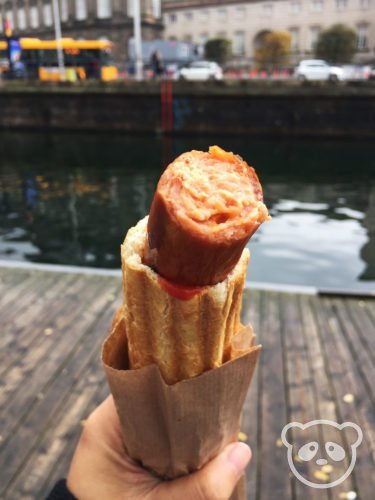 The boat wasn't departing immediately so we ran over to 7-11 across the street to grab some quick eats. We got a hot dog that was in a pocket. It resembled a hot dog sausage in a Hot Pocket, but way more tasty!  
The canal tour was great, we were on The Grand Tour of Copenhagen, and it took us around all of Copenhagen, from the main Gammel Strand canal to Nyhavn and into the Copenhagen Harbor past Kastellet and The Little Mermaid statue. This was our route, shown in yellow.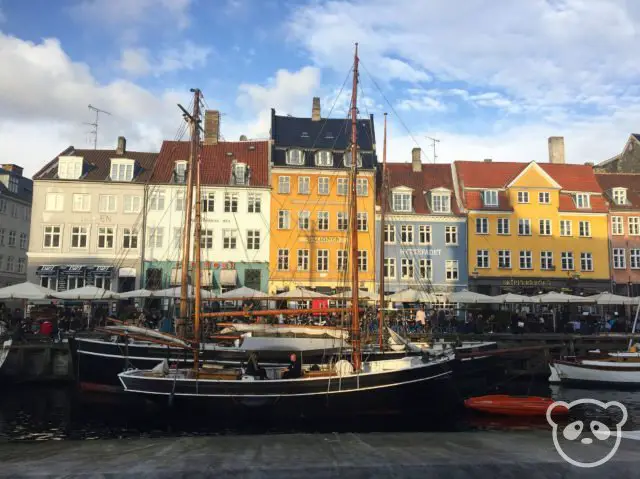 The tour lasted about an hour and it was great, we got to see so much of Copenhagen and best of all, we got to sail right into the middle of Nyhavn. The guide also pointed out the various homes along Nyhavn that Hans Christian Andersen lived in.
Fun Fact:

Nyhavn was based upon the canals of Amsterdam.
100% would do a canal tour in Copenhagen again. As amazing as the canal tours are, don't forget you're in northern Europe! It can get quite chilly while you're on the boat, especially when you're just sitting still and not moving. At the end of the tour, I was feeling pretty chilly even in October so I would recommend dressing warmly!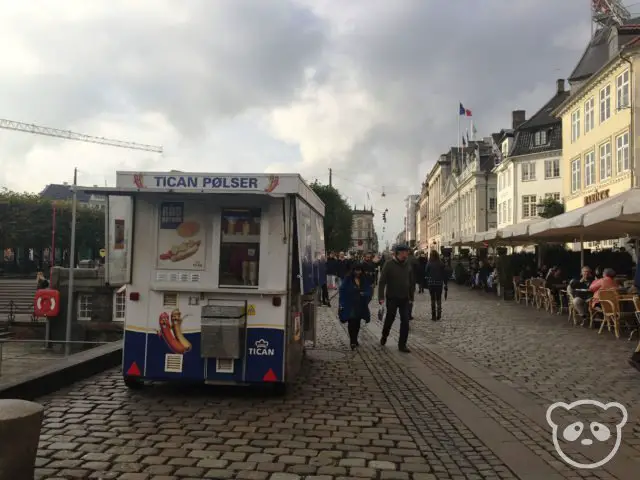 At the end of our canal tour, we got off the boat and proceeded to explore Nyhavn. But since we'd only had a hot dog for a super late lunch, we grabbed a Danish hot dog at Mia's Foderbraet, a stand nearby.
There were at least 10 different hot dog options on the menu and everything was in Danish. We kept it simple and picked a normal looking brown sausage and a reddish sausage. Both were in hot dog buns and topped with pickles, fried onions, and raw onions. Almost like the ones in Iceland! 😉 It was pretty damn good! IMO, the brown sausage was better than the red, so pick that one!
Today, Nyhavn is a touristy area with tons of restaurants, bars, and people walking about; however back in the late 1600s, it was a busy commercial port where ships from around the world would dock.
Fun Fact:

Hans Christian Andersen, the famous Danish fairytale writer, used to live in #20. This is where he wrote the fairy-tales 'The Tinderbox', 'Little Claus and Big Claus', and 'The Princess and the Pea'. He also lived in #67 for 20 years and #18 for 2 years.
This area has one of my favorite things about Copenhagen, colorfully painted buildings and houses along the canal. Even on gray, cloudy days, this area looks beautiful with it's bright, varying colors.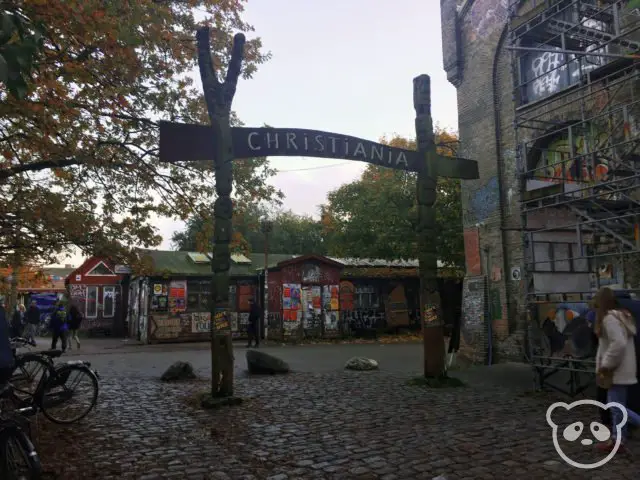 Freetown Christiania was next on the list. This area was particularly interesting to me because it is a hippie utopia. I was so curious to see what it was about! It's got tons of cheap eats, art galleries, workshops, and music venues.
Fun Fact:

Hash dealing is illegal in Denmark, but hashish (marijuana) can be found in Freetown Christiania. This is the main reason photography and filming are not permitted in Freetown Christiania. Weed is openly seen and dealt, especially in and around Pusher Street.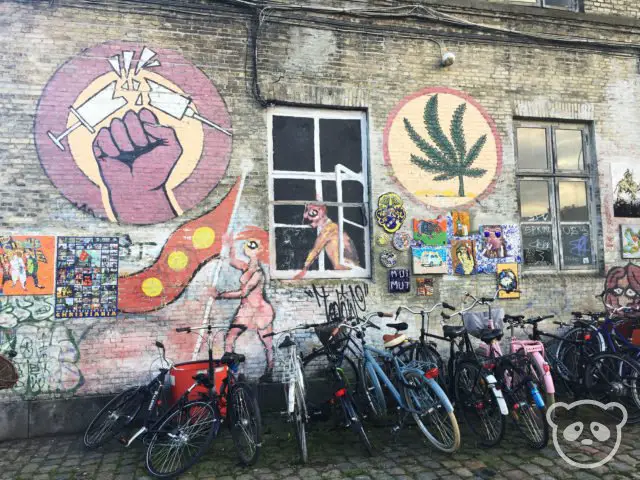 Though I'm not a huge fan of weed since I can't handle the smell. But I loved Freetown Christiania for its art culture. The murals and graffiti in the area are so beautiful! I wish I could've taken more photos of it, but I wanted to be careful and didn't want trouble from the locals.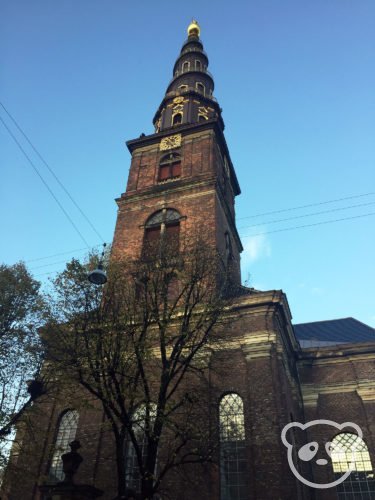 We also dropped by the Church of Our Savior located nearby. We had wanted to go up the tower, but it was closed by the time we got there. Instead, we had to settle for only seeing it from outside the gates.
Fun Fact:

It is 400 steps up to the top of the Church of Our Saviour, but the last 150 steps are on the outside of the tower.
I love climbing up towers and seeing cities from above, I guess we'll just have to save this spot for a return trip to Copenhagen! :p
For dinner before our flight, we headed to Restaurant Karla. This spot is well-known for their Danish pork roast and they specialize in homestyle food.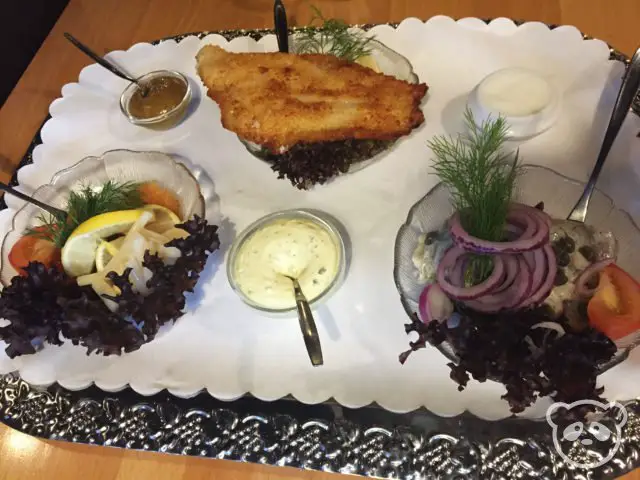 We ordered their evening platter and we loved all the courses of various smørrebrød! We had pickled "Karla's herring," pan-fried flounder, pickled "Karla's salmon," liver pate, and pork roast; all were in DIY smørrebrød form.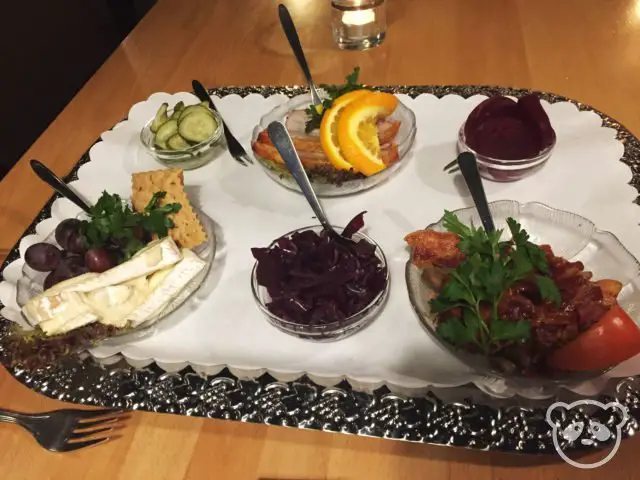 At the end, we had a cheese course with brie, crackers, and grapes. We also ordered a blueberry ice cream since we were craving something a little sweet.
What a great way to end our wonderful weekend spent in Copenhagen!
List of the Sights
Note: Unless otherwise stated, all addresses are located in Copenhagen.

DAY 1
Lagkagehuset
Copenhagen H Station location
Bernstorffsgade 16-22
Rundetaarn (Round Tower)
Kobmagergade 52A
Trinitatis Church
Kobmagergade 52A
Restaurant Schønnemann
Hauser Pl. 16
Rosenborg Slot (Rosenborg Castle)
Oster Voldgade 4A
Frederik's Church
Frederiksgade 4
Designmuseum Denmark
Bredgade 68
Copenhagen Street Food @ Reffen
Refshalevej 167A
Tivoli Gardens
Vesterbrogade 3
DAY 2
Lagkagehuset
Copenhagen H Station location
Bernstorffsgade 16-22
Kastellet
Gl. Hovedvagt, Kastellet 1
The Little Mermaid Statue
Langelinie
Christiansborg Slot (Christiansborg Castle)
Prins Jorgens Gard 1
Stromma Canal Tour
Stop: Gammel Strand
Gammel Strand 26
Mia's Foderbraet
Nyhavn
Freetown Christiania
Pusher Street off of Prinsessegade
Church of Our Savior
Sankt Annae Gade 29
Restaurant Karla


Dantes Plads 1



If we had more time, where else would we have gone?
Note: This could've easily taken another 2-3 days to see all of these, especially Malmo.
Amalienborg Palace
Frederiksborg Slot
Superkilen Park
Louisiana Museum of Modern Art
Malmo, Sweden
Map of the Sights
This map includes a list of all of the Sights to See, Restaurants as well as the routes by day (i.e. Day 1, Day 2, and Day 3) within specified layers.
By default, only the Sights to See and Restaurants are shown but you can select to view the daily routes. Use the slide out panel to select layers to toggle them on and off using the checkboxes.
In our opinions, a 2 days is just too little time to spend there, but for our wallets, a weekend was perfect! We'd love to go back to Copenhagen someday and hit up all of the spots we didn't have time for the first time around. 
Loved this 2 day Copenhagen itinerary? Pin it for later!