This post may contain affiliate links. If you click one of these links, we may receive a commission. We're grateful for your continued love of this site!
This month's A Weekend Away, 3 day long weekend itinerary post is dedicated to one of our favorite cities, Barcelona! Our guide to 3 days in Barcelona includes the top places to visit, especially the Antoni Gaudi sites, best things to do and eat. 
We'd been wanting to go to Barcelona for the longest time. For me, it was all about the architecture, I'd learned about the architectural works of Antoni Gaudí in school and I'd wanted to experience it in person. For Jimmy, it was all about the delicious Catalan cuisine.
Fun Fact:

Barcelona is located in Catalonia, and as such the population speaks both Catalan and Spanish.
When we decided to book a trip to Spain for the holidays, it was finally going to happen, we were going to do Barcelona for a long weekend, specifically Christmas weekend.
Here in Barcelona, it's the architects who built the buildings that made the city iconic who are the objects of admiration – not a bunch of half-witted monarchs.
– Julie burchill
Somehow we'd forgotten that Spain, like many countries in Europe, is primarily Catholic. Oops. So one of the major obstacles we faced was going to Barcelona ON Christmas weekend.
Still, winter is one of the best times to visit Barcelona. It's a little chilly, but it's not deathly hot and there's less people in Barcelona because it's the off season. For more on visiting Barcelona in the winter, check out Barcelona in the off-season.
Fun Fact:

Barcelona covers an area of 101.4 km2 and has a population of 1.602 million, making it the largest city on the Mediterranean Sea, and the second largest in Spain after Madrid. (

Spain Attractions

)
It's such a large city with so much tourism, we figured SOMETHING had to be open, right? Fortunately for us, Parc Güell and Casa Batlló were the only 2 Antoni Gaudí sites open on Christmas day and that actually took up most of our time that day!
This brings us to our itinerary for the best artsy and architectural places to visit in Barcelona in a 3 day weekend!
Where to Stay in Barcelona, Spain
While considering where we wanted to stay in Barcelona, convenience was a MAJOR factor. Since we were arriving to Barcelona via the train, we wanted to be close to the Metro so we weren't walking around with our bags for too long. We also wanted to be near the sights since a weekend is a short amount of time, we didn't have time to waste on public transportation around the city!
We settled upon a double room at Hotel Sagrada Familia for all of the above reasons. It is located in the L'Eixample area of Barcelona, only a 2 block walk away from the Sagrada Familia Metro station and the actual La Sagrada Familia church.
Our room at Hotel Sagrada Familia was amazing for the price. We had a modern, well-furnished room with a decently sized double bed and the bathroom was much larger than we had expected being in the middle of the city. Free wifi was included, which we much appreciated. The front desk staff was super friendly and spoke English. They were also very helpful and allowed us to store our bags after we checked out, we came by later in the day to pick them up before heading back to Madrid. Click to learn more about Hotel Sagrada Familia!
DAY 1 – All Day, All Antoni Gaudí
Important Note: For us, this was Christmas day, so we didn't have too many options available to us. This may or may not be the case for you. 😉 
We took the earliest train from Madrid and arrived in the mid-morning. After dropping off our stuff at our hotel, we headed to lunch and then took the bus up to Parc Güell.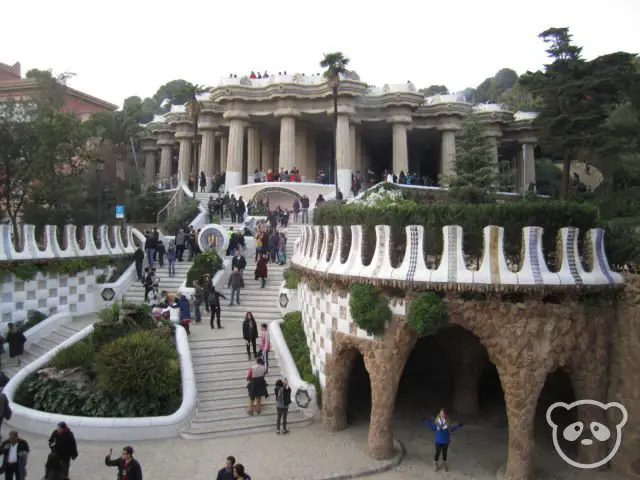 For Parc Güell, we had purchased timed tickets in advance for a guided tour of the park and entrance to the monumental zone.
Visiting Parc Güell can be a little confusing as there is a TICKETED AREA as well as a FREE AREA. We were super confused about this when we were purchasing the tickets so I hope this helps you!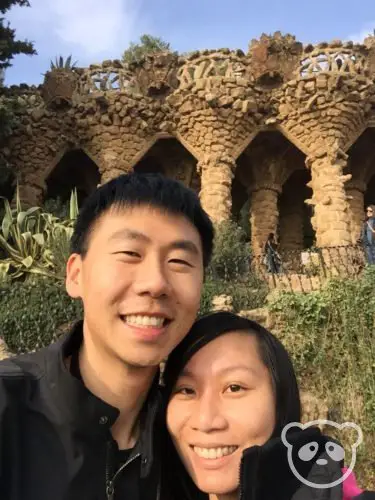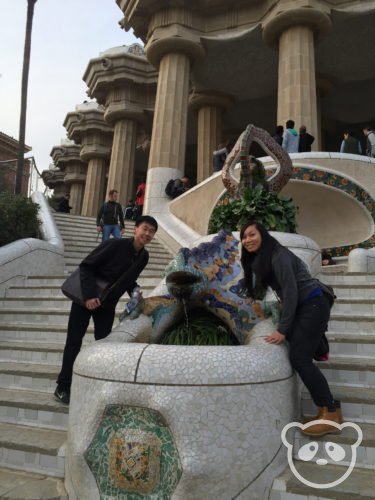 Just a little bit of background…
The ticketed area is called "The Monumental Zone." What the hell does that mean, right? This is where the Casa del Guarda (Caretaker's House), the Hypostyle Room, Dragon's Stairway, Plaça de la Natura (Nature Square), slanted rock columns (Laundry Room Portico) are located. The serpentine mosaic-tiled bench is located at Nature Square and the mosaic salamander resides at the foot of the Dragon's Stairway.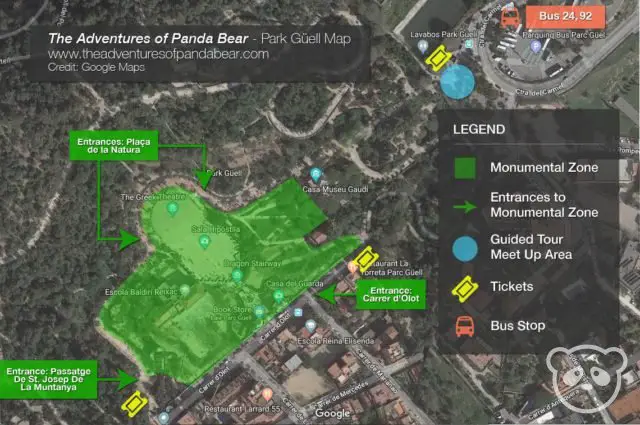 Now for an explanation of the map (above)…
There are three main entrances to the Monumental Zone (green arrows on the map): Passatge De St. Josep De La Muntanya, Carrer d'Olot, and Plaça de la Natura. They WILL check your ticket at these entrances and they are especially uptight at the Plaça de la Natura entrances because of the serpentine bench.
Tickets can be purchased on location at the yellow areas indicated on the map. The meet up area for the guided tour (blue circle) is also located near a ticketing booth, but make note that it is by the ticket booth closest to the bus stops (red bus icon on map).
The 24 and 92 buses take you closest to the park, with either of these two buses you will walk less. 🙂 Close to the park, the buses run along Ctra. del Carmel, and you will take the stop, Ctra. del Carmel – Parc Güell.
The rest of the park, OUTSIDE of this area is free, so you can come here for a stroll, but to actually see the famous Antoni Gaudí pieces, you'll have to pay.
PRO TIP: If you want to see the famous mosaic bench and salamander, you'll need to buy a ticket to The Monumental Zone, otherwise, you can save your coin!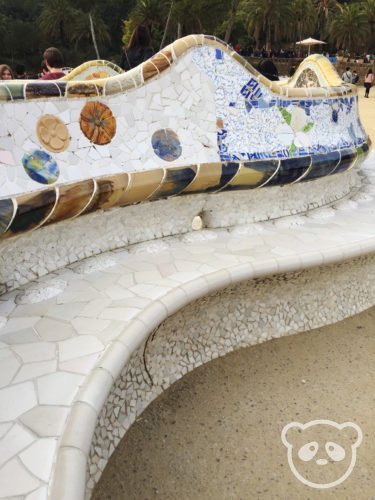 Fun Fact:

Gaudí originally intended for Parc Güell to be free and enjoyable to all; however, people began to destroy the mosaic tiles covering the famous serpentine bench. As a result, the government began charging to visit the area (The Monumental Zone). Today when you tour the Plaça de la Natura (Nature Square), you can see areas of white tile on the bench. This is because it was never repaired to its original color so that visitors can see the destruction inflicted upon the bench.
Depending on when you go, the opening hours are also different; the park is typically open longer during the summer peak season.
PRO TIP: If you're able to plan your trip in advance, you'll save a bit of money by purchasing your tickets in advance.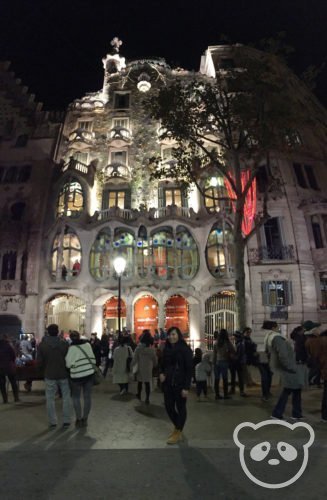 Afterwards, we headed straight to Casa Batlló, the only Gaudí home open on Christmas! One of the other great things about this house is that it's open late, so even if you're not coming here on a public holiday you can still see this after touring other sights.
This house, in particular, is unlike any of the other Gaudí homes because it was renovated rather than built from scratch. The wavy walls, skeletal facade, and dragon-backed roof are a sight to be seen!
The general admission tickets come with an interactive audio guide and you can use the device to explore the room in a whole new way. It's difficult to explain that via blog content so I'll let you discover that yourself. 😉
PRO TIP: Purchasing tickets in advance here is the way to go, you'll save a few Euros.
For dinner, many of the restaurants we initially wanted to go to were closed so we only had a handful of choices to pick from. We happened upon Cachitos which was open so we walked in.
We feasted on various tapas – the grilled razor clams and flan were particularly delicious. We also loved their paella, definitely get the paella if you go with another person as they don't make paella for one. Paella is also charged per head.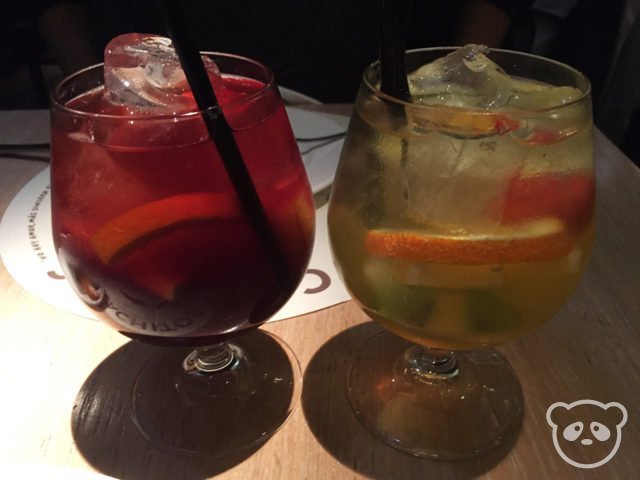 I know their non-alcoholic sangria is not very European at all and probably super touristy, but as an Asian person allergic to alcohol I appreciated the option. I am able to have sips of alcohol though so I tried Jimmy's cava sangria, it was super good! I'd highly recommend getting it here, since weren't able to find it elsewhere.
Fun Fact: Barcelona is known for a sparkling wine known as cava. It is made from 3 local grapes, Xarel-lo, Macabeo and Parellada, and is very similar to champagne.
The food was surprisingly pretty good, though portions were on the smaller side, especially for the price. We were grateful for decent food since it was Christmas day and you know, beggars can't really be choosers. I will say that the food was a lot better than the places we had in Madrid (don't trust TripAdvisor to tell you where to eat there, SUCH A BAD IDEA!).
DAY 2 – Churches of Barcelona
We grabbed a quick breakfast then rushed over to La Sagrada Familia, THE place to go in Barcelona.
If you're on a budget and can only afford to see one Gaudí, I would pick this one. There are also several ticket tiers available, so you can opt to only see the cathedral with a basic ticket, or include other add-ons like the audio guide, and the tower visit, etc.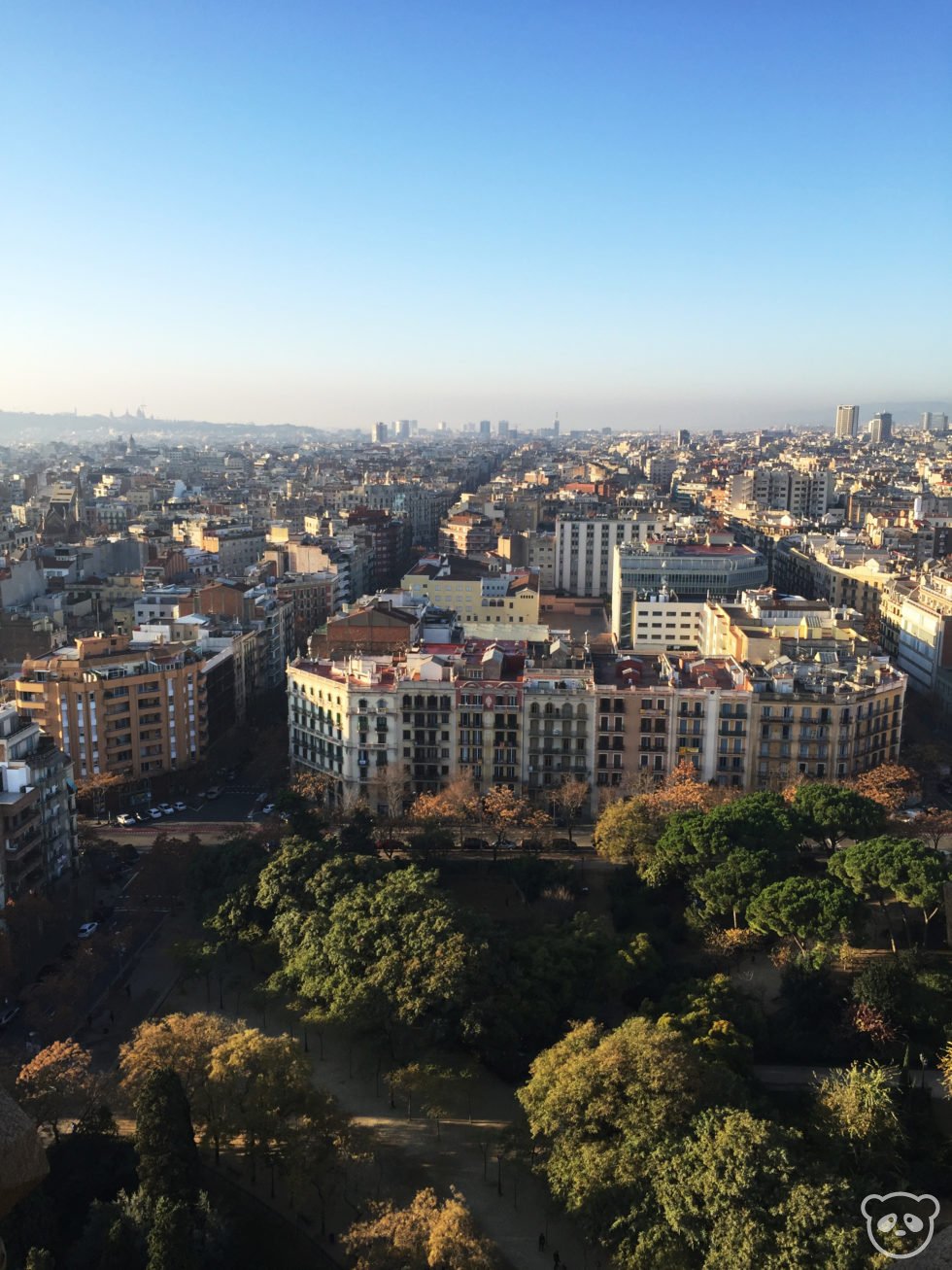 We got the tickets to the tower and since we could only choose one (either the Nativity or the Passion tower), we chose to see the Passion tower since it provides views of the city center as well as the Mediterranean sea on a clear day. The tickets are timed so make sure you'll be able to arrive in time.
PRO TIP: If you really want to see the towers, I would recommend purchasing tickets in advance. One of my friends tried to purchase the tickets on location and they had already sold out.
La Sagrada Familia is much larger and more beautiful than you could ever imagine just from seeing photographs. We spent over 3hrs here in awe and amazement at the level of detail Gaudí included in the design of this church. The audio guide also provides a lot of in depth information about his thought process throughout the design and construction of the building.
Fun Fact:

La Sagrada Familia is set to be complete by 2026, in time for the 100th anniversary of Gaudí's death. This cathedral has taken longer to build than the Great Pyramids of Giza, which only took 20 years.
Aside from the towers, you can also visit Gaudí's studio and the crypt to see a museum artifacts related to the construction of La Sagrada Familia. There are exhibits showcasing the scaled models created by Gaudí that were destroyed during the Spanish Civil War, architects are currently painstakingly trying to piece them together in order to finish construction.
Our lunch consisted of some sandwiches and coffee from a random small cafe since we had to rush to our next stop.
La Pedrera – Casa Milà was our afternoon activity. We hadn't expected it to take as much time as it did, but we spent about 1hr just walking on the roof and snapping pix. Since the days are shorter in the winter, we had actually rushed straight to the roof when we got there to maximize on golden hour, then we toured the rest of the house.
The "house" is technically a set of homes, since it was built as an apartment building for the Milà family to live in one unit and lease out the rest. In his design, Gaudí intended for the families residing in the building to socialize and get to know one another, so he created public spaces to encourage interaction between the tenants.
A few residents still live in the apartments and as such, visitors are only permitted in several areas of the building: La Pedrera apartment (located on the 4th floor), the Milà apartment (on the 1st floor), roof terrace, attic, courtyard, and certain marked stairwells leading between the respective areas.
Fun Fact: If you visit La Pedrera at night, you'll be in for an audio-visual experience projected upon the architecture on the roof terrace.
We purchased the general admission tickets for a visit during the day, which included the audio guide. But, they also have various types of tickets for both a day and night entrance (which includes The Origins show), as well as just the night entrance. There are options to have dinner or just a drink with the show.
We were super excited for our dinner spot because it was one of the few places we'd researched and had wanted to try. Catalana Cerveceria was popular with tourists, but also very tasty!
And they were rightfully popular, their tapas are amazing! We had a ton of things and they were delicious. Some of our favorites were their gambas ala plancha (grilled shrimp), pan con tomate (bread with tomato), tortilla patatas, and creme catalana.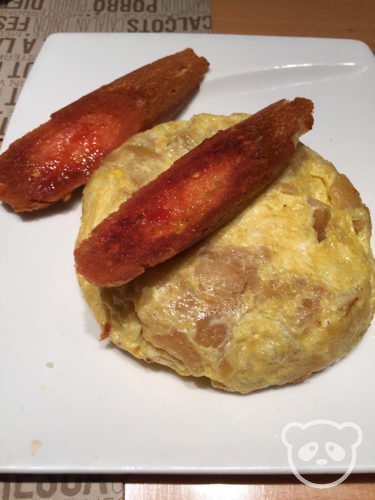 For you Americans and Californians, the tortilla isn't what you think it is, it's not like the Mexican wrap that goes around a burrito. It's more similar to an omelette, pan cooked eggs mixed with potatoes. I typically enjoy it with alioli, a creamy sauce with garlic, it's a MUST! At Catalana Cerveceria, if you want to enjoy your tortilla with alioli, it'll cost ya €1 for the sauce (or any additional sauce you want).
The creme catalana is similar to creme brulee, but with a twist! It's more custardy and less creamy than a creme brulee so I actually prefer it more than creme brulee since it's less heavy. Give it a try when you're in Spain!
Barri Gotic (Gothic Quarter)
After dinner, we walked around Barri Gotic (Gothic Quarter) and saw Basilica de Santa Maria del Mar and Barcelona Cathedral from the outside.
The Gothic Quarter is one of the coolest parts of the city, it also happens to be one of the oldest parts with the remains of ancient Roman walls and medieval landmarks.
DAY 3
Breakfast was at the fancy Restaurant La Plassohla since we wanted to be close to our first sight of the day, Picasso Museum. This spot was basically a fancy breakfast buffet, so we definitely ate our fill. They had a charcuterie selection, your typical granola and yogurt, as well as made-to-order eggs. Jimmy totally got his money's worth by getting the eggs made in several ways, omelette, over easy, and poached. Pretty sure the chef thought we were "fat Americans," LOL.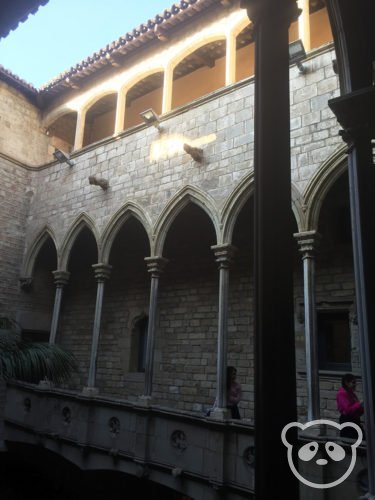 For Picasso Museum, we purchased our tickets in advance so it was simple and quick to get in. The only areas in the Picasso Museum allowing photos were in the courtyard (see photos above).
Fun Fact:

Picasso actually had a part in the founding of this museum, from donating his artworks to establishing the museum within the specific building.
One of my favorite things about this museum was that you could see the progression and development of Picasso's style. I've seen his work via special exhibitions in the U.S. (both in San Francisco and New York City) as well as other works held at various museums and I loved seeing his early works at this particular museum. It was really cool to be able to see his style evolve from his student art copying the work of the famous Spanish painter, Francisco Goya, to the abstract "Picasso style" everyone knows and loves today.
Interested another weekend getaway? Check out our A Weekend Away posts.
Unfortunately, photographs aren't permitted within the museum, so you'll just have to take my word for it, or you can go and see for yourself! But I highly recommend this museum if you're a Picasso fan or just plain interested in Picasso.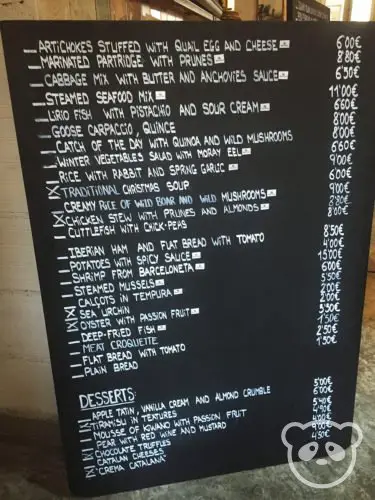 For lunch, Bear made us a reservation at Somorrosto. This spot was highly recommended by a friend and it was amazing! They had a daily menu they would write on a giant chalkboard and they would move it around so that the tables that were ordering would be able to see it.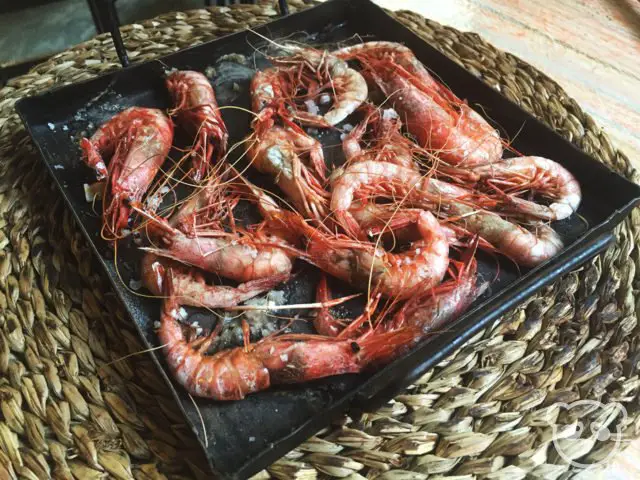 Highlights include the shrimp from Barceloneta, rice with spring garlic, and goose carpaccio.
PRO TIP: The restaurant is super small, probably only about 5-6 tables max so if you're serious about coming here, definitely make a reservation!
Parc de la Ciutadella
Afterwards we walked off our food in Parc de la Ciutadella, saw the gigantic fountain and the Arc de Triomf. The park is a gorgeous place to relax and a beautiful place to spend a sunny, winter afternoon. 
Las Ramblas
On our way to our next stop we took a stroll down Las Ramblas. Las Ramblas is a famous 0.75mi (1.2km) pedestrian street that connects Plaça de Catalunya to the Christopher Columbus Monument at Port Vell. It was a lot busier than we expected! We used it as our main thoroughfare to get to Jamon Experience so unfortunately we didn't get to walk down the entire street. 
So we went to the super touristy, but also super worth it – Jamon Experience! What drew us to this (even though it's extra touristy), was that we'd learn about how jamon is made and be able to taste all the different types of jamon. YUM.
Our ticket prices included the educational tour of the making of jamon, jamon tasting, and a drink.
Fun Fact:

Jamon Serrano isn't made from the Iberian pig, however Jamon de Iberico must be, and Jamon Iberico de Bellota is made from acorn-fed Iberian pigs.
We got to try 7 different types of jamon, some of which were only Jamon Serrano, but we also got to try a Jamon Iberico, as well as several types of Jamon Iberico de Bellota.
We ended our trip to Barcelona with a worthwhile experience in jamon and took the evening train back to Madrid.
List of the Sights
Note: Unless otherwise stated, all addresses below are located within Barcelona.
DAY 1
Parc Güell
41.415243 N, 2.155098 E | Bus Stop: 24 & 92

Casa Batlló
Passeig de Gràcia, 43
Cachitos
Rambla Catalunya, 33
DAY 2
La Sagrada Familia
Carrer de Mallorca, 401
La Pedrera – Casa Milà
Carrer de Provença, 261-265
Cerveceria Catalana
Carrer de Mallorca, 236
Barri Gotic (Gothic Quarter)
Area between La Rambla to Via Laietana, the Mediterranean seafront, and Ronda de Sant Pere

Basilica de Santa Maria del Mar
Plaça de Santa Maria, 1
Barcelona Cathedral (Catedral de Barcelona)
Placita de la Seu, 3
DAY 3
Restaurant La Plassohla
Via Laietana, 49
Picasso Museum
Carrer de Montcada, 15-23
Somorrosto
Carrer de Sant Carles, 11
Parc de la Ciutadella
41.389596 N, 2.186595 E

Arc de Triomf
Passeig de Lluís Companys

Las Ramblas
Pedestrian street from Plaça de Catalunya to the Christopher Columbus Monument at Port Vell
Jamon Experience
Las Ramblas, 88-94
Map of the Sights
This map includes a list of all of the Sights to See, Restaurants as well as the routes by day (i.e. Day 1, Day 2, and Day 3) within specified layers.
By default, only the Sights to See and Restaurants are shown but you can select to view the daily routes. Use the slide out panel to select layers to toggle them on and off using the checkboxes.
Hope you enjoyed the itinerary we used for a holiday weekend in Barcelona! There is so much to do and see in Barcelona, a lot of your sights will depend upon seasonal availability and your personal preferences. 
For another Barcelona itinerary, check out 3 Days in Barcelona.
Loved this 3 day guide to Barcelona? Pin it for later!