This post may contain affiliate links. If you click one of these links, we may receive a commission. We're grateful for your continued love of this site!
We've always known that Phoenix, Arizona is famous for its beautiful desert landscapes and warm, sunny weather. But when we decided to spend 3 days in the Phoenix and Scottsdale area, we decided to make the most of our time and check out delectable local Southwestern & Native American eats, Frank Lloyd Wright architecture, and some desert hikes!
Spend more time in the valley, explore one city over! Check out things to do in Tempe in 3 days. 
On our quick trip to Phoenix, we were actually doing a road trip around the Southwest during the holidays, also making stops in Las Vegas, Grand Canyon, Page (Antelope Canyon & Horseshoe Bend), Flagstaff, and Sedona. If you're located somewhat close to Phoenix, in Las Vegas or Los Angeles, Phoenix is the perfect weekend road trip away! Otherwise to save on time, flying into Phoenix Sky Harbor International Airport (PHX) is also a great option for a 3 day trip to Phoenix. 
Fun Fact:

The greater Phoenix region goes by the nickname "The Valley of the Sun." This name was created in the 1930s to boost tourism to the area but happened to be a fitting moniker since the area has over 300 days of sunshine (or partial sunshine) days per year. 
For us northern Californians, we found that winter is the best time to visit Phoenix because of the milder weather. Winters in Phoenix are typically warm and sunny with highs reaching the 70s. At night it does get a bit chillier, but that's nothing a light down jacket won't solve! Just remember to layer up for the day and you'll be a-okay. Summer highs can reach over 100 degrees Fahrenheit with lows in the mid-70s. 
Keep in mind that weather can have a huge effect on the things you are able to do in the Phoenix area, and in any weather, the climate can be dry so remember to liquid up and keep hydrated! 
Here is our guide to Phoenix and Scottsdale in 3 days! 
Where to Stay in the Phoenix & Scottsdale Area
The Arizona Biltmore Hotel is a beautiful Waldorf Astoria resort built in textile block construction, it's the perfect place to stay for any architecture buff since Frank Lloyd Wright and his student, Albert Chase McArthur designed and built it.
Rooms at the Arizona Biltmore include a flat screen cable TV, refrigerator, and a private bath. Some rooms even have a private patio, balcony, or full kitchen. The resort has restaurants, bar, 18-hole golf course, 8 pools, salon, and spa facilities on-site. For avid hikers, it is located in close proximity to Camelback Mountain.
Book your stay at the Arizona Biltmore today! 
Also located nearby close to Camelback Mountain, at a lower price, is the Embassy Suites Phoenix – Biltmore, the hotel rooms include a flat screen TV, refrigerator, microwave, and FREE breakfast. Other amenities included with the stay are fitness center, pool, restaurant, and bar.
Stay at Embassy Suites Phoenix – Biltmore on your next trip! 
For a more budget-friendly option, consider staying at SureStay Hotel by Best Western Phoenix Airport. The hotel is located close to the Phoenix Sky Harbor International Airport and downtown Phoenix. Rooms include free WiFi, tea/coffee maker, flat screen TV, and private bathroom.
With your stay you even get a free shuttle to the airport so you don't have to worry about traveling to and from. The hotel also has an outdoor pool.
Book SureStay Hotel by Best Western Phoenix Airport for your trip to Phoenix!
DAY 1 – Phoenix & Scottsdale
Songbird Coffee & Tea House
Songbird Coffee & Tea House is a quaint coffee joint serving locally sourced coffee in the heart of Downtown Phoenix. Their location is super convenient and they have cozy seating and a menu made of Scrabble tiles.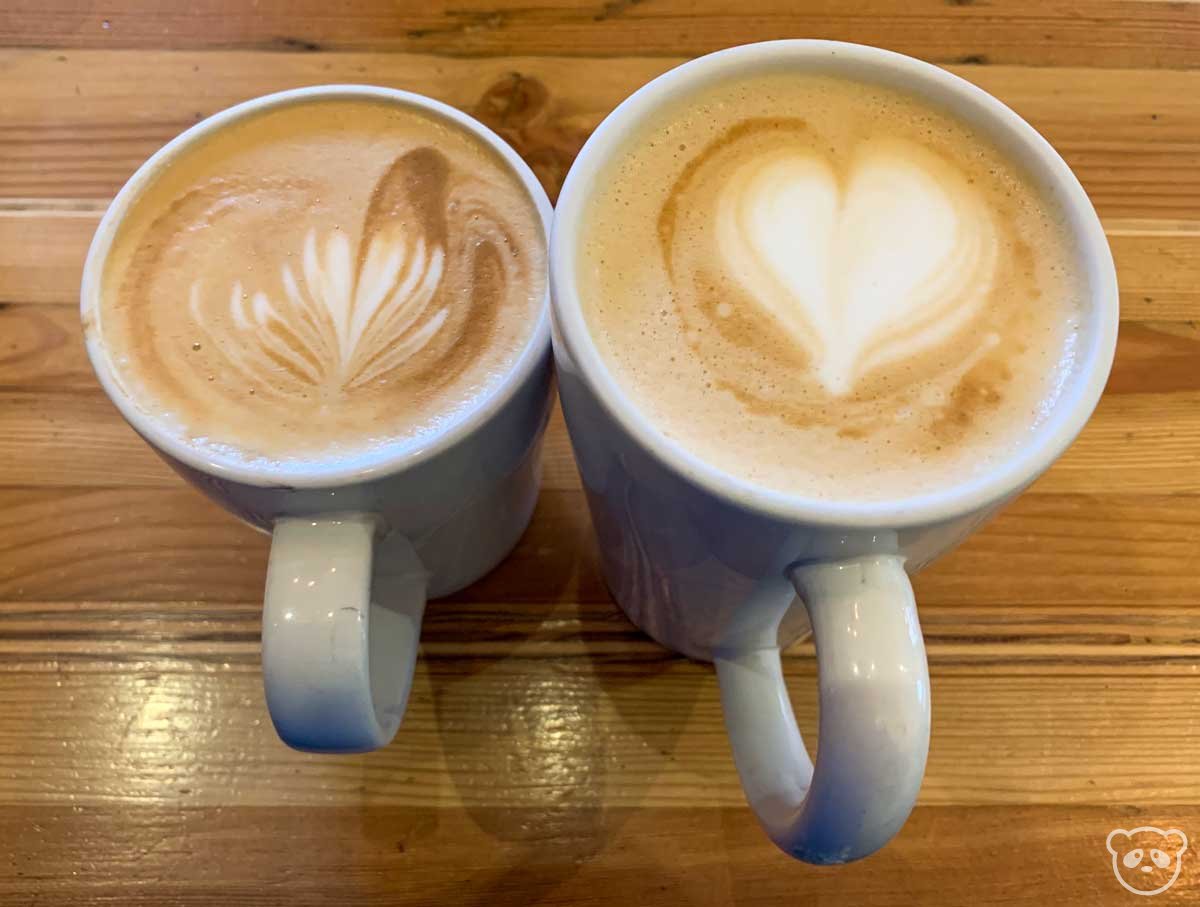 We stopped by for some caffeine and a quick breakfast. We ordered a latte, a cortado, breakfast sandwich, and their famous brown butter coffee cake. 
The brown butter coffee cake was super good and even though the breakfast sandwich was pre-made, the bacon, egg, and cheese in it definitely hit the spot! 
Shaw Butte Trail
This trail is popular with locals, especially those walking their dogs and was recommended to us by our Airbnb host since it was close to where we were staying, but also provided nice views of the city. 
The Shaw Butte Trail is a quick 1.5 mile or so hike to the views, it's not quite at the top of the hill, but it's enough to get a decent view. 
The ascent is gradual and is doable even for the novice hiker. If you have more time you can also do the Shaw Butte Loop which takes you around the peak. I was able to do it even though I had a cold coming on and I was already coughing! 
PRO TIP: The trailhead at the end of N Central Avenue has a small parking lot and is closest to the Shaw Butte Trail. If parking runs out, the parking lot at 12950 N 7th Street is the trailhead for the loop.
Barrio Cafe
Barrio Cafe is both known for its delicious Mexican eats, winning awards from Phoenix Best Times, and its beautiful murals. 
It is a sit-down establishment and though not super fancy, they do provide white table cloths. Seating is first come first served and there are no reservations, but their tacos, chiles en nogada, and cochinita pibil are well worth the trip! 
After dining here, be sure to check out the amazing murals out back. They cover the entire back of the building in the parking area. You'll see the Phoenix mural as well as a mural illustrating various foods offered by Barrio Cafe.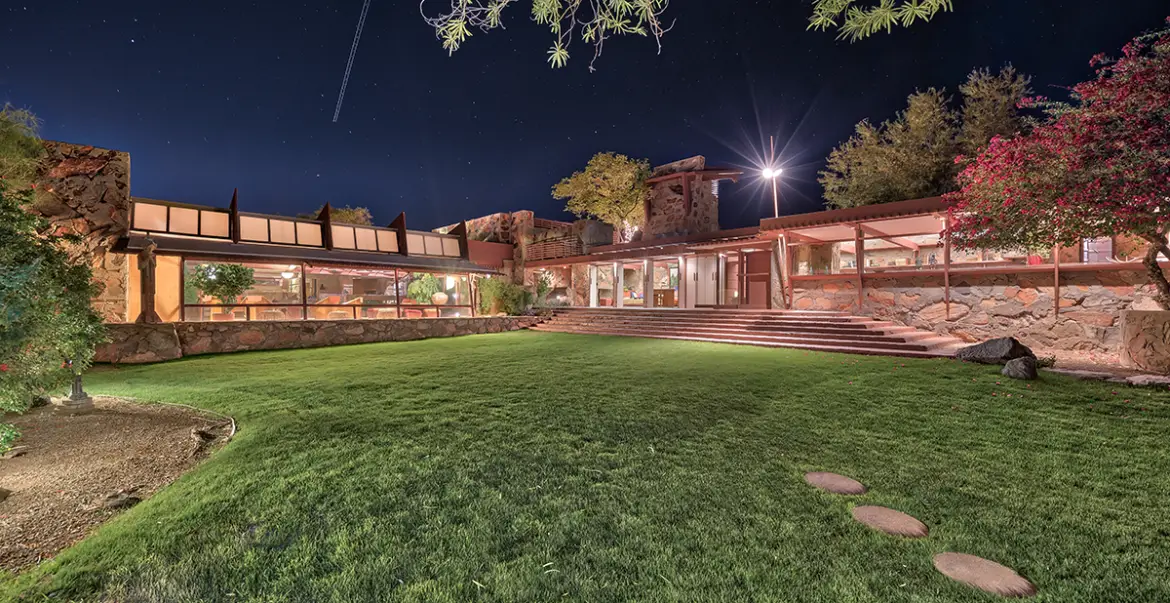 Taliesin West 
We have an obsession with visiting Frank Lloyd Wright houses so naturally our main goal of visiting Phoenix was to check out Frank Lloyd Wright's home and architecture school at Taliesin West. 
Fun Fact:

In 2019, Taliesin West, along with

Hollyhock House

,

Frederick C. Robie House

,

Unity Temple

, Fallingwater, Taliesin, Herbert and Katherine Jacobs House, and Solomon R. Guggenheim Museum were officially inscribed into the UNESCO World Heritage List as Frank Lloyd Wright's major works. 
During our visit, they had the typical 1.5-2 hour long home tours, Insights Tour, Behind the Scenes Tour, and the Details Tour, all offering different rooms and areas to explore at Taliesin West.
Since we traveled to Phoenix during the holidays, we decided to check out the Night Lights Tour only because we happened to be there at the right time. The Night Lights Tour was also advertised as the perfect date night activity with light refreshments. 
PRO TIP: If you want to see the fire breathing dragon light up, be sure to take the Night Lights Tour!
When we went, they offered us non-alcoholic spiced cider and cookies to munch on. This year, it looks like the ticket price includes a beer, wine, or non-alcoholic beverage and they'll also have a cash bar for additional drinks. 
We enjoyed our 2 hour long tour around Wright's home and were thrilled we had the opportunity to explore it. It was cool getting to learn more about Wright and his architecture school. 
The Fry Bread House
The Fry Bread House was, by far, our favorite place to eat in Phoenix. While we were in Phoenix wanted to try as much as we could of the menu. 
You can get fry bread as part of a Native taco or as a side to go along with a traditional stew. We tried the red chile beef taco and the ground beef taco. We also got the red menudo and the hominy stew. For dessert, we also got the chocolate and butter fry bread. 
Everything was so delicious! 100% we would go back and pig out some more. 
PRO TIP: Menudo is only served on weekends! Be sure to visit then if you want some delicious menudo.
Scoop & Joy Lounge
For dessert, check out Scoop & Joy Lounge in Scottsdale. This mom and pop ice cream shop serves small batch ice cream made with local grass-fed dairy and fresh seasonal ingredients. 
I ordered the honeysuckle rose (honey with rose) and pistachio flavors. Jimmy got the Kona mocha chip and banana cream pie. All of our ice creams were super good and not artificial tasting. We can't wait til the next time we go back! 
PRO TIP: For an extra cute scoop, always say "yes" to the surprise when they ask!
DAY 2: Phoenix
Tres Leches Cafe
Our first day in Phoenix began with a delicious local coffee spot! Tres Leches Cafe caught our eye because we were on the lookout for a hole in the wall place with unique offerings and it definitely did not disappoint. 
The cafe is located in an unassuming building that is set back from the street and resembles a house. However, once inside you will find yummy Mexican eats! They have traditional Mexican drinks, such as agua frescas and horchata, but since we were there bright and early, our eyes were set on coffee. 
We ordered their Cafe Horchata Latte and the Cafe Churro Latte. The Cafe Horchata Latte was made with their homemade horchata with espresso and the Cafe Churro had their hand-crafted churro sauce, espresso, and their namesake (3LC) creama. 
We absolutely loved both of our drinks, the Cafe Horchata Latte was especially unique and we never thought to combine horchata with espresso. It's such a genius idea! 
We also split one of their cookies. The colorful pan dulce and empanadas looked amazing but we were in dire need of caffeine and were trying to save our stomachs for later! 
PRO TIP: They have a parking lot located in the back in addition to outdoor seating. Plus, it's open later for a coffee spot so you can get your much needed caffeine throughout the day.
Phoenix Park 'n Swap
We decided to do some browsing and shopping at the local park and swap! They have a variety of items ranging from Navajo jewelry, odds and ends, toys, food, used cars and more. 
The Phoenix Park 'n Swap is by far one of the largest swap meets we've ever seen, you can literally buy almost anything here. We've never seen so many different products sold all in one place and there's even a small amusement park area for kids. 
If you're in the market for Mexican imported goods, this is the place! There are stalls with Oaxacan textiles as well as religious art and pottery. 
Admission is $2 for adults and FREE for children under 5 feet tall, don't forget to bring your dollar bills because it is CASH ONLY. 
If you start getting hungry while you're at the flea market, there are plenty of stalls offering fry bread tacos, Mexican street corn, burgers, and more. 
PRO TIP: We hear that the stalls are better during the weekend (Friday through Sunday) and around the holidays. We visited on a Saturday and it was busy!
Little Miss BBQ
We all know that Texas, St. Louis (MO), and Memphis (TN) are famous for BBQ, so why exactly did we come all the way out to Phoenix to get barbecue? Well, we heard that the owner of Little Miss BBQ once worked at Franklin BBQ in Austin, TX. So we were hoping for some delicious smoked meats similar to the amazingly tasty ones we had at Franklin! 
Since we'd been planning to come here for awhile, we made sure to order our BBQ in advance on the website. And being the foodies we are, we literally got a little bit of everything! 
We got 2 pounds of beef short ribs, 2 house made sausages, 2 pounds of sliced prime brisket, 0.5 pound pork spare ribs, 1 pound of pulled pork, a pint of jalapeno cheddar grits, a pint of coleslaw, and a Bekkes smoked pecan pie. 
The barbecue was super delicious, we loved all of it! Out of all of it, our favorites were definitely the brisket and short ribs, but the sausage, pork ribs, and pulled pork were also amazing. It was just the sustenance we needed to begin our ascent up to Camelback Mountain! 
PRO TIP: Waits can be long and they do run out of items so be sure to get there early or order online ahead of time. If you order ahead of time, they have designated parking and an entrance for pick up only.
Camelback Mountain
Important Note: Camelback Mountain is not an easy climb, in fact, it is rated as an extremely difficult hike. If you choose to do it, please come with proper gear, including hiking boots and water and be prepared to scramble over rocks and boulders. 
There are two main trails that take you up to Camelback Mountain. The Echo Canyon Trail is 1.2 miles in and out and the trailhead begins at 4925 E McDonald Dr, Phoenix. The Cholla Trail is 1.5 miles out and back, beginning at 6131 E Cholla Ln, Paradise Valley. 
PRO TIP: Echo Canyon Trail has better facilities, including restrooms, benches, water, and a designated parking lot. Cholla Trail has none of these, parking is along the street so you have to get lucky.
We opted for the Cholla Trail because it is slightly easier with a less steep climb and we didn't mind the additional 0.3 miles. Even though it was "easier," the hike was still fairly difficult with the 1,420 foot elevation gain. 
Fun Fact:

Camelback Mountain gets its English name from its shape, resembling the hump and head of a kneeling camel. 
The trail was also quite rocky so you have to be "on your game" when walking on the path and it can also be a bit hard on the knees. The hike took us approximately 3 hours with breaks in between to rest. 
Important Note: There are cacti on the trail, so be careful! We saw quite a few people slip and fall and end up in a cactus. This is NOT a joke! 
The views from the top of Camelback Mountain are so worth the hike! You can see 360 degrees all around the valley, including Phoenix and Scottsdale.
The Arizona Biltmore resort is one of the most well-known places to stay in the Phoenix and Scottsdale area. During the holidays, it is super festive with Christmas decorations inside the lobby area. 
The hotel was designed by Albert Chase McArthur in 1929, a student of Frank Lloyd Wright's prairie school, using textile block construction now known as "Biltmore Block."  
McArthur purchased the rights to use the blocks and created a rectangular version specifically for the Biltmore. The blocks were created on-site from desert sand in 34 different patterns inspired by palm trees. 
Fun Fact:

In 1928, Frank Lloyd Wright was asked to consult on-site for a few months. This led to the hotel being often mistakenly attributed to Wright as his work. (

Arizona Biltmore

) 
The building has beautiful details inside and out, much of which actually does celebrate Frank Lloyd Wright. This includes the restaurants within the hotel and resort, majority of which are named after Wright. 
Fun Fact: The original Tequila Sunrise cocktail was invented at the Arizona Biltmore's The Wright Bar by bartender Gene Sulit with club soda, tequila, Crème de Cassis, and fresh lime juice. 
Keep your eyes out for Frank Lloyd Wright's stained glass in the lobby, the piece depicts saguaro cacti with various shapes and colors. Be sure to also explore the Aztec Room, the original ballroom of the Arizona Biltmore. The room was built with copper beams and gold leaf ceilings and Wright was instrumental in its construction. 
PRO TIP: On Tuesdays, Thursdays, and Saturdays, historical tours are offered at the Arizona Biltmore hotel at 10am. These tours are FREE for resort guests and $10 for visitors.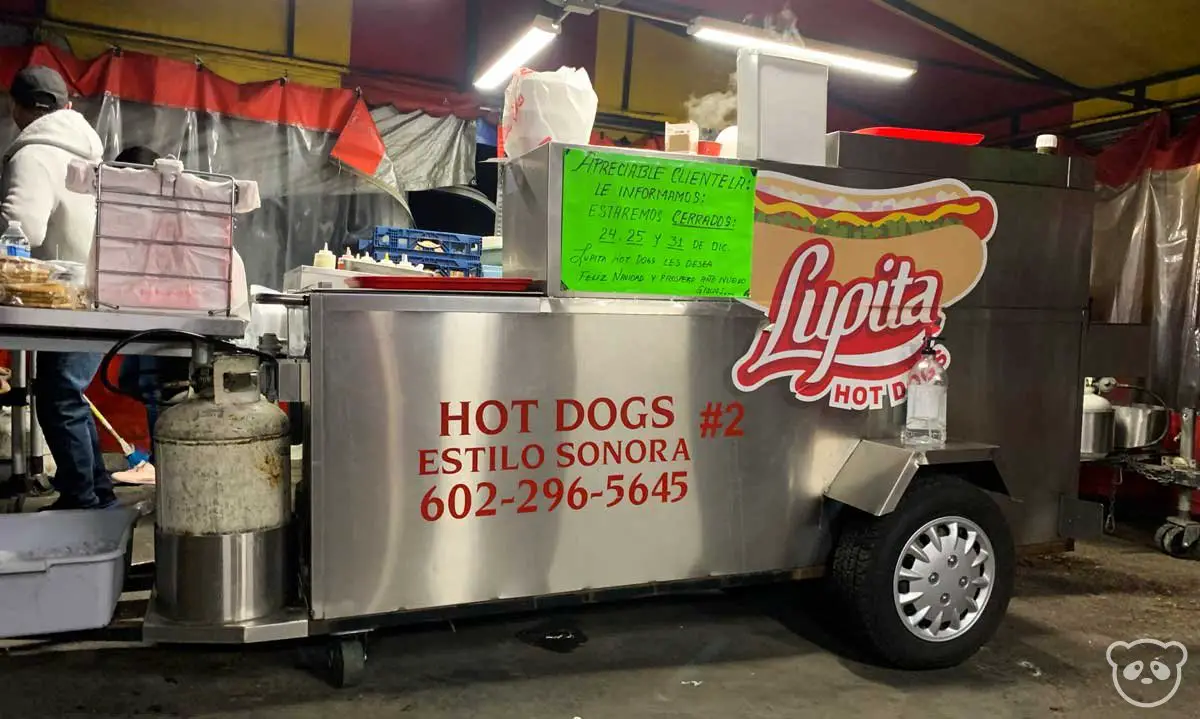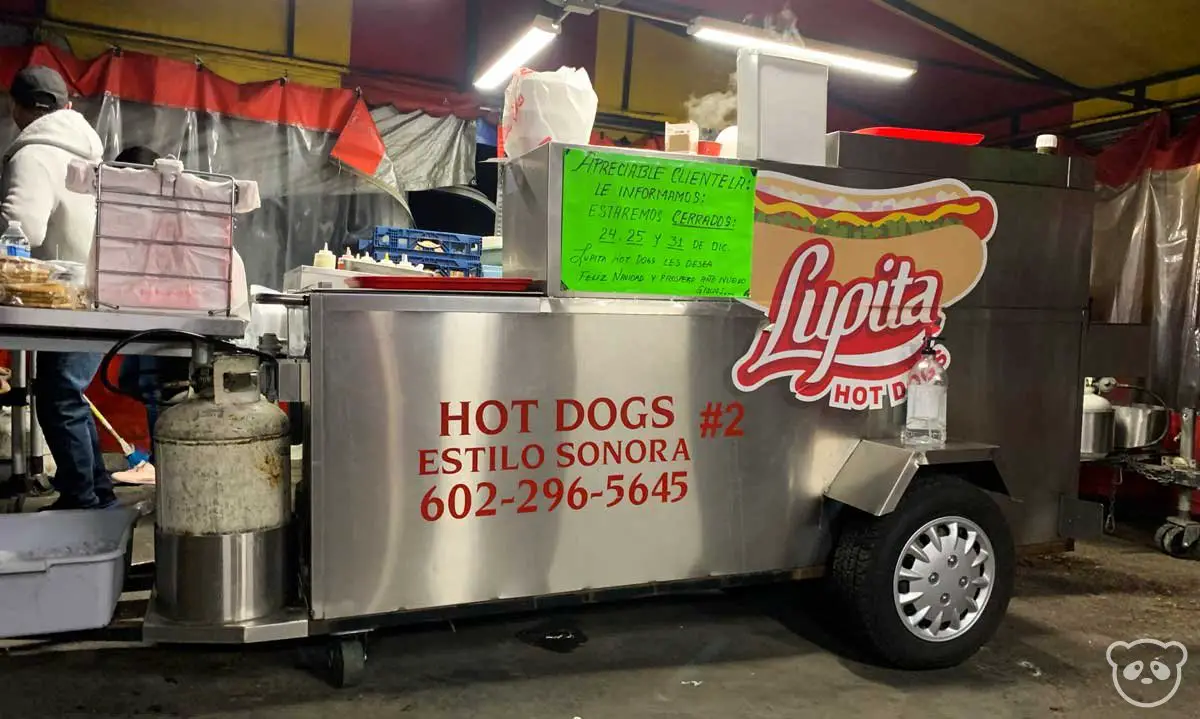 Lupita's Hot Dogs
For dinner, we tried the infamous drunk food, the Sonoran hot dog. Note that we were not drunk when we had this, so it is delicious regardless of why it's so well known. 
Fun Fact:

The Sonoran hot dog is especially popular in Phoenix, Tucson, and southern Arizona and originated in the capital city of Hermosillo, Sonora in the 1980s. They are usually prepared and served by street side vendors called "dogueros." 
Sonoran hot dogs are hot dogs wrapped in bacon and topped with pinto beans, onions, tomatoes, mayonnaise, mustard, and jalapeno salsa. 
Lupita's is one of the most famous spots in Phoenix for the Sonoran hot dog. We saw tons of locals here, primarily Mexican since most of their clientele spoke Spanish. It's a no-frills type place that makes a few things, the hot dog and elote being their most popular. 
Fun Fact:

In 2019, Lupita's was named "Best Sonoran Hot Dog" in Phoenix by the

Phoenix New Times

. 
We decided to get Sonoran hot dogs and elote in a cup. It was super good as a lighter dinner especially after we pigged out on all that barbecue earlier in the day. 
PRO TIP: Look for Lupita's stand under the tents, they're open until 2am on Fridays and Saturdays!
DAY 3 – Papago Park in Phoenix
A T Oasis Coffee & Tea Shop
Start off your day with yet another hole in the wall spot. We found this gem on Yelp because it was out of the ordinary, I mean, how often do you get to try Ethiopian coffee service? Not often! So we decided to try it!
A T Oasis Coffee & Tea Shop was filled with primarily locals and had super friendly service. The owners literally knew every person who walked in the door, except for us haha. 
Since their Ethiopian coffee ceremony caught our eye, of course, we got that! It's large enough for two so we didn't get another coffee. We also tried a coconut cake, sambusas, and biscotti. 
The coffee ceremony was a cool experience, you sip on your coffee while taking in the smell of incense and you can opt to put additional spices in your coffee if what they put in wasn't sufficient. We were good with the spices they added so we didn't use any more, but we did sugar it a little. 
We liked it so much that I decided to try their mint tea and grabbed that to go. 
Desert Botanical Garden
Desert Botanical Garden is a 140-acre garden located within Papago Park, which straddles the cities of Phoenix and nearby Tempe. 
Fun Fact:

The Desert Botanical Garden was founded at this location in 1939 and is home to over 50,000 plants. One-third of those plants are native to the area with 379 of them rare, threatened, or endangered. 
Tours are included with the price of admission however we opted to explore the gardens on our own. It was super cool getting to see the saguaro cacti and how tall they can grow. 
Fun Fact:

Saguaro cacti are native to the Sonoran desert in Arizona, the Mexican state of Sonora, the Whipple Mountains, and the Imperial County areas of California. They can grow over 40 feet (18m) tall and can live over 150 years. 
There are different trails throughout the garden that take you around to various plants. The Sonoran Desert Trail is much like a walk through the Sonoran Desert with saguaros everywhere and gorgeous views of the mountains and Phoenix. 
The Desert Discovery Loop Trail is mostly paved and takes you through more plants, including the very Instagrammable two saguaros lining the pathway. 
We found the Plants & People of the Sonoran Desert Loop Trail particularly fascinating. Signs along the trail described the various Native peoples who once resided in the area as well as a look into their culture through reproductions of their dwellings, gardens, and more. 
During the holidays, there is also Las Noches de las Luminarias. They light up the botanical garden at this night time only event, similar to Enchanted Forest of Lights at Descanso Gardens in Los Angeles. We wanted to see the garden during the day so we passed on this opportunity, but it would be great to see on a second visit. 
Taco Guild
Taco Guild is one of the best uses of an older building ever! This restaurant is located within an old church building and is home to some of the best Southwestern eats in Phoenix. Jimmy found this spot when we were researching places to eat and it was yummy and unique. 
Fun Fact:

Taco Guild was named one of the best taco restaurants in Phoenix by

AZ Family

. 
Now keep in mind, the tacos served at Taco Guild are more fusion-y tacos, so don't be looking for authentic Mexican tacos here. 
For drinks, I got the horchata and Jimmy, always down for local brews, ordered the Biltmore Blonde from Phoenix Brewing.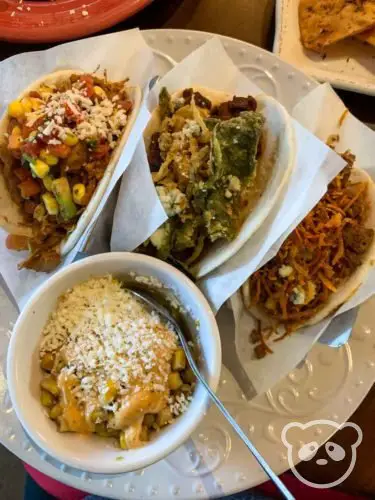 As for food, I got the 3 taco plate with street corn off the cob. For my tacos, I chose the molida lamb (lamb with Creole poblano aioli, blue cheese, sweet potato hay), chipotle cherry beef (grilled chipotle skirt steak, cherry glaze, gorgonzola, onions and poblano straws), and the pato asado (beer and chile braised duck breast, tomato corn relish, avocado, and cotjia cheese) with flour tortillas.
Jimmy opted for the Cartel Coffee beef enchiladas with jicama, cilantro, and avocado. 
The building was a beautiful place to dine in and their food was delicious as well so we can't wait to go back. 
Papago Park
After our lunch, we continued exploring more of Papago Park. Papago Park is a hilly desert park with 1200 acres in Phoenix and 296 acres in Tempe. 
Aside from the Desert Botanical Garden, the park is also home to things to do and tourist attractions such as the Phoenix Zoo, Papago Ponds, Hunt's Tomb, Hole in the Rock, and various other hiking trails. 
We were primarily at the park to see Hole in the Rock, but we stumbled upon the beautiful Papago Ponds. 
Papago Ponds are home to rainbow trout, largemouth bass, sunfish, channel catfish, and white amur. We saw quite a few locals with their fishing rods out in search of fish. We were more drawn to the beauty of the pools with its serene water creating reflections of the sky. 
PRO TIP: The Papago Ponds are a great place to watch the airplanes land at and take off from Phoenix Sky Harbor International Airport.
After snapping a few pictures, we were back on our way to Hole in the Rock. You can reach the "hole" by hiking a quick 0.3 mile in and out trail up to the top. It's the perfect spot to take in the sunset. 
Fun Fact:

Hole in the Rock is a natural geological formation of red sandstone. The "holes" in the rock are believed to have been eroded by water. 
Dick's Hideaway
Dick's Hideaway is known for its traditional New Mexican food, particularly their carne adovada and smoked pork slow simmered in red chile. 
The location is non-descript, since it is a "hideaway" after all. Look for signs saying "Sorry, we're open" on a brown door or "Additional parking in rear" and you'll know you're in the right place. 
The restaurant has a variety of American style food, including pappardelle and gumbo, but the real gems are in the Santa Fe Trail section of their menu. If the items we previously mentioned don't strike your fancy, try their delicious relleno platter or the New Mexico enchiladas, you'll even get to choose whether you want red or green chile regardless. 
If You Have More Time
Phoenix Zoo – Papago Park is so large that it is home to one of the largest privately-owned zoos in the United States. The Phoenix Zoo has approximately 3,000 animals including wildlife of the Sonoran Desert, Africa, and Southeast Asia. 
Hunt's Tomb – This white pyramid tomb is the final resting place of the first governor of Arizona, George W.P. Hunt and his family.
Pinnacle Peak Trail – This hike was originally on our list but we ran out of time. The gradual 2,750 foot incline grants beautiful views of the desert and the granite pinnacle. 
Lookout Mountain Trail – This trail was also on our list! This 1.2 mile in and out trail ascends only 450 feet and also provides sweeping views of the city. We heard it is easier and less crowded than the popular Camelback trails. 
El Caprichoso Hot Dogs – Another famous Sonoran hot dog spot in Phoenix, very similar to Lupita's Hot Dogs. Their Sonoran hot dogs are to die for, in 2017 they won the "Best Sonoran Hot Dog" from Phoenix New Times. 
Heard Museum – The museum focuses upon Native American art and crafts. We skipped it during our trip because their boarding school exhibit was closed for renovation, it has since reopened. 
Phoenix Art Museum – This art museum is home to over 18,000 works of art from the Americas, Asia, and Europe including modern, contemporary, and photographic works.
List of the Sights for 3 Days in Phoenix and Scottsdale, Arizona
DAY 1 – Phoenix & Scottsdale
DAY 2 – Phoenix
Tres Leches Cafe
1714 W Van Buren St
Phoenix, AZ

Phoenix Park 'n Swap
3801 E Washington St
Phoenix, AZ

Little Miss BBQ
4301 E University Dr
Phoenix, AZ

Camelback Mountain
Cholla Trailhead located off of E Cholla Ln (GPS Coordinates: 33.513634 N, -111.948393 W)
Echo Canyon Trailhead located off of N Echo Canyon Pkwy (GPS Coodinates: 33.521321 N, -111.973649 W)
Arizona Biltmore
2400 E Missouri Ave
Phoenix, AZ

Lupita's Hot Dogs
16456 N 32nd St
Phoenix, AZ

DAY 3 – Papago Park in Phoenix
Map of the Sights for 3 Days in Phoenix & Scottsdale
This map includes a list of all of the Sights to See, Restaurants as well as the routes by day (i.e. Day 1, Day 2, and Day 3) within specified layers.
By default, only the Sights to See and Restaurants are shown but you can select to view the daily routes. Use the slide out panel to select layers to toggle them on and off using the checkboxes.
Loved this 3 day itinerary for Phoenix and Scottsdale in Arizona? Pin this for later!