This post may contain affiliate links. If you click one of these links, we may receive a commission. We're grateful for your continued love of this site!
Lucky enough to have a quick layover or trip to Maui? Heading to Ka'anapali and Lahaina? We've got the 24 hour guide for you! This 24 hour Maui itinerary will tell you the best things to do including places to visit, places to eat, and places to stay in the Ka'anapali and Lahaina areas of Maui.
Since I only had 1 day to spend in Maui, it was a bit difficult to figure out what I can do in such a short amount of time. But narrowing things down based upon where I was staying made the planning much easier. 
These are the best things to do in 1 day in Maui with recommended places to stay, eat, see, and shop!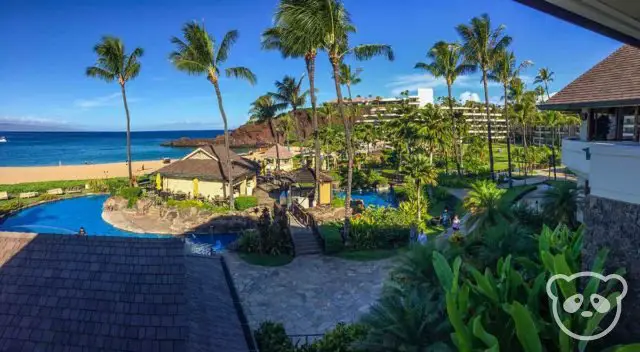 Where To Stay in Ka'anapali & Lahaina, Maui
If you're visiting for a quick trip it might be difficult to figure out where to stay. Not to worry, these hotels are super convenient and they even offer shuttle service!
On my 24 hour stay in Maui, I stayed at the Sheraton Maui Resort & Spa in Lahaina, located at the northern end of Ka'anapali Beach. This hotel was super convenient because they're close to strip malls and they literally have a beach in the backyard! Not only that, but every evening there's a nightly show where a cliff diver jumps down from the cliff.
Sheraton Maui Resort & Spa also has a free local shuttle that takes you around to a couple of areas in Ka'anapali and over to Lahaina Old Town. 
Their rooms include free WiFi, air conditioning, flat screen TV with cable & movie channels, CD player, DVD player, refrigerator, and coffee maker. Some rooms even have a microwave and wet bar!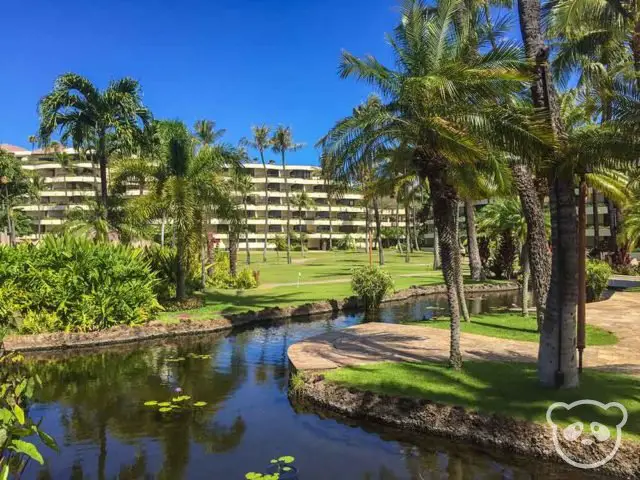 The grounds at Sheraton Maui Resort & Spa are beautiful and their facilities are amazing. They have a gym, tennis courts, swimming pool, but of course you can also snorkel on the beach steps from the hotel. Even though I only stayed for a short time, I still got to see hula dancing performances and the nightly cliff dive ceremony. 
Book your stay at Sheraton Maui Resort & Spa!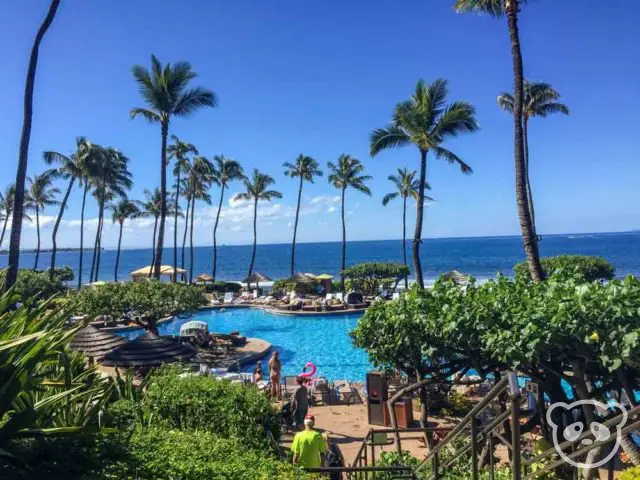 Hyatt Regency Maui Resort & Spa is another great beachside lodging option. It's located to the southern end of Ka'anapali Beach and they also have penguins! This hotel is AMAZING, the pool and gardens are so large and beautiful, it definitely gives you a "resort" type of vibe. The swimming pools are gorgeous and there's even a grotto with a bar! 
Each room at the Hyatt Regency Maui Resort & Spa has a lanai, air conditioning, free WiFi, safety deposit box, electronics charging station, coffee machine, and of course, a private bathroom.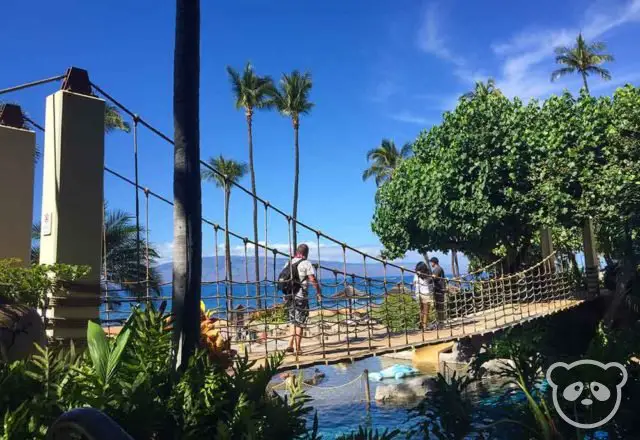 The Hyatt Regency Maui Resort & Spa is also great for families with children because they have an on-premises water park with pools, a rope bridge, and a lava tube water slide. They also offer fun activities for kids, such as lei making classes and hula demonstrations. 
Stay at Hyatt Regency Maui Resort & Spa in Lahaina! 
What To See in Ka'anapali & Lahaina, Maui 
Old Town Lahaina 
We love learning a bit about everywhere we travel to, what better to do that than to visit the historical sights around town? We recommend checking out the Old Town of Lahaina for a historical (and slightly touristy) taste of the good ole days in Maui. 
Fun Fact:

Lahaina was the capital of the Kingdom of Hawaii between 1820 and 1845. In 1845, the capital was moved back to Honolulu. 
Check out the various stores and art galleries along the main thoroughfare, Front Street. Here you'll find cheap kitschy souvenirs, but you'll also see beautiful jewelry and handicrafts by local artisans. It's got a lot of variety in a small area.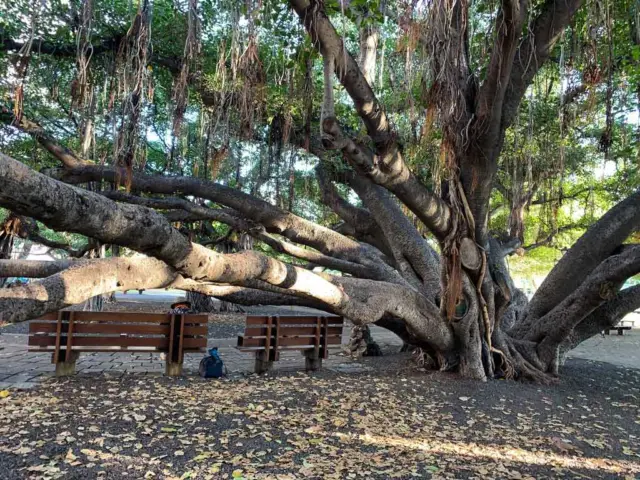 Lahaina Banyan Court Park
Located within the Old Town of Lahaina, is the famous banyan tree in Lahaina Banyan Court Park. This park is known by a few names, aside from Lahaina Banyan Court Park, it was once called Lahaina Courthouse Square and more colloquially, Banyan Tree Park. 
Fun Fact:

The banyan tree in Lahaina Banyan Court Park is one of the largest banyan trees in the United States and is the oldest banyan tree in Hawaii. 
The banyan tree was planted on April 24, 1873 to mark the 50th anniversary of the first Protestant mission to Lahaina. The mission trips began at the request of Queen Keopuolani, wife of the late King Kamehameha. She had intended for the tree to be surrounded by a park where people could take a break from the hot Hawaiian sun.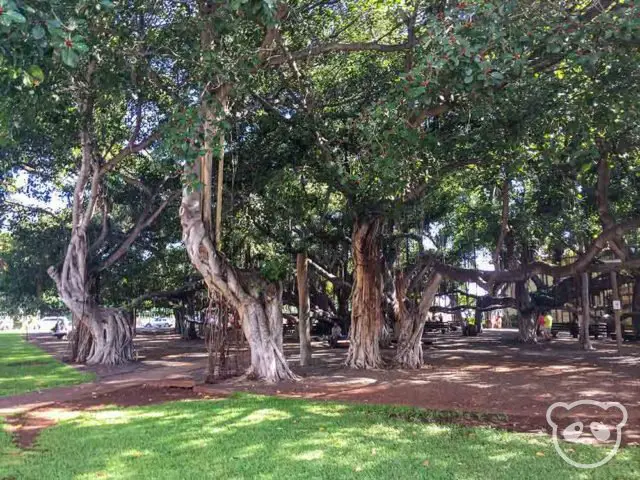 Fun Fact:

The banyan tree was originally 8 feet tall when it was planted. Today, it is over 60 feet tall and its covers an area of 0.66 acres (0.27ha) with 16 major trunks aside from the main trunk. 
The tree is so large that it can provide shade for a thousand people. The park is now known as a place to gather for celebrations, with holiday and special events occurring throughout the year. 
PRO TIP: On weekends between 9am and 5pm there will be stands and booths by local artisans selling artwork and crafts. You can also usually find live music, hula, and cultural dances here.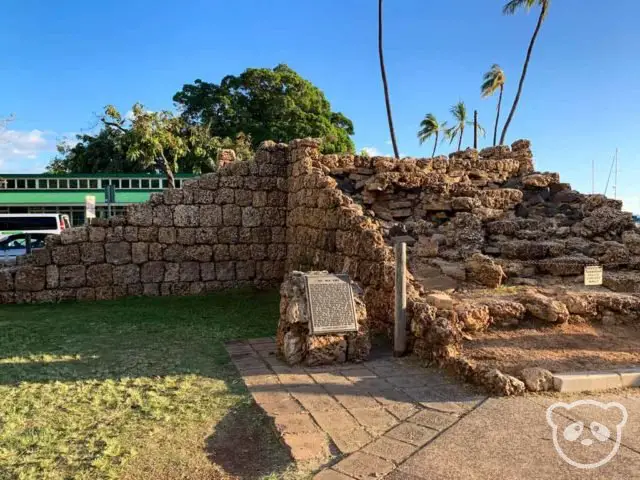 Old Lahaina Fort
Located to the far side of the Lahaina Banyan Court Park by Canal Street, south of the Old Lahaina Courthouse, you'll find the reconstruction of remnants of the Old Lahaina Fort. 
Fun Fact:

Before Lahaina Banyan Court Park was created, the Old Lahaina Fort once stood in that same spot, facing Lahaina Harbor. 
The building was once made of thick coral stone walls surrounding the area with a cannon mounted pointed towards the ocean. The building was demolished in 1854 with its blocks reused for the Hale Pa'ahao (Lahaina Prison) nearby. 
Wo Hing Temple Museum (和興會館)
The Wo Hing Society Hall (和興會館) was built around 1912 to help the local Chinese community who had come to Lahaina to work in the sugarcane industry either within the plantations or in the mills. 
Fun Fact:

In the 1850s, many Chinese laborers immigrated to the United States and Hawaii in search of jobs, these Chinese Tong societies, such as Wo Hing Society Hall (和興會館) were created to provide Chinese with religious and social help, including aid, friendship, monetary and legal support. 
By the 1940s, many Chinese had moved out of the Lahaina area and the property was abandoned and neglected. After much restoration and construction, the Wo Hing Temple Museum (和興會館) was opened by the Lahaina Restoration Foundation in 1984. 
Fun Fact:

The Wo Hing Temple Museum

(和興會館)

is one of two existing Chinese Society Halls on Maui.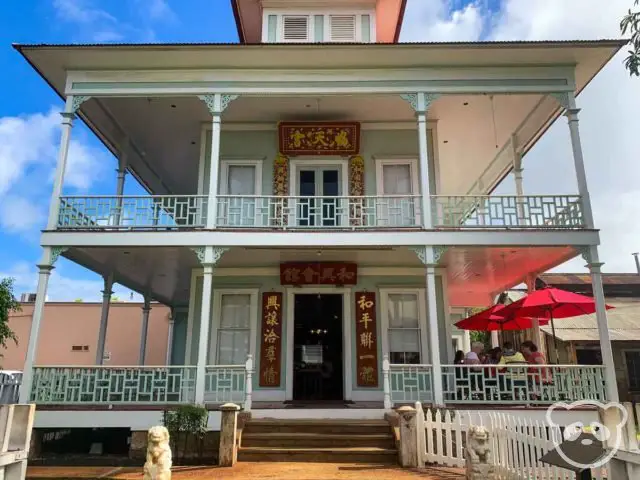 The Wo Hing Museum (和興會館) is a two building complex with the main two-story building and a cookhouse to its side. The ground floor was originally a social area and as the museum today, it consists of artifacts and memorabilia of the Chinese in Lahaina at the beginning of the 20th century.
The second floor of the museum is the most characteristic of a traditional Chinese temple with multiple altars dedicated to various gods, including Kwan Yin (觀音) and Kwan Tai (關帝). This level also houses the only Taoist altar on the island of Maui. 
See Man Mo Temple (文武廟), another Chinese temple with Kwan Ti in Hong Kong. 
The top floor of the Wo Hing Museum (和興會館) isn't typically open to the public but if you're lucky enough to join a group tour, you'll be in for a treat if you get to see it!
Fun Fact: Dr. Sun Yat Sen, the Father of Modern China and the first provisional president of Taiwan (Republic of China) was a visitor of the Wo Hing Tong. He spent over 7 years in the Hawaiian islands, traveling to Maui 6 times prior to the Chinese Revolution in 1911. 
Interested in learning more about Dr. Sun Yat Sen and visiting Taiwan? Check out our 3 day itinerary for Taipei, Taiwan. 
The Brick Palace of King Kamehameha I 
The Brick Palace was the first royal palace and the first western-style structure to be built on the Hawaiian islands. King Kamehameha I originally built it for his wife, queen consort Ka'ahumanu, however she refused to live in the house. She opted to live in a more traditional, Hawaiian-styled home a few feet away. 
Today, only the foundation exists, you can find the ruins behind the Lahaina Public Library off of Front Street. 
The Hyatt Regency is best known in Maui for their penguins! They have a few penguins that are suited for warmer climates and here you can watch them waddle around and even be present for their feedings!
PRO TIP: The feeding times are on the earlier side so be sure to arrive at 9am for that!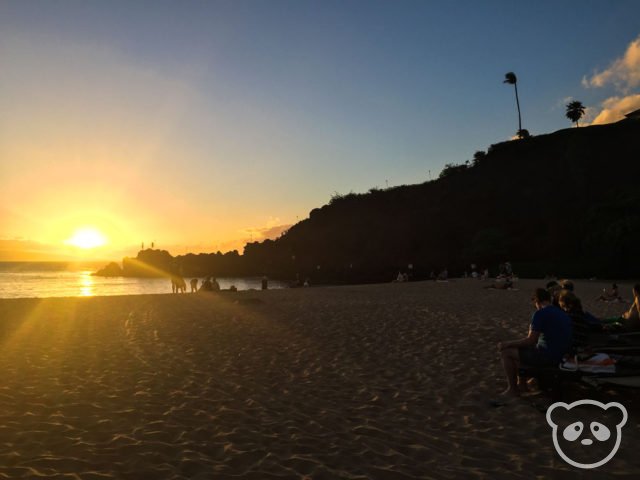 Watch the Cliff Divers
Every night, there is a cliff diving ceremony at Black Rock to commemorate the tradition of Maui's Chief Kahekili's leap. 
Fun Fact:

Legend has it that the last Chief of Maui, Chief Kahekili would leap off of Pu'u Keka'a (Black Rock) to show his spiritual strength. 
The ceremony begins with a native Hawaiian chant, and a blowing of the conch and ends with the diver offering his torch and floral lei to the ocean before plunging into the water. 
You'll be able to see the cliff dive for free just behind the Sheraton Maui Resort & Spa. 
PRO TIP: For the best view of the dive, hang out at Ka'anapali Beach or the Cliff Dive Grill, located right off of the beach.
Where to Shop in Ka'anapali & Lahaina, Maui
Whalers Village
This is also where Island Vintage Coffee is located, but if you're in need for shopping (or just some souvenirs), this is a great place to look!
There are over 70 stores within the Whalers Village plaza, including an ABC Store here in case you need some basics (or souvenirs) as well as a Honolulu Cookie Company shop. ABC Store is a great place to get chocolates and macadamia nuts from Mauna Loa Macadamia Nut Company and Hawaiian Host. 
For clothes, there is a Lululemon, Billabong, Rip Curl, amongst other activewear brands. 
Outlets of Maui
The Outlets of Maui is another great place to shop, these outlet stores offer great selections at amazing prices. They're also great if you've accidentally left some much needed summer clothing at home!
Aside from the ABC Store, this plaza is home to factory outlet basics you might be used to on the mainland, GAP Factory, Coach Outlet, Banana Republic Factory, and Adidas Outlet are amongst some of the stores that are located in this mall. 
Front Street
There are shops all over Front Street. You're guaranteed to find an ABC Store here for essentials, but there are also many clothing retailers, souvenir shops, art galleries, and of course, restaurants. 
I definitely got some Hawaiian Host candies and a few other knick knacks from the stores along Front Street.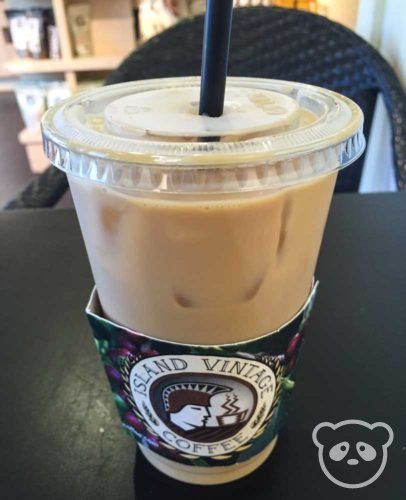 Where To Eat in Kaanapali & Lahaina, Maui 
Island Vintage Coffee
Start your day with a delicious macadamia nut latte and a yummy açaí bowl! The coffee at Island Vintage Coffee is to die for and we always love their açaí bowls. They make for a great way to energize before you get exploring Lahaina.
Also try out their pastries and bagel sandwiches for something a little more filling. They also sell coffee beans to take home with you!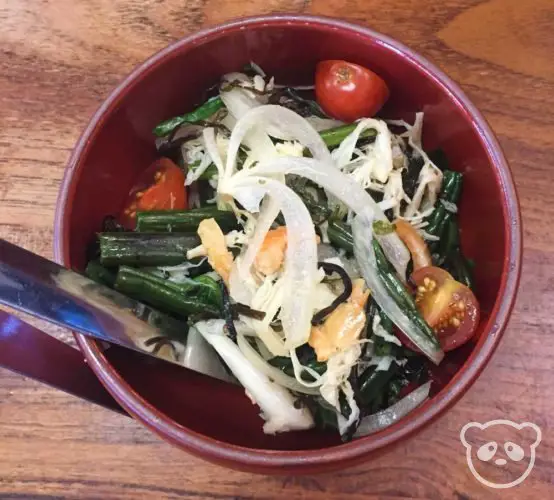 Star Noodle
For lunch, check out Star Noodle. Their Asian fusion dishes have a uniquely Hawaiian flair and are delicious.
Fun Fact:

Chef Sheldon Simeon of Star Noodle was featured on Season 10 of Top Chef on the Bravo Network.
We started our meal with the pohole salad with Hana fiddle fern, onion, shrimp, squid, and seaweed. It was so refreshing and tasty! We also got the tempura shrimp which was well battered and the shrimp were large.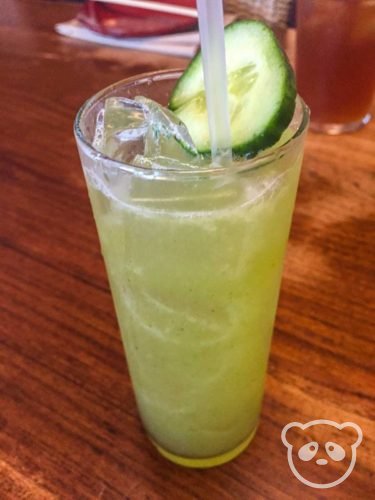 I also got a cucumber limeade, not "Hawaiian" I know, but it was a great refreshment. 
Their noodles are amazing, we got the Pad Thai which was super delicious. For something more "local," try the Hapa Ramen, their take on ramen, or the local saimin, a Hawaiian favorite. 
We also got the kalbi beef short ribs which were yummy too. 
Ululani's Hawaiian Shave Ice
If you read our 3 days in Kona, Hawaii itinerary, you'll know that we love us some Ululani's Hawaiian Shave Ice! But, did you know that Ululani's Hawaiian Shave Ice is actually from the island of Maui? 
Fun Fact:

The original Ululani's Hawaiian Shave Ice was located at 819 Front Street in Lahaina. It has since moved 200 feet to 790 Front Street.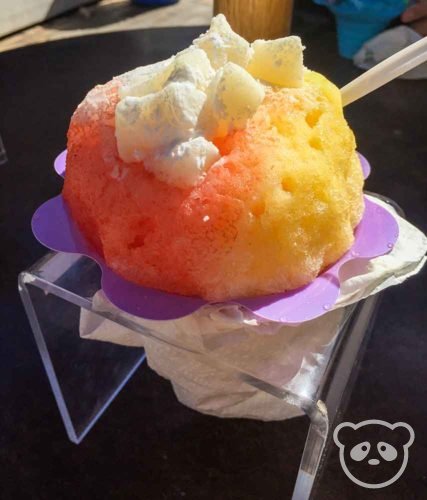 Shave ice is a great snack while in Hawaii, it's super refreshing and gives ya some sugar to get you through the hot day. Like usual, I got my shave ice in 3 flavors of calamansi, lilikoi (passion fruit), and guava with vanilla macadamia nut ice cream.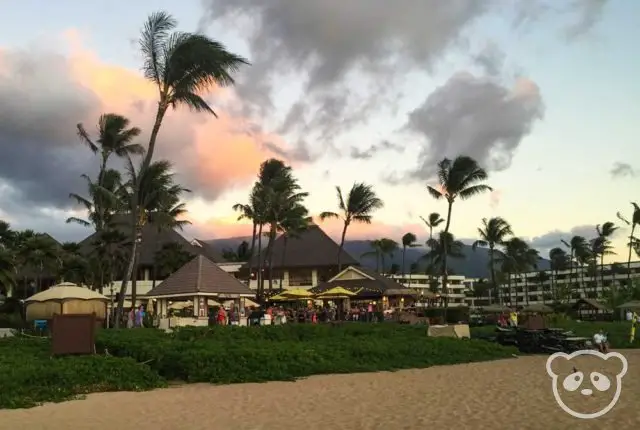 Cliff Dive Bar & Grill
This is the perfect place to see the nightly cliff dive! And it's a great spot to relax and get your grub on while you're waiting for the cliff dive to happen. 
They have delicious offerings, such as huli-huli chicken wings, kalua pork sandwiches, mahi mahi tacos, and even the Beyond burger. 
PRO TIP: The cliff dive ceremony is approximately 15-20 minutes long and occurs just before sunset. Get to Cliff Dive Grill, located inside Sheraton Maui Resort & Spa, at least 45-60 minutes before for the best seats in the house!
Foodland
For cheap eats, be sure to check out the local Foodland for some delicious grub. If you're unaware, Foodland is a popular supermarket chain in Hawaii and is well-known amongst locals especially for their yummy poke and spam musubis.
If You Have More Time
List of the Sights 
Note: Unless otherwise stated, all addresses below are located within Lahaina, Maui.
PLACES TO STAY
PLACES TO SEE & THINGS TO DO
PLACES TO SHOP
PLACES TO EAT
Map of the Sights
This map includes a list of all of the Sights to See, Restaurants as well as the routes by day (i.e. Day 1, Day 2, and Day 3) within specified layers.
By default, only the Sights to See and Restaurants are shown but you can select to view the daily routes. Use the slide out panel to select layers to toggle them on and off using the checkboxes.
Hope you've enjoyed our wonderful 24 hour guide to Ka'anapali & Lahaina, Maui; the best way to spend a day (or a layover) on the island of Maui.
Loved our 1 day Maui itinerary? Pin this for later!